Birth of a new successor
Moto Z Droid review: Birth of a new successor
Display
The Moto Z Droid has a 5.5 inch quad-HD (2560x1440px) AMOLED display. This is a departure from the 2015 Moto X's LCD display in favor of an AMOLED panel. The AMOLED panel has the benefit of displaying darker blacks, more vivid colors, better outdoor legibility and it is also more power efficient in showing dark content. In many cases the screen is able to leave the black pixels powered off, such as when Moto Display is showing you notifications or the time.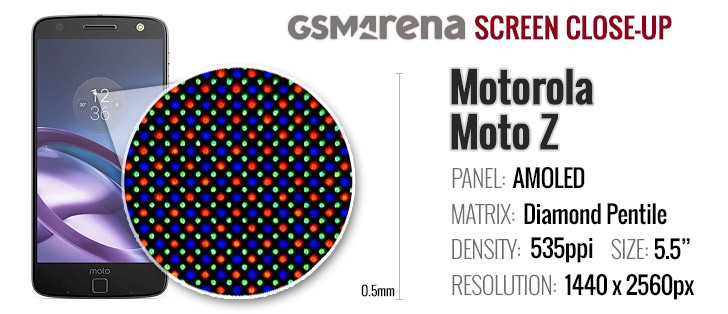 In our color rendition tests, the Moto Z has shown an average deltaE of 5.3 and max deltaE or 11.7. Colors are well represented and look pleasant to the eye with the default "Vivid" display setting. There is also a "Standard" setting which displays more accurate colors, though not as accurate as we've seen other phones reach.
Display test
100% brightness
Black, cd/m2
White, cd/m2
Contrast ratio
Lenovo Moto Z
0.00
371
∞
Lenovo Moto Z max auto
0.00
506
∞
Samsung Galaxy S7 edge
0.00
392
∞
Samsung Galaxy S7 edge max auto
0.00
610
∞
Huawei Nexus 6P
0.00
352
∞
OnePlus 3
0.00
433
∞
Apple iPhone 6s Plus
0.43
590
1382
Samsung Galaxy Note5
-
439
∞
Samsung Galaxy Note5 max auto
-
620
-
Samsung Galaxy S7 active
0.00
424
∞
Samsung Galaxy S7 active max auto
0.00
602
∞
With the "Standard" setting, colors are significantly more accurate with the exception of whites, which are cooler than they should be. The average deltaE is 2.9 now but the Max deltaE is at 8.1.
This display panel features a brightness overdrive mode only available with 'Adaptive brightness' enabled and it brings it from the regular max brightness of 370 nits all the way to 506. While this isn't the brightest screen we've seen, it's pretty good and you shouldn't have any trouble seeing the display in direct sunlight.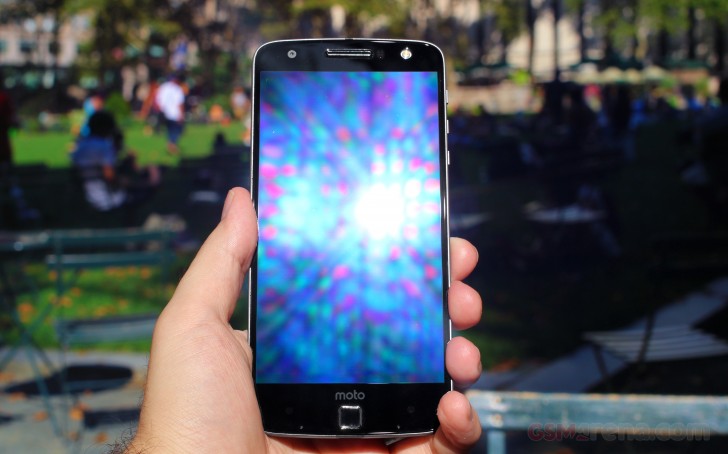 Speaking of which, sunlight legibility is quantifiably great as well.
Sunlight contrast ratio
Samsung Galaxy S6 edge+
4.615
Samsung Galaxy S7 edge
4.439
OnePlus 3
4.424
Samsung Galaxy S7
4.376
HTC One A9
4.274
Samsung Galaxy Note7
4.247
Samsung Galaxy A3
4.241
OnePlus 3T
4.232
Google Pixel XL
4.164
ZTE Axon 7
4.154
Samsung Galaxy S6 edge
4.124
Samsung Galaxy Note5
4.09
Huawei Nexus 6P
4.019
OnePlus X
3.983
Vivo Xplay5 Elite
3.983
Oppo R7s
3.964
Apple iPhone 7
3.964
Huawei P9 Plus
3.956
Meizu Pro 6 Plus
3.935
Lenovo Moto Z
3.931
Samsung Galaxy A7 (2016)
3.918
Samsung Galaxy C5
3.911
Samsung Galaxy C7
3.896
Samsung Galaxy A5
3.895
Samsung Galaxy J7 outdoor
3.879
Samsung Galaxy J2 outdoor
3.873
Samsung Galaxy A8
3.859
Samsung Galaxy A9 (2016)
3.817
Motorola Moto X (2014)
3.816
Samsung Galaxy J7 (2016) outdoor mode
3.802
Xiaomi Redmi Pro
3.798
LG V20 Max auto
3.798
Sony Xperia XZ
3.795
Samsung Galaxy A5 (2016)
3.789
Apple iPhone 6s
3.783
Meizu Pro 5
3.781
Microsoft Lumia 650
3.772
Samsung Galaxy J7 (2016)
3.756
Oppo F1 Plus
3.709
Vivo X5Pro
3.706
Sony Xperia X Compact
3.694
Apple iPhone SE
3.681
Huawei Mate 9
3.68
Samsung Galaxy A7
3.679
Meizu PRO 6
3.659
BlackBerry Priv
3.645
Apple iPhone 7 Plus
3.588
Apple iPhone 6s Plus
3.53
Motorola Moto Z Play
3.526
Samsung Galaxy J3 (2016)
3.523
Samsung Galaxy J3 (2016) outdoor mode
3.523
Acer Jade Primo
3.521
Microsoft Lumia 950
3.512
Oppo R7 Plus
3.499
nubia Z11
3.466
Samsung Galaxy J7
3.422
Meizu MX5
3.416
LG V20
3.402
Oppo R9s
3.352
Oppo R7
3.32
Xiaomi Mi 5s
3.276
Samsung Galaxy J2
3.235
Sony Xperia X Performance
3.234
Xiaomi Mi Note 2
3.228
Motorola Moto X Play
3.222
Huawei P9
3.195
Lenovo Vibe Shot
3.113
Motorola Moto X Force
3.105
LG Nexus 5X
3.092
Huawei Mate S
3.073
Microsoft Lumia 640 XL
3.065
Sony Xperia X
2.989
Huawei Mate 8
2.949
Xiaomi Redmi 3S
2.913
Sony Xperia XA Ultra
2.906
LG G5
2.905
HTC One S
2.901
Xiaomi Redmi 3s Prime
2.893
Xiaomi Mi 5s Plus
2.884
Sony Xperia Z5
2.876
Microsoft Lumia 550
2.851
Lenovo Moto M
2.813
Xiaomi Redmi 3 Pro
2.803
Sony Xperia Z5 compact
2.784
Meizu MX6
2.751
LG V10
2.744
Xiaomi Redmi 3
2.735
Sony Xperia M5
2.69
Huawei P9 Lite
2.679
Xiaomi Redmi 4 Prime
2.679
Vivo V3Max
2.659
Xiaomi Mi Mix
2.658
Xiaomi Mi 4i
2.641
Sony Xperia XA
2.609
Motorola Moto G4 Plus
2.582
Motorola Moto G4 Plus (max auto)
2.582
Xiaomi Mi 4c
2.574
LeEco Le Max 2
2.567
Microsoft Lumia 640
2.563
Asus Zenfone 3 ZE552KL
2.563
Lenovo Moto G4
2.544
Lenovo K6 Note
2.544
Oppo F1
2.528
Sony Xperia Z5 Premium
2.525
Huawei Honor 7 Lite / Honor 5c
2.506
Sony Xperia M4 Aqua
2.503
Oppo F1s
2.481
Motorola Moto G
2.477
Lenovo Vibe K5 Plus
2.473
Huawei G8
2.471
Huawei nova
2.467
Sony Xperia Z
2.462
Lenovo Vibe K5
2.459
Meizu m3 max
2.447
Huawei Honor 7
2.406
Sony Xperia E5
2.386
ZUK Z1 by Lenovo
2.382
HTC 10
2.378
Samsung Galaxy J5 (2016)
2.378
Meizu m1 note
2.362
Huawei nova plus
2.329
HTC One E9+
2.305
Alcatel One Touch Hero
2.272
Apple iPhone 4S
2.269
Lenovo Vibe K4 Note
2.254
Sony Xperia C5 Ultra
2.253
Xiaomi Redmi Note 3 (MediaTek)
2.249
Sony Xperia C4 Dual
2.235
Xiaomi Mi Note
2.234
Motorola Moto G (2014)
2.233
LG Nexus 5
2.228
Huawei P8
2.196
Huawei Honor 6
2.169
Xiaomi Redmi Note 2
2.166
OnePlus Two
2.165
HTC One X
2.158
LG Aka
2.145
Xiaomi Redmi Note 4
2.145
Archos 50 Diamond
2.134
Xiaomi Redmi Note
2.119
Acer Liquid X2
2.084
Huawei P8lite
2.078
Moto G 3rd gen max manual
2.026
Xiaomi Mi Max
1.996
Sony Xperia E4g
1.972
OnePlus One
1.961
Meizu m3 note
1.923
BlackBerry Leap
1.892
Meizu m2 note
1.892
ZTE Nubia Z9 mini
1.759
Sony Xperia U
1.758
Asus Zenfone Selfie
1.68
Motorola Moto E (2nd Gen)
1.675
ZTE Nubia Z9
1.659
Jolla Jolla
1.605
Motorola Moto E
1.545
Sony Xperia M
1.473
HTC Desire C
1.3
Sony Xperia C
1.283
Meizu MX
1.221
Sony Xperia E
1.215
This is such a great quality display, there isn't even any color shifting at normal viewing angles. The colors don't start shifting until you're looking at the device from about 80 degrees from the center. With the exception of some of its color tuning, Moto Z sports a really nice screen.
Connectivity
The Moto Z features a USB-C port which also doubles as the 3.5mm headphone jack (via an adapter) since there is no integrated headphone jack (because of this, there is no FM Radio chip either).
Other connectivity options include: Wi-Fi a/b/g/n/ac (5GHz), Bluetooth 4.1 LE, NFC, A-GPS, Wi-Fi Direct, and of course, the Moto Mod dock connector which allows for endless expansion of display signal, power, or addition of new sensors such as temperature.
The U.S. Moto Z will be compatible with CDMA (on Verizon): 850, 1900MHz, GSM/GRPS/EDGE (850, 900, 1800, 1900MHz), UTMS/HSPA+ (850, 900, 1700, 1900, 2100MHz), and LTE Bands: 2, 3, 5, 7, 13.
The Moto Z also has Android Pay pre-loaded as the default mobile payment service. Android Pay works with NFC and works at all tap-to-pay terminals.
Unfortunately, the charging cable is a part of the charger as a single unit and cannot be separated. Likewise, the Moto Z does not come with any type of cable that you can connect to a computer to transfer files back and forth. You'll have to buy your own transfer cable.
Battery life
You could say we were expecting this, but a 2,600 mAh battery in a phone of this caliber is simply not enough and the battery test results are a clear reflection of that. Yeah, the Moto Z is the thinnest smartphone on the market, but you need to decide if design matters to you over battery life.
The Moto Z has a 2,600mAh battery. A size not fit for a smartphone with a top of the line CPU, 5.5 inch quad-HD screen, and Moto enhancements which offer value added features thanks to: contextual motion and language sensors; In other words, too many things that may be detrimental to battery life, especially for a phone with this size battery.
Thankfully there's a 15 watt Turbo Charger included in the box, which brings the Moto Z up to 52% from a dead battery in 30 minutes.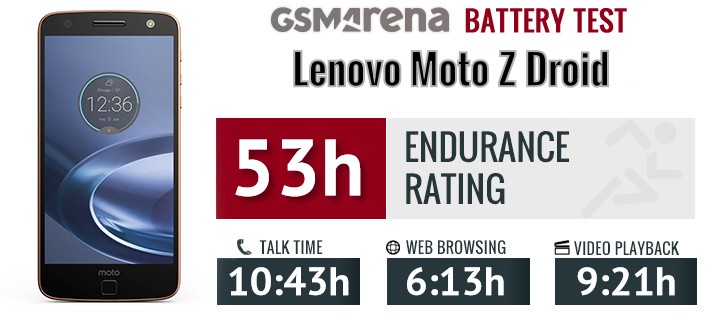 Our tests have yielded the Moto Z Droid with a score of 53h. The video-playback test scored 9:51h, and the web browsing test scored a much lower 6:13h while the talk time scored a just-as-bad 10:43h, though, that's still not as low as the iPhone 6S's talk time of 9:41h.
By comparison, last year's Moto X Pure Edition (a.k.a. Moto X Style) scored a rating of 63h in our battery tests.
Otherwise, the phone doesn't feel like it's as bad as the results might show. Surely if you're a more avid user of your smartphone and you constantly use various social media apps or play Pokemon Go a lot, you'll probably have a bad time with the battery endurance.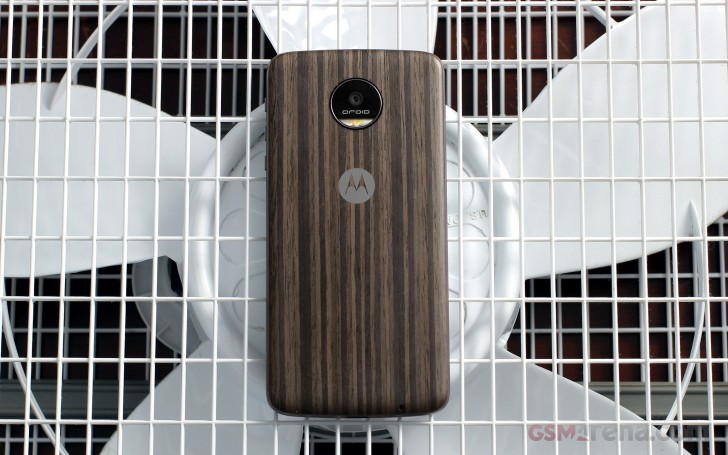 On the flip side, if you are a leaner smartphone user, you'll learn to live with the Turbo Charger, which charges the phone quite fast. The thing is, you would probably have to carry it with you as the phone normally won't last a full day. In fact, we feel many users might not be happy about the battery life in the Moto Z.
Otherwise, you can get a Moto Mod battery add on. Our tests with the Tumi 2,200mAh battery added a total of 60% to the life of the Moto Z when we docked it to the totally depleted Moto Z. The Moto Mod battery lasted 1:32h to completely deplete itself and charge the Moto Z.
Here's a breakdown of how the battery pack yielded power for the Moto Z:
30 minutes of charging brought the Moto Z to 21% from 0%
1 hour of charging brought the Moto Z to 41% (with 35% left on the battery)
1 hour and 32 minutes later, the battery Moto Mod was depleted and added 60% to the Moto Z
The battery testing procedure is described in detail in case you're interested in the nitty-gritties. You can also check out our complete battery test table, where you can see how all of the smartphones we've tested will compare under your own typical use.