Introduction
It's impossible to deny Microsoft's influential position in the entry-level smartphone market over the last few years. The company has always managed to deliver compelling budget packages at hard-to-beat prices.
While success has never been a given for any low-end smartphone, Microsoft seems to have perfected the formula. A light and resource-efficient OS such as Windows Phone has certainly helped. Microsoft's devices are typically capable of matching and beating the speed and performance of their Android peers with less processing power and RAM.
The Microsoft Lumia 550 however is the first budget smartphone to run Windows 10 - which marks a new stage in mobile software for the Redmond company and a step towards platform convergence. It's too big a step though for the Microsoft Lumia 550 but even without the Continuum support, the phone isn't without its merits.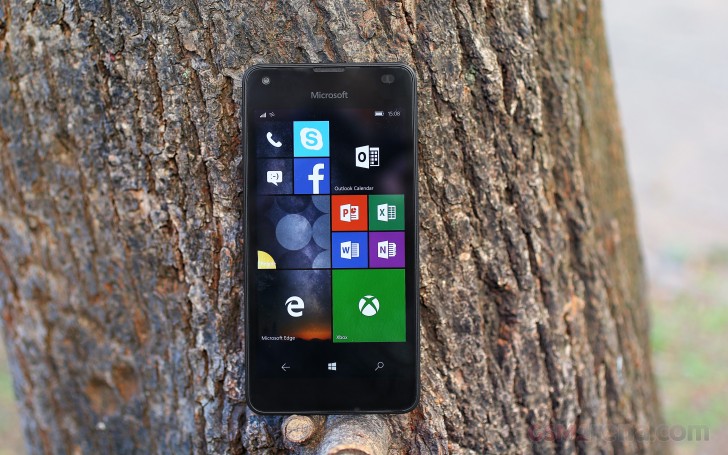 To begin with, the 4.7" screen has 720p resolution, which is quite a confidence booster at this price point. There's LTE support as well and a 5MP main camera - a feature Microsoft carries from the previous generation. The exterior hasn't radically changed and the polycarbonate case is simple and practical. While it may not be the best choice for the flagship Lumia 950, the plastic finish is perfectly fitting the budget Lumia 550.
Key features
Windows 10 Mobile
4.7" 720p LCD display of 315ppi, Glance Screen
Snapdragon 210 chipset with quad-core 1.1GHz Cortex-A7 CPU and Adreno 304 GPU, 1GB of RAM
5MP auto-focus camera with f/2.4 aperture, LED flash, 720p video recording @ 30fps
2MP front-facing camera with 480p@30fps video recording
8GB of built-in storage; expandable via a microSD slot
Cat. 4 LTE (150/50Mbps); Wi-Fi a/b/g/n; Bluetooth 4.1; GPS/GLONASS/Beidou; FM radio;
Active noise cancellation with a dedicated mic
2,100mAh battery
Main disadvantages
Low performance chipset
No Windows Continuum support
The black polycarbonate is quite smudge-prone
The design might be growing old on some long-time Windows Phone users
On paper, Microsoft has done most of the things right. We're not quite sure about the choice of the Snapdragon 210 chipset - perhaps the high-res screen ate into the budget available for the chipset. LTE support is there though and that must've been Microsoft's main requirement. Let's hope too that the chipset pays back in terms of better battery life too.
Additionally, we can't help but notice the striking similarity between the Lumia 550 and last season's Lumia 640. Not that this is necessarily a bad thing. On the plus side, it's nice that the Lumia 550 shares a lot with the flagship Lumia 950 pair in terms of looks, but the design is quite obviously getting long in the tooth.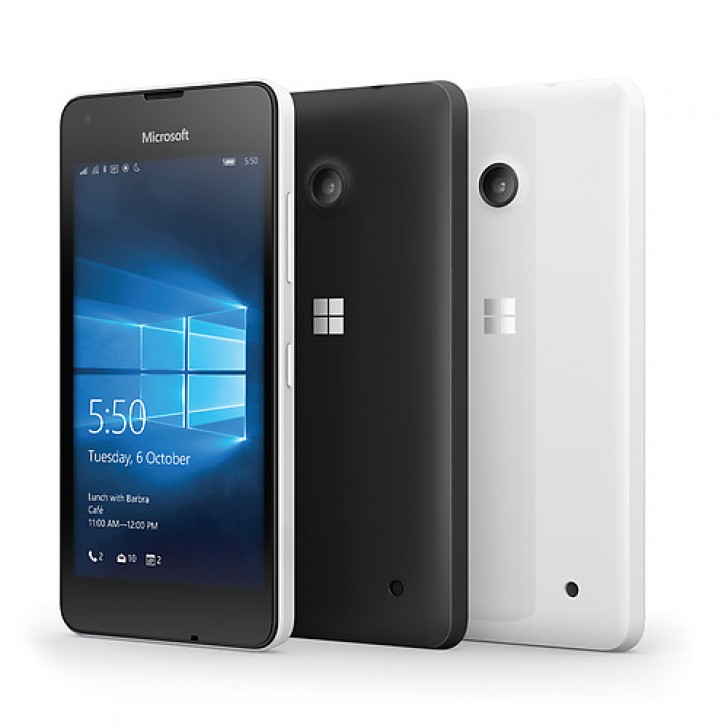 There's more to the Lumia 550 though than its looks. We're excited to see what Windows 10 has in store for the entry-level smartphone space. Before that, let's explore the hardware and what Microsoft changed about it. Or didn't.
y
Microsoft 550 looking nice but it's not working properly.actually iam using Microsoft mobile 📱 since Microsoft started this mobile company. its very heating.why all mobiles heating plz check that problem
D
I don't now why but lumia 550 work very good... I read other comments, everyone have some problems.
a
Windows 10 OS required an upgrade a whopping -3.33Gb - impossible to install without a hard reset - nice one Microsoft - put Windows 10 on a phone with insufficient memory to cope with upgrades, should have bought a phone with better memory - other t...