Final words
The Meizu MX4 makes a great first impression and has no trouble keeping it up. Its credentials are solid and there's little to really gripe about. The bezel-less display is impressive, the camera is very good, the build has improved over previous generations, Flyme OS offers a smooth and unusual take on Android KitKat and the price is pretty decent.
There aren't too many faults to be found about this device. But that was also true about its predecessor, which ultimately didn't manage to carve a big portion of the market for Meizu. The company is consistently crafting some great products but just like Xiaomi, Oppo and OnePlus, it fails to find a big enough market outside of its home Asia, leaving users in Europe and North America in the dark as to what Meizu stands for.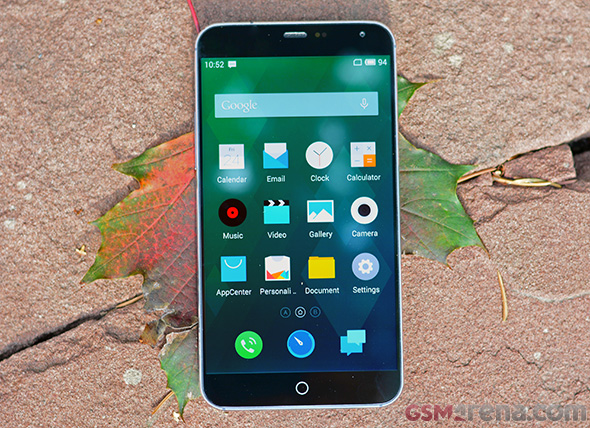 To sum it up, the Meizu MX4 is a solid package in pretty much all departments. We like to highlight our review conclusions at the end of each review, so here goes the list.
Key test findings:
Build quality is solid, we like the new metal frame over the plastic of old
The display is bright with good contrast but poor blacks and only average sunlight legibility
Battery life is stellar with great call and browsing times, outstanding stand-by times
Flyme OS is visually rich and responsive. Meizu has done a superb job of the unlocking gestures
CPU performance was really good, GPU and browsing on the other hand lags behind competition
Video player supports all of our test files
Audio quality is excellent
Photos come out very good, this is what Sony should have done with its own sensor
4K videos are great, but use the rare HEVC codec though and can't be uploaded to YouTube
As long as Meizu doesn't have world domination on its plans, it would do just fine. Asia is a fast growing market with plenty of opportunities. It's also a place where manufacturers can be more liberal about borrowing ideas from competitors.
But Asia isn't Meizu's for the taking with Oppo and Xiaomi posing a huge threat. Xiaomi's Mi3 and the latest Mi4 are both up to par with the MX4. The duo has a solid foundation of 5" 1080p screen, 13MP camera and the Mi4 matches the Meizu MX4 on the 4K video recording.
Xiaomi is putting a lot of effort in its MiUI as well - if you're looking for an iOS twist on Android, MiUI is ahead of Flyme OS. Both the Xiaomi Mi3 and Mi4 cost less than the Meizu MX4 for their base models too.
Oppo has its Find 7 and Find 7a. The Find 7 has the screen resolution advantage with QHD panel and matches the Meizu MX4 spec for spec but is more expensive (by a serious margin). The Find 7a opts for a less impressive 5.5" 1080p panel but is much closer to the Meizu MX4 on price - almost the same - and has a little extra screen estate to show for it.
If you prefer pure Android, then the OnePlus One is a good option to consider. The base 16GB model is cheaper than the Meizu MX4 and the 64 gig variant costs about the same as a 16-gig MX4. The One has a bit of an edge on the MX4 with a bigger screen, good 13MP camera, 4K video recording and a custom-made CyanogenMod 11s that's a more powerful replica of stock Android.
Huawei has its stake in this battle as well. The Honor 6 is cheaper and is a very close match for the Meizu MX4 on almost every count. Its 13MP doesn't do 4K video though.
LG's G3 is a little taller than the Meizu MX4 but has a great 5.5" QHD display, a great 13MP camera and 4K video and is easier to obtain both in and outside Asia. It will cost you more though.
In the densely populated smartphone market, there's seldom a device that can go along unrivaled and unchallenged. The Meizu MX4 should know this best and prepare for it properly.
Unfortunately, Meizu isn't really doing all it can to secure a winning spot. Xiaomi is all over the internet with their phones, OnePlus (and subsequently Oppo) made a lot of hype about the One even though it's their first (and for now only) phone.
Meizu sure have a great smartphone to market but this doesn't necessarily mean it's able to get the public attention the way the competition has been trying. We've said it before - Meizu needs to work harder on building its brand recognition outside of China to give its otherwise solid products a better fighting chance on the global market.