Video-centric triple camera setup
The LG Wing has a rather unorthodox main camera setup that incorporates a couple of ultrawide snappers. The main attraction definitely has to be the topmost 12MP unit. LG calls this the Ultra Wide Gimbal Motion Camera, which is admittedly a mouthful and quite descriptive. It has a six-axis stabilization system at its disposal and a very wide 120-degree field of view, enabling the Wing's impressive video gimbal capture modes. This 12MP snapper has 1.4µm pixels, posMain 16MP might modeitioned behind a rather dim f/2.2 lens.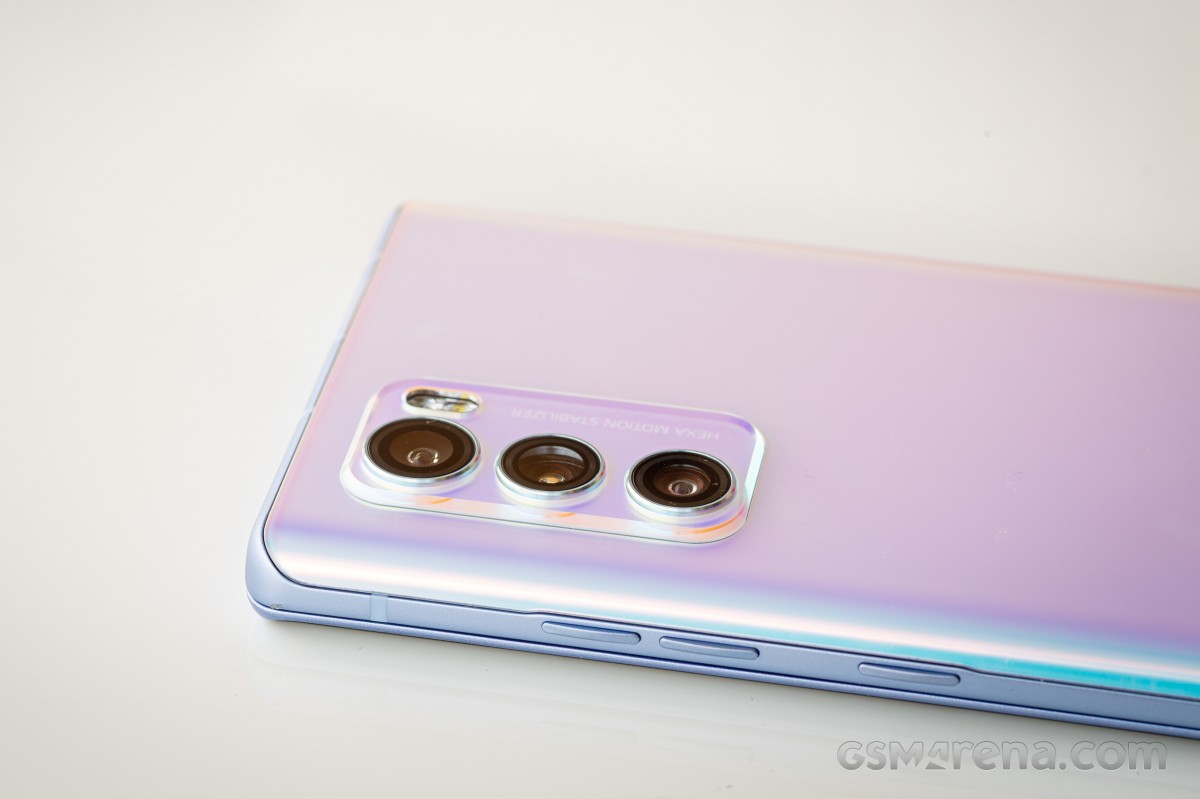 Clearly, this camera is fairly specialized and geared towards video capture. Perhaps that explains why LG felt the need to include another 13MP more conventional ultrawide. This second one has 1.0µm pixels and a brighter f/1.9 lens. A "general purpose" ultrawide, more geared towards photography, if you will.
Finally, there is the 64MP Quad Bayer ISOCELL Plus sensor from Samsung. A pretty popular and widespread module that has already proven its salt on more than one occasion. It has 0.8µm pixels, a bright f/1.8 lens, PDAF, and OIS.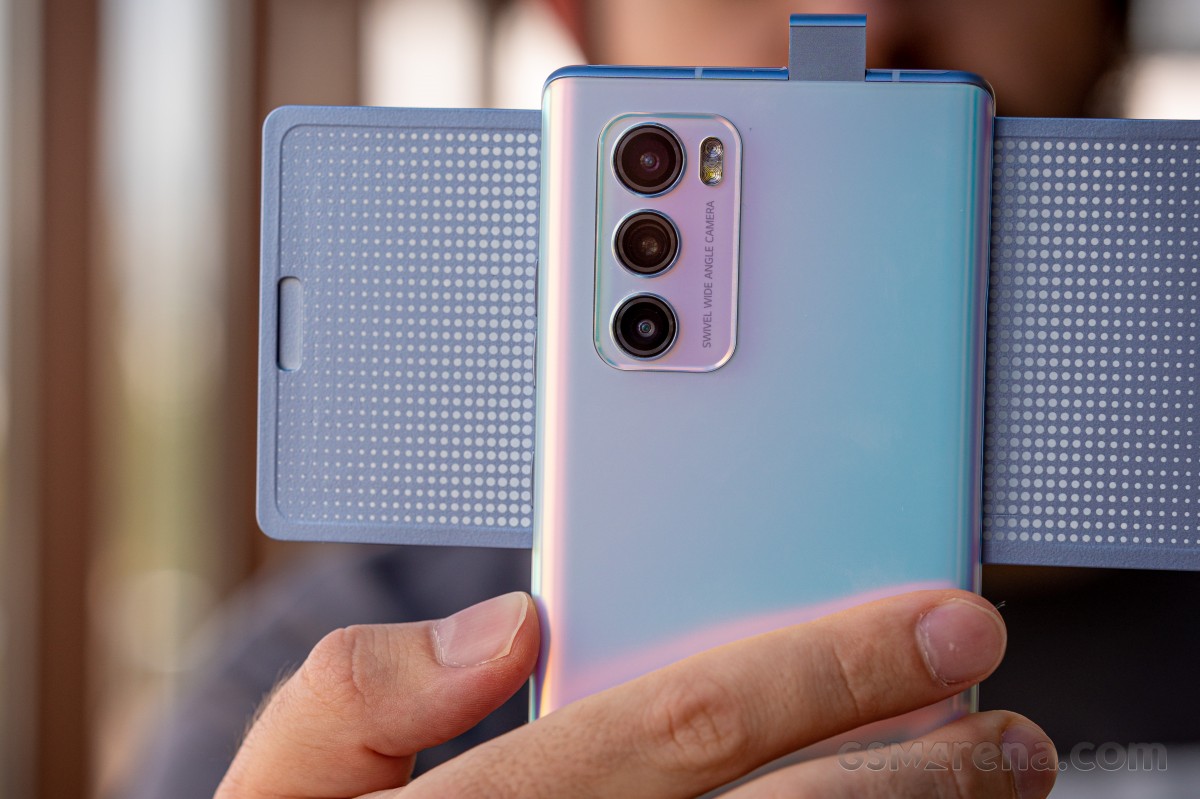 Selfies are handled by a 32MP, f/1.9 unit, mounted on a pop-up assembly. This is a 1/2.8" unit, with 0.8µm pixels. Nothing all that special, but still plenty powerful on paper.
A dedicated telephoto snapper is a notable omission from the Wing's camera setup. While that is a bit of a bummer, it is arguably a justified decision, considering the Wing has a clearly video-centric camera setup overall. Plus, you can still get quite competent 2x zoom photos from the main 64MP camera.
Before we get to any of that, though, we have to say a few words about the camera UI on the Wing, since there are understandably some unique aspects to accommodate the form factor and special gimbal functionality.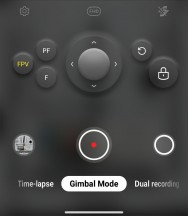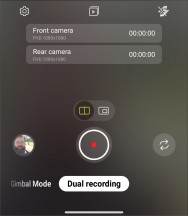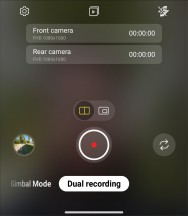 Gimbal Mode • Dual recording mode
The only way to actually access both the special Gimbal and Dual recording video capture modes is to have the Wing unfolded. The ultra-wide camera used for these modes is rotated at 90 degrees to the other cameras, and it requires the screen to be tilted at 90 degrees as well.
In the Gimbal Mode, there are also extensive controls placed on the second display.
There is no way to actually capture photos with any of the Wing's other cameras when it is unfolded because that way, they are rotated incorrectly. It's an odd limitation.
In keeping with its insistence on delivering a user-friendly and very guided software experience, LG made sure to include a valuable and much-appreciated set of instructions for its Gimbal Mode and its main features and controls.
When the Wing is folded, you get a familiar and straightforward camera UI.
A few toggles on the left, including an aspect/resolution selector, which can be used to quickly go into 64MP mode on the primary camera.
On the right - modes that you can freely rearrange, add or remove. Weirdly enough, out of the box, Night mode is hidden away in the extra menu.
LGhas AI scene recognition and optimization automatically working in the camera app. It is denoted by the small, colorful icon in the bottom right corner of the camera UI. The icon there denotes the currently active AI optimization. You can also press it to disable the system.
The video capture UI is just as easy to grasp and use. We appreciate some of the little convenience controls, like the resolution selector.
One confusing thing we found is that the "Steady cam" toggle in the main UI is actually different from the "Steady recording" option in-camera settings. The latter is a milder EIS stabilization, which works on both the main and the Wing's ultrawide cameras. At the same time, Steady cam takes stabilization another level up, crops quite a bit more from the frame, and does not offer a camera selector or zoom options.
Still image quality
The primary camera on the LG Wing captures 16MP photos by default, due to its Quad-Bayer nature. These photos come out looking very pleasant. They are definitely flagship-grade in terms of overall quality. The levels of resolved detail and sharpness are excellent.
The dynamic range is wide, with just the deepest of shadows experiencing slight issues. The colors look great. We wouldn't exactly call them vibrant, but that's not really a criticism. They have a nice natural look to them. Noise is kept well at bay, especially in good light. All and all, the LG Wing flexes some really mature processing here.
As expected, HDR has a default Auto mode, and it works quite well, with HDR triggering at all the right times. In terms of actual quality improvements, the HDR algorithm provides a noticeable, if not a drastic improvement to things like shadows and noise.
Capturing stills at the full 64MP resolution of the main camera is also possible, but not justified in most cases. You end up with huge files that don't offer a lot of benefits in terms of detail. In fact, some fine geometric patterns can actually suffer and end-up being algorithmically estimated. That's not how Quad Bayer sensors are meant to be used.
Despite the lack of a dedicated zoom camera, you can still capture 2x photos on the Wing. These would be crops from the main camera, upscaled back to 16MP.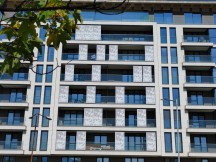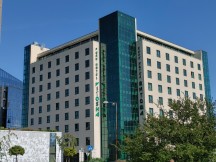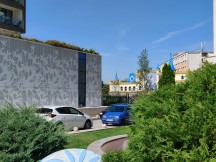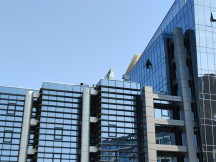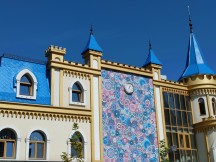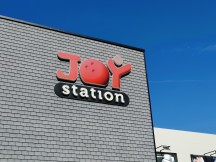 Main camera 2x 16MP zoom samples
A bit more noise is generally expected with this kind of zoom implementation. The photos taken by the LG Wing, however, look surprisingly clean. Even at the maximum allowed digital zoom level of 10x, photos still come out looking fairly sharp. Color us impressed.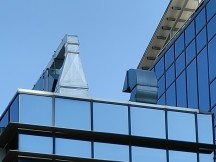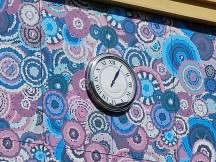 Main camera 10x 16MP zoom samples
Photos were okay in quality. Details are quite soft when you zoom in, just as on the LG Velvet. But the colors are nice and punchy - quite like those from the primary camera. Of course, the dynamic range was no match between the two, but that's often the case with ultra wides.
Autofocus would have been a nifty addition to the mix and one that would have allowed the capture of impressive macro shots with the ultrawide.
The Wing has a surprisingly in-depth Portrait mode, chuck-full of different modes and effects.
The portrait shots themselves also look great.
Subject separation is not perfect, but still really impressive, and the quality of the background effects is top-notch. Portrait mode on the LG Wing practically leaves nothing more to be desired.
Selfies from the 32MP pop-up camera also look flagship-grade. These end up in 8MP resolution, since this is another Quad Bayer sensor.
Detail is plenty, colors are slightly different from those on the main camera, but still pleasing, and the dynamic range is very respectable for a selfie snapper. There is no autofocus, but the focus plane is comfortably deep, meaning that your face would come out perfectly sharp in most handheld cases.
Portrait mode is available for selfies too, and this is where we can really see LG's advanced algorithmic magic shine since there is no secondary camera for depth information.
Even so, subject detection and separation are impressive and the background effects maintain their fidelity as well.
Before we move on, here is the LG Wing in our extensive camera comparison database at both its intended 16MP main camera resolution and at its full 64MP. Available for your pixel-peeping pleasure.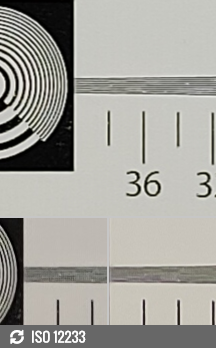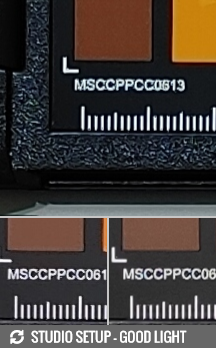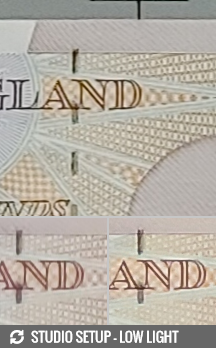 LG Wing 5G against the Asus Zenfone 7 Pro and the Xiaomi Mi Note 10 Lite in our Photo compare tool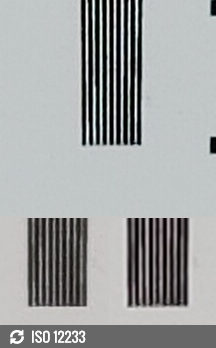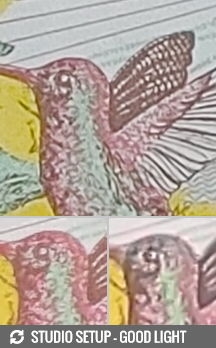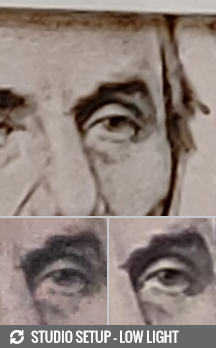 64MP: LG Wing 5G against the Asus Zenfone 7 Pro and the Xiaomi Mi Note 10 Lite in our Photo compare tool
Low-light photo quality
The LG Wing maintains flagship-level camera performance in low-light conditions. The detail is plenty. The HDR algorithm is pulling its weight nicely, restoring detail in shadows and darker areas, and preventing light sources from blowing out.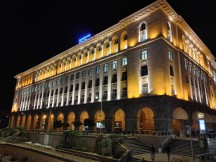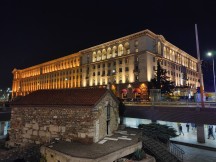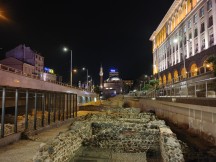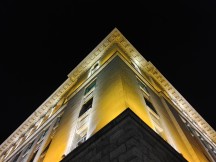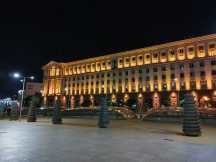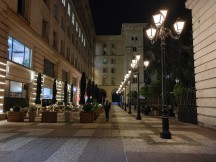 Main 16MP low light camera samples
Noise is impressively low overall. There are definitely some noticeable traces of sharpening in the frame, which is to be expected. Especially since in its default auto mode, the camera app is more than happy to auto-trigger night mode and determine a good exposure time for best results.
That mostly explains why explicitly shooting in Night mode does not net drastically different results.
On average, you tend to get a bit more sharpness in the frame, mostly artificially added. Easily identifiable straight lines and shapes naturally get affected the most. If you appreciate the look, then there is no reason not to go for it. Especially since Night mode on the Wing is quite snappy and only takes a few seconds to capture.
Just like in good light, 2x zoom shots from the main camera come out surprisingly clean. Expectedly, there is a bit more noise, but just a minute amount.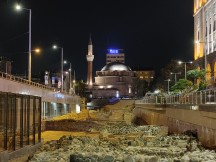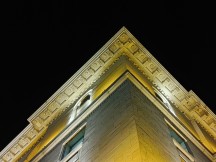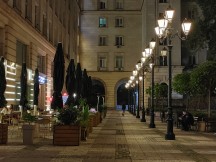 Main camera 2x zoom 16MP low-light samples
Night mode is available across all cameras on the Wing. The effect it has on zoom shots is expectedly quite similar to what we already described for the main camera at 1x zoom. The most noticeable bit often being a shift in colors when using Night mode.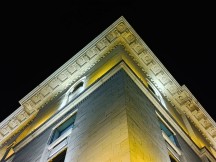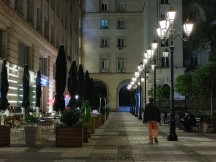 Main camera 2x zoom 16MP Night mode samples
Expectedly, the ultrawide camera suffers the most in low-light conditions. Still, it manages to produce very usable shots. In relative terms, it definitely holds its own in the ultrawide crowd.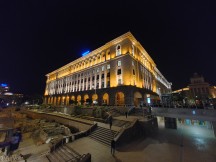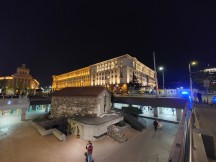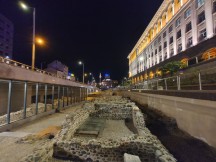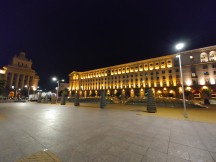 Ultrawide 13MP low-light samples
It also logically makes sense that Night mode has the most noticeable positive effect on ultrawide shots. It is definitely worth it to toggle it manually in this scenario.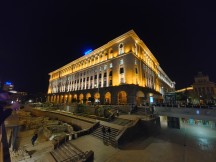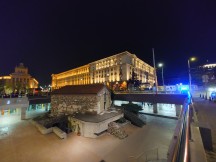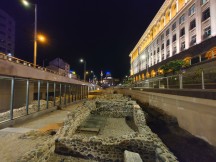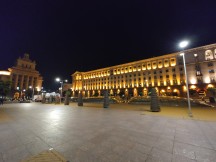 Ultrawide 13MP Night mode samples
Video capture quality
The LG Wing is a real powerhouse when it comes to video capture. Even though the 12MP Ultra Wide Gimbal Motion Camera is present, you can actually shoot video with the 13MP ultrawide as well. That makes for a versatile, even if a bit confusing setup.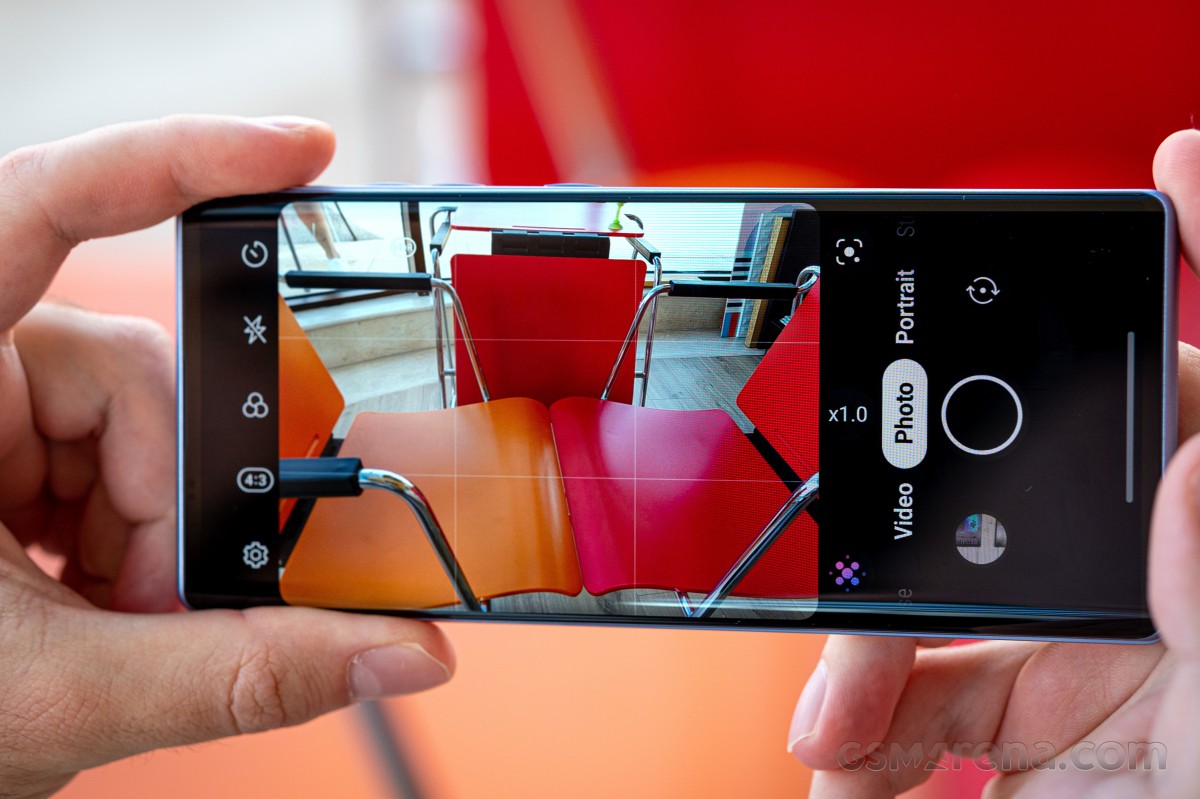 It goes as follows - the main 64MP camera can record at up to 4K@60fps in both 1x and 2x zoomed modes. The 13MP regular ultrawide can also go up to 4K, just capped at 30fps, typically the norm for ultra wides. You can apply EIS stabilization to both of these cameras, across all three main zoom modes - 0.5x, 1x, and 2x, at full resolution, just at the expense of some of the frame.
Steady cam is an extra level of stabilization beyond that. It only works on the main 64MP camera, both at 1x and 2x zoom, and results in 1080p@30fps highly-stable footage.
Then there is Gimbal Mode, which is a totally different beast. It is only accessible when the Wing is unfolded. It leverages the dedicated 12MP ultrawide and is also capped at 1080p@30fps.
The exact same resolution limitation also applies to the other special Wing camera mode - Dual recording. It also uses the specialized 12MP ultrawide alongside the selfie camera and can either be set up to save two concurrent 1080p videos from each of those or save the two FullHD streams in one file. That file is either 1920x1080 pixels if you choose the small "streamer cam" window setup or 2160 x 1080 pixels - an extra-wide split view of the two cameras side by side.
/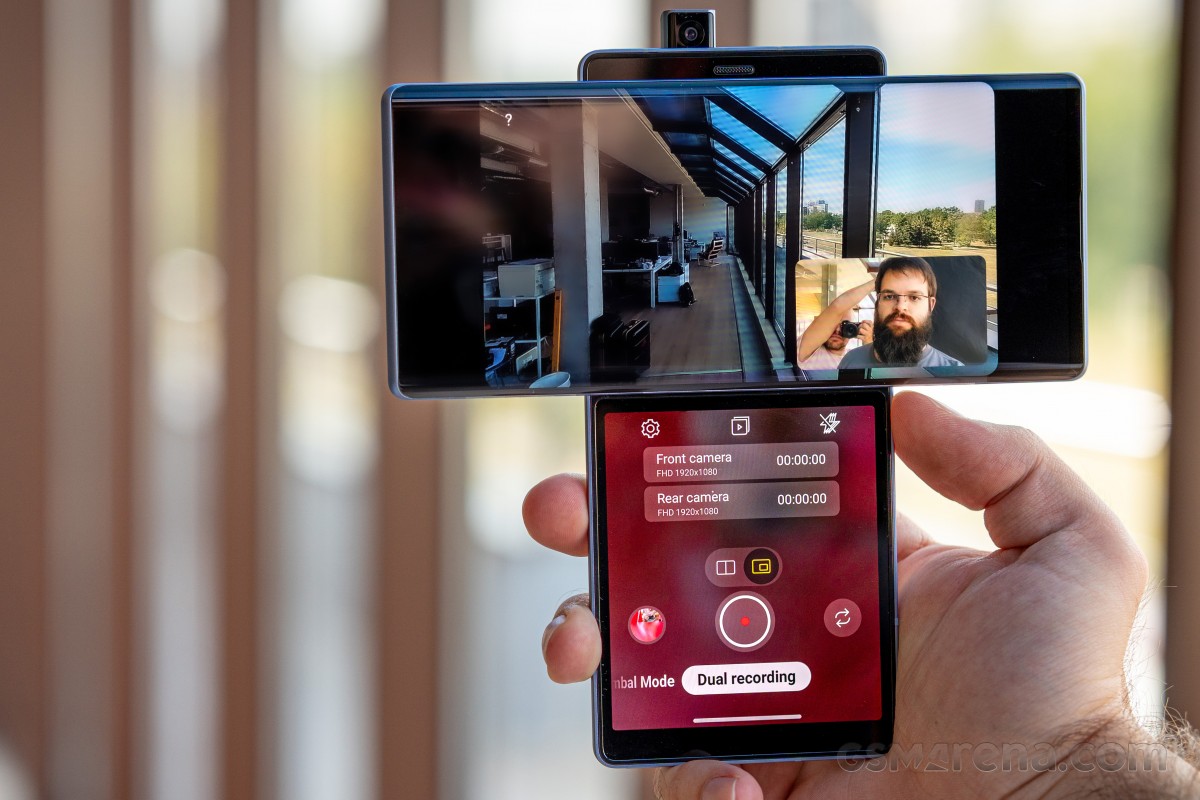 It's perfectly fine if that all sounds a bit confusing. The various camera choices and limitations will become a lot easier to understand with use. Before we get to the more complicated setups, though, let's take a step back and cover the basics, starting with the main 64MP camera.
It produces nothing short of flagship-quality footage. Details and colors are great, so is sharpness. We have seen a more impressive dynamic range, but the Wing still has plenty to hold its ground. If you pixel-peep, you can notice a bit of noise in things like fine leaves. This, in itself, should be enough of an indicator as to how nitpicky you have to get to dislike the footage.
As with stills, doing a 2x zoom from the primary camera is a surprisingly-decent experience. Sure, you can spot a lot more of that slight noise we mentioned, and sharpness isn't quite as good. Overall, perfectly-usable, though.
Even the 13MP ultrawide continues this great positive train we have going here. It offers plenty of details, colors that look natural and manage to get pretty close to those on the main camera.
Plus, these are some of the sharpest corners we have seen on an ultrawide lately. Impressive stuff. Dropping the resolution down to FullHD works well for all three snappers. You definitely lose fine derail, but besides that, all of the other quality attributes remain strong and mostly unchanged.
Quickly moving on to the 32MP selfie, we get another impressive showing. Honestly, the most significant issue we have here has to be dynamic range. And even then, our testing environment is quite torturous, with a mix of direct sunlight and deep shadows and the selfie holds its own.
If you plan to walk and vlog with the Wing, you can definitely benefit from some EIS. It tends to cut away a fairly big chunk of the frame. But, then again, you do get impressively smooth footage for it. It can become an issue with the selfie camera since you have to hold it fairly far away from your face to get your entire mug in the frame.
We have a playlist for you with stabilization samples from all of the various cameras to check out. If you really want stable footage, Steady cam has you covered without resorting to the Gimbal mode. Here is a sample of that in action.
Before we move on, here is a low-light sample from the Wing's main camera. Nothing to phone home about, but impressively noise-free and crisp, as far as low-light footage goes.
Also, the LG Wing in our extensive video compare database.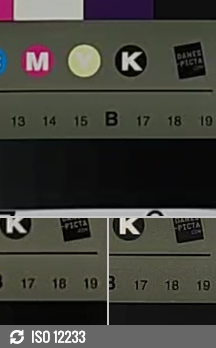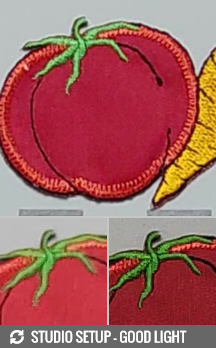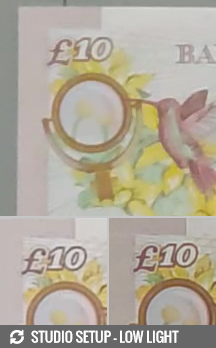 LG Wing 5G against the Asus Zenfone 7 Pro and the Xiaomi Mi Note 10 Lite in our Video compare tool
Dual recording mode
Dual recording mode is fairly straightforward, but still, a nifty way to make good use of both the rear and front cameras on the Wing. Specifically, you get to capture footage from the specialized 12MP Ultra Wide Gimbal Motion Camera, alongside the 32MP selfie cam. That being said, you can't really make proper use of the full potential of its gimbal-style stabilization. You just get access to the basic stabilization level, accessible through the camera settings menu, as already described. It is still a perfectly adequate level of stabilization for the purposes of vlogging.
This is definitely the intended use of this particular mode. You can either have the 1080p freed from the two cameras saved as individual files or automatically combined in one. There are to available "compositions" to choose from. In the "small window mode," the resulting file also has a 1920 x 1080 pixel resolution.
The side-by-side mode is slightly weirder since it produces a 2160 x 1080-pixel combined video. We have included both compositions in the uploaded sample video. Mind you, the video aspect might not be exactly correct. That is an issue you will likely face yourself when working with the odd 2:1 footage.
Gimbal mode
Gimbal mode makes proper use of the specialized 12MP ultrawide camera on the Wing. Its six-axis stabilization system and wide 120-degree field of view allow for some pretty cool functionality. You can use the joystick in Gimbal mode to actually pan around, much like you can do with a real gimbal system. Since you are not actually physically moving anything in the Wing's camera, there are obvious limitations to how far you can pan. Even so, it offers an impressive amount of freedom.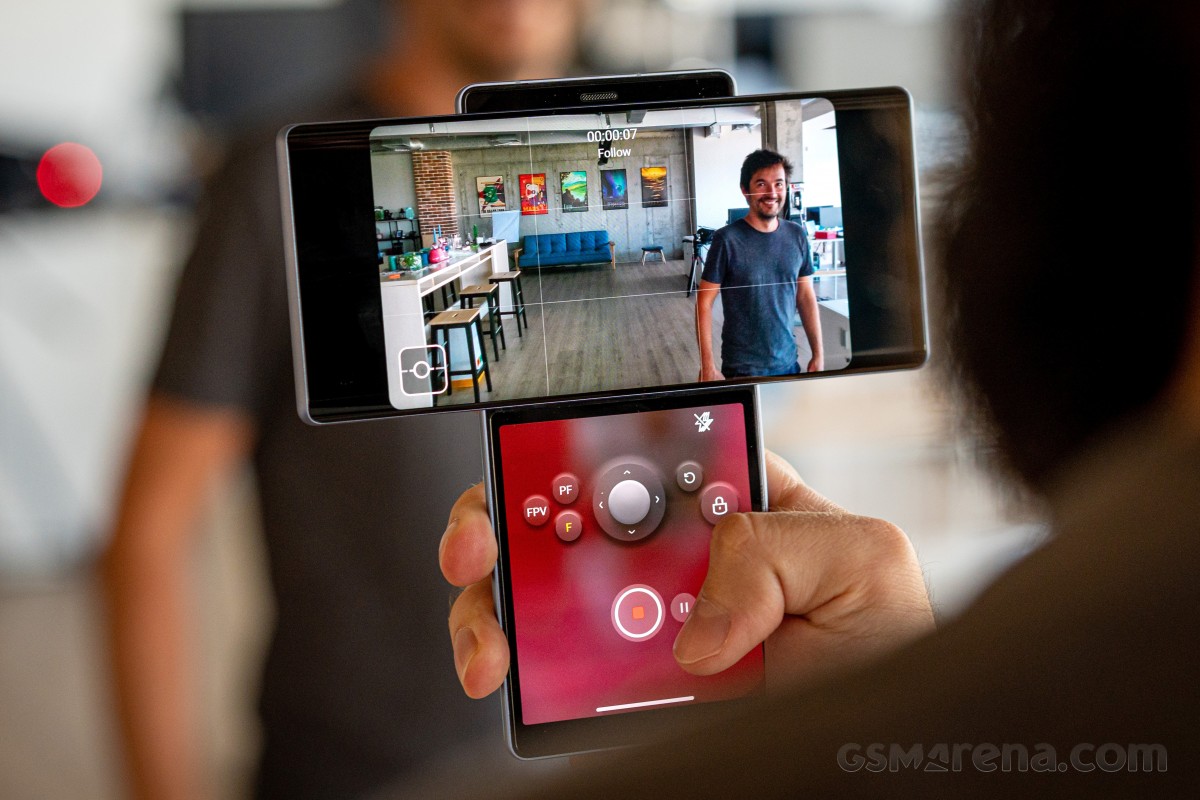 Another sort of "basic" control Gimbal mode offers is the ability to lock the frame in place. This continues for as long as you hold down the lock button. Basically, what you end up with is the same framing in the viewfinder, regardless of any moderate shake, as well as shift and even rotation you might be introducing to the Wing.
Beyond that, the three distinct sub-modes within Gimbal mode offer different automatic functionality. LG has done an excellent job explaining and demonstrating these in marketing materials. We have spliced the short guides in a single video for your convenience.
Follow mode seems to correct for vertical motion. You can track an object, which is going up and down, and have it centered in the frame. Pan follow mode is the same concept, but for horizontal panning. This arguably seems more versatile in practice, since most sports will require following your subjects in this manner. First Person View mode is slightly different still and seems to be intended for use when the user is actively in motion. Imagine something like biking alongside someone while the Wing is attached to your body or in your hand. This will naturally lead to a lot of tilting in the frame. The Wing will do its best to straighten that out.
We did our best to test the basic features of Gimbal mode for your convenience.
Slow-mo and Timelapse are the other two modes available on an unfolded LG Wing. Both a lot more self-explanatory. Even so, Timelapse has a few nifty tricks. It can recognize what you are shooting and speed it up to the ideal rate. Clouds and traffic should get sped-up more, while a person talking will be left at a more natural rate. You can also manually adjust the speed of the effect while recording.
And there are even more camera features on the Wing beyond these to explore. Thinks like Voice Bokeh and ASMR recording.
The LG Wing is a proper camera powerhouse with a clear focus on videography and more than a few unique features to back up that title.