Active matrix OLEDs can be plastic too, this is a 6-inch one
The LG V30 is equipped with a P-OLED display, and LG made it clear that it's an 'active matrix' like Samsung's, but the 'AM' bit is just not part of LG's trademarks. The 'P', on the other hand, stands for plastic - the base layer on which the display is built is not glass but plastic.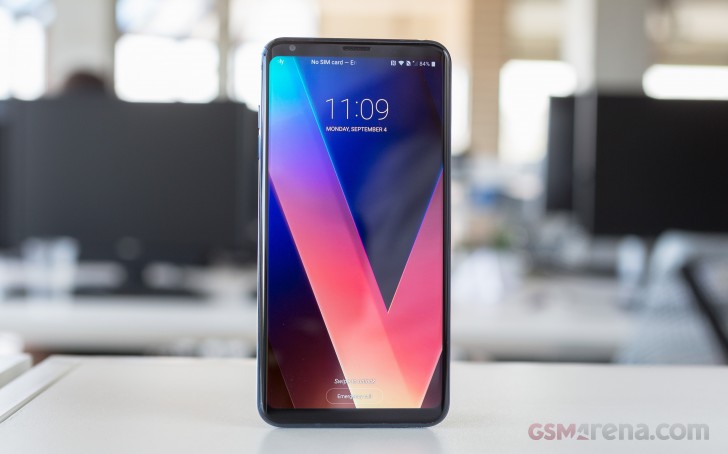 While we haven't recently been to a Samsung display manufacturing plant, the company's curved AMOLEDs should be plastic underneath as well. Also, LG used P-OLED displays back in G Flex and G Flex 2 days, when Samsung's curved AMOLEDs weren't yet all the rage.
Anyway, the LG V30's FullVision display is in a 2:1 aspect ratio, as probably most high-end phones will be from this year on. Resolution is 1,440x2,880 pixels and that amounts to 537ppi, and that's plenty.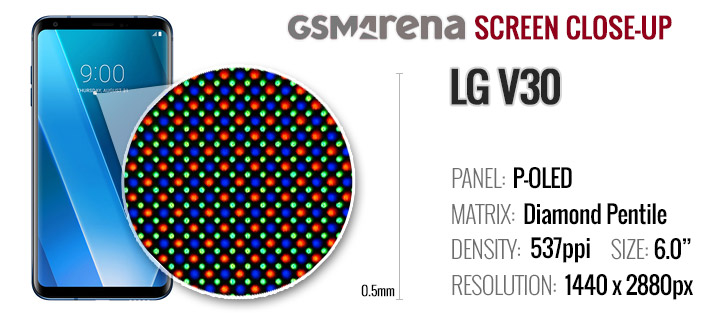 When it comes to brightness, the V30 managed a little over 400nits with the auto brightness turned off. In auto mode, however, it's able to push 600+ nits, up there with the Galaxy S8. The S8+ can shine a little brighter, though.
Unlike Samsung's AMOLEDs, the V30's screen does show some illumination in the blacks - not enough for you to see, but there for our testing equipment to spot. For purposes practical however, you can assume that contrast is infinite, or at least vastly superior to the best of LCDs.
Display test
100% brightness
Black, cd/m2
White, cd/m2
Contrast ratio
Nokia 8
0.382
703
1840
Apple iPhone 7 Plus (max auto)
0.50
681
1362
Samsung Galaxy S8+ Max auto
0
647
∞
LG V20 Max auto
0.59
628
1064
Samsung Galaxy S8 Max auto
0
618
∞
LG V30 (Max Auto)
0.032
616
19250
HTC U11 (Max Auto)
0.373
583
1563
Sony Xperia XZ Premium
0.463
573
1238
Apple iPhone 7 Plus
0.41
573
1398
LG G6 max auto
0.277
564
2036
Huawei P10 Plus
0.335
547
1633
HTC U11
0.308
483
1568
LG V20
0.43
475
1097
LG G6
0.228
468
2053
Samsung Galaxy S8+
0
442
∞
Samsung Galaxy S8
0
440
∞
OnePlus 5
0
435
∞
Google Pixel XL
0
432
∞
LG V30
0.002
414
207000
Minimum brightness is 3.3nits, not the nominal 1nit we've seen on occasion, but still perfectly adequate for nighttime viewing.
Out in the sun the V30 posts high marks for contrast, out of reach for most LCDs, yet falling short of Samsung's finest.
Sunlight contrast ratio
Samsung Galaxy S8
4.768
Samsung Galaxy S8+
4.658
Samsung Galaxy S6 edge+
4.615
Oppo R11
4.454
Samsung Galaxy S7 edge
4.439
OnePlus 3
4.424
Samsung Galaxy S7
4.376
HTC One A9
4.274
Samsung Galaxy Note7
4.247
Samsung Galaxy A3
4.241
Nokia 8
4.239
OnePlus 3T
4.232
Google Pixel XL
4.164
ZTE Axon 7
4.154
Meizu Pro 7 Plus
4.147
Samsung Galaxy A7 (2017)
4.124
Samsung Galaxy S6 edge
4.124
Samsung Galaxy Note5
4.09
LG V30
4.022
Huawei Nexus 6P
4.019
OnePlus X
3.983
Vivo Xplay5 Elite
3.983
Oppo R7s
3.964
Apple iPhone 7
3.964
Huawei P9 Plus
3.956
Meizu Pro 6 Plus
3.935
Lenovo Moto Z
3.931
Samsung Galaxy A7 (2016)
3.918
OnePlus 5
3.914
Samsung Galaxy C5
3.911
Samsung Galaxy C7
3.896
Samsung Galaxy A5
3.895
Samsung Galaxy J7 outdoor
3.879
Samsung Galaxy J2 outdoor
3.873
Samsung Galaxy A8
3.859
Apple iPhone 6
3.838
Sony Xperia XZs
3.818
Samsung Galaxy A9 (2016)
3.817
Motorola Moto X (2014)
3.816
Samsung Galaxy J7 (2017)
3.812
Samsung Galaxy A5 (2017)
3.804
Samsung Galaxy J7 (2016) outdoor mode
3.802
Xiaomi Redmi Pro
3.798
LG V20 Max auto
3.798
Sony Xperia XZ
3.795
Samsung Galaxy A5 (2016)
3.789
Apple iPhone 6s
3.783
Meizu Pro 5
3.781
Microsoft Lumia 650
3.772
Xiaomi Mi 6
3.767
Samsung Galaxy J7 (2016)
3.756
Oppo F1 Plus
3.709
Vivo X5Pro
3.706
Sony Xperia X Compact
3.694
Samsung Galaxy A3 (2017)
3.688
Apple iPhone SE
3.681
Huawei Mate 9
3.68
Samsung Galaxy A7
3.679
Meizu PRO 6
3.659
BlackBerry Priv
3.645
Sony Xperia XA1 Ultra
3.597
Apple iPhone 7 Plus
3.588
LG G6
3.556
Apple iPhone 6s Plus
3.53
Motorola Moto Z Play
3.526
Samsung Galaxy J3 (2016) outdoor mode
3.523
Samsung Galaxy J3 (2016)
3.523
Acer Jade Primo
3.521
Microsoft Lumia 950
3.512
Oppo R7 Plus
3.499
nubia Z11
3.466
Huawei P10 Plus
3.456
HTC U Ultra
3.453
Samsung Galaxy J7
3.422
Meizu MX5
3.416
LG V20
3.402
Huawei P10
3.379
Samsung Galaxy J5 (2016)
3.378
Oppo R9s
3.352
Honor 8 Pro
3.341
Oppo R7
3.32
Lenovo P2
3.316
Honor 9
3.289
Xiaomi Mi 5s
3.276
Nokia 5
3.261
Nokia 6 (Chinese version)
3.244
Xiaomi Mi 5
3.24
Nokia 6 (Global version)
3.238
Samsung Galaxy J2
3.235
Sony Xperia X Performance
3.234
Xiaomi Mi Note 2
3.228
Motorola Moto X Play
3.222
Oppo F3 Plus
3.218
Huawei Mate 9 Pro
3.206
Huawei P9
3.195
ZTE Nubia Z17
3.159
Lenovo Vibe Shot
3.113
Motorola Moto X Force
3.105
LG Nexus 5X
3.092
HTC U11
3.089
Huawei Mate S
3.073
Microsoft Lumia 640 XL
3.065
Sony Xperia XA1
3.012
Sony Xperia L1
2.994
Sony Xperia X
2.989
Huawei P10 Lite
2.974
Samsung Galaxy Note
2.97
Sony Xperia Z1
2.95
Huawei Mate 8
2.949
Xiaomi Redmi 4
2.92
Xiaomi Redmi 3S
2.913
Sony Xperia XA Ultra
2.906
LG G5
2.905
HTC One S
2.901
Xiaomi Redmi 3s Prime
2.893
Xiaomi Mi 5s Plus
2.884
Sony Xperia XZ Premium
2.877
Sony Xperia XZ Premium (sRGB)
2.877
Sony Xperia Z5
2.876
Nokia 3
2.871
Microsoft Lumia 550
2.851
Lenovo Moto M
2.813
Xiaomi Redmi 3 Pro
2.803
Sony Xperia Z5 compact
2.784
Meizu MX6
2.751
LG V10
2.744
Xiaomi Redmi 3
2.735
Xiaomi Redmi Note 4 (S625)
2.714
Meizu M5
2.71
Sony Xperia M5
2.69
Xiaomi Redmi 4 Prime
2.679
Huawei P9 Lite
2.679
Vivo V3Max
2.659
Xiaomi Mi Mix
2.658
Doogee Mix
2.642
Xiaomi Mi 4i
2.641
Xiaomi Redmi 4a
2.635
Sony Xperia XA
2.609
Motorola Moto G4 Plus
2.582
Motorola Moto G4 Plus (max auto)
2.582
Meizu M5s
2.58
Xiaomi Mi 4c
2.574
LeEco Le Max 2
2.567
Asus Zenfone 3 ZE552KL
2.563
Microsoft Lumia 640
2.563
Xiaomi Mi Max 2
2.561
Lenovo K6 Note
2.544
Lenovo Moto G4
2.544
Oppo F1
2.528
Sony Xperia Z5 Premium
2.525
Huawei Honor 7 Lite / Honor 5c
2.506
Sony Xperia M4 Aqua
2.503
Oppo F1s
2.481
Motorola Moto G
2.477
Lenovo Vibe K5 Plus
2.473
Huawei G8
2.471
Huawei nova
2.467
Sony Xperia Z
2.462
Lenovo Vibe K5
2.459
Meizu m3 max
2.447
HTC 10 evo
2.407
Huawei Honor 7
2.406
Sony Xperia E5
2.386
ZUK Z1 by Lenovo
2.382
HTC 10
2.378
Oppo F3
2.376
vivo V5 Plus
2.371
Meizu m1 note
2.362
Huawei nova plus
2.329
HTC One E9+
2.305
Alcatel One Touch Hero
2.272
Apple iPhone 4S
2.269
Lenovo Vibe K4 Note
2.254
Sony Xperia C5 Ultra
2.253
Xiaomi Redmi Note 3 (MediaTek)
2.249
Sony Xperia C4 Dual
2.235
Xiaomi Mi Note
2.234
Motorola Moto G (2014)
2.233
LG Nexus 5
2.228
Huawei P8
2.196
Meizu M5 Note
2.189
Huawei Honor 6
2.169
Xiaomi Redmi Note 2
2.166
OnePlus Two
2.165
HTC One X
2.158
Xiaomi Redmi Note 4 (X20)
2.145
LG Aka
2.145
Archos 50 Diamond
2.134
Xiaomi Redmi Note
2.119
Xiaomi Mi 4S
2.095
Acer Liquid X2
2.084
Huawei P8lite
2.078
vivo V5
2.059
Moto G 3rd gen max manual
2.026
Xiaomi Mi 3
2.001
Xiaomi Mi Max
1.996
Sony Xperia E4g
1.972
OnePlus One
1.961
Meizu m3 note
1.923
BlackBerry Leap
1.892
Meizu m2 note
1.892
HTC Butterfly
1.873
Sony Xperia Z1 Compact
1.772
ZTE Nubia Z9 mini
1.759
Sony Xperia U
1.758
Asus Zenfone Selfie
1.68
Motorola Moto E (2nd Gen)
1.675
ZTE Nubia Z9
1.659
Jolla Jolla
1.605
Motorola Moto E
1.545
Sony Xperia M
1.473
Sony Xperia L
1.351
Xiaomi Redmi 2
1.311
HTC Desire C
1.3
Sony Xperia C
1.283
Meizu MX
1.221
Sony Xperia E
1.215
As is all too common, in the default 'Normal' mode whites are visibly shifted towards blue/purple. Average DeltaE in this mode is 6.2 with a maximum of 11.1 for 100% Red. In the other pre-set modes, whites are much better controlled (DeltaE 2-3) and average DeltaE is around 4, with only a marginal decrease in maximum brightness. There's also a fully customizable mode with sliders for color temperature and for the three primary colors so you can tweak the display to your particular taste.
It needs to be said that the V30's color rendition degrades quite noticeably when viewed at an angle - it gets even bluer. We haven't observed this with recent Samsungs.
Connectivity
The LG V30 is powered by the Snapdragon 835 chipset and benefits from the wide range of connectivity features Qualcomm's SoC offers, and that includes Gigabit LTE (Cat.16 for downlink, Cat.13 or 150Mbps uplink). Single SIM and dual SIM versions will be available, ours happens to be the single SIM variety.
Wi-Fi b/g/n over 2.4GHz and a/n/ac over 5GHz is supported. There's the latest Bluetooth 5 with improved range and speed plus aptX and aptX HD for those who are into high quality wireless audio. NFC support is another check mark on the spec sheet. Positioning is handled by GPS and GLONASS satellites. There is even an FM radio receiver.
Charging and wired connectivity is using a USB-C interface and the V30 supports USB 3.1 for fast transfers. There's a 3.5mm jack so you don't have to live the dongle life, and also take full advantage of the built-in quad DAC.
LG V30 battery life
We finally got our hands on a retail unit and we used it to re-run all of our tests - we've updated the relevant review sections, battery life included.
The LG V30 packs a 3,300mAh battery, same as the one inside the G6. While the G6 has a smaller display to power, its chipset is built on a less efficient 14nm process, compared to the V30's 10nm Snapdragon 835. On top of that, the V30's OLED display should theoretically be less power-hungry.
The Samsung Galaxy S8+ relies on a higher-capacity 3,500mAh battery to power its 6.2-inch display, though the Galaxy Note8 makes do with 3,300mAh for a 6.3-inch screen. The OnePlus 5T with a 6-inch display, albeit FullHD, also has a 3,300mAh power pack. Then there are the 6-inch U11+ with a generous 3,930mAh capacity, and the Mate 10 Pro with 4,000mAh worth of juice.
Those numbers only serve to get the conversation going, in practice longevity has proven to vary widely in seemingly illogical ways. The 33 hours of 3G call time, for one, is a truly impressive accomplishment on the V30's part, especially after our less than solid experience with the Snapdragon 835 in the past. The standby endurance is also above average.
Web browsing endurance got a boost with the retail-grade firmware and the 9:30h we got out of the finalized V30 unit sounds much better than the 8:15h we measured on the pre-production model. Still not class-leading, though.
On the other hand, video playback longevity ended up close to two hours less on the final unit than on the pre-production one. That said, with 15 hours on the clock, the final V30's result remains superb.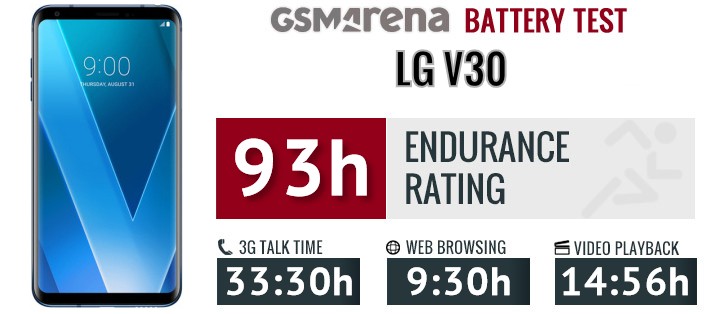 Our endurance rating stand for how long a single battery charge will last you if you use the LG V30 for an hour each of telephony, web browsing, and video playback daily. We've established this usage pattern so our battery results are comparable across devices in a combination of the most common day-to-day tasks. The battery testing procedure is described in detail in case you're interested in the nitty-gritties. You can also check out our complete battery test table, where you can see how all of the smartphones we've tested compare and you can fine tune the ratio of the endurance rating ingredients to better match your own typical use.