Telephony and phonebook
The telephony features are combined into a single app that uses tabs to separate features (you can hide the tabs you don't need).
The LG V10 supports HD Voice and can show a notification so you can be sure it's active. You can also adjust the voice quality to Default, Clean and Soft and separately enable noise reduction (the V10 has three mics).
The other tabs are pretty self-explanatory: Call logs, Contacts, Favorites and Groups. The Contacts tab places handy Call and Message shortcuts by each contact (the ones with phone numbers anyway). The default sorting method puts the contacts you contact most often on top. Standard alphabetical ordering is available should you prefer it.
Interestingly, the phone app can be set up to accept incoming calls into the second screen or as a popup while using the app.
LG's Ringtone ID is on board. This feature composes a unique ringtone for each of your contacts, turning phone number digits into notes.
The loudspeaker proved average and with certain ringtones it is downright quiet. You'll need to pick a loud, distinctive ringtone. The middling loudspeaker isn't great for listening to music either.
| | | | | |
| --- | --- | --- | --- | --- |
| Speakerphone test | Voice, dB | Pink noise/ Music, dB | Ringing phone, dB | Overall score |
| Apple iPhone 6s Plus | 65.8 | 65.1 | 64.6 | Below Average |
| Samsung Galaxy S6 edge+ | 65.8 | 64.8 | 70.4 | Average |
| LG V10 | 66.1 | 64.7 | 70.7 | Average |
| Samsung Galaxy Note5 | 65.3 | 64.6 | 73.5 | Average |
| LG G4 | 66.9 | 71.8 | 74.7 | Good |
| Sony Xperia C5 Ultra | 69.8 | 66.6 | 82.7 | Very Good |
| BlackBerry Passport | 76.6 | 71.9 | 76.0 | Very Good |
| OnePlus 2 | 75.7 | 73.5 | 80.7 | Excellent |
Messaging and text input
The messaging app is fairly standard in terms of features. One unique option allows it to show notifications of incoming messages and preview the messages on the second screen. Other than that the screen doesn't take part in texting.
You can set up different themes for each conversation with both custom bubble styles and backgrounds images (including photos you've taken). You can attach various multimedia files, including a quick sketch you drew.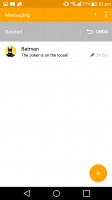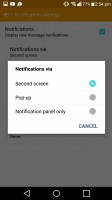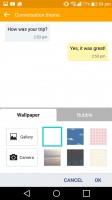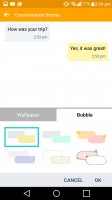 The messenger has a customizable look
The app has built-in spam filtering that works on numbers and the content of messages. You can also disable making URLs into clickable links (because as the app warns, spam messages can contain phishing links).
You get the AOSP-based Email app with a VIP list. Senders on that list get a custom notification sound, which can sound even if you muted notifications. Gmail is on board as well and will also handle third-party email providers.
The LG V10 uses the LG keyboard, which comes with a number of customization features. You can move around or remove the Settings key, the period key and the symbol key. The top number row is also optional. Then the customization wizard will let you change the vertical height - going from covering over half the screen to about a third. You can chose between Black and White themes too.
For writing, you can do old-school tap input or path input (think Swype), as well as handwriting recognition (requires a download) and voice dictation.
In landscape you can opt for a keyboard that spans the whole width of the display or a more compact one. A split keyboard is very handy too. For portrait use you might want to enable the one-handed mode.