Display
The vanilla iQOO 9 smartphone features the smallest display within Series 9 - a 6.56-inch AMOLED screen of 1,080 x 2,376 pixels or 398ppi density. The screen is protected by a flat sheet of Panda Glass.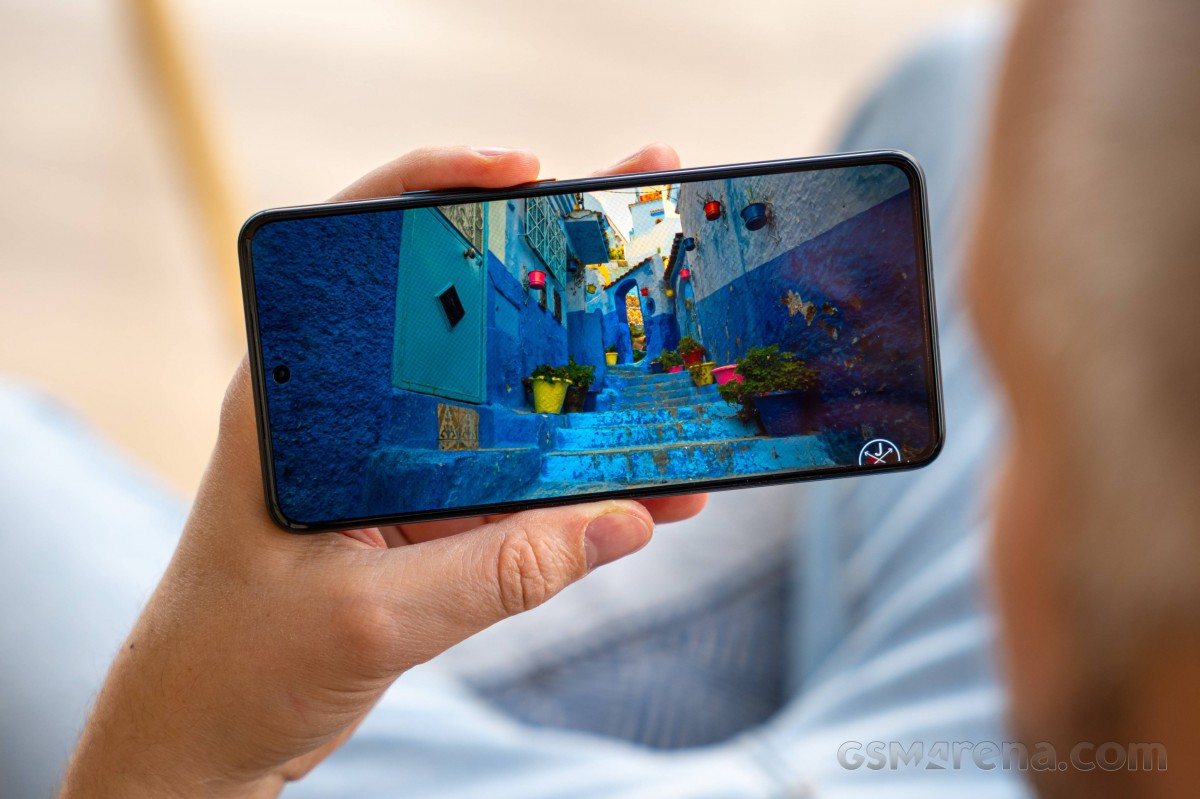 The iQOO 9 display is of premium quality - it supports 120Hz refresh rate, there is HDR10+ certification, as well as Monster Touch dual-sensor grid with 300Hz touch response and up to 1000Hz instant touch sampling rate.
The panel also supports native 10-bit colors and can display over 1 billion colors. It fully covers the DCI-P3 color space.
Now, let's kick off our display inspection with our traditional measurements. We've captured 455nits of maximum brightness when operating the brightness slider manually. But the panel can be as bright as 750 nits when faced with bright light in Auto Brightness mode.
The minimum brightness at point white was 2.3nits.
Display test
100% brightness
Black,cd/m2
White,cd/m2
Contrast ratio
iQOO 9
0
455
∞
iQOO 9 (Max Auto)
0
749
∞
iQOO 9 SE
0
481
∞
iQOO 9 SE (Max Auto)
0
863
∞
iQOO 9 Pro
0
438
∞
iQOO 9 Pro (Max Auto)
0
1000
∞
Poco F4 GT
0
468
∞
Poco F4 GT (Max Auto)
0
761
∞
Poco F3
0
511
∞
Poco F3 (Max Auto)
0
716
∞
Samsung Galaxy A52s 5G
0
383
∞
Samsung Galaxy A52s 5G (Max Auto)
0
800
∞
Xiaomi Mi 11 Lite 5G
0
514
∞
Xiaomi Mi 11 Lite 5G (Max Auto)
0
846
∞
Realme GT2
0
517
∞
Realme GT2 (Max Auto)
0
846
∞
Realme GT2 Pro
0
482
∞
Realme GT2 Pro (Max Auto)
0
778
∞
Color accuracy
The iQOO 9 has three display color modes in Settings - Standard (default), Professional, and Bright. You can adjust the color temperature in each of those. Standard and Bright cover the DCI-P3 color space and offer accurate color presentation, excluding the slightly bluish white and gray hues. The Professional option corresponds to sRGB, and it offers an excellent color accuracy with an average deltaE of 2.6.
Refresh rate
Then there are three refresh rate options - 60Hz, 120Hz, and Smart Switch. In reality, both Smart Switch and 120Hz are dynamic options, with the most prominent difference being that Smart Switch sometimes renders the UI with 90fps instead of 120fps.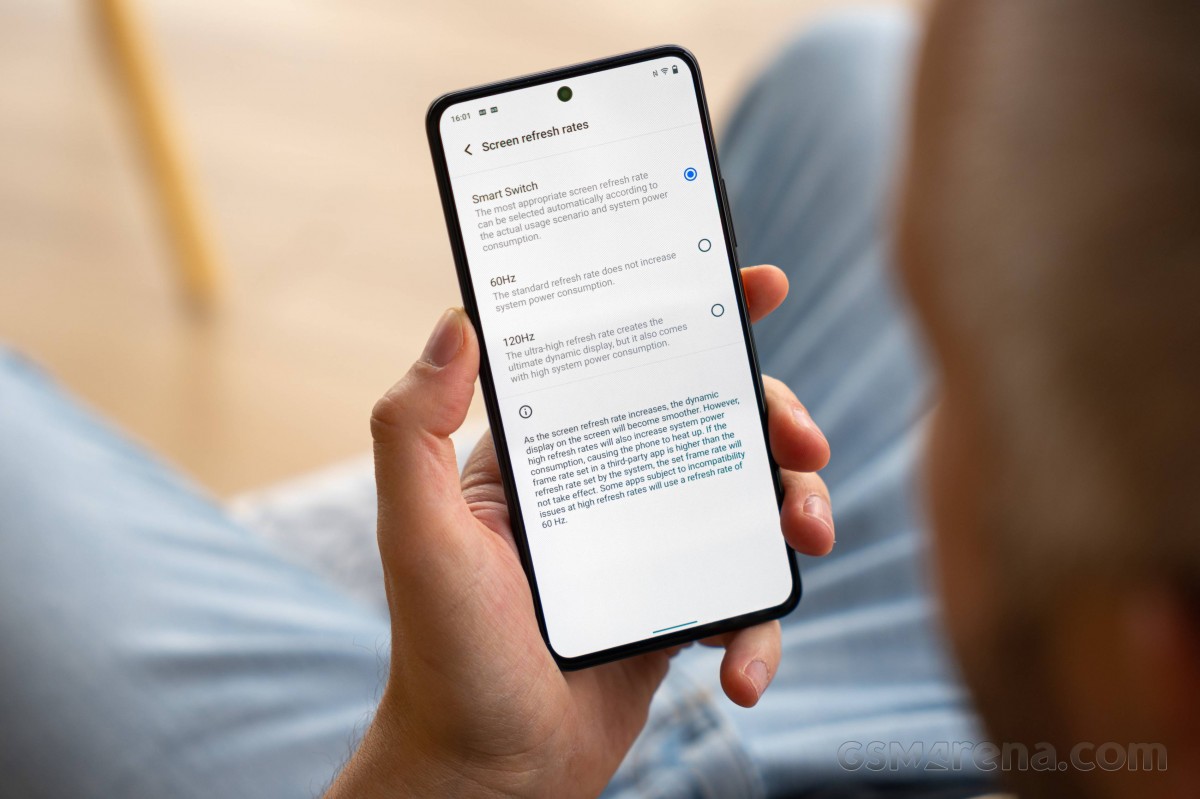 Many apps that can use high refresh rate are able to make use of it on the iQOO 9. This includes the entire interface and all system apps. Video apps usually draw their interface at 60fps, and the videos play at 60Hz, too.
Most compatible HFR games seem to be choosing 120Hz, too, no matter if the Refresh rate was set to 120Hz or Smart Switch. There is a catch, though. It turned out that the refresh rate indicator always showed 60Hz when we weren't touching the screen, and this led us to believe that all games are actually drawn at 60fps, no matter what the integrated refresh rate indicator was showing.
That is all but surprising, though. iQOO is advertising the Ultra Game Mode of the iQOO 9 for its MEMC or Game frame rate interpolation feature - it allows the phone to lift the in-game frame rate from 60fps up to 90fps with automatic interpolation. Currently, only Call of Duty Mobile and BGMI are supported. And Game frame interpolation is the only way the iQOO 9 can ever go beyond 60fps outside benchmarks.
HDR support
The iQOO 9 display is HDR10+ certified, and the phone comes with Widevine L1 DRM support. This means you should be able to stream HDR10 1080p content from any popular services, at least on paper.
And you can! Indeed, Netflix and Prime Video recognize the iQOO 9 as HDR10 capable and offer the maximum available streaming quality.
The iQOO 9 has this feature called Visual Enhancement (like SDR to HDR) in Display settings, which optimizes the colors and contrast in some streaming apps like Netflix and YouTube (you can pick the apps manually from the compatible list). It does offer a minor boost in color saturation and contrast in non-HDR content, but it will probably increase your battery consumption.
Furthermore, you can also find Game display enhancement under Ultra Game Mode. It dynamically adjusts contrast, colors (auto SDR to HDR), sharpness and even in-game parameters. You can turn that off/on from the Ultra Game sidebar when playing games. We noticed increased contrast and a slight saturation boost when using the Game display enhancement.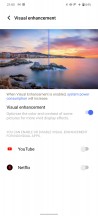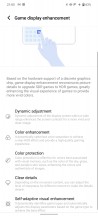 Visual Enhancement • Game Display Enhancement
Other enhancements
The rest of the enhancements are part of the Ultra Game Mode, which we already mentioned a couple of times. Most of the features concern notification, brightness and other common disturbances during gameplay. One of the most intriguing features that have been around on vivo and iQOO devices for a while is the ability to turn off the screen and keep the game running in the background. Especially useful for turn-based games or those requiring some sort of "farming" and "grinding".
The Esports mode, available for selected games, allows for automatic DND mode. It disables unnecessary screen gestures, locks the brightness and balances frame rate and temperature to keep the best possible FPS. It is currently compatible with Call of Duty Mobile and BGMI.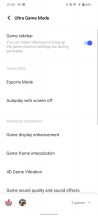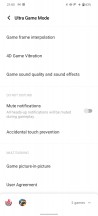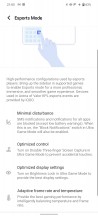 Ultra Game Mode • Ultra Game Mode • Esports mode
The iQOO 9 also has 4D Game Vibration, which uses the phone's built-in z-axis linear motor to provide dynamic haptic feedback in compatible games.
We already explained about Game Frame Interpolation (MEMC), and Display Visual Enhancement in games.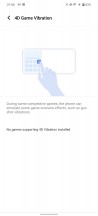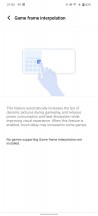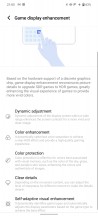 4D Game Vibration • MEMC • Display Visual Enhancement
And finally, there is Monster Touch. This option is exclusive to the iQOO 9 and not available on the iQOO 9 SE or the iQOO 9 Pro. Monster Touch is basically a pressure-sensitive sensor grid across the display, which is available for the Ultra Game Mode to configure and use. It splits the screen into two parts - left and right with a buffer zone between them, and you can choose the size of these halves.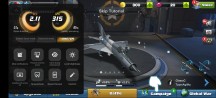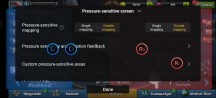 Game sidebar • Pressure sensitive menu
Upon enabling Monster Touch from the Game sidebar during any game, you get to assign L (L1 or L1+L2) and R (R1 or R1+R2) shortcuts onto two on-screen controls - say jump and shoot. And whenever you press the L and R halves of the screen, it will do this action i.e. jump or shoot. This reduces the required precision when playing high-stake games and gives you an edge over your competitors as you can react faster at times.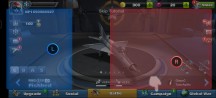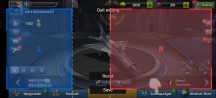 Configuring the two pressure-sensitive zones and their buffer
Battery life
The iQOO 9 has the smallest battery among all Series 9 phones - a 4,350 mAh cell. It supports 120W fast charging just like the iQOO 9 Pro.
Surprisingly, the smallest phone has the best battery life! The iQOO 9 scored a 105h endurance rating on our battery test and bested the iQOO 9 Pro by 8 hours and the iQOO 9 SE by 18 hours.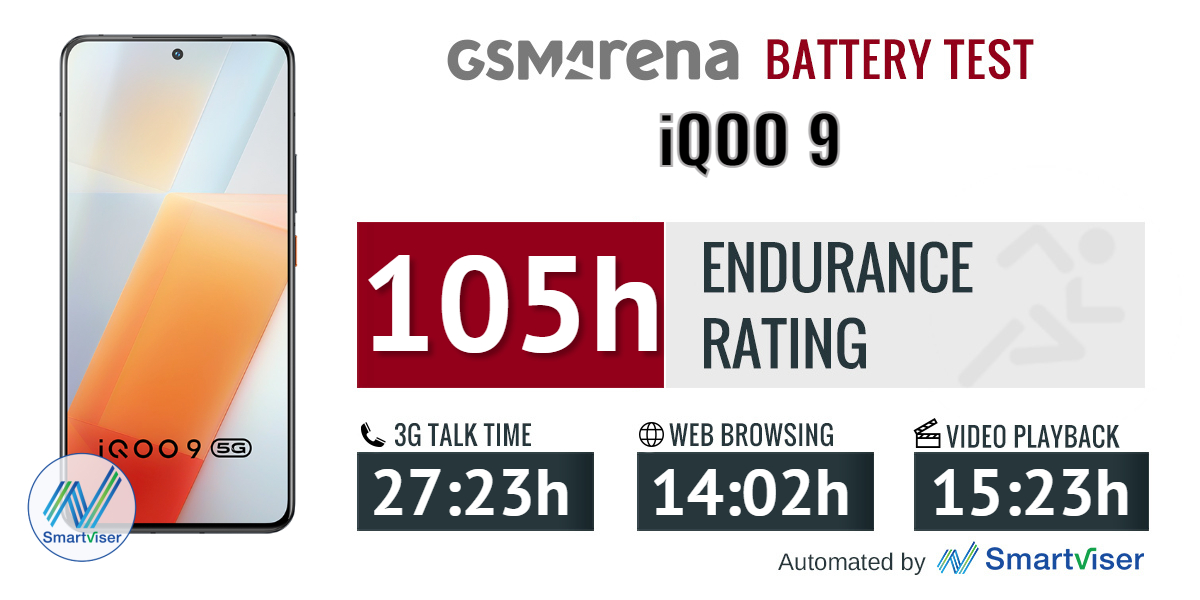 The onscreen battery performance appears to be equally good across the iQOO 9 phones, but there is a noticeable variation among their final Endurance ratings. That is because the iQOO 9 with its Snapdragon 888+ chipset has the most efficient standby among the trio - and it's double the one of the iQOO 9 SE standby!
Our battery tests were automated thanks to SmartViser, using its viSerDevice app. The endurance rating denotes how long the battery charge will last you if you use the device for an hour of telephony, web browsing, and video playback daily. More details can be found here.
Video test carried out in 60Hz refresh rate mode. Web browsing test done at the display's highest refresh rate whenever possible. Refer to the respective reviews for specifics. To adjust the endurance rating formula to match your own usage - check out our all-time battery test results chart.
Charging speed
The iQOO 9 supports 120W fast charging for its 4,350mAh battery, and it comes with the 120W brick and compatible cable as part of the retail package. This incredibly fast rapid charging was achieved by splitting the battery into two cells, each with its own charring pump - just like on the iQOO 9 Pro.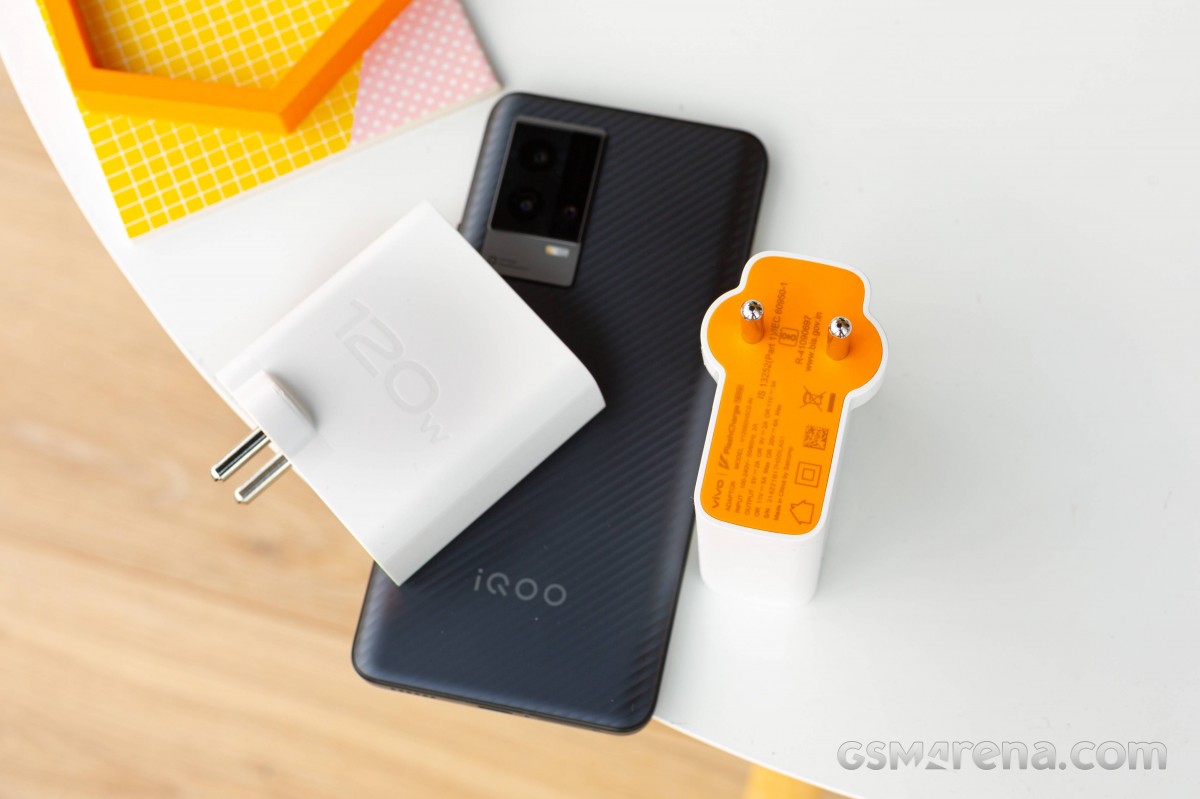 The official numbers for this Rapid Charge are 50% in 6 minutes and a full charge in 18 minutes. We have put those to the test, of course.
We recorded 50% charge in 5 minutes sharp, while a full charge took 16 minutes and a few seconds. That is even faster than the official numbers!
The iQOO 9 recharges faster than the iQOO 9 Pro, but that is because it has a smaller battery.
Time to full charge (from 0%)
Lower is better
iQOO 9
0:16h
Xiaomi Redmi Note 11 Pro+ 5G
0:16h
Poco F4 GT
0:17h
iQOO 9 Pro
0:21h
IQOO 9 SE
0:38h
Realme GT2 Pro
0:40h
Realme GT2
0:40h
Xiaomi Redmi Note 11 Pro
0:48h
Poco F3
0:56h
Samsung Galaxy A52s 5G
1:28h
We noticed something odd, and we want to mention it for all potential iQOO 9 buyers out there. The iQOO 9 did not recharge at 120W two out of the five times we tested its charging for this review. It did charge fast, but it took 20 minutes to get to 50%, which is obviously not as rapid. And how did we fix this? We flipped the cable!
We are not sure if it was a cable issue, a Funtouch issue, some weird miscommunication between the components, or something else, but a simple rotation of the USB cable did the job. So try it as well if you ever experience slower than expected charging with the iQOO 9.
Speakers quality
The iQOO 9 offers a hybrid stereo speaker setup. This means there is one full-blown speaker at the bottom, while the front-facing earpiece takes up the role of a second speaker.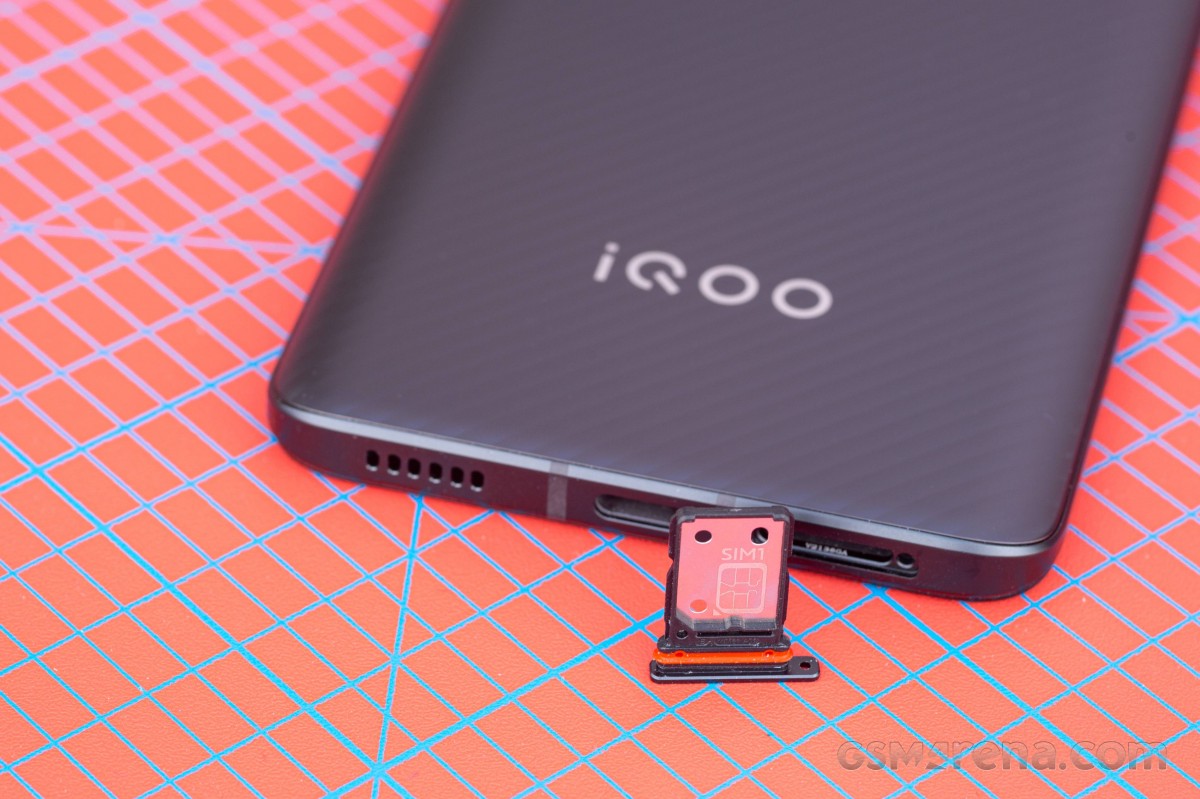 The setup offers an acceptable sound balance in landscape orientation. It is quite clear the proper speaker is much more powerful than the earpiece. In fact, the earpiece is responsible mostly for high frequencies and voice enhancement during audio/video playback. But, as we said, when the two speakers are working together, the balance is acceptable.
The iQOO 9 speakers scored a Very Good mark on our loudness test. The audio quality is average, though - the bass is minimal, if any, the voices are not that deep, but the high notes are well-presented. And because of the high tones, the iQOO 9 received a Very Good mark in loudness despite its otherwise subjectively quiet output.
Use the Playback controls to listen to the phone sample recordings (best use headphones). We measure the average loudness of the speakers in LUFS. A lower absolute value means a louder sound. A look at the frequency response chart will tell you how far off the ideal "0db" flat line is the reproduction of the bass, treble, and mid frequencies. You can add more phones to compare how they differ. The scores and ratings are not comparable with our older loudspeaker test. Learn more about how we test here.