5.2" IPS-NEO display
The Huawei P9 may be all about the Leica camera, but it also has a very promising and flagship-worthy display. Arguably, 1080p is a bit outdated, but the 423ppi is more than enough for achieving an excellent mark in pixel density.
The Huawei P9 uses an IPS-NEO LCD panel by JDI, which delivers deep blacks. The Huawei P8 was perhaps the first phone we've seen to come with this tech but today, it no longer looks as spectacular as before. Don't get us wrong, it's still noticeably better than any regular IPS LCD.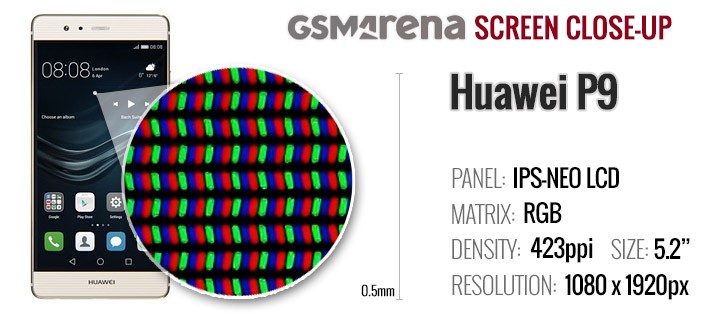 Huawei promised us a maximum brightness of 500 nits for the P9 and we measured exactly 500 nits. While the IPS NEO screen offers some deep blacks, we've surely seen better. The contrast is very good, but not impressive at 1094:1.
Regarding color reproduction accuracy, the P9 screen is less than stellar with an average deviation (DeltaE) of 6.7 - a bit higher than what we would ideally like. We've seen worse even in flagship devices, so this one sits somewhere in the middle. For a screen to be considered properly calibrated it needs to have a maximum DeltaE of 4.
Using the built-in Color temperature modes, we managed to get a better color reproduction by going with the Warm one (Avg. DeltaE 6.1), but that came at the expense of slightly lower maximum brightness (450nits). The Warm option fixed the bluish white color, which was the one top drag the Maximum DeltaE up to 12.8.
Display test
100% brightness
Black, cd/m2
White, cd/m2
Contrast ratio
Huawei P9
0.46
500
1094
Huawei P8
0.38
584
1516
Huawei Mate 8
0.346
471
1361
Xiaomi Mi 5
0.51
628
1227
Xiaomi Mi 4S
0.49
475
975
Samsung Galaxy S7
0.00
391
∞
LG G5
0.17
306
1855
Sony Xperia Z5
0.59
583
986
Apple iPhone 6s
0.36
536
1481
Apple iPhone SE
0.77
618
804
Microsoft Lumia 950
0.00
328
∞
The P9's solid performance in our display tests continues into sunlight legibility. A score of 3.195 is a very good achievement for an LCD panel and emphasizes another strong point of the IPS NEO tech.
Sunlight contrast ratio
Samsung Galaxy S6 edge+
4.615
Samsung Galaxy S7 edge
4.439
Samsung Galaxy S7
4.376
HTC One A9
4.274
Samsung Galaxy A3
4.241
Samsung Galaxy S6 edge
4.124
Samsung Galaxy Note5
4.09
Huawei Nexus 6P
4.019
OnePlus X
3.983
Oppo R7s
3.964
Samsung Galaxy A7 (2016)
3.918
Samsung Galaxy A5
3.895
Samsung Galaxy J7 outdoor
3.879
Samsung Galaxy J2 outdoor
3.873
Samsung Galaxy A8
3.859
Apple iPhone 6
3.838
Microsoft Lumia 950XL
3.837
Samsung Galaxy A9 (2016)
3.817
Motorola Moto X (2014)
3.816
Samsung Galaxy A5 (2016)
3.789
Apple iPhone 6s
3.783
Meizu Pro 5
3.781
Microsoft Lumia 650
3.772
Vivo X5Pro
3.706
Apple iPhone SE
3.681
Samsung Galaxy A7
3.679
BlackBerry Priv
3.645
Apple iPhone 6s Plus
3.53
Acer Jade Primo
3.521
Microsoft Lumia 950
3.512
Oppo R7 Plus
3.499
Samsung Galaxy J7
3.422
Meizu MX5
3.416
Oppo R7
3.32
Xiaomi Mi 5
3.24
Samsung Galaxy J2
3.235
Motorola Moto X Play
3.222
Huawei P9
3.195
Lenovo Vibe Shot
3.113
LG Nexus 5X
3.092
Huawei Mate S
3.073
Microsoft Lumia 640 XL
3.065
Apple iPhone 6 Plus
3.023
Samsung Galaxy Note
2.97
Huawei Mate 8
2.949
LG G5
2.905
HTC One S
2.901
Sony Xperia Z5
2.876
Microsoft Lumia 550
2.851
Sony Xperia Z5 compact
2.784
LG V10
2.744
Xiaomi Redmi 3
2.735
Sony Xperia M5
2.69
Xiaomi Mi 4i
2.641
Xiaomi Mi 4c
2.574
Microsoft Lumia 640
2.563
Motorola Moto G 4G
2.546
Oppo F1
2.528
Sony Xperia Z5 Premium
2.525
Sony Xperia M4 Aqua
2.503
Motorola Moto G
2.477
Huawei G8
2.471
Sony Xperia Z
2.462
Huawei Honor 7
2.406
ZUK Z1 by Lenovo
2.382
HTC One E9+
2.305
Alcatel One Touch Hero
2.272
Apple iPhone 4S
2.269
Lenovo Vibe K4 Note
2.254
Sony Xperia C5 Ultra
2.253
Xiaomi Redmi Note 3 (MediaTek)
2.249
Sony Xperia C4 Dual
2.235
Motorola Moto G (2014)
2.233
LG Nexus 5
2.228
Huawei P8
2.196
Xiaomi Redmi Note 2
2.166
OnePlus Two
2.165
HTC One X
2.158
LG Aka
2.145
Archos 50 Diamond
2.134
Xiaomi Redmi Note
2.119
Xiaomi Mi 4S
2.095
Huawei P8lite
2.078
Moto G 3rd gen max manual
2.026
Sony Xperia E4g
1.972
OnePlus One
1.961
BlackBerry Leap
1.892
Meizu m2 note
1.892
HTC Butterfly
1.873
ZTE Nubia Z9 mini
1.759
Sony Xperia U
1.758
Asus Zenfone Selfie
1.68
Motorola Moto E (2nd Gen)
1.675
ZTE Nubia Z9
1.659
Motorola Moto E
1.545
Sony Xperia M
1.473
Xiaomi Redmi 2
1.311
Sony Xperia C
1.283
Meizu MX
1.221
Battery life
The Huawei P9 is powered by a beefy 3,000 mAh battery, sealed as expected. The P9 supports the so-called rapid charging with a 9V/2A charger, which fills about 40% of the battery in 30 minutes. The phone ships with a regular 5V/2A plug though, so if you want rapid charging, you'll have to buy the 9V charger separately.
We ran our battery test and the Huawei P9 scored a 75h rating, which means you can count on the battery to last just few hours north of 3 days if you do an hour each of calling, browsing the web and video playback a day. Such usage pattern may be somewhat artificial, but we've established it, so our battery results are comparable across devices.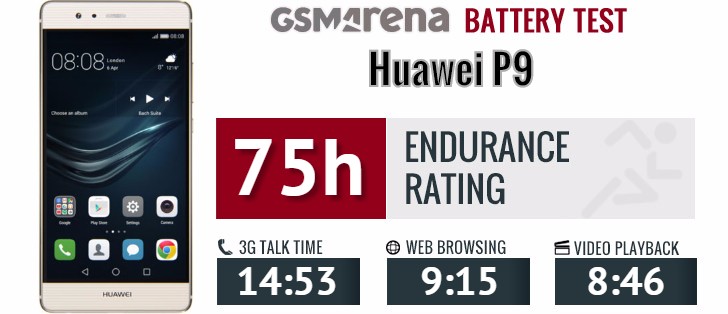 The P9 posted very balanced battery life on all tests. Standby battery life was gauged in the Performance mode, which does not put any limits on the hardware. The Standard mode will add a couple of hours to the rating, while the Ultra Power Saving will keep your phone alive for quite some time.
There is also the so-called ROG power-saving, which lowers the native resolution down to 720p and will give you more battery life when playing games.
The battery testing procedure is described in detail in case you're interested in the nitty-gritties. You can also check out our complete battery test table, where you can see how all of the smartphones we've tested will compare under your own typical use.
Connectivity
Regarding connectivity, the Huawei P9 is properly equipped. Huawei is very proud, and rightfully so, of the Kirin 955's built-in radio support, which includes up to four 2G bands, seven 3G bands, and eighteen 4G bands.
Our variant (EVA-L09) comes with a single nano-SIM slot, but you can opt for the dual-SM flavor (EVA-L29) with a hybrid secondary nanoSIM/microSD slot. Its second card can only tap into 2G networks while the first gets the full cellular connectivity.
The P9 supports dual-band 2.4/5.0GHz Wi-Fi 802.11 a/b/g/n/ac, with Wi-Fi Direct and hotspot capabilities. Bluetooth is v4.2, where interference issues with LTE networks should be fixed. There's NFC on board, but only on the single-SIM EVA-L09 model.
The satellite receiver GPS, GLONASS, and Beidou, so there isn't a corner in the world where the smartphone won't be able to pinpoint your location.
There is no FM radio though.
A 3.5mm jack provides standard connectivity for wired headphones. There is the new USB Type-C connector for charging and wired connectivity. Mind you, it defaults to charge-only every single time you connect it to a PC, and you have to select manually from the notification shade that you want to do something else.