Sightseeing in Barcelona
Huawei P10 vs LG G6 dual camera shootout: Sightseeing in Barcelona
Introduction
We're saying goodbye to yet another Mobile World Congress, but we have a few days left to hang around the beautiful city of Barcelona. Filled with Gaudi's masterpieces and amazing architecture in general, it would serve as an excellent arena for camera shootouts and we just couldn't miss this opportunity. We left the MWC with two great flagship devices each with a dual camera setup of its own - the LG G6 and the Huawei P10 - and we've decided to put them to a real-life test in the streets of Barcelona.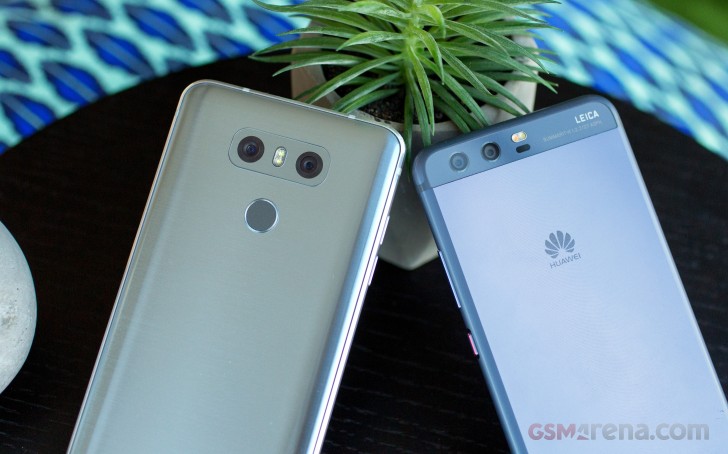 The Huawei P10 is seeing the return of the second-generation Leica setup, which premiered first with the Mate 9. It's a creative combination between a 12MP color and a 20MP monochrome sensor, with optical image stabilization and f/2.2 lens.
Huawei P10 camera at a glance:
Camera: 12MP OIS color + 20MP black & white, 4K video capture, Leica branding
Camera features: F/2.2 lens, Hybrid Zoom (2x magnification), OIS, can change focus and lighting in photos after they are taken, Variable Aperture, Portrait Mode
Selfie cam: 8MP, f/1.9 Leica lens, Portrait Mode with live bokeh effects
LG G6 has a different take on the dual-camera experience, first established by the LG G5. The G6 has a 13MP regular 4:3 and optically stabilized camera with f/1.8 lens and a wide-angle 13MP fixed focus snapper with f/2.4.
LG G6 camera at a glance:
Main camera: 13MP f/1.8 primary camera with 71° field of view, OIS.
Second main camera: 13MP f/2.4 wide-angle camera with 125° FOV, no OIS.
Camera features: 1.12µm pixel size on both. 2160p/30fps video recording on both
Front camera: 5MP, 100° FOV; 1080p/30fps video recording
But which of these monsters is better for sightseeing? Is it better to have a wide-angle camera or a monochrome one to spicy up your regular photos? Let's find out, shall we?
S
Yeah!...all we're know that,lg g6 is better for all of us, but g6 can't go above the huawai p10...,,,heeeem.he!he!he!
D
The secondary monochrome camera lacks bayer filter, so it absorbs much more light than a regular one, meaning it produces deeper blacks and better contrast as opposed to what filters can do. Also, low light photography in B&W would result in a lo...
D
Why would you need a seperate monochrome camera? I can't wrap my mind around it. The pictures are not better quality wise as fas as I can see. You can just put a filter over them. Meanwhile a wide angle camera is an amazing adition. I have a LG G4 an...