10-bit OLED display
The Huawei Mate 50 Pro features a 6.74-inch OLED screen with curved glass, which provides the illusion of a curved display panel. The panel underneath is flat and has a 2,616 x 1,212 pixels resolution (428ppi), and there is a long notch for the Face ID system and the earpiece.
The Mate 50 Pro's screen comes with all the bells and whistles like 120Hz refresh rate, 10-bit color depth for over a billion colors, HDR10+ support, and there is high frequency 1440Hz PWM brightness dimming for users sensitive to regular PWM dimming.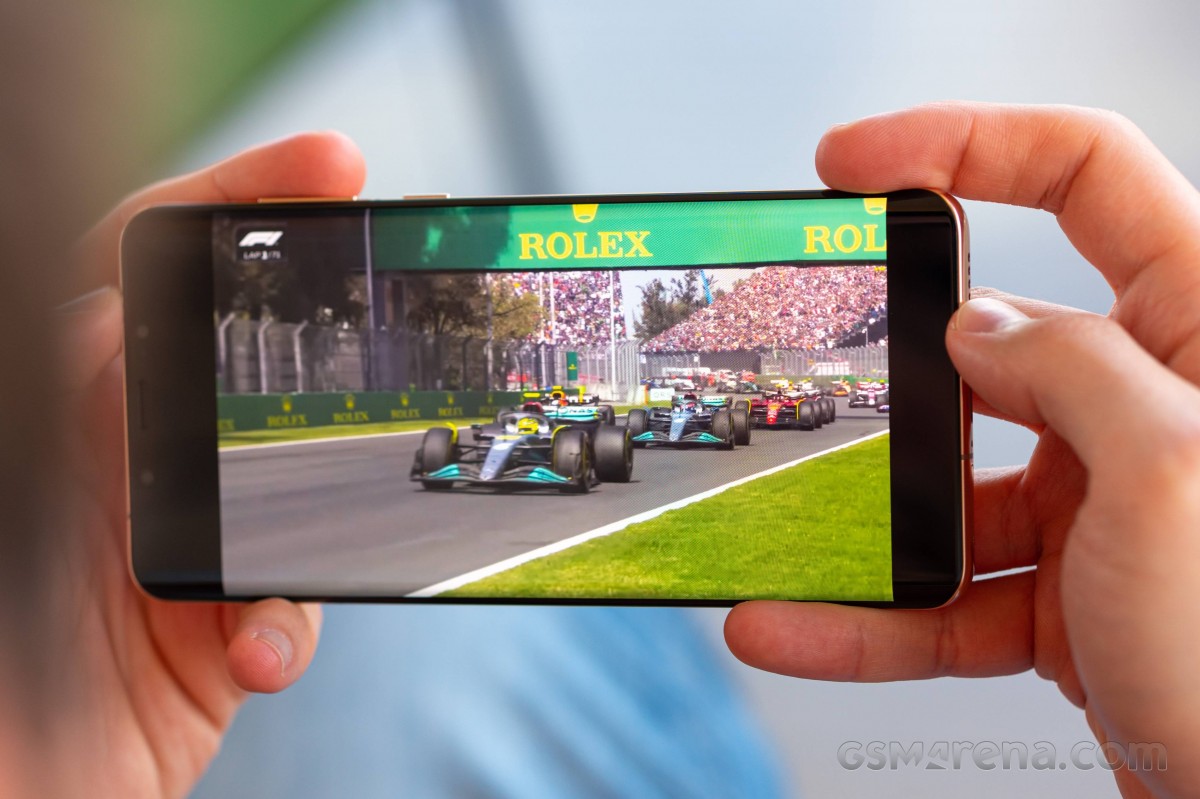 Let's start with the brightness test. The Mate 50 Pro's display panel offers about 570 nits of maximum brightness when using the slider manually. The screen will light up to about 950 nits in bright light, even if you don't have auto brightness on. This is great for outdoor use, and we had no issues even on the brightest days.
The minimum brightness at point white was below 2 nits, which is great, too. Plus, this Mate 50 Pro also offers 1440Hz PWM dimming for excellent panel performance under low brightness conditions.
Display test
100% brightness
Black,cd/m2
White,cd/m2
Contrast ratio
Huawei Mate 50 Pro
0
568
∞
Huawei Mate 50 Pro (Max Auto)
0
946
∞
Huawei Mate 40 Pro
0
485
∞
Huawei Mate 40 Pro (Max Auto)
0
807
∞
Huawei Mate 30 Pro
0
464
∞
Huawei Mate 30 Pro (Max Auto)
0.028
683
24393:1
Huawei P50 Pro
0
609
∞
Huawei P50 Pro (Max Auto)
0
754
∞
Samsung Galaxy S22 Ultra
0
494
∞
Samsung Galaxy S22 Ultra (Extra brightness)
0
829
∞
Samsung Galaxy S22 Ultra (Max Auto)
0
1266
∞
Xiaomi 12S Ultra
0
512
∞
Xiaomi 12S Ultra (Max Auto)
0
1065
∞
Apple iPhone 14 Pro Max
0
828
∞
Apple iPhone 14 Pro Max (Max Auto)
0
1760
∞
vivo X80 Pro
0
488
∞
vivo X80 Pro (Max Auto)
0
1014
∞
Huawei nova 10 pro
0
561
∞
Huawei nova 10 pro (Max Auto)
0
784
∞
Color accuracy
The Mate 50 Pro screen supports both DCI-P3 and sRGB color spaces. You choose between Normal and Vivid colors from the display settings, and you can adjust the color temperature for each of these modes.
Normal is the default option, and it automatically switches between color spaces. It offers excellent color accuracy to sRGB with an average deltaE of 1.7. The Vivid mode accuracy is not great as it has a noticeable bluish tinge, but if you adjust it to a Warm color temperature, you will get rid of that.
Resolution and refresh rate
The screen has a resolution between 1080p and 1440p - 2616 x 1212px, making up for 428ppi density. You can choose between Smart resolution (dynamic adjustments), High (native) 1212p or the low 808p for battery-saving purposes.
The Huawei Mate 50 Pro offers three refresh rate options - Standard (60Hz), High (120Hz), and Dynamic (switching between 60Hz and 120Hz).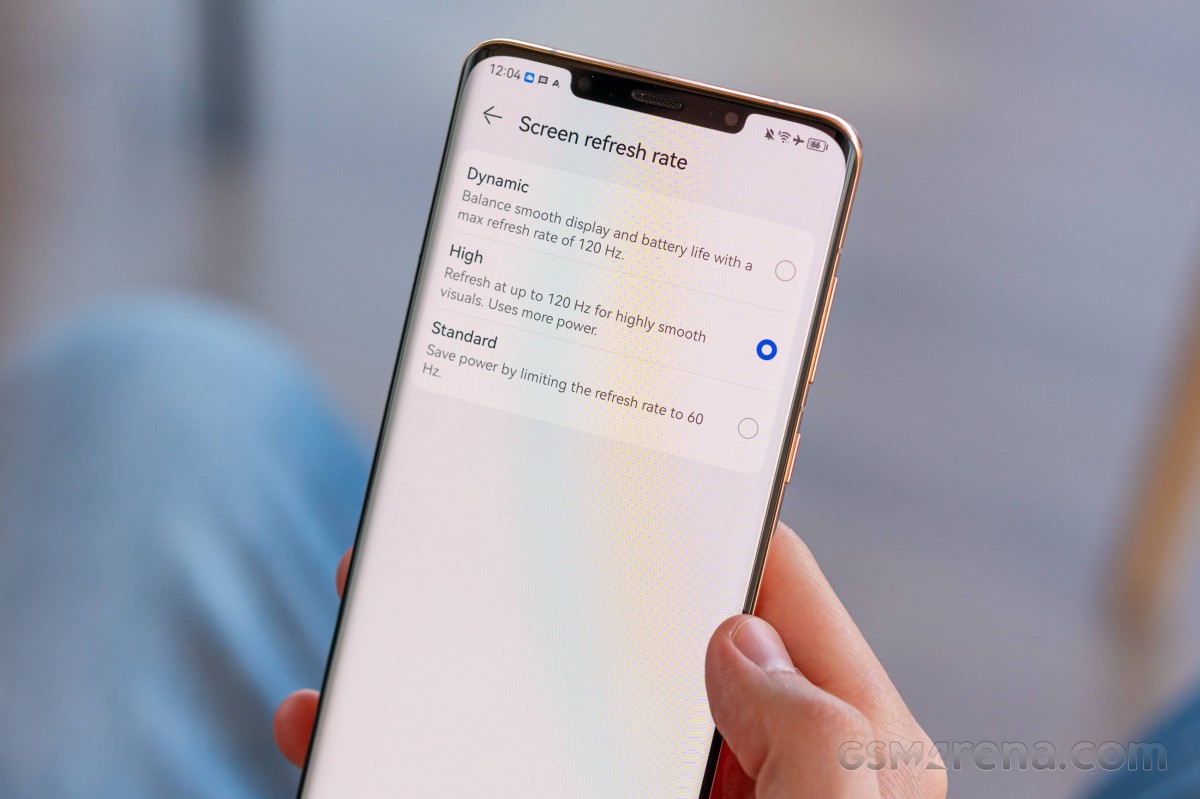 The High (120Hz) mode always uses 120Hz in compatible apps and interfaces and switches to 60Hz for those that don't support it as well as video playback/streaming.
The Dynamic option would use 90Hz for EMUI and a handful of apps. Itreverted to 60Hz for most apps we installed. We saw only benchmarks reach beyond 90fps in this mode.
Finally, the Standard 60Hz mode is self-explanatory - you get consistent 60Hz refresh rate all around.
HDR and streaming
The Huawei Mate 50 Pro supports HDR10+ - something confirmed by all hardware scanning apps. It also comes with Widevine L1 DRM support, which should allow high-res HDR streaming.
Most streaming apps, Netflix, Prime and YouTube included, offer Full HD (YT also offers 4K) streaming. HDR is not available in any of them, though.
Battery life
The Huawei Mate 50 Pro is powered by a 4,700mAh battery. In our battery life test, the Mate 50 Pro scored an endurance rating of 104 hours, making it a great performer among the flagship crop. The Mate 50 Pro did very well on the onscreen tests lasting north of 15 hours of web browsing and more than 17 hours of video playback. The call time of 22 hours was alright, too.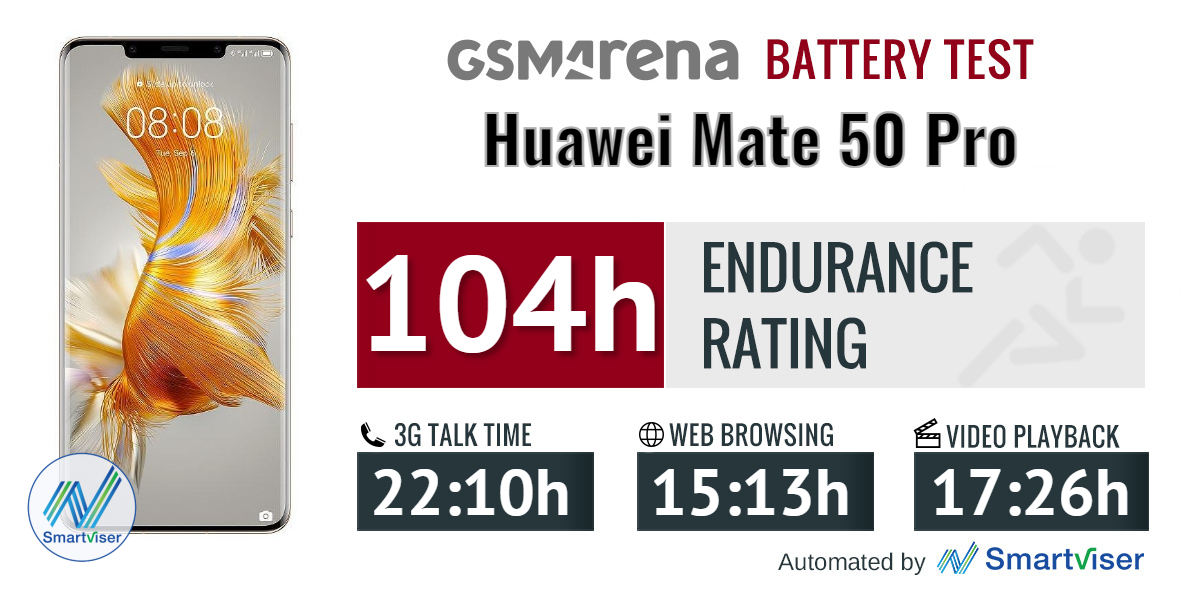 Our battery tests were automated thanks to SmartViser, using its viSerDevice app. The endurance rating denotes how long the battery charge will last you if you use the device for an hour of telephony, web browsing, and video playback daily. More details can be found here.
It's worth noting that the Mate 50 Pro, with its Snapdragon 8+ Gen 1 chipset, offers better standby performance than phones with similar specs.
Video test carried out in 60Hz refresh rate mode. Web browsing test is done at the display's highest refresh rate whenever possible. Refer to the respective reviews for specifics. To adjust the endurance rating formula to match your own usage patterns, check out our all-time battery test results chart, where you can also find all phones we've tested.
Charging speed
The Huawei Mate 50 Pro supports Huawei's 66W SuperCharger and 50W Wireless SuperCharge. The retail box contains the 66W adapter and a 6A-rated USB cable, so you can fast charge the Mate 50 Pro right out of the box.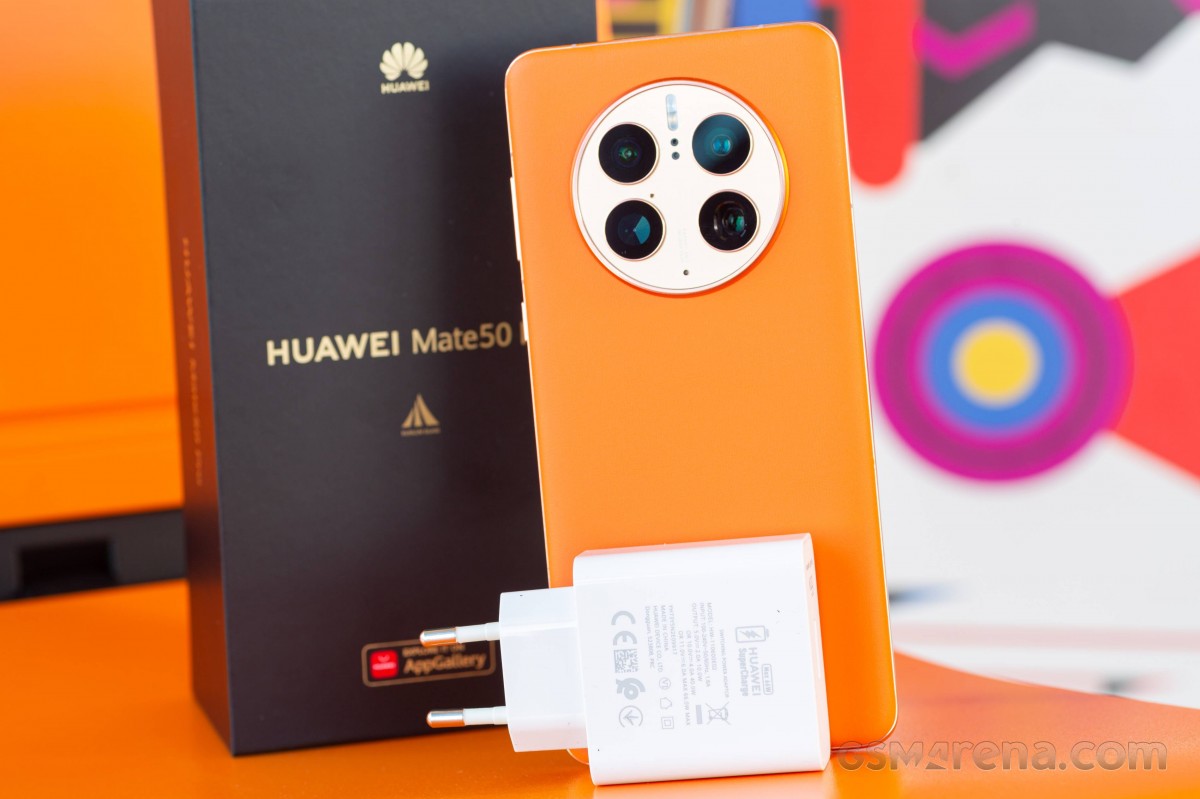 We've completed our battery charging test, and the Mate 50 Pro did great. Starting from empty battery, the bundled charger refilled 45% in 15 minutes and 79% in 30 minutes.
30min charging test (from 0%)
Higher is better
OnePlus 10T
100%
Huawei nova 10 Pro
99%
vivo X80 Pro
88%
Huawei Mate 40 Pro (66W bundled)
87%
Huawei Mate 50 Pro
79%
Huawei P50 Pro
73%
Xiaomi 12S Ultra
73%
Samsung Galaxy S22 Ultra (45W)
60%
Apple iPhone 14 Pro Max
48%
Huawei Mate 30 Pro
41%
Finally, it took 41 minutes for the Mate 50 Pro to go from 0% to 100%, and that's plenty fast.
Time to full charge (from 0%)
Lower is better
OnePlus 10T
0:19h
Huawei nova 10 Pro
0:31h
vivo X80 Pro
0:39h
Huawei Mate 50 Pro
0:41h
Huawei Mate 40 Pro (66W bundled)
0:45h
Huawei P50 Pro
0:50h
Xiaomi 12S Ultra
0:50h
Samsung Galaxy S22 Ultra (45W)
0:59h
Huawei Mate 30 Pro
1:34h
Apple iPhone 14 Pro Max
1:52h
Like many other phones, the Mate 50 Pro supports Smart Charge, which drops the charging speed once it reaches 80%. You can also choose the safety mark yourself if you prefer to avoid it being fixed at 80%.
Huawei Mate 50 Pro supports reverse wired and wireless charging. You need to turn on the wireless option from within the Battery options.
Speakers
The Huawei Mate 50 Pro features a hybrid stereo speaker system - there is one dedicated speaker at the bottom, while the earpiece acts as a second front-facing one.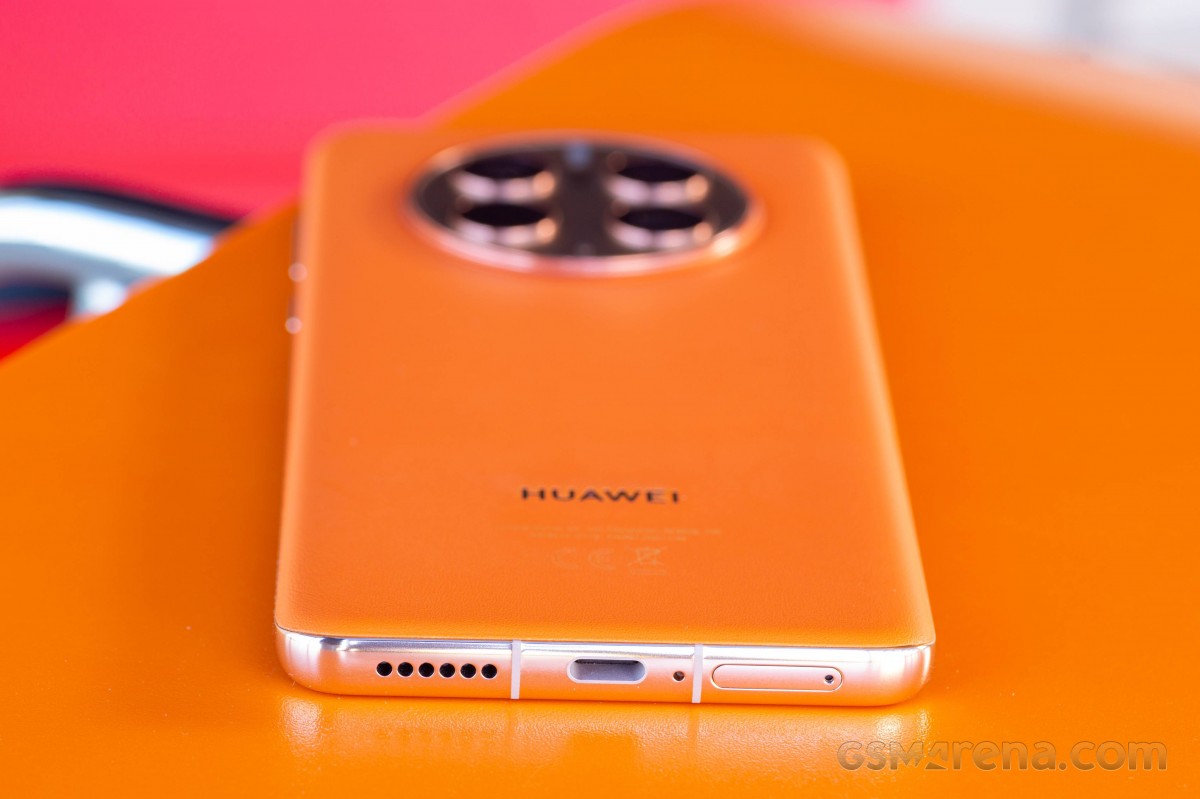 There is no sound outlet on top of the phone, as was the case with the Mate 40 Pro and the P50 Pro.
The Huawei Mate 50 Pro scored a Very Good mark on our loudness test, and, indeed, we were thrilled with its speakers' loudness.
If you listen to our samples recorded in the studio environment, you will probably hear the good treble and the presence of bass, though the midrange tones seem muted, lacking even. That's because of the odd balance of the speakers and how we position the phones in our studio - landscape orientation, screen against the microphone. This will most likely be how you use it most of the time, though.
The earpiece has good enough loudness, but it's responsible mostly for the treble, while the bottom speaker has a full range and excellent vocals. So, if you tilt it slightly, you will get superb rich and crisp sound.
Use the Playback controls to listen to the phone sample recordings (best use headphones). We measure the average loudness of the speakers in LUFS. A lower absolute value means a louder sound. A look at the frequency response chart will tell you how far off the ideal "0db" flat line is the reproduction of the bass, treble, and mid frequencies. You can add more phones to compare how they differ. The scores and ratings are not comparable with our older loudspeaker test. Learn more about how we test here.