Display
The HTC Desire 816 has a 5.5" LCD of 720p resolution. The pixel density is an average 267ppi - just shy of what has become known as Retina-grade, but as good as can be expected given the phablet's midrange standing. Unfortunately, it's left without the protection of a scratch-resistant glass so you should be careful with it.


The 5.5" 720p LCD on the Desire 816 has excellent viewing angles
It's an IPS display too, evident by the excellent viewing angles. Up close you can notice some jaggedness and the colors are not as vibrant as some of us like.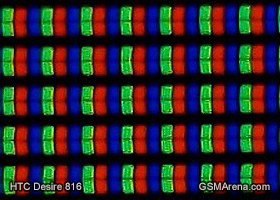 A bigger concern is that the display isn't exceptionally bright and we kept it at maximum most of the time. The contrast ratio is quite good though.
Display test
50% brightness
100% brightness
Black, cd/m2
White, cd/m2
Contrast ratio
Black, cd/m2
White, cd/m2
Contrast ratio
Sony Xperia Z Ultra
-
-
-
0.47
467
1001
HTC Desire 816
0.15
164
1087
0.46
478
1032
Sony Xperia T2 Ultra
-
-
-
0.49
634
1287
Oppo Find 7a
0.33
280
842
0.68
580
852
Huawei Ascend Mate
0.23
222
982
0.67
711
1053
Samsung Galaxy Mega 6.3
0.12
160
1364
0.32
440
1379
Samsung Galaxy S5
0
274
∞
0
529
∞
HTC One (M8)
0.20
245
1219
0.46
577
1256
HTC Butterfly S
0.15
165
1117
0.43
451
1044
Apple iPhone 5
0.13
200
1490
0.48
640
1320
The relatively low reflectivity makes the display usable outside, though we've seen devices fare much better in this respect. Some flagships don't do too hot in this test either (we're looking at you Sony Xperia Z2).
Sunlight contrast ratio
Nokia 808 PureView
4.698
Apple iPhone 5
3.997
Samsung Galaxy Note 3
3.997
Samsung Galaxy S5
3.549
Samsung I9300 Galaxy S III
3.419
Nokia Lumia 925
3.402
Samsung I9505 Galaxy S4
3.352
Samsung Omnia W
3.301
Samsung Galaxy S
3.155
Samsung Galaxy S4 mini
3.127
Samsung Galaxy S4 zoom
3.118
Nokia N9
3.069
Samsung Galaxy Note
2.970
Sony Xperia Z1
2.950
HTC One S
2.901
BlackBerry Q10
2.856
Samsung Galaxy S II
2.832
Samsung Galaxy S II Plus
2.801
BlackBerry Z30
2.790
Huawei Ascend P1
2.655
Sony Xperia ZR
2.672
Nokia Lumia 900
2.562
HTC One Max
2.537
Nokia Lumia 720
2.512
HTC One
2.504
Sony Xperia Z
2.462
Samsung Galaxy S III mini
2.422
HTC One (M8)
2.371
Motorola RAZR i
2.366
Samsung Galaxy Note II
2.307
Oppo Find 7a
2.279
Apple iPhone 4S
2.269
HTC Desire 600 dual sim
2.262
LG Nexus 5
2.228
HTC One X
2.158
Nokia N8
2.144
Oppo Find 5
2.088
BlackBerry Z10
2.051
Apple iPhone 4
2.016
HTC One mini
2.003
LG G2
1.976
Sony Ericsson Xperia ray
1.955
Sony Xperia Z2
1.944
Samsung Galaxy Camera
1.938
LG G Pro 2
1.922
HTC Butterfly
1.873
Huawei Ascend P6
1.865
Sony Xperia V
1.792
HTC Desire 816
1.783
Sony Xperia U
1.758
Meizu MX3
1.754
Sony Xperia T2 Ultra
1.740
LG Optimus 4X HD
1.691
HTC One V
1.685
BlackBerry Q5
1.682
LG Optimus Vu
1.680
LG Optimus GJ
1.666
HTC Desire V
1.646
Samsung Galaxy Ace 3
1.622
Sony Xperia Z Ultra
1.578
Samsung Galaxy Core
1.563
LG Optimus G Pro
1.552
LG Optimus 3D
1.542
Samsung Galaxy Core LTE
1.542
Nokia Asha 302
1.537
Sony Xperia M
1.473
Nokia Lumia 610
1.432
Samsung Galaxy Grand Neo
1.393
Gigabyte GSmart G1355
1.361
Samsung Galaxy Grand
1.321
HTC Desire C
1.300
Nokia Asha 501
1.270
LG Optimus L7
1.269
LG Optimus L9
1.227
Meizu MX
1.221
Sony Xperia E dual
1.203
Samsung Galaxy Pocket
1.180
Sony Xperia tipo
1.166
Samsung Galaxy mini 2
1.114
Controls
The HTC Desire 816 has two stereo speakers - one above and one below the screen. They have dedicated amps to ensure they produce top quality audio, just like on the One (M8). They are positioned on the very edge of the device, sitting as wide apart as possible for the best possible stereo effect.



The 5MP selfie camera and sensors above the screen • one speaker above and below the screen
The front-facing camera is on top, right next to one of the BoomSound speakers. It's off-center which is not ideal for video calling, but promises great image quality with a 5MP BSI sensor that can capture 1080p video.
Right below the camera is a status LED that lights up when charging and blinks for notification. You can chose which events trigger the light - missed calls, messages, email, calendar events and alarms.
The Android keys have moved on-screen, but that still leaves a black bar below the screen with the HTC logo. There's quite a bit of bezel above the screen and to its sides, but they are not excessive for a device this size.
The back of the Desire 816 is not removable, so you don't have access to the 2,600mAh Li-Po battery. The camera and LED flash are in the top left corner but the device is big enough so that we didn't accidentally cover the lens with a finger while holding the phablet landscape.
The non-removable back panel means the card slots had moved to the side. There are three of them - two nanoSIM and one microSD - though in the international version the second SIM slot is just a dummy. It's only used in the Chinese version.





Glossy back • 13MP camera with LED flash • a long flap that covers all the card slots
By the way, the Desire 816 has 8GB of built-in memory, 4.2GB of which is user accessible, so you'll probably need to put a microSD card as soon as you buy the phablet. It supports cards of up to 128GB though, so you won't find yourself short of storage space.
Anyway, all three slots are covered under a single flap that lays flush with the side of the device. We like this setup as you can easily access the cards without an ejector tool and it doesn't look bad by any means.
The top of the phablet features a 3.5mm audio jack and a secondary mic for noise cancellation. The bottom is home to just the microUSB 2.0 port. It supports USB On The Go so you can hook up a mouse, keyboard or external storage.





OTG-enabled microUSB 2.0 port on the bottom • 3.5mm audio jack and noise cancelling mic on top
We already covered the buttons on the left side of the Desire 816 - the volume rocker and Power/Lock key. To recap, they are not easy to reach and feel wobbly (they look good though).



The buttons feel cheaper than they look
Connectivity
The HTC Desire 816 comes in two versions, single and dual-SIM. Unfortunately, the dual-SIM option seems limited to China Unicom only. Note that, despite its size, the phablet uses nanoSIM cards.
The base version has quad-band 2G/EDGE support, tri-band 3G with HSPA+ (up to 42Mbps downlink) and 4G LTE. The LTE has four bands, which vary by region - EMEA, China, Taiwan and Australia get slightly different 4G bands.
The dual-SIM version adds WCDMA and CDMA EV-DO support to the first SIM slot, along with the China-specific TD-SCDMA and TD-LTE. The second SIM is GSM voice only on four bands.
Local connectivity is the same across all versions with Wi-Fi b/g/n, DLNA and Bluetooth 4.0 with the aptX audio codec. There's A-GPS and GLONASS for positioning too.
NFC is listed as optional and indeed our unit did not have it. HTC hasn't published a list of markets that get NFC, so that's something to check before buying one.
By the way, the HTC Mini+, a phone-shaped Bluetooth headset is compatible with the Desire 816 so you can keep the large phablet in your bag and still accept calls and control the music player. Speaking of that, the Bluetooth-enabled HTC BoomBass cube can pair wirelessly with the stereo speakers on the phablet for even better sonic experience. Finally, HTC Media Link HD adds DLNA support to TVs that don't have it natively.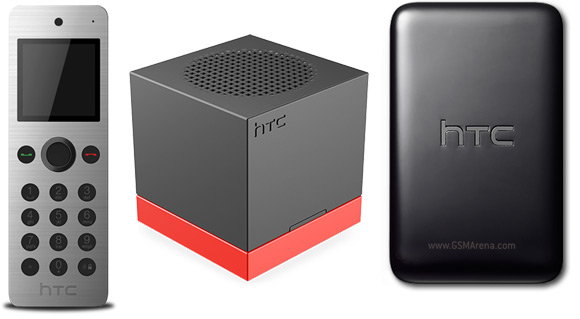 Battery life
The HTC Desire 816 has a rather small battery for its size, just 2,600mAh. It does have a Power Saving and Extreme Power Saving modes though. The first just dims the screen and throttles the CPU, while the second disables multitasking altogether and replaces the homescreen with a simplified version that has only the basic apps available.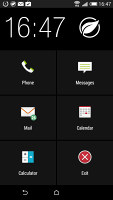 The Extreme Power Saving mode turns the Desire 816 into a feature phone
Anyway, we can't test with these modes as they are for emergencies only. We weren't expecting much out of the Desire 816 so it came as a surprise to us when it scored 64 hours endurance rating. Individual tests were quite excellent too.
HTC officially states 21 hour talk time on 3G, which we think is a tall order, but almost 15 hours is good enough too. The web browsing and video playback times are particularly good, however. Do note that we test at 50% brightness and the 5.5" screen gets rather dim at that setting (about 160 nits).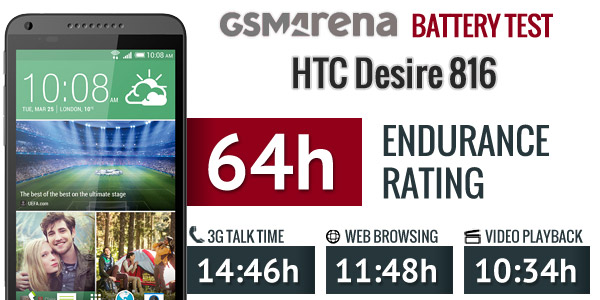 We got a question asking us to compare the battery life of the Desire 816 with the HTC One (M8). The flagship did score a slightly higher endurance rating (71 hours), in large part thanks to lasting longer in a call. However, the Desire 816 outlasts it by nearly 3 hours when it comes to browsing and more or less matches it at video playback.
You can check out the Desire 816 battery performance in our dedicated blog post.