Introduction
Last year, Google and Samsung joined forces to release a unified version of Wear OS, one that's more capable, polished, and one that would remain exclusive to Samsung Watch devices for almost a year. Now, with just a handful of smartwatches running Wear OS 3.5, Google's Pixel Watch will be regarded as the golden standard for Wear OS smartwatches.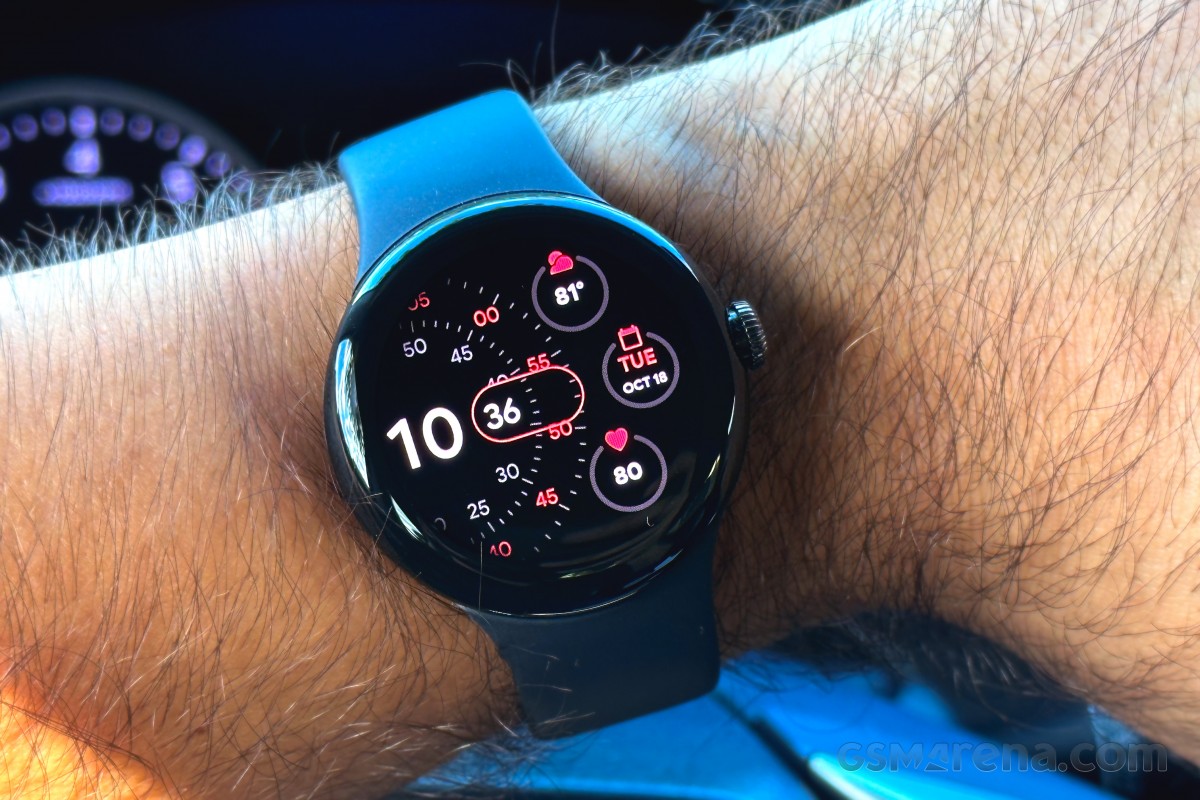 The Google Pixel Watch is Google's first Pixel wearable offering, promising a smooth, polished experience and hoping to be regarded as "the Apple Watch of Androids". The Pixel Watch also carries the future of Wear OS as a platform, and many will be watching to see whether it will bring an advancement of the operating system.
The Pixel Watch introduced features that Wear OS has already had before Wear OS 3.5, but the operating system has been fully redesigned with more polish and better attention to detail in animations and sounds. The watch is made to be comfortable to wear all day and to appear inviting and helpful.
Google Pixel Watch specifications
Body: Dimensions and weight (without strap) 41 x 12.3 mm, 36g; Matte or polished stainless-steel case (80% recycled stainless steel); Fluoroelastomer Active Band with soft-touch coating
Display: 1.2" AMOLED, 450 x 450 round display, 320ppi pixel density, 1000 nits peak brightness, 3D formed dome Gorilla Glass 5
Straps: Detachable proprietary fastener; Small and large Active Band straps included - fits wrists 130-175 mm or 165-210 mm around
Features: 5ATM rating (IP68), continuous heart rate monitoring, Sleep tracking, Stress monitoring, Sports and fitness tracking, Step Counter, Notifications, Idle reminder, Phone Finder, Weather, Calendar, Music control, Google Assistant, Music streaming, calls, and Notification Sync over LTE, Wear OS apps, Fitbit fitness (default)
Sensors: Compass, altimeter, Blood oxygen sensor, Multipurpose electrical sensor (ECG), Optical heart rate sensor, Accelerometer, Gyroscope, Ambient light sensor
Software: Wear OS 3.5, pairs with Pixel Watch app
32GB eMMC; 2GB SDRAM
Connectivity: Bluetooth 5.0, Wi-Fi b/g/n 2.4GHz, NFC, LTE and UMTS (LTE model only), compatible with Android 8.0 or newer
Battery and charging: 294 mAh; USB-C magnetic charging cable (50% in 30 minutes), 5W charging
Colors: Obsidian, Charcoal, Chalk, Lemongrass, Hazel
Fitbit integration is new to Wear OS and it debuts on the Pixel Watch with a more comprehensive suite of features for health and fitness tracking than Google Fit. The Pixel Watch comes with six months of Fitbit Premium, offering advanced health tracking features and access to a whole library of exercise videos and mindfulness content like guided breathing and meditation.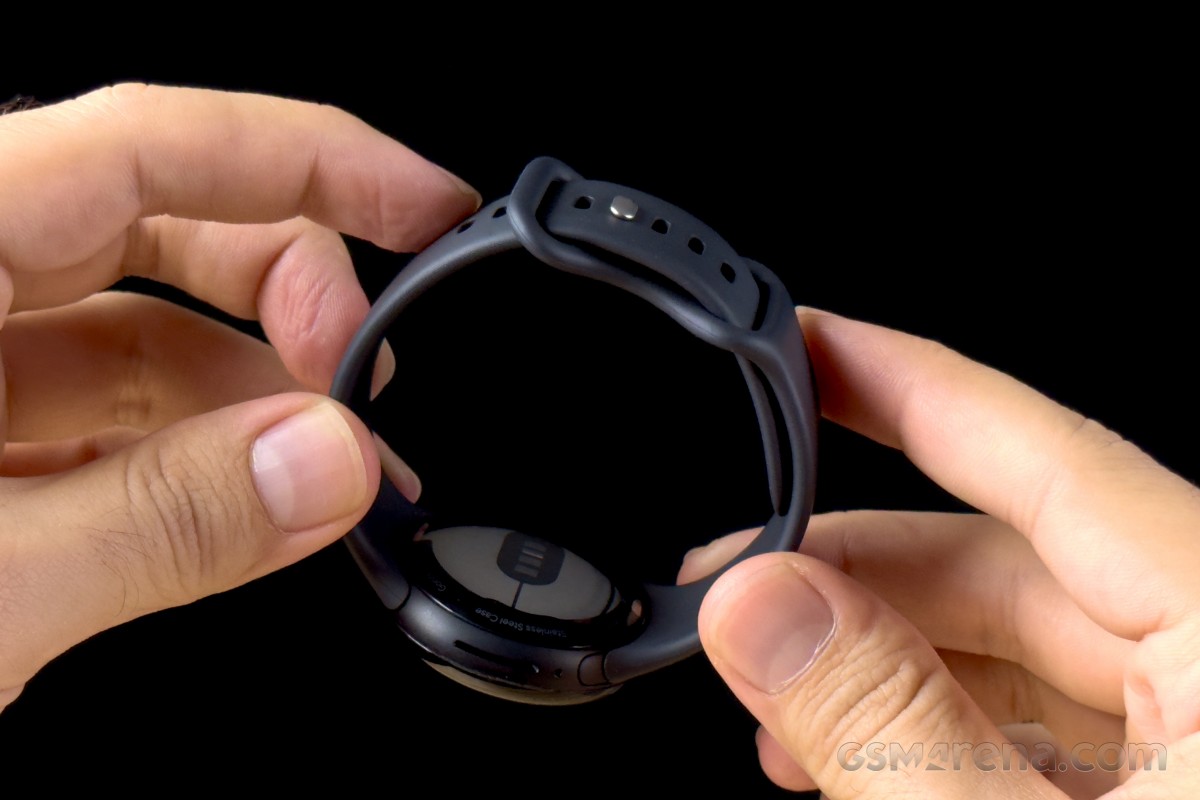 The Google Pixel Watch starts at a pricey $349 in the US ($399 for LTE model) which makes it $50 cheaper than the Apple Watch, which starts at $399. Still, at its price point, Google is setting up its customers with high expectations from the Watch.
Let's see how things stack up on the Pixel Watch. Here is an unboxing of the Matte Black/Obsidian LTE model.
Unboxing
The Google Pixel Watch comes bundled with a USB-C magnetic charger, and a spare Active Band for smaller wrists. The large one is pre-installed on the Pixel Watch.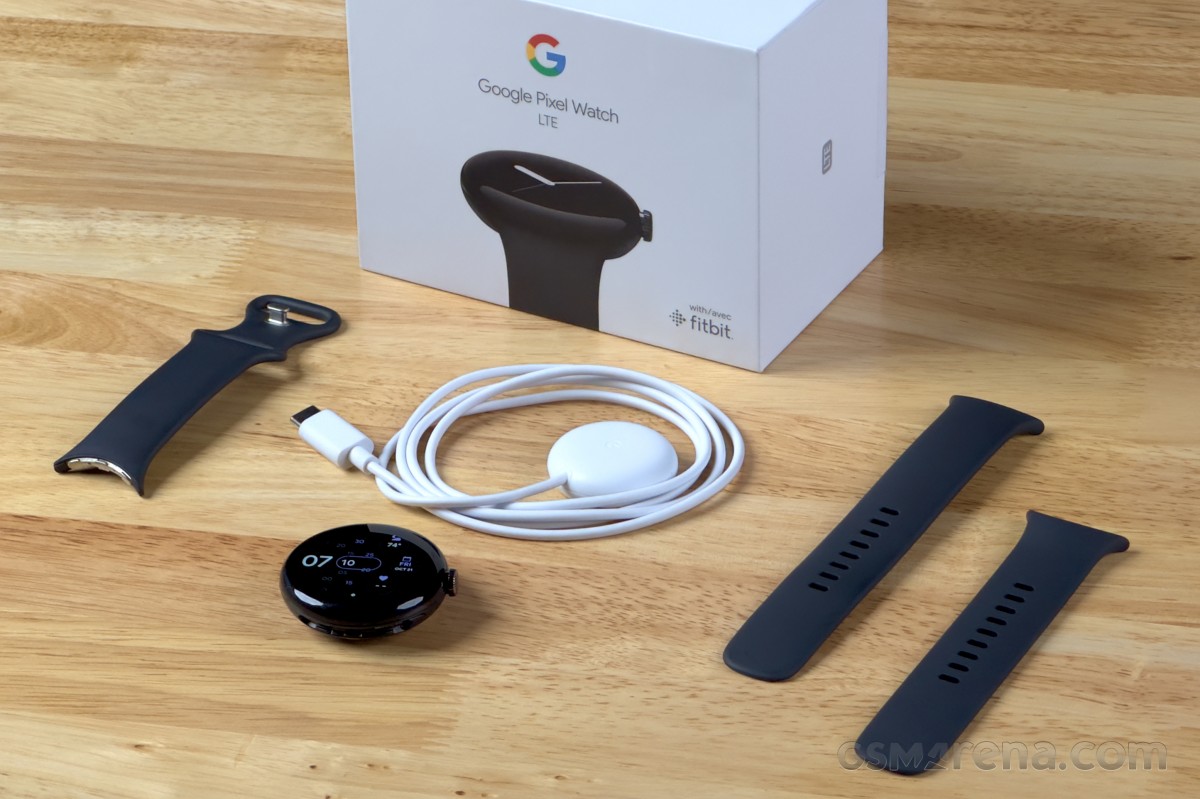 Google sells other kinds of wrist straps. There's a Stretch Band, Woven Band, Crafted Leather Band, and Two-Tone Leather Band.
Design and comfort
For the Pixel Watch, Google went for an understated and minimalist look. The watch is round, with its protective layer of glass formed into a dome that elegantly wraps around the circumference of the Pixel Watch. Meanwhile, the watch case is made of stainless steel, which is comprised of 80% recycled material.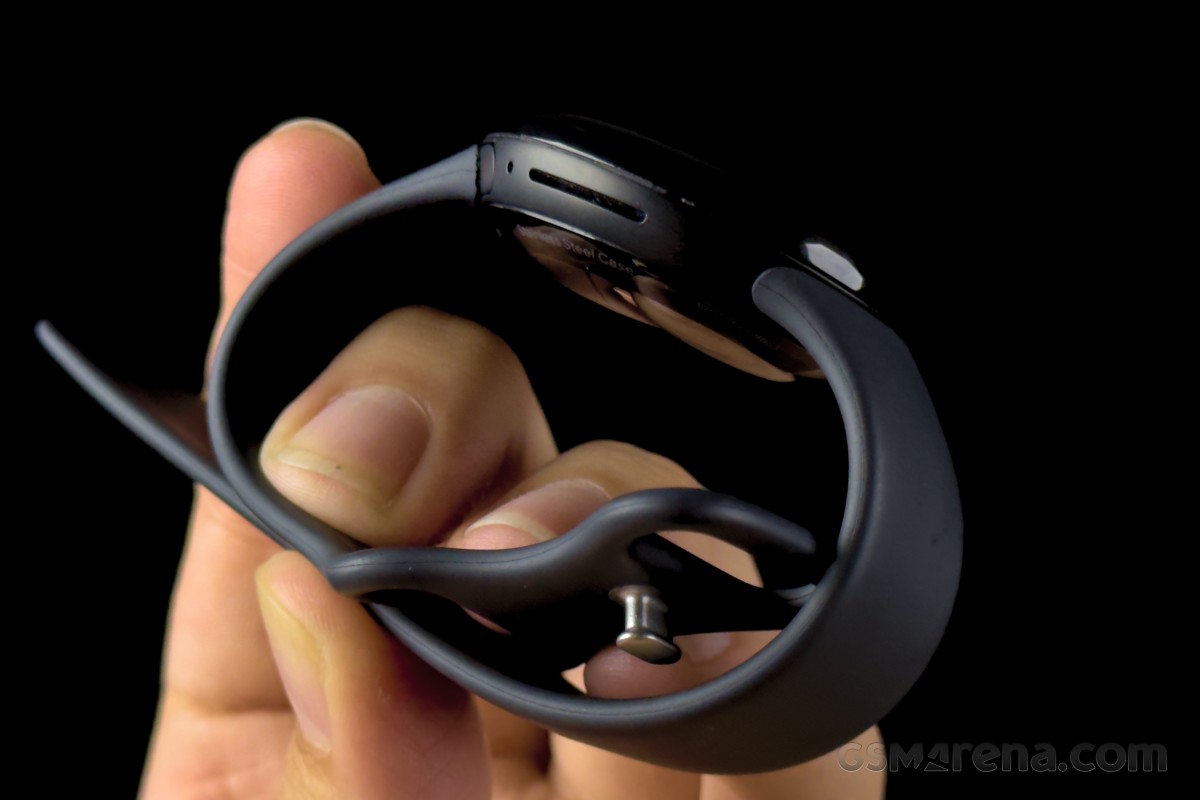 The finish on the watch case will depend on the colorway. Our unit for review is Matte Black with Obsidian Active band, and it is the only combination that does not have a polished finish. There's also Champagne Gold with Hazel Active band, and Polished Silver with either Charcoal or Chalk Active bands.
The bottom of the watch case is domed and smooth, with some decorative lines throughout.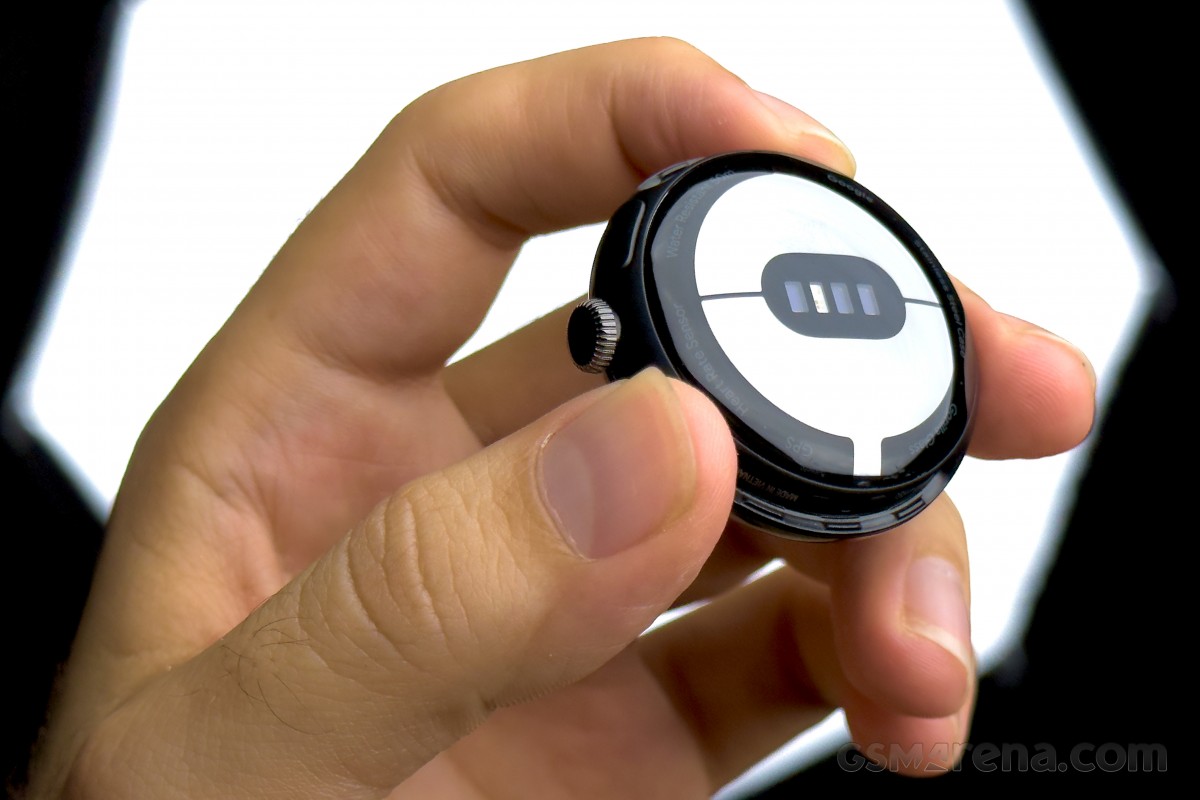 There's a loudspeaker grille on the left side, and the rotating dial on the right. There's a button right above the dial, and there is a microphone on either side of the watch case.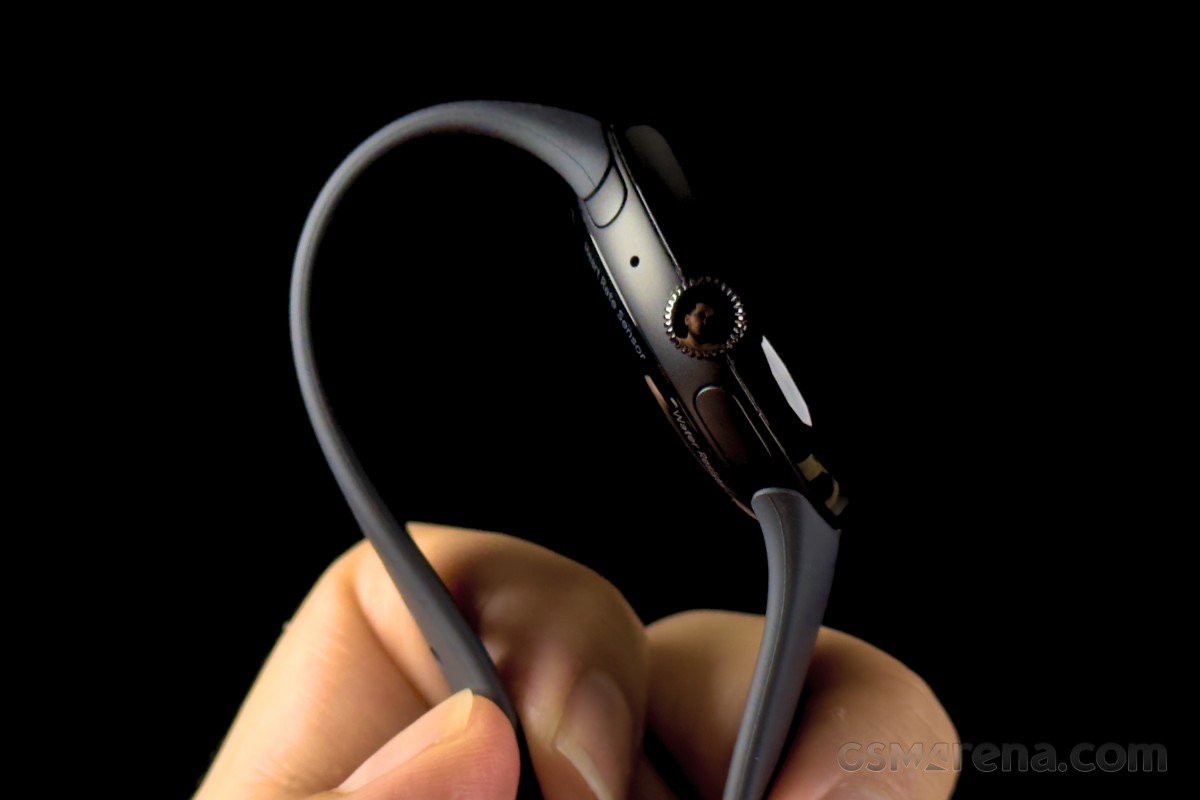 The Active band is flexible and feels soft to the touch. it is made of fluoroelastomer - a fluoro-carbon-based synthetic rubber material that is highly resistant to temperature stress, keeps oils away and is hydrophobic. This material is typically used in harsh chemical applications.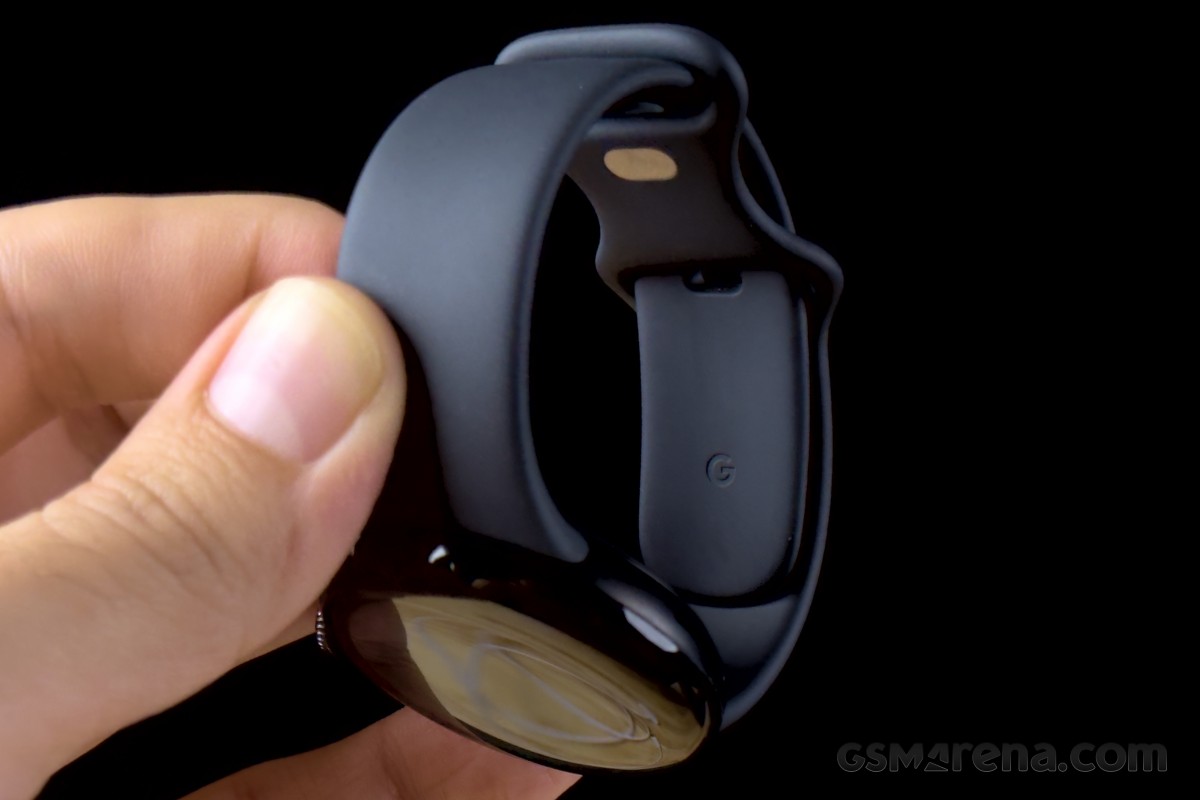 The Pixel Watch uses a proprietary mechanism for attaching and removing the wrist strap. Google compared its action to installing and removing a camera lens from its body: a small button next to each side of the strap is pressed to release the band by rotating it along the curve of the watch.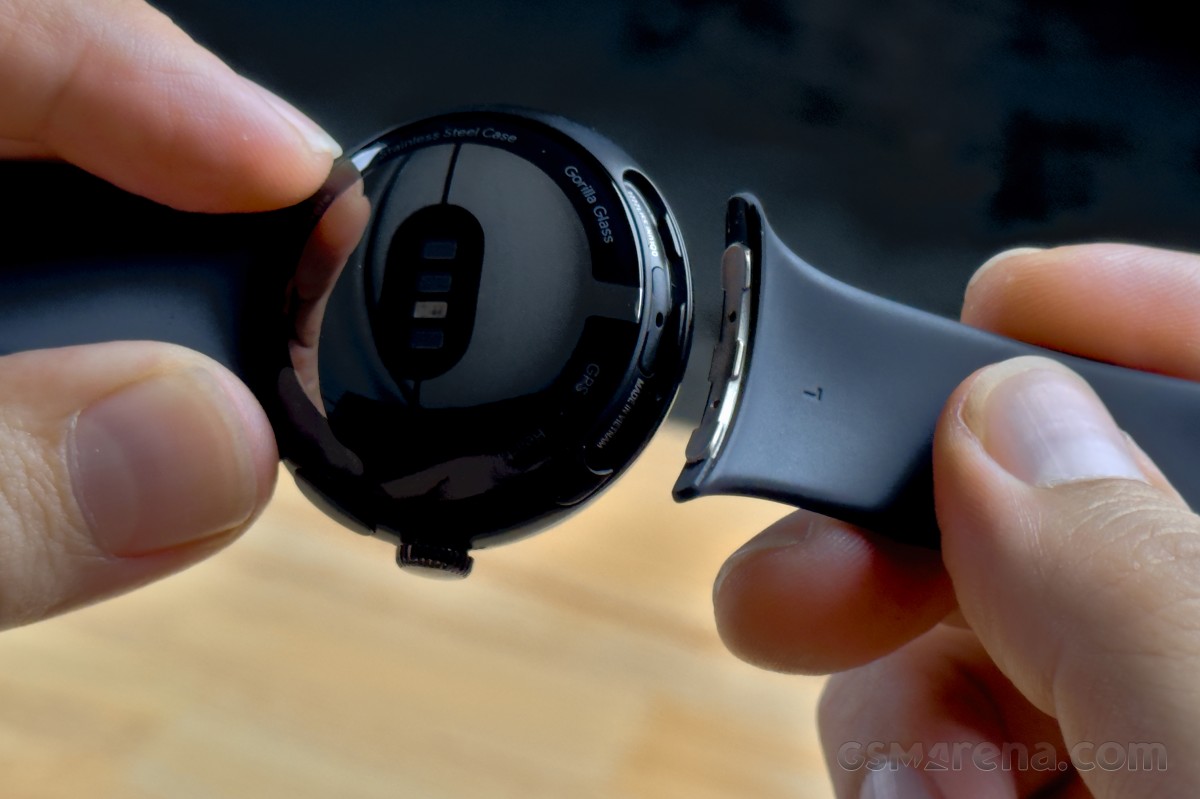 Interestingly, there are four pogo pins behind the upper band. This is either a service port or Google may have plans to release accessory bands with additional features. Four pins indicate both power and data should be accessible through these.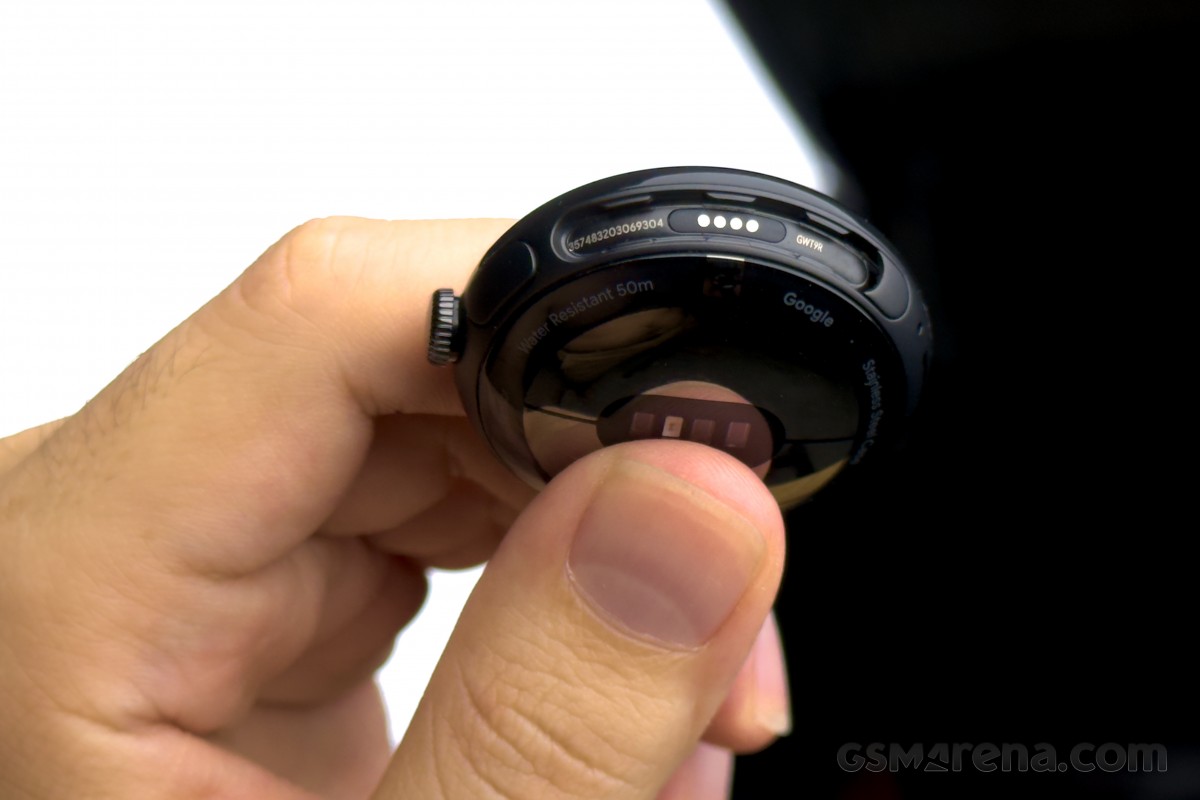 The Google Pixel Watch comes in a single size option that's on the smaller side. It gives off a sleek and minimalist vibe with its round, domed appearance. This shape is reminiscent of Google's other home products, particularly the Nest thermostat and the Nest Home mini.
The shape of the Pixel Watch makes it very comfortable to wear every day and sleep with it at night. It is easy to forget you are wearing it thanks to its lightweight and comfort. Its curvy and sleek design means it won't snag on clothing or get in the way when you are working with your hands.
Display
The Pixel Watch uses a sharp and vibrant, circular AMOLED display and the 3D dome that protects it is made of Gorilla Glass 5. It measures 1.2 inches across and has a resolution of 450 x 450 px - this makes for a pixel density of around 320ppi.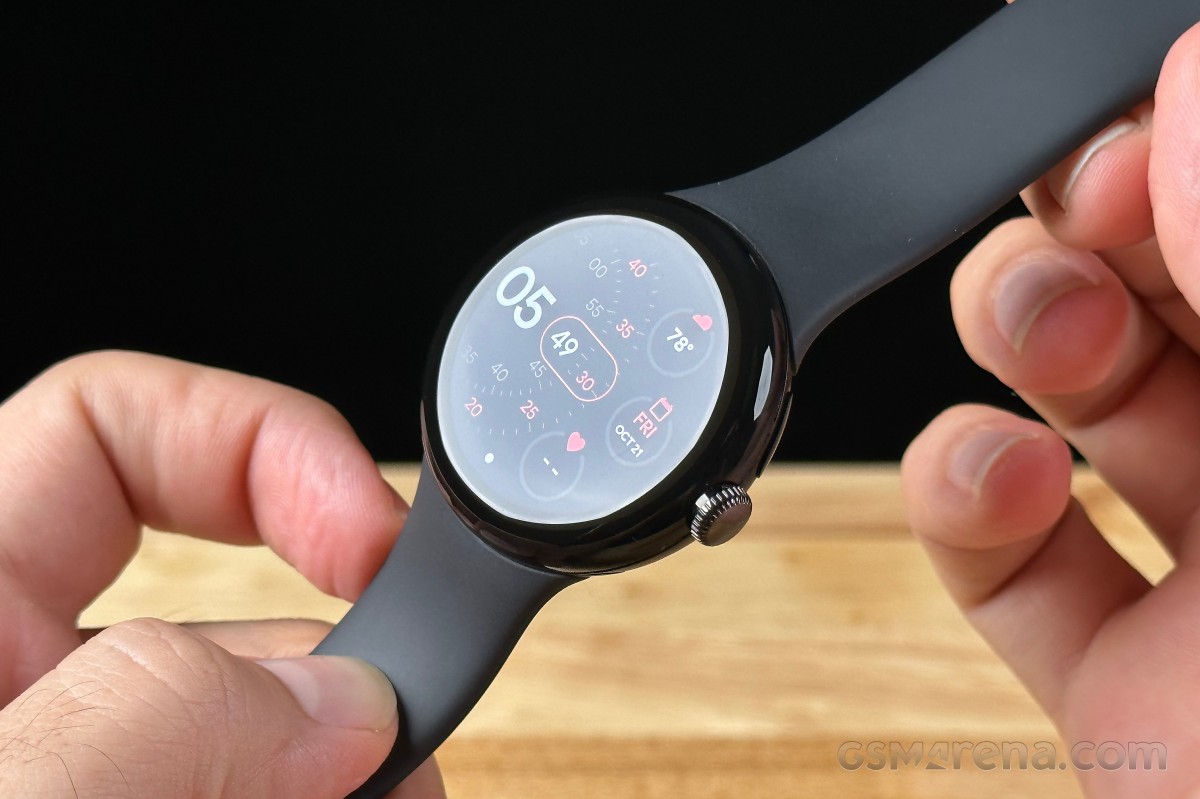 The Google Pixel Watch supports brightness boost of up to 1000 nits, and it even supports the DCI-P3 color space with deeper colors and higher contrast. The screen supports adaptive brightness Although small, this screen is super bright and easy to see outdoors.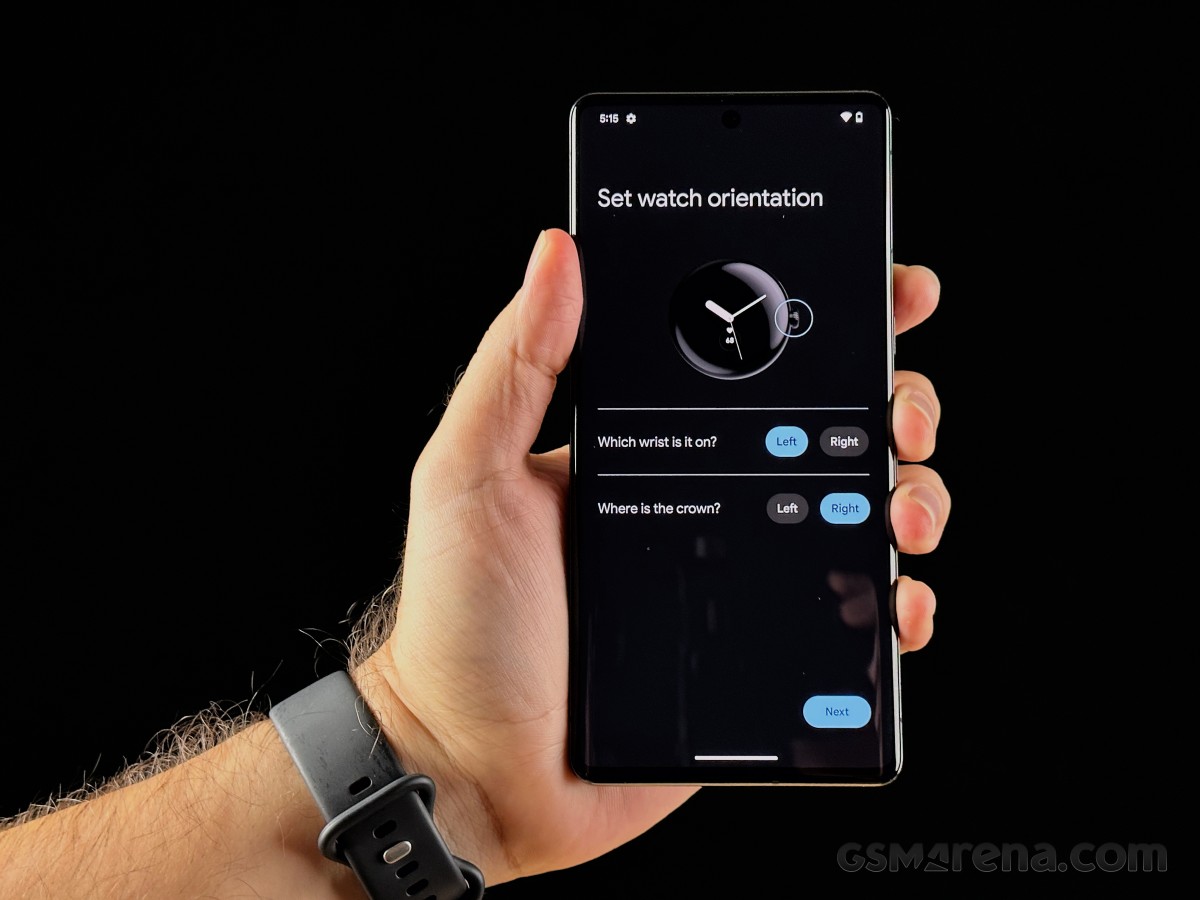 The display supports always-on, sunlight boost, and it is configurable to work in any orientation on either wrist.
Performance and connectivity
The Google Pixel Watch is powered by the Exynos 9110 built on the 10nm process. This is same chipset as the Samsung Galaxy Watch, Watch Active, and Galaxy Watch 3. On the Pixel Watch, it is paired with the Cortex M33 co-processor, handling low-power tasks like always-on display updates and background heart-rate tracking.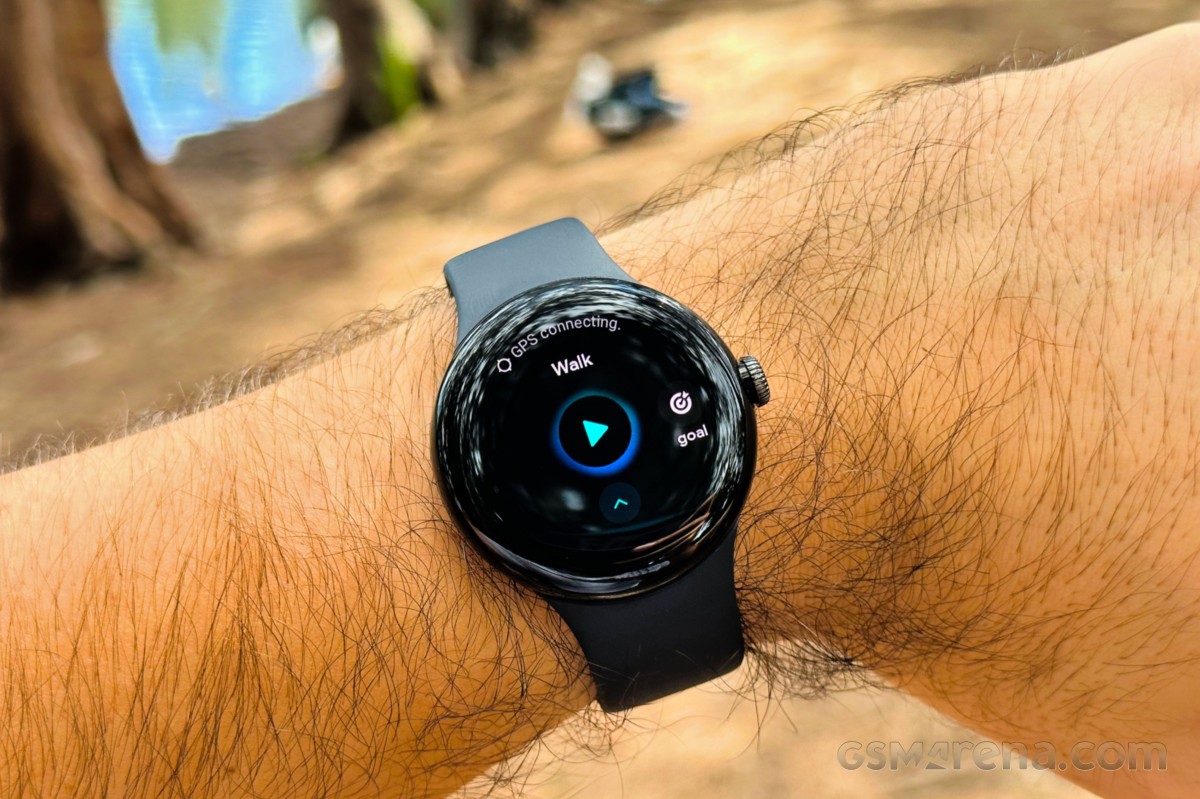 The Exynos 9110 is a dual-core chipset clocked at 1.15GHz, using Cortex-A53 cores. Graphics are handled by the Mali-T720. The LTE modem supports 150Mbps down and 75Mbps up. There's also support for GPS, GLONASS, BeiDou, and Galileo.
This chipset is four years old at this point, which makes us wonder if Google intended to release the Pixel Watch much earlier or if it was done to lower production and offset supply chain delays that began in 2020.
Software and Pixel Watch app
Wear OS 3.5
The Pixel Watch runs Wear OS 3.5. If you've used any Wear OS smartwatch in the last couple of years, everything will feel familiar. From the main watch face screen, pull up for notification, pull down for the quick settings panel, but Google Assistant no longer has a dedicated feed page - it didn't need it anyway - so swiping left or right will flip through the Watch's Tiles.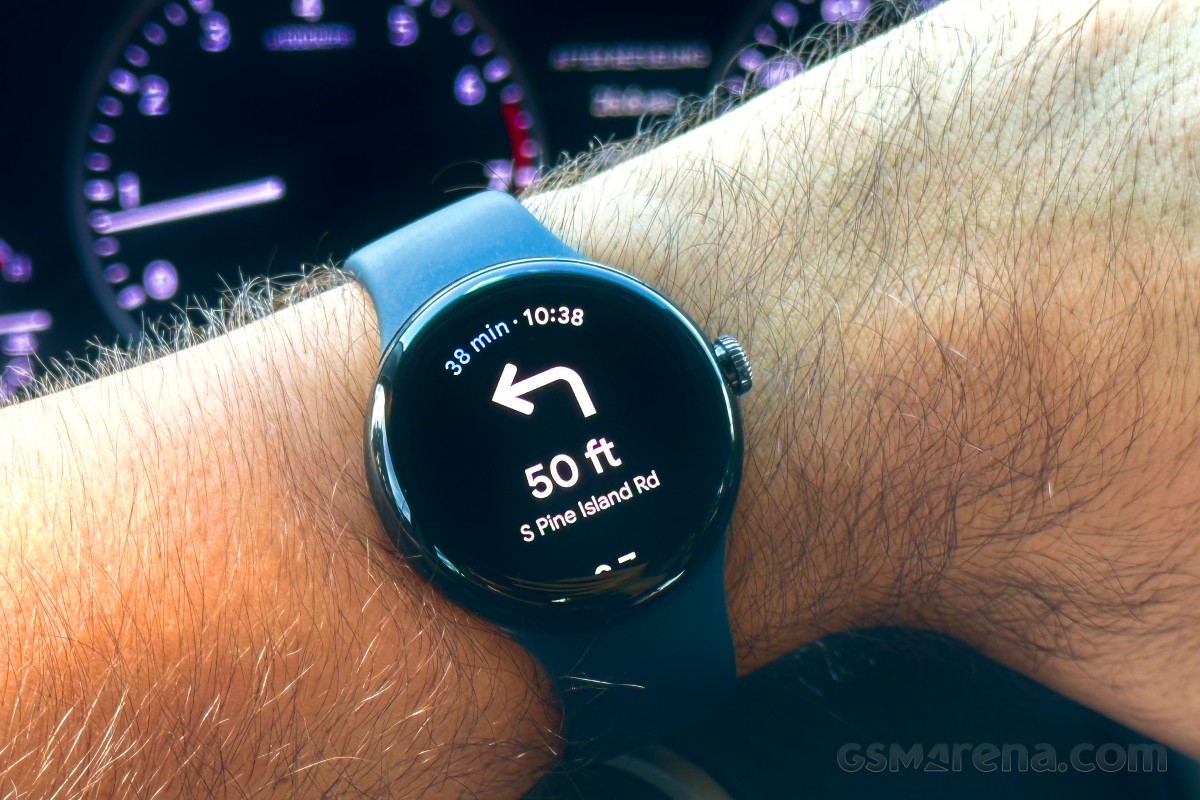 Otherwise, everything else is pretty much exactly as Wear OS was before. There is, however, more polish through the UI, everything feels snappier and optimized, and there's more attention to the animations and transitions between screens. There's also plenty of customizability to all the included watch faces.
Notifications arrive more quickly and consistently than before, and it now takes one or two fewer taps to respond to a message.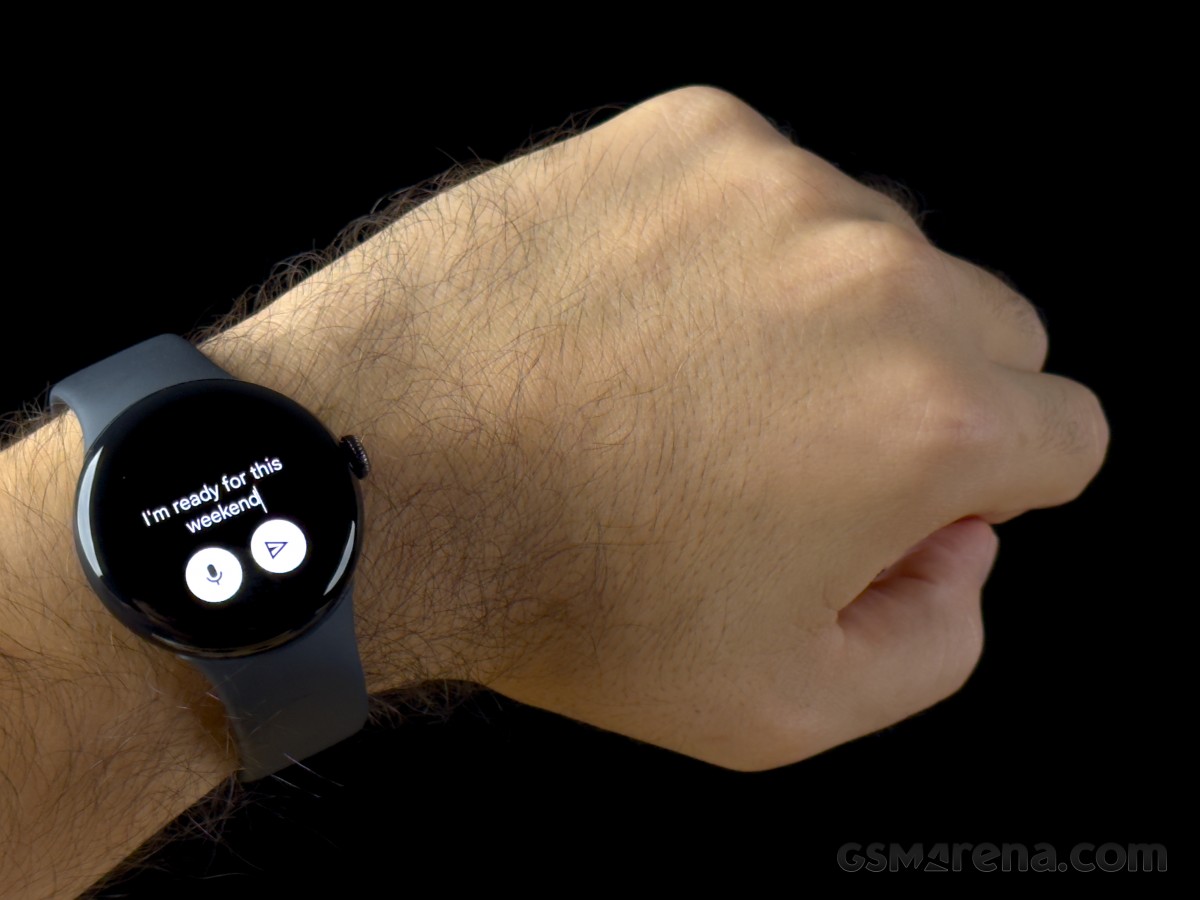 Voice input works better than previous Wear OS versions, and it works more reliably than before. It won't add all the punctuation for you, though, like it does on Tensor-powered Pixels with Assistant voice typing. This means that when paired to a Pixel 6 or 7, the Pixel Watch will need for you to verbally speak punctuation cues while your smartphone will not.
Wear OS 3.5 on the Pixel Watch doesn't bring a drastic change, but it modernizes the UI with an overhaul it needed for years.
The rotating dial works smoothly and makes navigating the watch easier, but we found that it didn't work in a couple of third-party apps. Although it doesn't affect the functionality, its worth noting and could be fixed with an app update.
Pixel Watch app
The Wear OS app is no more. Starting with wearables running Wear OS 3.5 and up, it will be up to each manufacturer to have their own companion app. In the Pixel Watch's case, this is the Pixel Watch app.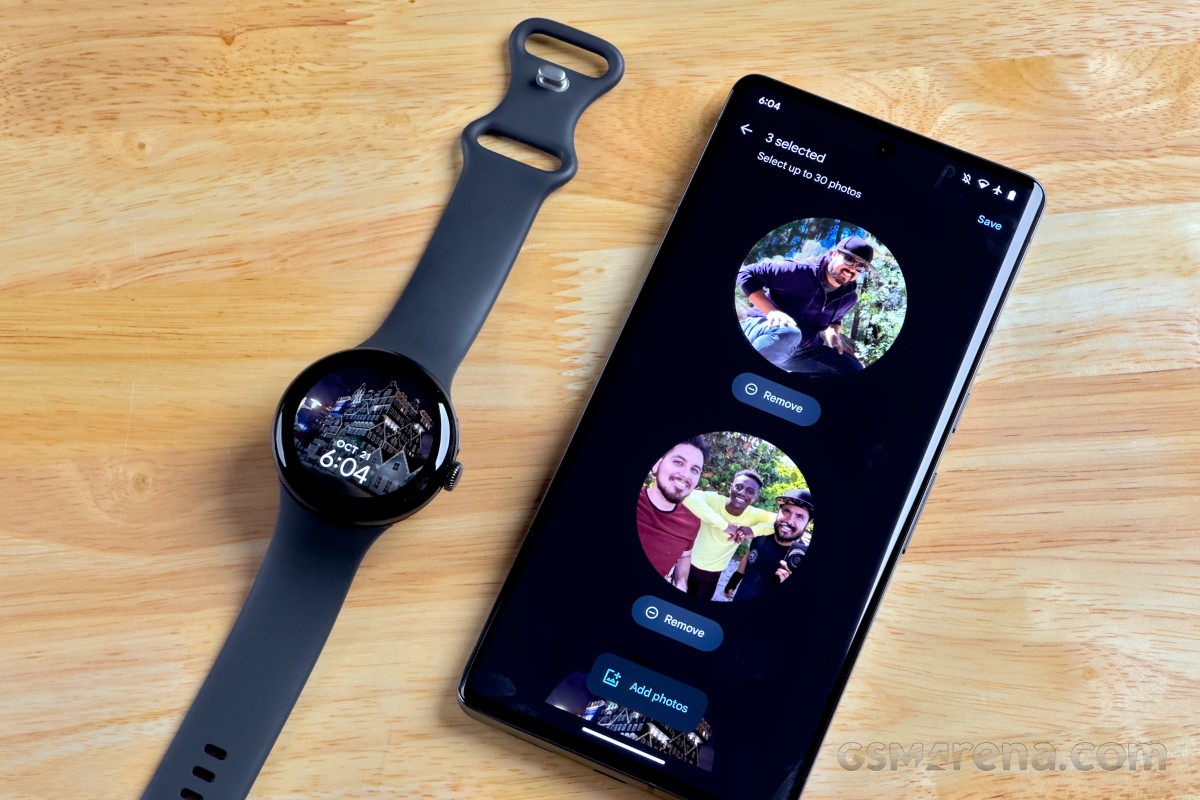 The process of setting up is not too different, but the app has a more complete set of features and options for configuring the Pixel Watch, customizing watch faces, adding accounts, access the Watch's Play Store and install apps, and you can manage the Pixel Watch's eSIM as well. You can also manage Google Assistant settings, add Google Accounts, and add cards to Google Wallet from the app.
One thing that's missing from both the Pixel Watch app and the Pixel Watch is a menu that shows battery usage. There is also no support for the Pixel Watch app on iOS. There are other Wear OS offerings that do work with iOS (Fossil has confirmed it will continue to work with iOS devices), but Google decided not to give the Pixel Watch a limited experience and would rather not compete with the Apple Watch.
Health tracking and Fitbit app
During the announcement event, Google made sure to highlight that the Google Pixel is equipped with the most accurate and fastest heart rate monitoring system that Fitbit has ever made. It can calculate heart rate at a sampling rate of once per second. This means you'll never have to wait to see your heart rate and there is no delay in reading a sudden surge in heart rate during activity.
The Pixel Watch does have an ECG on board. For those concerned with heart health, an ECG test can detect when the wearer is experiencing abnormal heart activity and can aid in early diagnosis of heart conditions. Just so you know, this test is not a passive one, the wearer must open the app, touch the dial with a finger, and sit still for 30 seconds.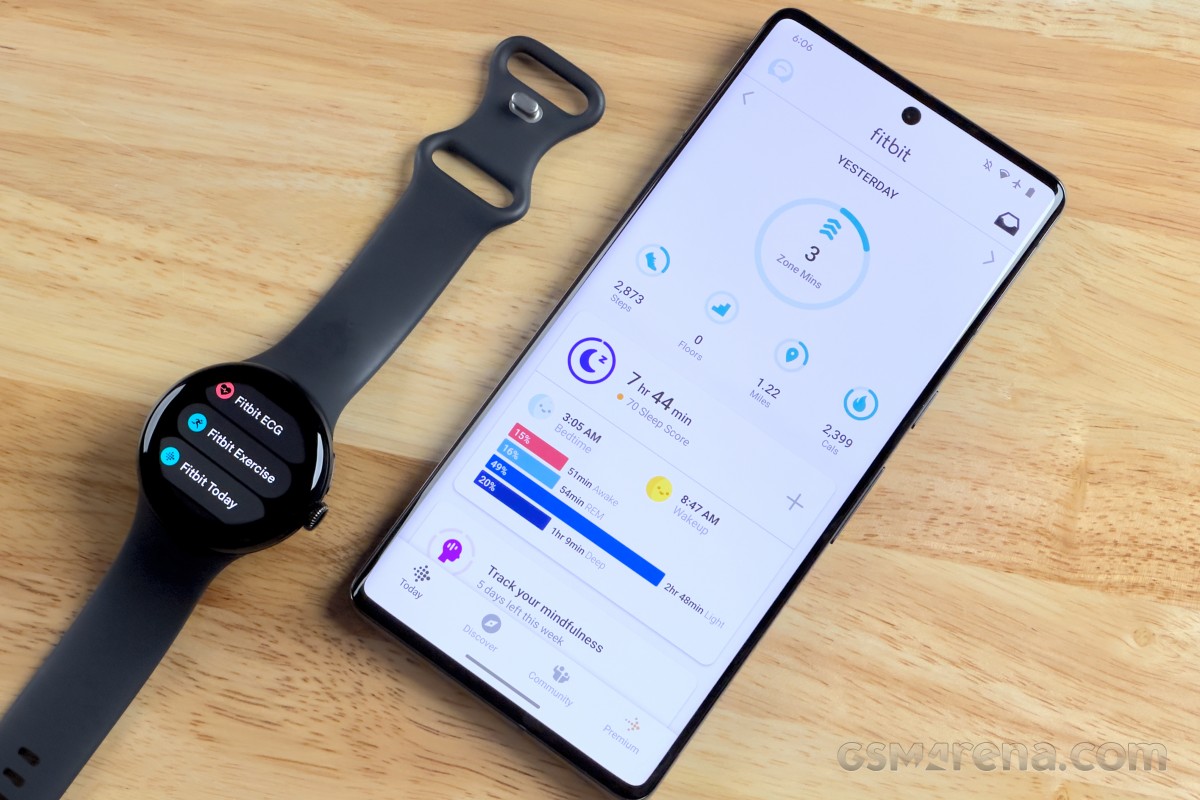 Although the Pixel Watch is equipped with a blood oxygen sensor, there is no way to take a blood oxygen measurement. Normally, watches with this kind of sensor can detect blood oxygen levels while sleeping or throughout the day. This information has been shown to be helpful in early detection of COVID-19 infection and breathing issues like sleep apnea.
The Pixel Watch supports automatic workout tracking and will log an activity as such after it has been performed for at least fifteen minutes. This is in addition to the usual suite of stat tracking: steps, heart rate, and sleep. Stress management and heart rate stats during sleep are locked behind the Fitbit Premium paywall.
Coming from Google Fit, the default fitness experience on the Pixel Watch is a significant change. You can still, however, use Google Fit on the Pixel Watch if you prefer.
If you've used a Fitbit in the past, then you'll be familiar with the app's layout. The Today tab shows you all the fitness tracking statistics of that day, and you can scroll through previous days as well. You can customize this screen, rearrange, or remove items from this screen as well. There are a few pockets of information that aren't available and tapping on them would prompt you to buy Fitbit Premium.
There is enough free content for the person who is trying to improve their overall health. The Discover tab shows you suggested workouts and features available throughout the app. Many of the suggestions are free, but there are a few here and there that to require the Premium subscription.
There are guided programs for improving sleep, preparing your body to become more active, change eating habits, and introduction to a new fitness style. All these programs take place over multiple days (some a couple of weeks). They don't have the Premium label on them so you might commit to a guided program only to find out you still need a Premium subscription.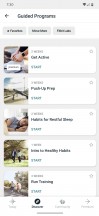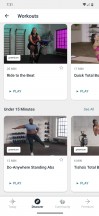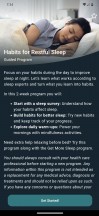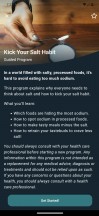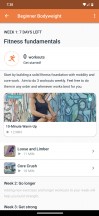 You'll need to have a subscription to see a lot of these videos
The Community tab of the app is for viewing a feed of other friends that use Fitbit, people can share their workouts or other fitness results, even sleep results if you really want to show you friends how badly you slept.
The last tab is just a Premium tab, and it is solely there as a landing page for people to find where to subscribe to Fitbit Premium.
The Fitbit platform offers a premium subscription that offers additional insight on overall fitness and health, and additional health tracking statistics. There's also Access to wellness reports, stress management analytics, a library of workouts, guided breathing and meditations, and video recipes.
In the US, Fitbit premium costs $80 per year, or $120 per year at $10 per month. We haven't tested the premium service yet, but every Pixel Watch comes with six free months of Fitbit Premium.
Fitness tracking
There are 40 workout modes, and the Watch's built-in GPS can track those that involve traveling distance like running or biking. We tested it mostly biking, walking, and yoga.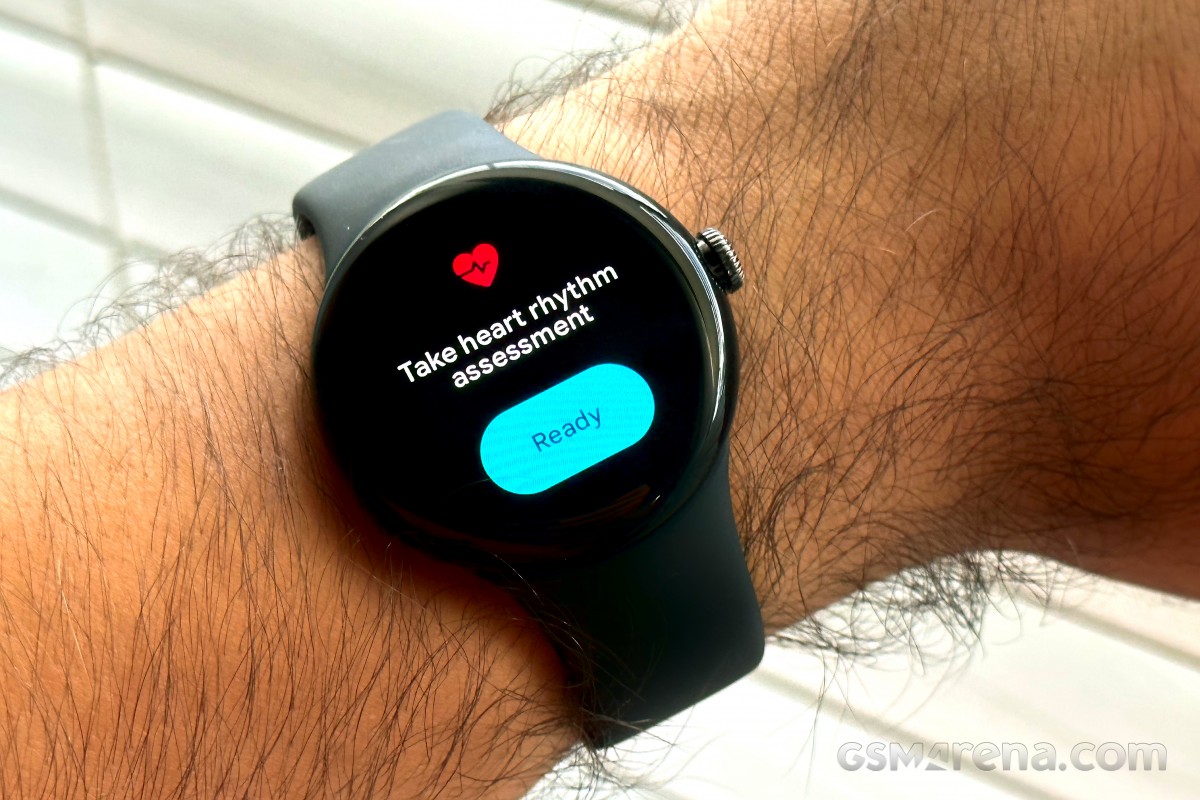 The heart rate monitor equipped on the Pixel Watch is excellent. There is no delay in calculating your heart rate, and it certainly doesn't lag during a workout. With previous smartwatches, I've experienced highly inaccurate heart rates during workouts, especially when switching between jogging and walking. Even with sweat running down my arm - which is particularly hairy, the Pixel Watch was always able to give me an accurate reading that I could predict as it came down or spiked up.
We like that the Fitbit exercise app lets you configure the Watch to enable always-on screen during a workout, even if it isn't enabled globally. This makes it much easier to glance at workout stats at the expense of some added battery draw.
Battery life and charging
The Google Pixel Watch is equipped with a 294 mAh battery, regardless of whether it is an LTE model or the Wi-Fi/Bluetooth variant. Google advertises the Pixel Watch can last "All day", which is another way of saying it won't much more than a day.
This is pretty much the case. The Pixel Watch is a wearable that you can expect to charge every day, and it sometimes may need an extra top-up during the day. If you are going to be tracking sleep, then you will need to make sure you have enough juice to make it through the night. Based on our testing, 15% to 20% should be just enough juice to track a night of sleep and still have a few percent left over before you need to throw it on the charger in the morning.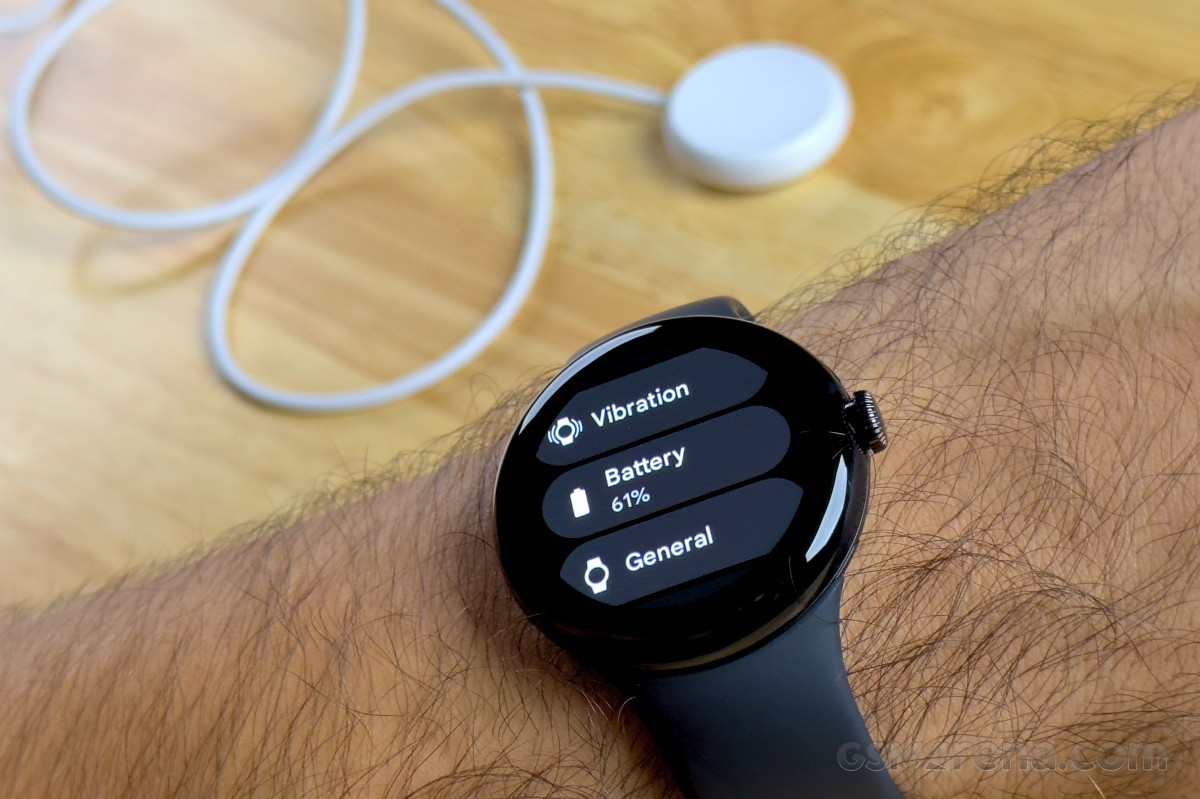 Battery endurance isn't strong by any means. Tracking sleep overnight will use anywhere between 8 to 15% with always-on turned off, or up to 30% with always-on display enabled. Tracking fitness will draw quite a bit of battery, and even more if GPS is enabled for the workout.
Streaming music over Bluetooth directly on the Watch will deplete a lot of power. In our test of streaming to a pair of Pixel Buds A-Series from the Pixel Watch over LTE, the Watch depleted 20% battery after about 30 minutes of streaming. If you plan to stream music over LTE and throw workout tracking with GPS on top of that, you can expect to lose about 50% power after said workout. This is, of course, the most power-hungry activity that you can do with the Pixel Watch.
In most cases, the Pixel Watch should make it just around the 24-hour mark - if always-on display isn't enabled and as long as you don't stream music to Bluetooth headphones over LTE.
In our experience, the Pixel Watch recharged quickly whenever it was thrown on the charger. It almost makes up for the sub-par battery life, but not quite. The Watch warms up significantly when it is on the charger but tapers off when reaching higher percentages.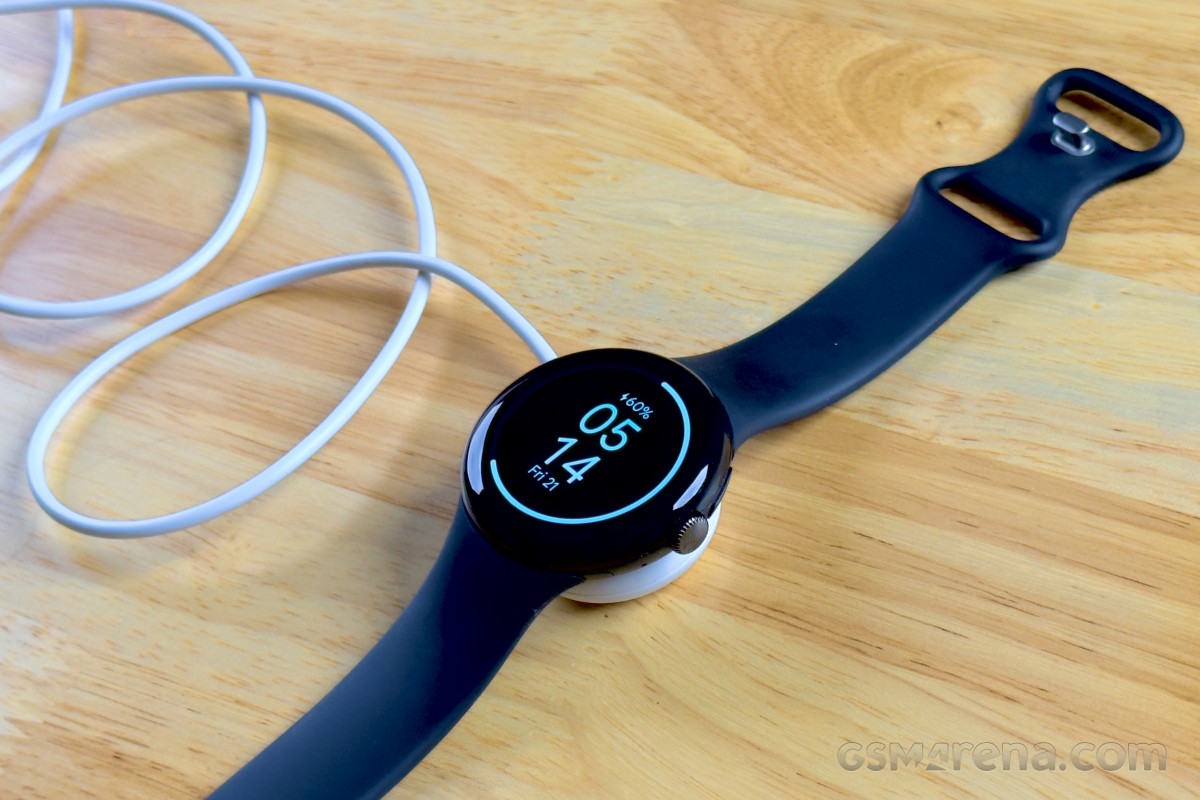 Google advertises the Pixel Watch can recharge up to 50% of the way in 30 minutes. In our testing, we were able to achieve 47% battery after 30 minutes on the charger from a fully depleted battery. A full charge took 1:22h, just around Google's advertised 80-minute mark. When fully depleted, the Watch will automatically turn back on after it recharges up to 10%.
Although the Pixel Watch uses a magnetic charger, Qi is officially not supported. This means you won't be able to recharge the watch using a regular wireless charger, nor can you use reverse wireless charging on the Pixel or any other smartphone to recharge the Watch. You can only use the included charger to power up the Pixel Watch.
Verdict
The Google Pixel Watch is an attractive and sleek Wear OS watch with much to offer. At $349, the price point is steeper than Apple's $249 entry-level Apple Watch SE. Although the Pixel Watch is priced in a premium bracket, the experience feels entry-level in its current state.
The Pixel Watch certainly feels like a first-generation product, but one that's still missing features. For instance, the Pixel Watch includes hardware for blood-oxygen sensing, but it has not been enabled on the Pixel Watch.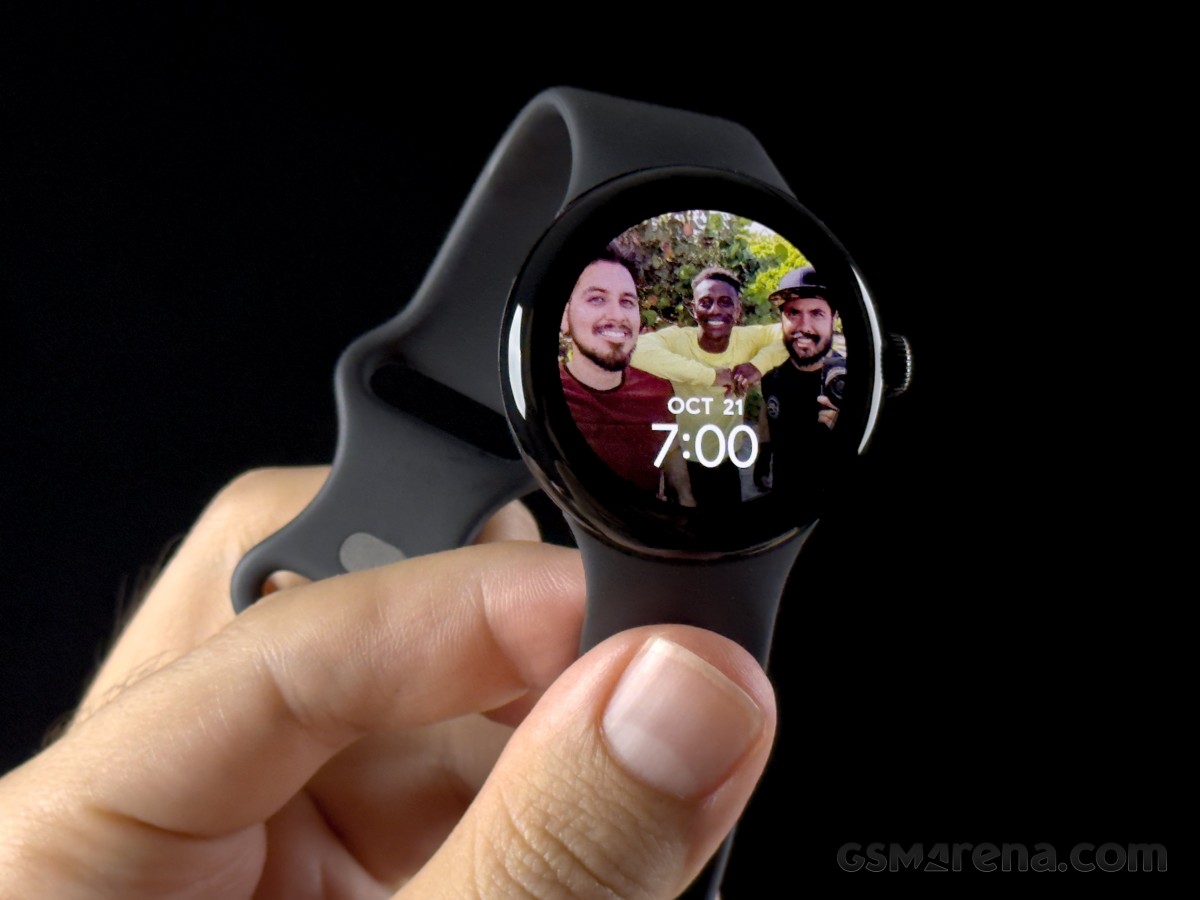 The Pixel Watch acts just as it did before, with the biggest update to Wear OS being a cleaner, spiffed up UI and a much more put-together experience than before. However, the Pixel Watch isn't providing anything new aside from that. A Google representative did confirm that the Pixel Watch will be receiving feature drops in the future, though a time frame was not provided. Remember, the Pixel phones receive feature drops every three months.
At $349 in the US, and even more in other markets, the Pixel Watch is a difficult sell. While it does most things that fully featured smartwatches can do in a stylish, premium package, it is still far from the same kind of experience that Apple Watch users have come to expect.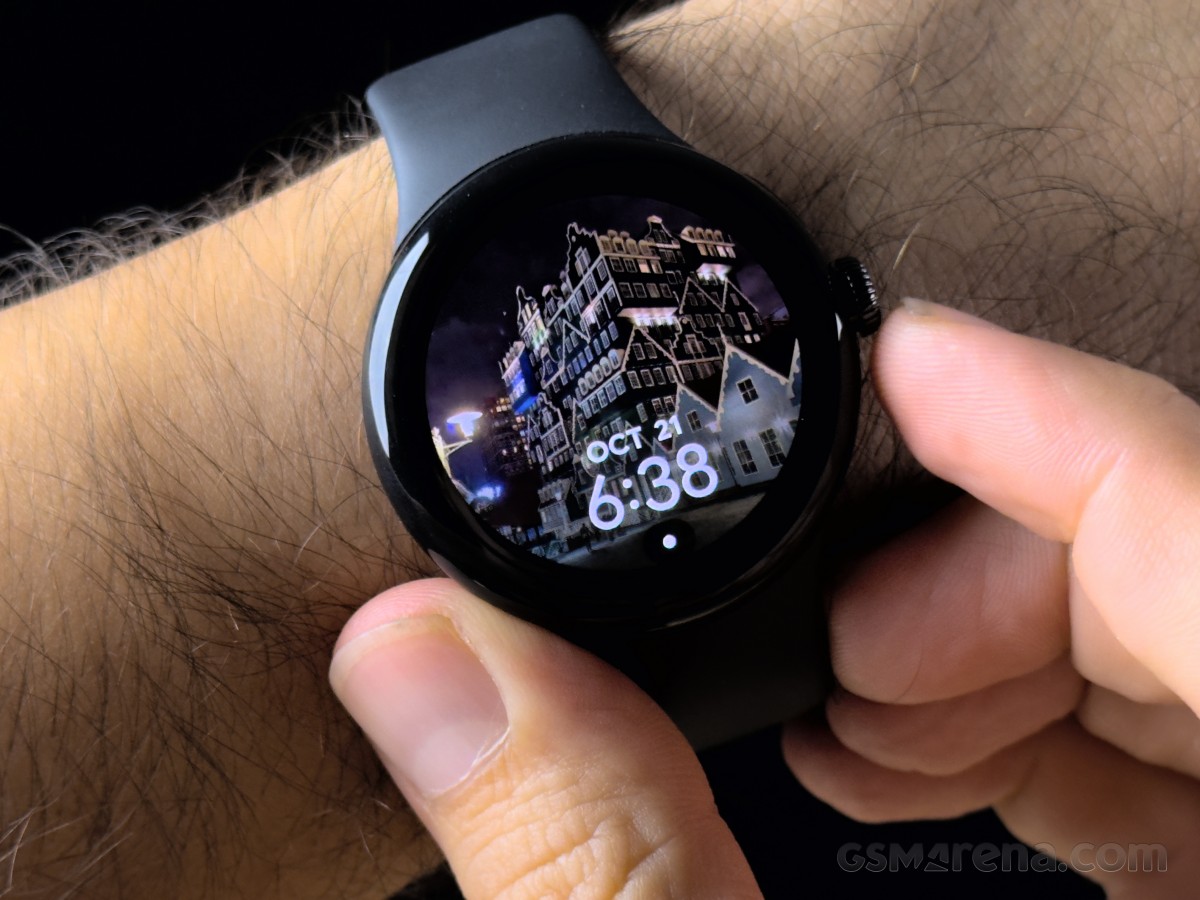 If the style and sleek aesthetic are enough to sell this Watch for you, that's great for Google. The truth is that Fitbit sells fitness watches that offer more sensors for fitness tracking and multi-day battery life for cheaper than the Pixel Watch. The one you choose will depend on whether you prioritize fitness tracking or having a smartwatch companion for doing smartphone things on your wrist.
We can't recommend the Pixel Watch, not in its first-generation. Though it is a pretty watch with Pixel branding and Fitbit integration, that's all that it has going for it. The unskinned version of Wear OS is a welcome update, but the steep price, poor battery life, and tinny loudspeaker make it difficult to recommend.
Pros
Elegant and curvy look with sleek lines.
Wear OS 3.5 brings prettier watch faces with a clean and snappy UI.
Fitness tracking is an improvement over Google Fit
Very comfortable to wear everyday.
Recharges quickly.
Cons
Weak loudspeaker for phone calls.
Battery life barely lasts a day with light use.
Not compatible with Qi wireless charging.
Expensive.
G
Glass still scratches at level 6 regardless of which version the manufacturer uses.
d
The Elephant in the room is what's the point of all the sensors if their readings are crap? I have never seen a smartwatch with a quality of the readout. Get that, and you get me.
K
I guess that the Google Pixel Watch does not support ANT+ / BLE So I can use it as a Heart Rate Monitor for my (Bryton 320E) cycling computer ? Cheers
ADVERTISEMENT