90Hz OLED Smooth Display
The Google Pixel 5 has a Flexible OLED display with Full HD+ resolution (1080 x 2340 px) and an aspect ratio of 19.5:9. This display spans 6 inches diagonally, which comes out to 432ppi. It supports HDR content and Full 24-bit color rendering. Unlike the Pixel 4a or 4a 5G, the Pixel 5 is the only 2020 Pixel model with 'Smooth Display' - which, in this case, means a 90Hz refresh rate.
We're glad to see that brightness isn't an issue with the refresh rate anymore like it was with the first wave of Pixel 4 devices that would eventually be fixed with an OTA update. The responsiveness of the screen is as fluid as the display itself.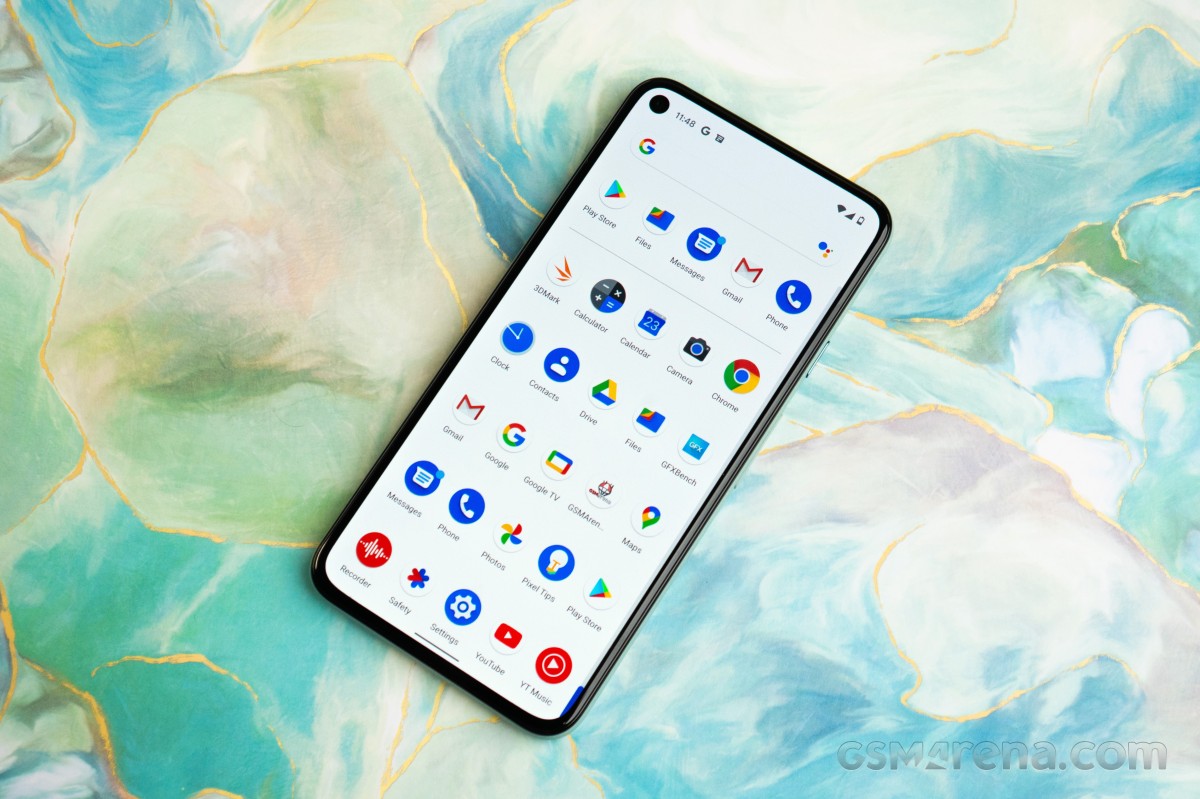 The rounded corners of the display precisely follow the perimeter of the phone, smoothly flowing around the rounded corners, thus earning Google some points for design execution. While the Pixel 4a had a slightly larger lower bezel than the rest, the Pixel 5's bezels appear uniform all the way around.
The display sees no noticeable color shift when turning the screen about until around the 45-degree mark. Even then, a slight blue-shift is barely noticeable. There's also no discoloration to report in the surrounding area of the punch-hole selfie camera.
Color accuracy is excellent on the Pixel 5. In the default "Adaptive" mode, whites were not tinted blue as we've found to be a trend in many smartphones. Colors are deep and vibrant with great contrast. Adaptive mode yielded an average deltaE of 3 with a maximum of 6.1 in the DCI P3 color space. The "Natural" color mode is very close to accurate based on the sRGB color space. There was an average deviation of 1.9 and a maximum deviation of 3.1 with the Natural setting.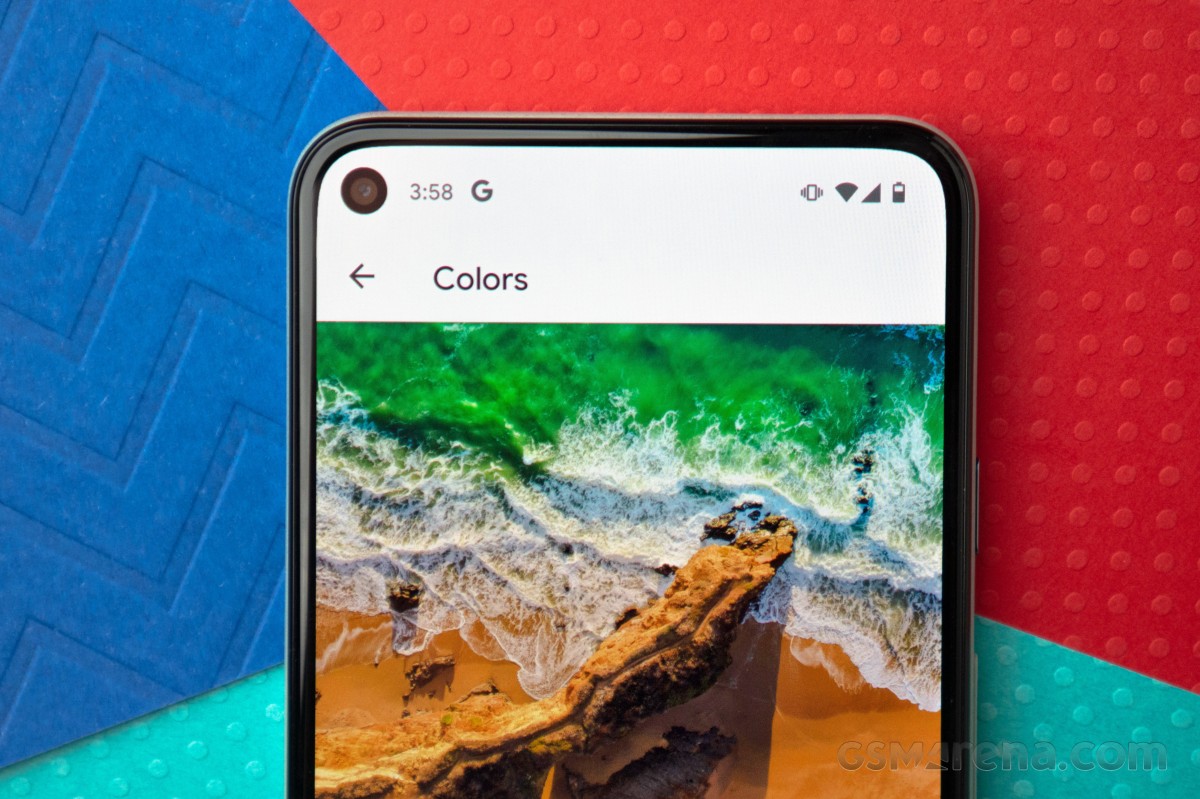 A "Boosted" profile is also available, in case you think the Adaptive setting is too vivid and the Natural setting is too dull. Although there's no customizable color tuning for the Pixel 5, the three options keep the choices simple.
Pixel phones before the Pixel 4a were unable to get brighter than their manual slider allowed them to, even if the "Adaptive Brightness" setting was activated. With the Pixel 5, the display will crank up to higher levels when exposed to direct sunlight.
Display test
100% brightness
Black,cd/m2
White,cd/m2
Contrast ratio
Oppo Reno4 Pro (Max Auto)
0
843
∞
OnePlus 8T (Max Auto)
0
815
∞
Apple iPhone 11 Pro
0
805
∞
Google Pixel 4a (Max Auto)
0
803
∞
OnePlus Nord (Max Auto)
0
756
∞
Google Pixel 5 (Max Auto)
0
699
∞
Apple iPhone 11
0.428
644
1505:1
LG Velvet (Max Auto)
0
617
∞
Motorola Edge (Max Auto)
0
595
∞
LG Wing 5G (Max Auto)
0
586
∞
Oppo Reno4 Pro
0
508
∞
vivo X50 Pro (Max Auto)
0
503
∞
OnePlus 8T
0
497
∞
vivo X50 Pro
0
489
∞
LG Wing 5G
0
485
∞
Google Pixel 5
0
475
∞
Google Pixel 4a
0
456
∞
Google Pixel 4 XL
0
436
∞
Google Pixel 4
0
423
∞
Motorola Edge
0
416
∞
LG Velvet
0
405
∞
OnePlus Nord
0
323
∞
With the manual brightness slider, the Pixel 5 display achieved 475 nits. Meanwhile, with Adaptive Brightness set to ON, the display could go as high as 699 nits. While that's less than the Pixel 4a, it's still vastly better over the Pixel 4 and 4 XL's numbers. Sunlight legibility is no longer an area of compromise for this Pixel phone.
Battery life
Note: We updated the battery numbers for 60Hz and added new numbers for when the display is set to always run at a 90Hz refresh rate.
When we look back to the Pixel 4's 2800 mAh power pack or the Pixel 4 XL's 3,700 mAh battery, the Pixel 5's 4,080 mAh cell is already larger than both. This, along with other factors like the power-efficient chipset, smaller display, and lack of power-hungry Motion Sense hardware, contributed to longer endurance for the Pixel 5. Battery life has always been a weak point in every Pixel flagship from the Pixel 4 and before, and Pixel 5 is a massive leap in the right direction.
We are glad to report that the Pixel 5 has the best battery life of any Pixel we have tested since the Pixel 3 XL.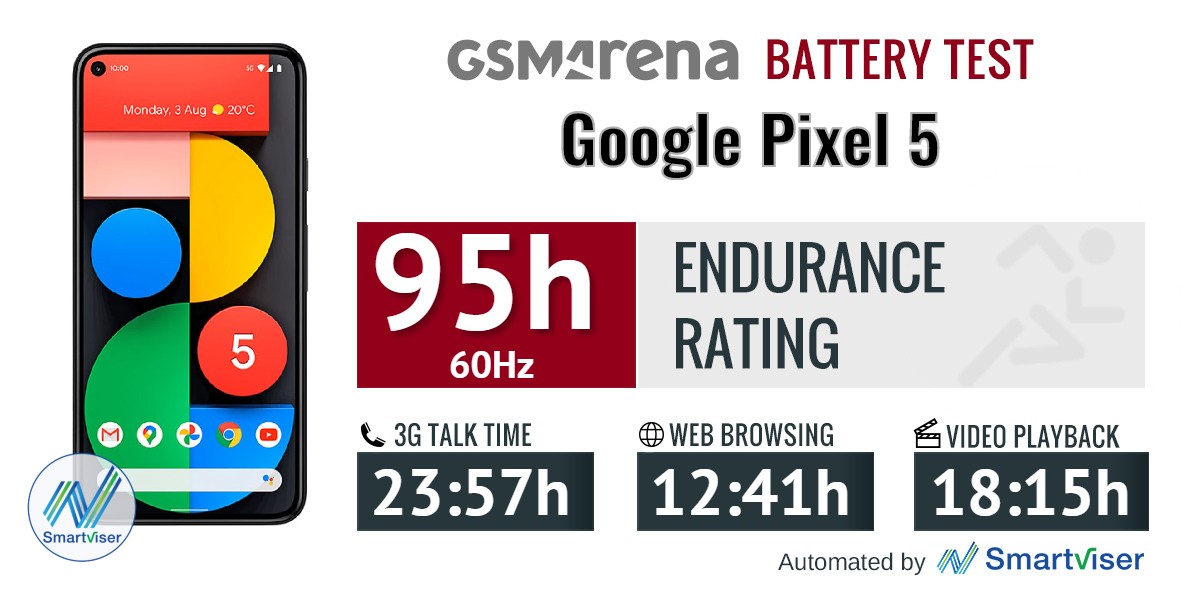 Even with Smooth Display enabled, our on-screen tests don't run in full 90Hz refresh rates. It's worth noting that the Pixel 5's display will only spike back up to 90Hz as soon as the display is touched such as when swiping out of a video or when you resume scrolling Twitter.
In the 60Hz numbers, the phone yielded 25:54h of call time, 12:41h of web browsing, and 18:15h of video playback. Thanks to strong standby numbers as well, the Pixel 5's larger battery and lower-power chipset contributed to a significant boost in the battery endurance over its predecessors, reaching an overall rating of 95h.
To calculate the following number, we enabled a developer option that allowed us to force the display to run at 90Hz at all time. This did tax the on screen tests, but only marginally.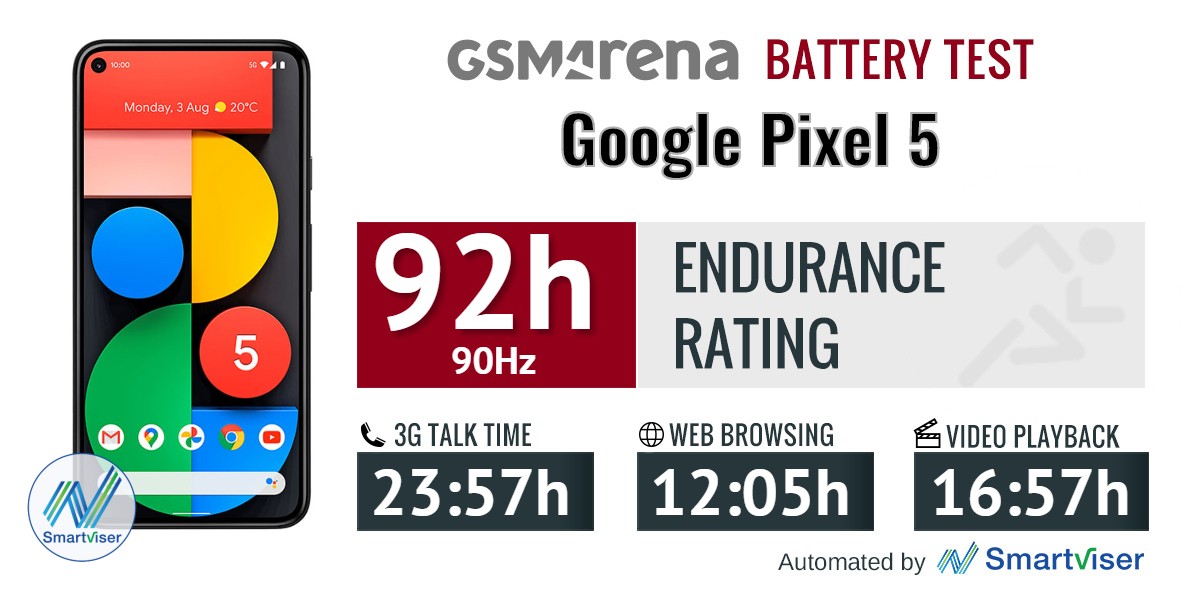 With the Smooth Display forced always at 90Hz, we saw an overall endurance score of 92h with 12.05h of web browsing and 16:57h of video. Since we only recalculated the on-screen tests, the call and standby scores are consistent between overall scores.
We can't say this is the best battery performance we've seen from the Snapdragon 765G, especially considering the relatively small screen.
Our battery tests were automated thanks to SmartViser, using its viSer App. The endurance rating above denotes how long a single battery charge will last you if you use the Google Pixel 5 for an hour each of telephony, web browsing, and video playback daily. We've established this usage pattern so that our battery results are comparable across devices in the most common day-to-day tasks. The battery testing procedure is described in detail in case you're interested in the nitty-gritty. You can check out our complete battery test table, where you can see how all of the smartphones we've tested will compare under your own typical use.
Charging speed
The Pixel 5 ships with the same 18W USB-C Power Delivery charger that shipped with the very first Google Pixel phone. With that, the Pixel 5 went from a depleted battery to 41% in half an hour. It took a total of 1:35h to fully charge the new Pixel.
30min charging test (from 0%)
Realme X50 Pro 5G
95%
OnePlus Nord
60%
Apple iPhone 11 Pro
58%
Samsung Galaxy S20 FE (25W)
57%
Apple iPhone 11
55%
Google Pixel 4
49%
Google Pixel 4a
45%
Google Pixel 5
41%
LG Wing 5G
39%
Samsung Galaxy S20 FE (15W bundled)
37%
Time to full charge (from 0%)
Realme X50 Pro 5G
0:38h
OnePlus Nord
1:05h
Samsung Galaxy S20 FE (25W)
1:10h
Google Pixel 4
1:27h
Google Pixel 5
1:35h
Samsung Galaxy S20 FE (15W bundled)
1:35h
Google Pixel 4a
1:37h
LG Wing 5G
1:41h
Apple iPhone 11 Pro
1:50h
Perhaps Google prefers the balance of charging speeds and degradation of battery over time. Even so, speeds are decent enough, and the added battery endurance makes up for the charging speeds achieved by other proprietary charge standards.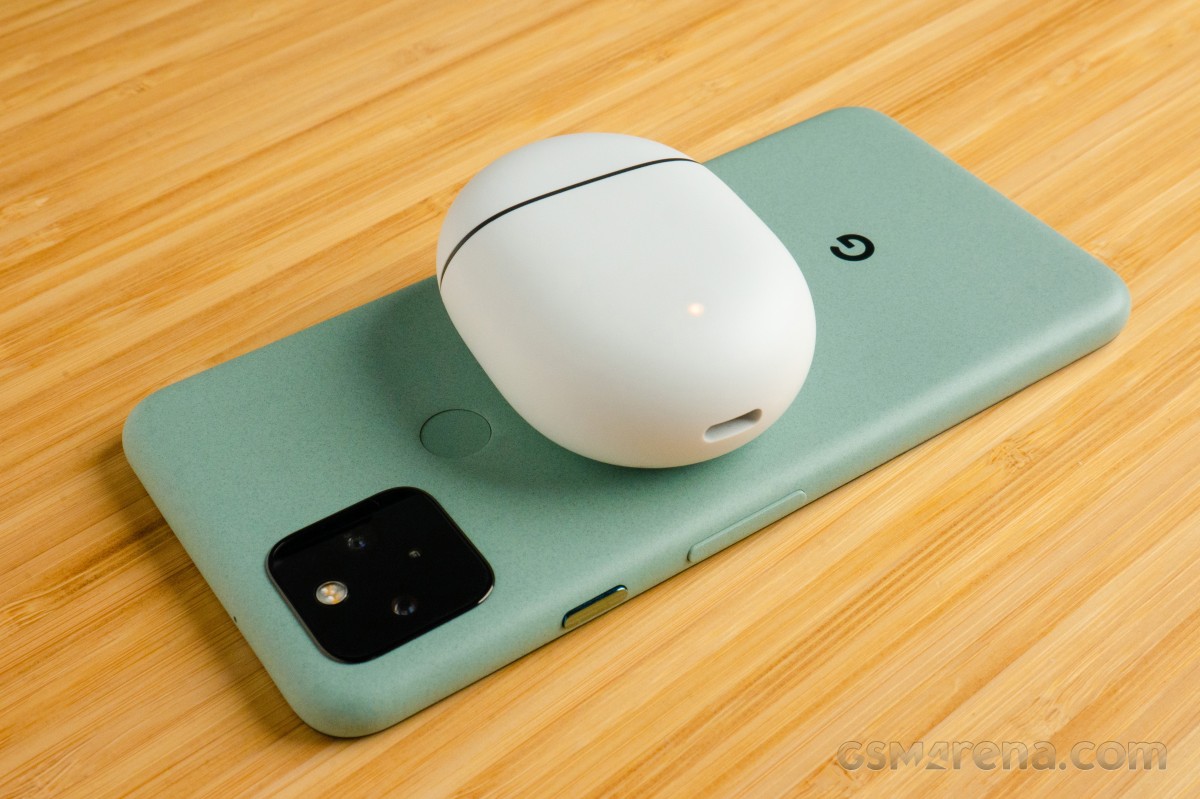 The Pixel 5 supports Qi wireless charging as well, with fast-charge speeds of up to 12W with a supported wireless charger and reverse wireless charging speeds of up to 5W for accessories like the Pixel Buds or other Qi-enabled smartphones.
Speaker test
Unfortunately, this phone review has been carried out in the US - far away from our usual office test lab - we are not able to provide a speaker test and recording for this phone. We will update this section as soon as we get a European review unit.