Display
The BlackBerry Passport sports a 4.5-inch square display of 1440 x 1440px. It's quite an unconventional resolution, but it's certainly not the first BlackBerry to have a square display. It is the densest, however, as the resulting pixel density is around 453ppi.
Here's a look at the pixel arrangement under our dedicated microscope.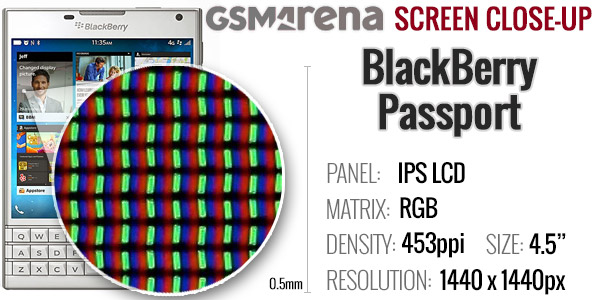 Taking a look at the display in more detail, we found that it has some great contrast thanks to some deep blacks and not bad whites either. We were only able to measure at 100% display brightness as there is no way to stop the ambient light sensor from adjusting the brightness automatically, which ruined the 50% brightness test. Still, the contrast of the Passport's 4.5-inch display is comparable to the Apple iPhone 6 Plus, and beats out the units found on the LG G3 and the Sony Xperia Z3.
Display test
50% brightness
100% brightness
Black, cd/m2
White, cd/m2
Contrast ratio
Black, cd/m2
White, cd/m2
Contrast ratio
HTC One (M8)
0.2
245
1219
0.46
577
1256
Samsung Galaxy S5
0
274
∞
0
529
∞
LG G3
0.14
109
763
0.72
570
789
Oppo Find 7
0.22
248
1135
0.4
448
1123
OnePlus One
0.39
317
805
0.75
598
799
Sony Xperia Z3 Compact
-
-
-
0.77
725
942
Xiaomi Redmi 1S
0.08
158
1437
0.45
615
1370
Apple iPhone 6 Plus
0.17
208
1197
0.52
705
1361
BlackBerry Passport
-
-
-
0.46
617
1341
Outdoor legibility is also good with a sunlight contrast ratio of almost 2.6, which places it well within the upper half of our charts. You should have no difficulty seeing what's on the screen in all but the brightest environments. Viewing angles also showed no contrast or color shift.
Sunlight contrast ratio
Nokia 808 PureView
4.698
Apple iPhone 5
3.997
Samsung Galaxy Note 3
3.997
Apple iPhone 6
3.838
Samsung Galaxy K zoom
3.675
Nokia Lumia 930
3.567
Apple iPhone 5s
3.565
Samsung Galaxy S5
3.549
Alcatel Idol X+
3.527
Apple iPhone 5c
3.512
Samsung Galaxy Alpha
3.509
Samsung Galaxy Note 3 Neo
3.487
Motorola RAZR MAXX
3.42
Samsung I9300 Galaxy S III
3.419
Nokia Lumia 925
3.402
Gionee Elife S5.5
3.386
Samsung I9505 Galaxy S4
3.352
Samsung Omnia W
3.301
Samsung Galaxy S5 mini
3.174
Samsung I9000 Galaxy S
3.155
Samsung Ativ S
3.129
Samsung I9190 Galaxy S4 mini
3.127
Samsung Galaxy S4 zoom
3.118
Nokia N9
3.069
Apple iPhone 6 Plus
3.023
Samsung Galaxy Note
2.97
Samsung Galaxy Premier
2.958
Sony Xperia Z1
2.95
HTC One S
2.901
Samsung I8730 Galaxy Express
2.861
BlackBerry Q10
2.856
Samsung I9100 Galaxy S II
2.832
Samsung Galaxy S II Plus
2.801
BlackBerry Z30
2.79
Sony Xperia ZR
2.672
Huawei Ascend P1
2.655
Sony Xperia Z3 Compact
2.616
Sony Xperia T3
2.609
BlackBerry Passport
2.595
Nokia Lumia 900
2.562
Motorola Moto G 4G
2.546
HTC One Max
2.537
Nokia Lumia 720
2.512
HTC One
2.504
Motorola Moto G
2.477
Sony Xperia Z
2.462
Xiaomi Mi 4
2.424
Samsung Galaxy S III mini
2.422
LG G Flex
2.407
HTC One (M8)
2.371
Motorola RAZR i
2.366
Sony Xperia ZL
2.352
Samsung Galaxy Note II
2.307
Oppo Find 7a
2.279
Alcatel One Touch Hero
2.272
Apple iPhone 4S
2.269
HTC Desire 600 dual sim
2.262
Nokia Asha 311
2.25
LG Nexus 5
2.228
Nokia Lumia 820
2.193
HTC One (E8)
2.185
Nokia Lumia 920
2.17
HTC One X
2.158
Nokia N8
2.144
Nokia Lumia 620
2.142
Nokia 515
2.134
HTC Desire 500
2.129
Sony Xperia acro S
2.119
Xiaomi Redmi Note
2.119
Nokia Lumia 1020
2.103
Oppo Find 5
2.088
Sony Xperia SL
2.078
Nokia Lumia 630
2.056
BlackBerry Z10
2.051
Samsung I9295 Galaxy S4 Active
2.022
Apple iPhone 4
2.016
HTC One mini
2.003
Xiaomi Mi 3
2.001
Huawei Ascend P7
1.992
LG G2
1.976
OnePlus One
1.961
Oppo R819
1.957
Sony Ericsson Xperia ray
1.955
Sony Xperia Z2
1.944
Nokia Lumia 1320
1.941
HTC One mini 2
1.94
Samsung Galaxy Camera
1.938
Sony Xperia J
1.932
Acer CloudMobile S500
1.931
LG Nexus 4
1.926
LG G Pro 2
1.922
Samsung Galaxy Mega 6.3
1.913
Nokia Asha 308
1.911
HTC Butterfly 2
1.905
Sony Xperia T
1.894
HTC Desire X
1.878
HTC Butterfly
1.873
HTC Windows Phone 8X
1.873
HTC Butterfly S
1.867
Huawei Ascend P6
1.865
Huawei Ascend Mate
1.845
LG G2 mini
1.838
LG G3
1.82
Nokia Lumia 1520
1.813
HTC Desire 616 dual sim
1.797
Sony Xperia V
1.792
HTC Desire 816
1.783
Sony Xperia Z1 Compact
1.772
HTC Desire 700 dual sim
1.769
Sony Xperia U
1.758
Meizu MX3
1.754
LG Optimus G
1.753
Sony Xperia T2 Ultra
1.74
Sony Xperia SP
1.733
LG Optimus 4X HD
1.691
Oppo Find 7
1.691
HTC One V
1.685
BlackBerry Q5
1.682
LG Optimus Vu
1.68
Xiaomi Mi Pad 7.9
1.672
LG Optimus GJ
1.666
LG Optimus 3D Max
1.658
HTC Desire V
1.646
Samsung Galaxy Xcover 2
1.632
Samsung Galaxy Ace 3
1.622
Jolla Jolla
1.605
Sony Xperia Z Ultra
1.578
Sony Xperia go
1.577
Samsung Galaxy Ace 2 I8160
1.566
Samsung Galaxy Core
1.563
LG Optimus G Pro
1.552
Motorola Moto E
1.545
LG Optimus 3D
1.542
Nokia Asha 302
1.537
BlackBerry Curve 9320
1.488
Sony Xperia M
1.473
Oppo N1
1.47
Meizu MX 4-core
1.462
Nokia Lumia 610
1.432
Samsung Galaxy S Duos
1.4
Sony Xperia M2
1.393
Samsung Galaxy Grand Neo
1.393
Samsung Galaxy Grand 2
1.38
Sony Xperia E1
1.372
Nokia Lumia 625
1.371
Gigabyte GSmart G1355
1.361
Sony Xperia L
1.351
Xiaomi Redmi 1S
1.35
Samsung Galaxy Mega 5.8
1.35
Sony Xperia M2 Aqua
1.331
Sony Xperia miro
1.324
Samsung I9082 Galaxy Grand
1.321
Samsung I8530 Galaxy Beam
1.315
HTC Desire C
1.3
Nokia X
1.291
Sony Xperia C
1.283
Nokia Asha 503
1.281
Nokia Asha 501
1.27
LG Optimus L7
1.269
Nokia Lumia 510
1.268
Samsung Galaxy Fame
1.245
LG Optimus L9
1.227
Meizu MX
1.221
Samsung Galaxy Young
1.22
Sony Xperia E
1.215
Nokia XL
1.204
Sony Xperia E dual
1.203
Asus Memo Pad 7 ME176C
1.198
Samsung Galaxy Pocket
1.18
Nokia Asha 305
1.178
Nokia Asha 306
1.175
Sony Xperia neo L
1.169
Sony Xperia tipo
1.166
Nokia Lumia 520
1.161
Samsung S6802 Galaxy Ace Duos
1.148
Samsung Galaxy mini 2
1.114
Battery life
The BlackBerry Passport sports a hefty 3,450mAh battery that should be able to post excellent numbers considering the hardware specs. The 4.5-inch is a square 1440 x 1440px display, which is the same amount of pixels as a standard FullHD display, so expect a similar battery draw to a 4.5-inch 1080p device.
As expected, the two most battery-intensive tasks in our tests were video playback and web browsing. At just over 10 hours each, the two results are above average for its class. This comes alongside over 25 hours of 3G calling.
All three combined with the battery draw in standby, resulted in a very respectable 73 hours of endurance rating. 73 hours of endurance means that the BlackBerry Passport will be able to last just over 3 days on a full charge if you perform 1 hour each of watching videos, 3G calls, and web browsing per day.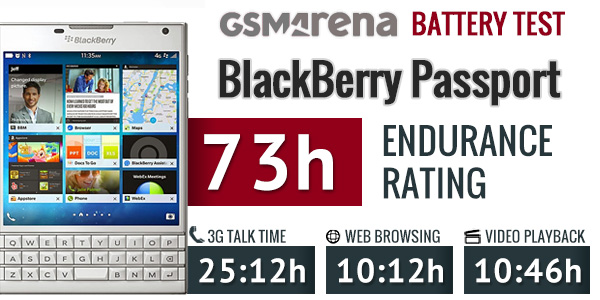 Considering the high display fidelity of 453ppi, this is a great result.
Connectivity
BlackBerry designed the Passport to be a world-wide business phone and it's chock-full of telephony options. It features quad-band 2G and penta-band 3G connectivity, alongside a boatload of 4G options including support for up to 10 LTE bands depending on your market.
Local connectivity is fully featured as well. Dual-band Wi-Fi a/b/g/n/ac handles local Internet connections and Bluetooth 4.0 handles accessories. There's also a microUSB port for data connectivity.
NFC is also on board, allowing easy exchange of data. You can use the dedicated app to create tags (e.g. a tag with contact info), which you can send to another NFC-enabled phone. The app also handles reading tags and storing the data for when you're on the receiving end.
You don't need NFC to transfer tags either - the Passport can create a QR code and read QR codes too, which is great for communicating with phones that don't have NFC.
You can also share the Passport with an HDTV using Miracast. Wi-Fi Direct is also on board.
While we're at it, we have to go over BlackBerry Link - the PC Suite for the Passport. The phone has the install file for your computer, just plug it in and install the program. Once Link is on your PC, the Passport will appear as a drive on your computer. You don't even need a USB cable to transfer files - as it will appear as a network drive if it's on the same Wi-Fi network as your computer.
Link can schedule phone backups and automatic sync of content (both docs and multimedia). That's great with the Wi-Fi option - it will automatically sync your docs at work and then your music at home.
A similar yet more robust feature is BlackBerry Blend, which is currently only available on the BlackBerry Passport and BlackBerry P'9983, because only they run the latest BB OS 10.3. Blend allows you to use your Passport for sending and receiving messages, checking your calendar or accessing all your device's files without ever touching the Passport itself. Instead, you use your your computer or tablet (iOS or Android) and do everything from there.
Both Link and Blend are connected through a BlackBerry ID account.