Display
The display on the BlackBerry Motion is a 5.5-inch IPS LCD with a Full HD resolution of 1080 x 1920 px. That works out to 403ppi and a 16:9 aspect ratio. It's safe to say you won't be getting the latest and greatest display technology on any BlackBerry these days. However, the company has sourced another kind of glass called "Dragon Trail". It features the "world's first nano-diamond coating" on a smartphone.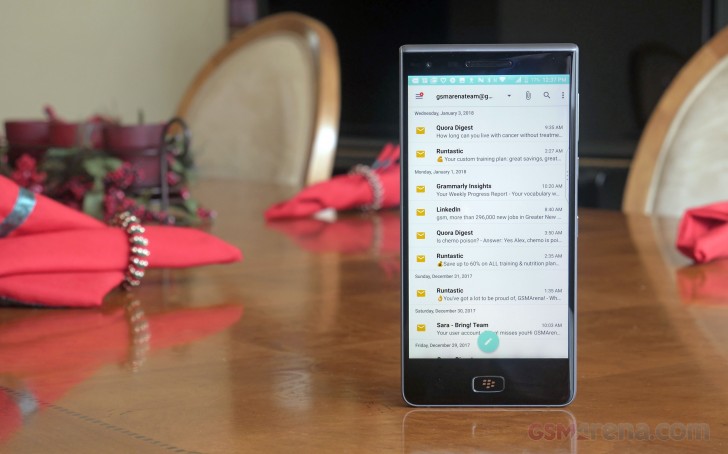 The colors on the BlackBerry Motion are very similar to those on the BlackBerry KEYone: slightly oversaturated for maximum viewing pleasure. The display yielded an average deltaE of 5.6 while the max deltaE was found in one of the shades of gray. The display has a maximum brightness of 393 nits under manual adjustment, meanwhile, that number jumps up to a maximum of 514 nits with adaptive brightness enabled.
Display test
100% brightness
Black, cd/m2
White, cd/m2
Contrast ratio
BlackBerry KEYone Max Auto
0.463
670
1448
Samsung Galaxy Note8 (Max Auto)
0
647
∞
Apple iPhone 8 (Max Auto)
0.468
640
1368
Samsung Galaxy C7 (Max auto)
0.00
625
∞
Huawei Honor 6X
0.321
579
1804
Apple iPhone 8 (Standard)
0.399
566
1419
Apple iPhone 8 (True Tone)
0.397
554
1395
BlackBerry Motion (Max Auto)
0.456
514
1128
BlackBerry KEYone
0.266
467
1756
OnePlus 5T
0
437
∞
Motorola Moto X4
0.297
431
1451
Samsung Galaxy C7
0.00
422
∞
Google Pixel 2 XL
0
420
∞
Samsung Galaxy Note8
0
412
∞
BlackBerry Motion
0.345
393
1140
BlackBerry Priv
0.02
377
25133
Out of its box, this display is tuned very cool. Whites have a blu-ish tone while colors appear to be slightly oversaturated. Unfortunately for those who like to tweak photos, there is no adjustment for tuning the display aside from a color temperature slider.
Sliding it "cooler" doesn't make it look any better, but sliding it all the way to the "warm" setting yielded a lower deltaE of 5.1. Doing this brought the display some degree closer to accuracy, though it could certainly be even warmer and still more accurate.
Finally, because of the relatively average maximum brightness, the Motion scored an unimpressive sunlight contrast in our tests.
Sunlight contrast ratio
Apple iPhone X
5.013
OnePlus 5T
4.789
Samsung Galaxy S8
4.768
Samsung Galaxy S8+
4.658
Samsung Galaxy S6 edge+
4.615
Motorola Moto Z2 Play
4.459
Oppo R11
4.454
Samsung Galaxy S7 edge
4.439
OnePlus 3
4.424
Samsung Galaxy S7
4.376
HTC One A9
4.274
Samsung Galaxy Note7
4.247
Samsung Galaxy A3
4.241
Nokia 8
4.239
Google Pixel 2 XL (pre-update)
4.234
OnePlus 3T
4.232
Google Pixel XL
4.164
ZTE Axon 7
4.154
Samsung Galaxy Note8
4.148
Meizu Pro 7 Plus
4.147
Samsung Galaxy S6 edge
4.124
Samsung Galaxy A7 (2017)
4.124
Huawei Mate 10 Pro (normal)
4.096
Samsung Galaxy Note5
4.09
Google Pixel 2 (pre-update)
4.023
LG V30
4.022
Huawei Nexus 6P
4.019
Samsung Galaxy J7 Pro
3.998
OnePlus X
3.983
Vivo Xplay5 Elite
3.983
Apple iPhone 7
3.964
Oppo R7s
3.964
Apple iPhone 8 (True Tone)
3.957
Huawei P9 Plus
3.956
Meizu Pro 6 Plus
3.935
Lenovo Moto Z
3.931
Samsung Galaxy A7 (2016)
3.918
OnePlus 5
3.914
Samsung Galaxy C5
3.911
Samsung Galaxy C7
3.896
Samsung Galaxy A5
3.895
Samsung Galaxy J7 outdoor
3.879
Samsung Galaxy J2 outdoor
3.873
Samsung Galaxy A8
3.859
Samsung Galaxy A8 (2018)
3.842
Sony Xperia XZs
3.818
Samsung Galaxy A9 (2016)
3.817
Motorola Moto X (2014)
3.816
Samsung Galaxy J7 (2017)
3.812
Samsung Galaxy A5 (2017)
3.804
Samsung Galaxy J7 (2016) outdoor mode
3.802
Xiaomi Redmi Pro
3.798
LG V20 Max auto
3.798
Sony Xperia XZ
3.795
Samsung Galaxy A5 (2016)
3.789
Apple iPhone 6s
3.783
Meizu Pro 5
3.781
Microsoft Lumia 650
3.772
Xiaomi Mi 6
3.767
Sony Xperia XZ1
3.765
Samsung Galaxy J7 (2016)
3.756
Sony Xperia XZ1 Compact
3.729
Apple iPhone 8 Plus (True Tone)
3.725
Oppo F1 Plus
3.709
Vivo X5Pro
3.706
Samsung Galaxy A3 (2017)
3.688
Apple iPhone SE
3.681
Huawei Mate 9
3.68
Samsung Galaxy A7
3.679
Meizu PRO 6
3.659
BlackBerry Priv
3.645
Sony Xperia XA1 Ultra
3.597
Apple iPhone 7 Plus
3.588
LG G6
3.556
Apple iPhone 6s Plus
3.53
Motorola Moto Z Play
3.526
Samsung Galaxy J3 (2016)
3.523
Samsung Galaxy J3 (2016) outdoor mode
3.523
Acer Jade Primo
3.521
Microsoft Lumia 950
3.512
Oppo R7 Plus
3.499
nubia Z11
3.466
Huawei P10 Plus
3.456
HTC U Ultra
3.453
Samsung Galaxy J7
3.422
Meizu MX5
3.416
LG V20
3.402
Huawei P10
3.379
Samsung Galaxy J5 (2016)
3.378
Oppo R9s
3.352
Honor 8 Pro
3.341
Oppo R7
3.32
Lenovo P2
3.316
Archos Diamond Omega
3.305
Honor 9
3.289
Xiaomi Mi 5s
3.276
Nokia 5
3.261
Nokia 6 (Chinese version)
3.244
Nokia 6 (Global version)
3.238
Samsung Galaxy J2
3.235
Sony Xperia X Performance
3.234
Xiaomi Mi Note 2
3.228
Motorola Moto X Play
3.222
Oppo F3 Plus
3.218
Huawei Mate 9 Pro
3.206
Huawei P9
3.195
Xiaomi Mi Mix 2
3.19
ZTE Nubia Z17
3.159
Oppo R11s
3.153
Lenovo Vibe Shot
3.113
HTC U11 Life
3.108
Motorola Moto X Force
3.105
LG Nexus 5X
3.092
HTC U11
3.089
Huawei Mate S
3.073
Microsoft Lumia 640 XL
3.065
Motorola Moto X4
3.012
Sony Xperia XA1
3.012
Sony Xperia L1
2.994
Sony Xperia X
2.989
LG Q6
2.987
Huawei P10 Lite
2.974
Samsung Galaxy Note
2.97
Sony Xperia Z1
2.95
Huawei Mate 8
2.949
Xiaomi Redmi 4
2.92
Xiaomi Redmi 3S
2.913
Sony Xperia XA Ultra
2.906
LG G5
2.905
Xiaomi Redmi 3s Prime
2.893
Xiaomi Mi 5s Plus
2.884
Sony Xperia XZ Premium (sRGB)
2.877
Sony Xperia XZ Premium
2.877
Sony Xperia Z5
2.876
Nokia 3
2.871
Microsoft Lumia 550
2.851
Lenovo Moto M
2.813
Xiaomi Redmi 3 Pro
2.803
Sony Xperia Z5 compact
2.784
Nokia 2
2.752
Meizu MX6
2.751
LG V10
2.744
Huawei Mate 10 (normal)
2.742
Motorola Moto G5S Plus
2.737
Xiaomi Redmi 3
2.735
Huawei Honor 7X
2.734
Xiaomi Redmi Note 4 (S625)
2.714
Meizu M5
2.71
Sony Xperia M5
2.69
Xiaomi Mi A1
2.689
Xiaomi Redmi 4 Prime
2.679
Huawei P9 Lite
2.679
vivo V7+
2.671
Vivo V3Max
2.659
Xiaomi Mi Mix
2.658
Huawei Mate 10 Lite
2.654
Oppo F5
2.653
Doogee Mix
2.642
Xiaomi Mi 4i
2.641
Xiaomi Redmi 4a
2.635
Xiaomi Mi 5X (Standard)
2.616
Sony Xperia XA
2.609
Motorola Moto G4 Plus (max auto)
2.582
Motorola Moto G4 Plus
2.582
Meizu M5s
2.58
Xiaomi Mi 4c
2.574
LeEco Le Max 2
2.567
Asus Zenfone 3 ZE552KL
2.563
Microsoft Lumia 640
2.563
Xiaomi Mi Max 2
2.561
HTC U11+
2.556
Lenovo K6 Note
2.544
Lenovo Moto G4
2.544
Oppo F1
2.528
Sony Xperia Z5 Premium
2.525
Huawei Honor 7 Lite / Honor 5c
2.506
Sony Xperia M4 Aqua
2.503
BlackBerry Motion
2.494
Oppo F1s
2.481
Motorola Moto G
2.477
Lenovo Vibe K5 Plus
2.473
Huawei G8
2.471
Huawei nova
2.467
Sony Xperia Z
2.462
Lenovo Vibe K5
2.459
Meizu m3 max
2.447
Xiaomi Mi 5X (Auto)
2.417
HTC 10 evo
2.407
Huawei Honor 7
2.406
Vivo V7
2.404
Sony Xperia E5
2.386
ZUK Z1 by Lenovo
2.382
HTC 10
2.378
Oppo F3
2.376
vivo V5 Plus
2.371
Meizu m1 note
2.362
Huawei nova plus
2.329
Razer Phone
2.328
HTC One E9+
2.305
Alcatel One Touch Hero
2.272
Apple iPhone 4S
2.269
Lenovo Vibe K4 Note
2.254
Sony Xperia C5 Ultra
2.253
Xiaomi Redmi Note 3 (MediaTek)
2.249
Sony Xperia C4 Dual
2.235
Xiaomi Mi Note
2.234
Motorola Moto G (2014)
2.233
Huawei P8
2.196
Meizu M5 Note
2.189
Huawei Honor 6
2.169
Xiaomi Redmi Note 2
2.166
OnePlus Two
2.165
HTC One X
2.158
LG Aka
2.145
Xiaomi Redmi Note 4 (X20)
2.145
Archos 50 Diamond
2.134
Xiaomi Redmi Note
2.119
Xiaomi Mi 4S
2.095
Acer Liquid X2
2.084
Huawei P8lite
2.078
vivo V5
2.059
Moto G 3rd gen max manual
2.026
Xiaomi Mi 3
2.001
Xiaomi Mi Max
1.996
Sony Xperia E4g
1.972
OnePlus One
1.961
Meizu m3 note
1.923
Meizu m2 note
1.892
BlackBerry Leap
1.892
HTC Butterfly
1.873
Sony Xperia Z1 Compact
1.772
ZTE Nubia Z9 mini
1.759
Sony Xperia U
1.758
Asus Zenfone Selfie
1.68
Motorola Moto E (2nd Gen)
1.675
ZTE Nubia Z9
1.659
Jolla Jolla
1.605
Motorola Moto E
1.545
Sony Xperia M
1.473
Sony Xperia L
1.351
HTC Desire C
1.3
Meizu MX
1.221
Sony Xperia E
1.215
Connectivity
Like the KEYone before it, the BlackBerry Motion is powered by the Qualcomm Snapdragon 625. This means it's quite versatile when it comes to network connectivity thanks to its quad-band GSM model. The Motion is capable of LTE-Advanced with theoretical download speeds of 450 Mbps with upload speeds of 50 Mbps.
There are five variants of the BlackBerry Motion listed on BlackBerry's website. There's a single SIM model for EMEA and Asia Pacific (BBD100-1), a single SIM for North America and Latin America (BBD100-2), a CDMA Sprint model (BBD100-3), a model for greater China (BBD100-5) and a dualSIM model for international markets (BBD100-6).
At the time this writing, the BlackBerry Motion has just been announced for availability in the States as GSM Unlocked.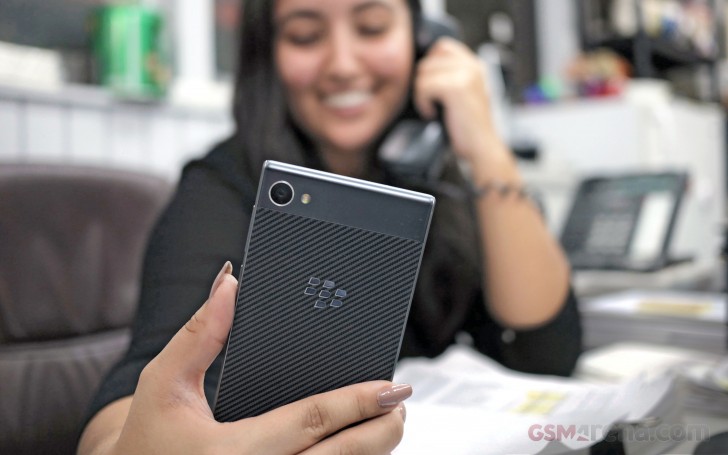 The Motion also supports 2.4 GHz (b/g/n) and 5 GHz (ac) Wi-Fi. You'll also get Bluetooth 4.2 (supporting A2DP, EDR, and Bluetooth LE), NFC (for mobile payments, Android Beam, or quick pairing), and Wi-Fi Direct for faster data connection between Android devices. For global positioning, the Motion supports A-GPS, GLONASS, and BDS2. Unlike the KEYone, the BlackBerry Motion does not have support for FM Radio.
There is a 3.5mm headphone jack on this device and the phone is compatible with Qualcomm Quick Charge 3.0 via the USB-C port. Speaking of which, this port supports OTG and is rated for data transfers on the USB 2.0 standard - no USB 3.0 here.
Battery Life
The BlackBerry Motion has the largest battery capacity of any BlackBerry before it - there's a 4,000 mAh power pack sealed-in. The BlackBerry KEYone had a smaller 3,505 mAh battery, but it also had a smaller 4.5-inch display with a 3:2 aspect ratio. We are expecting that the BlackBerry Motion fares better in our battery endurance tests than the KEYone did.
The BlackBerry Motion scored a very good rating of 94h. There's a talk time of 23:51h, a web browsing score of 13:45, and a video playback score of 15:01h. The Motion scored better than the BlackBerry KEYone consistently, thanks to its generously sized battery. Still, we feel that the phone should have done better in our standby tests. It yielded around 280h but we think it could have pushed much farther past the 300h mark with this type of hardware.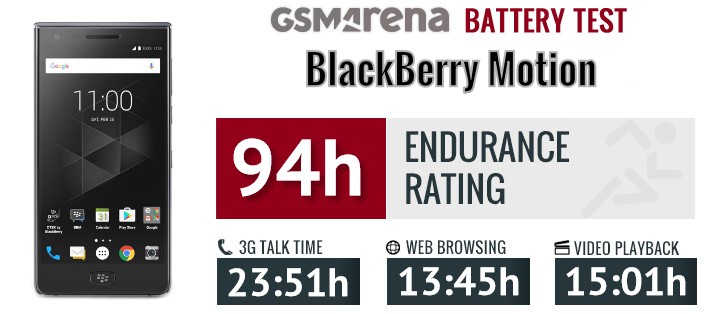 The Motion supports the Quick Charge 3.0 charging standard. The included charger caps at 15W (9V @ 1.67A) and brought the Motion from 0% to 26% in 30 minutes of charging. One hour later, it reached 55%. Some competitors are able to reach 50% or so in half an hour so the charging speed is largely unspectacular.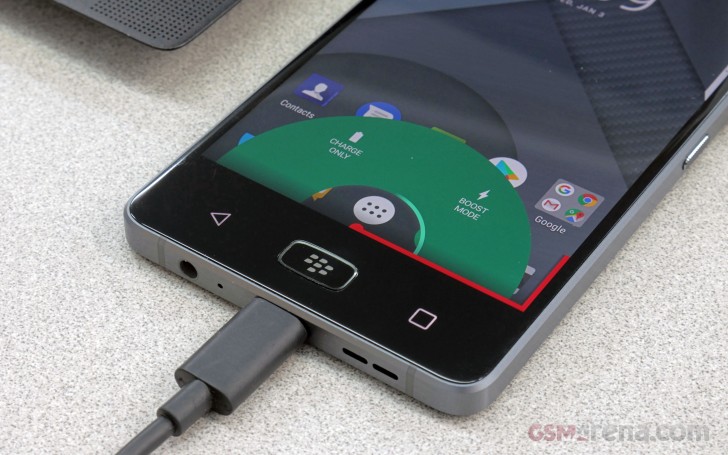 The BlackBerry Motion features a "Boost mode" for charging the battery. Upon plugging in the phone, you'll be presented with a couple of options: 'Charge only' or 'Boost mode'. Everyone knows you can switch any phone to airplane mode to let it charge a bit quicker. You can use Boost Mode when you've got a very limited time to charge the Motion - this will reduce processing power and turn off animations to maximize the amount of capacity recharged while making sure that you don't miss any calls or messages.
The same Power Center app that we saw on the KEYone is also here on the Motion. At its most basic, the Power Center app gives you recommendations on which settings to adjust for optimal battery life, and it can notify you if a specific app is hogging battery resources.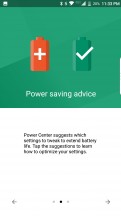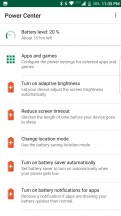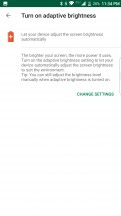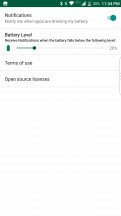 Power Center: Introduction • Recommendations • Suggestion • Settings
Actually getting apps to save you some power under active usage is a bit more of an involved process. Unlike other phones that notify you when an app is draining precious battery life, BlackBerry's Power Center doesn't quite work like that. You have to manually set up the apps that you want to save battery. There are three saving profiles: Performance, Balanced, and Energy Saving.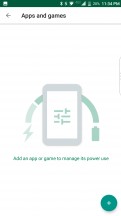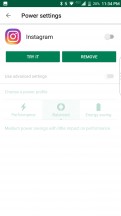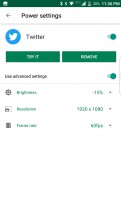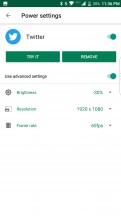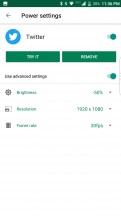 Adding an app • Power saving profiles • Performance • Balanced • Energy Saving
You can also set each power saving option for apps manually. You have the choice of adjusting the brightness, rendering resolution, and even the frame rate. We would advise you test out the settings before you set them for good. We say this because adjusting Instagram's resolution rendered it unusable.