6.67-inch 90Hz AMOLED is a nice upgrade
One of the few areas where the Zenfone 6 wasn't quite up to flagship standard was its display - a decent but not in any way excellent LCD. Asus has addressed this on the Zenfone 7 and what we're getting here is a really nice Samsung-made AMOLED.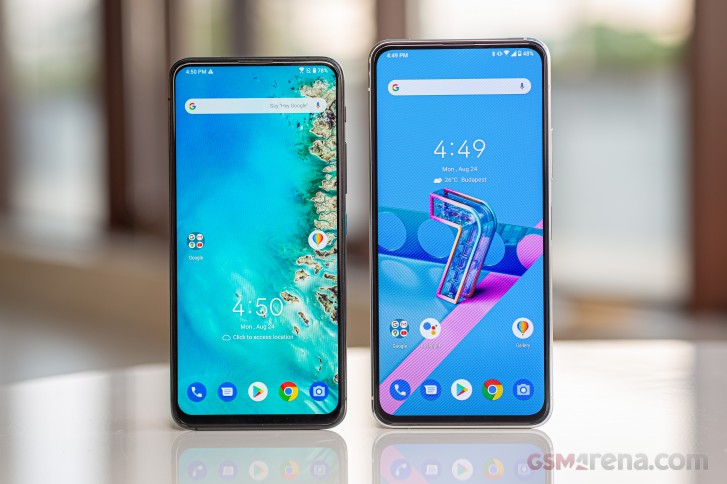 Zenfone 6 with an LCD on the left, Zenfone 7 Pro with an OLED on the right
It's got a 6.67-inch diagonal, making for a small step up from the Zenfone 6's 6.4-inch panel. Resolution has been kept at 1080p, or specifically 2400x1080px in a 20:9 aspect ratio - pixel density works out to 395ppi.
More importantly, the new display has a 90Hz refresh rate. Sure, 120Hz panels are now a thing and gaming phones can even be had with 144Hz displays. Asus makes one of these, after all - the ROG Phone 3. That one is a different beast, however, and where the Zenfone 7 stands, 90Hz should be enough. There's also the bit where it has a 200Hz touch sampling frequency for speedy registering of touch input.
In our brightness testing, we measured 741nits on the Zenfone 7 when the phone is exposed to direct light and the adaptive brightness is engaged. If taking the ambient light sensor out of the equation and operating the slider manually, the number was 529nits. That's with our usual 75% average picture level - Asus says the panel is capable of 700nits and 500nits respectively in the above two scenarios when the APL is 100%. Additionally, up to 1000nits are possible with smaller areas for HDR applications - the phone supports HDR10+.
The brightness readings we got are very good, if not quite Galaxy Note20 Ultra level good. A few other phones can go up to 100nits more than the Zenfone with the auto boost, but 741nits is plenty. Meanwhile, the 529nits is one of the highest manually attainable brightness readings we've recorded on OLEDs, for what that's worth.
Display test
100% brightness
Black,cd/m2
White,cd/m2
Contrast ratio
Samsung Galaxy Note20 Ultra 5G (Max Auto)
0
1024
∞
Xiaomi Mi 10 Pro (Max Auto)
0
858
∞
Xiaomi Poco F2 Pro (Max Auto)
0
854
∞
Oppo Find X2 (Max Auto)
0
850
∞
vivo iQOO 3 5G (Max Auto)
0
848
∞
Samsung Galaxy S20+ (Max Auto)
0
797
∞
Asus Zenfone 7 Pro (Max Auto)
0
741
∞
vivo X50 Pro+ (Max Auto)
0
733
∞
Asus ROG Phone 3 (Max Auto)
0
719
∞
LG V60 ThinQ 5G (Max Auto)
0
622
∞
Motorola Edge+ (Max Auto)
0
607
∞
Asus Zenfone 7 Pro
0
529
∞
vivo iQOO 3 5G
0
518
∞
Oppo Find X2
0
518
∞
Xiaomi Poco F2 Pro
0
516
∞
LG V60 ThinQ 5G
0
511
∞
Xiaomi Mi 10 Pro
0
510
∞
Samsung Galaxy Note20 Ultra 5G
0
504
∞
vivo X50 Pro (Max Auto)
0
503
∞
vivo X50 Pro+
0
499
∞
vivo X50 Pro
0
489
∞
Asus ROG Phone 3
0
464
∞
Asus Zenfone 6 ZS630KL (Max Auto)
0.399
455
1140:1
Asus Zenfone 6 ZS630KL
0.353
424
1201:1
Motorola Edge+
0
422
∞
Samsung Galaxy S20+
0
379
∞
Color reproduction on the Zenfone 7 out of the box isn't overly accurate and there's a fairly pronounced blue shift to everything white or grayscale. The average dE2000 in this Default mode (the default mode is called Default) when examining DCI-P3 test swatches is 5.2.
However, properly calibrated rendition of DCI-P3 content is possible in the Cinematic mode - we measured an excellent average dE2000 of 1.7. If you're more of an sRGB type of person, Standard mode is for you - we got the same average deviation of 1.7 for the sRGB swatches in this mode. Natural mode is about as inaccurate as Default though in its own, different way - 4.8 average dE2000 for DCI-P3 targets.
Another of our dreaded display sections where we observe the phone's behavior in terms of refresh rate is now due. On the Zenfone 7 things are fairly straightforward, though there are some peculiarities. First up, when you set it to 60Hz, it's 60Hz in everything, that much is clear. If you set it to 90Hz, it's 90Hz in most things, except the native video player, the camera app (both viewfinder and settings) and in games that are capped at 60Hz.
The Auto mode then stays mostly at 90Hz but similarly drops to 60 for the video player and camera app. It'll also switch to 60Hz for Gmail for example, but maintain 90Hz in Facebook and Instagram. There's no auto drop to 60Hz in Netflix or YouTube, however, and those display at 90Hz whether you have the phone set to 90Hz or Auto.
It's simple when it comes to games too. All the games we tried that support a high refresh rate (above 60Hz) have the phone operate in 90Hz, whether you've set it to 90Hz or Auto. Conversely, if the game itself doesn't go above 60fps, the phone will drop to 60Hz regardless of display mode.
Let's point out here that the Zenfone 7 has an always on display. Asus calls it Always on Panel and it comes with a total of 3 clock styles and no notification display capability - it's just a clock that is always on.
Asus Zenfone 7 Pro battery life
The Zenfone 7 Pro has the same battery capacity as the phone it replaces. While 5,000mAh was a massive number last year, it's less striking in 2020. Having said that it's still one of the largest batteries you can find on a flagship-grade phone - the Galaxy S20 Ultra, Motorola Edge+ and LG V60 match it, and only Asus' own ROG Phone 3 goes beyond that with its 6,000mAh power pack. All other high-end handsets of the present day have smaller capacity batteries.
For our screen-on trials, we tested the Zenfone 7 with its display set in both its 60Hz and 90Hz mode. While in 60Hz things are clear, in 90Hz its native video player will, in fact, switch down to 60Hz. However, since in this mode other apps like Netflix and YouTube will maintain the 90Hz refresh rate (as they will in Auto mode, for that matter), we looped our video with the display refreshing at 90Hz.
With that preamble behind us, the Zenfone 7 Pro's battery results with its display set to 90Hz are good, but not class-leading - we clocked 12 hours of web browsing over Wi-Fi and 15 hours of offline video playback. Compare that to the Motorola Edge+ (14:27h and 20:14h), Mi 10 Pro 5G (13:44h and 17:44h), and the OnePlus 8 (14:22h and 19:45h), all of them with 90Hz displays for a fair comparison, and the Zenfone's numbers don't look that impressive, if still perfectly adequate.
Throw in the Zenfone's 30 hours of 3G voice call endurance and slightly better than average standby performance and you're looking at an Endurance rating of 99 hours.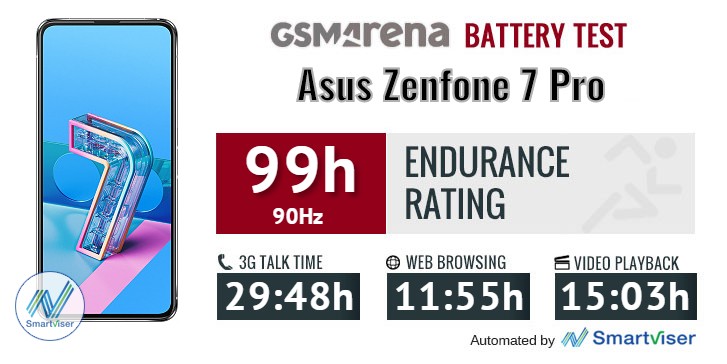 Switch the Zenfone to 60Hz and you'll be getting more battery life out of it, which isn't always the case with 90Hz phones - some show no improvement. In our testing on the Zenfone, 60Hz meant 14:08h on our web browsing script and 19 hours of looping videos. That's within half an hour of the above three handsets - the 90Hz to 60Hz switch makes no difference on the Moto and the OP, while the Mi 10 Pro does up its endurance slightly.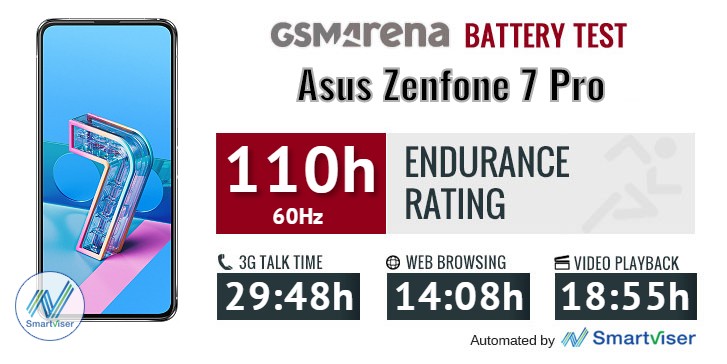 Our battery tests were automated thanks to SmartViser, using its viSer App. The endurance rating above denotes how long a single battery charge will last you if you use the Asus Zenfone 7 Pro for an hour each of telephony, web browsing, and video playback daily. We've established this usage pattern so that our battery results are comparable across devices in the most common day-to-day tasks. The battery testing procedure is described in detail in case you're interested in the nitty-gritty. You can check out our complete battery test table, where you can see how all of the smartphones we've tested will compare under your own typical use.
While these formal tests are designed to offer a level ground for comparison, now more than ever your mileage will vary. How much of your video watching is downloaded clips in the built-in player and how much is YouTube or another streaming service? Will you set the phone to 90Hz or to its Auto mode? Will you really care about an extra hour of screen-on time if that means 60Hz as if it's 2019?
Anyway, once depleted at one display refresh rate or another, the Zenfone 7's battery takes 1:32h to fill up with the bundled 30W charger, with 56% showing in the status bar by the 30-minute mark.
30min charging test (from 0%)
Huawei P40 Pro
80%
Xiaomi Mi 10 Pro 5G
77%
OnePlus 8 Pro
63%
Galaxy S20+
62%
Asus Zenfone 7 Pro
56%
Sony Xperia 1 II
46%
Galaxy Note20 Ultra 5G
43%
Asus Zenfone 6
35%
Motorola Edge+
30%
Time to full charge (from 0%)
Xiaomi Mi 10 Pro 5G
0:50h
Huawei P40 Pro
0:50h
Galaxy S20+
0:57h
Galaxy Note20 Ultra 5G
1:23h
Asus Zenfone 7 Pro
1:32h
Sony Xperia 1 II
1:51h
Asus Zenfone 6
2:32h
Motorola Edge+
2:37h
That is, unless you delve into the battery options and opt for slow charging specifically, which can be capped at 10W or 18W depending on your preference. Other Battery care settings are available too including a custom charging limit (either 80% or 90%). Asus says that by setting a limit to 80%, 500 charging cycles later your battery will have lost just 7% of its initial capacity, as opposed to 15% if you're regularly charging to 100% and keeping your phone there the whole night.
Additionally, scheduled charging is available - that will fill up your battery to 80% and stay there until 2 hours before a set deadline, at which point it'll slowly top up to 100%. This can also be linked to your alarm, instead of a specific time.
Speaker test
The Zenfone 7 has a stereo speaker setup of the usual kind - a main loudspeaker on the bottom and the earpiece serving as the other channel in the stereo pair.
The one bit unique to Zenfones is that the earpiece driver is, in fact, in the Flip Camera assembly and the sound gets out through a slit where the front glass meets the frame.
The speaker behavior is rather orthodox - the earpiece adopts the left channel in portrait orientation, but will switch if needed to respect the phone's orientation in landscape if you happen to be holding it with the camera end on the right.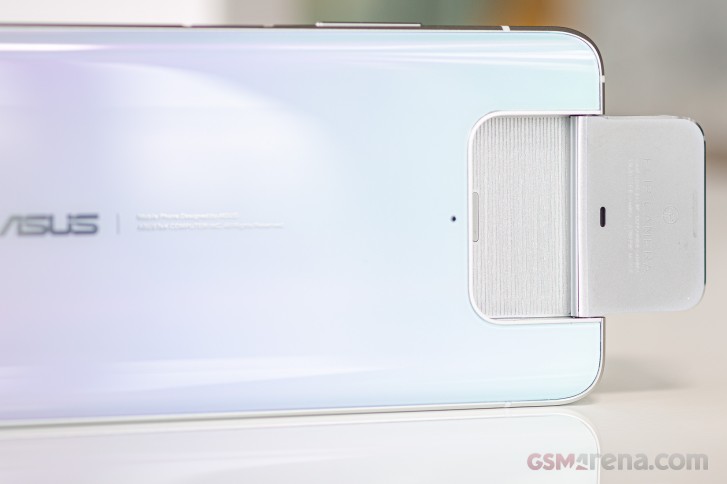 The Zenfone 7 Pro we tested scored a 'Good' result for loudness - a notch below its predecessor. It maintains a balanced and well-rounded sound reproduction with well defined highs and vocals. Bass is present too, though more so in the synthetic frequency response test than we're hearing in the songs.
Use the Playback controls to listen to the phone sample recordings (best use headphones). We measure the average loudness of the speakers in LUFS. A lower absolute value means a louder sound. A look at the frequency response chart will tell you how far off the ideal "0db" flat line is the reproduction of the bass, treble, and mid frequencies. You can add more phones to compare how they differ. The scores and ratings are not comparable with our older loudspeaker test. Learn more about how we test here.
Audio output quality
We've recently discontinued our audio output quality test.
The reason for that is that most phones that arrived for testing were already excellent in this regard and whatever difference there was, it was marginal and probably indistinguishable to anything but our lab equipment.