Familiar 6.78-inch, 165Hz AMOLED display
Asus has been carrying forward many of the ROG Phone display specs for a few generations now. With the ROG Phone 7 you get a familiar large 6.78-inch AMOLED panel with a 20.4:9 aspect ratio and 2448x1080 pixel resolution. That works out to a crisp 395 ppi. Once again, the panel can refresh at an industry-leading 165Hz alongside a touch sampling rate of 720Hz. Asus is still shopping at Samsung for its panels. This one is a Bespoke Panel from the Korean giant using the E4 display tech.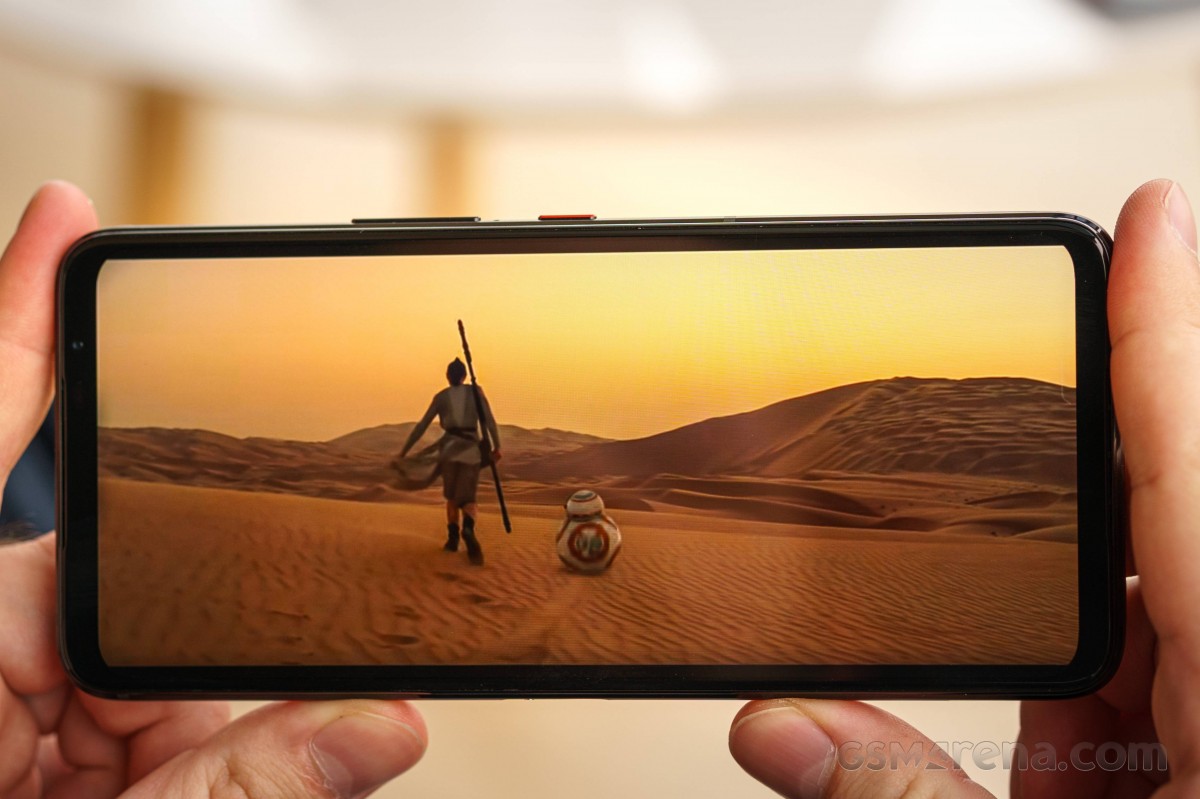 This, however, is not the exact same panel as the ROG Phone 6 generation. It is a newer generation that brings about some improvements, notably a higher maximum brightness. Asus now advertises a whopping 1500 nits of max brightness at APL1 (1% of the display active) and 1000 nits at APL100 (100% of the display active).
In our standardized testing, we managed to measure 505 nits of maximum brightness on the slider for the ROG Phone 7 and 1051 nits in max auto mode when in bright lighting conditions. While not industry-leading, both figures are a notable upgrade from the ROG Phone 6 generation. Plus, they are perfectly adequate for comfortable outdoor use. As a side note, you shouldn't mind the small number deviation compared to the ROG Phone 7 Ultimate. It can easily be attributed to margin of error while measuring and "panel lottery".
While contrast is technically infinite on this panel, Asus advertises a much more quantifiable 1,000,000:1 figure.
Max display brightness test
White test pattern, 75% fill (nits)
Sort by
Manual mode
Auto mode
iPhone 14 Pro Max

1760

828

Galaxy S23 Ultra

1274

517

Xiaomi 13 Pro

1253

527

Honor Magic5 Pro

1227

761

Pixel 7 Pro

1090

588

Xiaomi 12S Ultra

1065

512

ROG Phone 7

1051

505

Motorola Edge 40 Pro

1050

516

Motorola Edge 30 Ultra

1047

499

Huawei Mate 50 Pro

946

568

vivo X90 Pro

934

517

Asus ROG Phone 5s Pro

840

511

ROG Phone 6 Pro

829

501

Red Magic 8 Pro

821

548

Asus ROG Phone 5

806

492

OnePlus 11

767

487

Oppo Find X5 Pro

762

475

Xiaomi Black Shark 5 Pro

682

504

Sony Xperia 1 IV

N/A

602
On to color rendition and accuracy then. Asus advertises 111.23% coverage of the DCI-P3 color space and 150.89% that of sRGB. The ROG Phone 7/7 Ultimate has many color modes to explore. Optimal is the default one, which seems to target the DCI-P3 color range, but has slightly boosted colors, particularly red and magenta. Natural tones down most of the colors but covers a slightly wider color range than Optimal.
Then there is Cinematic mode which basically nails the DCI-P3 color space with deltaE values well into what would be considered color accurate. Finally, Standard mode nails the sRGB color space about as well. You can also select the Customized option and tune the white point manually on top of being able to adjust the color temperature in each mode.
Just like last year, ROG Phone 7 models have support for HDR10+ on their displays. In terms of hardware decoders, the ROG Phone 7 reports support for HDR10, HDR10+ and HLG, just missing Dolby Vision. A new addition this year is the ability to do real-time SDR to HDR conversion of content on the fly. Though, we aren't exactly sure how and when it works.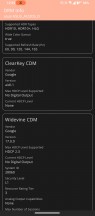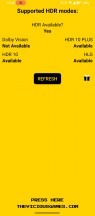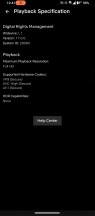 Widevine • HDR support • Netflix playback capabilities
The ROG Phone 7 also has the highest possible Widevine L1 DRM certification, allowing services line Netflix to offer FullHD streams to fully saturate its resolution. It is worth noting that at the time of writing, Netflix does not recognize any HDR support on the ROG Phone 7. That could eventually change since Netflix operates its own per-device whitelists.
High refresh rate handling
Like its predecessor, the ROG Phone 7/ 7 Ultimate has a 165Hz refresh rate. It is accompanied by 720Hz touch sampling rate for the lowest possible input lag.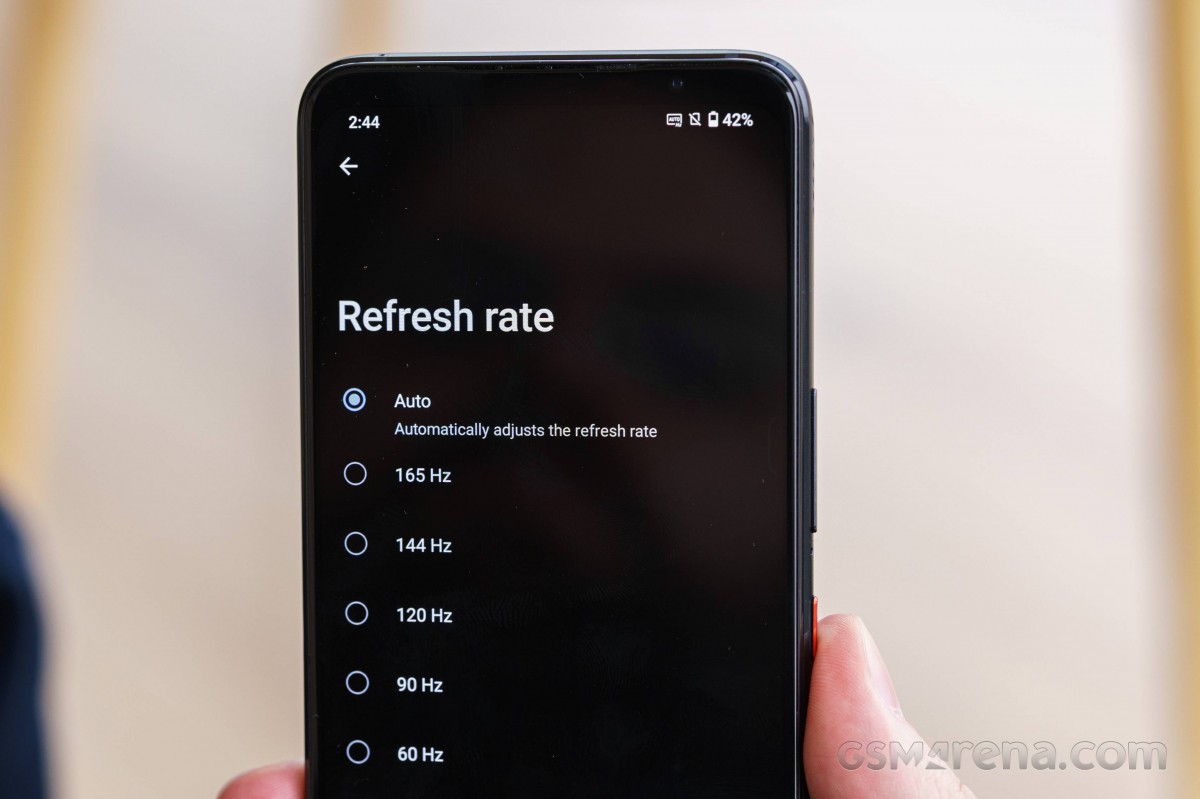 Asus engineers have never been satisfied with simply getting the fastest available hardware, though. Just like its predecessors, the ROG Phone 7/7 Ultimate comes with extensive tuning to every part of the input and output chain from the display down to the bare metal, through the Android core and rendering pipeline and back to the display itself. This has allowed Asus to get the total end-to-end input latency on the ROG Phone 7/7 Ultimate down to a mere 23ms in 165Hz mode. Impressive stuff.
The ROG Phone 7/7 Ultimate generally handles its refresh rate in a very straightforward manner. Opening the display settings up, the user is presented with an extensive list of refresh rate modes that cover all of the modes the panel can operate at, as reported by the system - 60Hz, 90Hz, 120Hz, 144Hz, 165Hz and an Auto mode. Generally speaking, the higher the refresh rate, the more strain you put on the battery, so it is important to manage this setting properly.
Generally, the specific value options operate as simple hard switches. This means that if you select a particular refresh rate, you can generally expect the UI and most of your apps and games to run at that refresh rate, whether they can take advantage of it or not.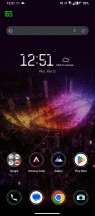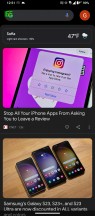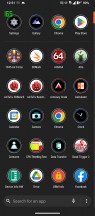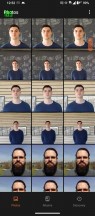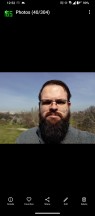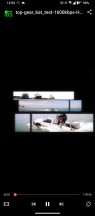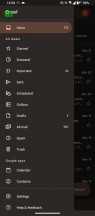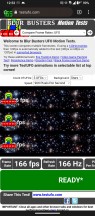 UI and apps running in 165Hz mode
This might sound wasteful on the surface, and it kind of is, but it is also a far better approach to actually understanding what mode of operation you are getting. The ROG Phone does not implement any smart automatic switching of refresh rates when told to operate at a given value, and that's the kind of straightforward simplicity we appreciate.
There are some niche cases where certain apps will break the firm refresh rate requirement set forward by the user, but these are generally expected, and break said rule for good reason, like Google Maps, which forces 60Hz via its app manifest. Or some less explainable ones like AnTuTu benchmark 9 (but not AnTuTu 8) or the game Dead Trigger 2.
Speaking of games, we tried a selection of titles we know can operate at above 60fps and got most of them to behave properly and abide by our refresh rate selection. You can verify that using either the refresh rate counter from the Android developer options or the fps counter Asus provides for an actual fps reading to see how well the game is making use of your refresh rate "cap".
Since the ROG line is all about options and the ultimate gaming experience, it should be no surprise that you can set a custom refresh rate on a per-game basis using Armoury Crate. This means you can fine-tune your library to perfection to make the most of every game engine and not waste battery power in the process.
We would advise using the Auto refresh rate mode for any other general-purpose usage of the ROG Phone 7/7 Ultimate. It generally sticks to 120Hz while some motion is happening on screen and very quickly drops to 60Hz with a static on-screen image.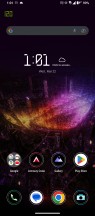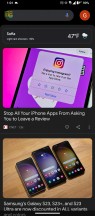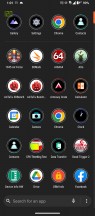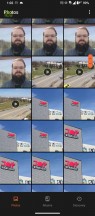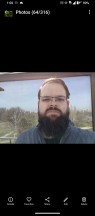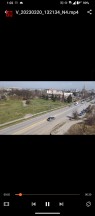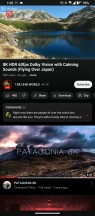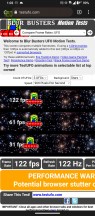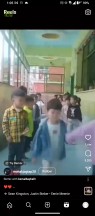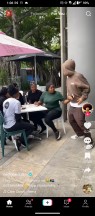 UI and apps working in Auto refresh rate mode
On top of that nifty auto logic, the ROG Phone is also smart enough to recognize when you are watching a video, be it local or online, with most apps and players out there, with some exceptions and then switch the refresh rate down to 60Hz - optimal for the battery.
All things considered and some occasional per-app bugs aside, we have very little to no complaints with the way Asus handles the refresh rate on the ROG Phone 7/7 Ultimate.
Battery life
Asus has always prioritized battery endurance and longevity in its ROG Phone devices. The bar is set pretty high, and luckily the latest ROG Phone manages to deliver.
Both the ROG Phone 7 and 7 Ultimate have a total of 6,000 mAh worth of battery capacity, just like their predecessor. Like those and the ROG Phone 5 and 5s before that, the battery is actually split into two symmetrical 3,000 mAh cells.

This works pretty well in conjunction with the center-PCB design for the internals and the matching cooling system. Everything is synergistically designed together in this manner.
Asus has another design trick also carried forward from last year - MMT battery technology and a double-wired split design. MMT stands for Middle Middle Tab and increases the energy density in a battery by charging it from the middle outwards instead of from the ends, which lowers impedance and temperature.
Lower temperatures allow higher wattage charging to be sustained for longer periods before entering trickle charge (constant voltage). So, technically, what Asus has done here is approaching the problem of tapering-off charging wattages in a different way, through MMT tech, in place of simply a larger single battery. Neat!
Just like its sibling, the ROG Phone 7 managed an awesome endurance rating of 131 hours in our proprietary test. It did great all-around in both on-screen and off-screen tests. The offline video playback number is particularly impressive.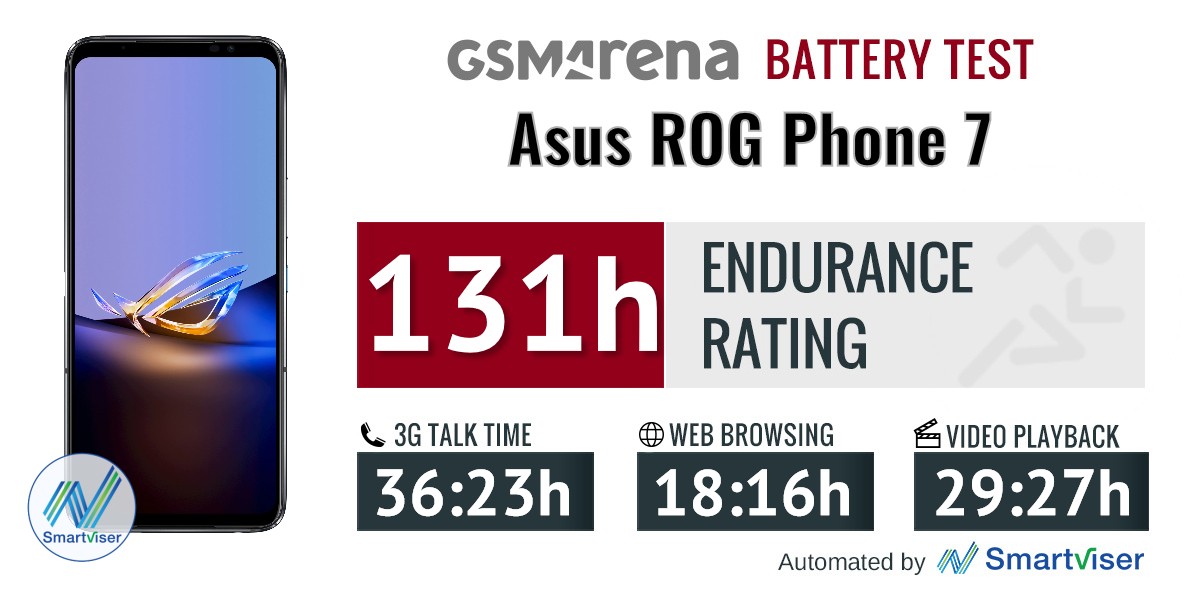 As a reminder, in accordance with our battery testing protocol, this result was achieved by doing the video playback test at 60Hz, whereas web testing was done at the highest possible 165Hz.
Our battery tests were automated thanks to SmartViser, using its viSerDevice app. The endurance rating denotes how long the battery charge will last you if you use the device for an hour of telephony, web browsing, and video playback daily. More details can be found here.
Video test carried out in 60Hz refresh rate mode. Web browsing test done at the display's highest refresh rate whenever possible. Refer to the respective reviews for specifics. To adjust the endurance rating formula to match your own usage patterns check out our all-time battery test results chart where you can also find all phones we've tested.
Charging and battery care
Not only is the ROG Phone 7 overall battery design carried forward from the ROG Phone 6, but so is the 65W fast charging. It is partially enabled by the split design and MMT technology of the battery packs. Native charging on the ROG Phone 7/7 Ultimate goes by many names - Asus HyperCharge and Direct Charging. We are happy to see that Asus is still using standard USB Power Delivery tech to accomplish its charging - PD + PPS (3.3V - 11V @ 5A; 3.3 - 21V @ 3.25A). A pretty elegant system that is USB PD compliant. The 65W charger you get in the box is versatile and can even power some laptops.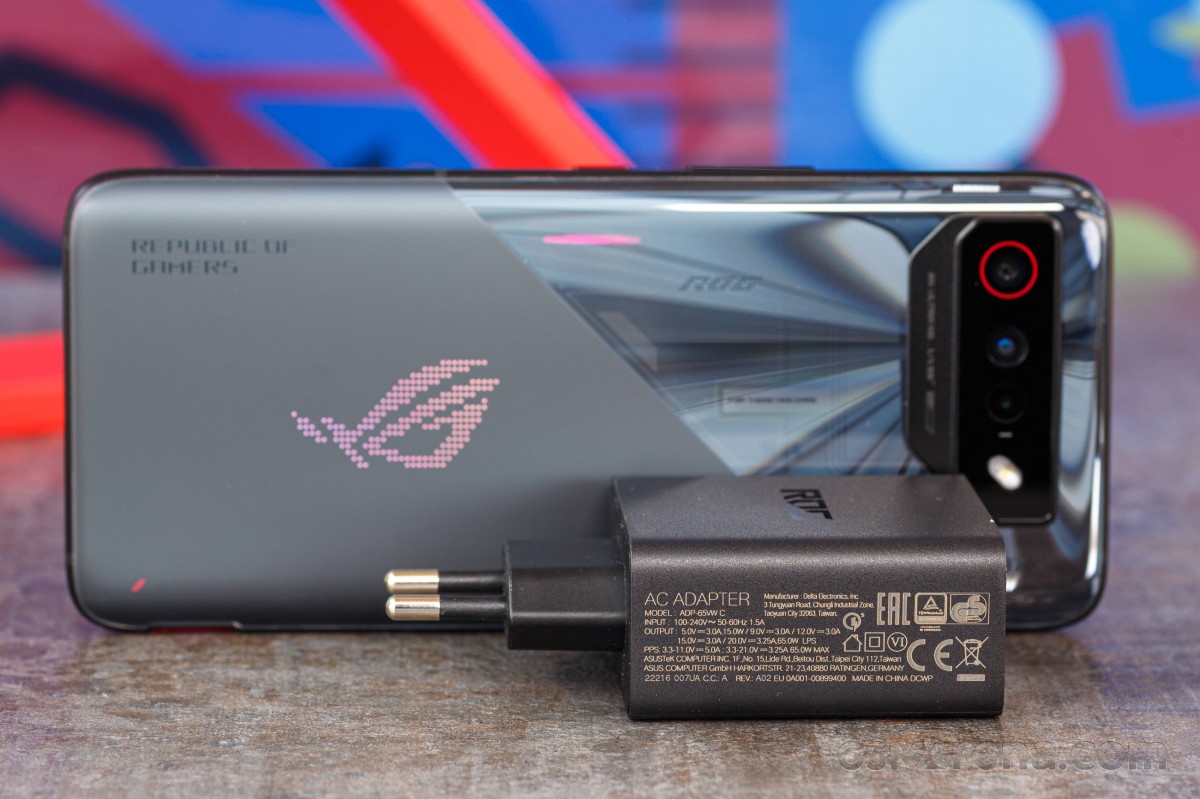 Like its Ultimate sibling, the regular ROG Phone 7 charged reasonably quickly off its 65W charging brick. It went from dead to 40% in fifteen minutes and then 69% at the half-hour mark. A full charge took just oven an hour. Admittedly, this is not the fastest charging rate ever and in fact it is a bit slower than the ROG Phone 6 generation. It is about on par with what the ROG Phone 5 family managed. Since Asus has not changed its charging and general battery tech for a long time now, we can only assume that the longer charge time was a deliberate decision. We noticed that the phone spent a good 12 minutes trickle charging from 99% to 100%. So, there's that.
30min charging test (from 0%)
Higher is better
| | |
| --- | --- |
| Motorola Edge 40 Pro | 100% |
| OnePlus 11 | 100% |
| Realme GT3 | 100% |
| vivo X90 Pro | 100% |
| Motorola Edge 30 Ultra | 95% |
| Red Magic 8 Pro | 92% |
| Oppo Find X5 Pro | 91% |
| Motorola ThinkPhone | 86% |
| Realme 10 Pro+ | 86% |
| Huawei Mate 50 Pro | 79% |
| ROG Phone 6D Ultimate | 78% |
| ROG Phone 6 Pro | 75% |
| Honor Magic5 Pro | 75% |
| Xiaomi 12S Ultra | 73% |
| Huawei P50 Pro | 73% |
| Asus ROG Phone 5s Pro | 71% |
| ROG Phone 7 | 69% |
| ROG Phone 7 Ultimate | 68% |
| Galaxy S23 Ultra | 68% |
| iPhone 14 Pro Max | 48% |
| iPhone 14 Plus | 47% |
| Sony Xperia 1 IV | 47% |
| Google Pixel 7 Pro | 46% |
* Tap/hover over the device names for more info
Time to full charge (from 0%)
Lower is better
| | |
| --- | --- |
| Realme GT3 | 0:11h |
| OnePlus 11 | 0:22h |
| Motorola Edge 40 Pro | 0:23h |
| vivo X90 Pro | 0:24h |
| Motorola Edge 30 Ultra | 0:33h |
| Red Magic 8 Pro | 0:37h |
| Oppo Find X5 Pro | 0:40h |
| Realme 10 Pro+ | 0:41h |
| Huawei Mate 50 Pro | 0:41h |
| ROG Phone 6 Pro | 0:42h |
| ROG Phone 6D Ultimate | 0:44h |
| Honor Magic5 Pro | 0:48h |
| Xiaomi 12S Ultra | 0:50h |
| Huawei P50 Pro | 0:50h |
| Motorola ThinkPhone | 0:54h |
| Galaxy S23 Ultra | 0:59h |
| ROG Phone 7 | 1:01h |
| ROG Phone 7 Ultimate | 1:02h |
| Asus ROG Phone 5s Pro | 1:03h |
| Sony Xperia 1 IV | 1:42h |
| Google Pixel 7 Pro | 1:49h |
| iPhone 14 Pro Max | 1:52h |
| iPhone 14 Plus | 2:00h |
* Tap/hover over the device names for more info
Asus also takes battery care pretty seriously. This is not a newfound priority either, as previous ROG Phones have also enjoyed more than a few extensive options and features in this regard. Starting with the ROG Phone 5, everything related to PowerMaster is merged and organized within the battery settings menu for added convenience.
Starting with the basics, there are quite a few System modes. A few predefined ones, which are also accessible through the Armoury Crate app, since they do a lot more than just tweak your battery profile and behavior, but basically, with X Mode, you get the fewest restrictions on battery usage, followed by Dynamic, which is the sort-of default one you are meant to use on a daily basis and then Ultra durable is your battery saver.
The Ultra Durable mode can also be activated on a schedule, which is neat for off-hours.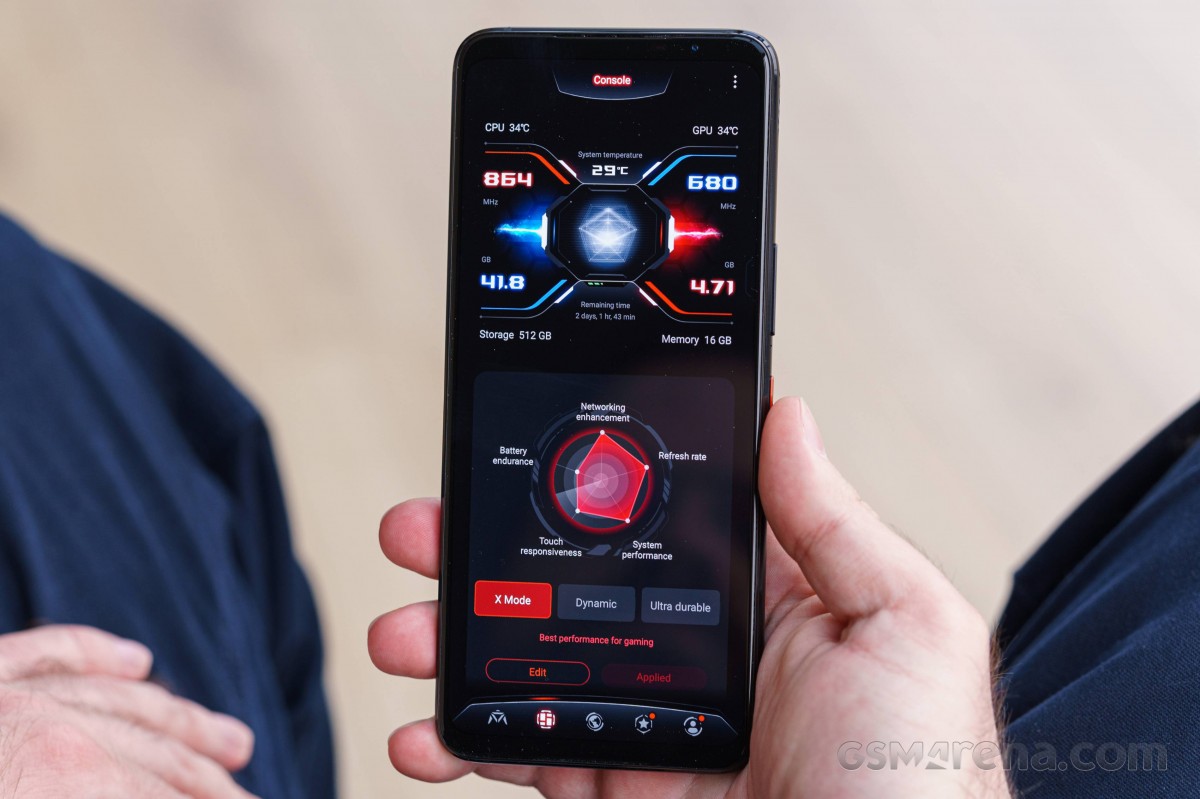 Beyond this, there is also a dedicated Battery care menu. Custom charging limit is a pretty common and well-known feature in the laptop realm. Basically, it allows you to limit the time your battery spends at 100% charge, which is a detrimental state for it in the long-term and has the phone stop charging automatically at, say, 90% or 80%.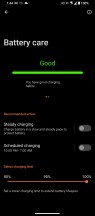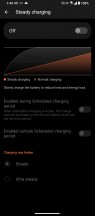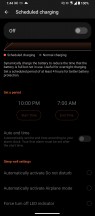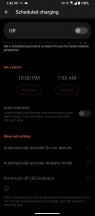 Battery care • Steady charging • Scheduled charging
While keeping a battery pinned at full charge for prolonged periods is bad, the biggest battery killer is likely the heat. A faster charging rate usually means more heat. Hence the inclusion of the Steady charging option. It allows you to effectively cap the charging rate to lower wattage and choose longevity over a faster top-off. There are two levels of Steady Charging to choose from - Steady and Ultra Steady with increasingly lower wattage caps.
You can also combine Steady Charging and the Custom Charging limit with Scheduled charging. As the name suggests, it is a system that charges your battery intelligently on a curve so that it does not stay pinned at 100%, constantly trickle charging for hours. Especially convenient for overnight charging and includes options such as end time by alarm, do not disturb, airplane mode and turning off the battery-led indicator.
Speakers and audio output
Audio has always been just as much of a top priority for Asus as visuals and general performance. Figures, seeing how it is arguably one of the most difficult aspects of a multimedia experience to truly nail down. Living up to its pedigree, the ROG Phone 7/7 Ultimate has two large, symmetrical, front-facing stereo speakers at its disposal.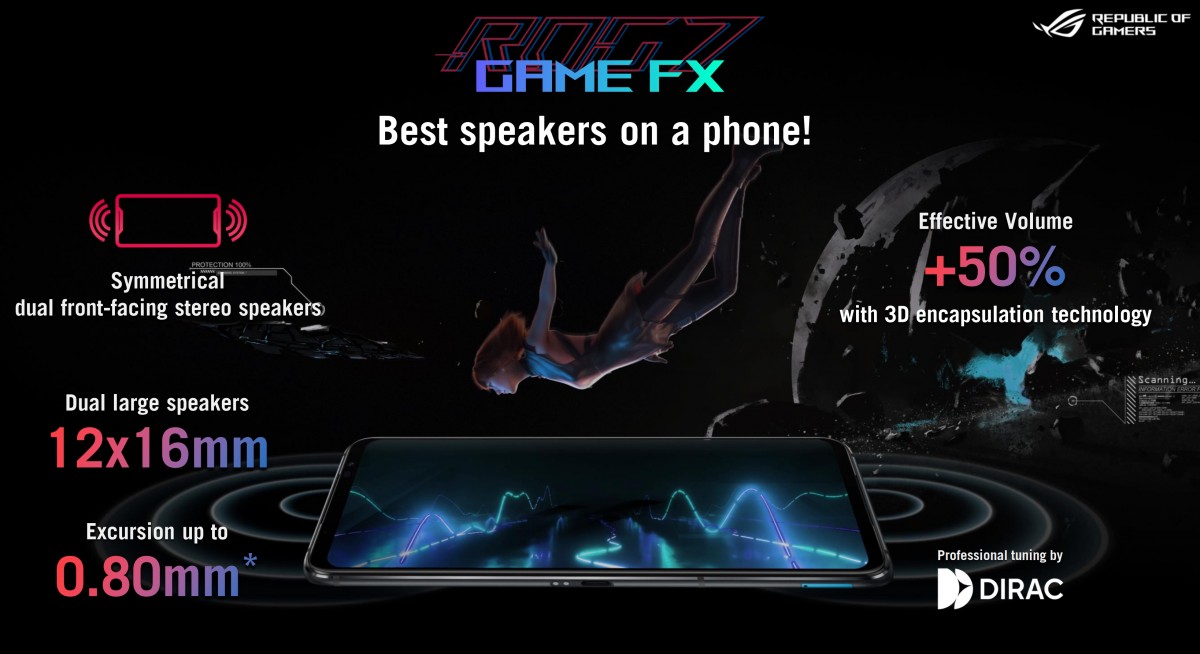 Asus lovingly refers to the entirety of its audio setup as GameFX, but that name shouldn't fool you since there is a lot more to like here in general audio quality and prowess beyond just gaming-centric features.
Let's start with the hardware first. Each one of the two speakers is a 5-magnet, 12x16 Super Linear Speaker with a max excursion of 0.8mm. That number might not sound like a lot to any audiophile but remember the kinds of space constraints Asus is working with. Each one of these speakers is connected to its own dedicated Cirrus Logic CS35L45 mono amplifier.
This is all carried over from the ROG Phone 6. What is new this year is three-dimensional encapsulation Bass (dBass). Thanks to full-fill in the speaker chambers, Asus has increased the virtual speaker-box volume by 50% compared to the ROG Phone 6 - from 1cc to 1.5cc equivalent. And Dirac Virtual bass further enhances low and mid-frequency response.
Like its sibling, the ROG Phone 7 has some of the cleanest and most crisp audio outputs around. It gets pretty loud as well, with no noticeable distortion. It is not quite as loud as some of its predecessors, but it does make out for that with a wide and rich sound stage.
The ROG Phone 7 has an impressive frequency response curve. Even more so once the AeroActive Cooler 7 is attached with its built-in subwoofer. As expected, the additional speaker performs well and has a noticeable effect on low-end frequency response.
Covering the other bit of audio hardware - the 3.5mm audio jack gets to benefit from the Hi-Res Audio (HRA) certification of the ROG Phone 7/7 Ultimate. That means it can process and play audio files at 24-bit/96kHz or 24-bit/192kHz and output that to a compatible Hi-Res Audio certified output device.

New this year is the Dirac Virtuo headphone spatial audio enhancer. It works on any connected set of headphones and employs high-resolution binaural room impulse response technology to restore speaker crosstalk and correct the stereo soundstage. The desired effect is to make it so that sound seemingly comes from a pair of premium stereo speakers in front of the listener as opposed to from inside their head.
The ROG Phone 7 supports all major Bluetooth audio transmission standards, including aptX adaptive, aptX Low latency, LDAC and AAC.
The ROG Phone 7/7 Ultimate's audio prowess goes way beyond hardware. A few years back, Asus partnered with Dirac to leverage their audio platform's unique customizability. This has been carried forward to the ROG Phone 7, as well. You still get all of the systems and behind-the-scenes algorithms as last year, only this time better and improved.
Let's start the software tour with AudioWizard, the centralized audio hub on the ROG Phone.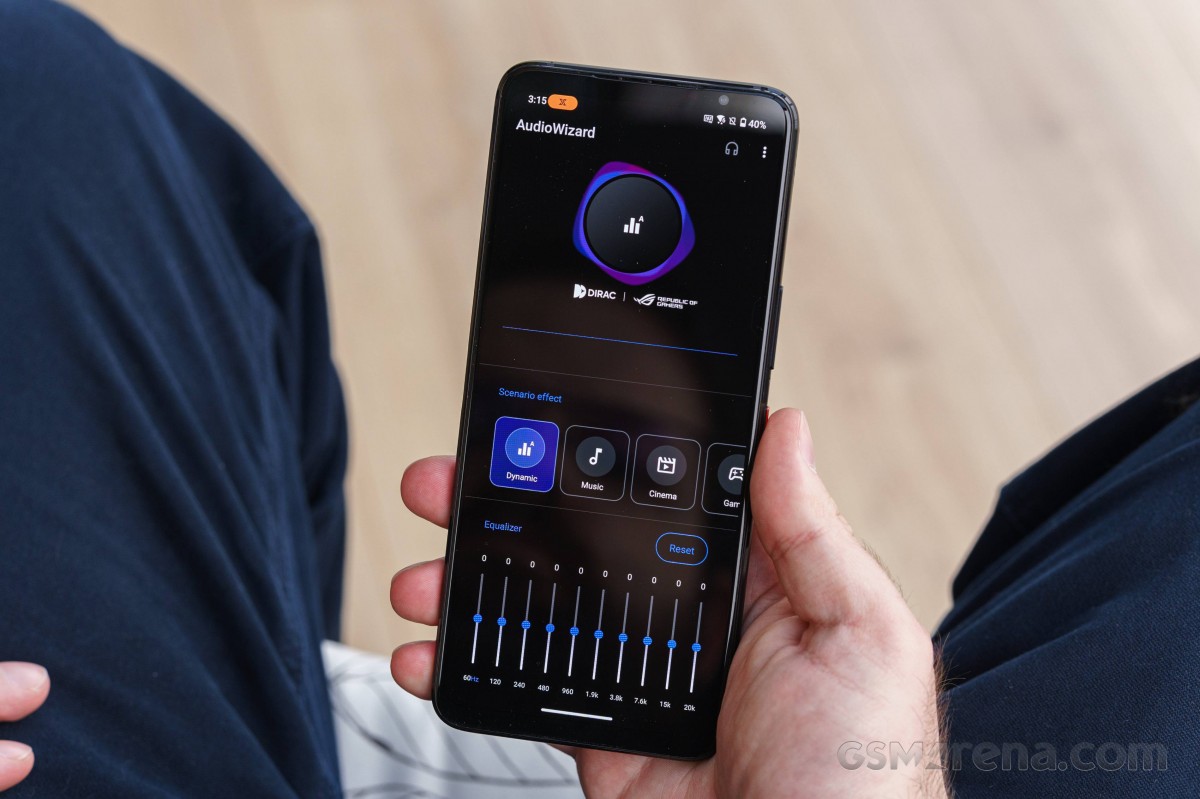 It offers access to a 10-band equalizer and a total of four pre-made modes: Dynamic, Music, Cinema and Game. Music is meant for general use, Cinema has a slightly wider sound stage and enhances bass and vocals. Game mode has the widest sound stage of the bunch and enhances small sounds like footsteps and high frequencies for a better spatial location.
Finally, there is Dynamic mode, which intelligently switches between Music and Game modes depending on whether Game genie - the Asus in-game overlay is active or not. Our audio tests were done using the default Dynamic mode.
There is truly a lot that Asus and DIRAC have crammed under the GameFX umbrella. A big chunk of the press materials now talk about Dirac Virtuo, which mostly seems to revolve around better spatial audio.
It brings a total of three things to the table. A better center image with more dynamics promises to pick up and enhance "center stage" content better in particular by delivering better sound location and separation, higher contrast and quality and depth to bass in particular. That better spatial sound separation is also leveraged in game mode to better image things like footsteps and their location relative to the user. Finally, the bass notes should sound more natural and better isolated and clean, thanks to better spatial audio.
Another system in place on the ROG Phone 7 Ultimate is MIMO, which stands for Multiple-Input and Multiple-Output. In short, it is a system traditionally found in luxury automobiles that treats a stereo speaker system as one unified system and co-optimizes its summed impulse and frequency response instead of dealing with each speaker in isolation.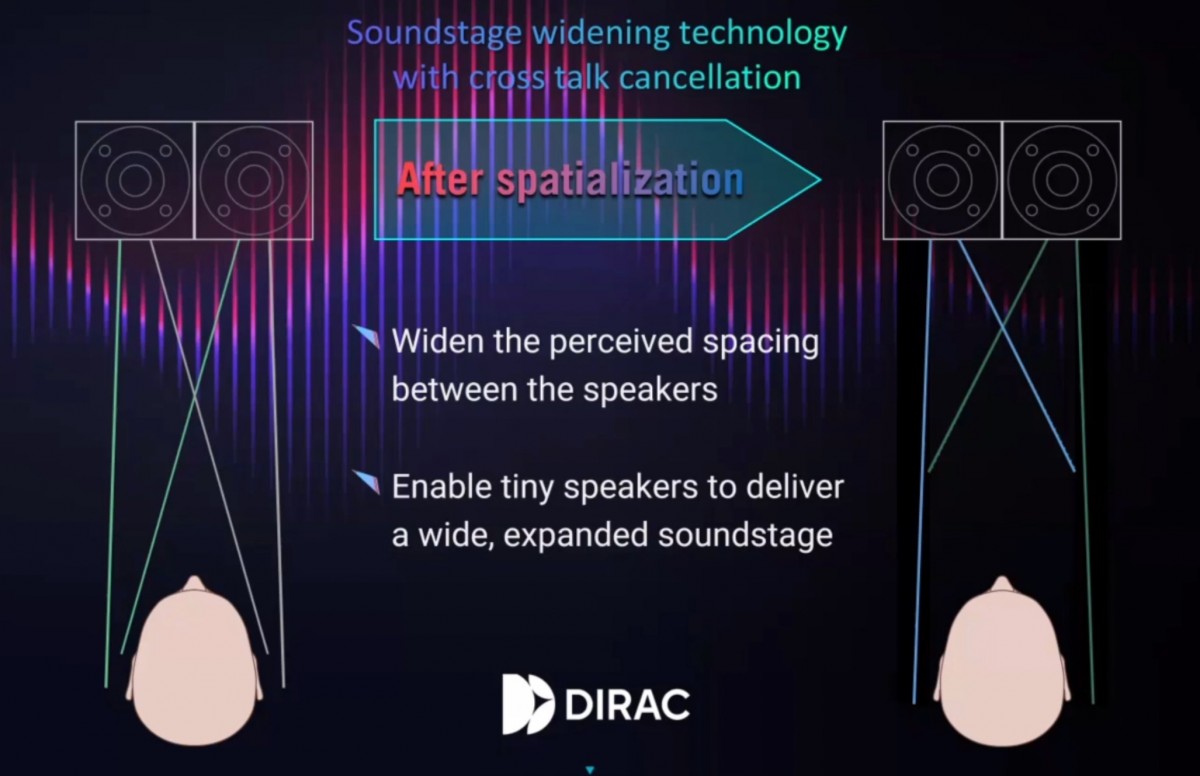 This approach has allowed for MIMO Crosstalk cancellation - a system that adjusts the perceived spacing between the left and right speakers and tries to achieve better stereo separation, despite the physical proximity of the drivers. This is done by dynamically creating an inverted signal from each speaker and feeding it through the other with the right delay and phase.
We were particularly impressed by the Bass enhancement technology. By definition, true bass relies on a large speaker volume and moving a large quantity of air. These things are outside the reach of a mobile speaker system, even one as beefy as the ROG Phone's. The proposed solution here relies on psychoacoustics. It's a fairly complex process of adding specific over-tones to the speaker's output, extending the perceived bass tone by two octaves. In simpler terms, your brain is tricked into perceiving a 33% wider frequency range than what the physical speakers can output (16,000 - 234 Hz, enhanced to 16,000 - 58 Hz), with only a small drop-off in volume as a tradeoff.

The key thing to note here is that the increase is just in perceived bass. That means that the tech works better in certain situations than others and is more convincing to some people than others. It is hard to put into words, but when it works, you can swear that that kind of low-frequency, deep bass sound cannot possibly come from a smartphone speaker.
Bass enhancement technology can be experienced on a system-wide level. The same goes for Impulse response correction, which tries its best to clean up impulse frequency response and limit sound tapering-off effects so they don't interfere with other sounds. The same goes for Frequency response correction, which tries to balance and smooth-out frequency responses across the board.