Following the curve
Apple iPhone 6 Plus review: Following the curve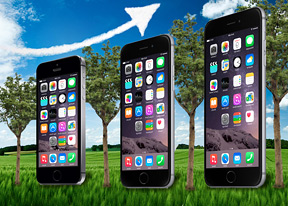 Display
The iPhone 6 Plus features Apple's first standard display on a mobile device, a unit of 1080p resolution. It has the 16:9 aspect ratio first adopted by the iPhone 5 but is sharper than the Retina displays standardized with the iPhone 4. It has a pixel density of 401ppi (Apple's first) though there's barely a perceptible difference between the two.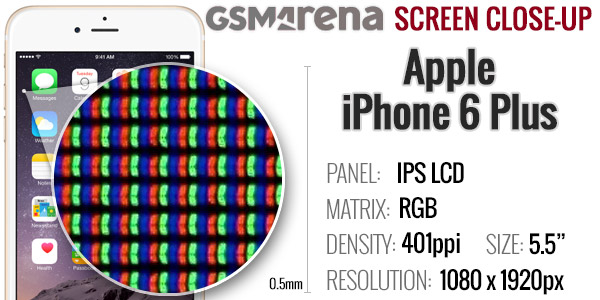 Another first for the iPhone is that the 6 Plus supports landscape mode and some apps offer split-screen in landscape, two things that were so far reserved for the iPads.




The brilliant screen of the iPhone 6 Plus
Anyway, the screen is an IPS LCD with picture perfect viewing angles - you can tilt it in any direction and the image stays put as if printed on top of the screen.
Excellent color rendering and great contrast also help the overall image quality, the iPhone 6 Plus has one of the very best mobile displays on the market.
Display test
50% brightness
100% brightness
Black, cd/m2
White, cd/m2
Contrast ratio
Black, cd/m2
White, cd/m2
Contrast ratio
Apple iPhone 5s
0.14
163
1145
0.49
596
1219
Apple iPhone 6
0.17
207
1230
0.61
740
1213
Apple iPhone 6 Plus
0.17
208
1197
0.52
705
1361
LG G3
0.14
109
763
0.72
570
789
Samsung Galaxy Note 3
0
149
∞
0
379
∞
Samsung Galaxy S5
0
274
∞
0
529
∞
Oppo Find 7
0.22
248
1135
0.4
448
1123
The large 5.5" screen is almost as bright as the 4.7" iPhone 6 screen and one of the brightest LCDs we've tested. The reflectivity is slightly higher though, so sunlight legibility isn't quite as good but still among the best. There are few challengers in this screen size category, it's down to Samsung's Super AMOLED screens.
Sunlight contrast ratio
Nokia 808 PureView
4.698
Apple iPhone 5
3.997
Samsung Galaxy Note 3
3.997
Apple iPhone 6
3.838
Samsung Galaxy K zoom
3.675
Nokia Lumia 930
3.567
Apple iPhone 5s
3.565
Samsung Galaxy S5
3.549
Alcatel Idol X+
3.527
Apple iPhone 5c
3.512
Samsung Galaxy Alpha
3.509
Samsung Galaxy Note 3 Neo
3.487
Motorola RAZR MAXX
3.42
Samsung I9300 Galaxy S III
3.419
Nokia Lumia 925
3.402
Gionee Elife S5.5
3.386
Samsung I9505 Galaxy S4
3.352
Samsung Omnia W
3.301
Samsung Galaxy S5 mini
3.174
Samsung I9000 Galaxy S
3.155
Samsung Ativ S
3.129
Samsung I9190 Galaxy S4 mini
3.127
Samsung Galaxy S4 zoom
3.118
Nokia N9
3.069
Apple iPhone 6 Plus
3.023
Samsung Galaxy Note
2.97
Samsung Galaxy Premier
2.958
Sony Xperia Z1
2.95
HTC One S
2.901
Samsung I8730 Galaxy Express
2.861
BlackBerry Q10
2.856
Samsung I9100 Galaxy S II
2.832
Samsung Galaxy S II Plus
2.801
BlackBerry Z30
2.79
Sony Xperia ZR
2.672
Huawei Ascend P1
2.655
Sony Xperia Z3 Compact
2.616
Sony Xperia T3
2.609
Nokia Lumia 900
2.562
Motorola Moto G 4G
2.546
HTC One Max
2.537
Nokia Lumia 720
2.512
HTC One
2.504
Motorola Moto G
2.477
Sony Xperia Z
2.462
Xiaomi Mi 4
2.424
Samsung Galaxy S III mini
2.422
LG G Flex
2.407
HTC One (M8)
2.371
Motorola RAZR i
2.366
Sony Xperia ZL
2.352
Samsung Galaxy Note II
2.307
Oppo Find 7a
2.279
Alcatel One Touch Hero
2.272
Apple iPhone 4S
2.269
HTC Desire 600 dual sim
2.262
Nokia Asha 311
2.25
LG Nexus 5
2.228
Nokia Lumia 820
2.193
HTC One (E8)
2.185
Nokia Lumia 920
2.17
HTC One X
2.158
Nokia N8
2.144
Nokia Lumia 620
2.142
Nokia 515
2.134
HTC Desire 500
2.129
Sony Xperia acro S
2.119
Nokia Lumia 1020
2.103
Oppo Find 5
2.088
Sony Xperia SL
2.078
Nokia Lumia 630
2.056
BlackBerry Z10
2.051
Samsung I9295 Galaxy S4 Active
2.022
Apple iPhone 4
2.016
HTC One mini
2.003
Xiaomi Mi 3
2.001
Huawei Ascend P7
1.992
LG G2
1.976
OnePlus One
1.961
Oppo R819
1.957
Sony Ericsson Xperia ray
1.955
Sony Xperia Z2
1.944
Nokia Lumia 1320
1.941
HTC One mini 2
1.94
Samsung Galaxy Camera
1.938
Sony Xperia J
1.932
Acer CloudMobile S500
1.931
LG Nexus 4
1.926
LG G Pro 2
1.922
Samsung Galaxy Mega 6.3
1.913
Nokia Asha 308
1.911
Sony Xperia T
1.894
HTC Desire X
1.878
HTC Butterfly
1.873
HTC Windows Phone 8X
1.873
HTC Butterfly S
1.867
Huawei Ascend P6
1.865
Huawei Ascend Mate
1.845
LG G2 mini
1.838
LG G3
1.82
Nokia Lumia 1520
1.813
HTC Desire 616 dual sim
1.797
Sony Xperia V
1.792
HTC Desire 816
1.783
Sony Xperia Z1 Compact
1.772
HTC Desire 700 dual sim
1.769
Sony Xperia U
1.758
Meizu MX3
1.754
LG Optimus G
1.753
Sony Xperia T2 Ultra
1.74
Sony Xperia SP
1.733
LG Optimus 4X HD
1.691
Oppo Find 7
1.691
HTC One V
1.685
BlackBerry Q5
1.682
LG Optimus Vu
1.68
Xiaomi Mi Pad 7.9
1.672
LG Optimus GJ
1.666
LG Optimus 3D Max
1.658
HTC Desire V
1.646
Samsung Galaxy Xcover 2
1.632
Samsung Galaxy Ace 3
1.622
Jolla Jolla
1.605
Sony Xperia Z Ultra
1.578
Sony Xperia go
1.577
Samsung Galaxy Ace 2 I8160
1.566
Samsung Galaxy Core
1.563
LG Optimus G Pro
1.552
Motorola Moto E
1.545
LG Optimus 3D
1.542
Nokia Asha 302
1.537
BlackBerry Curve 9320
1.488
Sony Xperia M
1.473
Oppo N1
1.47
Meizu MX 4-core
1.462
Nokia Lumia 610
1.432
Samsung Galaxy S Duos
1.4
Sony Xperia M2
1.393
Samsung Galaxy Grand Neo
1.393
Samsung Galaxy Grand 2
1.38
Sony Xperia E1
1.372
Nokia Lumia 625
1.371
Gigabyte GSmart G1355
1.361
Sony Xperia L
1.351
Xiaomi Redmi 1S
1.35
Samsung Galaxy Mega 5.8
1.35
Sony Xperia M2 Aqua
1.331
Sony Xperia miro
1.324
Samsung I9082 Galaxy Grand
1.321
Samsung I8530 Galaxy Beam
1.315
HTC Desire C
1.3
Nokia X
1.291
Sony Xperia C
1.283
Nokia Asha 503
1.281
Nokia Asha 501
1.27
LG Optimus L7
1.269
Nokia Lumia 510
1.268
Samsung Galaxy Fame
1.245
LG Optimus L9
1.227
Meizu MX
1.221
Samsung Galaxy Young
1.22
Sony Xperia E
1.215
Nokia XL
1.204
Sony Xperia E dual
1.203
Asus Memo Pad 7 ME176C
1.198
Samsung Galaxy Pocket
1.18
Nokia Asha 305
1.178
Nokia Asha 306
1.175
Sony Xperia neo L
1.169
Sony Xperia tipo
1.166
Nokia Lumia 520
1.161
Samsung S6802 Galaxy Ace Duos
1.148
Samsung Galaxy mini 2
1.114
The iPhone 6 Plus screen is much larger than what Apple users are accustomed to, we made the table below to illustrate our point if the comparison shots above aren't clear enough. Using the 4" iPhone 5s screen as base, the iPhone 6 Plus screen offers nearly twice as much room. That dwarfs even the size increase offered by the iPhone 6 over its predecessor.
| | | | |
| --- | --- | --- | --- |
| | Screen diagonal | Relative size | PPI |
| iPhone 5s | 4" | 100% | 326 |
| iPhone 6 | 4.7" | 138% | 326 |
| iPhone 6 Plus | 5.5" | 189% | 401 |
| LG G3 | 5.5" | 189% | 534 |
| Galaxy Note 4 | 5.7" | 203% | 515 |
While we love the extra screen real estate we're not pleased with the screen bezels. The LG G3 has the same screen size (and with nearly 80% more pixels at that) and a much more compact body. We get it that Apple needs the Home key at the bottom for Touch ID but the bezel above the screen could have been smaller, especially since the front-facing camera is no longer stacked above the earpiece.
Faster connectivity
The Apple iPhone 6 Plus wireless connectivity is a dizzying array of GSM, CDMA and LTE. You'll have to consult your local carrier to check if the correct bands are supported by the version of the phablet you're buying but that's only if you're importing it.
The standard quad-band GSM and CDMA support ensures voice connectivity around the world. Then there's 3G GSM with up to 42Mbps downlink speeds and 3G CDAM (1xEV-DO) for a much slower 3.1Mbps.
The real speed for mobile Internet comes from the LTE connection though, which has been promoted to Cat. 4. That means the iPhone 6 Plus is theoretically capable of downloads of up to 150Mbps and uploads of up to 50Mbps. That's an improvement over the Cat. 3 LTE (100Mbps downlink) of the iPhone 5s and as fast as is practical today, carrier support for the faster category is lagging.
Note that Apple has enabled Voice-over-LTE (VoLTE), which includes support for high quality audio in calls with HD Voice. Keep in mind that to use these technologies your carrier must support it and so must the receiving phone.
Local connectivity has grown faster too, the new iPhones support Wi-Fi 802.11ac alongside the traditional a/b/g/n. If you have an Wi-Fi 802.11ac -capable router and a fast home connection you should feel a boost in speed. Apple has also added Wi-Fi calling to the list of chops the new iPhones possess. Of course, availability of the feature is carrier-dependent.
Bluetooth is at version 4.0 with Low Energy support, which is Apple's preferred connection for sports accessories.
The iPhone 6 Plus supports the short-range NFC standard but that's exclusively for use with the new Apple Pay system. It seeks to replace your credit cards with your phone but sharing files locally is still done via the Air Drop system, there's no tap to pair or tap to send functionality (yet).
Wired connectivity brings no surprises, it uses the ubiquitous (on Apple products) Lightning adapter. It's symmetrical so it can be plugged in regardless oforientation. It provides charge to the phone, carries data to a computer, does TV out (with the right adapter) and supports various accessories.
Battery life test
The Apple iPhone 6 Plus has a 2,915mAh Li-Po battery, which stacks up very well against Android competition (for comparison the LG G3 has a 3,000mAh battery). The smaller iPhone 6 has just 1,810mAh in its tank and the previous iPhone 5s has about half of the 6 Plus' capacity.
We mentioned the charging rumors that you can fill up faster with an iPad charger in the unboxing chapter. There's a grain of truth to that, the iPhone 6 Plus does indeed charge about 25% faster on an iPad Air charger but it doesn't use anywhere near the full 2.4A capacity (it draws 1.25A).
The larger battery is a boon for talk time, helping the iPhone 6 Plus rebound from the disappointing time of its smaller sibling. The web browsing test lasted a bit over 9 hours, a solid performance though we've seen better, while the video playback test ran on for 11 hours. The new screen is the perfect resolution to watch FullHD videos but keep in mind we use an SD video for the video battery test.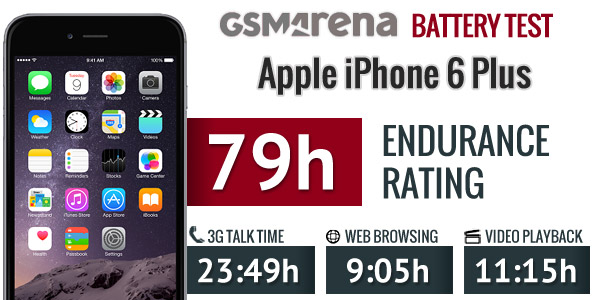 Our proprietary score also includes a standby battery draw test, which is not featured in our battery test scorecard but is calculated in the total endurance rating. Our battery testing procedure is described in detail in case you want to learn more about it.
You can also have a look at our detailed battery life test for the Apple iPhone 6 Plus.