Design and ergonomics
The Red Magic 7 Pro uses a slower 120Hz 6.8-inch AMOLED display but boasts the same features as the non-Pro version. It has the HDR10 and HLG certification and offers a 720Hz touch sampling rate with several fingers.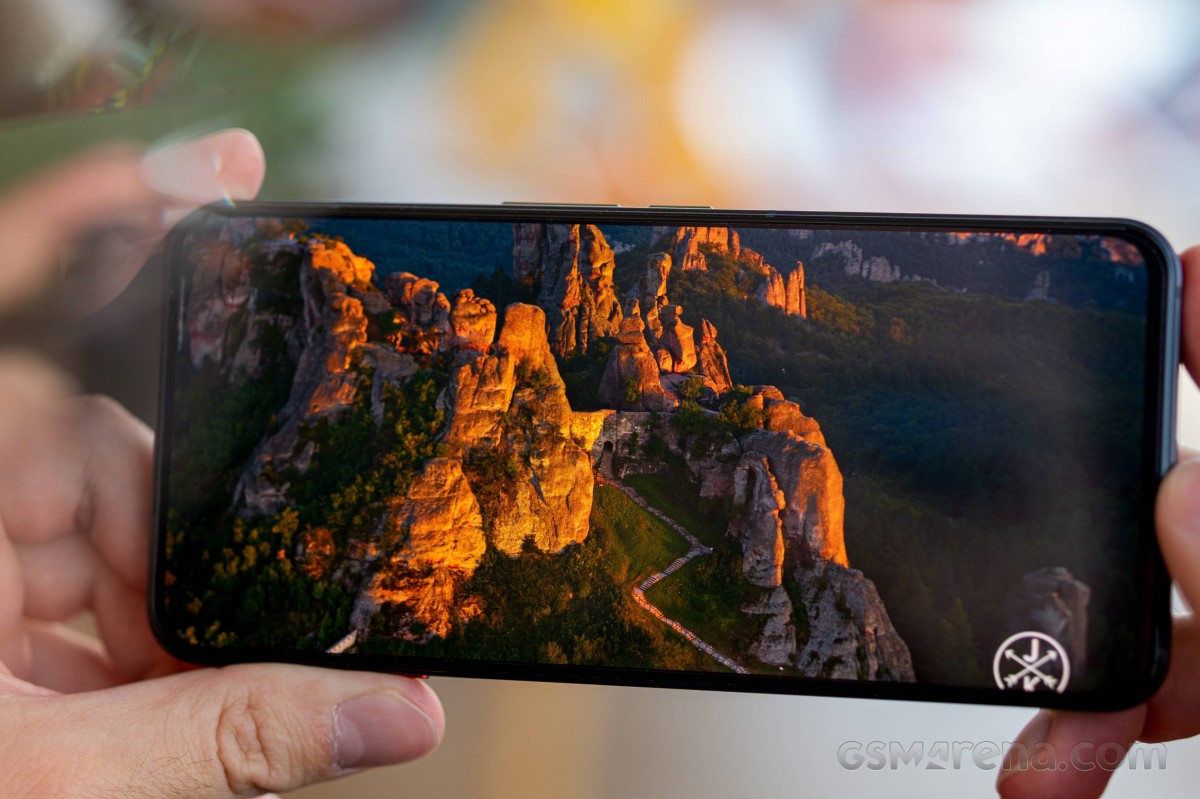 Yet again, nubia fails to introduce a boost in display brightness when the display operates in Auto mode. In manual mode, the panel can do 447 nits, which is not nearly enough for comfortable outdoor use, and it's far from the advertised 600 nits. Today's flagships comfortably push through the 1,000 nits ceiling, and even the standard Red Magic 7 can output almost 100 nits more.
Display test
100% brightness
Black,cd/m2
White,cd/m2
Contrast ratio
ZTE nubia Red Magic 7
0
527
∞
ZTE nubia Red Magic 7 Pro
0
447
∞
nubia Red Magic 6
0
444
∞
nubia Red Magic 6R
0
439
∞
nubia Red Magic 6R (Max Auto)
0
588
∞
nubia Red Magic 6S Pro
0
529
∞
Asus ROG Phone 5
0
492
∞
Asus ROG Phone 5 (Max Auto)
0
806
∞
Asus ROG Phone 5s Pro
0
511
∞
Asus ROG Phone 5s Pro (Max Auto)
0
840
∞
Xiaomi Black Shark 4
0
498
∞
Xiaomi Black Shark 4 (Max Auto)
0
694
∞
OnePlus 10 Pro
0
498
∞
OnePlus 10 Pro (Max Auto)
0
780
∞
Samsung Galaxy S22+
0
468
∞
Samsung Galaxy S22+ (Extra brightness)
0
782
∞
Samsung Galaxy S22+ (Max Auto)
0
1214
∞
iQOO 9 Pro
0
438
∞
iQOO 9 Pro (Max Auto)
0
1000
∞
Realme GT2 Pro
0
482
∞
Realme GT2 Pro (Max Auto)
0
778
∞
Color accuracy, on the other hand, is the best we've measured on a Red Magic phone. At least if you use it in sRGB mode. You can hardly notice the blue-ish tinge on the bright white, while grays are pretty accurate. The average dE2000 is just 1.5, while the maximum is 3.9. Those are some impressive metrics, but this mode limits the brightness even further at just 410 nits. So if you are okay with the blue-ish whites and grays, use it with the default color preset.
HRR control
The only smart adjustment the system applies to the refresh rate is when you are watching full-screen videos. Only then the system limits the refresh rate to 60Hz instead of going all the way up to 120Hz. The maximum refresh rate is ensured across all system menus and most of the apps. We've played around with one of the most commonly used and found that Chrome and Instagram, for example, are locked at 60Hz, even when 120Hz is enabled. The default Gallery app is also locked at 90Hz, even when watching full-screen videos.
Battery life
One would expect that the Red Magic 7 Pro, which holds a 5,000 mAh battery, has a little longer battery life than the 4,500 mAh-powered vanilla version. That's not what our tests show, however. There seems to be an issue with the standby and web browsing runtimes. They are both considerably lower than the ones we got with the Red Magic 7.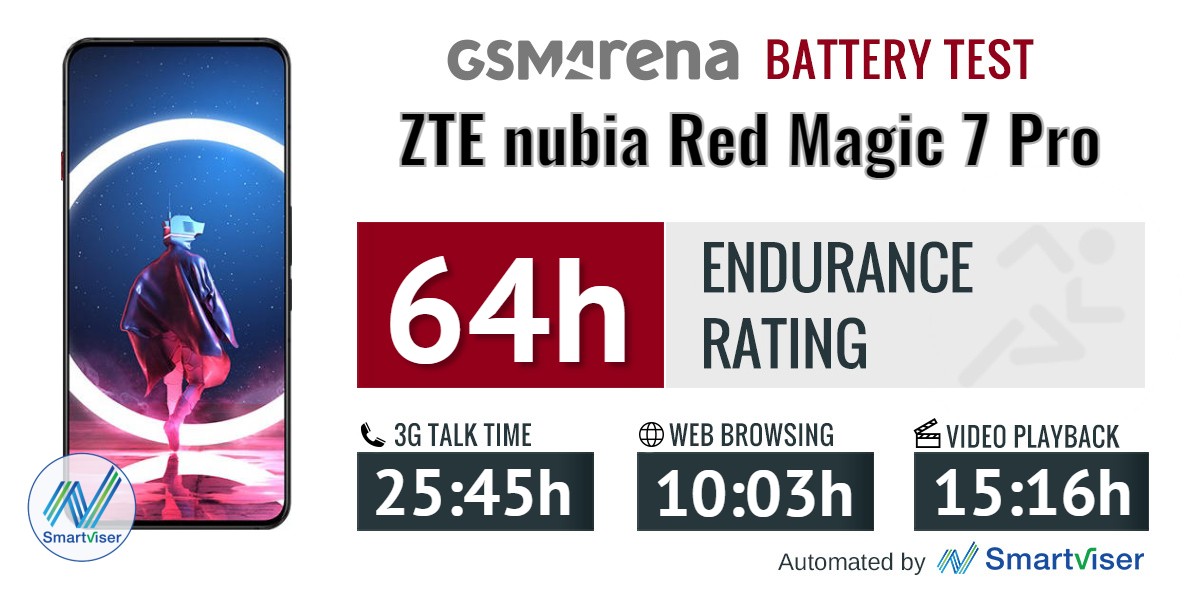 Our battery tests were automated thanks to SmartViser, using its viSerDevice app. The endurance rating denotes how long the battery charge will last you if you use the device for an hour of telephony, web browsing, and video playback daily. More details can be found here.
Video test carried out in 60Hz refresh rate mode. Web browsing test done at the display's highest refresh rate whenever possible. Refer to the respective reviews for specifics. To adjust the endurance rating formula to match your own usage patterns check out our all-time battery test results chart where you can also find all phones we've tested.
There's no apparent reason for these results as both handsets share the same hardware and software. Sure, there's a difference in the display panels (one is 165Hz, and the other one is 120Hz), but the inconsistencies are across all tests, including the 3G talk time. The two devices scored the same 25h talk time too.
This leads us to believe that there's a software issue that, once fixed, should have the standby battery drain sorted out and potentially improve the screen-on tests as well. At least the video playback test returned a solid 15h score.
Charging speed
The Red Magic 7 Pro charges faster than its more affordable sibling, even though it carries a bigger battery. The 5,000 mAh unit was able to charge from 0 to 100% in just 28 minutes using the same 65W Power Delivery 3.0 charger the other phone uses. The vanilla version of the device has a 4,500 mAh battery and charges 10 minutes slower.
30min charging test (from 0%)
Higher is better
ZTE nubia Red Magic 7 Pro
100%
iQOO 9 Pro
100%
ZTE nubia Red Magic 7
99%
OnePlus 10 Pro
98%
nubia Red Magic 6S Pro (66W)
75%
Asus ROG Phone 5s Pro
71%
Asus ROG Phone 5
70%
nubia Red Magic 6
63%
nubia Red Magic 6R
62%
nubia Red Magic 6S Pro (30W)
49%
Time to full charge (from 0%)
Lower is better
iQOO 9 Pro
0:21h
ZTE nubia Red Magic 7 Pro
0:28h
OnePlus 10 Pro
0:32h
ZTE nubia Red Magic 7
0:38h
nubia Red Magic 6S Pro (66W)
0:53h
nubia Red Magic 6R
0:58h
nubia Red Magic 6
1:01h
Asus ROG Phone 5s Pro
1:03h
Asus ROG Phone 5
1:05h
nubia Red Magic 6S Pro (30W)
1:50h
As before, running the cooling fan during charging didn't change the final result; it only barely reduced the surface temperatures.
Speakers
The non-Pro model features a standard stereo loudspeaker setup with the earpiece doubling as a secondary loudspeaker, whereas the Pro version has two dedicated speakers placed on the bottom and top of the side frame. The main advantage of such a setup is balance, but we can't say that this implementation is well-balanced. In fact, the left (top) speaker sounds borderline muffled while the right one (bottom) contributes to the overall loudness the most. Speaking of which, the -22.6 LUFS score is enough for an "Excellent" score in loudness, and it's also good enough to put it among the loudest devices on the market.
Sadly, in addition to imbalanced sound, the highs and mids start to "ring" at higher volumes. Distortion is apparent, so for optimal sound quality, we suggest keeping the volume a few clicks away from the maximum. Bass and overall fullness are great, though, throughout all volume levels.
Use the Playback controls to listen to the phone sample recordings (best use headphones). We measure the average loudness of the speakers in LUFS. A lower absolute value means a louder sound. A look at the frequency response chart will tell you how far off the ideal "0db" flat line is the reproduction of the bass, treble, and mid frequencies. You can add more phones to compare how they differ. The scores and ratings are not comparable with our older loudspeaker test. Learn more about how we test here.