Display
The nubia Red Magic 6R packs a 6.67" AMOLED screen of extended 1080p resolution. It supports 10-bit color and can display up to 1 billion colors; there is 144Hz refresh rate available, 360Hz touch sensing, and HDR10+ certification.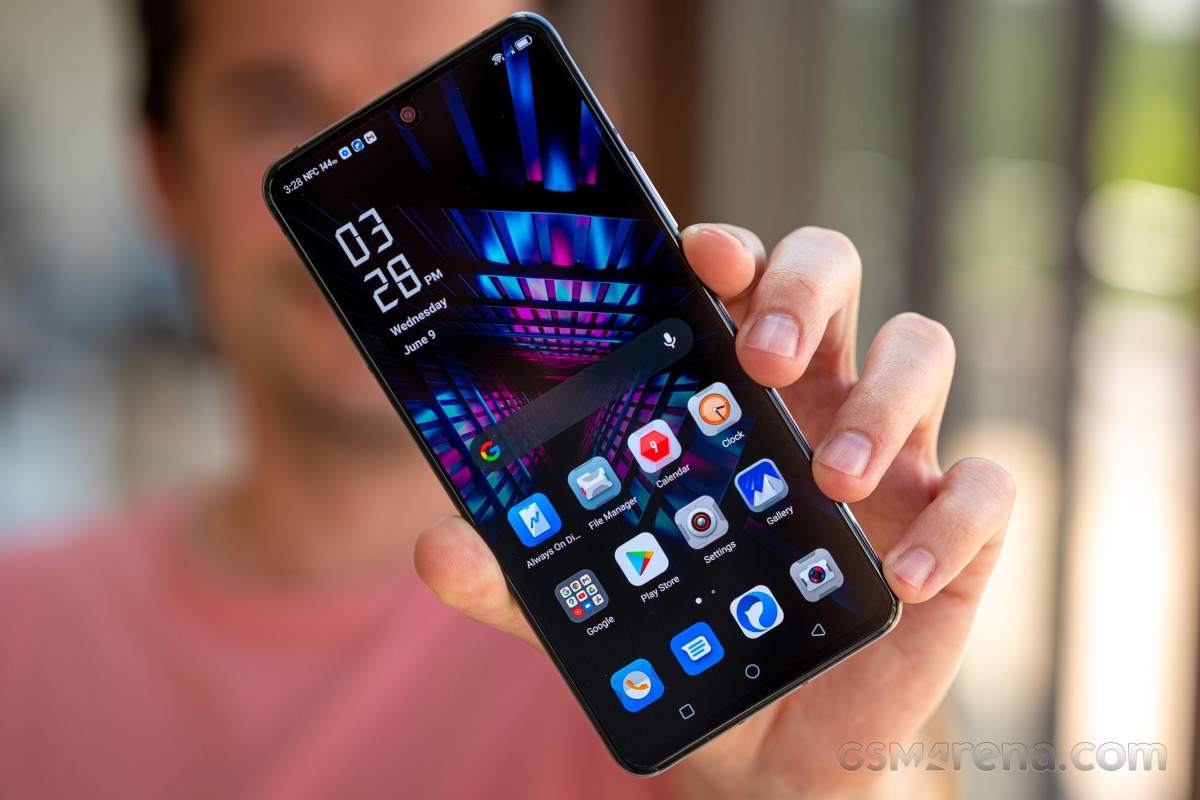 The AMOLED panel is THE key feature of the Red Magic 6R, and rightfully so - it is one of the fastest screens on the market by having 144Hz refresh rate support. Sure, it's not as fast as the Red Magic 6's 165Hz panel, but we doubt you'd be able to spot the difference.
Anyway, the screen has 2,400 x 1,080 pixels or 395ppi, the aspect ratio is 20:9, and it is protected by a piece of Gorilla Glass 3.
The touch panel is sensing with 360Hz sampling rate, making for incredibly low touch lag and great responsiveness when it comes to gaming.
Finally, the display has 100% DCI-P3 coverage, while its brightness control is supposed to support up to 4,096 levels. The promised peak brightness is 770 nits - not the highest among the flagships - but this peak number often means nothing.
So, we did our usual brightness measurements, and we captured a maximum brightness of 439 nits when working with the manual mode. If you are using Auto and expose the phone to bright light, the screen can light up as high as 588 nits making it bright enough to be used outdoors hassle-free.
The minimum brightness we captured at point white was 4 nits - good enough for reading at night.
Display test
100% brightness
Black,cd/m2
White,cd/m2
Contrast ratio
nubia Red Magic 6R
0
439
∞
nubia Red Magic 6R (Max Auto)
0
588
∞
nubia Red Magic 6
0
444
∞
nubia Red Magic 5G
0
483
∞
nubia Red Magic 5G (Max Auto)
0
685
∞
nubia Red Magic 5S
0
459
∞
nubia Red Magic 5S (Max Auto)
0
459
∞
Xiaomi Black Shark 4
0
498
∞
Xiaomi Black Shark 4 (Max Auto)
0
694
∞
Asus ROG Phone 5
0
492
∞
Asus ROG Phone 5 (Max Auto)
0
806
∞
Apple iPhone 12
0
639
∞
Apple iPhone 12 Pro
0
802
∞
Samsung Galaxy S21 5G
0
416
∞
Samsung Galaxy S21 5G (Max Auto)
0
856
∞
Xiaomi Mi 11
0
498
∞
Xiaomi Mi 11 (Max Auto)
0
926
∞
Poco F3
0
511
∞
Poco F3 (Max Auto)
0
716
∞
The Red Magic 6R offers three predefined Color presets - Normal, Vivid, Natural - each representing a specific color space. 'Normal' displays DCI-P3 content, 'Vivid' (default) also covers DCI-P3 but has more saturated red and blue hues, while 'Natural' aims for the sRGB gamut.
You can also choose the color temperature - Default (Neutral), Warm, Cool, or Customize it by your liking.
All three color modes - Normal, Vivid and Natural - are fairly accurate to their corresponding color spaces. They all have bluish whites and grays, with over-saturated blue and/or red hues. Using the Warm Color Temperature may reduce this blue effect by a tiny bit.
Now, let's talk about the refresh rate. The display offers a choice of 60Hz, 90Hz, 120Hz, and 144Hz refresh rates. You may opt for showing the said number on the status bar. There is no Adaptive setting, but as it turned out - these modes are somewhat adaptive.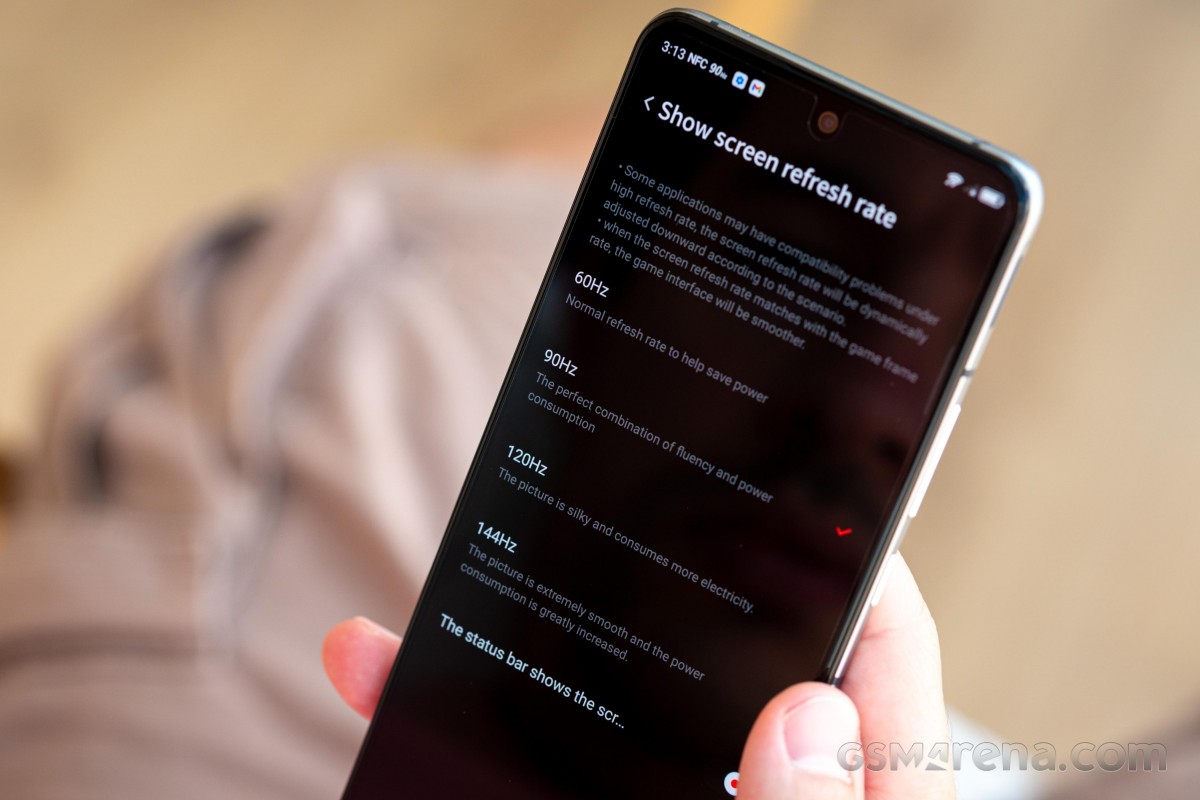 No matter which high refresh rate option you choose - 90Hz, 120BHz or 144Hz - the screen will often default to 90Hz. UI navigation is always done at the chosen speed even when not moving, but most apps, including the system ones like Gallery, revert to 90Hz.
Video playback is even messier - Netflix uses your default setting, Amazon Prime always shows at 90Hz, while YouTube and the local video player always work at 60Hz. Go figure!
The HRR implementation needs more work, for sure. Static picture should be 60Hz and not 90/120/144Hz. And apps that allow higher than 90Hz should be allowed to go there. Note that games with an unlocked refresh rate will reach 120Hz or 144Hz, so don't worry about that.
We hope nubia work better on the HRR settings and improve them with its next firmware update.
Finally, we ran DRMInfo, and it recognizes the screen as HDR10+. There is Widevine L1 DRM, too, meaning all streaming apps should be able to serve the highest quality possible.
Well, none of them does - while they do see Widevile L1 DRM as present, they can't read the screen as HD, let alone HDR. We guess it's a matter of adding support for the specific phone and we hope the Red Magic 6R gets it soon enough.
Battery life
The nubia Red Magic 6R is powered by a 4,200mAh battery - a reasonable capacity for the 6.67" display and the flagship Snapdragon 888 chipset. That's about 15% less than the Red Magic 6's 5050mAh battery.
As the Red Magic 6R, just like RM6, does not offer true adaptive refresh rate, our battery testing set up included web browsing at 90Hz and local video playback at 60Hz, which is about what you can expect to experience when using the phone in real life too.
So, the Red Magic 6R posted good numbers on the three standalone battery tests. The 6R can last north of 31 hours in 3G calls, 10 and a half hours on web browsing, and nearly 13 hours when playing local videos. That's 2 hours less in calls and web compared to the original RM 6, and 5 hours drop in video time. The standby performance is average on both devices.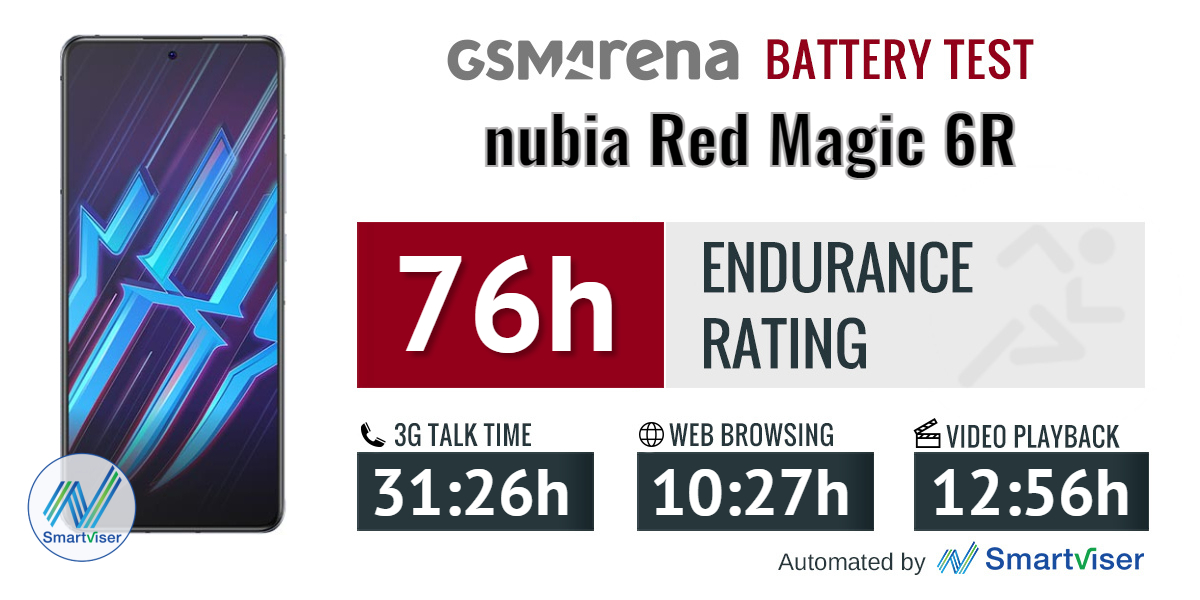 Our battery tests were automated thanks to SmartViser, using its viSerDevice app. The endurance rating denotes how long the battery charge will last you if you use the device for an hour of telephony, web browsing, and video playback daily. More details can be found here.
All test results shown are achieved under the highest screen refresh rate mode. You can adjust the endurance rating formula manually so it matches better your own usage in our all-time battery test results chart where you can also find all phones we've tested.
Charging speed
The global unit of the Red Magic 6R ships with a 30W power adapter, just like the international version of the Red Magic 6.
Interestingly, in the Chinese market, the Red Magic 6R comes with a 55W adapter, a slight downgrade from the Red Magic 6's 66W charger.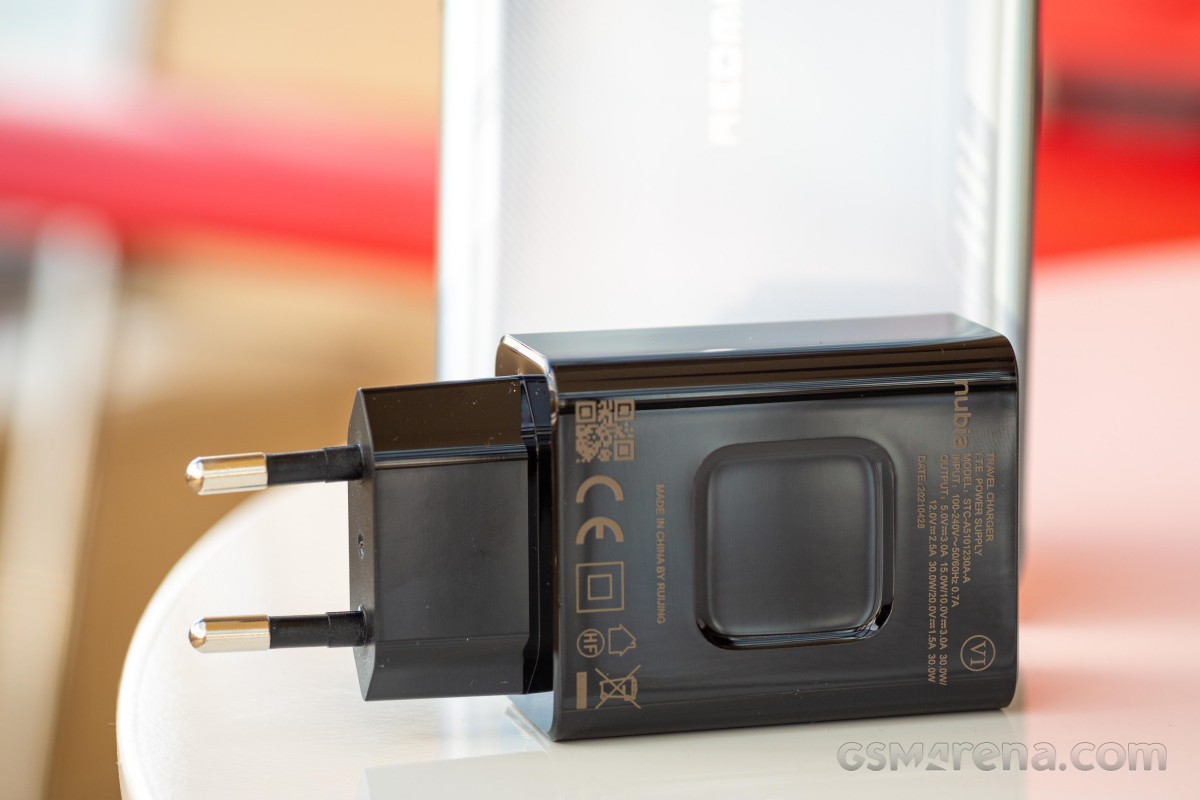 But back to the supplied 30W charger. It uses USB-PD charging, and it will take the phone from 0% to 62% in 30 minutes. Not bad at all!
30min charging test (from 0%)
Higher is better
Xiaomi Black Shark 4
100%
Xiaomi Mi 11 Ultra
89%
nubia Red Magic 5S (55W)
87%
Xiaomi Mi 11
83%
Asus ROG Phone 5
70%
Poco F3
67%
nubia Red Magic 6
63%
nubia Red Magic 6R
62%
Apple iPhone 12
58%
Asus ROG Phone 3
43%
Samsung Galaxy S21 5G
40%
nubia Red Magic 3s
35%
nubia Red Magic 5S (18W bundled)
33%
A full charge requires 58 mins - that's also reasonably fast.
Time to full charge (from 0%)
Lower is better
Xiaomi Black Shark 4
0:19h
Xiaomi Mi 11 Ultra
0:37h
nubia Red Magic 5S (55W)
0:39h
Xiaomi Mi 11
0:50h
Poco F3
0:56h
nubia Red Magic 6R
0:58h
nubia Red Magic 6
1:01h
Asus ROG Phone 5
1:05h
Samsung Galaxy S21 5G
1:25h
Apple iPhone 12
1:30h
Asus ROG Phone 3
1:50h
The Red Magic 6R does not support wireless or reverse charging. But it has a new feature called Charge Separation - when you play a game, you can hook the phone to the charger and bypass the battery. Charge Separation is a Game Space feature, which draws just enough charge to keep the handset running without charging the battery. What you gain with this is less heat generated within the device, which may be crucial for performance.
Speaker
The nubia Red Magic 6R has only one speaker, and it's at the bottom. The Red Magic 6 had a stereo speaker setup, and we are disappointed it didn't make it on the 6R as well.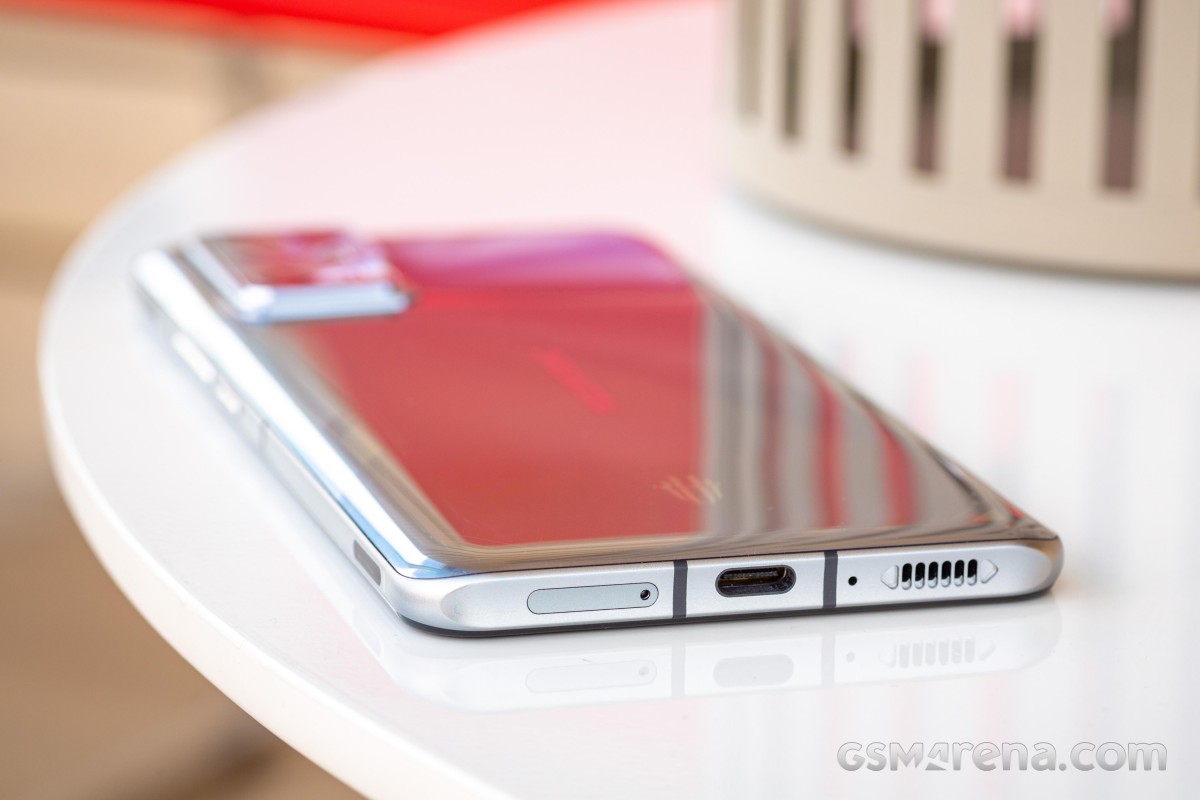 The single speaker on the Red Magic 6R scored a Good mark in our loudness test. Unfortunately, the good news ends here. The audio quality is subpar, with mostly mid-tones, poor high notes, and non-existent bass.
Use the Playback controls to listen to the phone sample recordings (best use headphones). We measure the average loudness of the speakers in LUFS. A lower absolute value means a louder sound. A look at the frequency response chart will tell you how far off the ideal "0db" flat line is the reproduction of the bass, treble, and mid frequencies. You can add more phones to compare how they differ. The scores and ratings are not comparable with our older loudspeaker test. Learn more about how we test here.