Smooth 90Hz OLED
The display is undoubtedly a corner stone for any smartphone. Even more so one that has gaming ambitions. One surefire way to improve the gaming experience on any device is to add a high refresh rate screen . And gaming smartphones are no stranger to ramping up Hz numbers. The Red Magic 3 is no exception with its 90Hz OLED.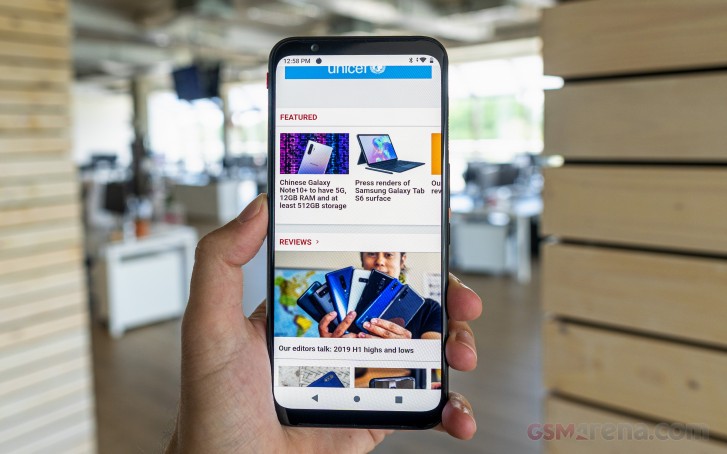 If you are making the jump from most every other 60Hz phone to the Red Magic 3 you will definitely feel the difference and probably never want to go back. And if this just happens to be your first taste of high-refresh rate display tech overall, the initial "wow" factor really is something else. That being said, however, we can't help but bring up the new Asus ROG Phone II and buttery-smooth 120Hz OLED panel. A number previously only attainable by the IGZO IPS panels, courtesy of Sharp, which have more than a few caveats.
Display test
100% brightness
Black, cd/m2
White, cd/m2
Contrast ratio
Samsung Galaxy S10+ (Max Auto)
0
793
∞
Sony Xperia 1 (Max Auto)
0
665
∞
Xiaomi Mi 9T (Max Auto)
0
646
∞
Huawei P30 Pro (Max Auto)
0
605
∞
Huawei P30 Pro
0
571
∞
Asus Zenfone 6 ZS630KL (Max Auto)
0.399
455
1140
Xiaomi Mi 9T
0
449
∞
Black Shark 2
0
428
∞
Asus Zenfone 6 ZS630KL
0.353
424
1201
Sony Xperia 1
0
391
∞
Samsung Galaxy S10+
0
385
∞
ZTE nubia Red Magic 3
0
377
∞
However, this is not to say that the Red Magic 3 display lacks some issues of its own. First off, there is the matter of maximum brightness. This is a tricky bit, since we had to flash the ROM of our review unit more than once before we started getting believable performance results. During that process, we found out that nubia decided to cap the brightness quite low with the latest Global software version. In its current state the Red Magic 3 only tops out at 377 nits, with no max auto mode. This is pretty low, but apparently by design since we did manage around 450 nits on a previous version of the OS, which unfortunately suffered from other issues. As far as reasoning behind such a step goes, the best we could think of is battery endurance concerns.
In any case, whatever the reason, the end result is a pretty dim panel particularly hard to use outdoors. And speaking of battery life, the extra 30Hz refresh rate of the panel over the standard 60Hz could, potentially, chew through some extra juice. Practical evidence from our past review experience suggests that the difference really isn't all that big and that the benefits of 90HZ definitely outweigh any downsides. However, if we decide to write off the lowered maximum brightness cap on ZTE's end as a battery saving measure, it is kind of weird that the phone ships with its UI set at a 90fps mode by default. The worse part, however, is that there is no system-wide option in the settings menu to switch over to 60Hz.
YES, you read that correctly, you are stuck at 90Hz whether you like it or not. The only way to switch down to 60Hz is via the Game Space 2.0 launcher and its dedicated settings menu. Apparently, ZTE considers this an imperfect battery-saving measure? Regardless, we fee like not offering the option to select refresh rate system-wide is a major oversight.
Color accuracy is not particularly great either. There are two color modes to choose between - Natural and Colorful. Both leave you with a max deltaE of about 9.7 in the white or grey colors and an average deltaE of 4.5 in natural and 6.7 in colorful mode. Not the worst as far as pure numbers go, but definitely not great either.
The way the nubia Red Magic 3 distorts the whites and greys, in particular, is rather odd, sucking away most of the green from them. This leaves a very distinct pink tint in the colors, almost resembling skin tones. Weird. In any case, out of the two possible options you want to go with Colorful mode since at least it doesn't kill the blue and red altogether as Natural does. It is worth noting that nubia advertises HDR support for the panel. However, there is no info on exact formats the phone might support (HDR 10, Dolby Vision). Also, neither the Netflix app or the Amazon Prime Video app offered HDR quality on our review unit.
Battery life
The nubia Red Magic 3 packs a pretty hefty 5,000 mAh battery pack. Between its flagship internals, high refresh rate display and all the added LEDs and the active cooling fan, it is likely going to need every bit of that power as well. It is worth noting, right off the bat, that running this particular OLED at 90Hz, versus a more standard 60Hz does not really affect power draw in itself. This could, however, lead to more circumstantial drain if you find yourself having to stress the CPU and GPU mode to deliver extra frames beyond 60fps. The point is that just like with other 90Hz OLED panel's we've tested in the past, the effect of increased refresh rate on our battery test is negligible. That being said we did set out with the intention to test the Red Magic 3 in both modes. Unfortunately, forcing 60Hz system-wide turned out to be impossible. You can read more on that issue in the Software section.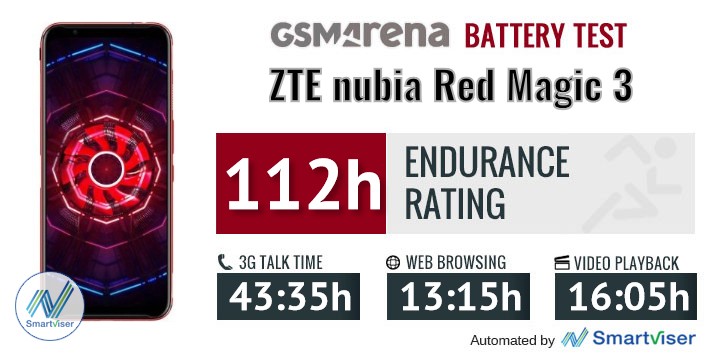 Our battery tests were automated thanks to SmartViser, using its viSerDevice app. The endurance rating above denotes how long a single battery charge will last you if you use the ZTE nubia Red Magic 3 for an hour each of telephony, web browsing, and video playback daily. We've established this usage pattern so that our battery results are comparable across devices in the most common day-to-day tasks. The battery testing procedure is described in detail in case you're interested in the nitty-gritty. You can check out our complete battery test table, where you can see how all of the smartphones we've tested will compare under your own typical use.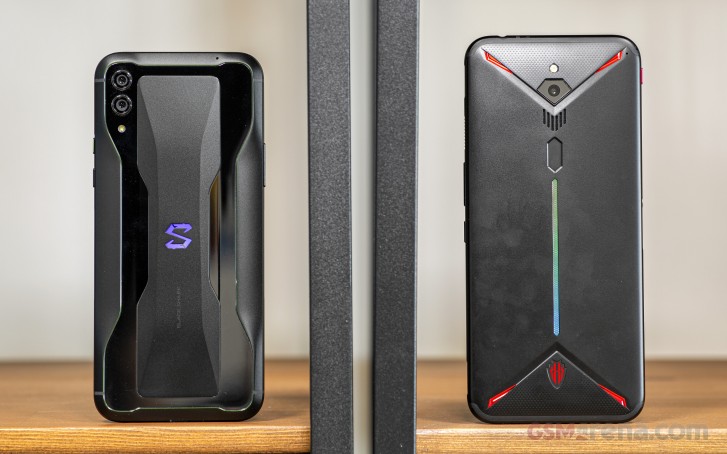 But stuck at 90Hz or not, the Red Magic 3 still managed to pull a very solid 112 hour endurance rating in our proprietary test. Both standby and call time get a solid boost from the efficient X24 LTE modem, paired with the massive 5,000 mAh battery pack. As for the two on-screen tests, we can kind of see the battery drain effect we mentioned earlier in action. Since our test video is a 30fps clip its strain on the video decoder is not affected in any way by a difference in screen refresh rate. The web browser, on the other hand, can take advantage of the increased 90Hz refresh, which does lead to a bit more strain on the CPU and GPU for calculating things like animations, transitions and especially scrolling at more than a 60fps rate. Still, this is an excellent all-round showing from the Red Magic 3.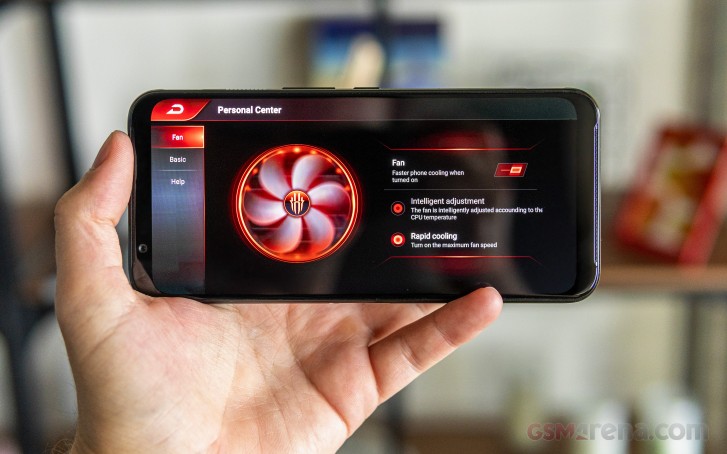 Left: Xiaomi Black Shark 2, Right: ZTE nubia Red Magic 3
But what about all that extra RGB on the back and the active cooling fan. These must suck up quite a lot of juice? Well, we did our best to quantify the extra power draw these add. It's a complicated thing to measure since any figure we provide need context, like the current power draw of the rest of the phone's hardware, the speed of the fan or the intensity, frequency and even color of the lights. The figures we came up with put the extra draw of the LED RGB strip at around 25% more than the phone's regular power consumption while idling. Running the fan at full blast in idle increased power consumption by about 18%. Under full load, the extra dent these two make is much less severe proportional to the overall heavy power draw and works out somewhere in the neighborhood of 9% for the RGB and 5% for the fan. The latter is definitely a worthwhile investment in our book for a more comfortable and smooth gaming experience.
Last, but not least, on the topic of charging the Red Magic 3 supports QC4+, but never actually managed to climb above 18W in our tests. Again, just like the video out situation, this might be a software issue. It could also have to to with the fact that our unit can only negotiate a USB 2.0 connection via its Type-C port, while the official specs do mention USB 3.0. Then there is the other messy bit regarding the bundled charger, which some reports say is a 27W Type-C to Type-C unit, while others have gotten a 26W Type-A to Type-C one. In any case, our review unit can only charge at a rate of 18W.
Loudspeaker
The nubia Red Magic 3 is rocking a set of impressively good speakers. These are tucked away nicely in the chin and forehead, surrounding the display - a prime location for both media consumption and gaming.
| | | | | |
| --- | --- | --- | --- | --- |
| Speakerphone test | Voice, dB | Pink noise/ Music, dB | Ringing phone, dB | Overall score |
| OnePlus 7 | 68.1 | 73.1 | 82.2 | Very Good |
| Black Shark 2 | 67.7 | 73.6 | 82.9 | Very Good |
| Sony Xperia 1 | 69.8 | 74.5 | 81.0 | Very Good |
| Xiaomi Mi 9 | 70.1 | 74.2 | 81.6 | Very Good |
| ZTE nubia Red Magic 3 | 66.8 | 73.2 | 86.0 | Very Good |
| Xiaomi Mi 9T | 70.6 | 74.8 | 81.2 | Very Good |
| Samsung Galaxy S10+ | 74.4 | 74.2 | 83.6 | Excellent |
| Asus Zenfone 6 | 77.0 | 75.9 | 81.2 | Excellent |
| Huawei P30 Pro | 70.9 | 73.8 | 90.9 | Excellent |
| Asus ROG Phone | 79.0 | 77.5 | 84.9 | Excellent |
| Razer Phone 2 (Dolby dynamic) | 76.7 | 77.7 | 87.7 | Excellent |
| Razer Phone 2 | 78.2 | 78.8 | 86.9 | Excellent |
| OnePlus 7 Pro | 79.6 | 77.7 | 87.2 | Excellent |
These get pretty loud just barely missing the mark for an "Excellent" rating in our tests. That does, however, come par for the course with most stereo setups. The Red Magic 3 more than makes up with quality. The DTS:X enabled stereo setup has a surprisingly full sound stage to it. Perhaps just a bit too heavy on the bass. But we can only imagine that will go over well with most prospective buyers. Unfortunately, in yet another instance of poor software backing on nubia's part, there are no adjustments ore equalizers available. Bummer, since we really would have loved to tweak the sound profile just a bit for dialogue in movies, since the one you are stuck with leaves speech a bit muffled.
Audio quality
The nubia Red Magic 3 yielded rather puzzling results in our audio quality test. It was nicely loud both with an active external amplifier and with headphones and had some of the best stereo separation among all phones currently in the market.
Yet its frequency response showed a major bass boost in both tests, which we found no way to turn off. Perhaps this is another unfinished bit of the software, but either way, you can expect very bass-heavy audio reproduction with this one whether you like it or not. There's also some intermodulation distortion with headphones, but you are unlikely to detect that in real life.
It's hard to really make sense of this sort of performance, but the Red Magic 3 clearly has great potential, and if nubia manages to fix the permanent bass boost with an update it would be among the better performers out there.
| | | | | | | |
| --- | --- | --- | --- | --- | --- | --- |
| Test | Frequency response | Noise level | Dynamic range | THD | IMD + Noise | Stereo crosstalk |
| nubia Red Magic 3 | +2.38, -0.14 | -96.0 | 95.5 | 0.0009 | 0.0087 | -92.4 |
| nubia Red Magic 3 (headphones) | +2.40, -0.12 | -95.4 | 94.3 | 0.0014 | 0.203 | -81.7 |
| Xiaomi Black Shark 2 | +0.02, -0.02 | -90.7 | 92.5 | 0.0021 | 0.0076 | -93.4 |
| Xiaomi Black Shark 2 (headphones) | +0.20, -0.10 | -89.7 | 91.5 | 0.0054 | 0.198 | -64.3 |
| Asus ROG Phone | +3.31, -3.68 | -93.8 | 93.6 | 0.0015 | 0.013 | -62.5 |
| Asus ROG Phone (headphones) | +3.06, -3.96 | -93.8 | 93.7 | 0.0065 | 0.041 | -91.3 |
| OnePlus 7 Pro | +0.03, -0.01 | -93.0 | 92.6 | 0.0023 | 0.021 | -89.6 |
| OnePlus 7 Pro (headphones) | +0.10, -0.05 | -92.0 | 91.4 | 0.0034 | 0.106 | -74.8 |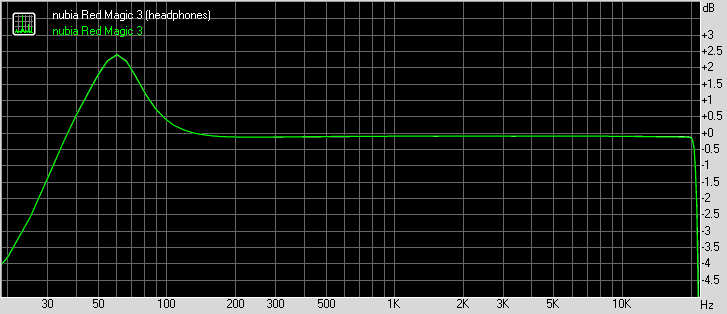 nubia Red Magic 3 frequency response
You can learn more about the tested parameters and the whole testing process here.