The nubia Pad 3D introduced last month at MWC, Barcelona is now up for pre-orders through ZTE's official website in 40+ countries of Europe, the Middle East, Asia Pacific, and Africa, with open sales commencing on April 11.
The Pad 3D comes in a single gray color and starts at $1,199/€1,299/£1,149. However, if you pre-book one, you'll get a discount of $100/€100/£100 and a free charger when purchasing the tablet.
The nubia Pad 3D is built around a 12.4" 120Hz 2,560x1,600-pixel LCD. It's a 3D lightfield display with support for real-time 2D to 3D conversion, which allows glasses-free 3D viewing.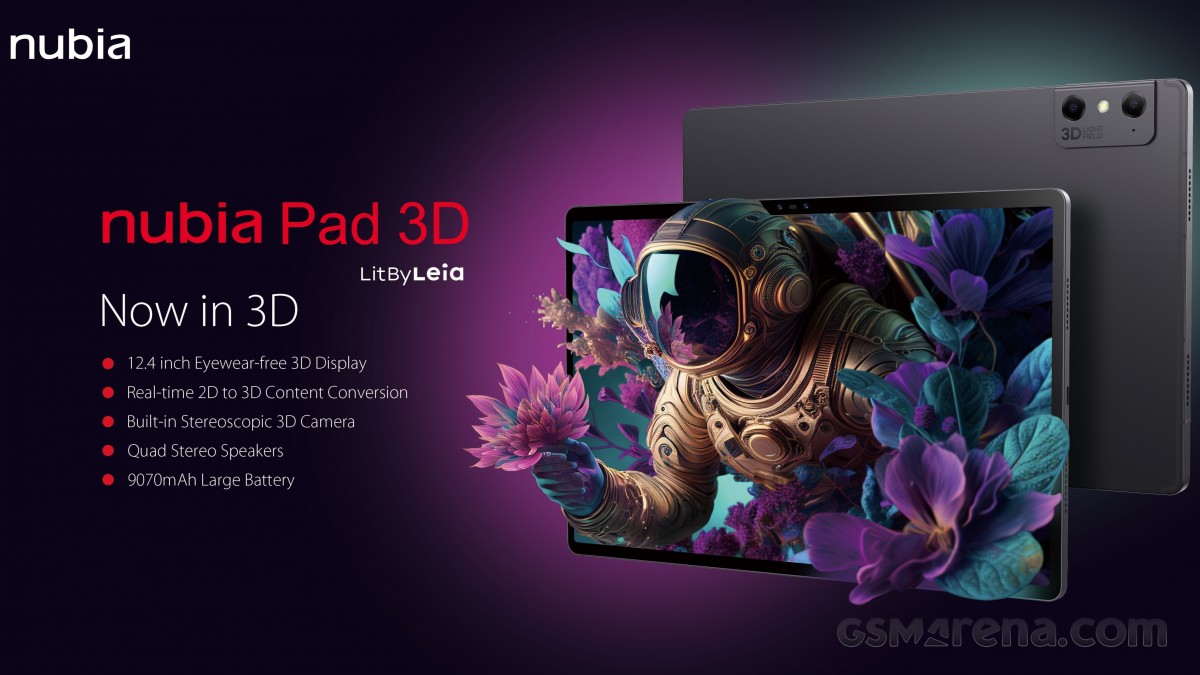 The nubia Pad 3D has the Snapdragon 888 SoC at the helm with 8GB RAM and up to 256GB storage. It runs Android 13 and packs a 9,070 mAh battery with 33W charging.
The tablet features four cameras - two each on the front (2x 8MP) and back (2x 16MP). The front cameras help you view 3D content without 3D glasses, while the rear cameras let you shoot photos and videos in 3D.
You can read our nubia Pad 3D's first impressions here to learn more about it.
I
Yeah 888 snapdragon is a good CPU
It's a shame the display is not OLED, even though there's this 3D feature. Don't get me wrong, 888 is a great cpu, but for 1300 bucks this doesn't really seem worthy. Can't say it's expensive, but still...
A
I think the illustrations are deceiving? I do old school red/blue 3D pictures and forward extending stuff can't extend past the frames edges. Otherwise, I Want One! Think I'll wait for the close out sale. ;-)
ADVERTISEMENT