MyOS on top of Android, both v.11
The Axon 30 Ultra 5G runs Android 11 with an in-house layer of MyOS, that at v.11 too. We don't get too many ZTEs for review, so the continuity between MyOS versions might escape us, but we did have the Axon 20 last December, and that will serve as a starting point. Perhaps the first thing of note, actually, is the name change - starting this spring, it's called MyOS, as opposed to the MiFavor of before.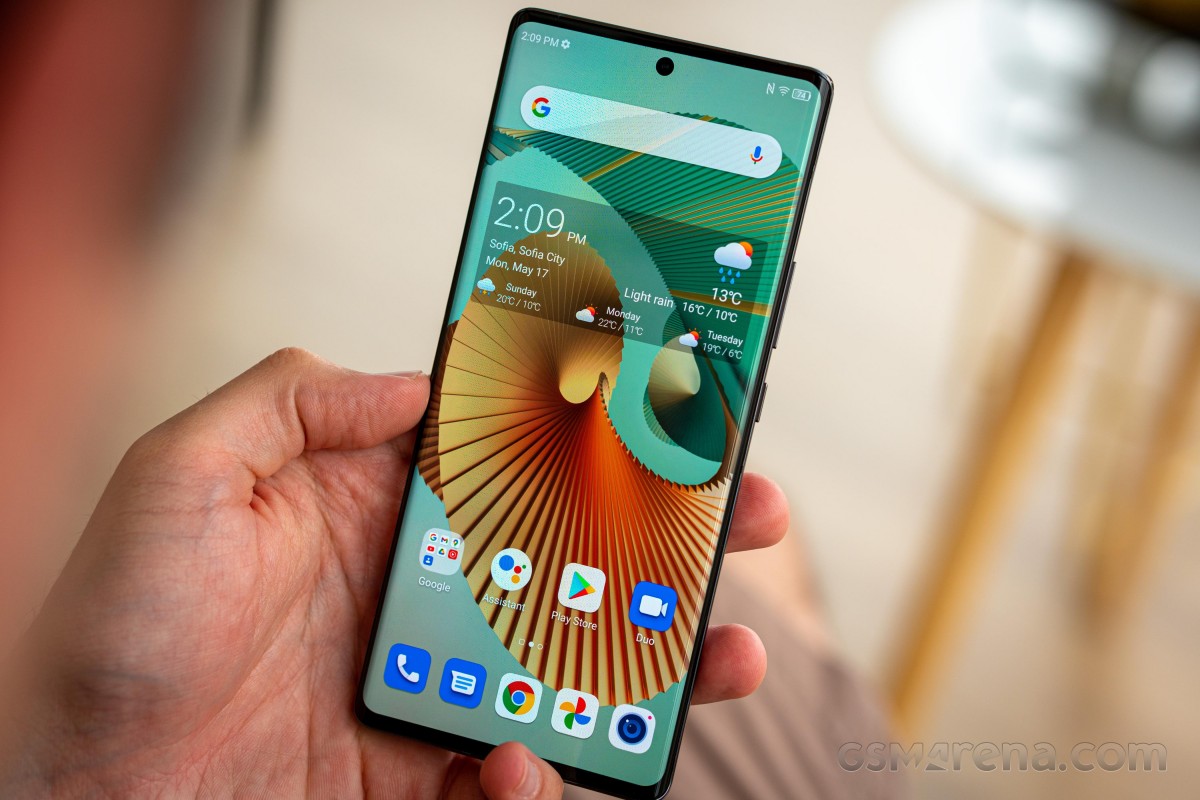 MyOS or MiFavor, the custom overlay aims to offer the relative simplicity of stock Android while giving it a somewhat ZTE-specific look in certain areas. That means mostly cosmetic skin-deep touches without messing with the principal functionality of things, an approach that's different to thoroughly overhauled UIs like OneUI or MIUI and one that shouldn't anger purists too much.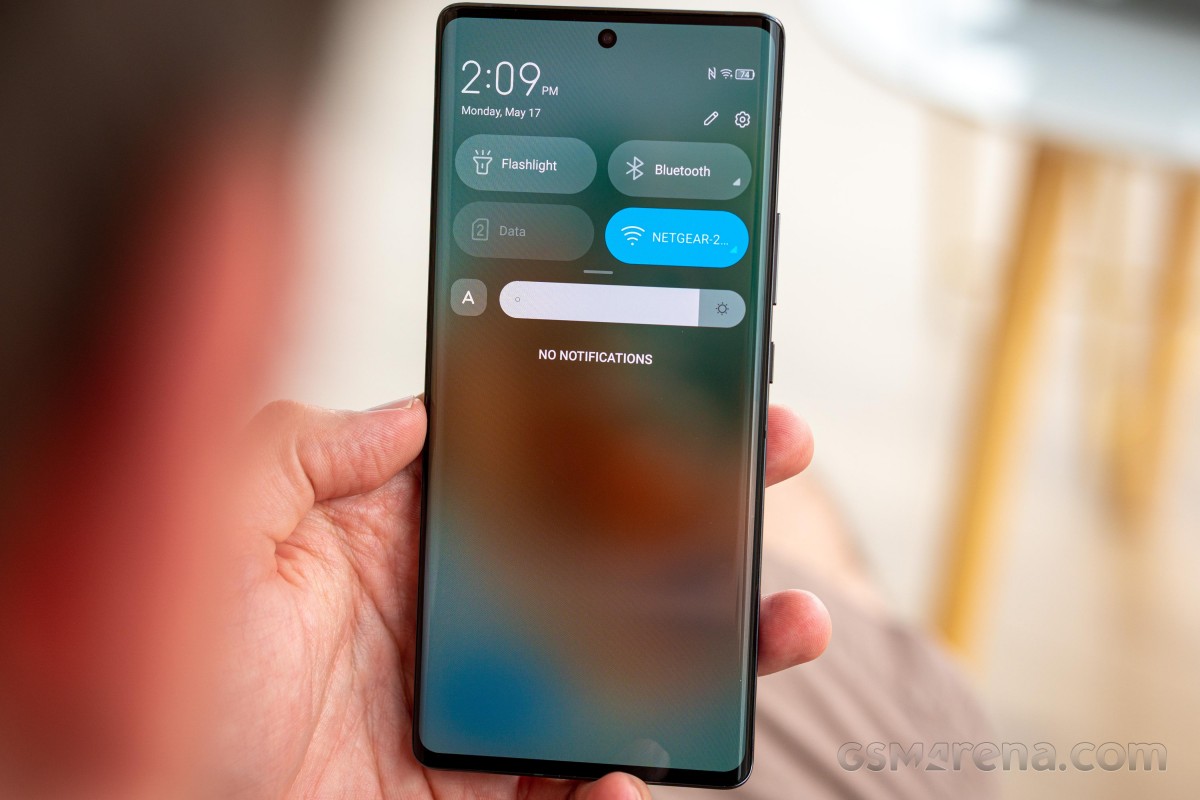 The most prominent ZTE interventions are in the quick toggles area, where the initial swipe will get you 4 large bubbles for Wi-Fi, Bluetooth, mobile data, and flashlight (of all things), plus a large brightness slider with an Auto toggle. You can't change the four bubbles, but you can rearrange the regular-sized toggles that appear on the second swipe.
The settings menu is also custom, with ZTE opting for their own iconography and colors and a menu system that's different from Google's but still entirely logical. The About screen is ZTE's own and is pretty nice.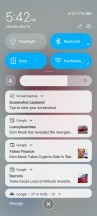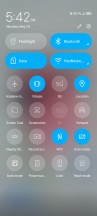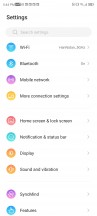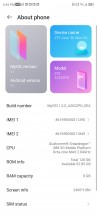 Quick toggles • Quick toggles • Settings • About screen
Going back to our usual 'chronological' overview of the UI, the Axon 30 Ultra has an Always-on display that can be set to show all the time, according to a schedule, or just for 10 seconds after a tap - standard stuff. You get a host of different clock styles which you can further customize. The fingerprint recognition animation is also customizable.
Fingerprint recognition is the obvious way for unlocking the Axon. It uses an optical sensor (as does every other phone, which isn't a Galaxy, where it's an ultrasonic one), and it worked without incident in our experience - quickly and virtually every time. It took a minor period of adjusting to the sensor's relatively high position up the display, but high is better than low, we reckon.
You can also set up face recognition as the sole authentication method or have it work in conjunction with the fingerprint reader - whichever works first. Of course, this being a simple 2D camera-only face recognition, it's less secure than the fingerprint option.
The lockscreen has a clock style setting of its own and offers standard functionality including a camera shortcut in the lower right corner. In the lower left, there's a pull-up tab of sort, which gives you shortcuts to the flashlight (again) and a voice recorder, but no dialer or a way to change these.
The homescreens are simple, and the leftmost pane is the Google feed which you can disable. You can choose whether to have all your apps on your homescreens or take the two-tiered approach with homescreens for shortcuts and an app drawer to keep all apps. The app drawer does none of that MIUI category sorting, nor is there a row of frequently used apps, but you can sort it by frequency of use.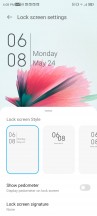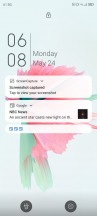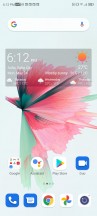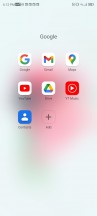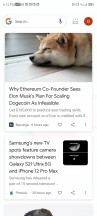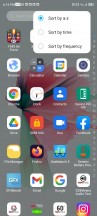 Lockscreen settings • Lockscreen shortcuts • Homescreen • Folder view • Google feed • App drawer
There's no theming support, so not much in the way of personalization in terms of fancy icon packs and such. Three simple dynamic wallpapers featuring the moon and three more with geometric shapes all the fancy homescreen goodness you can have.
The task switcher is nothing out of the ordinary, and neither is the notification shade (when it comes to the actual notification cards, that is). We couldn't find a way to access a supposedly native Android 11 feature, Notification history, an issue we ran into with a few of the latest Xiaomis.
There are few in-house apps on the Axon. Most key functionality is outsourced to Google's apps, including Photos, Contacts, and Messages. There is a custom File manager, an extra Browser, and a basic Private space area where you can keep sensitive photos or files, but that's about it.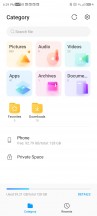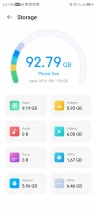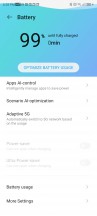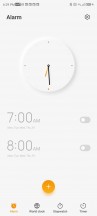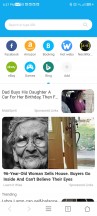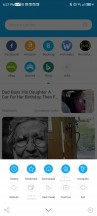 File manager • Storage settings • Battery settings • Clock *Browser
There is a fair number of proprietary 'features' in the Features menu in Settings. That includes the Z-POP arrow shortcut that gives you access to some actions from the sides, but we found that to clash with the back gesture for navigation, plus it feels like a fairly niche feature to begin with.
A standard set of gestures is available, including raise to wake, and flip to mute. There's also a double-shake to start the flashlight from the lockscreen, and that's the third way to access the flashlight so far. This one is kinda picky though, because it only works on the lockscreen - not on the always-on display and not with the phone already unlocked.
There's a mistouch prevention setting, too, if you're one to have trouble with the display's curved edges. There are three pre-set levels and a 0-10 slider but going too far to the right of that is counterproductive - it's almost enough to make the end keys in the keyboard inoperable. The 'Light' setting (which corresponds to a 0 on the slider) worked fine for this reviewer's palms.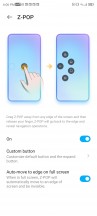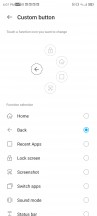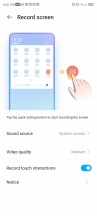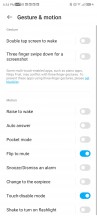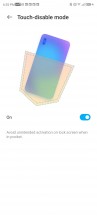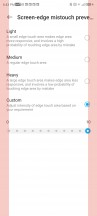 Z-POP • Z-POP settings • Screen recorder • Gestures • Pocket touch-disable • Mistouch prevention
Overall, ZTE's MyOS is reasonably full-featured (unless you insist on themes) while being light and straightforward. We can't really find major faults with it - in fact, it's quite likeable.
Synthetic benchmarks
It is, of course, the Snapdragon 888 that's the heart of the ZTE Axon Ultra 30 5G - it's only fitting for an 'Ultra' in 2021. Several storage/RAM options are available, ranging from our baseline review unit's 128GB/8GB all the way up to 1TB/16GB. Storage is UFS 3.1.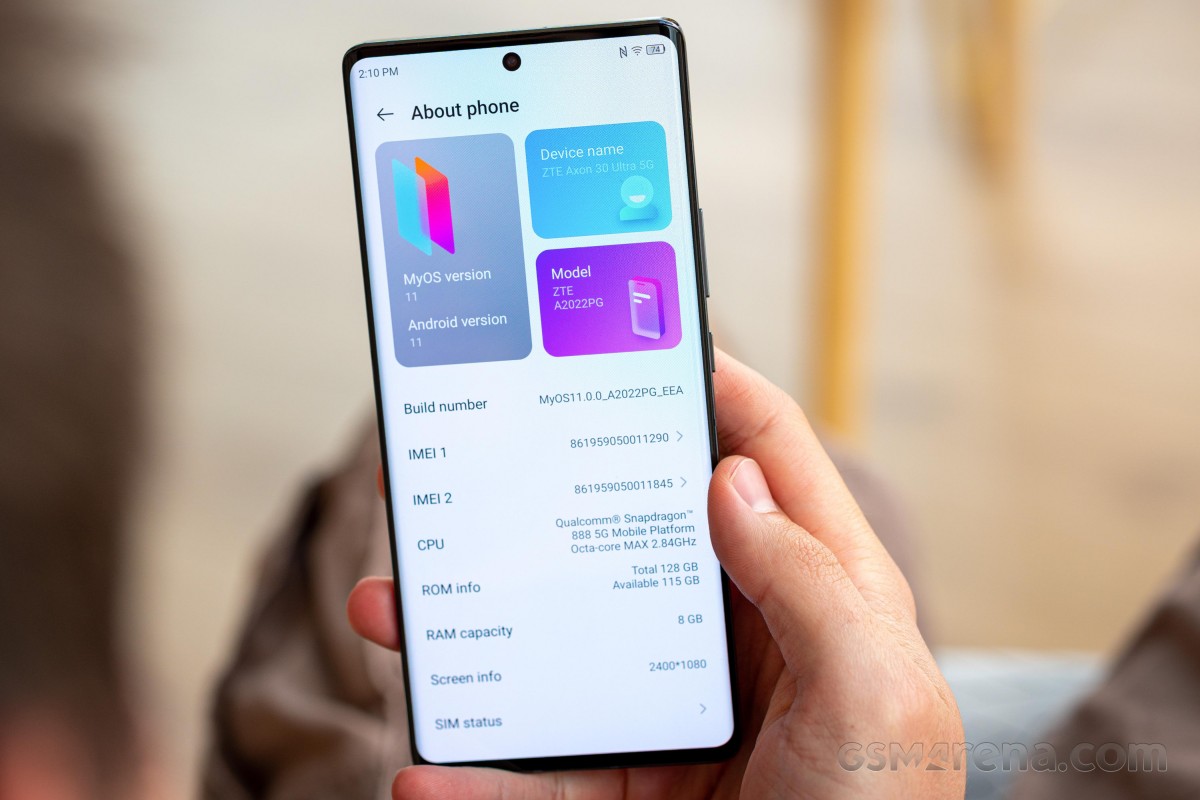 The SD888 is a regular on our benchmarking... bench, so we had a good idea of what to expect out of the ZTE. Indeed, it ran neck and neck with other similarly equipped current devices. CPU performance in GeekBench was average among what are essentially equals - the differences are small enough to be immaterial.
GeekBench 5 (multi-core)
Higher is better
vivo X60 Pro+
3749
Asus Zenfone 8 Flip
3673
Xiaomi Mi 11i
3641
OnePlus 9 Pro
3636
OnePlus 9
3629
Asus Zenfone 8
3604
ZTE Axon 30 Ultra 5G
3582
Xiaomi Mi 11
3489
Samsung Galaxy S21+ 5G
3476
Huawei Mate 40 Pro
3275
GeekBench 5 (single-core)
Higher is better
vivo X60 Pro+
1143
OnePlus 9
1129
OnePlus 9 Pro
1126
Asus Zenfone 8 Flip
1126
ZTE Axon 30 Ultra 5G
1124
Asus Zenfone 8
1118
Xiaomi Mi 11i
1114
Samsung Galaxy S21+ 5G
1091
Xiaomi Mi 11
1085
Huawei Mate 40 Pro
920
Things are broadly similar in Antutu, where the Axon's numbers are average or slightly above average for the hardware. Again, it's top-end silicon, and the 'average' here means some of the highest performance you can get out of a smartphone, and a 5% difference between these is irrelevant.
AnTuTu 8
Higher is better
vivo X60 Pro+
734811
OnePlus 9
715196
ZTE Axon 30 Ultra 5G
703270
OnePlus 9 Pro
691055
Xiaomi Mi 11i
690021
Asus Zenfone 8
676001
Asus Zenfone 8 Flip
675851
Xiaomi Mi 11
668722
Samsung Galaxy S21+ 5G
622276
Huawei Mate 40 Pro
531270
AnTuTu 9
Higher is better
vivo X60 Pro+
836826
ZTE Axon 30 Ultra 5G
804626
Asus Zenfone 8
799738
Asus Zenfone 8 Flip
797484
Xiaomi Mi 11i
779481
The differences between the SD888 competitors are next to non-existent in the graphics department if you ask 3DMark where only the Kirin 9000 in the Huawei Mate 40 Pro stands out.
3DMark Wild Life Vulkan 1.1 (offscreen 1440p)
Higher is better
Huawei Mate 40 Pro
6170
Samsung Galaxy S21+ 5G
5757
ZTE Axon 30 Ultra 5G
5714
OnePlus 9 Pro
5701
vivo X60 Pro+
5695
Asus Zenfone 8 Flip
5677
Xiaomi Mi 11
5673
OnePlus 9
5667
Asus Zenfone 8
5666
There's a bit more variation in the frame rates achieved in GFXBench, and the Axon is generally a few fps behind the pack in the onscreen tests while matching them in the raw offscreen performance.
GFX Manhattan ES 3.1 (offscreen 1080p)
Higher is better
OnePlus 9 Pro
119
OnePlus 9
119
vivo X60 Pro+
119
Asus Zenfone 8 Flip
118
ZTE Axon 30 Ultra 5G
118
Asus Zenfone 8
117
Xiaomi Mi 11
111
Samsung Galaxy S21+ 5G
111
Huawei Mate 40 Pro
97
GFX Manhattan ES 3.1 (onscreen)
Higher is better
vivo X60 Pro+
105
Asus Zenfone 8
105
Asus Zenfone 8 Flip
104
Samsung Galaxy S21+ 5G
100
ZTE Axon 30 Ultra 5G
93
Huawei Mate 40 Pro
64
OnePlus 9
60
Xiaomi Mi 11
57
OnePlus 9 Pro
57
GFX Car Chase ES 3.1 (offscreen 1080p)
Higher is better
vivo X60 Pro+
71
OnePlus 9 Pro
70
OnePlus 9
70
Asus Zenfone 8
69
Asus Zenfone 8 Flip
69
ZTE Axon 30 Ultra 5G
69
Xiaomi Mi 11
67
Samsung Galaxy S21+ 5G
66
Huawei Mate 40 Pro
56
GFX Car Chase ES 3.1 (onscreen)
Higher is better
vivo X60 Pro+
62
Asus Zenfone 8 Flip
62
Asus Zenfone 8
61
OnePlus 9
58
ZTE Axon 30 Ultra 5G
54
Samsung Galaxy S21+ 5G
54
OnePlus 9 Pro
36
Xiaomi Mi 11
33
Huawei Mate 40 Pro
25
GFX Aztek Vulkan High (onscreen)
Higher is better
Asus Zenfone 8
45
Asus Zenfone 8 Flip
45
vivo X60 Pro+
44
OnePlus 9
43
ZTE Axon 30 Ultra 5G
41
Samsung Galaxy S21+ 5G
37
OnePlus 9 Pro
27
Xiaomi Mi 11
24
Huawei Mate 40 Pro
17
GFX Aztek ES 3.1 High (onscreen)
Higher is better
vivo X60 Pro+
43
Samsung Galaxy S21+ 5G
43
Asus Zenfone 8
41
Asus Zenfone 8 Flip
41
OnePlus 9
40
ZTE Axon 30 Ultra 5G
39
Huawei Mate 40 Pro
26
OnePlus 9 Pro
24
Xiaomi Mi 11
22
The ZTE Axon 30 Ultra 5G delivers the performance expected of its hardware. Again, quite predictably, it tends to heat up and throttle under sustained load, and that too is well within the norm for the class.