144Hz 6.67" AMOLED display
The Axon is equipped with a 6.67-inch AMOLED display with a 1080x2400px resolution and a pixel density of 395ppi. While those numbers aren't overly impressive, the 144Hz refresh rate is more of a standout feature, and it's coupled with a 300Hz touch sampling rate.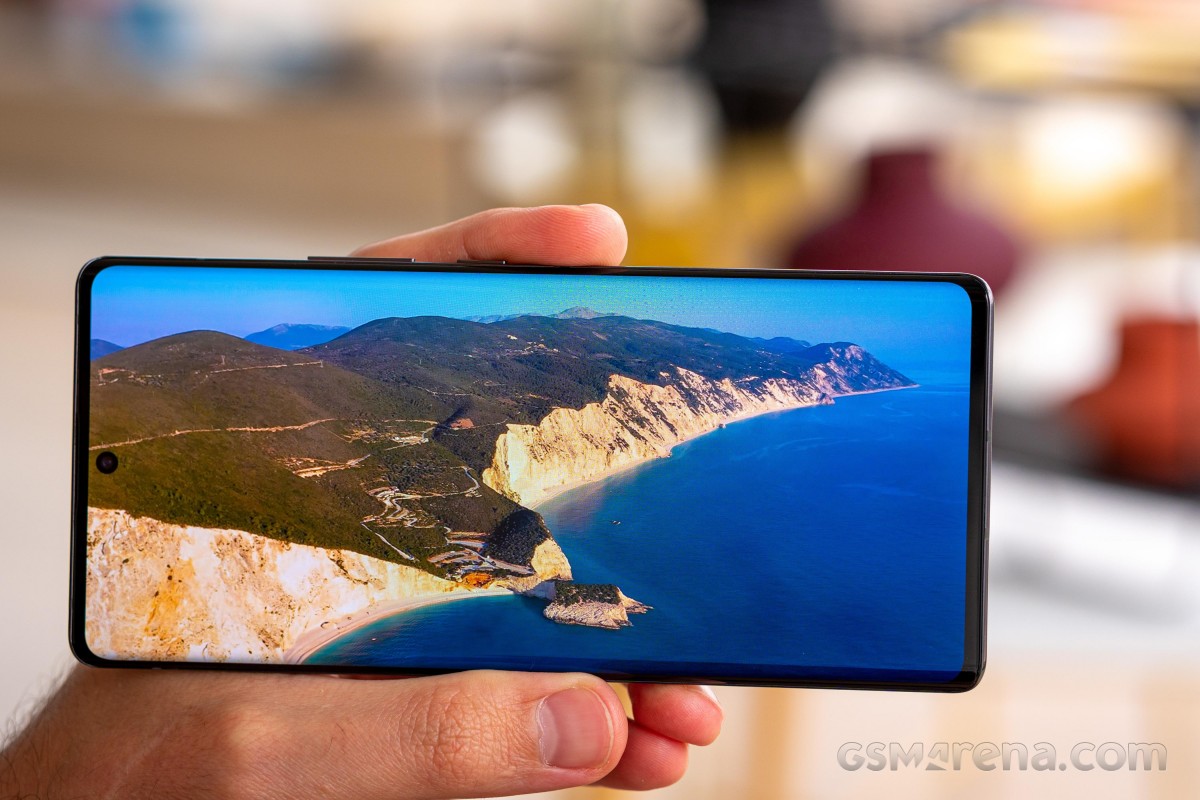 But before we get to more refresh rate specifics, some brightness measurements. When manually operating the slider, the Axon is good for 552nits, one of the highest manually attainable brightness readings we've seen. Conversely, the result we got under direct light with adaptive brightness enabled was the lowest we've gotten out of a high-end OLED display recently - 698nits isn't too shabby, but high 800s are fairly common now.
Display test
100% brightness
Black,cd/m2
White,cd/m2
Contrast ratio
ZTE Axon 30 Ultra 5G
0
552
∞
ZTE Axon 30 Ultra 5G (Max Auto)
0
698
∞
Asus Zenfone 8 Flip
0
518
∞
Asus Zenfone 8 Flip (Max Auto)
0
735
∞
Samsung Galaxy S21+ 5G
0
459
∞
Samsung Galaxy S21+ 5G (Max Auto)
0
883
∞
OnePlus 9 Pro
0
525
∞
OnePlus 9 Pro (Max Auto)
0.038
871
22921:1
OnePlus 9
0
450
∞
OnePlus 9 (Max Auto)
0
821
∞
vivo X60 Pro+
0
477
∞
vivo X60 Pro+ (Max Auto)
0
816
∞
Xiaomi Mi 11
0
498
∞
Xiaomi Mi 11 (Max Auto)
0
926
∞
Color reproduction on the Axon 30 Ultra is handled with a three-position mode selector, augmented with another three-position slider for temperature, and a color wheel for further tweaking.
The phone is in the Colorful profile by default, which covers a color gamut even wider than the DCI-P3 color space, delivering extra vivid output. A strong blue shift to whites and grays is more than noticeable.
The Standard profile targets DCI-P3 more closely, though it's not very accurate, and whites have a strong pink hue.
Soft mode covers a narrower color gamut, so we examined it against sRGB swatches, where, again, we didn't get very accurate results overall, but more importantly, white and grays were way off the mark and into the purple territory this time around.
If you're looking to get accurate colors out of the Axon 30 Ultra, you can. After some fiddling with the color wheel in Standard mode, we got an average dE2000 of 1.9 for our DCI-P3 test swatches with grays just under dE2000 of 3, which can be considered as quite color accurate.
The panel supports HDR10+, but at the time of reviewing, we only got HDR streams from YouTube - not on Amazon Prime Video and not on Netflix. Again, this could be due to pending certifications and could change over time. The phone supports Widevine L1, so it's not a matter of DRM limitations.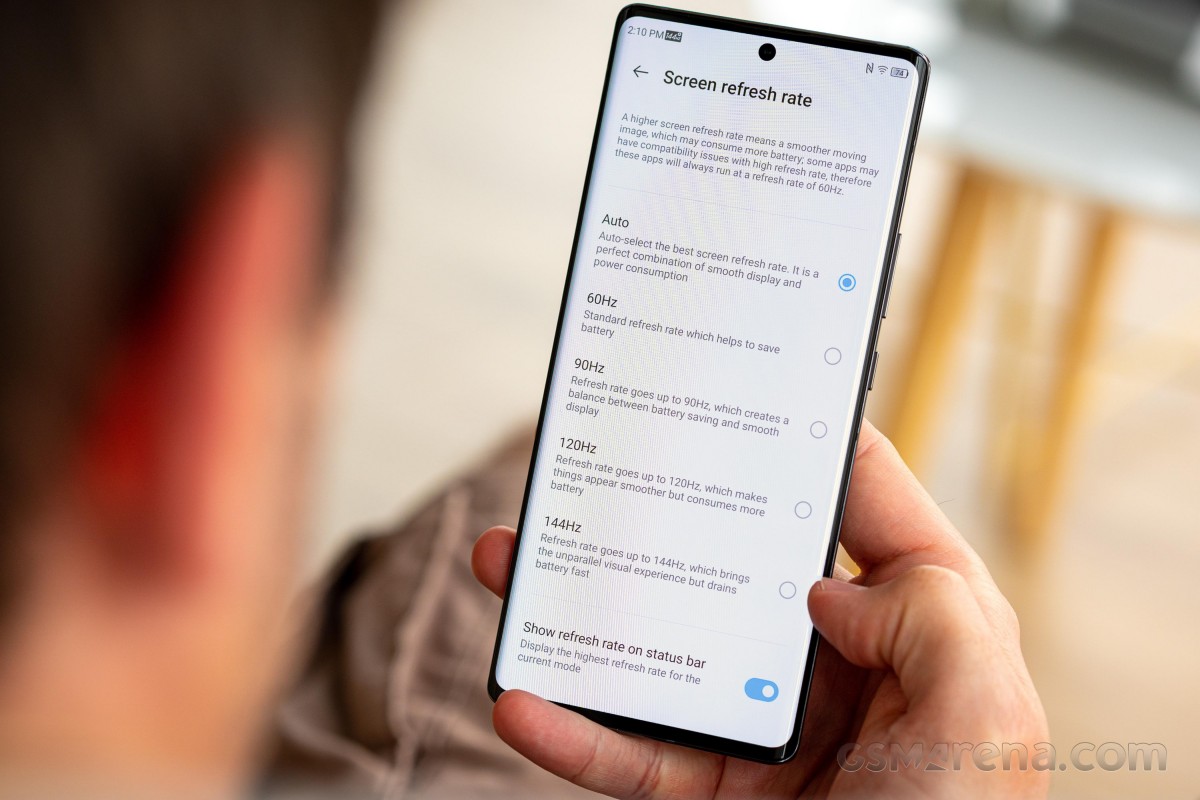 Ok, back to refresh rate. The Axon gives you 5 options in the refresh rate menu - 60, 90, 120, 144Hz and Auto. The Auto option, in our experience, locked the RR at 90Hz and kept it there - so not very Auto.
The 144Hz setting gets you that maximum RR in the settings menu and the rest of the UI, but it drops down to 120Hz when you launch an app.
120Hz is basically 120Hz everywhere, and the 90Hz and 60Hz settings maintain their respective nominal refresh rates as well. There was no drop to 60Hz for video playback apps.
The Android 11 tool for reporting RR didn't record any drops based on activity, but our very own app reported dips in refresh rate when there's no touch input registered for a few seconds.
There are certain situations where the phone will behave outside of the norm, of course. Launching the camera will have the phone switch to 60Hz regardless of what mode you have chosen in settings. The lockscreen, too, is kept at 60Hz, as is the always-on display.
When it comes to games, we saw the phone switch down to 60Hz for some titles we know for a fact support higher frame rates, though it did remain in 120Hz mode for other HRR capable games. We saw no 144Hz reading at any point in a game, however.
ZTE Axon 30 Ultra 5G battery life
The Axon draws power from a 4,600mAh battery and we won't blame you if you call that average capacity for the class. The Mi 11 stands at 4,600mAh, too, while the OnePlus 9/9Pro each has 4,500mAh cells. The vivo X60 Pro+ looks a bit underequipped with its 4,200mAh battery, while the Galaxy S21 and the Zenfone 8 Flip stand at the opposite end of the spectrum with 4,800mAh and 5,000mAh, respectively.
The Axon put out average numbers in our testing. It was good for 16 hours of offline video playback (with the display set to 60Hz), while Wi-Fi web browsing took almost 12 hours to kill it (at 120Hz). The Mi 11 does worse in both disciplines, while the OPs tend to be slightly better at web browsing, slightly worse at video playback. The Galaxy S21+ remains out of reach when it comes to these tests.
Similarly middle-of-the-chart results in voice calls and standby ultimately mean that the Axon's Endurance rating of 91h is, well, about average for the class.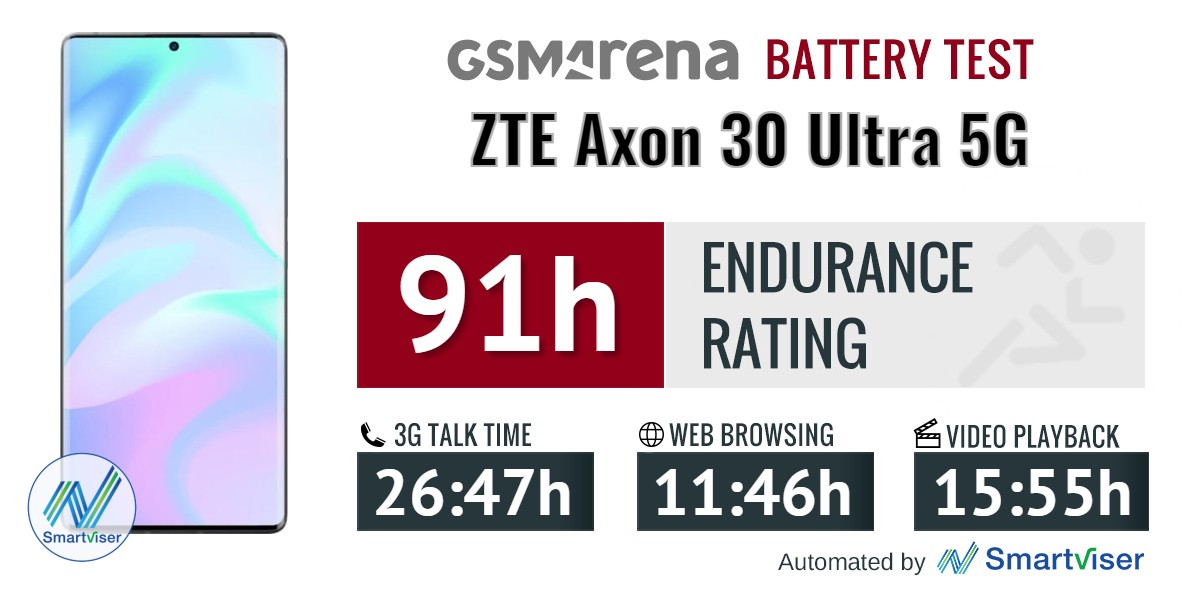 Our battery tests were automated thanks to SmartViser, using its viSerDevice app. The endurance rating denotes how long the battery charge will last you if you use the device for an hour of telephony, web browsing, and video playback daily. More details can be found here.
Video test carried out in 60Hz refresh rate mode. Web browsing test done at the display's highest refresh rate whenever possible. Refer to the respective reviews for specifics. To adjust the endurance rating formula to match your own usage - check out our all-time battery test results chart.
The Axon does provide a whole bunch of refresh rate modes, and it will sort of respect the settings for the activities we test. That is to say, if you have the phone in 144Hz or 120Hz mode, it will maintain the 120Hz refresh rate for web browsing, which is quite logical. It will, however, also maintain that 120Hz for video playback, which makes less sense, though it is, at least, an honest approach.
Video playback at 120Hz does drain the battery noticeably more quickly - we clocked 12:12h - compare that to the 60Hz result in the scorecard. Conversely, if you're in 60Hz mode when browsing the web, you'd be looking at 12:25h - insignificant saving compared to the 11:47h number in the scorecard, measured at 120Hz.
That's two-fold. On the one hand, it doesn't make much sense to switch the phone to 60Hz for the web browsing endurance gains. On the other, keeping the phone in one of the higher RR modes (to get the 120Hz in web browsing) will result in unnecessary battery drain in video playback. Since the Auto RR mode is essentially 'Always 90', you don't have a single mode to set the phone in and get 120Hz in web browsing and 60Hz for video playback.
Charging speed
The Axon is bundled with a 65W adapter that supports USB PowerDelivery 3.0 with PPS on top. It's compatible with a wide range of other hardware without needing proprietary cables or such, and it's one of the smallest 65W units we've seen. The included 6A cable is also a most welcome sight.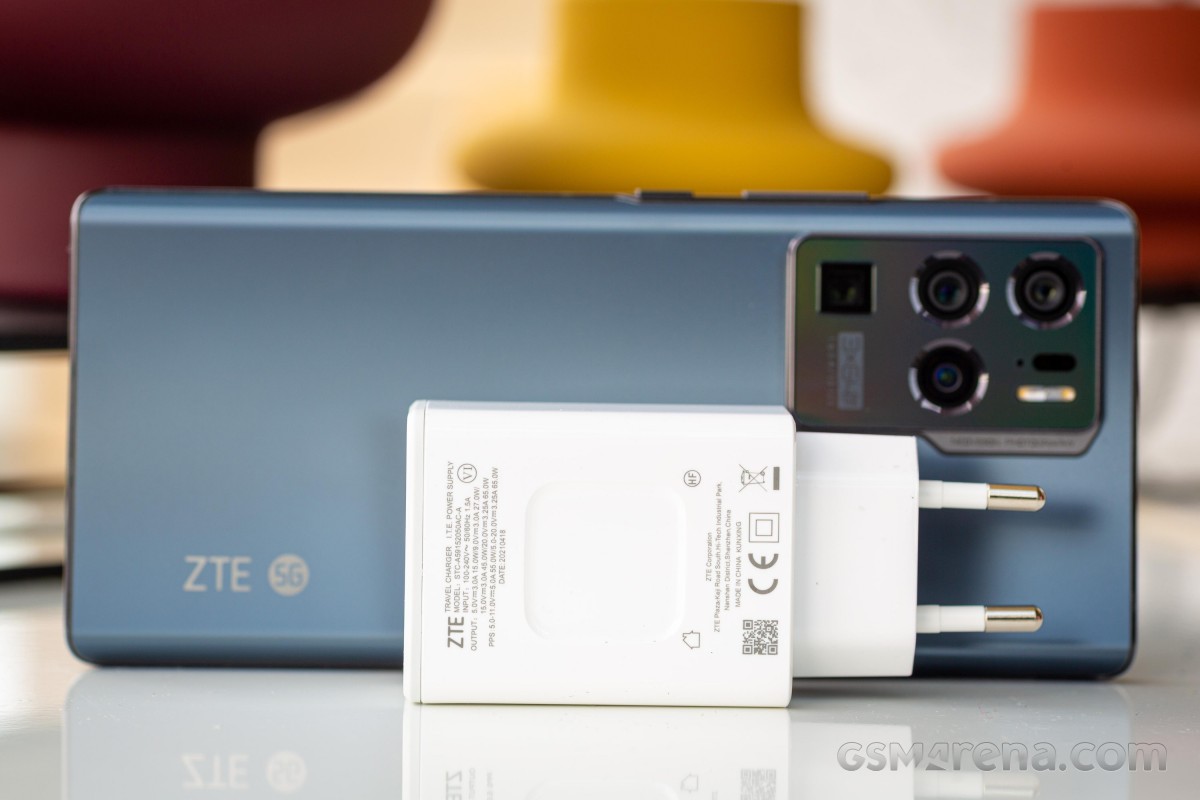 With that adapter, we clocked a full charge from 0% to 100% at 44 minutes, with the phone showing 74% at the half-hour mark. While very fast indeed, these aren't the best of results - proprietary standards with similar nominal wattage can achieve higher speeds (OnePlus, Xiaomi, vivo).
However, the combination of that very good charging speed for the phone with the ability to top up, say, your laptop with this same compact adapter is getting us closer to that one-charger-one-cable life that at least some of us here have been striving for. It might need to be a longer cable for that to work, though.
30min charging test (from 0%)
OnePlus 9
100%
OnePlus 9 Pro
99%
Xiaomi Mi 11 Ultra
89%
vivo X60 Pro+
84%
Xiaomi Mi 11
83%
ZTE Axon 30 Ultra 5G
74%
Samsung Galaxy S21+ 5G
54%
Samsung Galaxy S21 Ultra 5G
54%
Asus Zenfone 8 Flip
53%
Time to full charge (from 0%)
OnePlus 9
0:29h
OnePlus 9 Pro
0:32h
Xiaomi Mi 11 Ultra
0:37h
vivo X60 Pro+
0:42h
ZTE Axon 30 Ultra 5G
0:44h
Xiaomi Mi 11
0:50h
Samsung Galaxy S21 Ultra 5G
1:11h
Samsung Galaxy S21+ 5G
1:12h
Asus Zenfone 8 Flip
1:40h
It's worth pointing out here that the Axon does not support wireless charging. Some competitors like the OnePlus 9 and the Mi 11 do have that feature, though the vivo X60 Pro+ doesn't. You be the judge of how important that omission is to you.
Speaker test
The Axon 30 Ultra 5G has a stereo speaker setup that consists of a bottom-firing main unit and the front-firing earpiece. The earpiece always outputs the left channel, while the bottom speaker is always assigned the right channel - there's no switching if you're holding the phone in landscape the other way around, which seems like an oversight.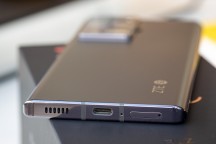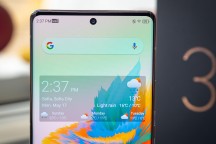 Bottom speaker • Earpiece is always left channel
When it comes to loudness, the Axon earned a 'Very good' score in our testing, on par with the likes of OnePlus 9/9 Pro and the Mi 11. It's slightly louder than the Galaxy S21+, with the vivo X60 Pro+ trailing in this respect.
Sound quality is decent out of the ZTE, but the others generally have it beat. It's lacking in low-frequency thump, where the Mi, the Galaxy, and the OP all have more presence. Vocals sound nice and clean though.
Use the Playback controls to listen to the phone sample recordings (best use headphones). We measure the average loudness of the speakers in LUFS. A lower absolute value means a louder sound. A look at the frequency response chart will tell you how far off the ideal "0db" flat line is the reproduction of the bass, treble, and mid frequencies. You can add more phones to compare how they differ. The scores and ratings are not comparable with our older loudspeaker test. Learn more about how we test here.