Full-screen 10-bit OLED
Arguably the best thing about this phone is the huge OLED display. It measures 6.92" in diagonal and offers a tall 1080 x 2460px resolution. The display also supports 90Hz refresh rate, but we will talk about the HRR behavior later on. First, we would like to assess the overall performance of the panel.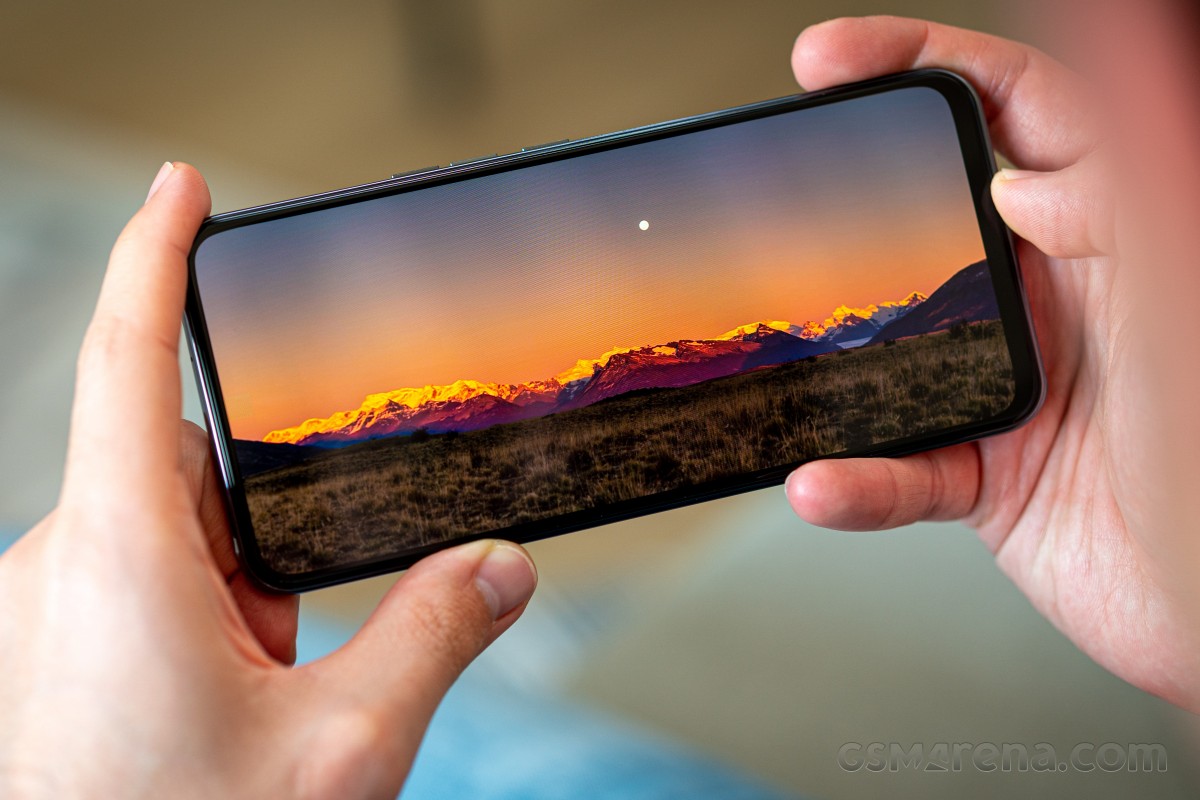 The maximum recorded brightness in manual mode isn't impressive, hitting 406 nits. Sadly, there's no Max Auto mode either, so there's no way to light up the panel brighter than this. Don't expect great sunlight legibility.
Display test
100% brightness
Black,cd/m2
White,cd/m2
Contrast ratio
ZTE Axon 20 5G
0
406
∞
OnePlus Nord
0
323
∞
OnePlus Nord (Max Auto)
0
756
∞
Samsung Galaxy M51
0
373
∞
Samsung Galaxy M51 (Max Auto)
0
677
∞
Xiaomi Poco F2 Pro
0
516
∞
Xiaomi Poco F2 Pro (Max Auto)
0
854
∞
Xiaomi Mi 10 5G
0
522
∞
Xiaomi Mi 10 5G (Max Auto)
0
854
∞
Color accuracy isn't stellar either, which we think it's a missed opportunity on behalf of ZTE. This vibrant, 10-bit color (supports over 1 billion colors) OLED is capable of reproducing lively images and accurate ones too but the average dE2000 tuned out to be 5 with whites and grays being a bit blue-ish. But there are some things you need to consider.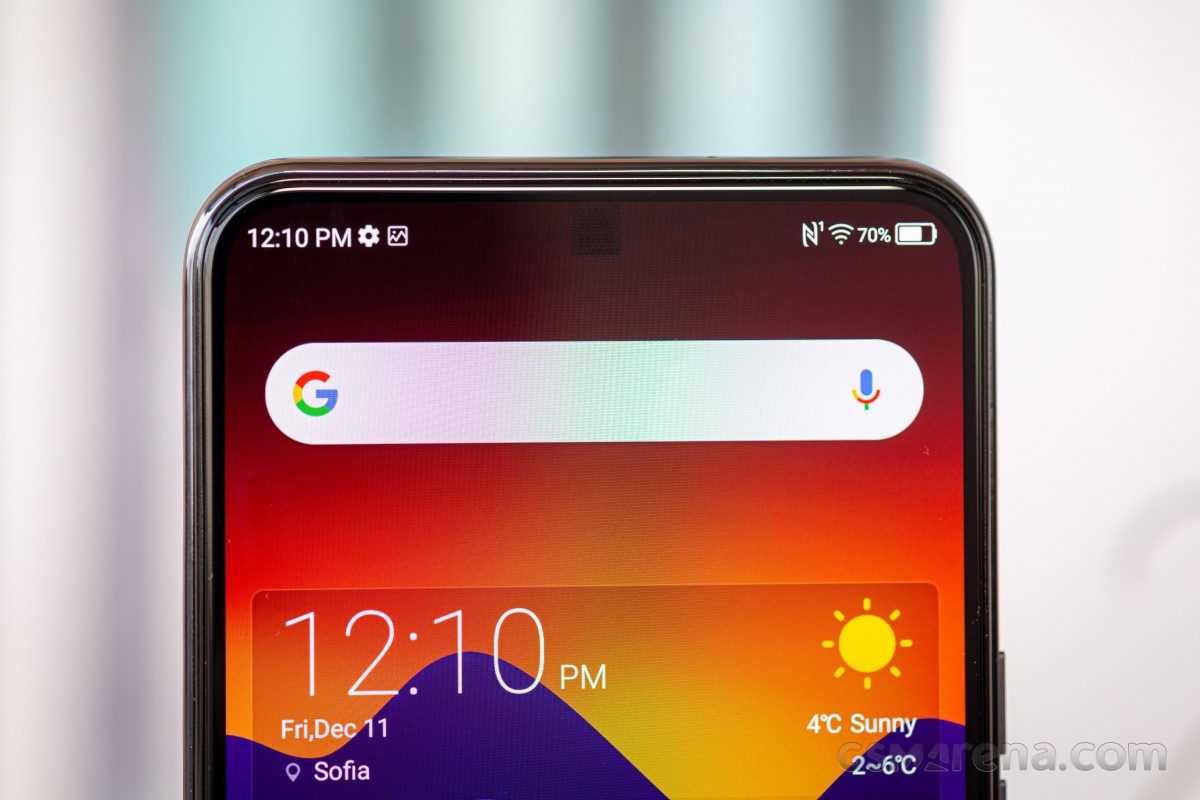 Firstly, an average deltaE of 5.0 isn't all that bad and can often go unnoticed by the untrained eye. Secondy, you can adjust the color temperature to your liking with the provided color wheel. There's also an optimized mode that boosts all colors and, as a result, bumps up the average dE2000 number to 6.6, but if you are using that mode, you most likely aren't concerned with color accuracy anyway.
Now to talk about the elephant in the room - the under-display camera. The panel accommodating the tech is manufactured by Visionox. It's compiled of a high-transparency cathode, an OLED matrix, and a transparent matrix beneath it all. A special integrated circuit and matrix have been used to minimize the impact of the selfie camera on the viewing experience. And we think ZTE has done a pretty good job at doing so, for a first-gen product that is. ZTE explains that delivering sufficient light into the camera sensor is the biggest challenge, so the small square patch of the OLED matrix is of lower resolution. And that's why UI elements passing through that patch may look a bit jagged.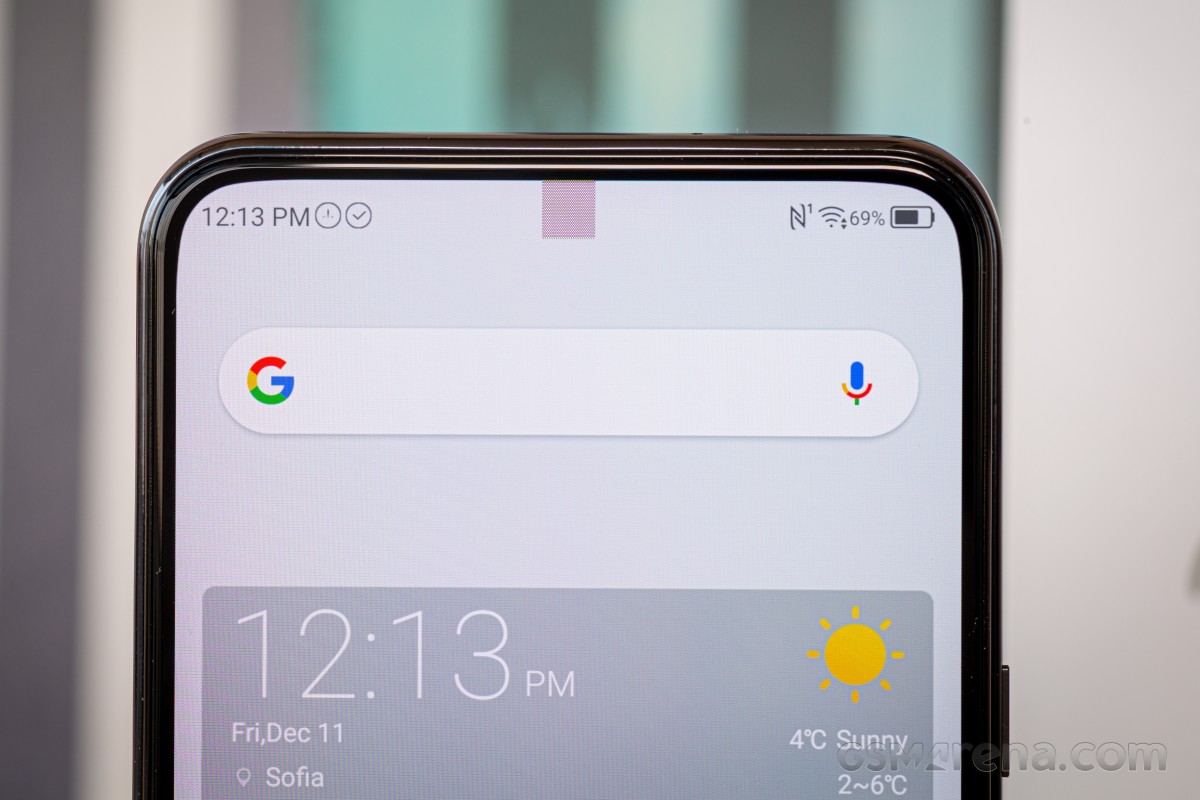 The camera "cutout" can be seen from an angle as long as there's a bright color displayed. Otherwise, you won't notice it unless you know what and where to look for. For important stuff like playing games or watching movies, the implementation looks fine. And if you find yourself looking at the square at the top a bit too often, switch to dark mode, and the camera will be impossible to see.
And in case it's too much to bear, there's an option to move the content down and leave the status bar black, and when it's black, it's impossible to see the camera.
Even though ZTE doesn't mention the HDR support, it is there, at least on YouTube. It seems to be working, but it's not supported in the Netflix app, which, by the way, we had to sideload. We were surprised to see that the Netflix app wasn't available for download via Play Store, but it worked fine when sideloaded. It even supports WideVine L1 and up to Full HD streaming quality.
As far as refresh rate control is concerned, there is none here, unfortunately. While most manufacturers try to find the sweet spot between high refresh rate and efficiency, ZTE is just using a standard 90Hz refresh rate, which occasionally drops to a little below 80Hz for no apparent reason. Otherwise, no matter if you are viewing static content or watching a video on YouTube or Netflix, the refresh rate stays at 90Hz.
Battery life
For a phone carrying a 4,220 mAh battery and an OLED panel, one would expect higher screen-on runtimes. But the exceptionally low web browsing score and the unsatisfactory video playback time, are what brings the overall score down to just 82 hours. The standby test didn't return great results either - competitors had done better with the same chipsets and similar battery specs. We also checked if lowering the display's refresh rate down to 60Hz would help, and we didn't find any substantial gains by doing so.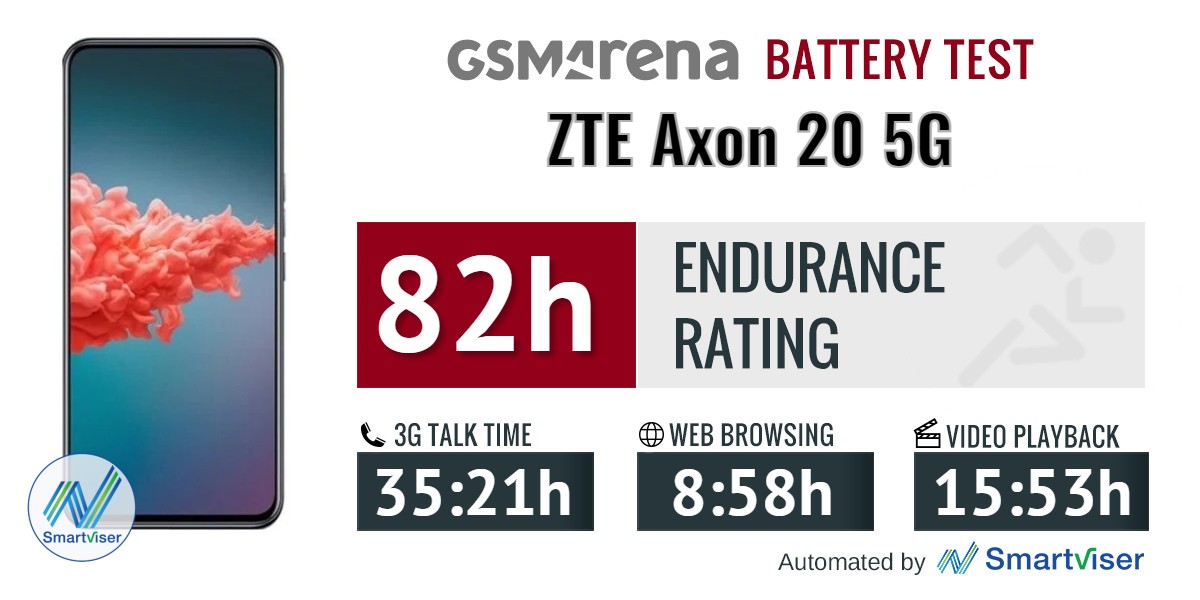 Our battery tests were automated thanks to SmartViser, using its viSerDevice app. The endurance rating above denotes how long a single battery charge will last you if you use the ZTE Axon 20 5G for an hour each of telephony, web browsing, and video playback daily. We've established this usage pattern so that our battery results are comparable across devices in the most common day-to-day tasks. The battery testing procedure is described in detail in case you're interested in the nitty-gritty. You can check out our complete battery test table, where you can see how all of the smartphones we've tested will compare under your own typical use.
Charging speed
The phone ships with a Quick Charge 4+ compatible charger rated at up to 30W. Of course, the Axon 20 5G is also drawing 30W but we are not sure about which voltage and amperage are used. The label on the charger says it can work with 12V/2.5V, 20V/1.5A or 10V/3A. Either way, the charging speed is slightly faster than its competitors, but most of them sport bigger batteries too.
30min charging test (from 0%)
ZTE Axon 20 5G
62%
OnePlus Nord
60%
Xiaomi Poco F2 Pro
60%
Samsung Galaxy M51
35%
Time to full charge (from 0%)
ZTE Axon 20 5G
1:00h
OnePlus Nord
1:05h
Xiaomi Poco F2 Pro
1:05h
Samsung Galaxy M51
1:47h
Speaker
ZTE advertises the DTS:X Ultra sound capabilities and the 3D surround-like listening experience. Unfortunately, that's an impossible effect to achieve on just one bottom-firing loudspeaker. It's okay for music but don't expect deep bass or sufficient clarity at higher volume levels.
Perhaps this is where we should talk about the supposedly piezoelectric vibrator under the display (a vibration motor that vibrates the display, which in turn produces sound). It's a cool tech and saves up on some bezel space at the top, but this solution comes with its own set of drawbacks. Right off the bat, you will notice the rather robotic-sounding reproduction of voice, and secondly, it doesn't get loud enough for noisy environments. It's a bit of a struggle to hear the other side if there's ambient sound around. And then there's the privacy issue that pretty much all phones like this one have. Even though the display doesn't get loud, it can be heard from people sitting nearby if the room is quiet. That's because the whole display emits the sound and the 6.92-inch panel is pretty big on its own.
Use the Playback controls to listen to the phone sample recordings (best use headphones). We measure the average loudness of the speakers in LUFS. A lower absolute value means a louder sound. A look at the frequency response chart will tell you how far off the ideal "0db" flat line is the reproduction of the bass, treble, and mid frequencies. You can add more phones to compare how they differ. The scores and ratings are not comparable with our older loudspeaker test. Learn more about how we test here.
Audio output quality
We've recently discontinued our audio output quality test.
The reason for that is that most phones that arrived for testing were already excellent in this regard. Whatever difference there was, it was marginal and probably indistinguishable to anything but our lab equipment.