Decent 6.53-inch IPS display, marred by a huge punch hole
The display on the Redmi Note 9T is perfectly adequate but largely unimpressive in every way. The 6.53-inch panel uses IPS technology, has a standard 60Hz refresh rate and is advertised as being capable of 450 nits of brightness.
Display test
100% brightness
Black,cd/m2
White,cd/m2
Contrast ratio
OnePlus Nord (Max Auto)
0
756
∞
Samsung Galaxy A51 5G (Max Auto)
0
642
∞
Xiaomi Poco X3 NFC (Max Auto)
0.515
631
1225:1
Xiaomi Redmi Note 9 Pro (Max Auto)
0.487
616
1265:1
Xiaomi Mi 10T Lite (Max Auto)
0.455
596
1310:1
Realme 7 Pro (Max Auto)
0
585
∞
Realme 7 5G (Max Auto)
0.667
571
856:1
Samsung Galaxy A42 5G (Max Auto)
0
570
∞
Realme 7 5G
0.376
484
1287:1
Motorola Moto G 5G
0.341
484
1419:1
Xiaomi Mi 10T Lite
0.348
476
1368:1
Xiaomi Redmi Note 9T (Max Auto)
0.412
471
1143:1
Xiaomi Redmi Note 9 (Max Auto)
0
466
∞
Xiaomi Poco X3 NFC
0.354
460
1299:1
Realme 7 Pro
0
459
∞
Xiaomi Redmi Note 9 Pro
0.355
456
1285:1
OnePlus Nord N10 5G
0.304
440
1447:1
Poco M3 (Max Auto)
0.277
439
1585:1
Xiaomi Redmi 9 (Max Auto)
0.253
426
1684:1
Xiaomi Redmi Note 9T
0.337
413
1226:1
Samsung Galaxy A51 5G
0
410
∞
Oppo Reno4 Z 5G
0.31
398
1284:1
Poco M3
0.252
395
1567:1
Samsung Galaxy A42 5G
0
395
∞
Xiaomi Redmi Note 9
0.298
370
1242:1
Xiaomi Redmi 9
0.202
328
1624:1
OnePlus Nord
0
323
∞
In our tests, we managed to get 413 nits out of the review unit in Saturated color mode. Flipping over to Standard mode yielded results of around 390 nits. Both of these were achieved with auto-brightness turned off. Flipping the latter on and shining a bright light into the luminance/proximity sensor on the top bezel above the display of the Redmi Note 9T resulted in a 471-nit measurement. Well above the advertised number and perfectly reasonable for an IPS panel of this class.
In terms of color accuracy, Saturated color mode managed an average deltaE 2000 of 6.1 and a maximum of 11.9. Standard mode arguably did a bit better with an average of 5.2 and a maximum of 13. In general, the default color profile felt a bit cold.
The Redmi Note 9T does have an Auto color mode in its settings, which tries to adapt to ambient conditions. Plus, there is a manual white point adjustment, and a scale of warm and cold adjustment presets.
Using these, the best results we managed to achieve had an average deltaE 2000 value of 4.1 and a maximum of 11.2, still in the Cyan channel. Bottom line - despite our best efforts, the panel on our review unit didn't manage to get close to what we would consider color-accurate.
Since that is the case, most users are probably best off just using the Saturated color profile since it offers distinctly "punchier" and more-vibrant colors.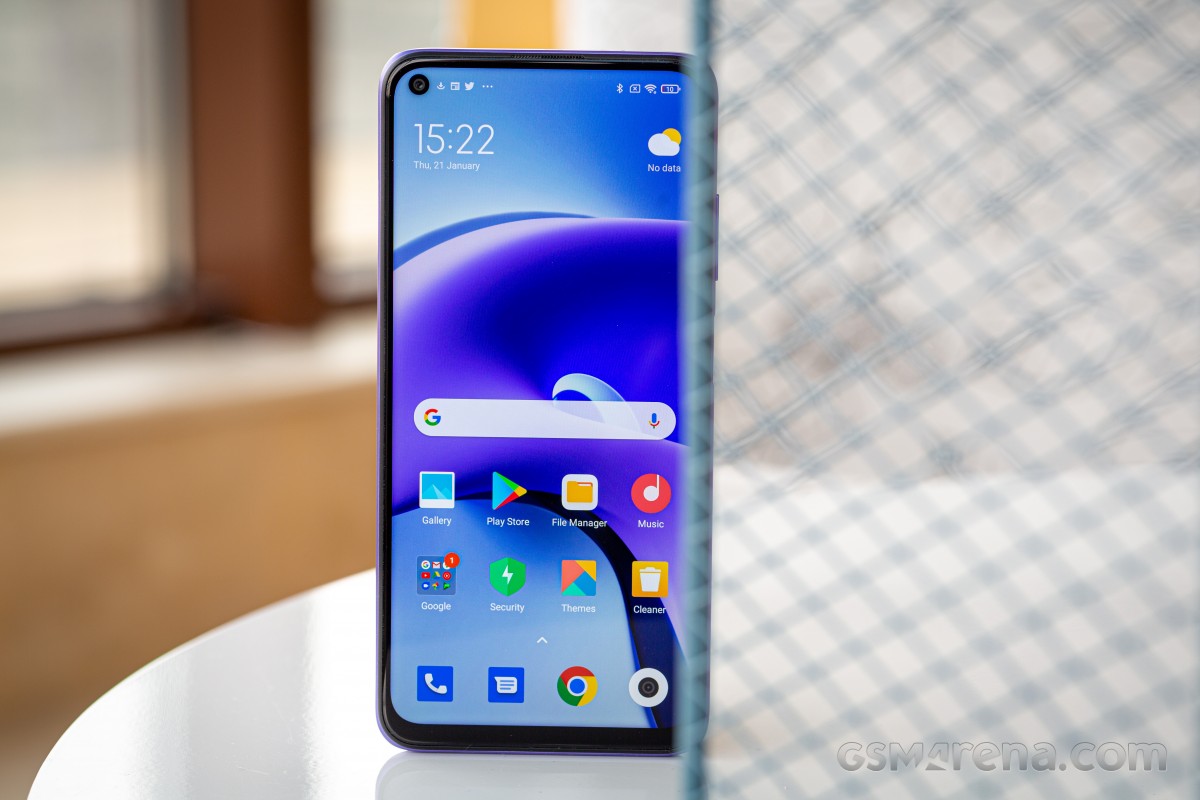 One final note we want to make on the Redmi Note 9 T's display concerns its response time. While we can't scientifically measure it, we will say that ghosting in text and finer UI elements is noticeable while scrolling. It is nothing severe by any means, and most budget LCD panels we have seen tend to behave similarly. Even so, it is worth mentioning.
Battery life
The Redmi Note 9T packs a beefy 5,000 mAh battery pack. Thanks to the efficient 7nm manufacturing process of its Dimensity 800U chipset, on paper, it is set-up for great battery endurance. MediaTek's new silicon is still a rare sight, making any data point on its overall battery performance all that more interesting.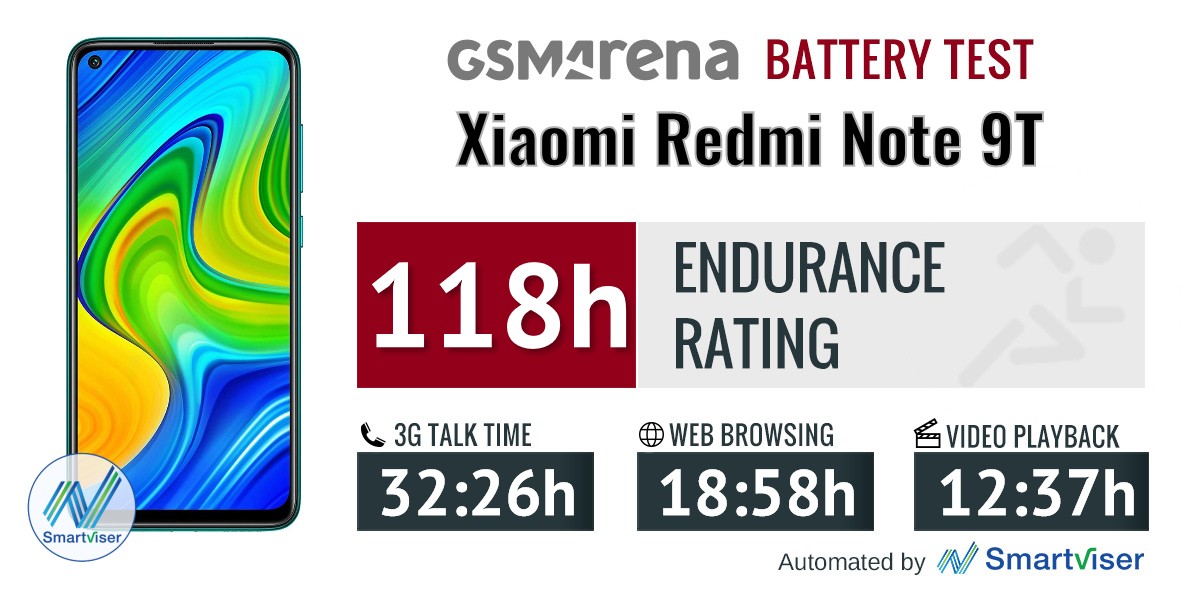 We were delighted to see consistent battery behavior out of the Redmi Note 9T. A total endurance rating of 118 hours is excellent. However, we were perhaps even more thrilled to see just how close these numbers come to those of the Realme 7 5G, which we reviewed a short while ago, as the first Dimensity 800U to come to our office. Consistency is great, and it's what you want to see when dealing with fresh new silicon.
Standby and web endurance between the two phones are almost identical, with the Redmi Note 9T getting slightly less 3G talk time. The only real divergence is video playback endurance, which is a bit lower on the Xiaomi.
It is worth noting that we experienced occasional frame rate hiccups and stutters while playing back some videos captured on the Redmi Note 9T itself with the default player. We can only surmise that there is some bug to address in the app, which shouldn't be hard to do and might just bump offline playback endurance slightly, closing the gap with the Realme 7 5G.
Our battery tests were automated thanks to SmartViser, using its viSer App. The endurance rating above denotes how long a single battery charge will last you if you use the Xiaomi Redmi Note 9T for an hour each of telephony, web browsing, and video playback daily. We've established this usage pattern so that our battery results are comparable across devices in the most common day-to-day tasks. The battery testing procedure is described in detail in case you're interested in the nitty-gritty. You can check out our complete battery test table, where you can see how all of the smartphones we've tested will compare under your own typical use.
Charging speed
The Redmi Note 9T charges at a maximum rate of 18W via Quick Charge 3+. The provided 22.5W adaptor is perfectly capable of delivering that. While not blazing-quick by any means, 18W is certainly decent and pretty typical within Xiaomi's lineup.
30min charging test (from 0%)
Xiaomi Mi 10T Lite 5G
68%
Xiaomi Redmi Note 9 Pro
63%
Realme 7 5G
57%
Poco X3 NFC
55%
Xiaomi Redmi 9 (18W)
33%
Xiaomi Redmi Note 9T
33%
Xiaomi Redmi Note 9
31%
Time to full charge (from 0%)
Xiaomi Mi 10T Lite 5G
0:58h
Realme 7 5G
1:06h
Xiaomi Redmi Note 9 Pro
1:11h
Poco X3 NFC
1:15h
Xiaomi Redmi Note 9T
1:50h
Xiaomi Redmi Note 9
2:33h
As such, it is perfectly understandable that we are seeing charging rates similar to those on the Redmi Note 9 and the Redmi 9, both with roughly the same battery capacities. Of course, it would have been better to see something like the 30W charging of the Redmi Note 9 Pro. Or, better yet, the 33W Mi Fast charging, as seen on devices like the Mi 10T Line. Not that the latter two are substantially different.
Speaker test
One area Xiaomi tried to not skimp on with the Redmi Note 9T is the speaker setup. While not comprised of two full-featured speakers, the phone setup is still stereo, with the earpiece pulling double-duty as one of the channels.
The overall quality isn't exceptional, but loudness is good. Going too high with the volume produces some distortions. We also noticed that the earpiece speaker isn't as loud as the main one at the bottom and the overall setup lacks fullness. However, vocals sound clear, and you can easily enjoy a movie, for example, without having to put on headphones.
Use the Playback controls to listen to the phone sample recordings (best use headphones). We measure the average loudness of the speakers in LUFS. A lower absolute value means a louder sound. A look at the frequency response chart will tell you how far off the ideal "0db" flat line is the reproduction of the bass, treble, and mid frequencies. You can add more phones to compare how they differ. The scores and ratings are not comparable with our older loudspeaker test. Learn more about how we test here.
Audio output quality
We've recently discontinued our audio output quality test.
The reason for that is that most phones that arrived for testing were already excellent in this regard. Whatever difference there was, it was marginal and probably indistinguishable to anything but our lab equipment.