Display
The Redmi Note 9 Pro packs a large 6.67" IPS LCD display with a punch-hole notch at the top. The resolution is extended 1080p - 2,400 x 1,080 pixels - making for a 395ppi density and 20:9 aspect ratio. A piece of Gorilla Glass 5 keeps the screen safe.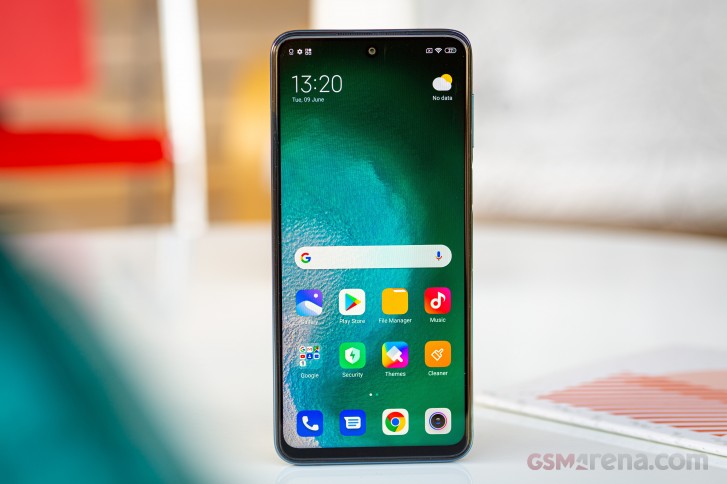 The backlighting around the round notch is uneven, and that is easily visible on bright backgrounds. You should be prepared to see this imperfection a lot. Such uneven backlighting is a glaring disadvantage of the LCD panels when compared to OLEDs.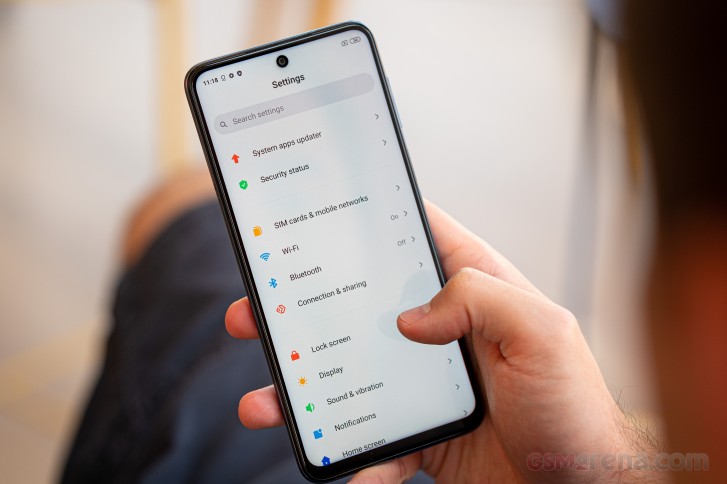 The Redmi Note 9 Pro display supports HDR10, and it can show 1080p HDR content from YouTube. Unfortunately, it supports only Widevine L3 DRM (the most basic level), meaning it will stream only SD content from the Netflix and the likes.
Xiaomi promises 1500:1 contrast ratio for the Note 9 Pro screen, but our measurements show it is a bit lower at around 1300:1 ratio. The maximum brightness is about 460 nits, while the black levels are deep enough at 0.35. The screen can be brighter though if you leave it on Automatic Brightness - it can light up as high as 616 nits in bright ambient light.
The minimum brightness we captured on the white color is 1.2nit - a perfect one for reading sessions in the dark!
Display test
100% brightness
Black,cd/m2
White,cd/m2
Contrast ratio
Xiaomi Redmi Note 9 Pro
0.355
456
1285:1
Xiaomi Redmi Note 9 Pro (Max Auto)
0.487
616
1265:1
Xiaomi Redmi Note 8 Pro
0.347
460
1326:1
Xiaomi Redmi Note 8 Pro (Max Auto)
0.486
640
1317:1
Xiaomi Redmi Note 8T
0.331
450
1360:1
Xiaomi Redmi Note 8T (Max Auto)
0.453
600
1325:1
Xiaomi Redmi Note 9S
0.303
421
1389:1
Xiaomi Redmi Note 9S (Max Auto)
0.42
575
1369:1
Samsung Galaxy A51
0
413
∞
Samsung Galaxy A51 (Max Auto)
0
636
∞
Realme 6
0.343
451
1315:1
Realme 6i
0.328
528
1610:1
Realme 6 Pro
0.318
421
1324:1
Huawei P40 Lite
0.425
461
1085:1
Huawei P40 Lite (Max Auto)
0.501
515
1028:1
Xiaomi offers three different Contrast settings for the Redmi Note 9 Pro display. With the Automatic contrast set to on, the screen output seems to be tuned for accuracy in the sRGB color space, and we measured an average deltaE of 6.1. Only in this mode, you can choose the color saturation (default, warm, cool) and the Delta E of 6.1 was measured with the Default preset. Choosing warm will diminish the noticeable blue tint and the average deltaE drops to 4.9.
The Standard Contrast setting has superb accuracy within the sRGB color space, and we captured an average deltaE of 2.2 for color accuracy.
Finally, the Increased Contrast makes the colors pop at the expense of reproduction accuracy.
Battery life and charging
The Xiaomi Redmi Note 9 Pro is powered by a large 5,020mAh Li-ion battery. It supports 30W quick charge, and the Note ships with a 30W charger. It will replenish about 60% of its dead battery in 30 mins.
The Redmi Note 9 Pro scored an outstanding endurance rating of 123 hours in our battery life test. The phone shows impressive times across the board - talk time, video playback and web browsing, even standby.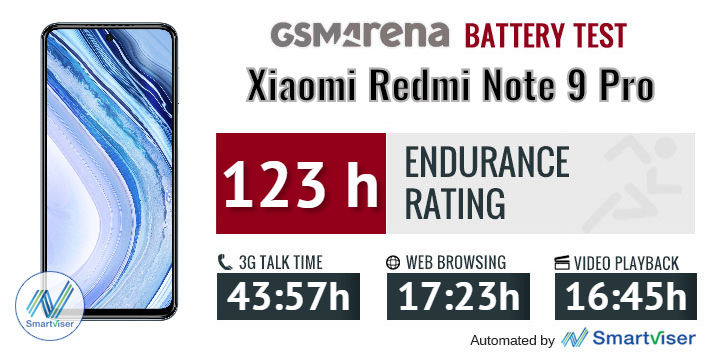 Our battery tests were automated thanks to SmartViser, using its viSerDevice app. The endurance rating above denotes how long a single battery charge will last you if you use the Xiaomi Redmi Note 9 Pro for an hour each of telephony, web browsing, and video playback daily. We've established this usage pattern so that our battery results are comparable across devices in the most common day-to-day tasks. The battery testing procedure is described in detail in case you're interested in the nitty-gritty. You can check out our complete battery test table, where you can see how all of the smartphones we've tested will compare under your own typical use.
Speaker
The Redmi Note 9 Pro has no special treatment for its loudspeaker. It is a single piece, bottom-firing, and tuned mostly for louder mid-tones. It posted an 'Average' result for loudness in our seven-track music test. It lacks a low-frequency thump, but it handles vocals rather well.
Use the Playback controls to listen to the phone sample recordings (best use headphones). We measure the average loudness of the speakers in LUFS. A lower absolute value means a louder sound. A look at the frequency response chart will tell you how far off the ideal "0db" flat line is the reproduction of the bass, treble, and mid frequencies. You can add more phones to compare how they differ. The scores and ratings are not comparable with our older loudspeaker test. Learn more about how we test here.