Familiar basic 6.5-inch, 60Hz LCD
The display on the new Redmi Note 8 2021 hasn't really change compared to the original Redmi Note 8. That is to say, it still measures 6.5-inches in diagonal, has a FullHD resolution and has a 60Hz refresh rate. However, looking at some of our benchmark scores, we are confident that Xiaomi has swapped out the original panel for a different, less-performant one. Not by a lot, but the difference is measurable.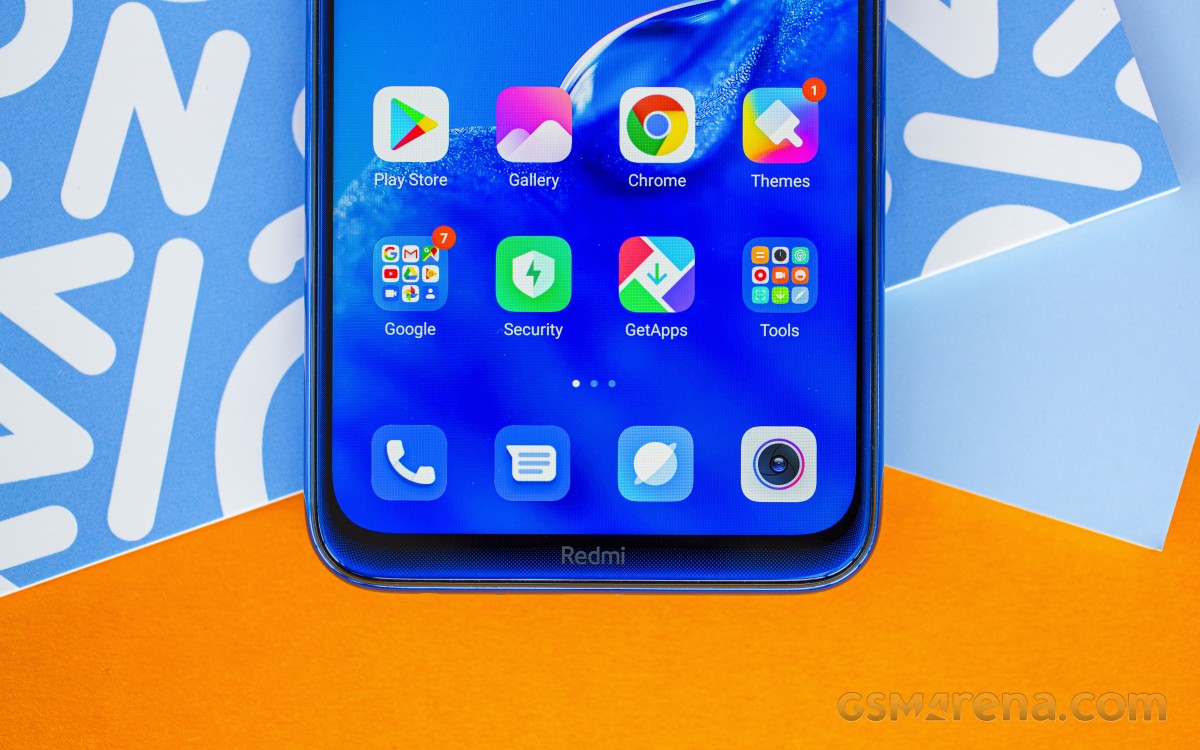 Starting with brightness, the new Redmi Note 8 2021 managed a decent 559 nits of maximum brightness on the slider - a noticeable improvement over its predecessor. However, it didn't quite manage to hit the same max outdoor brightness overburn, but it still almost got there with a total of 620 nits. Not too shabby for an LCD, but not overly impressive either.
Display test
100% brightness
Black,cd/m2
White,cd/m2
Contrast ratio
Xiaomi Redmi Note 10 Pro (Max Auto)
0
725
∞
Xiaomi Redmi Note 10 (Max Auto)
0
682
∞
Realme 8 (Max Auto)
0
657
∞
Motorola Edge 20 (Max Auto)
0
650
∞
Xiaomi Redmi Note 8 Pro (Max Auto)
0.486
640
1317:1
Realme X7 Max 5G (Max Auto)
0
640
∞
Xiaomi Redmi Note 8 (Max Auto)
0.475
631
1328:1
Xiaomi Redmi Note 8 2021 (Max Auto)
0.376
620
1649:1
Realme 8 5G (Max Auto)
0.408
577
1414:1
Xiaomi Redmi Note 8 2021
0.376
559
1487:1
Xiaomi Redmi Note 10 5G (Max Auto)
0.275
492
1789:1
Xiaomi Redmi 10 (Max Auto)
0.4
477
1193:1
Xiaomi Redmi Note 10
0
475
∞
Xiaomi Redmi Note 8
0.311
473
1521:1
Realme 8 5G
0.334
472
1413:1
Samsung Galaxy A12 (Max Auto)
0.349
472
1352:1
Xiaomi Redmi Note 9T (Max Auto)
0.412
471
1143:1
Motorola Edge 20
0
466
∞
Xiaomi Redmi Note 8 Pro
0.347
460
1326:1
Realme 8
0
458
∞
Xiaomi Redmi Note 10 Pro
0
457
∞
Xiaomi Redmi 9T (Max Auto)
0.32
437
1366:1
Realme X7 Max 5G
0
433
∞
Xiaomi Redmi Note 9T
0.337
413
1226:1
Samsung Galaxy A02s
0.23
406
1765:1
Samsung Galaxy A12
0.292
398
1363:1
Xiaomi Redmi 10
0
396
1494:1
Xiaomi Redmi 9T
0.239
381
1594:1
Xiaomi Redmi Note 10 5G
0.21
377
1795:1
Motorola Moto G50
0.199
362
1819:1
Colors are a whole other story and, unfortunately, one that hints at a downgraded LCD on the new Redmi Note 8 2021. Where the original model managed impressive accuracy and coverage of the sRGB color space in its Standard mode, the new model missed the mark, by a lot, with noticeably blue whites and duller reds and greens, in comparison.
Xiaomi does offer custom white point adjustment, which allowed us to get a lot closer to proper sRGB tuning, but not quite there. Plus, this resulted in a reddish tint when looking at the display in person - not great either. Still, here are our settings for the most accurate sRGB color profile possible on our review unit. To reiterate, it falls short of being considered "color accurate".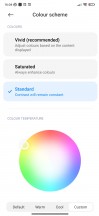 Custom white point for closes possible sRGB color reproduction
Beyond that, the Redmi Note 8 2021 has two other color modes - vivid and saturated, the first being the default, which also comes with a promise of some automatic adaptation to whatever content is currently on screen, whatever that entails.
The two profiles don't actually differ much in terms of color reproduction, according to our testing, so if you encounter any odd behavior while using the default vivid mode, just switch to saturated.
There is one more thing that makes us think the new Redmi Note 8 2021 has a different panel - a total lack of HDR support, as reported by the software. Sure, we are talking about HDR on a pretty unimpressive LCD to begin with, but the original Redmi Note 8 did report HDR10 capabilities. You do at least get Widevine L1 certification, which enables above HD streaming from services like Netflix.
Finally, while testing the Redmi Note 8 2021, it was hard to ignore the sluggish pixel response times on its panel. Granted, we have seen much worse, but that still doesn't make the ghosting and smearing of text that occurs with slower scrolls any less annoying to experience here.
All in all, the display on our Redmi Note 8 2021 unit is decent, at its finest and disappointingly, a bit worse than that on our original Redmi Note 8 review unit.
Battery life
The Redmi Note 8 2021 has a 4,000 mAh battery, just like its vanilla sibling. Since its other major energy consumer - the display - is unchanged, any potential difference in battery life will come down to the swapped chipset or will be within the margin of error of the testing methodology.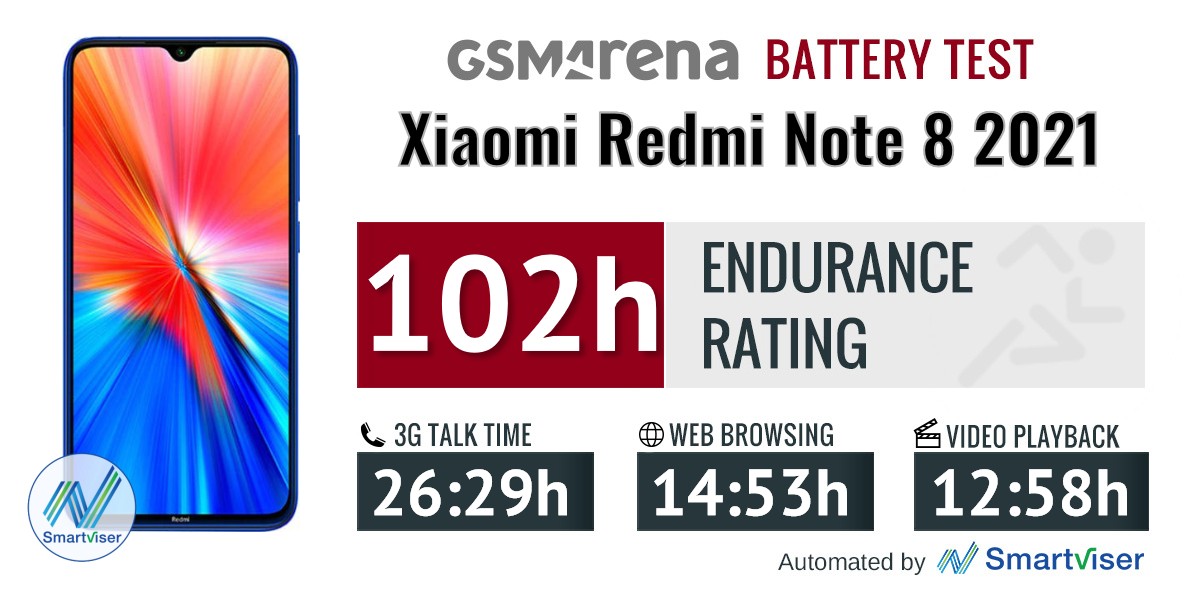 The new Redmi Note 8 2021 managed a respectable 102-hour endurance rating, comparable to the 108 hours on the original Redmi Note 8, but not quite there. While small, the difference is noticeable and spread across almost all of our tests, making it consistent.
The new Helio MediaTek G85 appears to be consistently using more power than the Snapdragon 665. The one exception being in-call endurance, where the new Redmi Note 2021 managed a slightly better number. One that was unfortunately offset by worse standby performance, as well as web browsing and video playback.
On a more positive note, cross-referencing these numbers with the only other MediaTek Helio G85 phone we have on record in our battery endurance database - the Redmi Note 9 - proves the results are quite consistent. Taking into account the bigger 5,020 mAh battery on the Redmi Note 9, of course.
Our battery tests were automated thanks to SmartViser, using its viSerDevice app. The endurance rating denotes how long the battery charge will last you if you use the device for an hour of telephony, web browsing, and video playback daily. More details can be found here.
Video test carried out in 60Hz refresh rate mode. Web browsing test done at the display's highest refresh rate whenever possible. Refer to the respective reviews for specifics. To adjust the endurance rating formula to match your own usage patterns check out our all-time battery test results chart where you can also find all phones we've tested.
Charging speed
The Redmi Note 8 2021 offers far from the fastest charging around. As per its official specs, it peaks at 18W of charging. In practice, this makes for a respectable 34% charge from zero in 30 minutes, with a full charge taking around 2 hours.
30min charging test (from 0%)
Higher is better
Huawei P40 Lite
70%
Xiaomi Redmi Note 10
65%
Realme X7 Max 5G
60%
Realme 8
56%
Poco X3 NFC
55%
Xiaomi Redmi Note 10 Pro
50%
Xiaomi Mi 9T
45%
Huawei P Smart 2021
42%
Xiaomi Redmi Note 8 Pro
39%
Motorola Moto G 5G
36%
Xiaomi Redmi Note 8 2021
34%
Xiaomi Redmi 9 (18W)
33%
Xiaomi Redmi Note 9T
33%
Motorola Moto G30
32%
Xiaomi Redmi Note 9
31%
Xiaomi Redmi Note 8
30%
Samsung Galaxy A02s
30%
Realme 8 5G
29%
Xiaomi Redmi 10
26%
Xiaomi Redmi 9T
25%
Poco M3
25%
Motorola Moto G10
22%
Xiaomi Redmi 9
20%
Samsung Galaxy A12
20%
Time to full charge (from 0%)
Lower is better
Realme X7 Max 5G
1:00h
Huawei P40 Lite
1:04h
Realme 8
1:09h
Xiaomi Redmi Note 10
1:13h
Poco X3 NFC
1:15h
Xiaomi Redmi Note 10 Pro
1:21h
Xiaomi Mi 9T
1:40h
Huawei P Smart 2021
1:42h
Xiaomi Redmi Note 9T
1:50h
Xiaomi Redmi Note 8 2021
1:59h
Motorola Moto G 5G
2:11h
Xiaomi Redmi 10
2:13h
Xiaomi Redmi Note 8
2:15h
Realme 8 5G
2:20h
Motorola Moto G30
2:28h
Xiaomi Redmi 9T
2:30h
Poco M3
2:30h
Xiaomi Redmi Note 9
2:33h
Samsung Galaxy A02s
2:36h
Motorola Moto G10
3:00h
Samsung Galaxy A12
3:03h
These numbers were achieved using the bundled Xiaomi MDY-11-EP charger, which is officially capable of outputting 22.5W and is certified for Quick Charge 3+ charging, with the following outputs: 5V / 3A (15W), 9V / 2.23A (20W), 12V / 1.67A (20W), 10V / 2.25A (22.5W). This is all fine and dandy, but we find it quite unlikely that the Redmi Note 8 2021, in particular, is charging using Qualcomm's Quick Charge tech after the swap to a MediaTek G85 chipset. While not impossible to equip it with a separate charging IC, that seems quite unlikely on such a budget phone and Xiaomi is probably relying on the one included in the chipset, which supports the competing MediaTek Pump Express standard. It is officially not compatible with Quick Charge. In fact, the two use different methods of negotiating voltages and current, albeit with comparable results and granularity.
Hence, we can't quite say whether Xiaomi's provided MDY-11-EP charger supports Pump Express as well, or there is some other magic going on behind the scenes. But, for what it's worth, the Redmi Note 8 2021 does manage to top-off a bit faster than in vanilla sibling.
Speakers
The Redmi Note 8 2021 has a single bottom-firing speaker. Nothing fancy, no stereo setup, like on the Redmi 10, Redmi 9T or Poco M3, not even an amplified earpiece. Not ideal, for sure.
The speaker itself is not particularly impressive either. With -28.6 LUFS of loudness, it only managed an Average score on our scale, and its frequency response is nothing to phone home about either - particularly on the low-end. We would take the stereo setup on any of the aforementioned Xiaomi models any day of the week instead.
Use the Playback controls to listen to the phone sample recordings (best use headphones). We measure the average loudness of the speakers in LUFS. A lower absolute value means a louder sound. A look at the frequency response chart will tell you how far off the ideal "0db" flat line is the reproduction of the bass, treble, and mid frequencies. You can add more phones to compare how they differ. The scores and ratings are not comparable with our older loudspeaker test. Learn more about how we test here.