Boots MIUI 10, but not for long
The Redmi Note 8 boots the MIUI 10 ROM based on Android 9 Pie but allegedly, Xiaomi has already started seeding the MIUI 11 update.
While lightweight and intuitive, MIUI is no vanilla Android, so it will take a couple of hours for the purists to get the handle of it.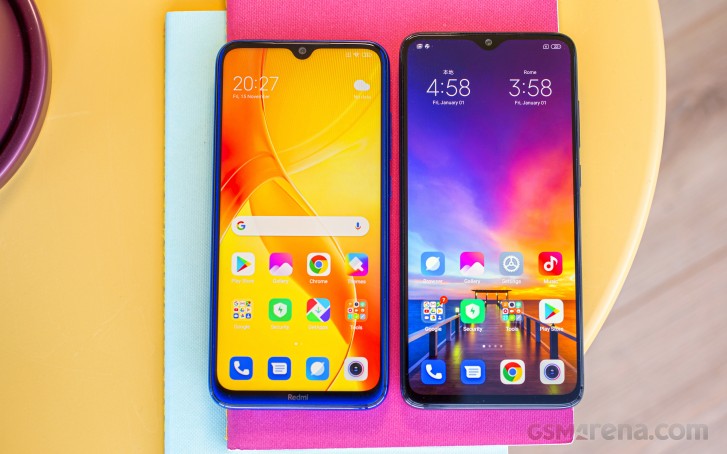 Redmi Note 8 and Note 8 Pro
You can unlock the screen via the snappy rear-mounted fingerprint scanner. The reader is easy to set up and is always on, so it works fast. The accuracy is very good, too, a notch under the most accurate we've encountered but still great for your daily unlocking.
You can also set up face unlock in addition to it - it's even faster as the Note 8 wakes up the moment you pick it up. Note that the face unlock option may not be available in all regions and is far less secure than the fingerprint scanner.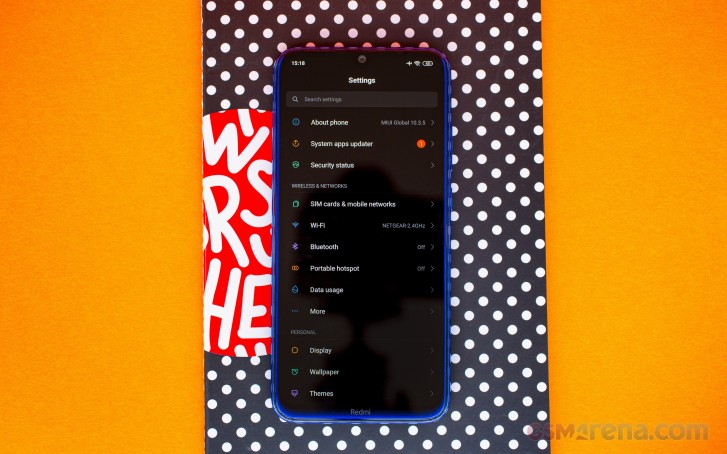 Xiaomi Redmi Note 8 has a Dark mode - it will switch all system colors from white to black, and this way, you can save some battery juice by darkening most of the screen. Note that not all apps support the dark mode, but the majority do.
There is no app drawer in MIUI, so all your apps are just sitting there on your homescreen, but you can still add them to folders. Of course, you can always install a third-party launcher if you miss the app drawer.
Here are the default home screens on Redmi Note 8. There's a weather widget in the upper right corner across from a large clock widget. There is a Quick Card pane, the leftmost one. It contains different cards with relevant information - recent apps, step counter, notes, calendar events, the weather, and favorites, among others. You can configure what shows up here, or you can disable this altogether.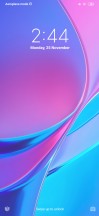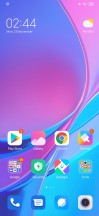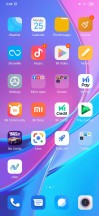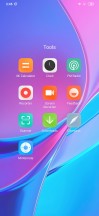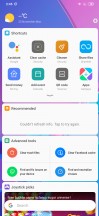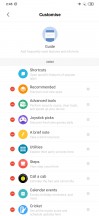 Lockscreen • Homescreen • Homescreen • Tools • Quick Card • Settings
The task switcher felt a bit awkward at first, but we've grown to like it. It shows all of your recent apps in two columns. Tap and hold on a card for the split-screen shortcut, or just swipe it left or right to close it.
Themes are supported on the Xiaomi Redmi Note 8, but the app appears only when the phone is set to a supported region, say India.
MIUI also offers a Security app. It can scan your phone for malware, manage your blacklist, manage or restrict your data usage, configure battery behavior, and free up some RAM. It can also manage the permissions of your installed apps and allows you to define the battery behavior of selected apps and applies restrictions only to the apps you choose.
MIUI also offers proprietary Gallery, Music, and Video player. In some regions, the music and video apps include paid streaming options. An FM radio app is available, too.
The Redmi Note 8 has an IR blaster on its top, and you can install the Mi Remote app from the Play Store and configure your phone as the one remote to rule them all.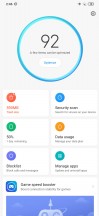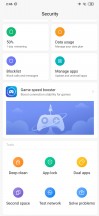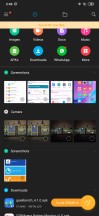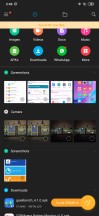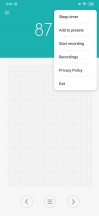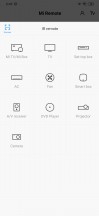 Security app • Security • Gallery • File Manager • FM radio • Mi Remote
In some markets, the pre-installed applications by Xiaomi will show ads, which is how Xiaomi is compensating for the relatively low prices of its devices. We're reviewing a global version of the Redmi Note 8, and we noticed a couple of ads in some apps (like File Manager), but not as aggressive as if you were running on an Indian or Chinese version of MIUI.
Finally, we want to mention our disappointment in the Auto Rotate option. The phone seems very sensitive and even slight variations in the orientation make it switch to Landscape. What's worse is that when lying on a flat surface, the wobbling because of the big camera hump is enough to trigger Landscape Rotation when you are typing on the keyboard. We had quite a few of these unwanted Landscape switches and then we had to pick up the phone shake it and then put it back.
Performance and benchmarks
Xiaomi Redmi Note 8 is powered by the Snapdragon 665 chipset. It's a relatively new chip from mid-2019, and it's available in few smartphones, one of which is the Xiaomi Mi A3. This chipset represents a minor upgrade over the Redmi Note 7's Snapdragon 660 chip, but we'll discuss the raw performance in a bit.
So, the Snapdragon 665 chip is based on the more efficient 11nm manufacturing process compared to the 14nm Snapdragon 660. It has the same processor as the SD660 - an octa-core Kryo 260 CPU with 4x2.0 GHz Kryo 260 Gold (Cortex-A73 derivative) & 4x1.8 GHz Kryo 260 Silver (Cortex-A53 derivative). Well, almost the same - the high-performance Kryo cores are actually clocked 200MHz lower than the same on the Note 7's SD660.
There is a new Adreno 610 GPU, which, unfortunately, isn't more powerful than the Adreno 512 inside the old 660 chip. It should supposedly deliver similar performance for 20% less battery though.
The Snapdragon 665 has a new DSP and a new ISP for 48MP camera support. Its modem is the same as on the S660, though.
Now, let's run some benchmarks.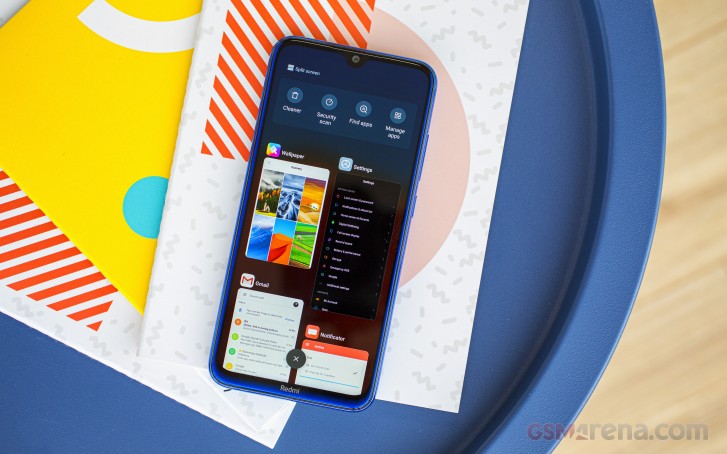 The raw CPU multi-core performance is excellent - the phone did better than most of its competitors and is bested only by the Realme 5 Pro's Snapdragon 712 CPU.
GeekBench 4.1 (multi-core)
Higher is better
Realme 5 Pro
6106
Xiaomi Mi A3
5686
Realme 5s
5596
Xiaomi Redmi Note 8
5590
Huawei P30 Lite (perf. mode)
5549
Xiaomi Redmi Note 7
5411
Xiaomi Redmi Note 6 Pro
4933
Samsung Galaxy M30
4188
Samsung Galaxy A30
4146
The single core performance is nothing to talk about, really - it's on par with the competition.
GeekBench 4.1 (single-core)
Higher is better
Realme 5 Pro
1913
Xiaomi Redmi Note 7
1650
Huawei P30 Lite (perf. mode)
1576
Realme 5s
1533
Xiaomi Mi A3
1531
Xiaomi Redmi Note 8
1512
Xiaomi Redmi Note 6 Pro
1342
Samsung Galaxy A30
1319
Samsung Galaxy M30
1311
The Redmi Note 8's Snapdragon 665 has Adreno 610 GPU, which should be similar to Redmi Note 7's 660 chip and its Adreno 512 but more power-efficient. Well, it turned out that its raw performance is actually a bit lower than on the Snapdragon 660's GPU, so any graphics upgrade is definitely out of the question here.
GFX 3.1 Manhattan (onscreen)
Higher is better
Xiaomi Mi A3
27
Redmi Note 8 Pro
24
Realme 5 Pro
22
Xiaomi Redmi Note 7 Pro
15
Xiaomi Redmi Note 7
13
Huawei P30 Lite (perf. mode)
13
Xiaomi Redmi Note 8
11
Xiaomi Redmi Note 6 Pro
9.7
Samsung Galaxy A30
7.4
Samsung Galaxy M30
7.3
GFX 3.1 Car scene (onscreen)
Higher is better
Redmi Note 8 Pro
14
Xiaomi Mi A3
13
Realme 5 Pro
12
Xiaomi Redmi Note 7 Pro
7.9
Xiaomi Redmi Note 7
7.7
Huawei P30 Lite (perf. mode)
6.9
Xiaomi Redmi Note 8
5.9
Xiaomi Redmi Note 6 Pro
5.9
Samsung Galaxy M30
4.6
Samsung Galaxy A30
4.6
3DMark SSE 3.1 Unlimited
Higher is better
Redmi Note 8 Pro
2439
Realme 5 Pro
2253
Xiaomi Redmi Note 7
1409
Xiaomi Redmi Note 7 Pro
1220
Realme 5s
1140
Xiaomi Mi A3
1131
Xiaomi Redmi Note 8
1126
Huawei P30 Lite (perf. mode)
988
Samsung Galaxy M30
645
Samsung Galaxy A30
587
Finally, the compound AnTuTu test puts the Redmi Note 8 on par with the Mi A3, P30 Lite, and the Realme 5s, but it's still behind the Realme 5 Pro.
AnTuTu 7
Higher is better
Redmi Note 8 Pro
224759
Realme 5 Pro
182765
Xiaomi Redmi Note 8
141915
Huawei P30 Lite (perf. mode)
141600
Xiaomi Mi A3
140633
Realme 5s
139103
Xiaomi Redmi Note 7
139075
Xiaomi Redmi Note 6 Pro
115605
Samsung Galaxy M30
101651
Samsung Galaxy A30
96550
The Redmi Note 8 is fast, but not the fastest around. Its processor is snappy and a very dependable performer across various CPU-intensive tasks, but the GPU behavior is a mixed bag. Hiccups do happen in games, even when scrolling through MIUI, and while not that disturbing, they are still noticeable.
What we didn't observe, however, is the phone getting hot - not even when running those benchmarks for longer durations. There is no noticeable performance throttling after longer runs either. Overall, the Redmi Note 8 offers an acceptable level of performance for the class, but you will be able to tell that you have a budget phone in your hands if you do some gaming.