The Redmi Note 12 Pro+ unveiled in China last October debuted in India in January and launched in Europe this week. We've been using the Redmi Note 12 Pro+ for a few weeks now, and our detailed review is around the corner, but we thought we'd share part of our findings about the phone in advance.
Unboxing
Let's check the Redmi Note 12 Pro+'s retail box first. In India, the smartphone comes in a black-colored box, which includes a protective case, a SIM card ejection tool, a USB-C cable, a 120W charger, and the usual paperwork.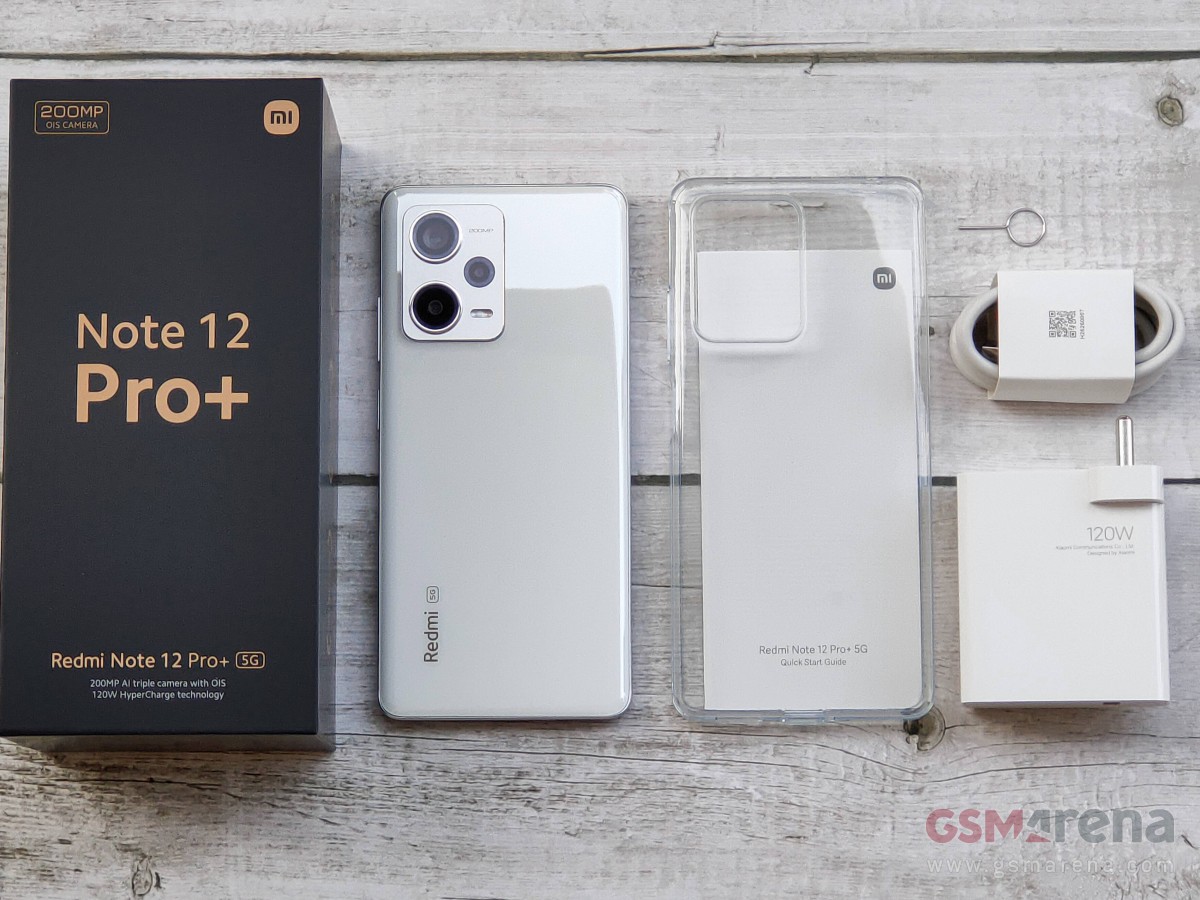 In comparison, in Europe the Redmi Note 12 Pro+ comes in a white retail package, which also has the phone's picture on it. However, it's not representative of the color model you get inside the box.
Another difference between the phone's packages in India and Europe is the power adapter. Both come with a 120W charger, but they look different, with the one bundled with the box in India a bit heavier.
Regardless, we appreciate Xiaomi bundling a 120W adapter with the package. The brand told us they didn't remove the charger from the box because it would have resulted in an incomplete experience for the user. Besides, it's the only way you can take advantage of its ultra rapid charging out of the box as odds are you don't have such a powerful brick at hand.
Design
The Redmi Note 12 Pro+ packs a 6.67" FullHD+ "Pro AMOLED" display, protected by Gorilla Glass 5. It has 120Hz refresh rate and a peak brightness of 900 nits.
The panel also has a punch hole in the center for the 16MP selfie camera, but there's no fingerprint scanner underneath since it's embedded in the power button.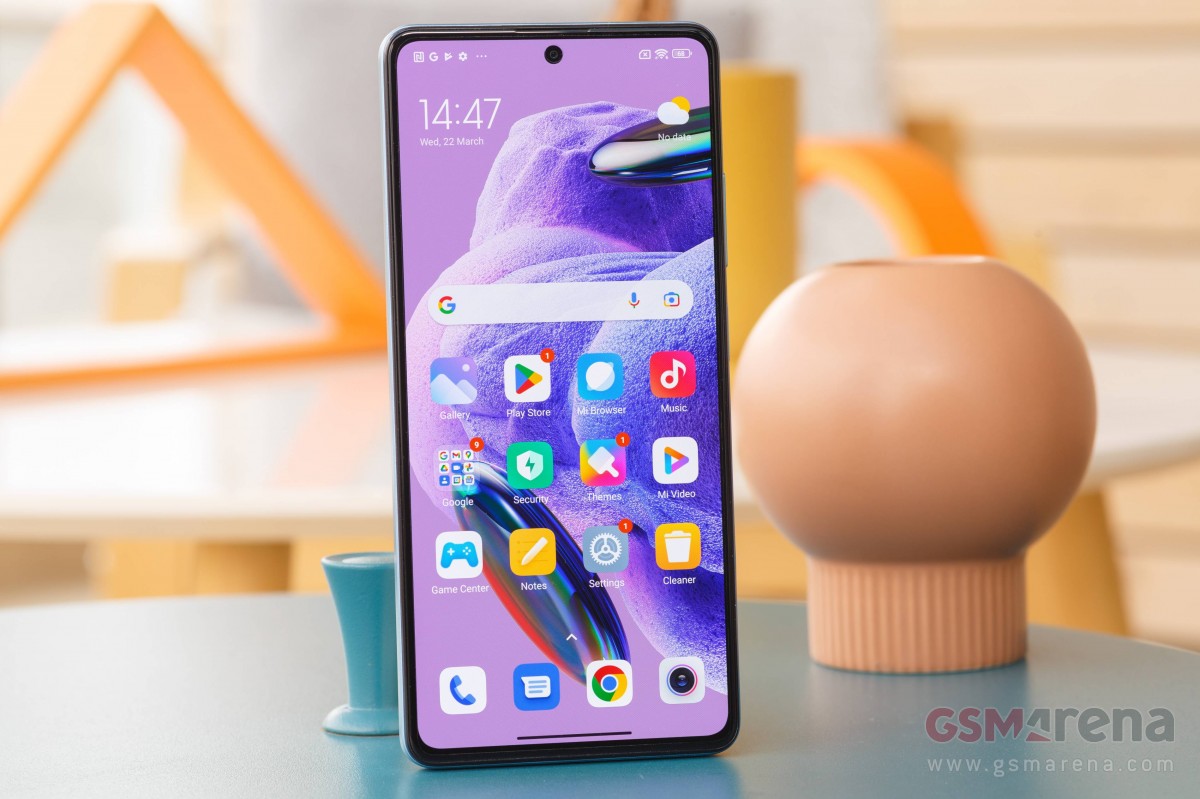 On the opposite side, we have a glass back panel sporting a rectangular camera island housing three cameras and an LED flash. The glass cover doesn't feel cheap, but it readily attracted fingerprint smudges, so regular wiping is required if you aren't using a protective case and want to keep its pristine looks.
It's also worth mentioning that the protruding camera island causes the phone to wobble on flat surfaces, and the bundled case doesn't really fix it.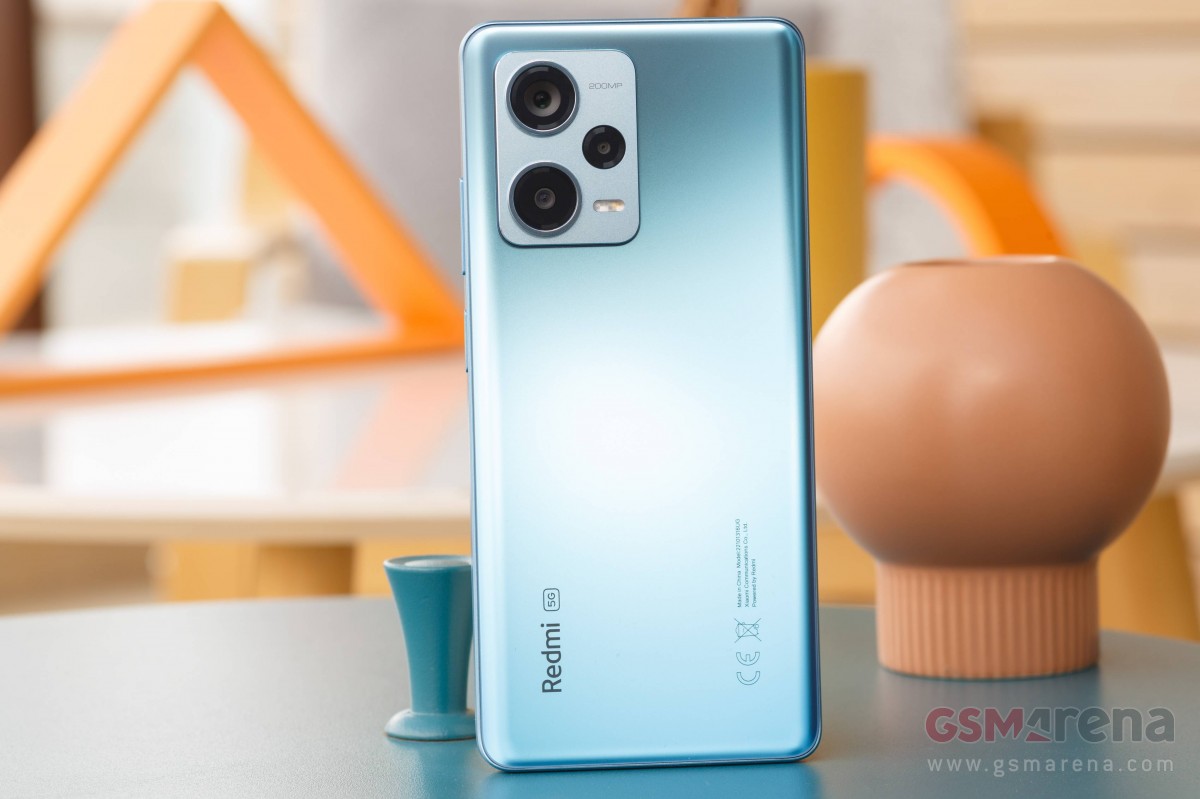 The Redmi Note 12 Pro+ has flat frames, but fortunately, its rear panel has slender curves around the edges, which makes it easier to hold than phones with flat edges. However, the Redmi Note 12 Pro+ is no compact phone, and people with small hands may find it difficult to use it with one hand.
The smartphone has a USB-C port at the bottom, flanked by a speaker, microphone, and a SIM card slot. Up top, it has a 3.5mm headphone jack, joined by another speaker, a secondary mic, and an IR blaster.
The Redmi Note 12 Pro+'s left-side frame is devoid of any buttons or slots, but on the right, we have the volume rocker and power button. The latter has a fingerprint scanner embedded, which we found to be fast and accurate during our usage. However, we would have liked to see it come with an in-display solution.
When asked about the rationale behind opting for a side-mounted solution instead of an under-display one, Xiaomi said it's because the former is faster and performs better in the long term than the in-display type. Well, that doesn't make much sense to us since the Chinese brand has launched smartphones with UD fingerprint readers before, even in the mid-range segment.
That said, on the upside, the side-mounted fingerprint scanner does more than just unlock the Redmi Note 12 Pro+. It supports double-tap gestures to let you perform different actions, including taking a screenshot, launching the default camera app, and opening the control center.
Display
The Redmi Note 12 Pro+'s 6.67" Pro AMOLED display has 900 nits peak brightness, 120Hz screen refresh rate, and up to 240Hz touch sampling rate. It is a 10-bit display, which comes with HDR10+ certification and Widevine L1 support, allowing users to stream 1080p videos on supported OTT apps.
It also supports HDR10 and HLG codecs, and for an even better multimedia experience, you get Dolby Vision and Dolby Atmos.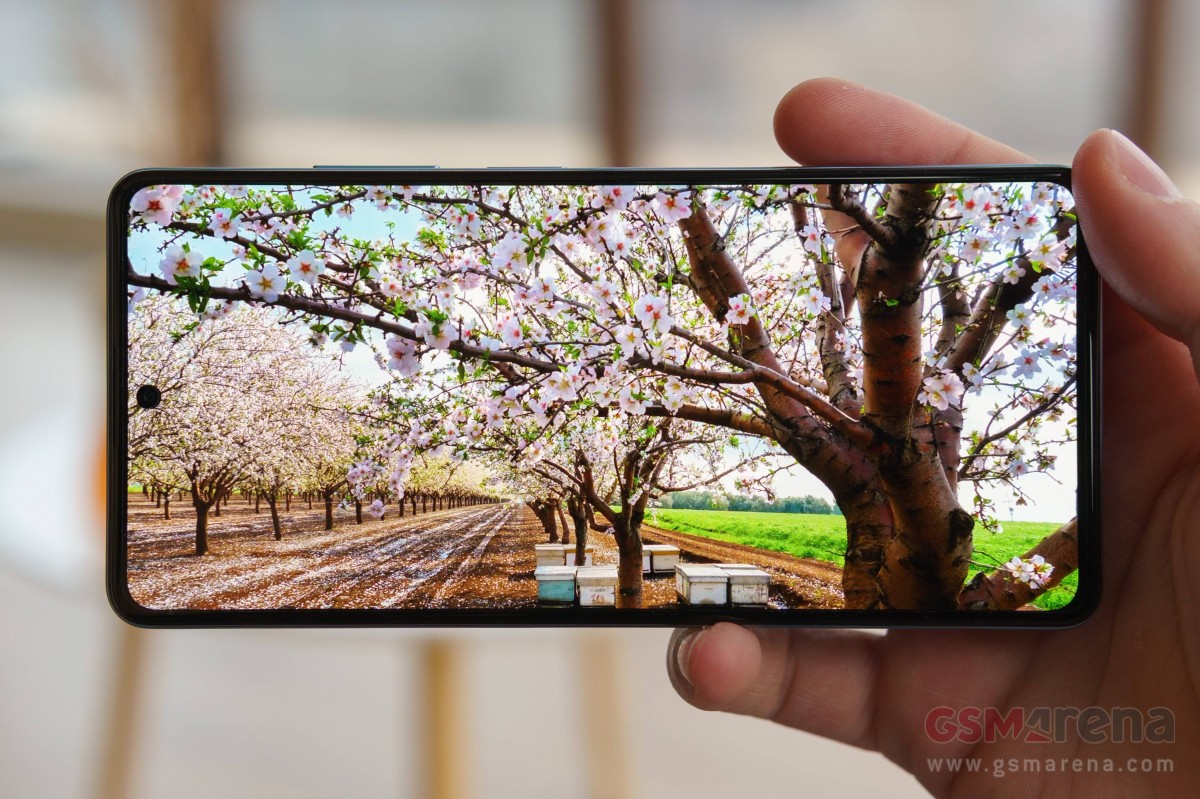 The Redmi Note 12 Pro+'s screen has nice haptic feedback, and the display was sufficiently bright to read textual content under direct sunlight at max brightness.
It also comes with the Always-On Display feature, but that's misleading since it doesn't really keep the screen always on after the phone is locked, which is what the name implies. The information is shown on the screen for only about 10 seconds after the phone is locked or the display is tapped, which isn't something we see with Always-On Displays on devices from other brands. Xiaomi should've done better with its implementation.
The Redmi Note 12 Pro+ has 60Hz and 120Hz refresh rate options in the custom refresh rate menu and supports four refresh rates in total - 30Hz, 60Hz, 90Hz, and 120Hz.
At the default setting, the refresh rate is bumped up to 120Hz for most of the system menus and apps when you are interacting with the screen, except for YouTube, which remains at 60Hz no matter what, while Google Photos remains at 120Hz even when you are playing 30fps videos. For Facebook and Instagram, the display refreshes at 120Hz when you interact with the screen and comes down to 60Hz when you are watching an image or playing a video.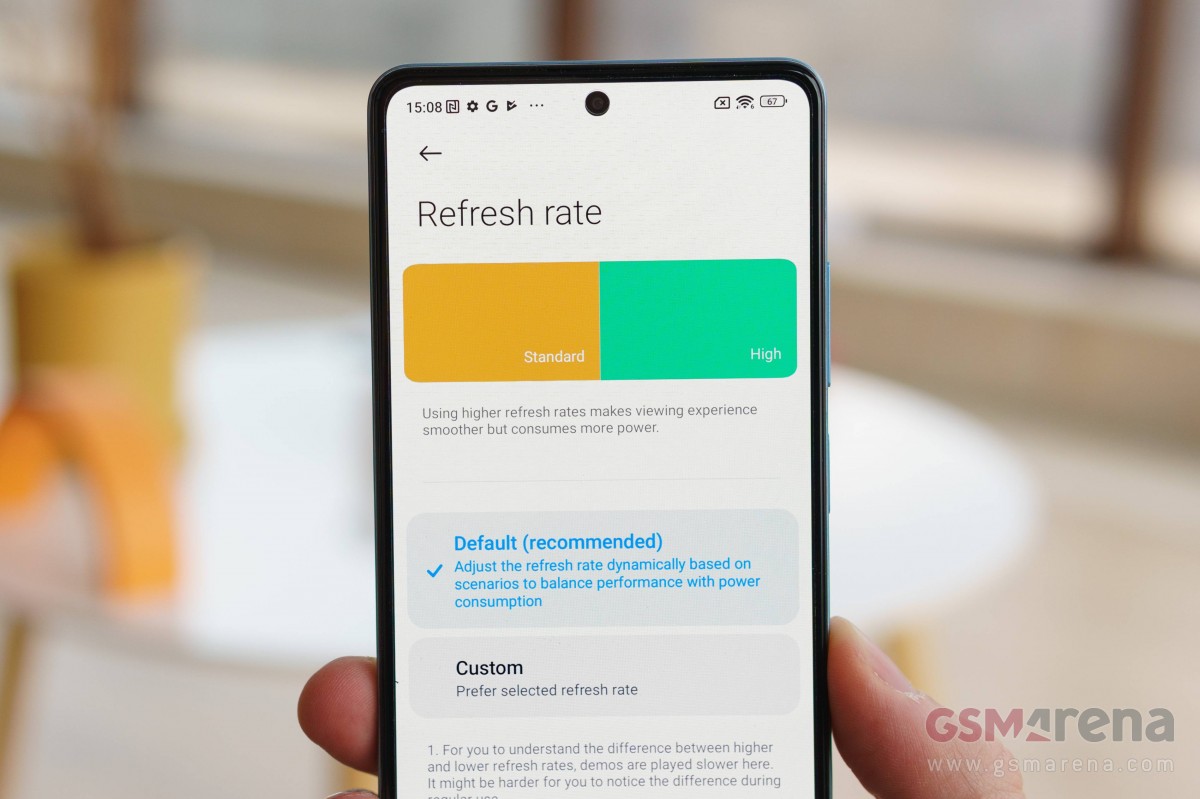 The refresh rate expectedly remains at 60Hz in the 60Hz mode for everything, whether you are interacting with the screen or just looking at it, while the 120Hz mode is basically just the default mode.
Talking about games, we tried Call of Duty Mobile, Dead Trigger 2, Real Racing 3, and Sky Force Reloaded on the Redmi Note 12 Pro+, and we were only able to play Dead Trigger 2 and Sky Force Reloaded at 120FPS in default and 120Hz modes since the other two remained capped at 60FPS, no matter which mode you selected.
It's also worth mentioning that at no point did we see the screen refresh at 30Hz, which it should have when we played some 30FPS videos and were looking at static content on the screen, which is weird since Xiaomi does advertise 30Hz support for the panel. Some optimizations to the HRR implementation would be appreciated.
Software and Performance
The Redmi Note 12 Pro+ is powered by the Dimensity 1080 SoC and comes with up to 12GB of LPDDR4X RAM and 256GB of UFS 2.2 storage. The one we received is the top-end model, and regardless of which configuration you go with, the phone boots Android 12-based MIUI 13 out of the box. Ours came with MIUI 13.0.2 Global Stable ROM with November 2022 Android security patch and is currently running MIUI 13.0.6 with February 2023 security patch. The smartphone also comes pre-installed with third-party apps, but most of them can be uninstalled if you wish to.
Xiaomi promises four years of quarterly security patches and two years of software updates. If the latter has you thinking that your Note 12 Pro+ will receive updates till Android 15, you are mistaken, since it will only get Android 13 and Android 14, as it's a version behind at this point. And seeing how developer previews of Android 14 are already out, the Chinese phone maker should have released the stable Android 13 for the Redmi Note 12 Pro+ already.
The software experience you get on the Redmi Note 12 Pro+ is similar to what you get on other Redmi smartphones running Android 12 and MIUI 13. However, there were a few bugs that hampered the user experience, one of them being the phone's inability to remain latched to the 5G network in India. It kept falling back to 4G and only locked to 5G again after a restart. Fortunately, this was fixed with the MIUI 13.0.6 update.
The overall performance of the Redmi Note 12 Pro+ was smooth and snappy. However, we still have issues with LinkedIn and Disney+ Hotstar's apps. The phone stutters most of the time when using the former, and with the latter, it's the phone's brightness slider that lags when adjusting the brightness in full-screen mode. We didn't have this issue with YouTube and Amazon Prime Video.
The Redmi Note 12 Pro+ handled the games we mentioned above well and remained cool enough even after an hour of heavy gaming. However, it did get warm quickly on the 5G network when streaming videos compared to the 4G network.
Camera and Battery
The Redmi Note 12 Pro+ comes with four cameras - a 16MP selfie shooter on the front, with a 200MP primary camera (ISOCELL HPX) on the rear, joined by 8MP ultrawide and 2MP macro units. The selfie camera inside the centered punch hole has f/2.5 aperture and can record videos in up to 1080p resolution at 60FPS.
The 200MP camera, on the other hand, has f/1.7 aperture and OIS for photos and videos. It can shoot videos in 1080p at up to 60 FPS and in 4K at 30 FPS. It can also capture 10-bit RAW images. However, the Redmi Note 12 Pro+ doesn't come with the Clone feature we've seen on other Redmi smartphones, including the Redmi K50i, and there's currently no indication it will be added through a software update since Xiaomi told us "it's majorly due to the hardware capabilities of the processor."
The Redmi Note 12 Pro+'s 8MP ultrawide camera has a 120° FOV and f/2.2 aperture, while the 2MP macro camera has an f/2.4 aperture. We took some photos from the Redmi Note 12 Pro+ during the day and night that you can see below since we are leaving the detailed analysis for our in-depth review.
Here are some daylight photos.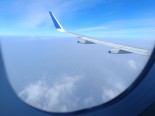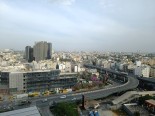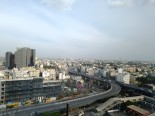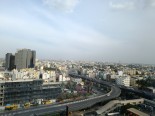 12.5MP • 12.5MP • 50MP • 200MP
And here are some nighttime photos.
The Redmi Note 12 Pro+ packs a 4,980mAh battery that supports 120W HyperCharge, which is a first for a Redmi device. However, it doesn't come with 120W charging enabled out of the box. You have to turn it on by heading to the phone's Settings > Battery > Battery > Boost charging speed menu. But note that the phone will heat up more with boost charging enabled.
Our standard battery tests aren't yet complete, but anecdotally speaking, the smartphone easily lasted us through a day on a single charge in 120Hz mode with 5G mobile data and Wi-Fi hotspot enabled. The usage consisted of web browsing, streaming 1080p YouTube videos, using social media apps, and at least half an hour of playing resource-intensive games. On the 4G network, it had better endurance.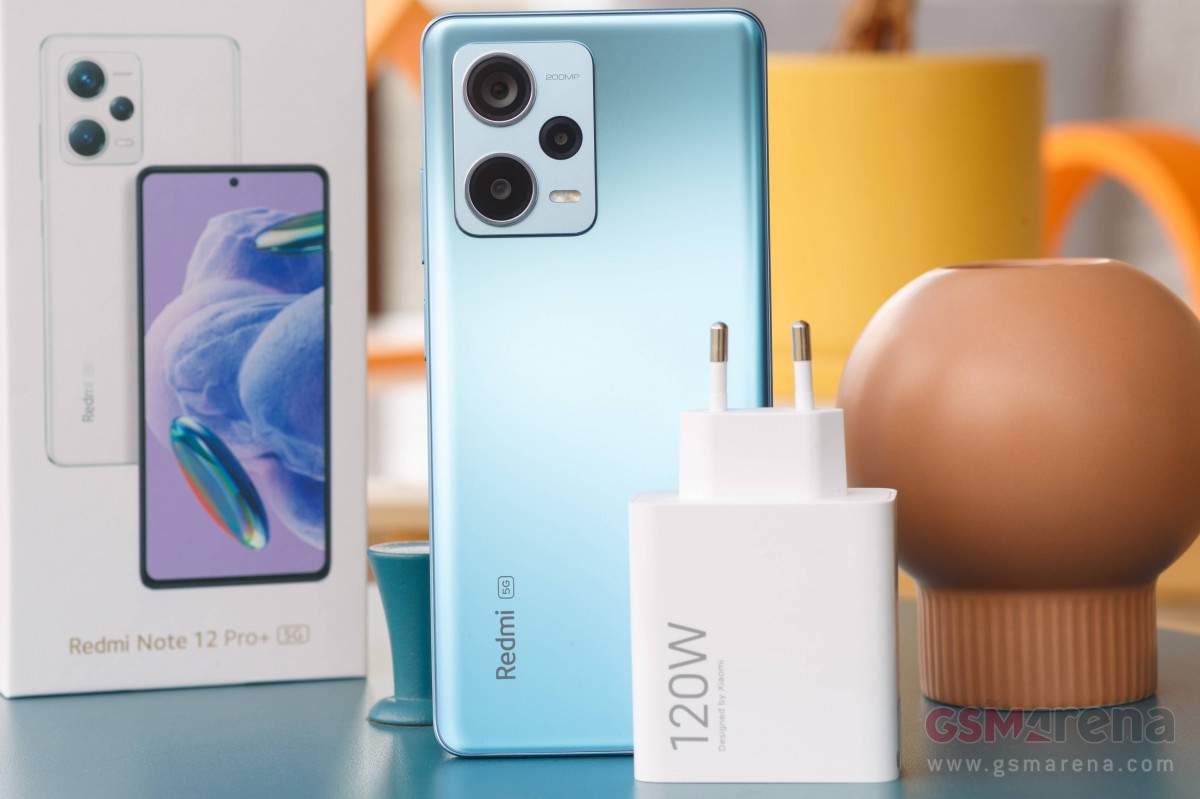 Once the battery is out of juice, you can use the bundled 120W adapter for charging, advertised to fill the Redmi Note 12 Pro+'s cell from 2% to 100% in 19 minutes with boost charging enabled.
In our testing, the Redmi Note 12 Pro+'s battery went from 1% to 34% in 5 minutes, 50% in 9 minutes, 55% in 10 minutes, 75% in 15 minutes, 91% in 20 minutes, and 100% in 24 minutes.
With boost charging disabled, it went from 1% to 32% in 5 minutes, 50% in 10 minutes, 66% in 15 minutes, 87% in 20 minutes, and 100% in 29 minutes.
We ran these charging tests in India with the 5G mobile data turned on and the screen turned off, and it's needless to say that your mileage will likely vary depending on your usage and ambient temperature. Over at our HQ in Europe, the Redmi 12 Pro+ expectedly charged faster. How fast? You'll find that out in our in-depth review.
Conclusion
Xiaomi continues to increase the price of the Redmi Note lineup with the Redmi Note 12 Pro+, and the company told us that's because it doesn't want to compromise on anything just to keep the lineup as affordable as it was before. In Europe, the Redmi Note 12 Pro+'s base model with 8GB RAM and 256GB storage is priced at €500 ($540/INR44,400), while in India, it costs INR29,999 ($365/€340).
The Redmi Note 12 Pro+ is named a successor to last year's Note 11 Pro+. However, in India, it actually comes to replace the the Xiaomi 11i HyperCharge since the brand won't launch any 12i series smartphones in the country to succeed last year's 11i lineup. To add further confusionthe 11i HyperCharge is known as the Note 11 Pro+ in other countries, and there's also a Note 11 Pro+ in India, which has different specs.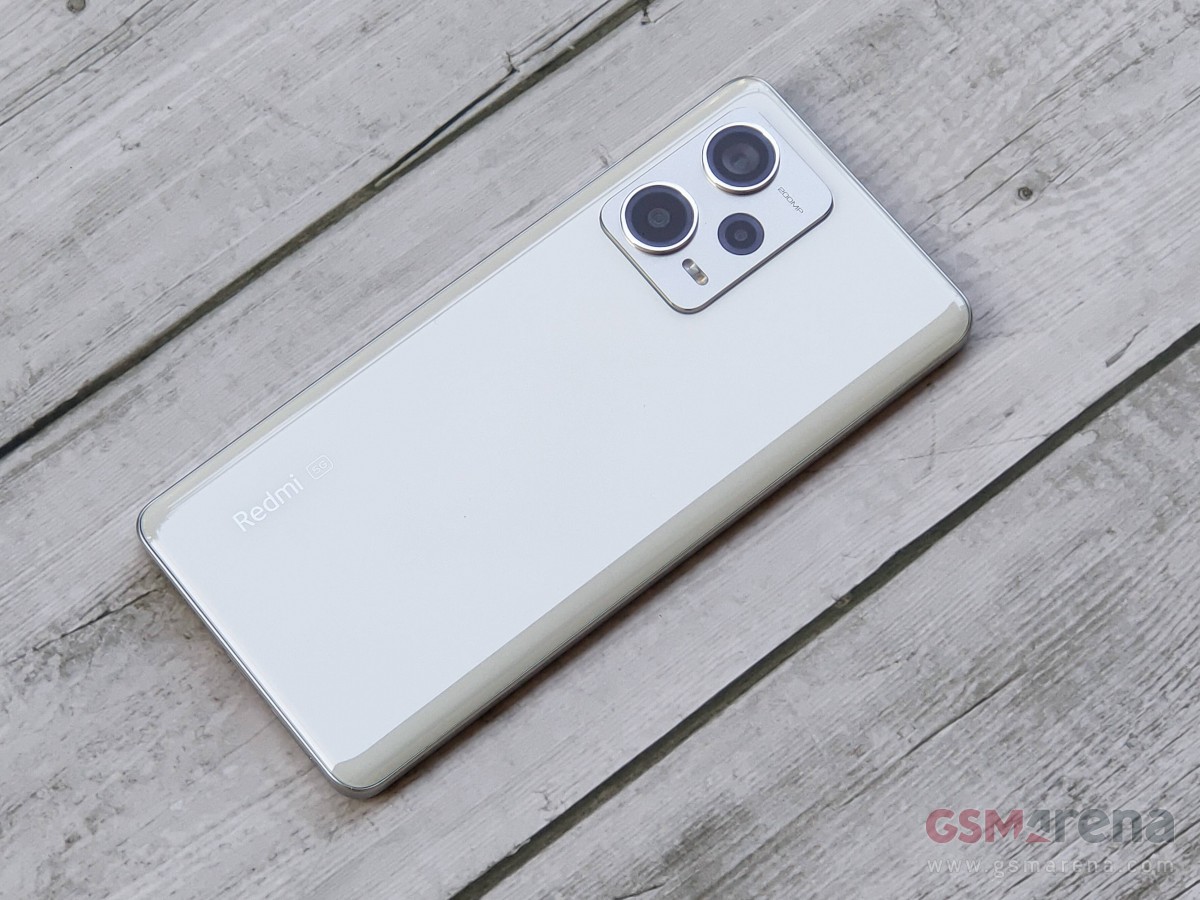 Xiaomi said starting with the Redmi Note 12 series, it aims to streamline the lineup so here's hoping there won't be over a dozen different models in the Note 12 series like we had in the Note 11 lineup.
Circling back to the Redmi Note 12 Pro+, we must say it's a nice phone overall having a snappy performance, premium design with an IP53 rating, good battery life, and super fast charging. The smartphone still runs Android 12, and it was launched with a few bugs, although some of them have been squashed with software updates.
But we'll need to run the rest of the tests before we decide if the Redmi Note 12 Pro+ is worth the premium over its predecessor. Stay tuned for our in-depth review to find that out!
D
Man pelae educate us how a phone with worse specs, worse charging, worse screen, no charger and no case in box can be better thats makes no sense. Note 12 pro plus beats A54 like if you put Sylvester Stallone from Rocky movie into the ring with Mu...
D
Man i am from Slovakia and i dont see any more from it if we speak about a phone with no charger in box. In this case redmi is way better also you get case with your phone for free and some other things which ware way better than A54 will ever had...
D
Anytime and anyday much better than A54. Even if they add 20% discount to it rather will buy redmi with charger 200 Mpix and much better specs than crawling A54 with nothing but 5 years of updates but phone will luckily last maybe 3 years then it ...
ADVERTISEMENTS