A familiar combination - Android 12 with MIUI 14
The Redmi Note 12 Pro+ is running the company's latest MIUI 14 on top of the older Android 12. The team behind MIUI 14 updated the system architecture on the Android Kernel level with CPU, GPU and memory resource scheduling, lighter system firmware size and decreased memory usage.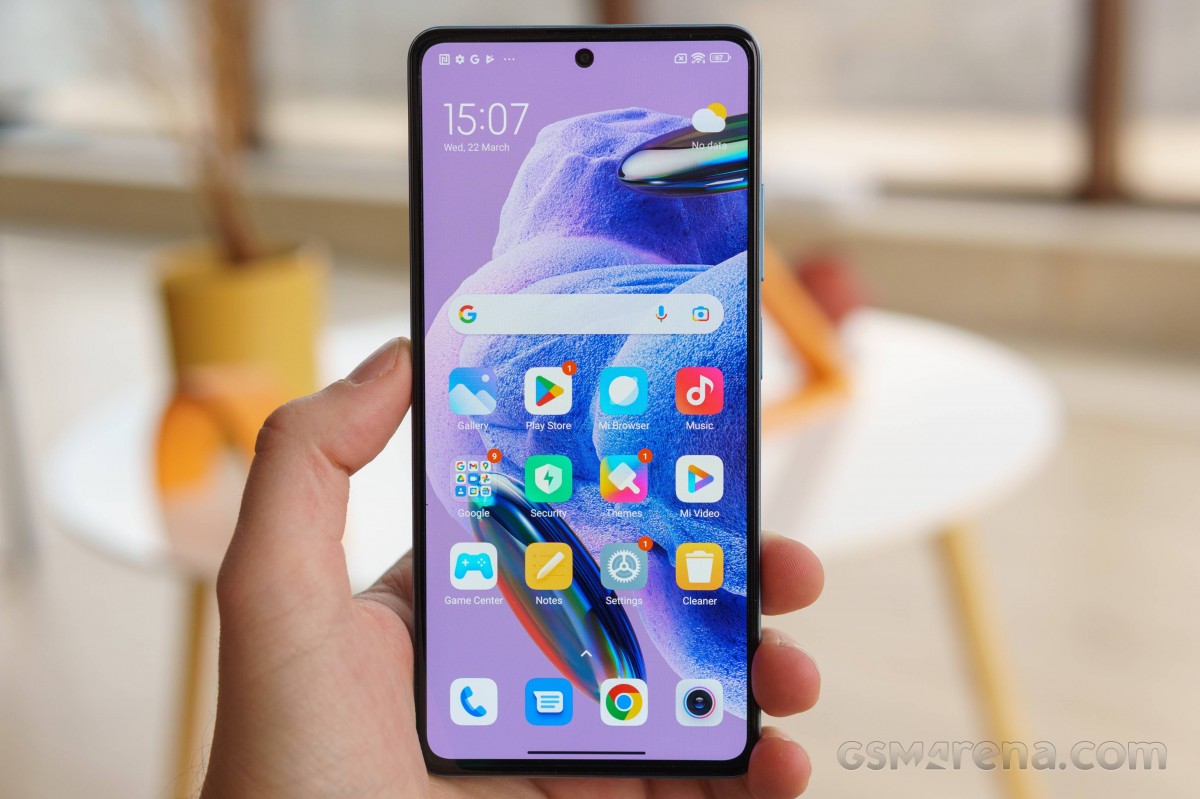 Let's quickly go over the new things. Only eight system apps cannot be uninstalled, which is a major leap from past MIUI releases. Other neat optimizations include automatic compression for apps that are not actively used and a toggle to turn off permanent notifications.
Going over the list of expected new additions to MIUI 14 from its official release, we oddly found a lot is not yet present on our Redmi Note 12 Pro+ unit. Perhaps some of the new features will be delivered later with updates. Our unit lacks the new animated character widgets, for one, but it does have the new style of enlarged folders.
We also didn't find the duplicate file merger, Xiaomi wireless accessory cross-device switching controls, nor the new family account features. The improved text recognition and extraction from images in the gallery were not present, too.
Other than these few changes, MIUI hasn't morphed in any major way, and users will feel right at home.
The split between a notification shade and Control Center is enabled by default this time, and that's probably a good thing. We found it to be quite convenient, and it's a way to educate users about MIUI's unique approach to the UI. And in case you are not a fan, you can always revert back to the standard notification shade with quick toggles in one place.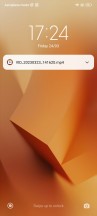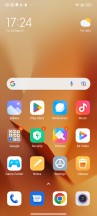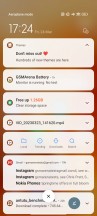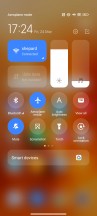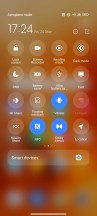 Lockscreen • Home screen • notification shade • Control center
The home screen, recent apps and the general settings menu are business as usual. The app drawer is also enabled by default, and we like that Xiaomi has placed the search bar at the bottom of the screen for easier reach. There are custom and preset app categories for faster navigation.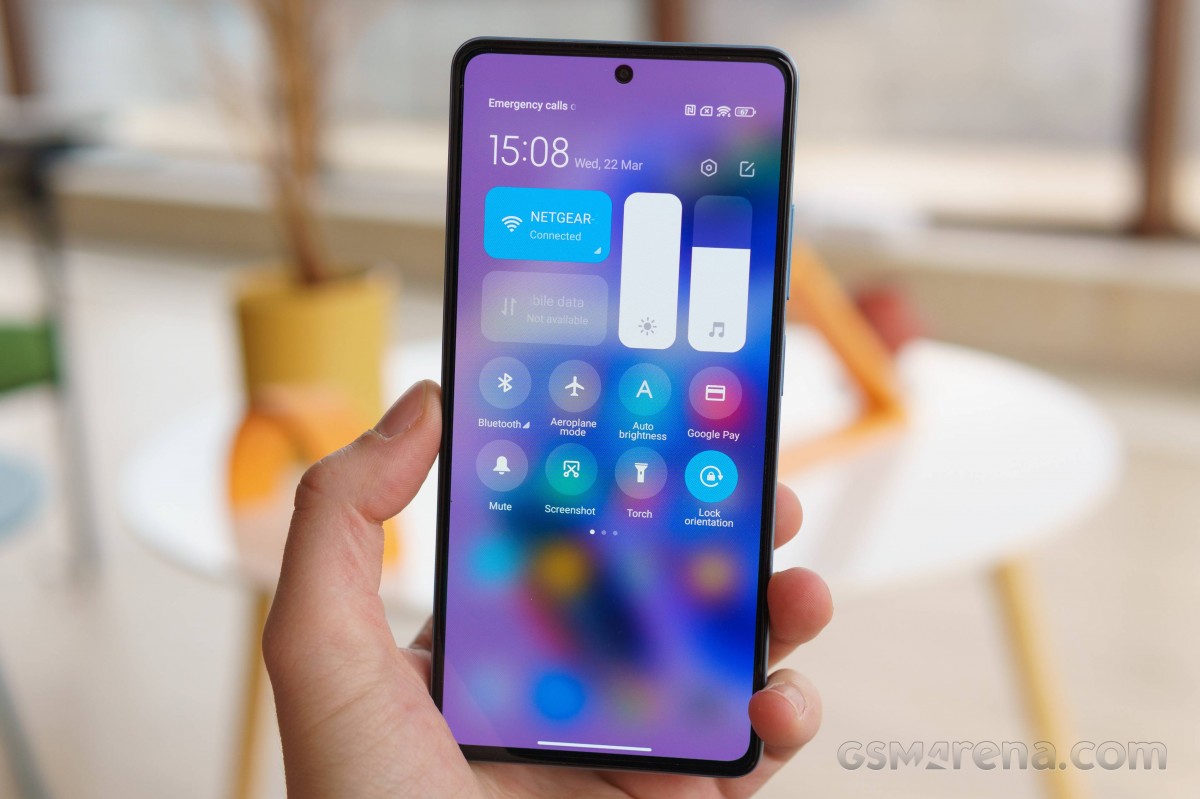 Unlike the standard recent apps menu, the MIUI task switcher lists the apps vertically and provides several useful shortcuts. That's where you can open up apps in floating windows. However, you can have only one floating app open at a time. In case you want a faster shortcut to apps that support free-form windows, just enable the Sidebar.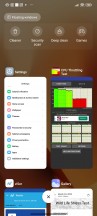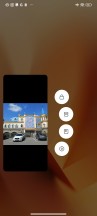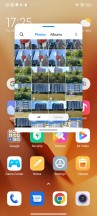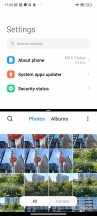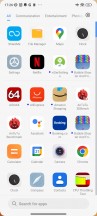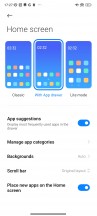 Recent apps • Options • Floating window • Split screen • app drawer
Notably, the Sidebar is different depending on the scenario. In games, the Sidebar provides a couple of gaming-related features, while in video apps, the Sidebar becomes a Video toolbox. It lets you launch video apps in pop-up windows, Screenshot, Record screen, Cast, and Play Video with the screen off, including on YouTube without a Premium subscription. The only caveat is that the apps where you want the feature enabled need to be whitelisted in advance.
Customization is, as always, a big part of MIUI. The system lets you choose the style of the Always-on display or the theme of the UI. Aside from the ones pre-installed on the device, there's a Themes store that gives you a wide selection. The themes themselves change not only the general appearance but also the ringtones and system icons.
Moving on to privacy and security, MIUI comes with a pre-installed system Security app. Aside from the additional malware protection layer it provides, the app holds many of the app settings and privacy features in one place. It can manage your blacklist, manage or restrict your data usage, configure battery behavior, and free up some RAM. It can also manage the permissions of your installed apps, define the battery behavior of selected apps, and apply restrictions only to certain apps.
MIUI 14 offers Memory Extension option that's active by default (you can disable it if you like). On our review unit, we could choose between 2GB, 3GB and 5GB of internal storage reserved to serve as RAM extension. Less important memory blocks should come here.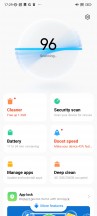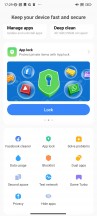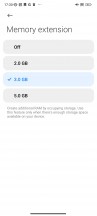 Security app • Security app • Memory extension
Speaking of security, the side-mounted fingerprint reader is fast and reliable. And you can choose between Touch and Press for scanning trigger.
MIUI comes with its proprietary multimedia apps - there's Gallery, and Music and Mi Video (both with local and streaming options). A MIUI File manager is also on board. And, of course, there is a Mi Remote app that uses the integrated IR blaster.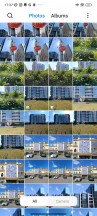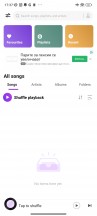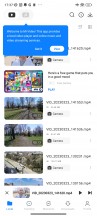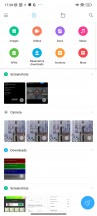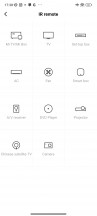 Gallery • Music • Video • File manager • Mi Remote
All in all, MIUI 14 changed a little over the 13th iteration. At least on our Redmi Note 12 Pro+ unit, that is. It's just as snappy and customizable as ever. Xiaomi has paid special attention to the haptics on this unit, and we found the motor to be crisp, strong and accurate. There's even haptic feedback intensity adjustment if you find it obtrusive or not strong enough.
Some MIUI ROMs include ads in the default apps, it is a well-known thing. And the Redmi Note 12 Pro+ does come with baked-in ad "recommendations".
You can disable those even if it's a bit tedious to do it because you have to do it for every system app that has them. For example, if you are annoyed by the app scanner's ads, just hit the settings gear, and disable recommendations. Ads in the File Manager - Settings->About should do it. Themes - go to Settings and disable Recommendations. It's not ideal, sure, but at least you can get rid of them all. Note that some of the opt-outs are for a 30-day period and after that you will need to disable it again. And again.
Performance and benchmarks
The Redmi Note 12 Pro+ is powered by the Dimensity 1080 chipset by MediaTek. It's an improved version of the Dimensity 920 inside the Redmi Note 11 Pro+ with slightly better performance, better efficiency, and beefed-up camera support.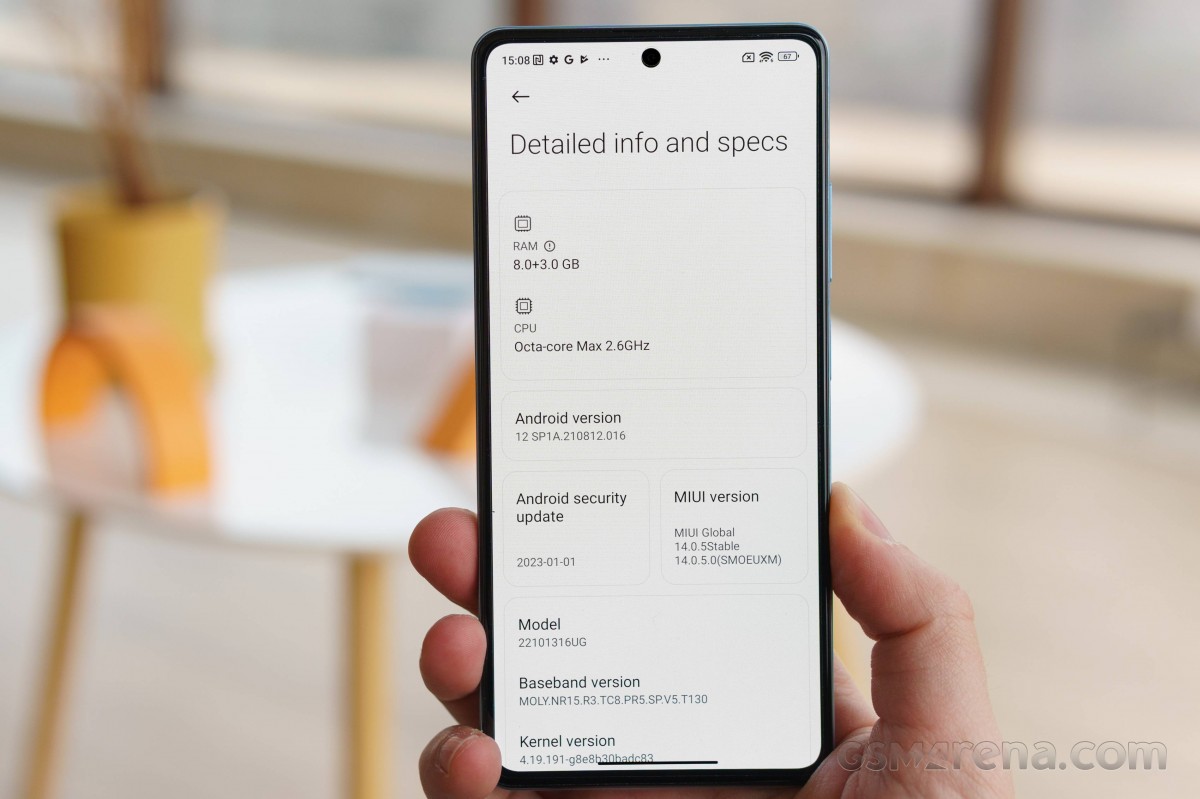 The most significant changes here are the chip's camera capabilities. The new Dimensity 1080 can handle image data from sensors up to 200MP (previously 108MP) with the Imagiq ISP. There's mention of hardware-accelerated HDR video at up to 4K resolution, but this isn't a new feature.
This new Dimensity 1080 5G chipset gets slightly updated performance with two Cortex-A78 performance cores clocked at 2.6GHz (up from 2.5GHz), while the six Cortex-A55 remain clocked at 2.0GHz.
The GPU is the same Mali-G68, and the chipset is still built on the 6nm process. From the performance aspect, benchmark scores may not see a significant jump compared to devices running the preceding chip.
The global Redmi Note 12 Pro+ is available in just one memory option - 8GB LPDDR4X RAM + 256GB UFS 2.2 storage. This year the Pro models have no microSD expansion.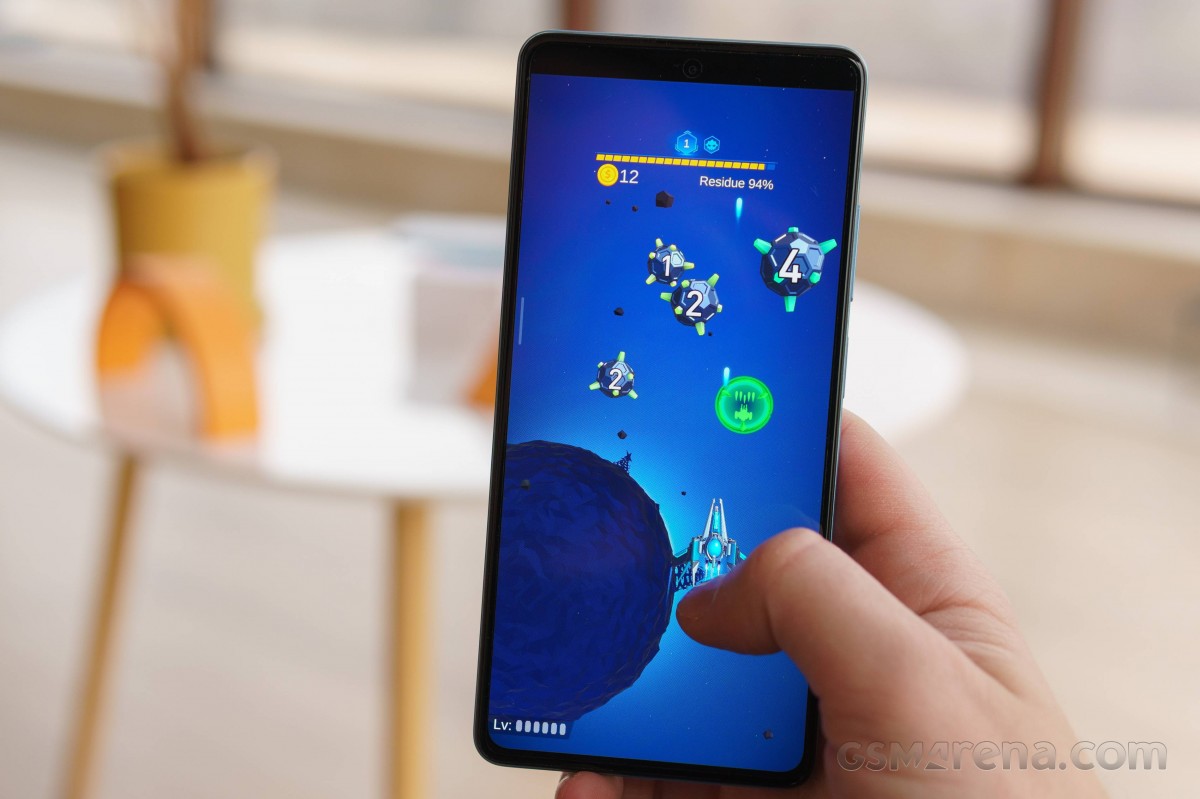 First, we ran the usual CPU benchmarks. As you can see there is no difference in the CPU performance between the Redmi Note 11 Pro+ (DM920) and the Redmi Note 12 Pro+ (DM1080). The processor is not the fastest in the price bracket either but will surely not disappoint.
GeekBench 5 (multi-core)
Higher is better
Xiaomi 13 Lite
2936
Poco X5 Pro
2930
Samsung Galaxy A54
2703
Realme 10 Pro+
2371
Redmi Note 11 Pro+ 5G
2225
Xiaomi Redmi Note 12 Pro+
2208
Poco X5
2088
Redmi Note 11 Pro 5G
2063
Realme 10 Pro
2021
Galaxy A33 5G
1900
Motorola Moto G72
1842
GeekBench 5 (single-core)
Higher is better
Realme 10 Pro+
842
Xiaomi 13 Lite
795
Poco X5 Pro
781
Samsung Galaxy A54
770
Xiaomi Redmi Note 12 Pro+
767
Galaxy A33 5G
742
Redmi Note 11 Pro+ 5G
736
Realme 10 Pro
698
Poco X5
693
Redmi Note 11 Pro 5G
688
Motorola Moto G72
546
GeekBench 6 (multi-core)
Higher is better
Samsung Galaxy A54
2797
Xiaomi 13 Lite
2434
Xiaomi Redmi Note 12 Pro+
2372
GeekBench 6 (single-core)
Higher is better
Samsung Galaxy A54
1008
Xiaomi Redmi Note 12 Pro+
960
Xiaomi 13 Lite
938
The GPU performance of the Mali-G68 MC4 is identical on the new and previous Redmi model. As far as competition goes, it is among the best scoring, bested by the most recent Snapdragon 7 Gen 1's GPU.
GFX Car Chase ES 3.1 (onscreen)
Higher is better
Xiaomi 13 Lite
33
Poco X5 Pro
28
Samsung Galaxy A54
25
Xiaomi Redmi Note 12 Pro+
22
Redmi Note 11 Pro+ 5G
22
Realme 10 Pro+
21
Galaxy A33 5G
20
Redmi Note 11 Pro 5G
17
Realme 10 Pro
16
Motorola Moto G72
13
GFX Manhattan ES 3.0 (onscreen)
Higher is better
Xiaomi 13 Lite
80
Samsung Galaxy A54
69
Xiaomi Redmi Note 12 Pro+
58
Redmi Note 11 Pro+ 5G
57
Realme 10 Pro+
56
Galaxy A33 5G
56
Redmi Note 11 Pro 5G
41
Realme 10 Pro
41
Motorola Moto G72
37
3DMark Wild Life Vulkan 1.1 (offscreen 1440p)
Higher is better
Xiaomi 13 Lite
2969
Samsung Galaxy A54
2818
Galaxy A33 5G
2260
Realme 10 Pro+
2252
Xiaomi Redmi Note 12 Pro+
2248
Redmi Note 11 Pro+ 5G
2014
Motorola Moto G72
1255
Realme 10 Pro
1218
Redmi Note 11 Pro 5G
1204
Finally, the compound AnTuTu test puts the new Redmi Note 12 Pro+ among the top-scoring phones in this class.
AnTuTu 9
Higher is better
Xiaomi 13 Lite
534143
Poco X5 Pro
531398
Realme 10 Pro+
522376
Samsung Galaxy A54
506678
Xiaomi Redmi Note 12 Pro+
498710
Redmi Note 11 Pro+ 5G
437872
Realme 10 Pro
401860
Poco X5
400895
Galaxy A33 5G
394918
Motorola Moto G72
383317
Redmi Note 11 Pro 5G
382902
And, before we draw some conclusions, let's explore the stability and the sustained performance on the Redmi Note 12 Pro+.
The CPU Throttle test returned 72% stability, but you can see that most of the time the phone actually kept 90% stability and for that we give it an excellent mark.
The GPU stress test returned 99.6% stability, another excellent mark.
The Redmi Note 12 Pro+ has adequate hardware and provides satisfying performance for its class. Gaming was nice and so was multi-tasking. It sure isn't the best scoring smartphone on the market, nor in its class, but we didn't experience any real-life moments to leave us wanting more.
The thermals and the stability were also great across the board - the sustained performance is great and the Redmi Note 12 Pro+ never became hot, just warm.