Decent 6.6-inch LCD with 90Hz refresh rate
The Redmi Note 11S 5G is equipped with a 6.6-inch display, and it's an LCD, as opposed to an OLED panel. The resolution is 1080x2400px in a 20:9 aspect ratio, for a pixel density of 399ppi. There's a 90Hz maximum refresh rate with some basic adaptive behavior that can bring it down to 30Hz, while the touch sampling rate is 240Hz.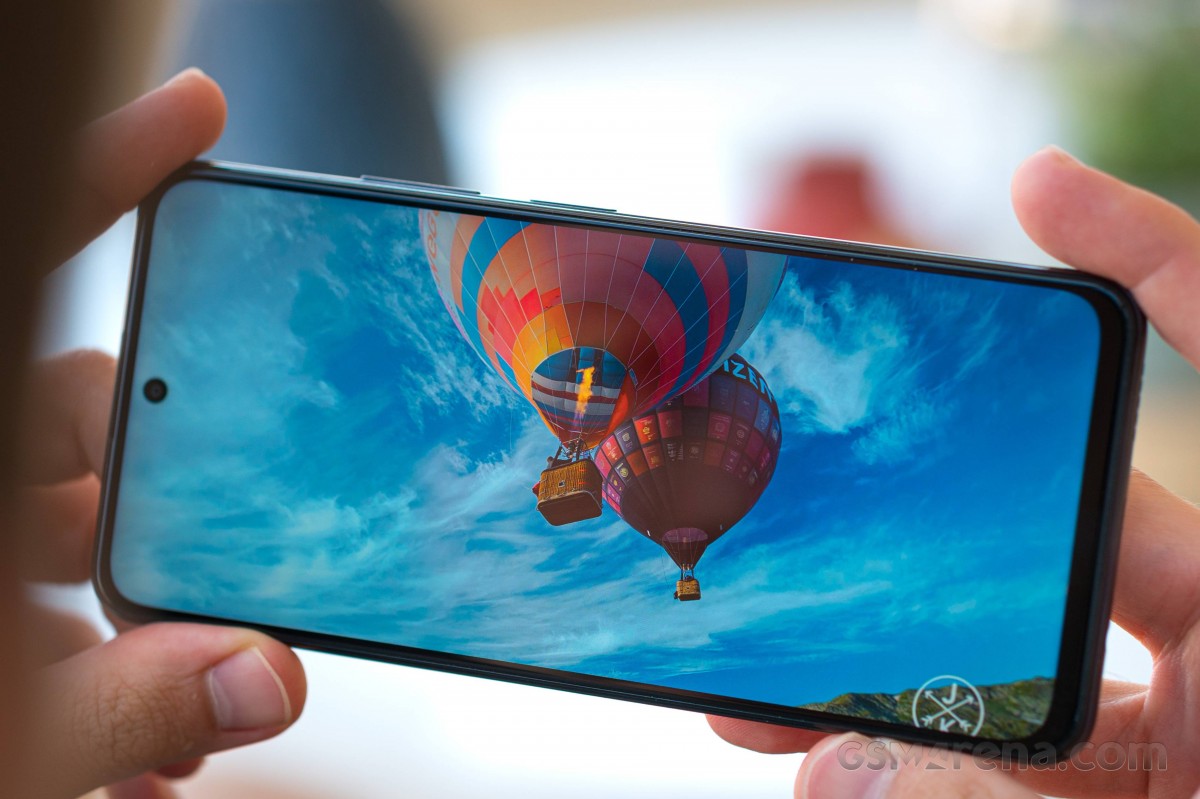 Xiaomi makes no bold promises for brightness and specifies a typical value of 450nits. We measured a bit more than that - 509nits with adaptive brightness enabled and the phone under bright light. Left to the slider with the auto disabled, the brightness is 418nits. These are essentially the same results we got on the Poco M4 Pro 5G a while back, only here the contrast is slightly lower.
Some of the other Redmi Note 11 models come with OLED displays, which not only offer way better contrast, but are also substantially brighter.
Display test
100% brightness
Black,cd/m2
White,cd/m2
Contrast ratio
Xiaomi Redmi Note 11S 5G
0.318
418
1314:1
Xiaomi Redmi Note 11S 5G (Max Auto)
0.364
509
1398:1
Xiaomi Redmi Note 11S
0
465
∞
Xiaomi Redmi Note 11S (Max Auto)
0
744
∞
Xiaomi Redmi Note 11 Pro 5G (Max Auto)
0
746
∞
Xiaomi Redmi Note 11 Pro 5G
0
470
∞
Poco M4 Pro 5G (Max Auto)
0.33
510
1545:1
Poco M4 Pro 5G
0.264
410
1553:1
Samsung Galaxy A33 5G
0
407
∞
Samsung Galaxy A33 5G (Max Auto)
0
728
∞
OnePlus Nord N20 5G
0
461
∞
OnePlus Nord N20 5G (Max Auto)
0
647
∞
OnePlus Nord CE 5G
0
429
∞
OnePlus Nord CE 5G (Max Auto)
0
607
∞
Realme 9 Pro
0.288
461
1601:1
Realme 9 Pro (Max Auto)
0.385
567
1473:1
Motorola Moto G51 5G
0.298
487
1634:1
Motorola Moto G51 5G (Max Auto)
0.36
595
1653:1
Realme 8s 5G
0.311
411
1322:1
Realme 8s 5G (Max Auto)
0.383
530
1384:1
Color reproduction on the Redmi Note 11S 5G is handled in a familiar manner - there are three modes, plus a color wheel for tweaking temperature in addition to Warm/Cool presets.
The default mode is Vivid, and it can cover the DCI-P3 color space (or most of it), but it is not particularly accurate for white or grayscale values where we observed a distinct blue shift. The Warm preset brings an improvement but pushes things into a reddish territory while fiddling with the color wheel brought is near-perfect white and an average dE2000 of 2.1 - you could call that excellent for the money.
Standard mode is tuned for sRGB content, but we weren't particularly impressed with its orange cast, faint as it may have been. Another custom setting got us to a more praise-worthy average dE2000 of 1.7.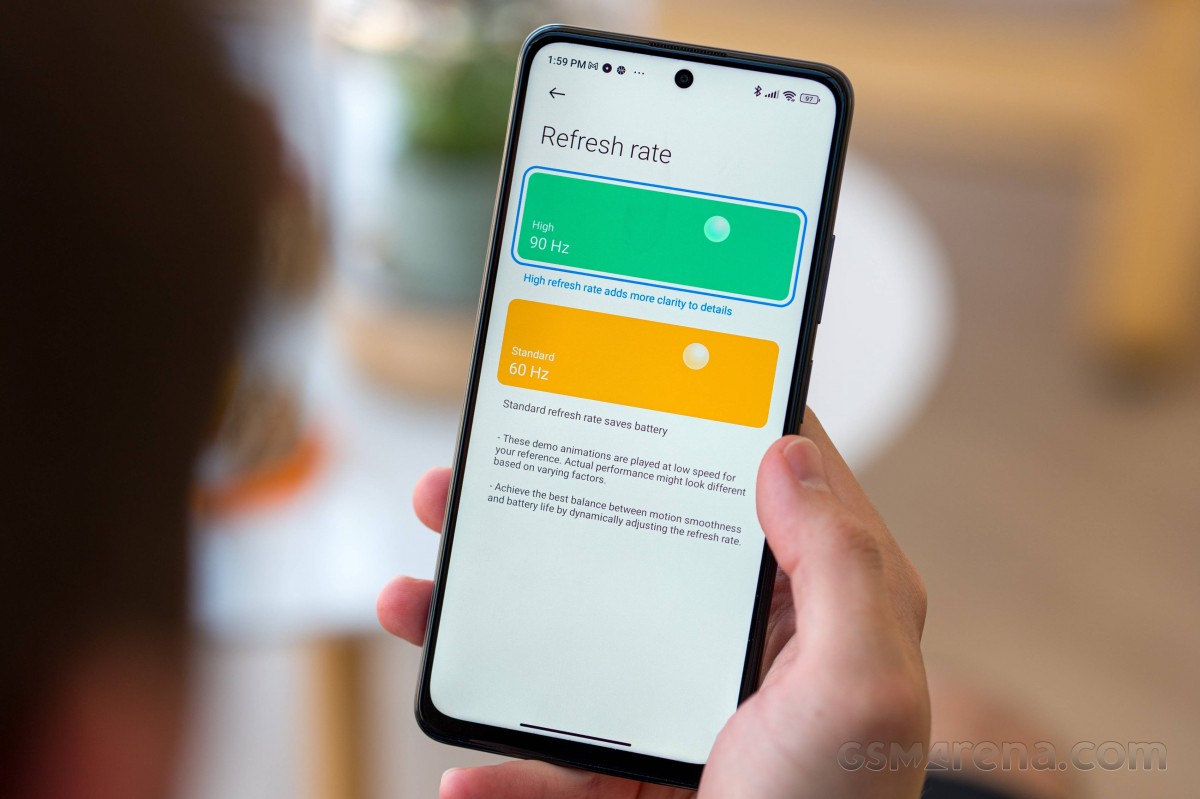 When it comes to the refresh rate, you get two options - High and Standard. The latter gets you the 90Hz maximum, while Standard limits things to 60Hz. In either mode, the phone will maintain the nominal value across most apps until it records a period of inactivity and/or static content, and it will drop to 30Hz.
Videos will be given either 60Hz or 30Hz depending on frame rate; browsers get the nominal value with a switch down to 30 unless there's moving content, in which case 60Hz will be maintained. Some games that we know support a high refresh rate were capped at 60Hz, while others (2D arcade style ones) were allowed the 90Hz refresh rate and did reach 90fps, too.
There's no HDR support on the Redmi Note 11S 5G.
Xiaomi Redmi Note 11S 5G battery life
A 5,000mAh battery powers the Redmi Note 11S 5G. Add to that a frugal 6nm chipset and a sensible refresh rate limiting policy, and the Redmi had all the prerequisites for great battery life.
Indeed, that's what we measured. At over 20h, the Wi-Fi web browsing runtime was particularly impressive, and our test did manage to trigger the logic for refresh rate spikes, so there was a nice mix of 30, 60 and 90Hz in there.
The video playback test, on the other hand, ran at a constant 60Hz, so perhaps that explains why it didn't achieve the web browsing figures. That said, nearly 16h of looping videos is still plenty. The 36:35h voice call result is excellent, too.
Adding the standby time into our formula, we got an overall Endurance rating of 131h.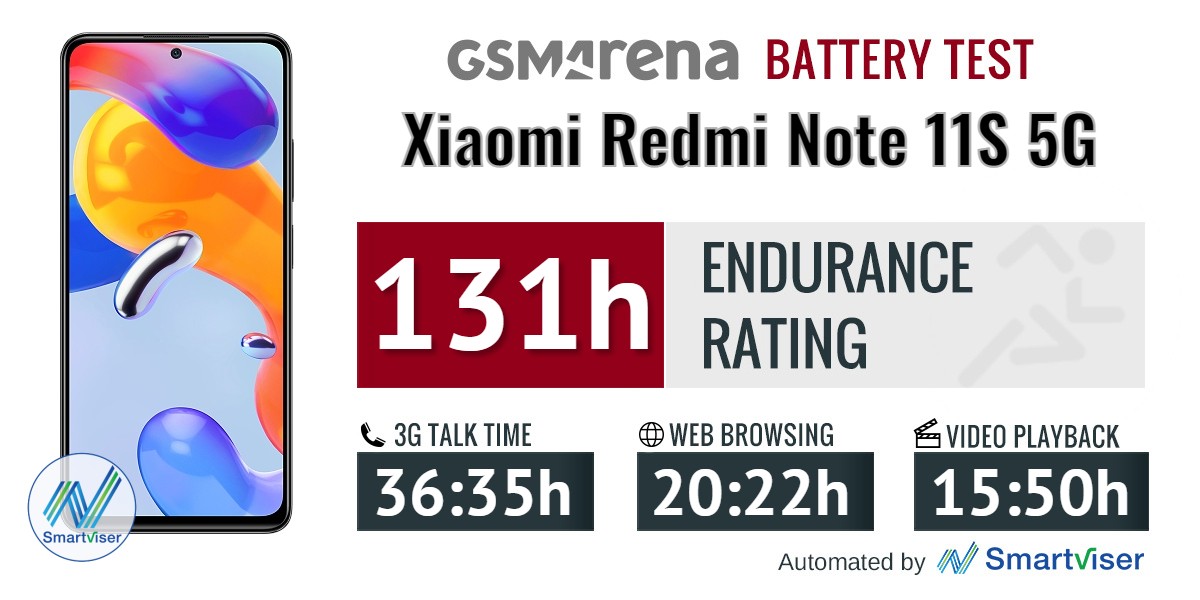 Our battery tests were automated thanks to SmartViser, using its viSerDevice app. The endurance rating denotes how long the battery charge will last you if you use the device for an hour of telephony, web browsing, and video playback daily. More details can be found here.
Video test carried out in 60Hz refresh rate mode. Web browsing test done at the display's highest refresh rate whenever possible. Refer to the respective reviews for specifics. To adjust the endurance rating formula to match your own usage - check out our all-time battery test results chart.
Charging speed
The Redmi Note 11S 5G is bundled with a 33W Xiaomi adapter. Took 1:17h from 0 to 100%, and half an hour into the process, we were looking at a half-full battery.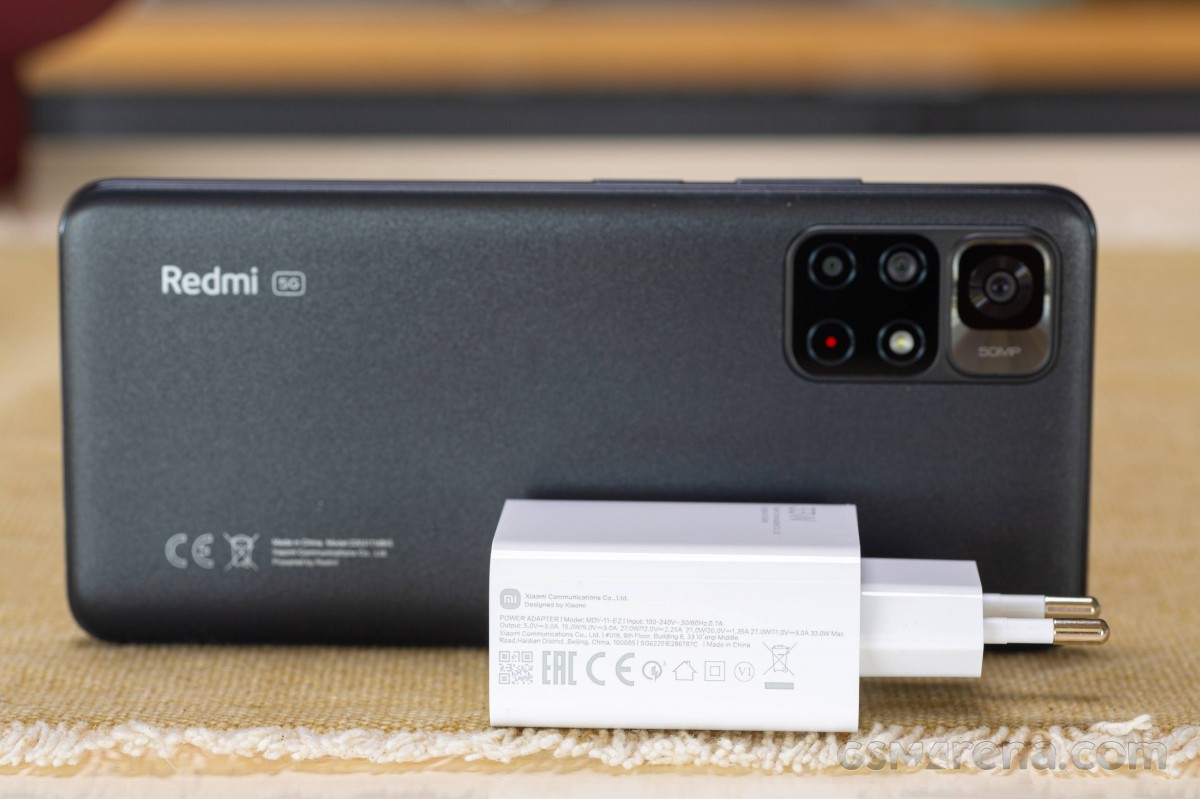 These aren't the fastest results we've seen - in fact, the Redmi ranked towards the bottom of the charts. Key competitors like the Galaxy A33 5G or the Realme 9 Pro are virtually as fast (or as slow), so the Redmi isn't losing points here.
30min charging test (from 0%)
Higher is better
Realme 9 Pro+
77%
Xiaomi Redmi Note 11 Pro 5G
74%
OnePlus Nord CE 5G
67%
Xiaomi Redmi Note 11S
59%
OnePlus Nord N20 5G
57%
Poco M4 Pro 5G
54%
Realme 9 Pro
52%
Xiaomi Redmi Note 11S 5G
51%
Realme 8s 5G
50%
Samsung Galaxy A33 5G
50%
Time to full charge (from 0%)
Lower is better
Xiaomi Redmi Note 11 Pro 5G
0:45h
Realme 9 Pro+
0:49h
Xiaomi Redmi Note 11S
1:02h
OnePlus Nord CE 5G
1:03h
Poco M4 Pro 5G
1:07h
OnePlus Nord N20 5G
1:08h
Realme 9 Pro
1:14h
Realme 8s 5G
1:14h
Samsung Galaxy A33 5G
1:15h
Xiaomi Redmi Note 11S 5G
1:17h
Speaker test
There's a stereo speaker setup on the Redmi Note 11S 5G with a 'main' speaker firing out the bottom and a secondary one that doubles as an earpiece. That top one puts out sound towards the front and towards the top at the same time, so your voice calls will tend to spill out into the open.
Another peculiarity is that the top speaker gets the right channel when the phone is held in vertical orientation - most others assign the left channel to the top speaker. That's neither here nor there, but what's more important is that the phone will not switch up channels when you're holding it in landscape mode to account for its actual position in space, which is kind of dumb on its own. But there's more - since the top speaker is the right channel, the 'correct' horizontal orientation is with the buttons on the bottom, or 90 degrees clockwise from vertical - we tend to find the other way around more natural.
In our test, the Redmi ranked in the 'Good' tier for loudness, on par with the Galaxy A33 5G and a notch below the Realme 9 Pro. While the bottom speaker is, indeed, louder, the two work well in unison and deliver nice sound with no glaring faults.
Use the Playback controls to listen to the phone sample recordings (best use headphones). We measure the average loudness of the speakers in LUFS. A lower absolute value means a louder sound. A look at the frequency response chart will tell you how far off the ideal "0db" flat line is the reproduction of the bass, treble, and mid frequencies. You can add more phones to compare how they differ. The scores and ratings are not comparable with our older loudspeaker test. Learn more about how we test here.