Android 11 with MIUI 13
The Xiaomi Redmi Note 11 Pro, like the rest of the Redmi Note 11 quartet, boots Android 11 with the most current MIUI 13 version. Most of the new MIUI features are under the hood, though they should make for a smoother, smarter, and more secure experience.
This version of MIUI 13 is based on Android 11, and it does not include any of the Android 12 features like the revamped widgets and their new widget page in the app drawer. There is no advanced Privacy Dashboard either with options like a protected clipboard, approximate location, updated Face Unlock algorithm. The updated File Manager and Clock app with Bedtime mode are nowhere to be found either.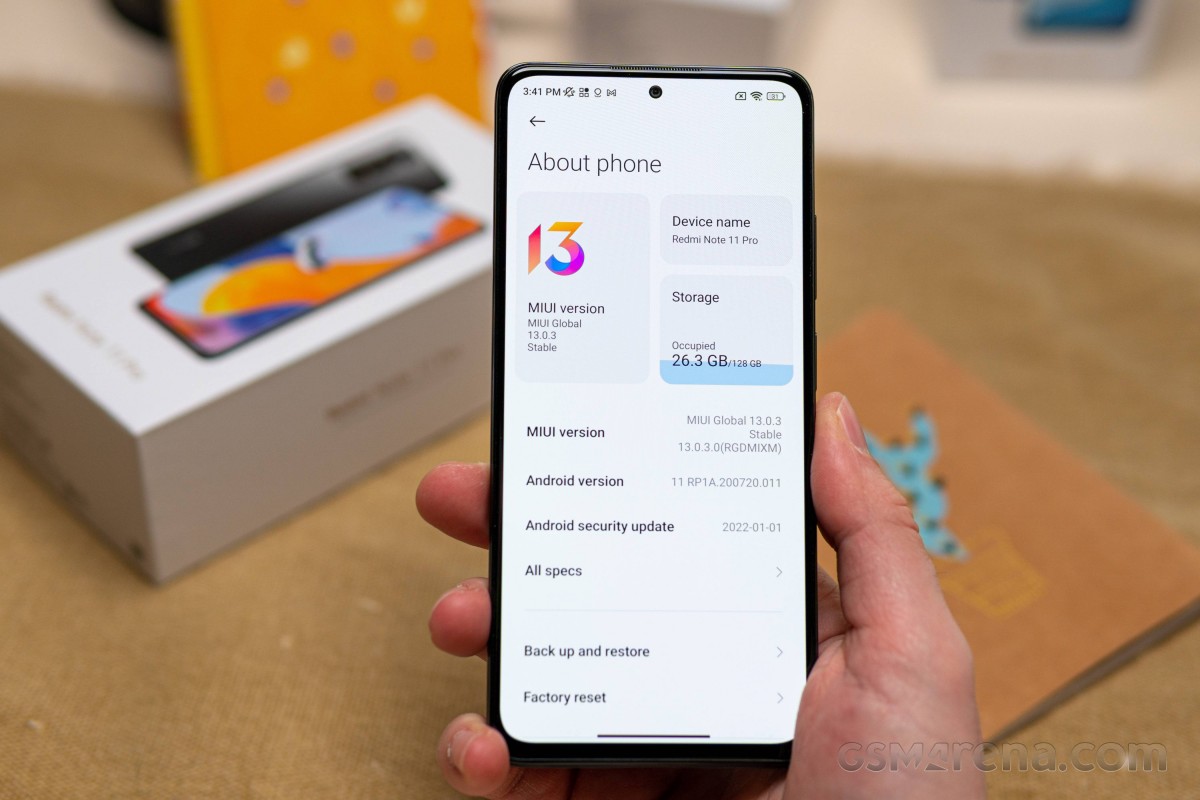 Other notable missing features on Android 11 + MIUI 13 combo are the improved one-handed mode (iOS-style), and the improved camera app with zero shutter lag and motion photos.
Finally, the new live wallpapers showing microscopic stuff like how vitamin C and citric acid crystallize, as part of the Beauty of Science collaboration, are not available on the Redmi Note 11 series just yet.
Still, Xiaomi claims that MIUI has been reworked completely, even if you cannot tell that by the interface and its design alone - it looks and feels just like MIUI 12. But the new version reportedly focuses on much better resource distribution and should handle processor, RAM and storage usage better and smarter.
For example, MIUI 13 is supposed to keep track of the current use of the processor and RAM and suspend any currently unnecessary tasks to free resources and offer more fluid performance. Xiaomi promises a background process efficiency increase of up to 40% compared to the previous version.
Liquid storage is what sounds really cool and relevant for modern smartphones. Xiaomi says that in most phones, the storage performance is halved in 36 months due to inefficient storage management. And this is where MIUI 13 comes - it offers 60% better defragmentation efficiency than MIUI 12 and different competitors. So, the storage performance drop in 36 months should be merely 5%. This sounds impressive, so here is hoping this feature lives up to the hype.
The final optimization done within MIUI's core is power management - the new version's optimization should lead to a 10% drop in the power consumption compared to MIUI 12's.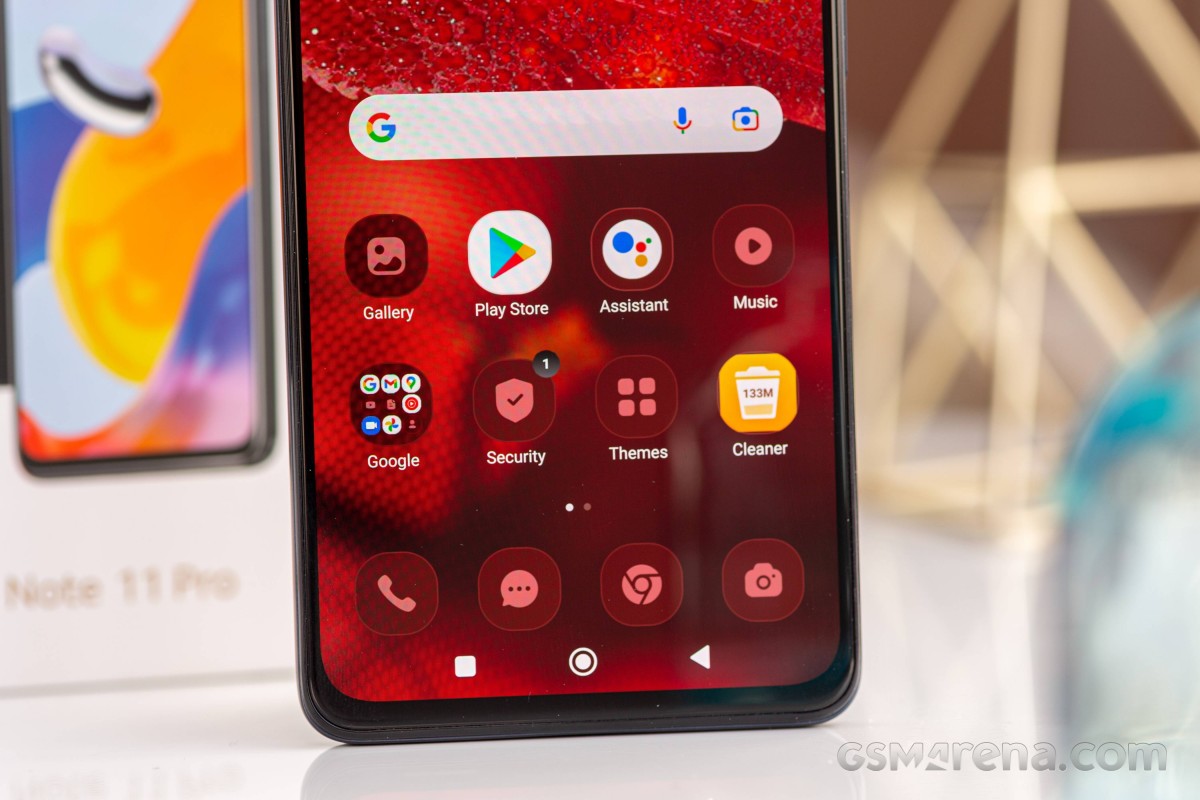 There is also an improved Smart Sidebar for even more fluid multi-tasking with pop-up apps. And the privacy has been improved with a number of features, some of which unique.
And now, let's take a closer look at MIUI 13 on the Xiaomi Redmi Note 11 Pro.
The Xiaomi Redmi Note 11 Pro supports an Always-on display - unfortunately, it can never be always on. It can only appear for 10s after a tap. At least, there are a lot of AOD themes you can choose from. A few of those can also be customized.
Breathing light is called Notification effect in MIUI 13. It can work with or without Always-on Display. Basically, that's a fancier version of the notification LED that uses the edges of the display - they flash with colors upon new notifications.
One more thing, you can choose the lockscreen clock style, too.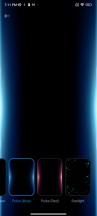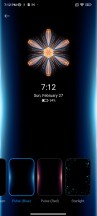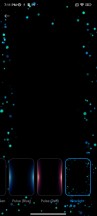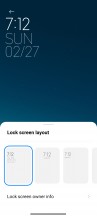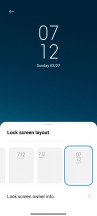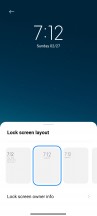 Notification light • Notification light • Notification light • Lockscreen clock style
You unlock the screen via the side-mounted fingerprint scanner. The reader is easy to set up, blazing-fast, and the accuracy is superb. You can set the unlock method to Touch or Press - the Press will spare you accidental misreads of your palm (that eventually lead to PIN input) if you are using the phone without a case. A 2D Face Unlock is available, too, but it is far less secure than the fingerprint option.
The homescreens are business as usual - they are populated with shortcuts, folders, and widgets. The leftmost pane, if enabled, is Google's Discover.
MIUI 13 offers an app drawer, and it automatically organizes your apps into categories. The first is All, meaning it contains all apps. Then follow Communication, Entertainment, Photography, Tools, New, and Business. You can edit these categories or even disable them altogether.
You can disable the app drawer entirely if that's not your thing.
Just like in MIUI 12, MIUI 13 offers an independent Notification shade and Control Center. You summon them like on the iPhones - pull down from the left part of the screen for the Notification Center, pull down from the right for the Control Center.
If you are not fond of this iPhone-ish split - you can disable the Control Center, and the shade will revert to its normal looks and operation.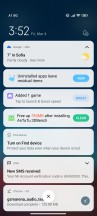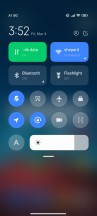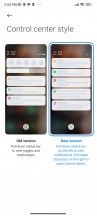 Notifications • Toggles • Settings
The task switcher is familiar, too, if you've ever used a Xiaomi. It shows all of your recent apps in two columns. Tap-and-hold on any card for the split-screen and pop-up shortcuts (where available), or just swipe it left or right to close it.
There is a Floating Windows button on top of everything. You can put a compatible app in a floating state, but you only have one floating window at a time.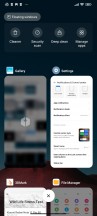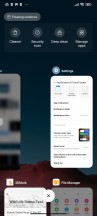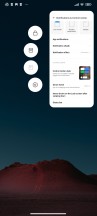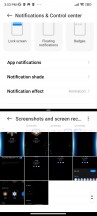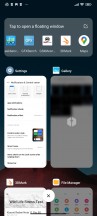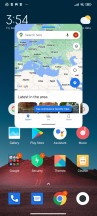 Task switcher • Task Switcher • Task switcher • Split screen • Floating window • Floating window
Themes have always been a huge part of MIUI, and they are available on MIUI 13, too. You can download new ones from the Themes store, and they can change wallpapers, ringtones, system icons, and even the always-on display style.
MIUI comes with its proprietary multimedia apps - Gallery, Music, Mi Video (with streaming options), FM radio. There is also an MIUI File Manager. And, of course, a Mi Remote app that uses the integrated IR blaster.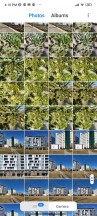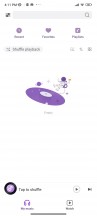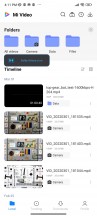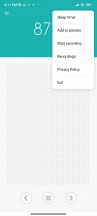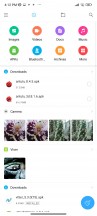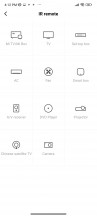 Gallery • Music • Video • FM Radio • File Manager • Mi Remote
Protective Mark is a cool feature within the Gallery. It adds a text of your choosing across an entire photo as a watermark. Handy for when you are taking a photo of your ID to share with someone.
MIUI also offers a Security app. It can scan your phone for malware, manage your blacklist, manage or restrict your data usage, configure battery behavior, and free up some RAM. It can also manage the permissions of your installed apps, define the battery behavior of selected apps, and apply restrictions only to certain apps.
And speaking of memory, MIUI 13 offers a Memory Extension option that's active by default (you can disable it if you like). It reserves 3GB of internal storage that serves as RAM extension. Less important memory blocks should come here.
The Smart Sidebar is quite familiar - a small visible mark on the edge of the screen that expands into a menu anytime you swipe on it. You launch apps in pop-up windows from here. Of course, you can customize the actions for this menu. If you are within a multimedia app (like YouTube, Mi Video, Gallery, etc.), you will get the Video toolbox next to the shortcuts - it contains shortcuts for Screenshot, Record screen, Cast, Sound settings and Play Video with the screen off. And, oh yes, the last one works on YouTube, no Premium subscription needed!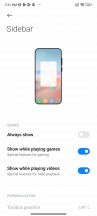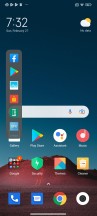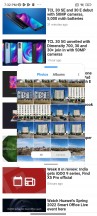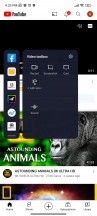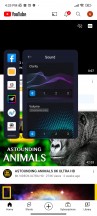 Smart Sidebar • Smart Sidebar • Pop-up apps • Video toolbox • Sound settings
Other interesting MIUI 13 improvements you may not notice at first include a better screenshot editor, a brand-new battery page with performance mode, and an option for the camera app to shoot videos with the screen turned off.
When you take a screenshot, you will notice a modern-looking interface with brushes, erasers, text and selection tools, among others.
The Battery page offers power-saving modes. Here, you can also check the battery temperature. Note that some phones have an optional Performance Mode, but it is not available on the Redmi Note 11 Pro.
Finally, even if not new per se, the Camera app offers an option to Shoot with screen off. If you toggle this feature on, the screen will be turned off after three minutes of inactivity.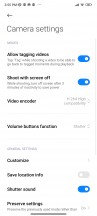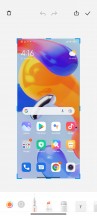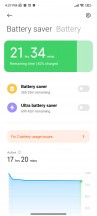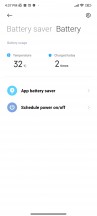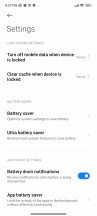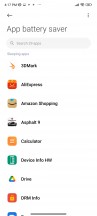 Camera options • Screenshot editor • Battery page and options
Some MIUI ROMs include ads in the default apps, it is a well-known thing. On our review units, the Redmi Note 11 Pro doesn't have any ads (they were disabled by default), but the Redmi Note 11, the Redmi Note 11S and the Redmi Note 11 Pro 5G version do come with baked-in ad "recommendations".
If your Redmi Note 11 model comes with ads, you can disable those even if it's a bit tedious to do it because you have to do it for every system app that has them. For example, if you are annoyed by the app scanner's ads, just hit the settings gear, and disable recommendations. Ads in the File Manager - Settings->About should do it. Themes - go to Settings and disable Recommendations. It's not ideal, sure, but at least you can get rid of them all.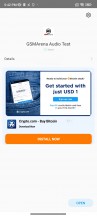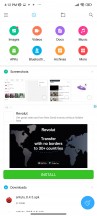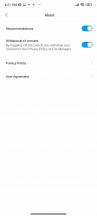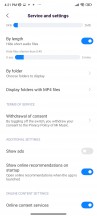 Ads • Ads • Disable ads • Disable ads
MIUI 13 has a lot of under-the-hood improvements that promise a smoother and faster experience right now, as well as for the next couple of years due to many optimizations. The interface is pretty much MIUI 12 with a couple of tweaks here and there. So, if you didn't expect a groundbreaking redesign, you will feel right at home with MIUI 13. We don't expect Android 12 to change that either.
Performance and benchmarks
The Redmi Note 11 Pro employs the Helio G96 chipset by MediaTek, a baffling step back from the Snapdragon 732G within the Redmi Note 10 Pro. It is fabricated on the 12nm FinFET manufacturing process from TSMC. The Helio G96 has the usual octa-core CPU with two high-performance Cortex-A76 cores clocked at 2.05GHz and six energy-efficient Corext-A55 cores working at 2.0GHz.
The Helio G96 chip features a dual-core Mali-G57 GPU. Unlike the previous G9x chips, here we have a dual-core configuration instead of quad-core, which is somewhat disappointing. It does support a 120Hz refresh rate, but it's another thing if it will be able to reach 120fps in games (spoiler alert, you cannot).
Finally, the Redmi Note 11 Pro is available in three configurations, both with LPDDR4X RAM and UFS 2.2 storage - 6GB RAM + 64GB, 6GB RAM + 128GB, and 8GB RAM + 128GB (our review unit).
We ran the usual benchmarks, and the scores are in.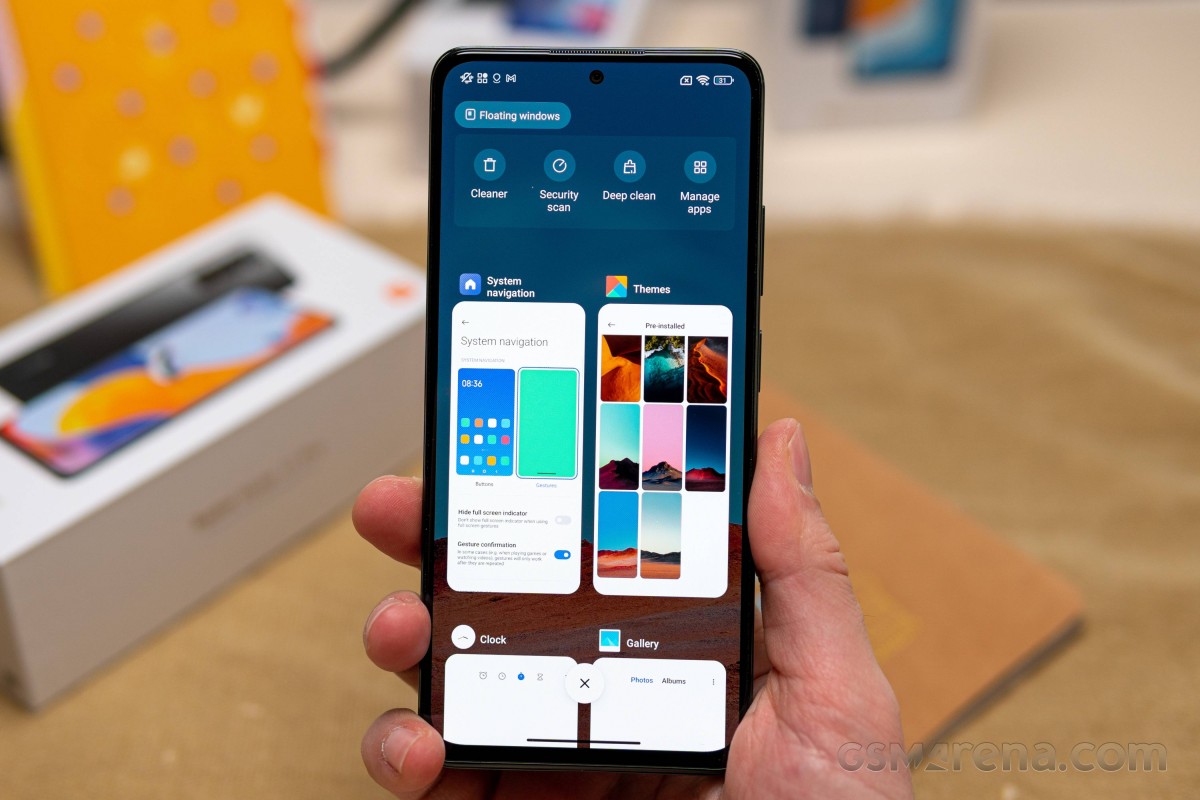 The processor performance is the same as on the Redmi Note 10 Pro, according to Geekbench tests, so there is no improvement here. It is also slower than the Note 11 Pro 5G model, and the Realme 9 Pro+ Dimensity 920 processor that is the same as within the Chinese Redmi Note 11 Pro.
GeekBench 5 (multi-core)
Higher is better
Samsung Galaxy A52s 5G
2801
Realme 9 Pro+
2335
Poco X3 GT
2310
Xiaomi Redmi Note 11 Pro 5G
2063
Realme 9 Pro
2020
Realme 8i
1886
Samsung Galaxy A52 5G
1820
Realme 8 5G
1784
Xiaomi Redmi Note 10 Pro
1780
Xiaomi Redmi Note 11 Pro
1729
Realme 8
1690
Samsung Galaxy A32 5G
1673
Xiaomi Redmi Note 10
1599
Realme 9i
1581
Samsung Galaxy A52
1577
Xiaomi Redmi Note 10S
1576
Samsung Galaxy A32
1277
GeekBench 5 (single-core)
Higher is better
Realme 9 Pro+
814
Samsung Galaxy A52s 5G
771
Realme 9 Pro
694
Poco X3 GT
693
Xiaomi Redmi Note 11 Pro 5G
688
Samsung Galaxy A52 5G
636
Xiaomi Redmi Note 10 Pro
569
Realme 8 5G
569
Realme 8i
539
Xiaomi Redmi Note 10
534
Realme 8
533
Samsung Galaxy A52
525
Xiaomi Redmi Note 11 Pro
511
Samsung Galaxy A32 5G
505
Xiaomi Redmi Note 10S
502
Realme 9i
384
Samsung Galaxy A32
361
The GPU scores, while adequate for a lower mid-range smartphone, are subpar. Most of the competitors offer better graphics thanks to newer and more powerful chipsets. Worse, the GPU performance is weaker than on the previous Note 10 Pro model.
GFX Car Chase ES 3.1 (onscreen)
Higher is better
Poco X3 GT
38
Samsung Galaxy A52s 5G
28
Realme 9 Pro+
27
Realme 8
18
Xiaomi Redmi Note 11 Pro 5G
17
Xiaomi Redmi Note 10 Pro
16
Realme 9 Pro
16
Samsung Galaxy A52 5G
16
Samsung Galaxy A52
15
Realme 8 5G
13
Xiaomi Redmi Note 11 Pro
12
Realme 8i
11
Samsung Galaxy A32
8.1
Xiaomi Redmi Note 10
7.9
Realme 9i
7.3
GFX Manhattan ES 3.1 (onscreen)
Higher is better
Poco X3 GT
68
Samsung Galaxy A52s 5G
49
Realme 9 Pro+
41
Xiaomi Redmi Note 11 Pro 5G
34
Realme 9 Pro
29
Realme 8
29
Samsung Galaxy A52 5G
28
Samsung Galaxy A52
26
Xiaomi Redmi Note 11 Pro
22
Realme 8 5G
22
Realme 8i
22
Xiaomi Redmi Note 10
15
Realme 9i
14
Samsung Galaxy A32
13
3DMark Wild Life Vulkan 1.1 (offscreen 1440p)
Higher is better
Poco X3 GT
3991
Samsung Galaxy A52s 5G
2491
Realme 9 Pro+
2296
Realme 8
1486
Realme 9 Pro
1211
Xiaomi Redmi Note 11 Pro 5G
1204
Samsung Galaxy A32 5G
1185
Samsung Galaxy A52 5G
1107
Realme 8 5G
1104
Realme 8i
1102
Xiaomi Redmi Note 11 Pro
1101
Samsung Galaxy A52
1040
Samsung Galaxy A32
686
Xiaomi Redmi Note 10
482
Realme 9i
452
Finally, and quite expectedly, the AnTuTu tests put the Redmi Note 11 Pro scores around the bottom of the chart and show worsened performance since the Redmi Note 10 Pro.
AnTuTu 8
Higher is better
Poco X3 GT
506800
Realme 9 Pro+
495096
Samsung Galaxy A52s 5G
429675
Samsung Galaxy A52 5G
334981
Realme 8 5G
302059
Realme 8
298328
Xiaomi Redmi Note 10 Pro
295442
Realme 8i
293507
Xiaomi Redmi Note 11 Pro 5G
288914
Xiaomi Redmi Note 11 Pro
261309
Samsung Galaxy A52
261282
Realme 9i
229368
Samsung Galaxy A32 5G
226561
Xiaomi Redmi Note 10
218788
Samsung Galaxy A32
174332
AnTuTu 9
Higher is better
Poco X3 GT
578505
Samsung Galaxy A52s 5G
506432
Realme 9 Pro+
416031
Realme 9 Pro
401894
Samsung Galaxy A52 5G
386474
Xiaomi Redmi Note 11 Pro 5G
382902
Realme 8 5G
361505
Realme 8
357488
Xiaomi Redmi Note 10S
330909
Xiaomi Redmi Note 11 Pro
319093
Realme 8i
308544
Samsung Galaxy A32 5G
222125
And before we call it a day, we ran our usual CPU and GPU stress tests. The processor performance under peak load turned out quite weird, and it managed to drop as low as 69% and then go as high as 100% on various occasions. Meanwhile, the GPU stability is 99.6%, an excellent one.
The Redmi Note 11 Pro never gets hot, warm even, and its shell remains at room temperature no matter what's happening.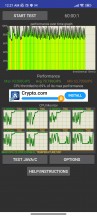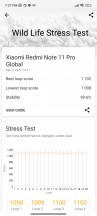 CPU Throttle • GPU stress test
The Redmi Note 11 Pro provides mostly smooth UI performance, though the 120fps weren't always solid when some background task, notification, or other process intervenes. Some minor lag/stutter could happen when there is too much scrolling or swiping.
Theoretical high refresh gaming is possible, but in real life, you will need to make quite a few tweaks for a smooth gaming experience, meaning lowering graphics quality and/or resolution.
At the end of the day, the Redmi Note 11 Pro offers a good overall experience even if gaming is not its strong side. But being slower than the Redmi Note 10 Pro, and most of the competition, and sold at somewhat higher than expected price, is not working in favor of the new Redmi Note, on the contrary. And that's a shame.