A familiar 6.43-inch AMOLED display, now with 90Hz refresh rate
One of the clear upgrades the Redmi Note 11 offers over its predecessor - the Redmi Note 10 - is a new display panel. It retains the same 6.43-inch diagonal as last year and the FullHD+ (1080 x 2400 pixel) resolution, 20:9 aspect ratio, and 409 ppi. What is new this year is the addition of 90Hz refresh rate.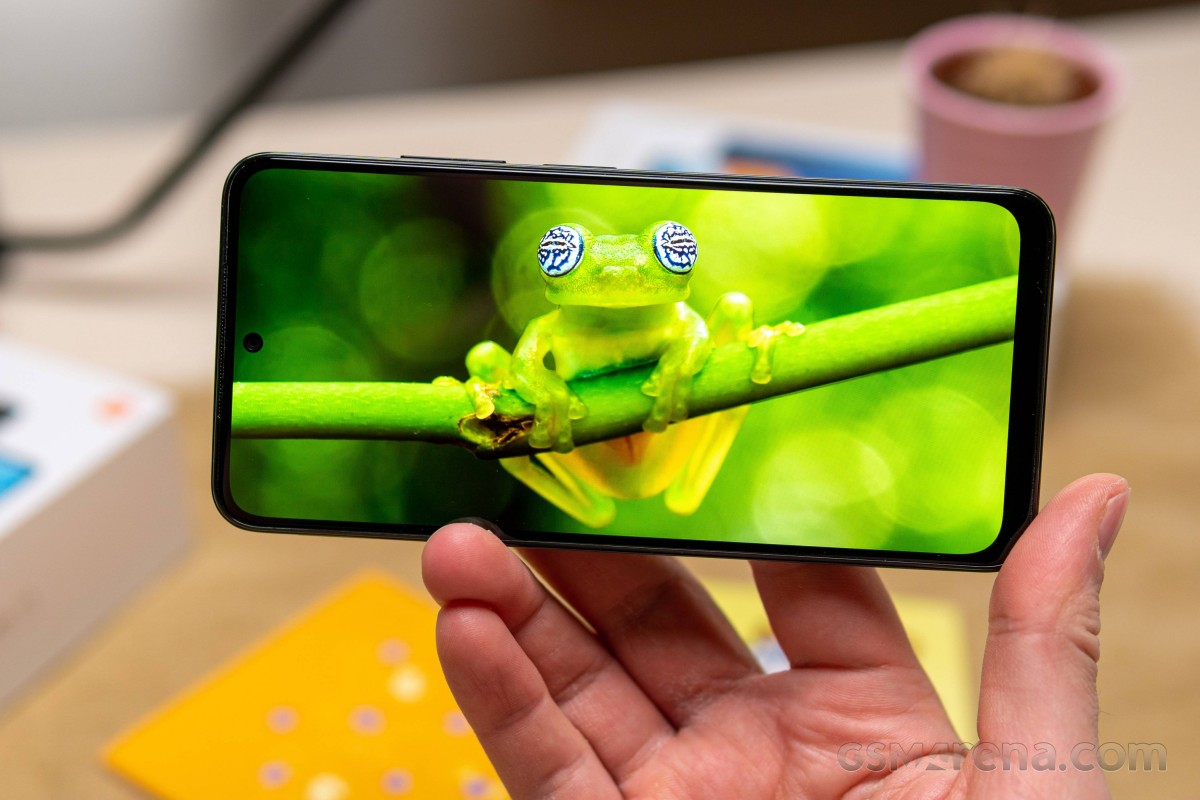 However, before we get to that, Xiaomi's new advertised brightness numbers are worth investigating. The Redmi Note 11 is advertised as being able to put out 700 nits of typical brightness with a 1000 nit peak. That last number is technically lower than the Redmi Note 10's 1100 advertised peak. In our standardized testing, however, the Redmi Note 11 managed to outpace its predecessor with a max auto-brightness of 736 nits.
Maxing out the manual brightness slider on the Redmi Note 11 results in a slightly lower 465 nits of max brightness compared to its predecessor, but in practical terms, the difference is indiscernible.
The Redmi Note 11 has excellent brightness and contrast for a budget device. While it can't quite compete with modern flagship OLED panels, its display still gets bright enough to be perfectly usable outdoors.
Display test
100% brightness
Black,cd/m2
White,cd/m2
Contrast ratio
Xiaomi Redmi Note 11 Pro 5G (Max Auto)
0
746
∞
Xiaomi Redmi Note 11 Pro (Max Auto)
0
746
∞
Xiaomi Redmi Note 11 (Max Auto)
0
736
∞
Xiaomi Redmi Note 10 Pro (Max Auto)
0
725
∞
Xiaomi Redmi Note 10 (Max Auto)
0
682
∞
Realme 8 (Max Auto)
0
657
∞
Samsung Galaxy A22 (Max Auto)
0
597
∞
Poco M4 Pro 5G (Max Auto)
0.33
510
1545:1
Nokia G21 (Max Auto)
0.333
500
1502:1
Xiaomi Redmi Note 10 5G (Max Auto)
0.275
492
1789:1
Xiaomi Redmi 10 (Max Auto)
0.4
477
1193:1
Xiaomi Redmi Note 10
0
475
∞
Samsung Galaxy A12 (Max Auto)
0.349
472
1352:1
Xiaomi Redmi Note 11 Pro 5G
0
470
∞
Xiaomi Redmi Note 11 Pro
0
470
∞
Xiaomi Redmi Note 11
0
465
∞
Realme 8
0
458
∞
Xiaomi Redmi Note 10 Pro
0
457
∞
Nokia G21
0.268
437
1631:1
Poco M4 Pro 5G
0.264
410
1553:1
Samsung Galaxy A12
0.292
398
1363:1
Xiaomi Redmi 10
0
396
1494:1
Samsung Galaxy A22
0
391
∞
Samsung Galaxy A22 5G
0.236
385
1631:1
Xiaomi Redmi Note 10 5G
0.21
377
1795:1
There is a new option within the brightness settings menu called Sunlight mode, which is only available while auto-brightness is disabled. Despite what its name and crude description suggest, it does not "unlock" some hidden extra brightness the display is capable of. Instead, it is meant to be used in conjunction with a manual brightness setting and still allow the display to boost brightness in bright light when needed.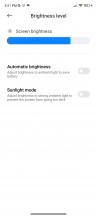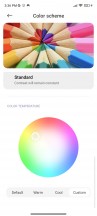 Display settings - brightness and colors
The Redmi Note 11 has a total of three color modes - Vivid, Saturated and Standard. The first two aim for the DCI-P3 color space and don't bother too much with color accuracy, instead prioritizing "OLED pop". Both modes produce similar colors, with Saturated offering slightly higher max brightness and, like the name suggests, slightly more saturated colors. Both modes are tuned a bit cold out of the box but can be adjusted and warmed up through the included custom white point control.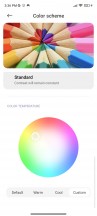 Custom white point for warming up vivid and saturated modes
If color accuracy is what you are after and you don't mind living with a "duller" palette, then Standard mode is the way to go. It basically nails sRGB color accuracy with deltaE results low enough to be considered color-accurate.
While still on the topic of colors, the Redmi Note 11 does not advertise any HDR support. That is to say that its display is not deemed or certified to show HDR content for one reason or another. The phone and its Snapdragon 680 chipset still offer and report HDR 10 and HLG decoding support on a software level. That means you can technically play HDR, but the colors will be tone-mapped to "SDR" before being displayed.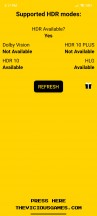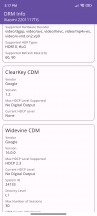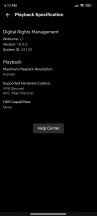 HDR decoding • Widevine • Netflix playback capabilities
The Redmi Note 11 has the full Widevine L1 DRM certification, which is great to see. That means that it can stream at HD and higher resolutions from platforms like Netflix. The latter happily offers FullHD streams to fully saturate the native resolution of the phone's display.
High refresh rate handling
The Redmi Note 11 comes with two refresh rate modes - 90Hz and 60Hz and for the most part, these act like "strict toggles".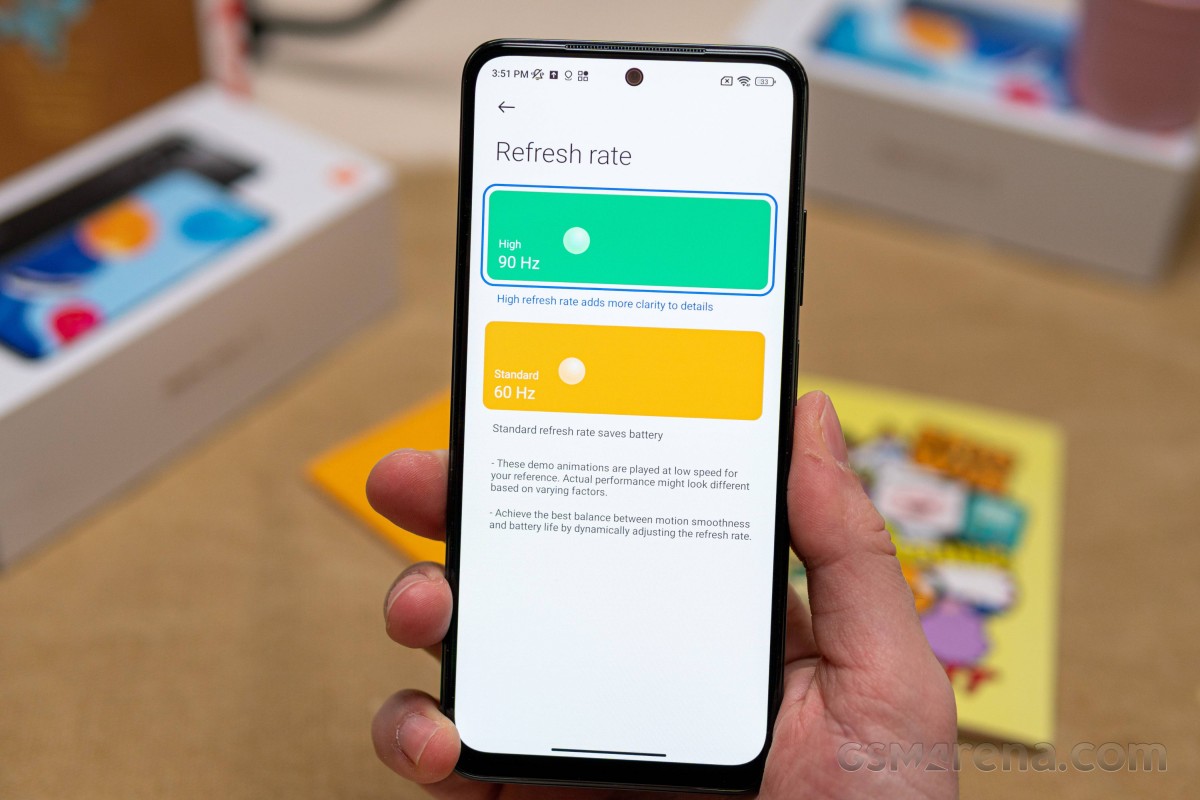 Enabling 90Hz basically makes the phone run at 90Hz nearly all of the time. There is still some automatic switching logic in place, but for the most part, the refresh rate is basically locked, which is not necessarily a bad thing. Going by past experience, the battery draw difference between 60Hz and 90Hz is pretty minuscule on a modern panel. Having things set up in this straightforward way avoids some annoying edge cases that frequently arise with complicated automatic refresh rate switching.
As we said, there is still some automatic logic at play in 90Hz mode. For the most part, the main UI and most apps just run at 90Hz.
However, if you leave a static image on screen for long enough, the Redmi Note 11 does, on occasion, briefly, drop down to 60Hz. The refresh rate naturally shoots back up to 90Hz once you touch the phone, but that's not the only thing that triggers the jump back with it happening on its own as well. In practice, the phone still spends the majority of its time refreshing at 90Hz.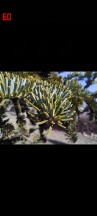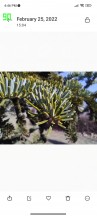 Briefly dropping down to 60Hz while displaying a static image
Videos playback is probably the most important automatic refresh rate trigger that is implemented and works reasonably consistently on the Redmi Note 11. Once the OS detects that you are playing back a video, be it local or otherwise, it generally drops its refresh rate to 60Hz, as it should, to conserve power.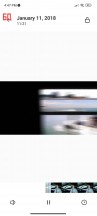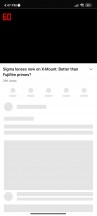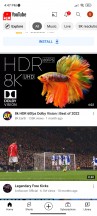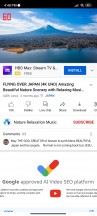 Most video playback riggers 60Hz mode
Some apps like YouTube tend to run at 60Hz altogether, which is fine in our books. But, the logic is not perfect since Netflix was stuck at 90Hz regardless of whether we were browsing the UI or actually playing content. Again, the practical difference to battery life shouldn't be major, so we won't complain too much about this particular irregularity.
What we would love to see addressed by Xiaomi is the fact that Google Chrome - the default pre-installed browser is always stuck at 60Hz. That's a bummer since browsing can generally benefit from the smoother 90Hz scrolling and animations. At least both Firefox and the Samsung Internet browser we tried off of the Google Play Store didn't have this issue and ran at 90Hz with 90fps rendering.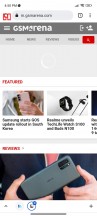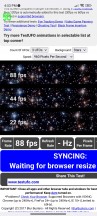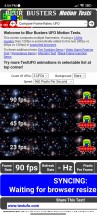 Browsers behave differently in 90Hz mode
While on the topic of third-party apps, we already mentioned that Netflix always runs at 90Hz. The same goes for Facebook and Instagram. Whereas TikTok is stuck at 60Hz.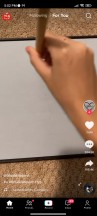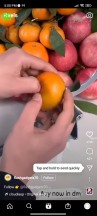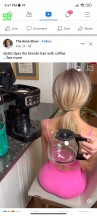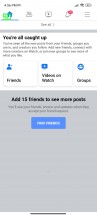 Apps in 90Hz mode: TikTok • Instagram • Facebook
Gaming in 90Hz mode is a bit of a mixed bag on the Redmi Note 11. We tried a few games we know can run at higher than 60Hz and 60fps, and most did, in fact, make proper use of the refresh rate and even managed to render at over 60fps on the relatively modest GPU of the Redmi Note 11. Others like Dead Trigger 2 were stuck at 60Hz. But then again, that's not a bad thing in this particular case, since according to the nifty FPS counter within Xiaomi's GAMETURBO, the Redmi Note 11 doesn't have the horsepower to even render Dead Trigger at 60fps, let alone above that.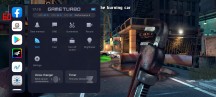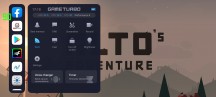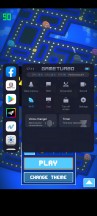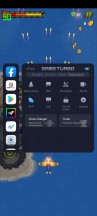 Gaming in 90Hz mode: Dead Trigger 2 • Alto's Adventure • Pac Man 256 • 1945 Air Force
All things considered, the Redmi Note 11 does a relatively good job of managing its 90Hz high refresh rate mode. There are still some kinks to iron out here and there, but nothing that is particularly "game-breaking", disappointing or battery wasteful is present at this time.
Battery life
The Redmi Note 11 comes with a big 5,000 mAh battery. The Snapdragon 680 4G might not be overly impressive in terms of performance, but at least it makes up some ground in terms of battery efficiency, likely thanks to its modern and efficient 6nm manufacturing process. Plus, the X11 LTE modem, while not particularly fast, doesn't waste too much power either.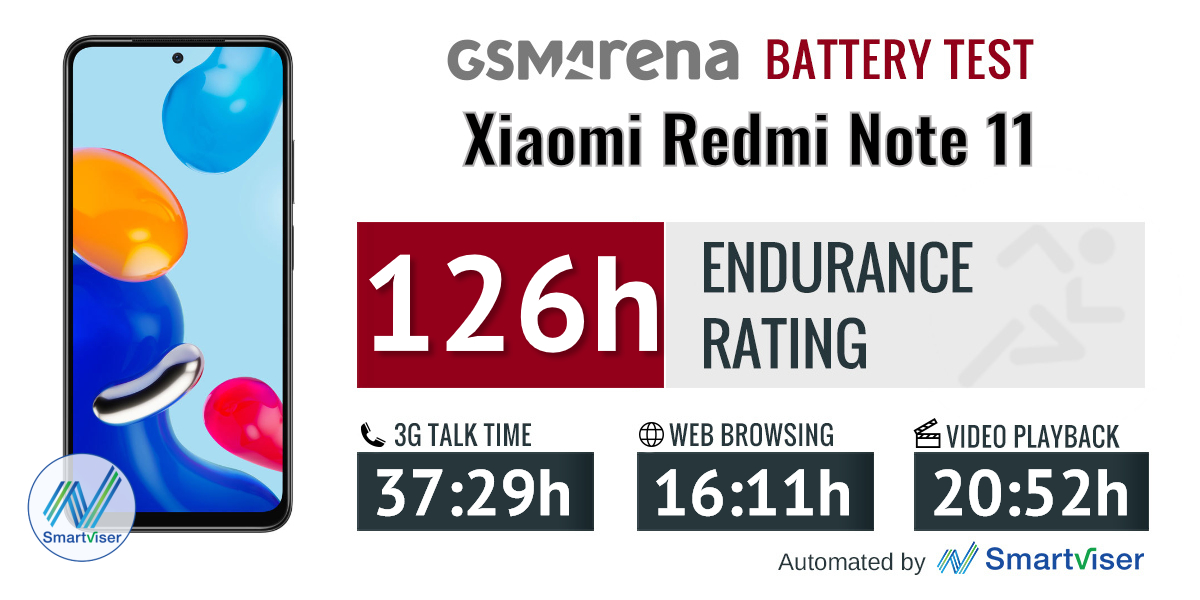 The Redmi Note 11 has all-around great battery life, scoring 126 hours of total endurance rating. Its standby and call numbers are particularly impressive. The same goes for on-screen video playback. The Redmi Note 11 is an excellent multimedia consumption machine. Web testing numbers are still plenty impressive but also the least consistent of the bunch.
While we haven't tested another Snapdragon 680 device yet for comparison, the Xiaomi Redmi Note 11 Pro 5G and the Realme 9 Pro are both based on the similar-enough Snapdragon 695 5G chipset and manage similarly-impressive battery numbers.
Our battery tests were automated thanks to SmartViser, using its viSerDevice app. The endurance rating denotes how long the battery charge will last you if you use the device for an hour of telephony, web browsing, and video playback daily. More details can be found here.
Video test carried out in 60Hz refresh rate mode. Web browsing test done at the display's highest refresh rate whenever possible. Refer to the respective reviews for specifics. To adjust the endurance rating formula to match your own usage patterns check out our all-time battery test results chart where you can also find all phones we've tested.
Charging speed
The Redmi Note 11 ships with one of Xiaomi's 33W chargers. We've seen those being bundled before, but charging speed from them has admittedly been a bit inconsistent across devices. Xiaomi claims the Redmi Note 11 can charge up fully in an hour.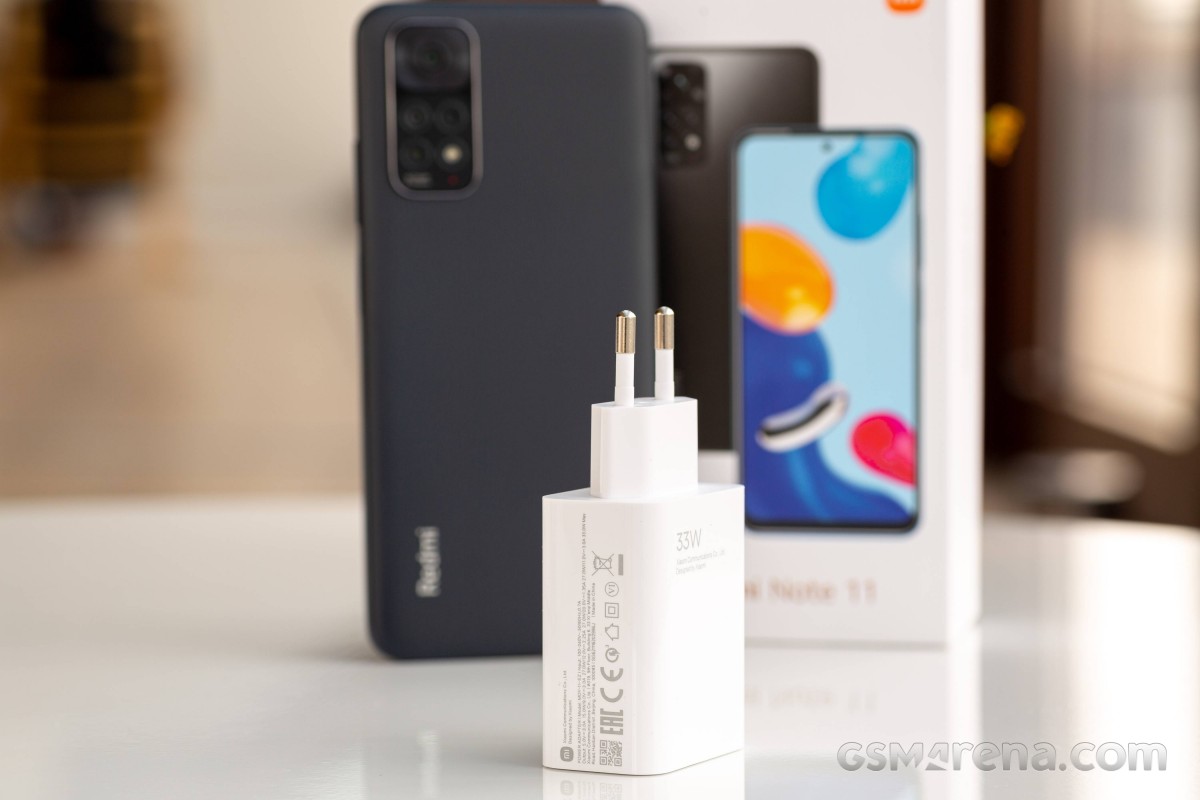 We found that to be a bit ambitious. In our testing, the Redmi Note 11 managed to get up from 0% to 51% in 30 minutes, with a full charge taking a total of 78 minutes. Not too shabby for a budget device, though to reiterate, a bit inconsistent as far as the 33W charger goes, since that is about on par or perhaps a bit better than the Redmi Note 10 Pro with the same charger, but notably worse than the Redmi Note 10 again with the Xiaomi 33W charger.
30min charging test (from 0%)
Higher is better
Xiaomi Redmi Note 11 Pro
78%
Xiaomi Redmi Note 11 Pro 5G
74%
Xiaomi Redmi Note 10
65%
Realme 8
56%
Poco M4 Pro 5G
54%
Xiaomi Redmi Note 11
51%
Xiaomi Redmi Note 10 Pro
50%
Nokia G21 (65W PD)
37%
Xiaomi Redmi Note 8 2021
34%
Xiaomi Redmi Note 10 5G
33%
Xiaomi Redmi Note 11 (65W PD)
31%
Realme 8i
30%
Infinix Zero 5G
30%
Realme 8 5G
29%
Xiaomi Redmi 10
26%
Infinix Note 10 Pro
26%
Samsung Galaxy A32
25%
Samsung Galaxy A32 5G
23%
Samsung Galaxy A22 5G
23%
Samsung Galaxy A22
23%
Nokia G21
22%
Samsung Galaxy A03s
15%
Time to full charge (from 0%)
Lower is better
Xiaomi Redmi Note 11 Pro 5G
0:45h
Xiaomi Redmi Note 11 Pro
0:48h
Poco M4 Pro 5G
1:07h
Realme 8
1:09h
Xiaomi Redmi Note 10
1:13h
Xiaomi Redmi Note 11
1:18h
Xiaomi Redmi Note 10 Pro
1:21h
Xiaomi Redmi Note 11 (65W PD)
1:42h
Infinix Zero 5G
1:55h
Xiaomi Redmi Note 8 2021
1:59h
Xiaomi Redmi Note 10 5G
2:00h
Infinix Note 10 Pro
2:05h
Nokia G21 (65W PD)
2:09h
Xiaomi Redmi 10
2:13h
Samsung Galaxy A32
2:19h
Realme 8 5G
2:20h
Samsung Galaxy A22
2:20h
Realme 8i
2:21h
Samsung Galaxy A32 5G
2:24h
Samsung Galaxy A22 5G
2:29h
Nokia G21
2:49h
Samsung Galaxy A03s
3:38h
Speaking of the Xiaomi 33W charger, it can output at 5V@3A, 9V@3A, 12V@2.25A and 20V@1.35A. This all sounds suspiciously like Power Delivery, but that can't be the case since the charger itself has a female USB Type-A connector. Plus, the charger also has an odd 11V@3A output, which does not strictly fall under the PD spec either and is actually how it does its max 33W output. Hence, Xiaomi is probably using something akin to Quick Charge for its charging.
That being said, the Redmi Note 11 also advertises support for both Qualcomm Quick Charge 3+ (an oddly old spec) and Power Delivery. We tried topping off the phone with a powerful 65W PD charger with PPS for the sake of thoroughness and got notably slower charging numbers. Plus, the phone never actually reported a full charge, but remained "trickling" at 100% for over half an hour until we unplugged it.
Speaker quality
The Redmi Note 11 has a "Dual Stereo Speakers" setup. At least, that's what Xiaomi advertises on its website. That's a bit ambiguous, though, since it kind of implies there are two symmetrical, full-sized speakers on board. All of the signs actually point towards a hybrid stereo speaker on the Redmi Note 10 and the Redmi Note 10s, though.
While we can't point to an official source for that, teardown videos of the phone back that theory up. The top speaker frill is also milled to different depths down its length, which could be an indicator that not all of its length is actually used.
Regardless of the actual hardware setup, though, we are pleased with how well the speakers perform. They are well balanced and get pretty loud, scoring a Very Good rating in our test, with a virtually identical score to the Redmi Note 11 Pro 5G. Audio quality appears to be improved over the Redmi Note 10 generation as well, with clearer and richer mids and better-defined lows.
There is an automatic Dolby Atmos enhancement across various media apps like Gallery, Mi Video, YouTube, and whatnot, so you can expect an even better sound experience within those.
Use the Playback controls to listen to the phone sample recordings (best use headphones). We measure the average loudness of the speakers in LUFS. A lower absolute value means a louder sound. A look at the frequency response chart will tell you how far off the ideal "0db" flat line is the reproduction of the bass, treble, and mid frequencies. You can add more phones to compare how they differ. The scores and ratings are not comparable with our older loudspeaker test. Learn more about how we test here.