Design
The Redmi Note 11 has a pretty recognizable look. Xiaomi has been doing a segmented and accented camera island design for many of its phones for some time now, and it's particular enough to be memorable. The Redmi Note 11 has that going for it as well. The same goes for the Redmi Note 11S, which basically has the same exterior and the Redmi Note 11 Pro and Redmi Note 11 Pro 5G, which are just a tad bigger but mostly identical in terms of design. The small accents and circular patterns on the camera island add up to a coherent and eye-catching design.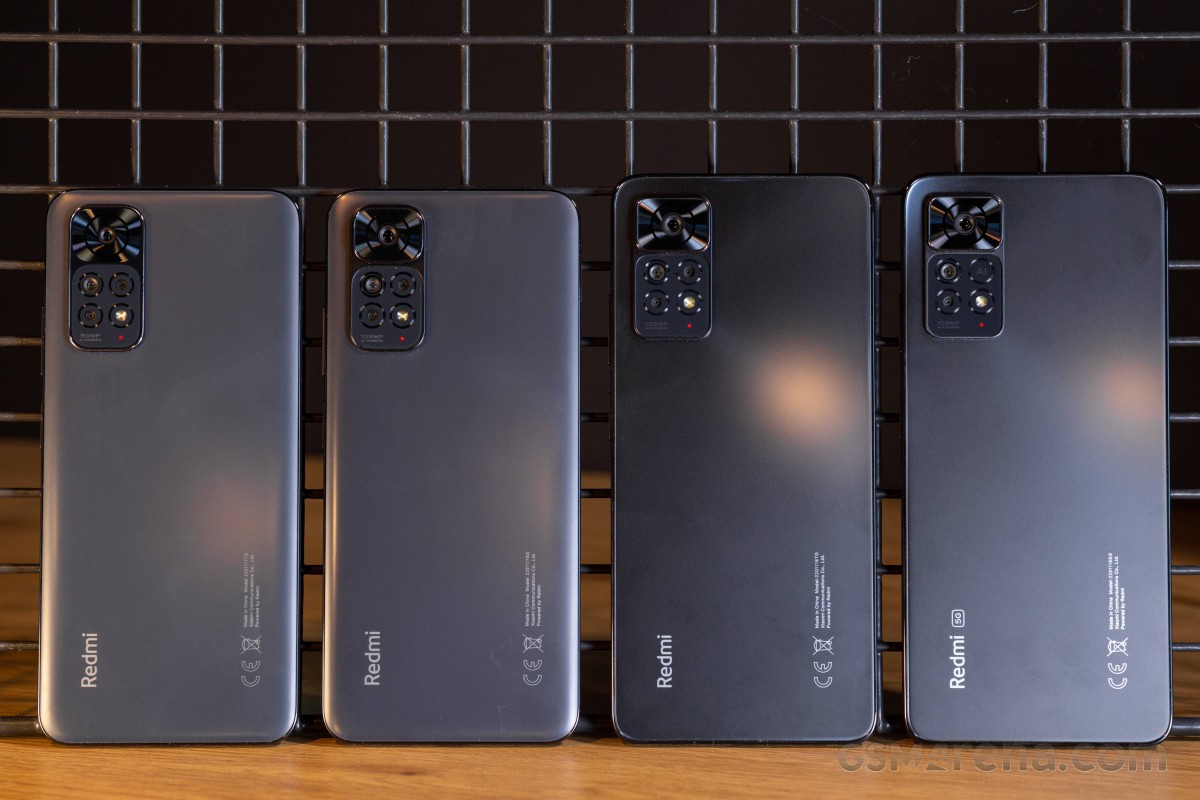 Left to right: Redmi Note 11, Redmi Note 11S, Redmi Note 11 Pro, Redmi Note 11 Pro 5G
As much as we generally like the current Xiaomi design language, we have to admit that telling many of the company's recent phones apart has become nearly impossible at first glance. Not that that's going to be a common problem for end-users.
The Redmi Note 11 has a nifty combination of square and rounded design elements going for it - a seemingly current trend now that Samsung also did something similar for its Galaxy S22 lineup. That being said, we wouldn't go as far as to call the Redmi Note 11 look iPhone-like. Its sides and middle frame kind of give off that vibe with their nearly flat surface.
The plastic middle frame has a very premium-looking and feeling matte finish to it on our Graphite Gray unit. Matte seems to be the norm for the Pearl White and Star Blue colors as well. We definitely like the look, but it is a fingerprint magnet.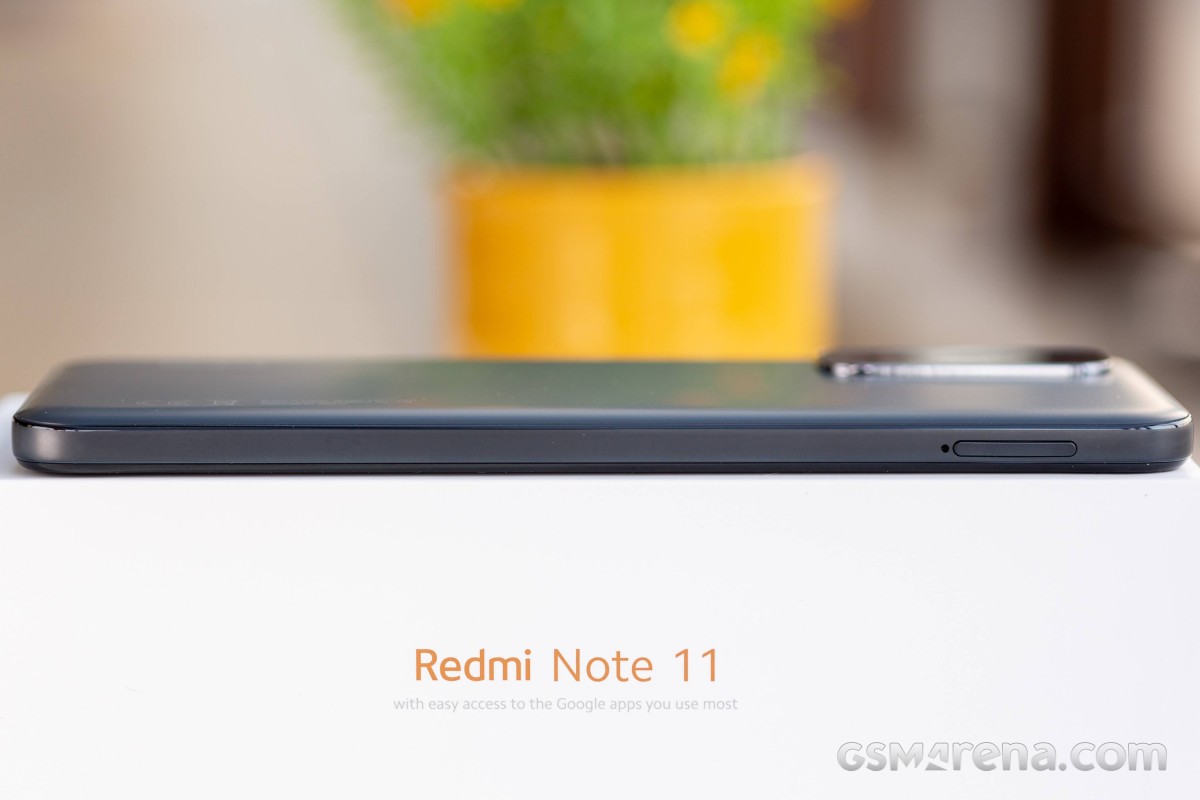 So, even though the middle frame is similarly flat, its finish is nothing like the glossy metal one on recent iPhone models. There are major differences in the design of the front and back of the Redmi Note 11 too. Its back panel is still quite curvy, though it doesn't seem so in many official renders and product images. It gently slopes off on all four sides. The Redmi Note 11 Pro models are much flatter by comparison.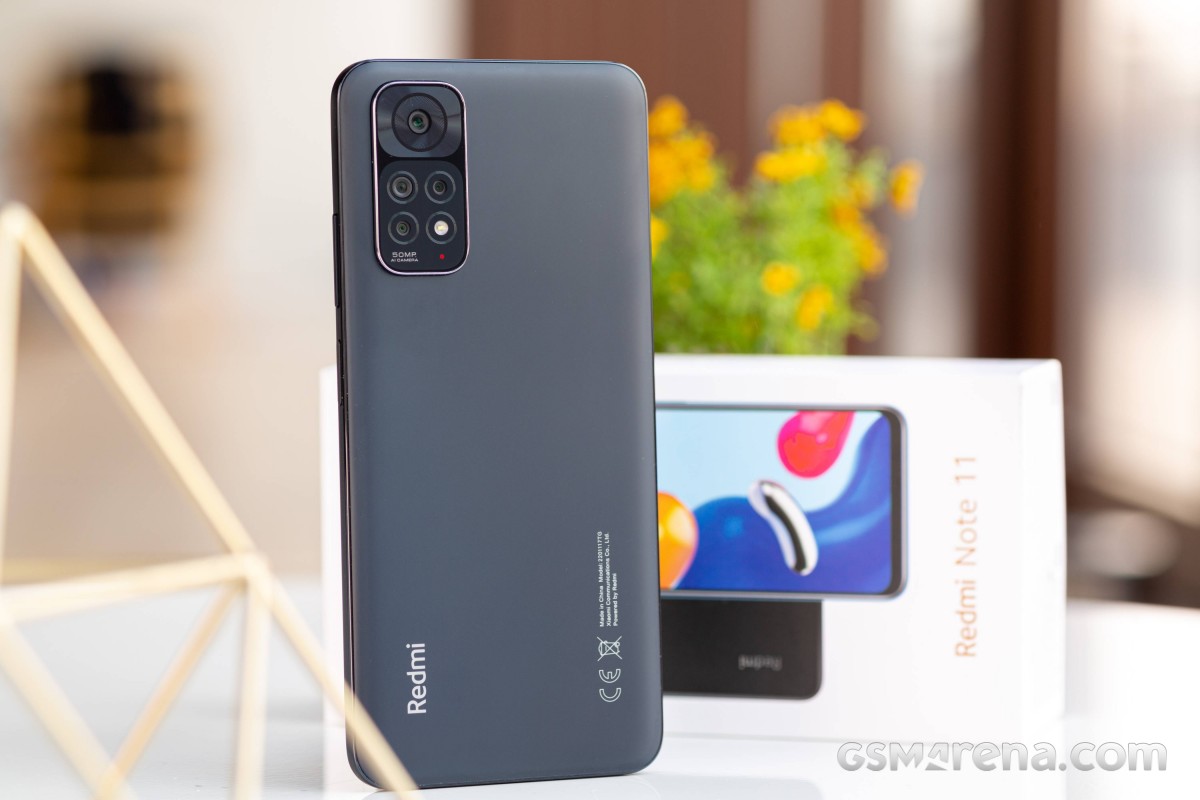 The finish here is matte as well and prone to grease and fingerprint accumulation. This surface has a slightly soft and silky feeling, which is likely due to the AG glass material it is made from.
We have to say that the materials and finishes on the Redmi Note 11 both look and feel more premium than on earlier Redmi Note generations. The Redmi Note 11 punches above its price in the looks department.
The silky surface on the Redmi Note 11 really helps with the grip.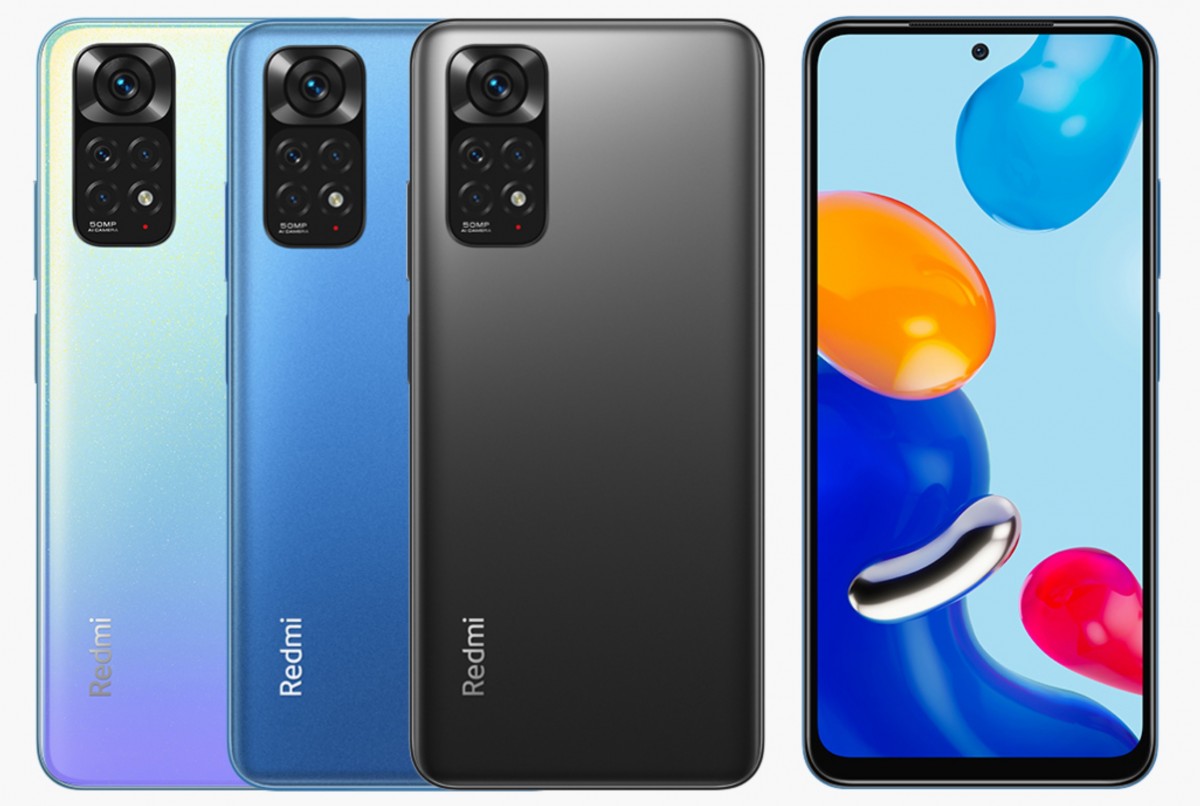 The front of the Redmi Note 11 is a bit more telling of its budget nature. We have come a long way in the past couple of years, and what is now considered slightly bigger display bezels would have easily been deemed premium not that long ago. These are reasonably thin, though noticeably asymmetric.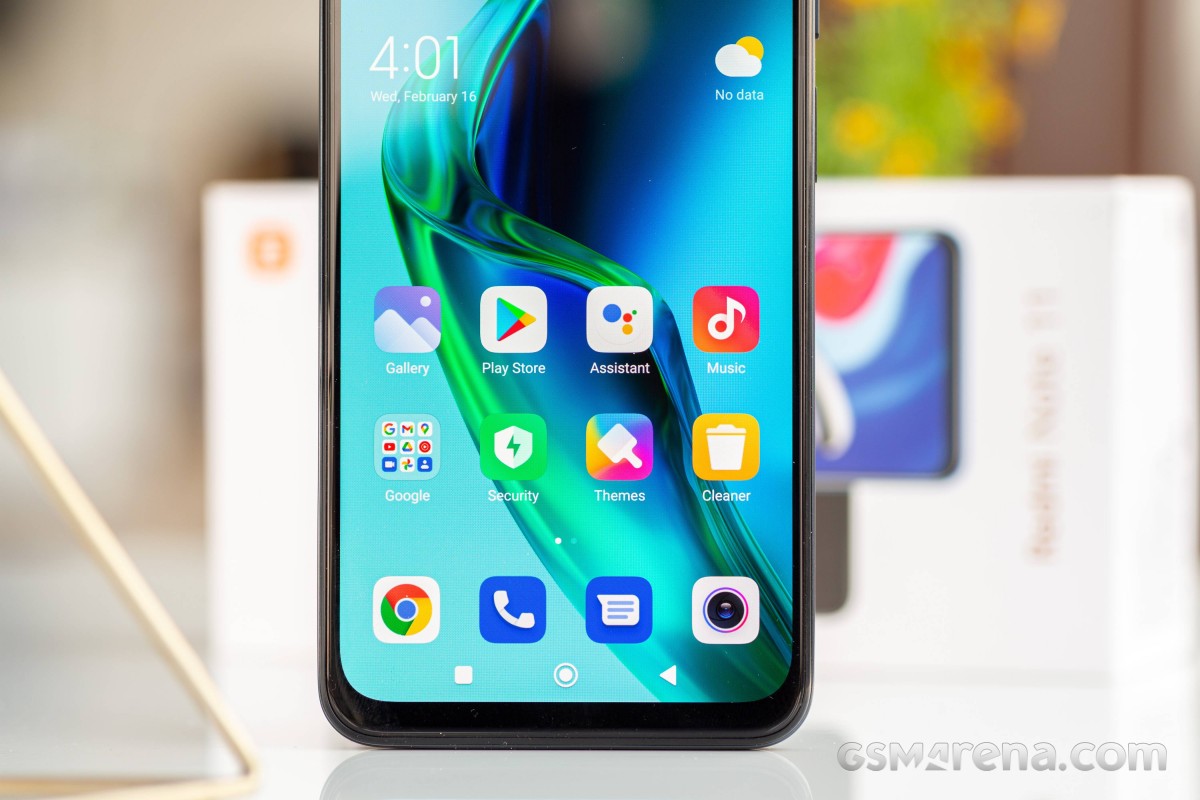 The earpiece is nicely tucked away in the small top frame, alongside a few other sensors. The selfie punch hole is reasonably-sized, though it does have an inner and an outer black ring with an accented silver on in between, which we think is a bit much.
The front glass surface is mostly flat, though it still tapers off at the far edges and goes down into the middle frame, instead of having it extend up for an even flatter look - another distinction from Apple's current design. Still, the surface is plenty flat in practical terms and enables easy glass screen protector adhesion if that is your thing.
Build quality and materials
Despite managing to pull off a premium look for tis budget price point, the Redmi Note 11 still has to moderate its use of certain materials, notably metals. For the most part, it is constructed from plastic, as evidenced by the lack of antenna lines, but that's not necessarily a bad thing. We've praised plastic for some of its characteristics in the past and will continue to do so since it's a durable and relatively lightweight material that doesn't dent or shatter quite like metal or glass. Hence, we don't mind at all that the frame of the Redmi Note 11 is plastic. It looks and feels great and provides stellar structural integrity with practically no flex.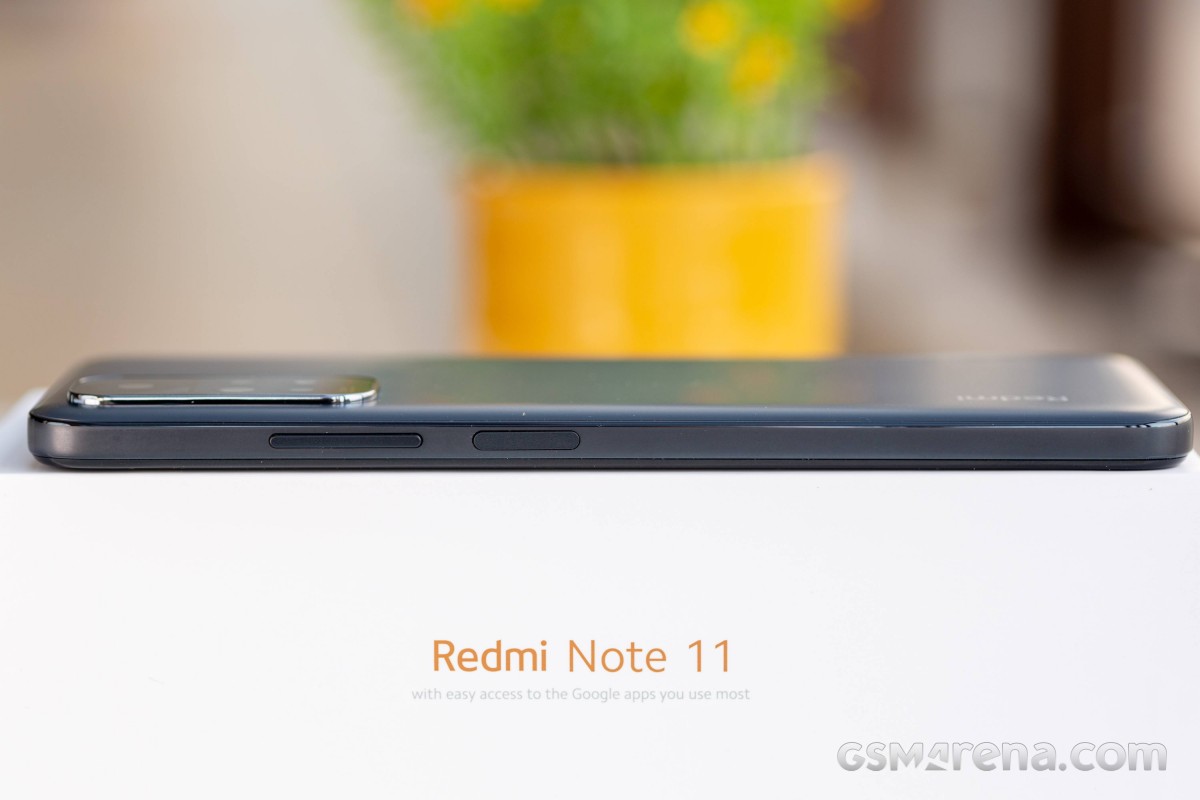 Interestingly enough, despite the tight budget, Xiaomi still managed to pull off what we would call a "glass sandwich" on the Redmi Note 11 with both the front and back covered with a glass finish. AG glass on the back, complete with a soft, silky finish and Gorilla Glass 3 on the front. While far from the latest and greatest Corning has to offer, Gorilla Glass 3 still has stellar scratch resistance, arguably even better than some newer solutions and decent enough shatter protection.
Speaking of protection, the Redmi Note 11 has an IP53 ingress rating, which is just your basic dust and splash affair but still great to see on a device of its class.
Overall, the Redmi Note 11 feels very well made. Its chassis is dense yet not overly heavy at 179 grams. It instills confidence. It deserves praise both in terms of design and construction.
Controls and connectivity
The Redmi Note 11 deserves plenty of praise for its above-average assortment of connectivity and I/O as well. Its overall control layout is standard for the most part and works great. The volume rocker and power button are on the right-hand side, high enough on the frame to be convenient for most users. Both buttons feel great, are "clicky", and offer plenty of tactile feedback. The big "oddity" here, of course, being that Xiaomi went for a traditional capacitive fingerprint sensor in the power button rather than an under-display unit, even though the AMOLED display would have allowed for one.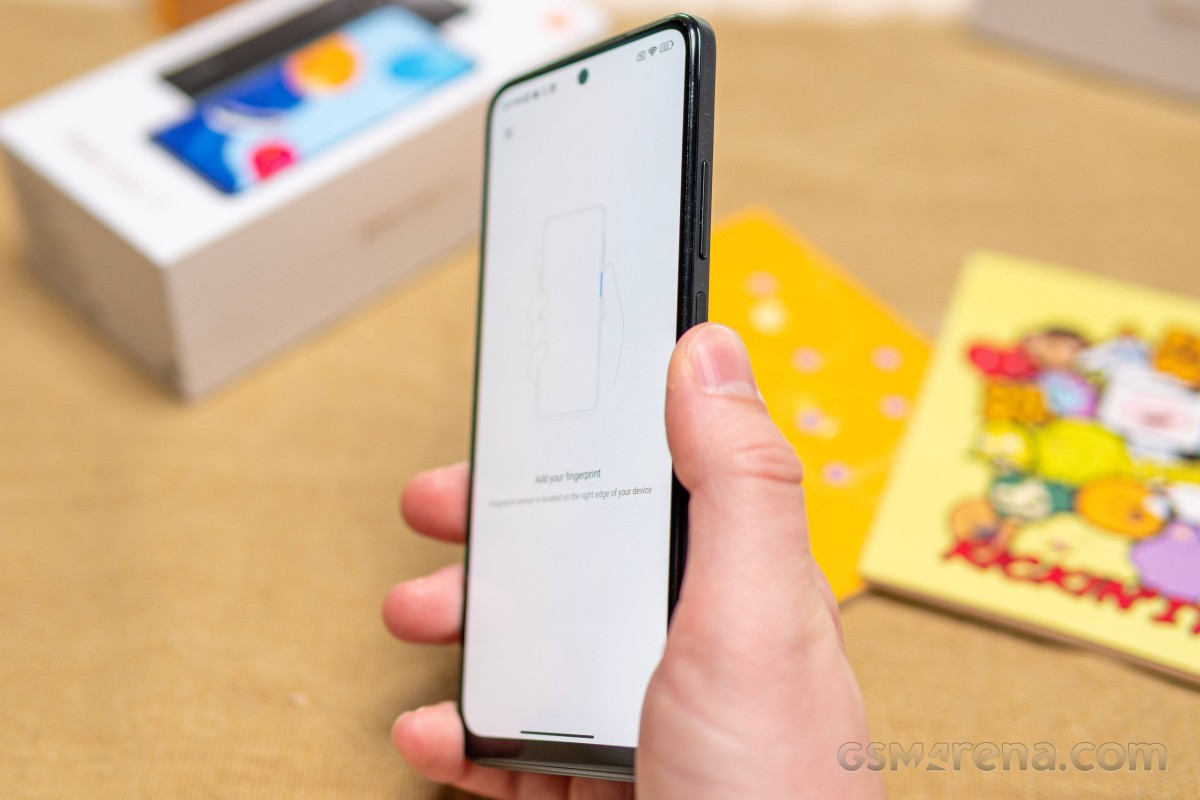 We can't say for sure whether this was a decision motivated by costs savings or not, but our educated guess is that the two sensors don't differ that much in price nowadays, so we are leaning more towards this being a deliberate design of functionality choice from Xiaomi. In any case, we personally like a side-mounted fingerprint reader. And while that point is purely subjective, the reader on the Redmi Note 11 is very fast and perfectly accurate in purely objective terms. We have literally no complaints about it.
The left side frame of the Redmi Note 11 is mostly empty, sans for the triple tray that houses two nano-SIM cards and a separate microSD card slot for memory expansion, so you don't have to pick and choose. Naturally, you get dual stand-by on the two cards in 4G mode.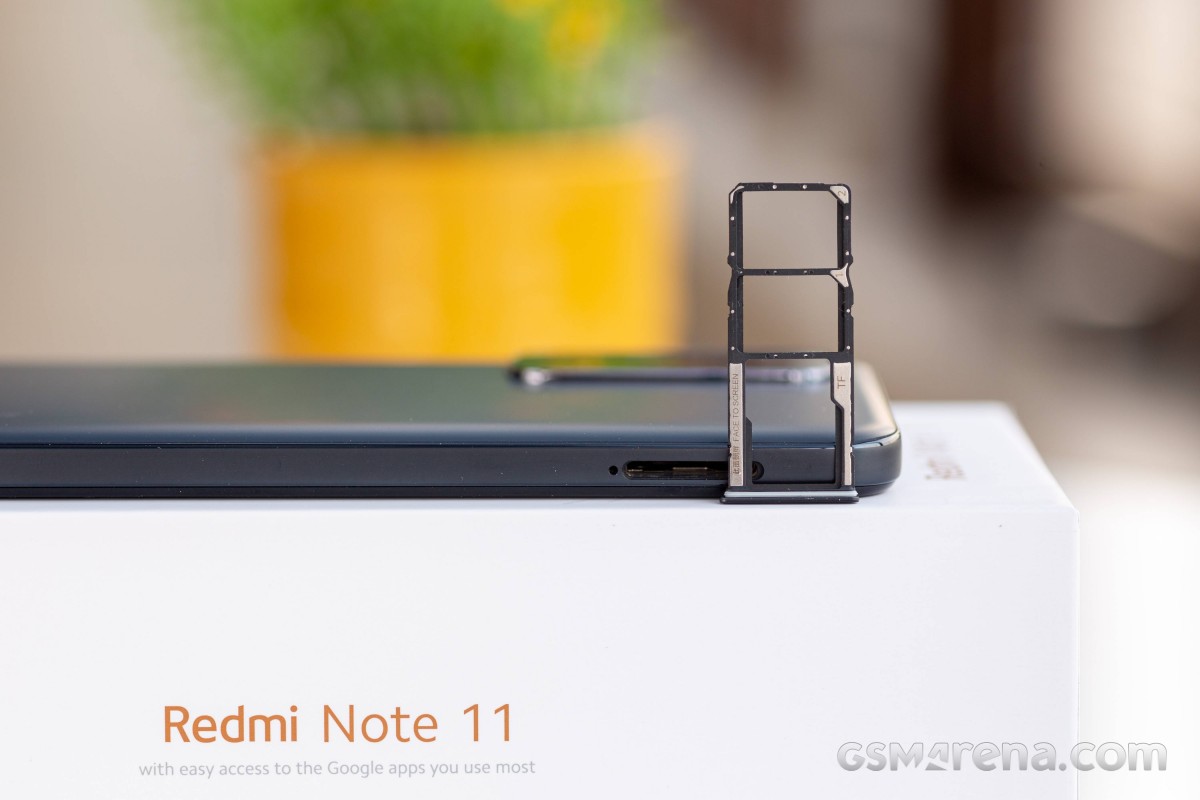 The top of the Redmi Note 11 is actually quite busy. Beyond the usual secondary noise-canceling mic, it also houses a 3.5mm audio jack, an increasingly rare sight. And speaking of rare sights - Xiaomi is one of the last to still include an IR blaster on some of their phones. While most users will find this useless, it can still be a lifesaver as a remote-control replacement for any number of appliances in a pinch.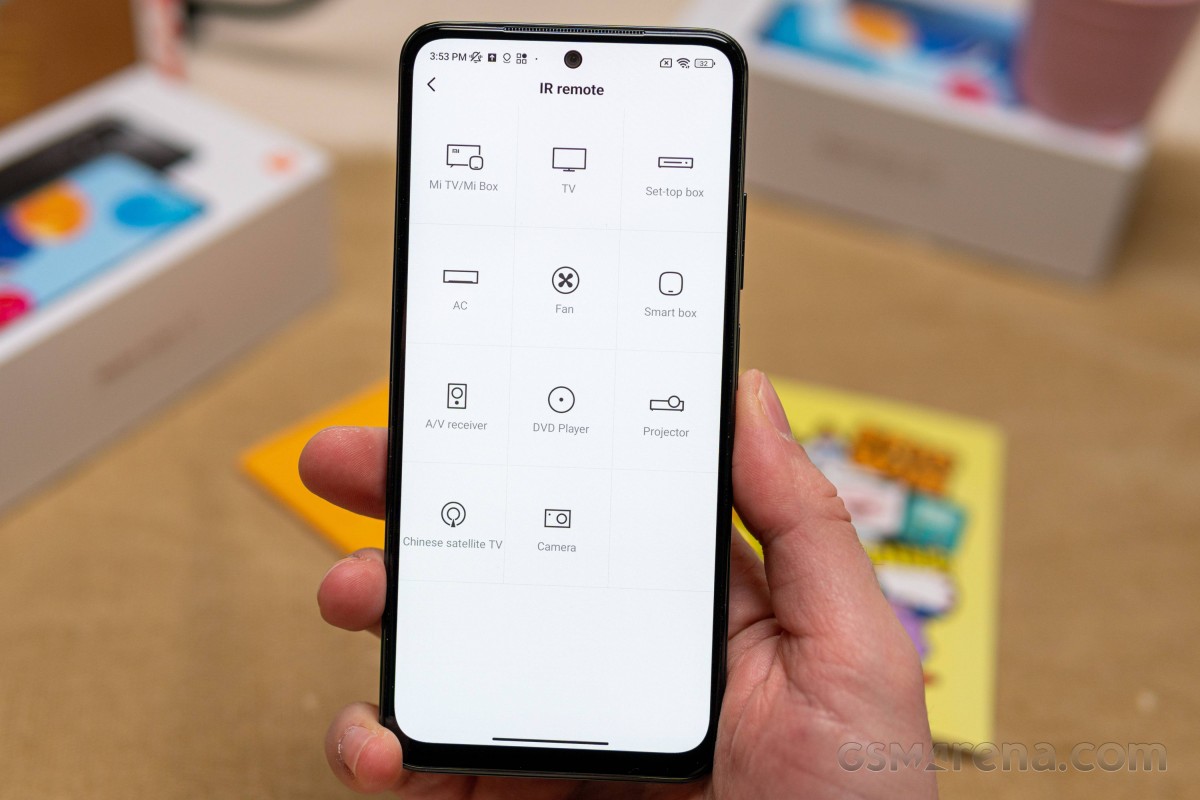 There is also an intriguing speaker grill on the top bezel, potentially deceitful. Xiaomi advertises the Redmi Note 11 as having "Dual stereo speakers", but we can't say whether there are actually two fully symmetrical speakers on the top and bottom with one doubling as an earpiece or Xiaomi is using an amplified earpiece as the second channel - a popular approach. Teardown videos online do suggest there is just one dedicated speaker, though.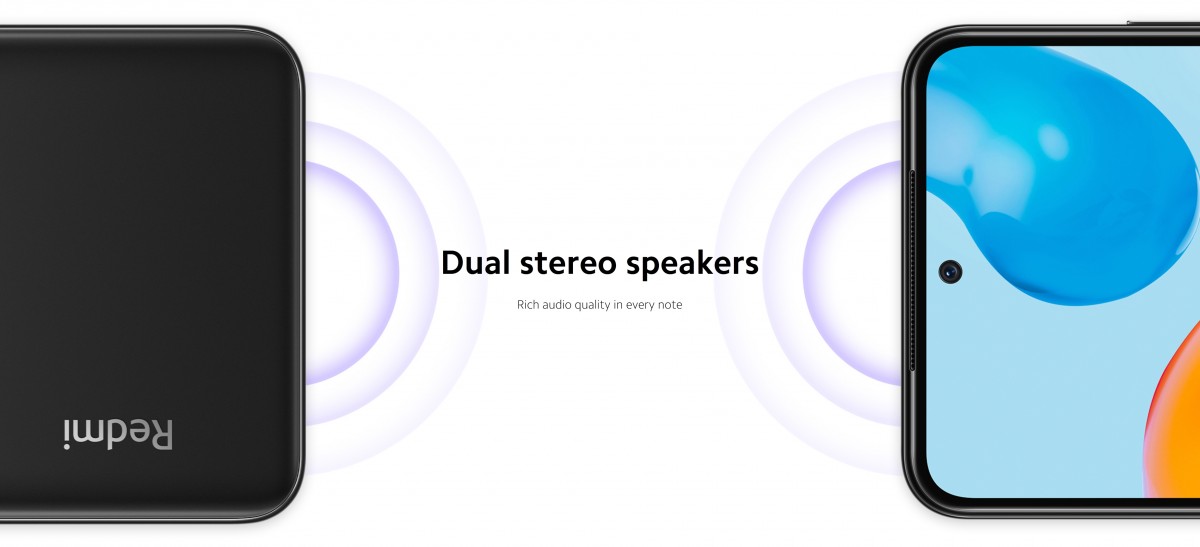 The grill is there as an extra direction to output sound from and is not fully milled down to the same depth along its entire length. That casts a bit more doubt whether the top speaker is a full-sized one. Regardless, we think the dual grill setup is a nifty addition since it makes covering up or muffling the speaker nearly impossible.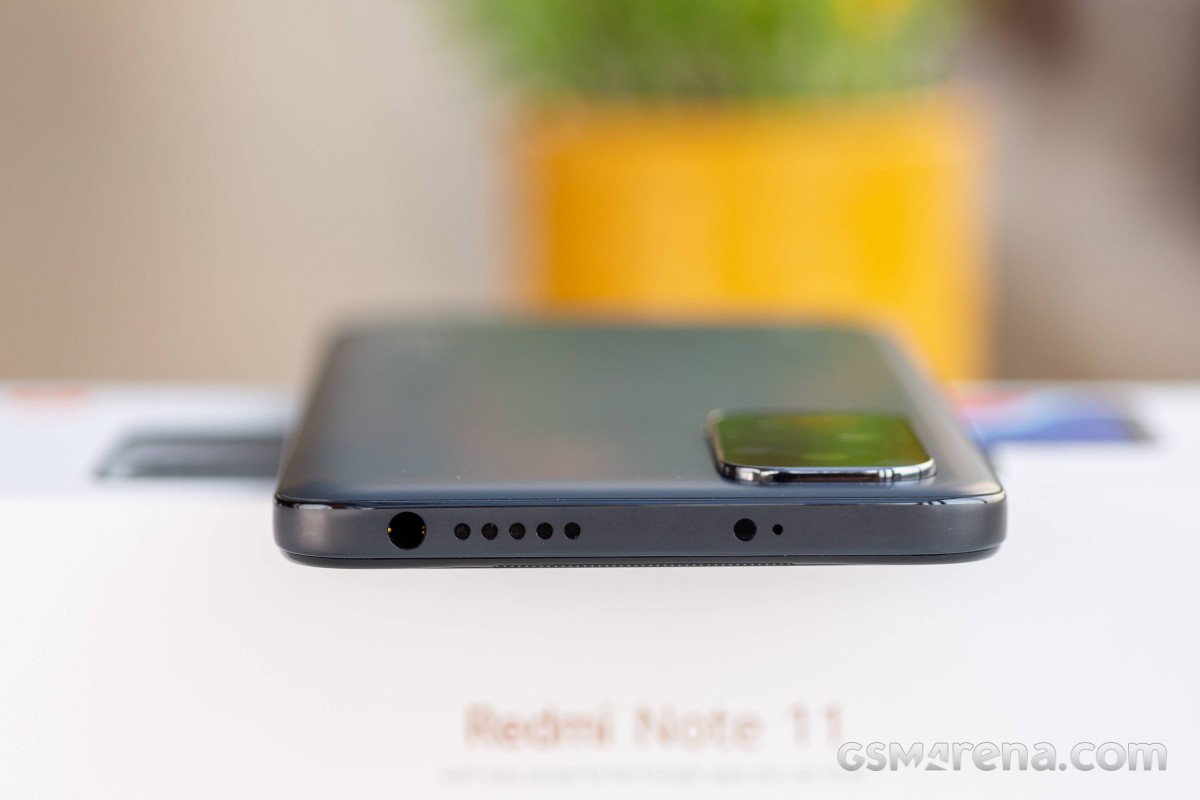 The speaker at the bottom is the real deal for sure. Next to it is the primary microphone and a USB Type-C port. As expected, the latter is wired for USB 2.0 data transfer. It also supports USB Host functionality. It can accept up to 33W of charging and supports both USB Power Delivery and Qualcomm Quick Charge 3+.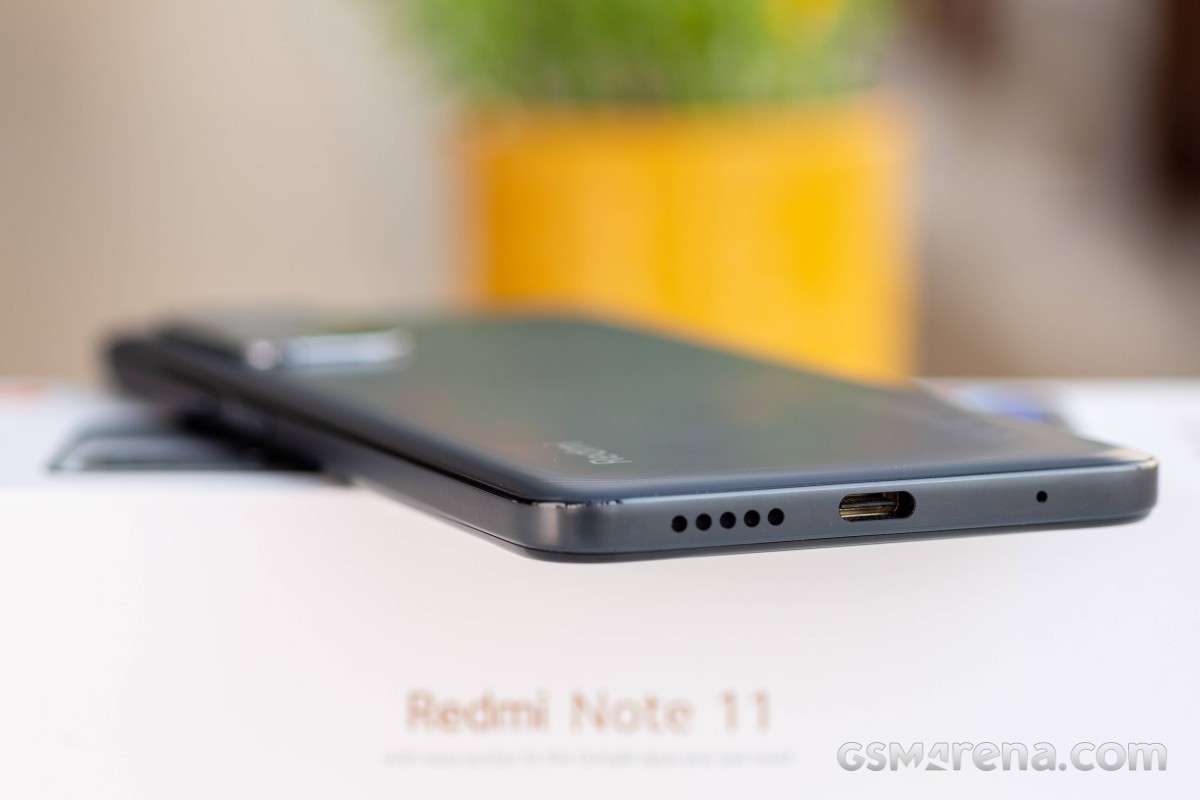 In terms of sensors, the Redmi Note 11 has an accelerometer, gyro, compass and proximity. However, the latter is an "AI Virtual Proximity Sensor" courtesy of Elliptic labs and isn't as accurate as a traditional hardware sensor. It behaved decently when it came to turning off the display during calls in our testing, but your mileage may vary based on how you take your calls.
There is a light sensor hidden away near the right side of the earpiece too. There is no notification LED, which is kind of the norm nowadays, though.
In terms of connectivity, the Redmi Note 11 has dual-band Wi-Fi ac with Wi-Fi Direct, Bluetooth 5,0 with LE support, GPS (just L1), GLONASS, BDS and GALILEO for positioning. Also on board - an IR blaster, NFC in some markets and an FM radio. A solid loadout in our book.