Android 11 with MIUI 12
The Redmi Note 10 Pro is among the first Xiaomi smartphones to boot Android 11 with MIUI 12 out of the box. The MIUI 12 launcher has been around for a while, and even if it uses a newer Android 11 base, you can't really tell that as it skins everything thoroughly.
There is a new MIUI 12.5 update scheduled to arrive in April or May this year. While it sounds like a minor update, the company actually had redone the whole package from within to lower power and memory consumption of the core apps. It also has improved aesthetics and visual design.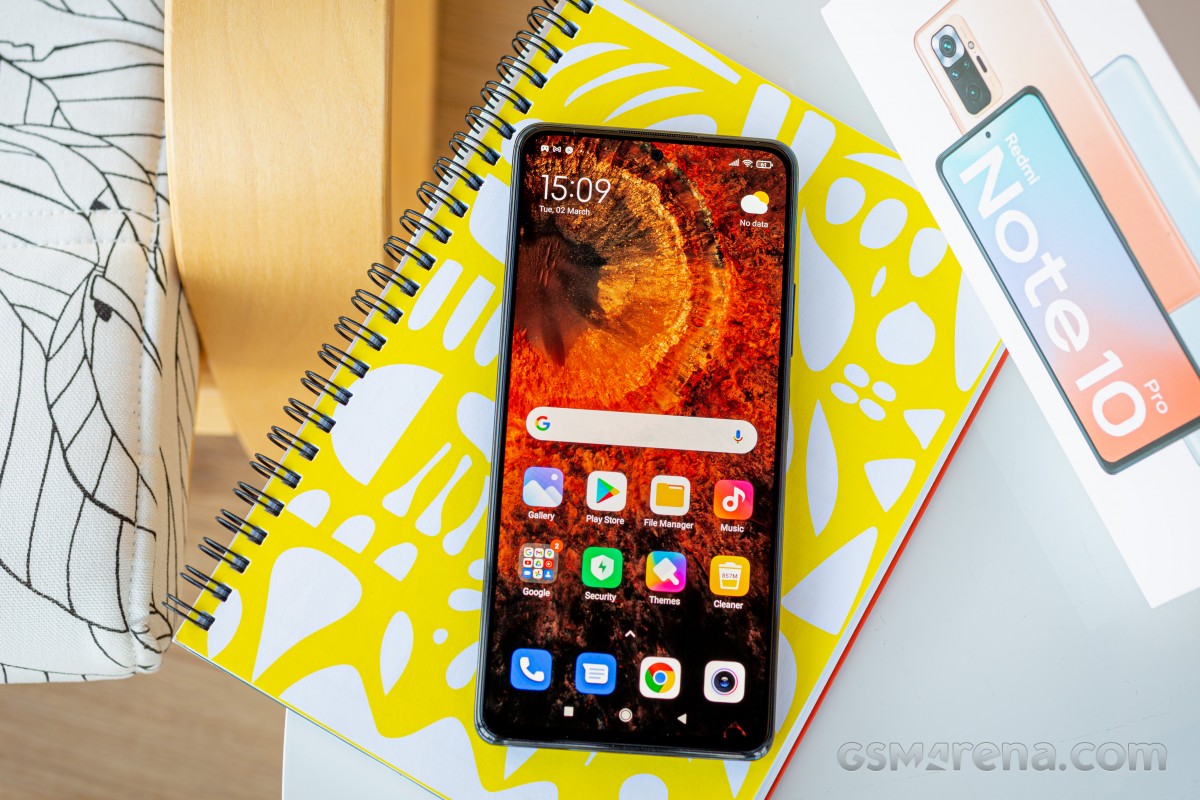 The Redmi Note 10 Pro supports an Always-on display, and you can schedule it or leave it on/off all the time. MIUI 12 has a ton of AOD themes you can choose from and make it yours. You can customize many of those. The Always-on display also supports breathing light - the curved edges of the display will flash with colors upon new notifications.
You unlock the screen via the side-mounted fingerprint scanner. The reader is easy to set up, blazing-fast, and the accuracy is superb. We advise you to set the unlock method to Press as the always-on reader may and will read your palm and/or other fingers and eventually disable the fingerprint unlock until you input your PIN. A 2D Face Unlock is available, too, but it is far less secure than the fingerprint option.
The homescreens are business as usual - they are populated with shortcuts, folders, and widgets. The leftmost pane, if enabled, is Google's Discover.
There are no Super Wallpapers on the Redmi Note 10 Pro, in case you were wondering.
MIUI 12 offers an optional app drawer, and it automatically organizes your apps into categories. The first is All, meaning it contains all apps. Then follow Communication, Entertainment, Photography, Tools, New, and Business. You can edit these categories or even disable them altogether.
You can disable the app drawer entirely if that's not your thing.
Another interesting feature is the Notification shade split into Notification Center and Control Center. Just as on the iPhones, you summon them by pulling down from the left part of the screen for the Notification Center or pulling down from the right for the Control Center.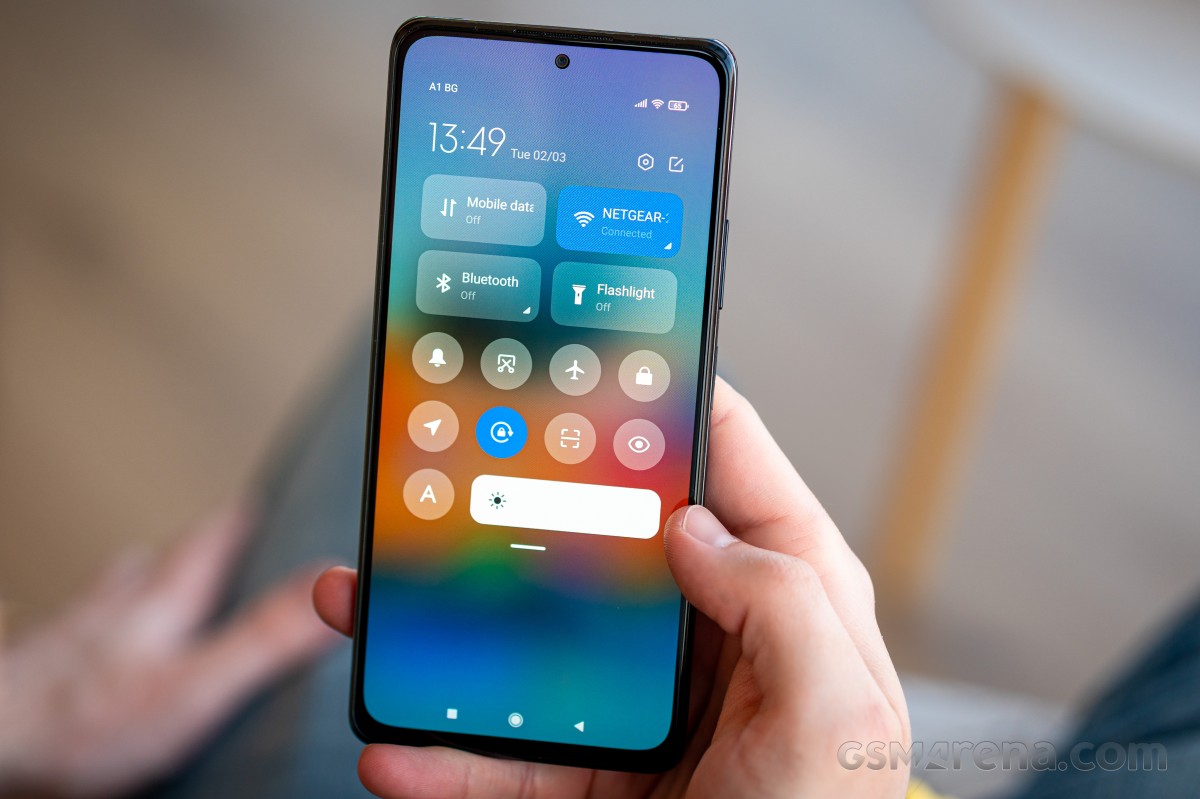 If you are not fond of this new split - you can disable the Control Center, and the shade will revert to its normal looks and operation.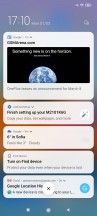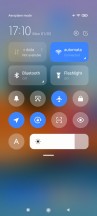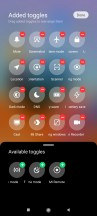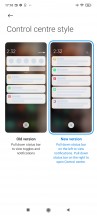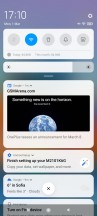 Notification Center • Control Center • Control Center • Options • The old Notification Shade
The task switcher has not changed much. It shows all of your recent apps in two columns. Tap and hold on a card for the split-screen shortcut, or just swipe it left or right to close it. There is a new Floating Windows button on top, a new option offered by MIUI 12. You can put any app in a floating state, but you only have one floating window at a time.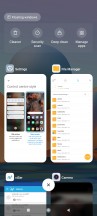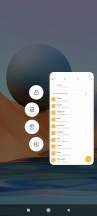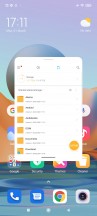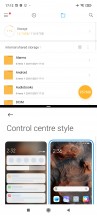 Task Switcher • Options • Floating app • Split screen
Themes are a huge part of MIUI, and they are available on MIUI 12, too. You can download new ones from the Themes store, and they can change wallpapers, ringtones, system icons, system fonts, and even the always-on display style.
Xiaomi enhanced MIUI 12 with a couple of additional privacy options. Now, when sharing stuff, like photos and videos, you can opt to remove location info and/or other metadata (incl. device info) and thus protect your privacy better. Neat.
MIUI also offers a Security app. It can scan your phone for malware, manage your blacklist, manage or restrict your data usage, configure battery behavior, and free up some RAM. It can also manage the permissions of your installed apps and allows you to define the battery behavior of selected apps and applies restrictions only to the apps you choose.
MIUI 12 packs proprietary Gallery, Music, and Video player. In some regions, the music and video apps may include paid streaming options. Mi Remote for the IR blaster is available, too.
The Redmi Note 10 Pro supports FM radio, and you will find the appropriate app for it.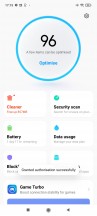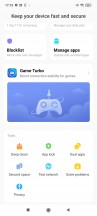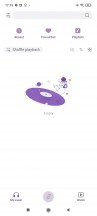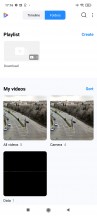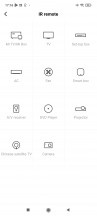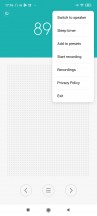 Security • Security • Music • Video • Mi Remote • FM radio
MIUI 12 supports Dark Mode, too, and you can even force it on wallpapers or restrict its application on incompatible individual apps.
MIUI 12 is fully optimized to work on HRR displays, and it looks gorgeous on the Redmi Note 10 Pro. Everything is smooth and fast; animations are unobtrusive yet impressive, the attention to detail is simply excellent. We did enjoy working with MIUI on the Redmi Note 10 Pro's 120Hz for sure.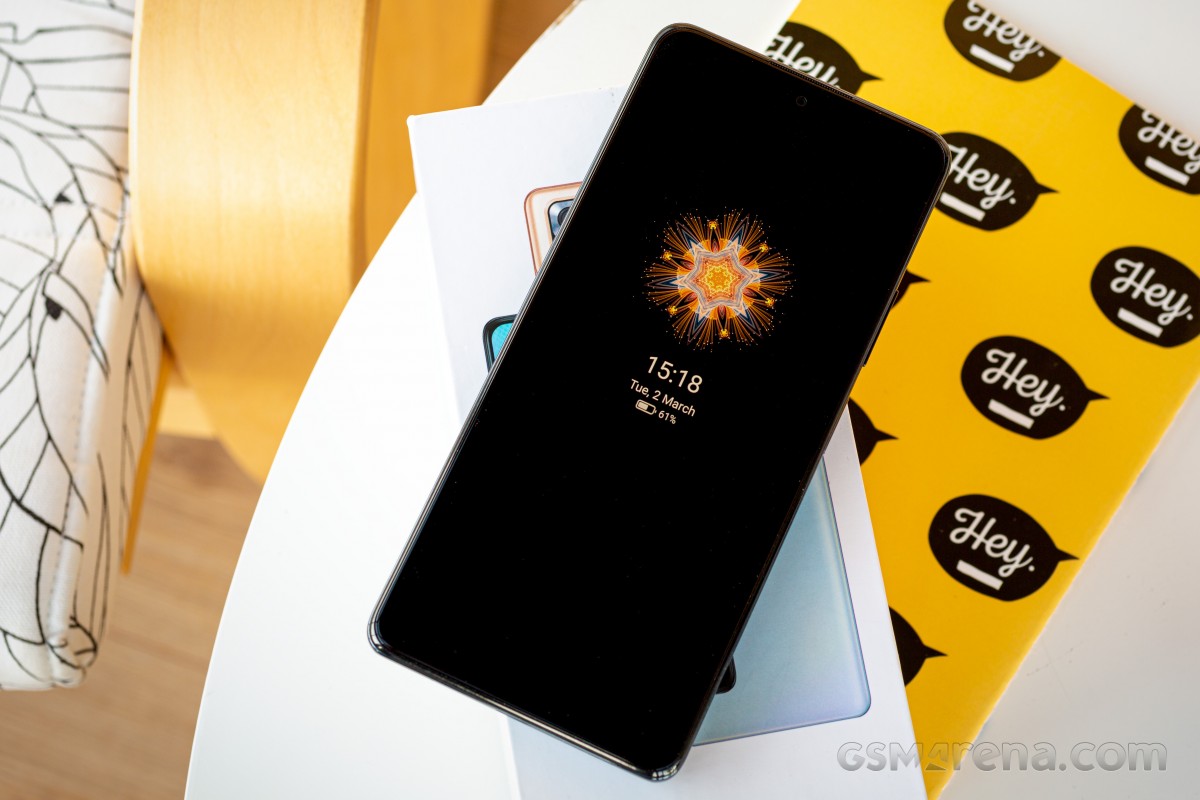 Some MIUI ROMs include ads in the default apps, it is a well-known thing.
The international ROM version of this Redmi Note 10 Pro does come with baked-in "recommendations", but luckily - you can disable those. For example - if you are annoyed of the ads within the app scanner - just hit the settings gear and disable recommendations. The same applies to the Themes app. It's not ideal, sure, but at least you can get of them all.
Performance and benchmarks
The Redmi Note 10 Pro is powered by the Snapdragon 732G chip, the same one inside the Poco X3 NFC.
Hardware-wise, the Snapdragon 732G is a close relative to the vanilla S730 and the S730G. The octa-core processor has two Kryo 470 Gold (Cortex-A76) cores clocked at 2.3 GHz, and six Kryo 470 Silver (Cortex-A55) ones, working at 1.8 GHz. They are all built on an 8nm LPP node.
All S73x chips have the same Adreno 618 DSP. The one on the 730G is clocked 75 MHz higher than S730 and sits at 575 MHz. And the one inside the Redmi Note 10 Pro can go as high as 800MHz.
Finally, the Redmi Note 10 Pro is available with 64GB and 128GB UFS2.2 storage. You get 6GB LPDDR4 RAM for both storage options, but a limited 8GB RAM + 128GB storage is expected to launch, too.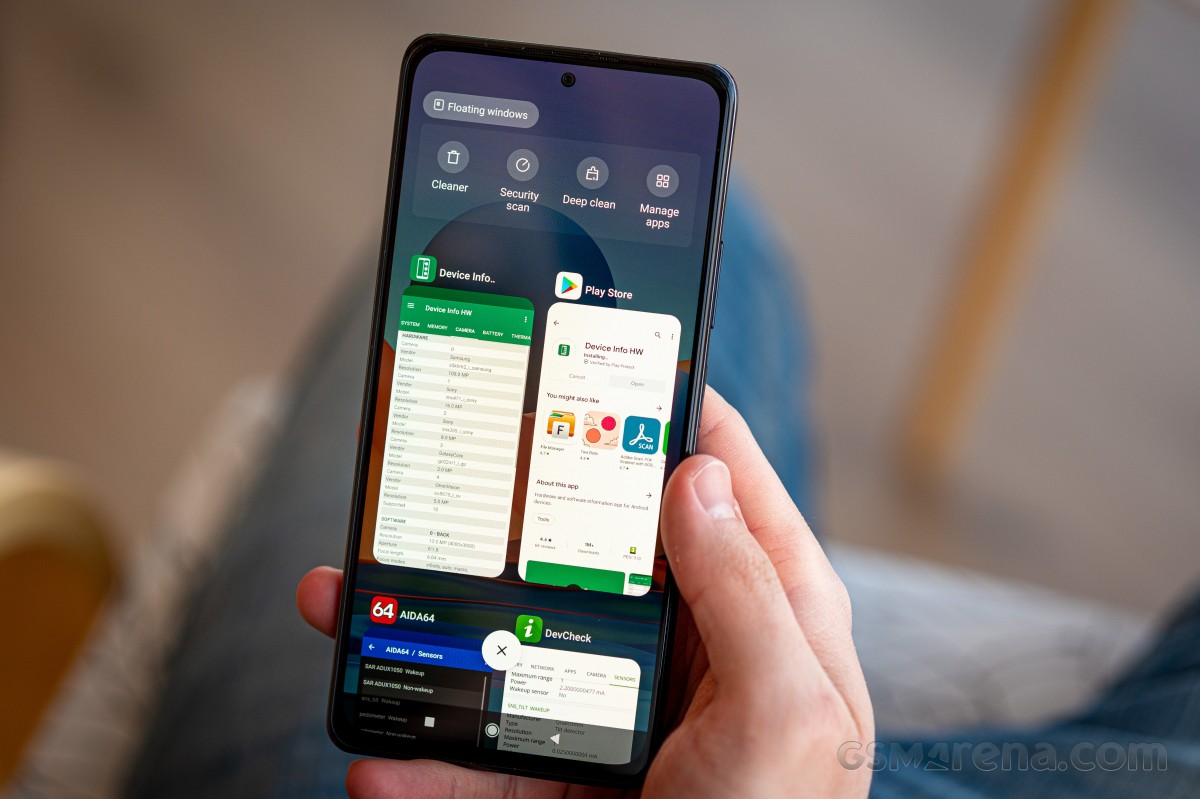 In our tests, the Redmi Note 10 Pro turned out to be among the best-equipped smartphones in its price bracket.
GeekBench 5 (multi-core)
Higher is better
Xiaomi Mi 10T Lite
2009
Samsung Galaxy A42 5G
1910
Realme 7 Pro
1811
Realme 7 5G
1794
Redmi Note 9 Pro (Max)
1785
Xiaomi Redmi Note 10 Pro
1780
Poco X3 NFC
1777
Xiaomi Redmi Note 9T
1775
Realme 7
1681
Poco M3
1398
Realme 7i
1318
Redmi Note 9
1292
GeekBench 5 (single-core)
Higher is better
Xiaomi Mi 10T Lite
661
Samsung Galaxy A42 5G
643
Realme 7 5G
598
Xiaomi Redmi Note 9T
595
Realme 7 Pro
576
Redmi Note 9 Pro (Max)
571
Xiaomi Redmi Note 10 Pro
569
Poco X3 NFC
568
Realme 7
536
Redmi Note 9
361
Realme 7i
312
Poco M3
308
GFX Car Chase ES 3.1 (onscreen)
Higher is better
Samsung Galaxy A42 5G
33
Realme 7
17
Realme 7 5G
17
Xiaomi Redmi Note 10 Pro
16
Poco X3 NFC
16
Xiaomi Mi 10T Lite
16
Redmi Note 9 Pro (Max)
15
Realme 7 Pro
14
Realme 7i
13
Poco M3
5.9
The AnTuTu 8 benchmark shows the phone is on par with its competitors and will not disappoint.
AnTuTu 8
Higher is better
Samsung Galaxy A42 5G
324686
Xiaomi Mi 10T Lite
318882
Realme 7 5G
318535
Xiaomi Redmi Note 10 Pro
295442
Realme 7
292828
Xiaomi Redmi Note 9T
288732
Poco X3 NFC
283750
Redmi Note 9 Pro (Max)
279625
Realme 7 Pro
278414
Redmi Note 9
200414
Poco M3
177904
Realme 7i
172933
The Redmi Note 10 Pro is a good performer in its class and adequately equipped for its price. It easily manages whatever you throw at it, it runs Android+MIUI incredibly smooth on that screen, and the overall experience feels flagship-grade.
Few games are currently optimized for HRR displays, and even fewer will be able to run at 60fps on higher on the Redmi Note 10 Pro as the Adreno 618 is no flagship GPU. But the support is there, and the overall smoothness is quite enough to justify putting an HRR screen.