Display
The Xiaomi Redmi Note 10 5G packs a 6.5" IPS LCD screen with a reasonably small punch-hole notch at the top. The resolution is the usual extended 1080p - 2,400 x 1,080 pixels - making for a sharp 400ppi density and 20:9 aspect ratio. A flat piece of Gorilla Glass 3 is keeping the panel safe.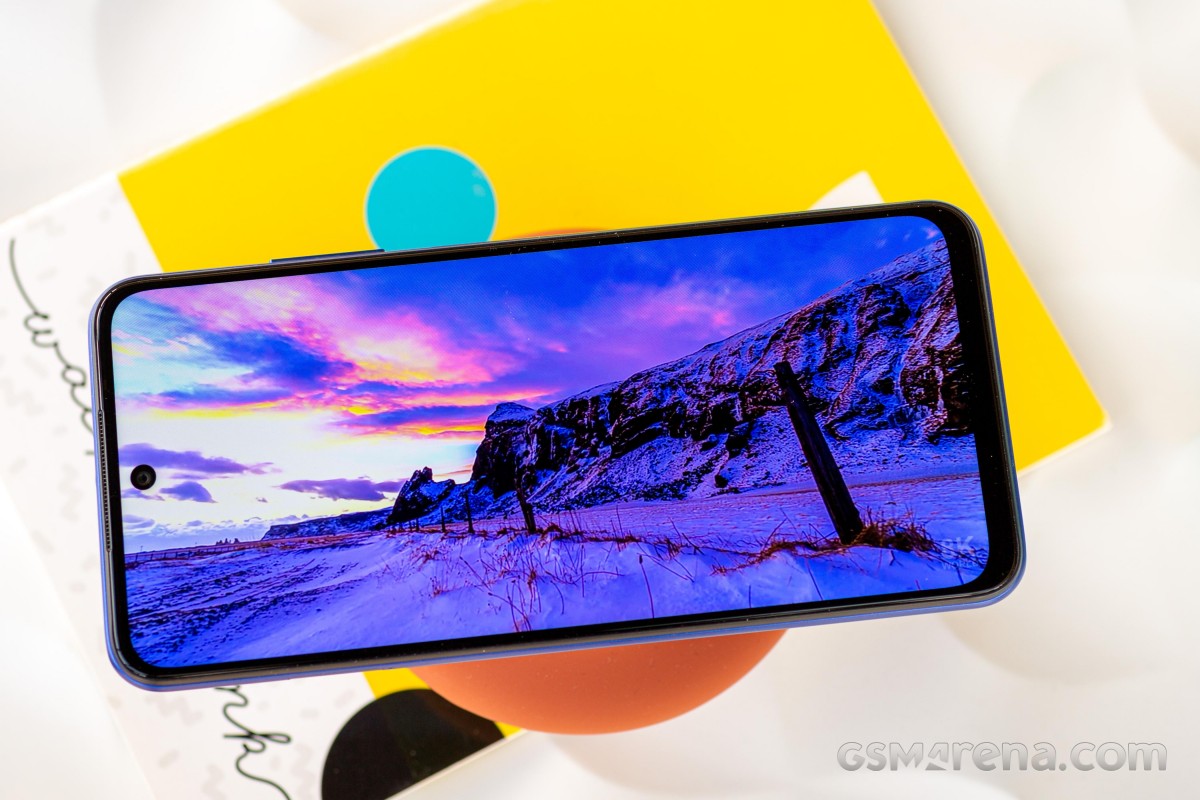 The Redmi Note 10 5G display supports a 90Hz dynamic refresh rate. There is no HDR10 support, though.
You can choose between 60Hz (Standard) and 90Hz (High) refresh rate options. The 90Hz option is supposed to be a dynamic one and should be offering auto-switching between 30Hz, 50Hz, 60Hz and 90Hz refresh rate depending on the content. The official website says support for 30Hz will be added later on.
The High (90Hz) option should be dynamic - the UI is drawn at 90fps, as well as all compatible apps. It reverts automatically to 50Hz when a static image is shown, or 60Hz when watching local or streaming video. Due to the budget chipset, you probably won't be able to enjoy many games with framerates north of 60fps. And with a future update, it should be able to drop the refresh rate down to 30Hz for 30fps videos.
Oddly, Android's refresh rate indicator says the refresh is kept at 90Hz even when the image is static. This could be an error though, a miscommunication between Android and MIUI, so we can't be sure it doesn't work as promised by solely relying on this dev indicator. But we do think it's more probable that Xiaomi has delivered on its promise, and it's just a wrong number from the RR overlay.
Xiaomi is promising 1500:1 contrast for the screen, 400 nits of typical and 500 nits of maximum brightness with sunlight boost. We did our brightness measurements, and the Redmi Note 10 5G did live up to the Xiaomi's promises. It achieved a contrast of nearly 1800:1 with impressively deep blacks for an LCD.
The manual max brightness is below the average for an LCD panel, though - just 377 nits. It can go close to 500nits in bright sunlight, so you should be able to see what's happening on the screen even outdoors.
The minimum brightness we were able to achieve with white color was just 1 nit - impressive!
Display test
100% brightness
Black,cd/m2
White,cd/m2
Contrast ratio
Xiaomi Redmi Note 10 5G
0.21
377
1795:1
Xiaomi Redmi Note 10 5G (Max Auto)
0.275
492
1789:1
Realme 8 5G
0.334
472
1413:1
Realme 8 5G (Max Auto)
0.408
577
1414:1
Realme 7 5G
0.376
484
1287:1
Realme 7 5G (Max Auto)
0.667
571
856:1
Xiaomi Redmi Note 10 Pro
0
457
∞
Xiaomi Redmi Note 10 Pro (Max Auto)
0
725
∞
Xiaomi Redmi Note 10
0
475
∞
Xiaomi Redmi Note 10 (Max Auto)
0
682
∞
OnePlus Nord N10 5G
0.304
440
1447:1
Poco X3 Pro
0.327
458
1401:1
Poco X3 Pro (Max Auto)
0.4
534
1335:1
Samsung Galaxy A42 5G
0
395
∞
Samsung Galaxy A42 5G (Max Auto)
0
570
∞
Xiaomi offers three different Contrast settings for the Redmi Note 10 5G display, all of them correspond to the sRGB color space. With the Automatic contrast set to on, there is a noticeable blue tinge, and the colors aren't that accurate, though punchy. Same goes for the Saturated option.
The Standard Contrast setting has superb accuracy within the sRGB color space, and we captured an average deltaE of 2.3 for color accuracy.
Finally, the phone supports Widevine L1 DRM out of the box and you will be able to enjoy streaming content at the maximum Full HD resolution.
Battery life
The Redmi Note 10 5G is powered by a large 5,000 mAh battery and it supports reasonably fast charging at 18W.
The Redmi Note 10 5G posted an excellent result in our battery test with a 121-hours Endurance rating. It did a fabulous job across all tests - video playback, calls, web browsing, and demonstrated okay standby performance.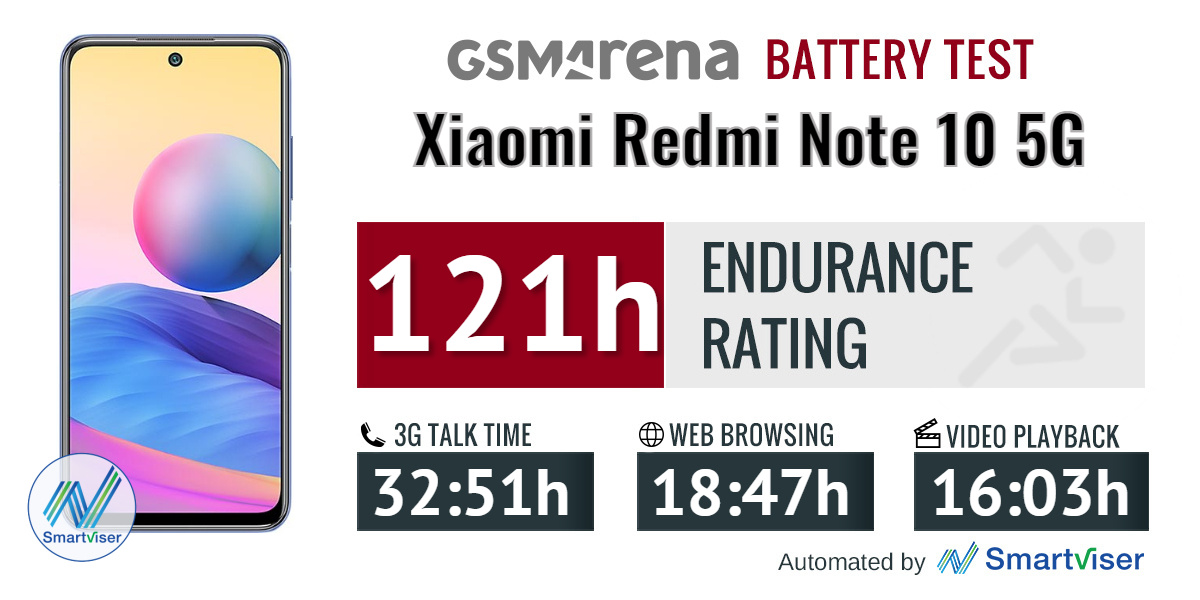 Our battery tests were automated thanks to SmartViser, using its viSerDevice app. The endurance rating denotes how long the battery charge will last you if you use the device for an hour of telephony, web browsing, and video playback daily. More details can be found here.
Charging speed
Xiaomi is shipping the Redmi Note 10 5G with a 22.5W charger even though the phone can take a maximum of 18W. If you have other compatible devices, you'd be able to fast charge those with this adapter, too, and you'll need to carry one or a couple of chargers less.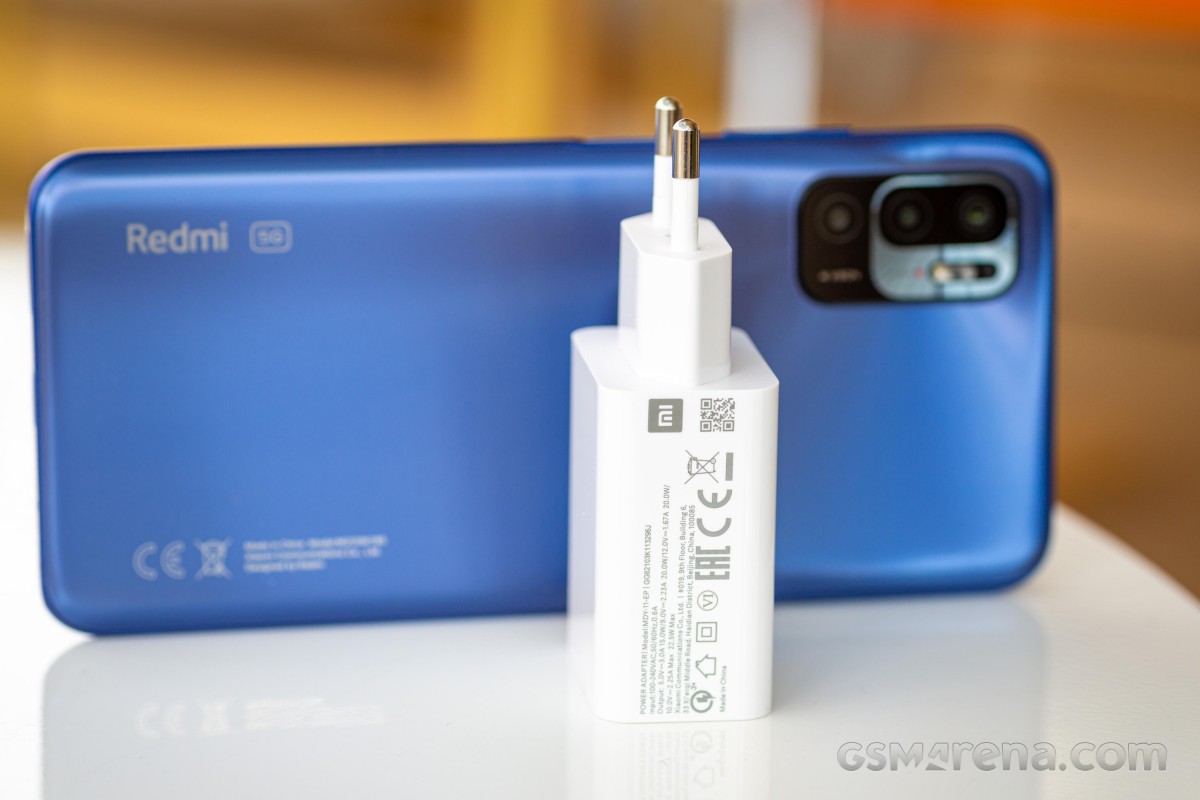 So, the Xiaomi Redmi Note 10 5G has a beefy 5,000 mAh battery, but thanks to this 18W, it shouldn't take forever to recharge. And indeed, the provided charger takes the battery from 0% to 33% in 30 minutes. Sure, it's not that impressive, but considering the large capacity - it's reasonable.
30min charging test (from 0%)
Xiaomi Redmi Note 10
65%
OnePlus Nord N10 5G
65%
Realme 7 5G
57%
Realme 8
56%
Xiaomi Redmi Note 10 Pro
50%
Poco X3 Pro
50%
Xiaomi Redmi Note 10 5G
33%
Realme 8 5G
29%
Samsung Galaxy A42 5G
27%
A full charge requires exactly 2 hours - that's 20 minutes faster than the Realme 8 5G.
Time to full charge (from 0%)
OnePlus Nord N10 5G
0:52h
Realme 7 5G
1:06h
Poco X3 Pro
1:08h
Realme 8
1:09h
Xiaomi Redmi Note 10
1:13h
Xiaomi Redmi Note 10 Pro
1:21h
Xiaomi Redmi Note 10 5G
2:00h
Samsung Galaxy A42 5G
2:01h
Realme 8 5G
2:20h
A quick tip - the phone starts charging fast only when it's booted. If it's dead and you forget to turn it on once you plugged it in, it will charge at the slowest speed possible of 5W.
Speaker quality
The Redmi Note 10 5G has just one speaker, and it's at the bottom of the phone. It scored a Good mark in our loudness test, in line with its peers.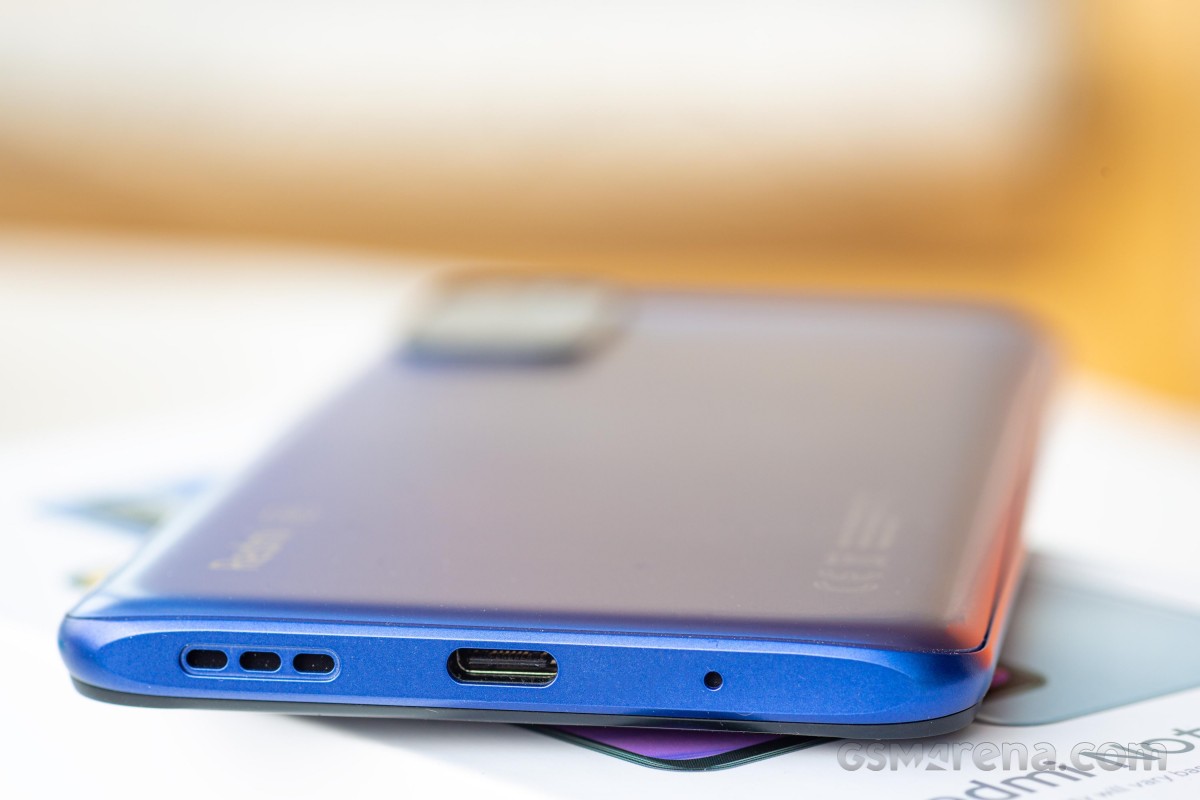 The audio quality is good, and we liked what we heard - the sound seems richer than most of the budget phones we've tested. It has well-presented mid-tones and high-tones, unlike the Realme 8 5G that was good only for mid-tones, though the Redmi still lacks bass.
Use the Playback controls to listen to the phone sample recordings (best use headphones). We measure the average loudness of the speakers in LUFS. A lower absolute value means a louder sound. A look at the frequency response chart will tell you how far off the ideal "0db" flat line is the reproduction of the bass, treble, and mid frequencies. You can add more phones to compare how they differ. The scores and ratings are not comparable with our older loudspeaker test. Learn more about how we test here.