Compact and bright OLED
The displays on the Pro and the non-Pro models from the Redmi 10 family are the biggest upgrade compared to their predecessors. While the Pro solves the dilemma between a 120Hz LCD and a 60Hz OLED that existed in this price bracket by simply providing both (OLED + HRR), the non-Pro settles for a 60Hz OLED panel. Which isn't bad by any means. For just around €200, you are getting a compact, 6.43-inch Super AMOLED screen protected by Gorilla Glass 3. It also has a fairly standard these days 1080 x 2400px resolution.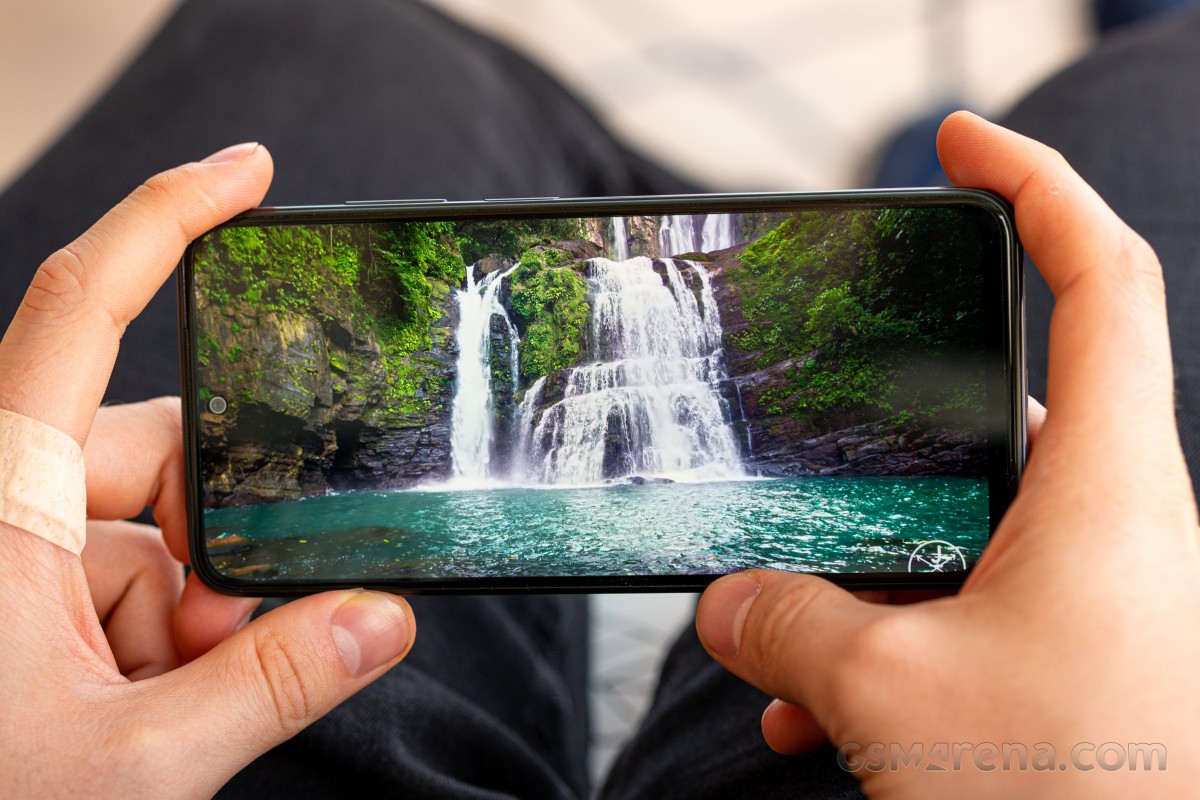 Xiaomi promises high maximum brightness and wide DCI-P3 color gamut coverage. It says that it can go up to 700 nits and even reach 1100 nits of peak brightness. Our tests confirm the former as the display peaked at around 682 nits in auto mode, while in manual mode, the panel can go up to 475 nits. Perhaps the advertised 1100 nits can be reached in small patches of the display, but that doesn't really mean anything when HDR isn't available in the first place. More on that later.
Display test
100% brightness
Black,cd/m2
White,cd/m2
Contrast ratio
Xiaomi Redmi Note 10 Pro
0
457
∞
Xiaomi Redmi Note 10 Pro (Max Auto)
0
725
∞
Xiaomi Redmi Note 10
0
475
∞
Xiaomi Redmi Note 10 (Max Auto)
0
682
∞
Samsung Galaxy A32
0
393
∞
Samsung Galaxy A32 (Max Auto)
0
814
∞
Xiaomi Redmi Note 9 Pro
0.355
456
1285:1
Xiaomi Redmi Note 9 Pro (Max Auto)
0.487
616
1265:1
Xiaomi Redmi Note 9
0.298
370
1242:1
Xiaomi Redmi Note 9 (Max Auto)
0
466
∞
Motorola Moto G 5G Plus
0.349
443
1269:1
Motorola Moto G 5G Plus (Max Auto)
0.466
543
1165:1
Motorola Moto G 5G
0.341
484
1419:1
Xiaomi Poco X3 NFC
0.354
460
1299:1
Xiaomi Poco X3 NFC (Max Auto)
0.515
631
1225:1
Still, the maximum recorded brightness is high enough to provide comfortable reading and content consumption outdoors on a bright sunny day. That's the brightness some higher-end phones have to offer.
If you are into color accuracy, we suggest that you go for the Natural preset. It offers an excellent average dE2000 of 1.5 - almost perfect. That mode would limit your manual brightness to 410 nits, though, keep that in mind.
Now as far as HDR is concerned, the handset's official specs say that only the Pro model supports HDR video playback. However, we found that YouTube recognizes the Redmi Note 10's display as HDR-compatible, but the Netflix app says just regular SDR playback. Either Xiaomi didn't certify its Redmi Note 10 for HDR playback to cut on expenses, or it doesn't say it has HDR until Netflix and Amazon Prime approve the phone. YouTube is a bit more liberal when it comes to HDR standards.
Battery life
It appears that the Redmi Note 10 falls behind its predecessor when it comes to endurance, mainly due to its low standby and web browsing scores. Both have almost identical battery cells - 5,020 mAh (Redmi Note 9) vs. 5,000 mAh (Redmi Note 10). However, an overall score of 110h is respectable nonetheless and should be enough to ensure a full day of battery life for most users. And more importantly, it doesn't drag behind the competition.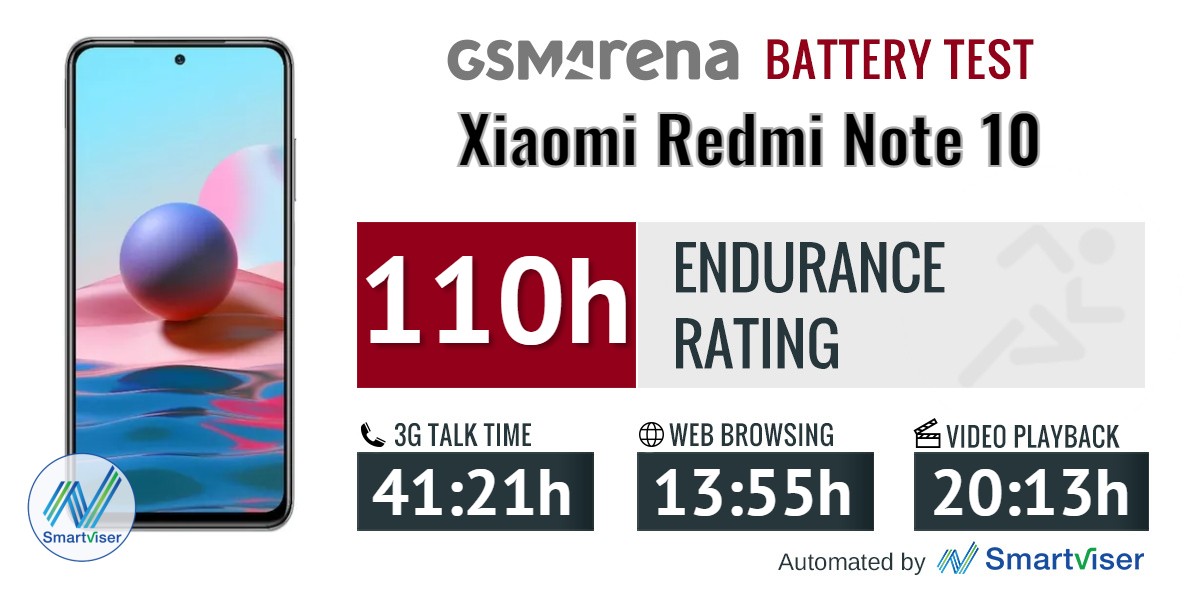 Our battery tests were automated thanks to SmartViser, using its viSerDevice app. The endurance rating denotes how long the battery charge will last you if you use the device for an hour of telephony, web browsing, and video playback daily. More details can be found here.
All test results shown are achieved under the highest screen refresh rate mode. You can adjust the endurance rating formula manually so it matches better your own usage in our all-time battery test results chart where you can also find all phones we've tested.
Charging speed
According to Xiaomi's official data, the phone is one of the fastest charging phones for its class, and our tests confirmed that. The charging times we got were almost identical to what Xiaomi has advertised. In just 30 minutes, the phone replenished about 65% of its charge while a full charge took 73 minutes - a minute earlier than the company's official data.
This makes the Redmi Note 10 the fastest-charging device in our comparison below, and it seems to be particularly speedy in the 30-minute test, which is arguably the more important one. How many times you had to charge your phone from 0 to 100%?
30min charging test (from 0%)
Xiaomi Redmi Note 10
65%
Xiaomi Redmi Note 9 Pro
63%
Poco X3 NFC
55%
Xiaomi Redmi Note 10 Pro
50%
Motorola Moto G 5G
36%
Motorola Moto G 5G Plus
35%
Xiaomi Redmi Note 9
31%
Time to full charge (from 0%)
Xiaomi Redmi Note 9 Pro
1:11h
Xiaomi Redmi Note 10
1:13h
Poco X3 NFC
1:15h
Xiaomi Redmi Note 10 Pro
1:21h
Motorola Moto G 5G Plus
2:10h
Motorola Moto G 5G
2:11h
Xiaomi Redmi Note 9
2:33h
Speakers
The Redmi Note 10 has a pair of nice-sounding stereo speakers. To be fair, we can't be too pretentious about the speakers as rarely do we see a stereo set of those in this price bracket.
But if we have to be more critical, there are some things that need addressing in the next generation. For instance, the maximum loudness is slightly above average, and there's a noticeable distortion of the vocals and highs when you crank up the volume to maximum. This can be avoided by toning down to around 80% of the volume. This way, you still get a decent strength, but the overall sounding becomes clearer. However, there's nothing you can do about the fullness as the bass isn't as prominent at any level.
We do have to add that the speakers are well-balanced and the top one is just as loud as the bottom ones.
Once again, these observations shouldn't be a decisive factor on whether you should be buying this phone or not. Let's be realistic - the stereo speakers are a nice bonus to the overall package. The only real issue that could have been avoided is the placement of the secondary speaker. When holding the phone horizontally, your left hand will almost always muffle the left speaker during gaming or when watching videos. You might have to hold the device in a different way than you are used to.
Use the Playback controls to listen to the phone sample recordings (best use headphones). We measure the average loudness of the speakers in LUFS. A lower absolute value means a louder sound. A look at the frequency response chart will tell you how far off the ideal "0db" flat line is the reproduction of the bass, treble, and mid frequencies. You can add more phones to compare how they differ. The scores and ratings are not comparable with our older loudspeaker test. Learn more about how we test here.