Capable 6.53-inch IPS LCD panel
The display on the Redmi 9T is identical to the one on the Poco M3, and expectedly, the results from our tests are quite similar too. This is one of the few low-budget phones with 1080p resolution. In fact, 1080p+ at that - 1080 x 2340px making up for a tall 19.5:9 aspect ratio. As we already mentioned, Gorilla Glass 3 protects the panel and features a waterdrop-style notch for the front-facing camera.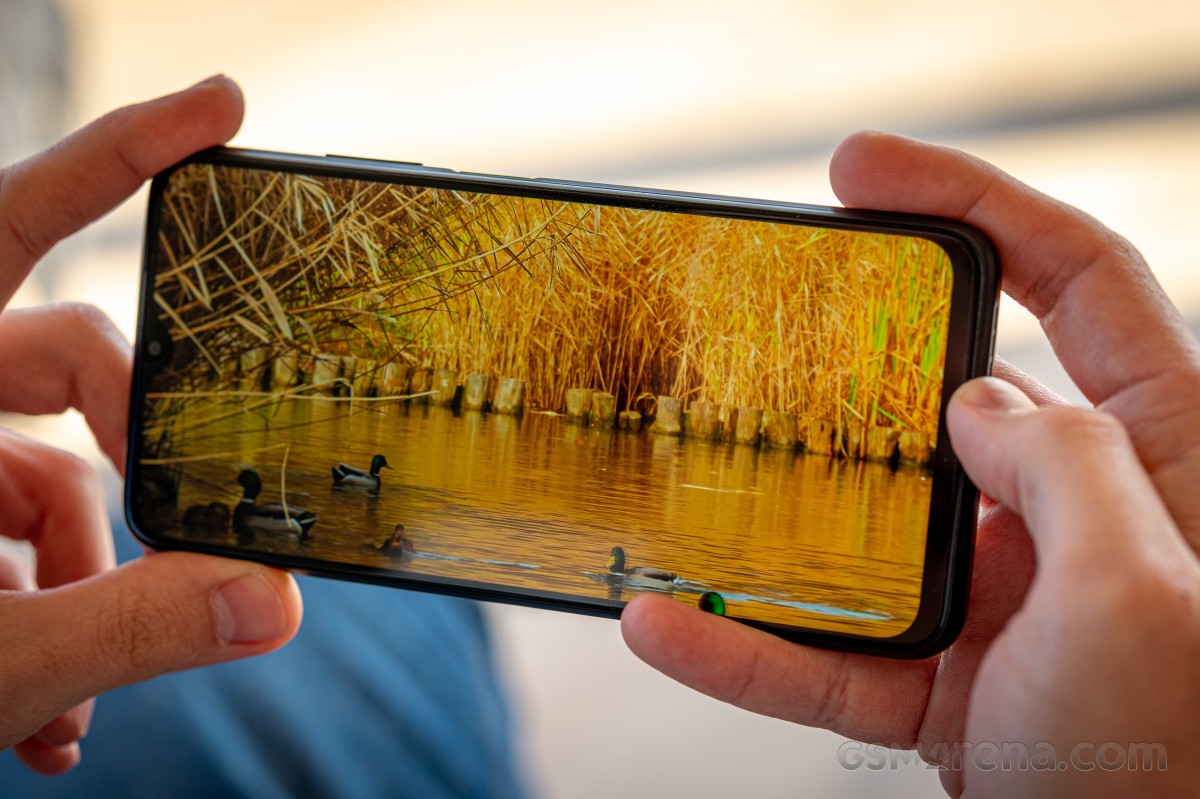 In our testing, the panel hit the advertised 400 nits when the Sunlight mode was triggered. The panel peaked at 437 nits, and when in manual mode, the display reaches 394 nits in Saturated mode and 381 nits in the default color preset.
The contrast ratio is well above the advertised 1500:1 too. Overall, that's more than the decent panel that should provide good enough visibility in most conditions. It's unrealistic to expect higher brightness from the Redmi 9T's budget display.
Display test
100% brightness
Black,cd/m2
White,cd/m2
Contrast ratio
Xiaomi Redmi 9T
0.239
381
1594:1
Xiaomi Redmi 9T (Max Auto)
0.32
437
1366:1
Poco M3
0.252
395
1567:1
Poco M3 (Max Auto)
0.277
439
1585:1
Realme 7
0.31
457
1474:1
Realme 7 (Max Auto)
0.374
526
1406:1
Samsung Galaxy A21s
0.317
408
1287:1
Samsung Galaxy A21s (Max Auto)
0.384
491
1279:1
Samsung Galaxy A12
0.292
398
1363:1
Samsung Galaxy A12 (Max Auto)
0.349
472
1352:1
Samsung Galaxy A02s
0.23
406
1765:1
Xiaomi Redmi Note 9
0.298
370
1242:1
Xiaomi Redmi Note 9 (Max Auto)
0
466
∞
In terms of accuracy, the standard mode provides acceptable color accuracy with the average dE2000 being 4.2. Expect blue-ish whites and grays and over-the-top blues, purples and cyans. The Natural preset provides the best possible accuracy with average dE2000 as low as 1.8, but the maximum brightness in this mode is limited to 356 nits. And the whites are still a bit leaning towards blue too.
Battery life
To no one's surprise, the Redmi 9T passed our battery tests with flying colors. The huge 6,000 mAh battery and the rather efficient Snapdragon 662 chipset kept the phone running for quite a while during our screen-on and screen-off tests. You can rest assured that the phone would need charging just once in a couple of days, depending on your usage, of course. The overall score of 150h isn't only admirable but record-breaking, too.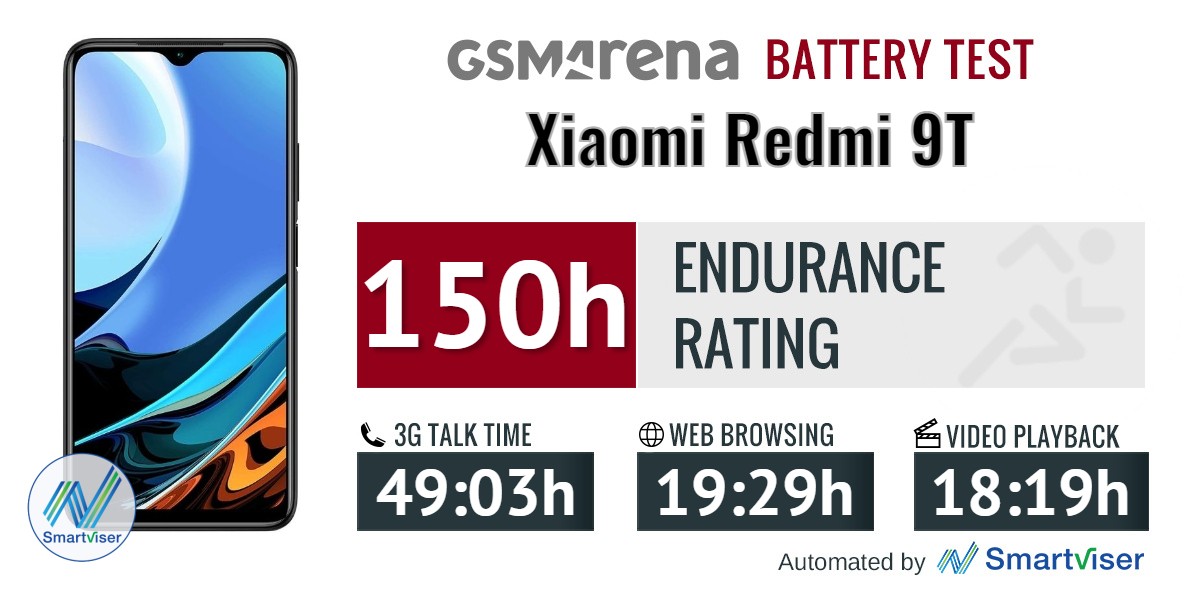 Our battery tests were automated thanks to SmartViser, using its viSerDevice app. The endurance rating denotes how long the battery charge will last you if you use the device for an hour of telephony, web browsing, and video playback daily. More details can be found here.
All test results shown are achieved under the highest screen refresh rate mode. You can adjust the endurance rating formula manually so it matches better your own usage in our all-time battery test results chart where you can also find all phones we've tested.
Charging speed
As expected, the charging speed isn't stellar as the handset supports up to 18W charging, and it's a sizeable 6,000mAh we're dealing with here.
When charging the phone from flat, you can expect around 25% of the battery to be replenished in the first 30 minutes, while a full charge would take a whisker under 3 hours. However, it would be unfair to complain about charging times because the competition employs similar charging speeds but charge faster due to the smaller batteries they carry.
30min charging test (from 0%)
Realme 7
58%
Xiaomi Redmi Note 9
31%
Samsung Galaxy A02s
30%
Samsung Galaxy A21s
26%
Xiaomi Redmi 9T
25%
Samsung Galaxy A12
20%
Motorola Moto G9 Power
20%
Time to full charge (from 0%)
Realme 7
1:05h
Motorola Moto G9 Power
2:19h
Xiaomi Redmi 9T
2:30h
Xiaomi Redmi Note 9
2:33h
Samsung Galaxy A02s
2:36h
Samsung Galaxy A12
3:03h
Speakers
The Redmi 9T is one of the few devices to feature proper stereo loudspeakers in this price range, and the best part is that they are really nice too. The sound is full, clear and moderately loud. In our tests, the phone achieved a "Very Good" score, but we can easily rate the audio quality as excellent, especially considering the device's class. There's some slight distortion in the highs when you crank up the volume, but we can let that one slide.
Use the Playback controls to listen to the phone sample recordings (best use headphones). We measure the average loudness of the speakers in LUFS. A lower absolute value means a louder sound. A look at the frequency response chart will tell you how far off the ideal "0db" flat line is the reproduction of the bass, treble, and mid frequencies. You can add more phones to compare how they differ. The scores and ratings are not comparable with our older loudspeaker test. Learn more about how we test here.