Blue-plate special
Xiaomi Redmi 4 review: Blue-plate special
Hardware overview
The Xiaomi Redmi 4 comes in a plain white box with just the charger (a regular 5V/2A unit with no fast charging) and a USB cable. Even high-end Xiaomis don't have a headset bundled, so we can't complain about it missing in the budget Redmi 4's package.
The Redmi 4 is quite similar to previous iterations in terms of physical dimensions - at 139.2 x 70 x 8.7mm there's a fraction of a millimeter in each direction to set it apart from the 3x (or any other of the numerous Redmi Threes). The 8.7mm of depth and an overall small footprint make it seem a little chubby at first, but we know that's in no small part due to the 4,100mAh battery inside, so we're good. The same goes for the 150g of weight, which would have otherwise been a little too much for a 5-incher.
Unlike the all-plastic Redmi 4a we had a month ago, the Redmi 4 sports an aluminum back - a touch of premium on an affordable device.
There are a couple of plastic antenna strips top and bottom, and we somehow managed to scratch the bottom one, despite our typically careful handling of review devices.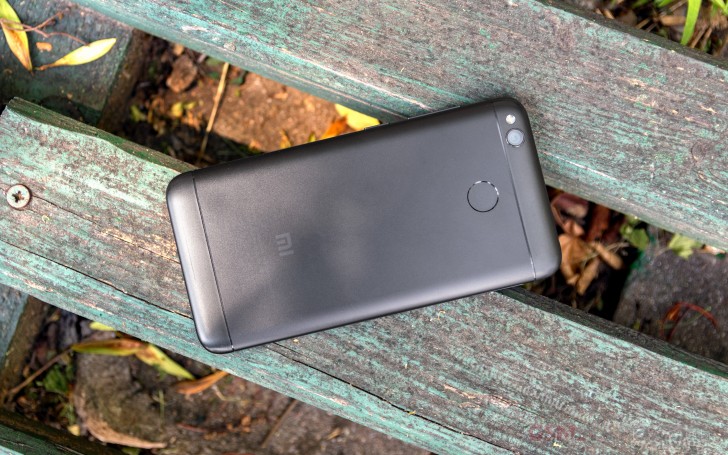 The camera is in the top strip, joined by the flash. The camera module sticks out just a tiny bit, and the ring around the lens is slightly raised above the glass, so it should be safe.
The fingerprint sensor is here on the back as well, as that's how most Redmis roll, while some flagship Mi phones have it on the front.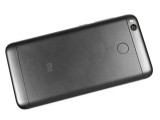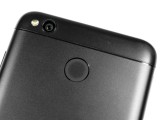 Metal back with plastic strips • Fingerprint reader
The Redmi 4, on its front, has the customary set of capacitive navigation keys below the 5-inch display. It's a 'reverse' arrangement of Recent Apps/Home/Back. Under the Home key there's a notification LED - not the usual top-bezel location, but it works just as fine. Up top there's the earpiece with the 5MP front camera to its right and the ambient light/proximity sensors on the other side.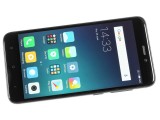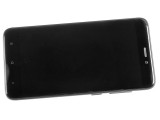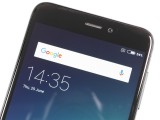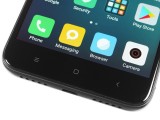 A phone like any other • More so with the display off • Usual stuff around the earpiece • Capacitive keys
The microUSB 2.0 port is on the bottom - the Redmis don't get USB-C just yet. Don't be fooled by the two grilles, there's just one loudspeaker and it's behind the right one. The primary mic is around here too.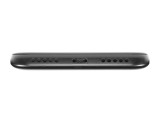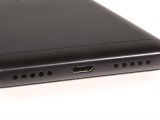 Loudspeaker and microUSB port on the bottom
There's more good stuff on the top - the 3.5mm jack goes without saying, but you'll also find an IR emitter, and we've always appreciated Xiaomi's remote control app. The secondary mic is here too.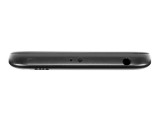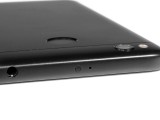 The top plate is home to the 3.5mm jack, IR blaster, and secondary mic
The right side of the phone features the power button and the volume rocker - all click positively. The card slot is on the left and it takes a microSIM and nanoSIM or microSD card. A hybrid slot is better than nothing, but still not ideal.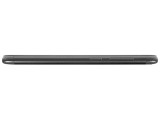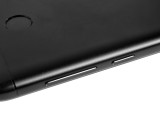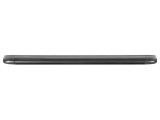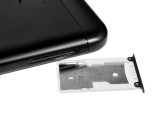 Right side • Power button and volume rocker • Left side • Card tray
Xiaomi Redmi 4 battery life
The 28nm chipset inside the Redmi 4 may not be particularly efficient, but there's plenty of battery to make up for that - 4,100mAh is a lot for a 5-inch phone. While the Redmi 4 performance in our tests wasn't mind-blowing, it still posted some respectable numbers.
We're happy to report that it lasted for around 12 hours in each of our tests carried out with the display on - browsing the web over Wi-Fi and watching videos. A little short of 20 hours on a 3G call isn't too shabby either. Feeding those numbers along with standby draw in our super-complex (not really) formula we get an overall endurance rating of 80 hours.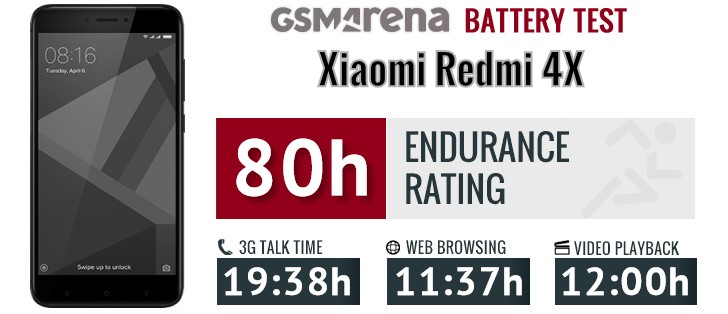 Our endurance rating denotes how long a single battery charge will last you if you use the Xiaomi Redmi 4 for an hour each of telephony, web browsing, and video playback daily. We've established this usage pattern so our battery results are comparable across devices in the most common day-to-day tasks. The battery testing procedure is described in detail in case you're interested in the nitty-gritties. You can also check out our complete battery test table, where you can see how all of the smartphones we've tested will compare under your own typical use.
Decent 5-inch 720p IPS display
The Redmi 4 relies on the proven Redmi formula of a 5-inch 720p IPS display. There is the Redmi 4 Prime that boasts a FullHD panel, but the 4 is just fine with its 294ppi density.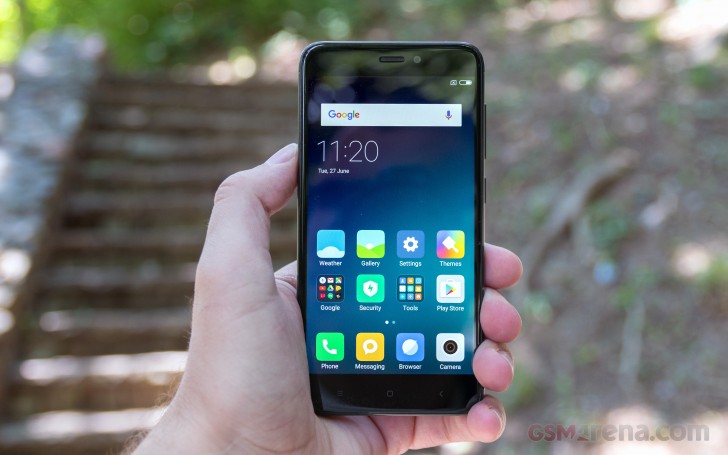 In our tests, the Redmi 4 posted quite high numbers for brightness, particularly for its class. Less impressive is the contrast that can't reach 1000:1 due to the high illumination of blacks.
Display test
100% brightness
Black, cd/m2
White, cd/m2
Contrast ratio
Xiaomi Redmi 4 Prime
0.475
528
1112
Xiaomi Redmi 4a
0.513
475
925
Xiaomi Redmi 4
0.576
527
915
Xiaomi Redmi 3S
0.45
489
1087
Xiaomi Redmi 3s Prime
0.43
518
1205
Meizu M5
0.453
480
1060
Meizu M5s
0.426
407
955
Sony Xperia XA1
0.512
537
1049
Samsung Galaxy J5 (2016)
0.00
338
∞
Samsung Galaxy J5 (2016) outdoor mode
0.00
476
∞
Sony Xperia E5
0.43
540
1243
Sunlight legibility is good, even better when you consider we're dealing with a budget-minded LCD panel.
Sunlight contrast ratio
Samsung Galaxy S8
4.768
Samsung Galaxy S8+
4.658
Samsung Galaxy S6 edge+
4.615
Oppo R11
4.454
Samsung Galaxy S7 edge
4.439
OnePlus 3
4.424
Samsung Galaxy S7
4.376
HTC One A9
4.274
Samsung Galaxy Note7
4.247
Samsung Galaxy A3
4.241
OnePlus 3T
4.232
Google Pixel XL
4.164
ZTE Axon 7
4.154
Samsung Galaxy A7 (2017)
4.124
Samsung Galaxy S6 edge
4.124
Samsung Galaxy Note5
4.09
Huawei Nexus 6P
4.019
OnePlus X
3.983
Vivo Xplay5 Elite
3.983
Oppo R7s
3.964
Apple iPhone 7
3.964
Huawei P9 Plus
3.956
Meizu Pro 6 Plus
3.935
Lenovo Moto Z
3.931
Samsung Galaxy A7 (2016)
3.918
OnePlus 5
3.914
Samsung Galaxy C5
3.911
Samsung Galaxy C7
3.896
Samsung Galaxy A5
3.895
Samsung Galaxy J7 outdoor
3.879
Samsung Galaxy J2 outdoor
3.873
Samsung Galaxy A8
3.859
Sony Xperia XZs
3.818
Samsung Galaxy A9 (2016)
3.817
Motorola Moto X (2014)
3.816
Samsung Galaxy A5 (2017)
3.804
Samsung Galaxy J7 (2016) outdoor mode
3.802
LG V20 Max auto
3.798
Xiaomi Redmi Pro
3.798
Sony Xperia XZ
3.795
Samsung Galaxy A5 (2016)
3.789
Apple iPhone 6s
3.783
Meizu Pro 5
3.781
Microsoft Lumia 650
3.772
Xiaomi Mi 6
3.767
Samsung Galaxy J7 (2016)
3.756
Oppo F1 Plus
3.709
Vivo X5Pro
3.706
Samsung Galaxy A3 (2017)
3.688
Apple iPhone SE
3.681
Huawei Mate 9
3.68
Samsung Galaxy A7
3.679
Meizu PRO 6
3.659
BlackBerry Priv
3.645
Sony Xperia XA1 Ultra
3.597
Apple iPhone 7 Plus
3.588
LG G6
3.556
Apple iPhone 6s Plus
3.53
Motorola Moto Z Play
3.526
Samsung Galaxy J3 (2016)
3.523
Samsung Galaxy J3 (2016) outdoor mode
3.523
Acer Jade Primo
3.521
Microsoft Lumia 950
3.512
Oppo R7 Plus
3.499
nubia Z11
3.466
Huawei P10 Plus
3.456
HTC U Ultra
3.453
Samsung Galaxy J7
3.422
Meizu MX5
3.416
LG V20
3.402
Huawei P10
3.379
Oppo R9s
3.352
Honor 8 Pro
3.341
Oppo R7
3.32
Lenovo P2
3.316
Xiaomi Mi 5s
3.276
Nokia 6 (Chinese version)
3.244
Samsung Galaxy J2
3.235
Sony Xperia X Performance
3.234
Xiaomi Mi Note 2
3.228
Motorola Moto X Play
3.222
Oppo F3 Plus
3.218
Huawei Mate 9 Pro
3.206
Huawei P9
3.195
Lenovo Vibe Shot
3.113
Motorola Moto X Force
3.105
LG Nexus 5X
3.092
HTC U11
3.089
Huawei Mate S
3.073
Microsoft Lumia 640 XL
3.065
Sony Xperia XA1
3.012
Sony Xperia L1
2.994
Sony Xperia X
2.989
Huawei P10 Lite
2.974
Samsung Galaxy Note
2.97
Huawei Mate 8
2.949
Xiaomi Redmi 4
2.92
Xiaomi Redmi 3S
2.913
Sony Xperia XA Ultra
2.906
LG G5
2.905
HTC One S
2.901
Xiaomi Redmi 3s Prime
2.893
Xiaomi Mi 5s Plus
2.884
Sony Xperia XZ Premium (sRGB)
2.877
Sony Xperia XZ Premium
2.877
Sony Xperia Z5
2.876
Nokia 3
2.871
Microsoft Lumia 550
2.851
Lenovo Moto M
2.813
Xiaomi Redmi 3 Pro
2.803
Sony Xperia Z5 compact
2.784
Meizu MX6
2.751
LG V10
2.744
Xiaomi Redmi 3
2.735
Xiaomi Redmi Note 4 (S625)
2.714
Meizu M5
2.71
Sony Xperia M5
2.69
Xiaomi Redmi 4 Prime
2.679
Huawei P9 Lite
2.679
Vivo V3Max
2.659
Xiaomi Mi Mix
2.658
Xiaomi Mi 4i
2.641
Xiaomi Redmi 4a
2.635
Sony Xperia XA
2.609
Motorola Moto G4 Plus (max auto)
2.582
Motorola Moto G4 Plus
2.582
Meizu M5s
2.58
Xiaomi Mi 4c
2.574
LeEco Le Max 2
2.567
Asus Zenfone 3 ZE552KL
2.563
Microsoft Lumia 640
2.563
Lenovo Moto G4
2.544
Lenovo K6 Note
2.544
Oppo F1
2.528
Sony Xperia Z5 Premium
2.525
Huawei Honor 7 Lite / Honor 5c
2.506
Sony Xperia M4 Aqua
2.503
Oppo F1s
2.481
Motorola Moto G
2.477
Lenovo Vibe K5 Plus
2.473
Huawei G8
2.471
Huawei nova
2.467
Sony Xperia Z
2.462
Lenovo Vibe K5
2.459
Meizu m3 max
2.447
HTC 10 evo
2.407
Huawei Honor 7
2.406
Sony Xperia E5
2.386
ZUK Z1 by Lenovo
2.382
HTC 10
2.378
Samsung Galaxy J5 (2016)
2.378
Oppo F3
2.376
vivo V5 Plus
2.371
Meizu m1 note
2.362
Huawei nova plus
2.329
HTC One E9+
2.305
Alcatel One Touch Hero
2.272
Lenovo Vibe K4 Note
2.254
Sony Xperia C5 Ultra
2.253
Xiaomi Redmi Note 3 (MediaTek)
2.249
Sony Xperia C4 Dual
2.235
Xiaomi Mi Note
2.234
Motorola Moto G (2014)
2.233
Huawei P8
2.196
Meizu M5 Note
2.189
Huawei Honor 6
2.169
Xiaomi Redmi Note 2
2.166
OnePlus Two
2.165
HTC One X
2.158
LG Aka
2.145
Xiaomi Redmi Note 4 (X20)
2.145
Archos 50 Diamond
2.134
Xiaomi Redmi Note
2.119
Xiaomi Mi 4S
2.095
Acer Liquid X2
2.084
Huawei P8lite
2.078
vivo V5
2.059
Moto G 3rd gen max manual
2.026
Xiaomi Mi Max
1.996
Sony Xperia E4g
1.972
OnePlus One
1.961
Meizu m3 note
1.923
Meizu m2 note
1.892
BlackBerry Leap
1.892
HTC Butterfly
1.873
ZTE Nubia Z9 mini
1.759
Sony Xperia U
1.758
Asus Zenfone Selfie
1.68
Motorola Moto E (2nd Gen)
1.675
ZTE Nubia Z9
1.659
Jolla Jolla
1.605
Motorola Moto E
1.545
Sony Xperia M
1.473
Sony Xperia L
1.351
Xiaomi Redmi 2
1.311
HTC Desire C
1.3
Meizu MX
1.221
Sony Xperia E
1.215
Color accuracy isn't spectacular, with a clearly visible green cast spoiling your whites (DeltaE for white is 8.6). Average DeltaE is 4.6 though, which is a reasonable number. There are three display modes (Warm/Standard/Cool) and a separate saturation setting, which is either Brilliant (default) or Standard. Playing with those can get you bluer whites (rather than green) in Cool mode, while Warm is the most accurate with an average DeltaE of 3.4.