Display
The Xiaomi Redmi 3 features a 5" HD IPS - 0.3" bigger than the one on the Redmi 2. The resolution is the same and on the larger screen, that means a slightly lower pixel density of 294ppi. That's still borderline Retina-grade, and it is still more than enough for crisp images and sharp text.
Taking a closer look at it under our digital microscope reveals a standard RGB arrangement of the sub-pixels that make up the Xiaomi Redmi 3 LCD panel.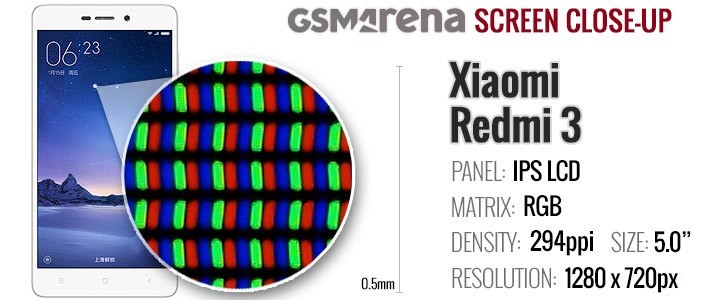 Unfortunately, there is no information on the glass covering the display, and there is a good chance it isn't of the scratch-resistant kind.
The Xiaomi Redmi 3 has a relatively high maximum brightness of 520nits. At the lowest level, the screen is also spectacularly dim as well - 1.2nits.
With an average deviation (DeltaE) of 5.2 the screen's color accuracy is about average. By sliding the screen's color temperature all the way to Warm, we were able to get out better color rendering, which we'd consider good all thing's considered. The Avg. Delta E, in this case, falls to 3.8 (remember it needs to be below 3 to be considered calibrated color output), but it comes at the expense of the maximum brightness, and it gets lower to 488nits.
Display test
50% brightness
100% brightness
Black, cd/m2
White, cd/m2
Contrast ratio
Black, cd/m2
White, cd/m2
Contrast ratio
Xiaomi Redmi 2
0.30
273
943
0.58
561
974
Xiaomi Redmi Note 2
0.17
162
953
0.492
467
953
Xiaomi Redmi Note 3
0.16
152
927
0.42
403
953
Xiaomi Redmi 3
0.19
204
1091
0.42
520
1238
Meizu m2 note
0.16
183
1096
0.42
473
1108
ZTE Nubia Z9 mini
0.26
225
875
0.44
394
895
Microsoft Lumia 550
0.21
203
958
0.57
546
963
Oppo F1
0.24
200
833
0.46
408
897
Meizu m1 metal
0.08
54
720
0.50
390
780
Outdoors, the Xiaomi Redmi 3 is an above average performer regarding sunlight legibility. The glass on top of the display is reflective, but most of the time you'll have no problem seeing what's happening on the screen.
Sunlight contrast ratio
Samsung Galaxy S6 edge+
4.615
HTC One A9
4.274
Samsung Galaxy S6 edge
4.124
Samsung Galaxy Note5
4.09
Huawei Nexus 6P
4.019
OnePlus X
3.983
Oppo R7s
3.964
Samsung Galaxy J7 outdoor
3.879
Samsung Galaxy J2 outdoor
3.873
Samsung Galaxy A8
3.859
Apple iPhone 6
3.838
Motorola Moto X (2014)
3.816
Apple iPhone 6s
3.783
Meizu Pro 5
3.781
Vivo X5Pro
3.706
BlackBerry Priv
3.645
Apple iPhone 6s Plus
3.53
Microsoft Lumia 950
3.512
Oppo R7 Plus
3.499
Samsung Galaxy J7
3.422
Meizu MX5
3.416
Oppo R7
3.32
Samsung Galaxy J2
3.235
Motorola Moto X Play
3.222
Lenovo Vibe Shot
3.113
LG Nexus 5X
3.092
Huawei Mate S
3.073
Microsoft Lumia 640 XL
3.065
Apple iPhone 6 Plus
3.023
Samsung Galaxy Note
2.97
Huawei Mate 8
2.949
HTC One S
2.901
Sony Xperia Z5
2.876
Microsoft Lumia 550
2.851
Sony Xperia Z5 compact
2.784
LG V10
2.744
Xiaomi Redmi 3
2.735
Sony Xperia M5
2.69
Xiaomi Mi 4i
2.641
Xiaomi Mi 4c
2.574
Microsoft Lumia 640
2.563
Motorola Moto G 4G
2.546
Sony Xperia Z5 Premium
2.525
Sony Xperia M4 Aqua
2.503
Motorola Moto G
2.477
Huawei G8
2.471
Sony Xperia Z
2.462
Huawei Honor 7
2.406
ZUK Z1 by Lenovo
2.382
HTC One E9+
2.305
Sony Xperia C5 Ultra
2.253
Xiaomi Redmi Note 3
2.249
Sony Xperia C4 Dual
2.235
Motorola Moto G (2014)
2.233
LG Nexus 5
2.228
Huawei P8
2.196
Xiaomi Redmi Note 2
2.166
OnePlus Two
2.165
HTC One X
2.158
Archos 50 Diamond
2.134
Xiaomi Redmi Note
2.119
Huawei P8lite
2.078
Moto G 3rd gen max manual
2.026
Sony Xperia E4g
1.972
OnePlus One
1.961
Meizu m2 note
1.892
BlackBerry Leap
1.892
HTC Butterfly
1.873
ZTE Nubia Z9 mini
1.759
Sony Xperia U
1.758
Asus Zenfone Selfie
1.68
Motorola Moto E (2nd Gen)
1.675
ZTE Nubia Z9
1.659
Motorola Moto E
1.545
Sony Xperia M
1.473
Xiaomi Redmi 2
1.311
Sony Xperia C
1.283
Meizu MX
1.221
Battery life
Xiaomi Redmi 3 has almost double the battery capacity of its predecessor - a 4,100 mAh battery is a serious battery for a 5" device.
Before we continue with the battery life test results, we want to announce a change in our battery testing routine. Starting with the Xiaomi Redmi 3, we will be testing all devices on a fixed level of brightness of 200nits instead of merely positioning the slider at 50%.
This change has been a popular user request for quite some time now. Whereas before we would set the brightness slider midway on the phone's brightness slider, which worked out to a relatively random brightness number, we would now aim for a fixed level.
The level of 200nits, which we've chosen for our tests, has become somewhat of an industry standard. But more importantly, it's both the median and average value of the brightness levels at which we've tested all reviewed devices so far. This means our older battery life results will remain relevant and comparable.
So, we ran our battery test, and the Xiaomi Redmi 3 scored a 107h rating, which means you can count on the battery to last 4 and a half days if you do an hour each of calling, web browsing and video playback a day.
Such usage pattern is of course entirely artificial, but we've established it, so our battery results are comparable across devices. You can input a usage pattern of your own over at our full battery test score table, where you can also compare it to all of the smartphones we've tested.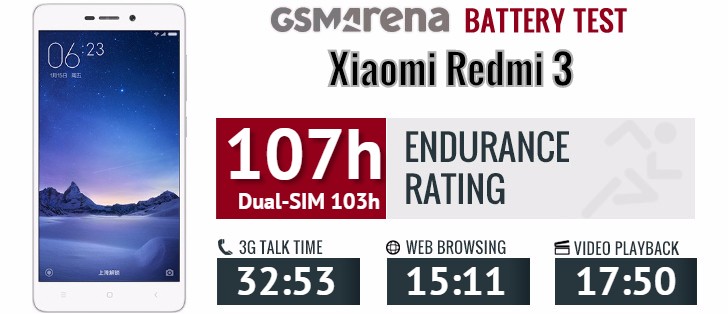 The Redmi 3 did well on all tests - 3G talk, web browsing, video playback, and it posted very impressive scores on standby, which makes it a great performer. The Snapdragon 616 chip seems quite energy efficient, but we should mostly thank the 4,100mAh battery for that.
Our proprietary score also includes a standby battery draw test, which is not featured in our battery test scorecard but is calculated in the total endurance rating. Our battery testing procedure is described in detail in case you want to learn more about it.
Connectivity
The Xiaomi Redmi 3 supports 7 LTE bands, and you can tap to an LTE network on either SIM, but once you do, the second one will be limited to GSM connectivity only. As for that, the Redmi 3 also offers tri-band GSM connectivity. There is tri-band 3G connectivity with HSPA support.
The rest of the connectivity features include single-band Wi-Fi b/g/n/ support and Wi-Fi Direct. There is also support for Bluetooth 4.1, GPS with GLONASS and Beidou, plus an FM radio.
A microUSB 2.0 port handles charging and data connections. Media transfer mode is supported for accessing the phone's built-in memory over a USB connection. The microUSB port also supports USB On-the-go for connecting USB peripherals such as pen drives, keyboards or USB hard drives.
Wireless screen mirroring is available via the Miracast protocol.
The IR blaster is located on the top and coupled with the right software, it can be used to operate almost any remotely controlled home appliance, turning the Xiaomi Redmi 3 into a universal remote. Xiaomi provides its MiRemote app right out of the box.