High refresh rate on a budget
The Redmi 10 is the first phone from the series that flaunts an HRR display, and it does so at a very affordable price.
Aside from the 90Hz refresh rate, though, the Redmi 10's display isn't much different from Redmi 9's. It has a 6.5-inch IPS LCD panel with a slightly higher 1080 x 2400px resolution since it goes for a taller aspect ratio of 20:9 as opposed to the 19.5:9 ratio on the previous Redmi.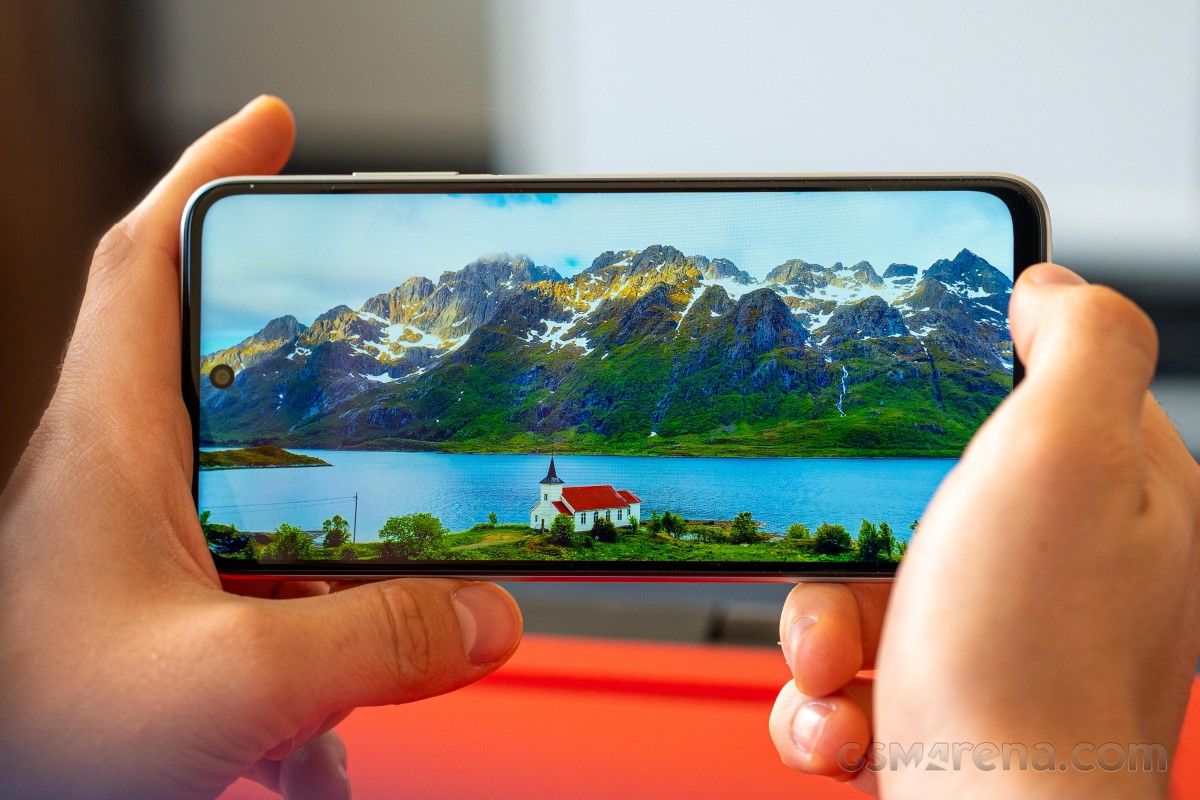 The advertised 400 nits of maximum brightness seem to be spot-on as our equipment detected a 396 nits with the brightness slider cranked all the way up.
Leaving the software to control the brightness would net you a maximum of 477 nits when in a really bright environment. We felt that this is enough for a rather comfortable use outdoors, and we can't really expect more from a budget device anyway.
Display test
100% brightness
Black,cd/m2
White,cd/m2
Contrast ratio
Xiaomi Redmi 10
0
396
1494:1
Xiaomi Redmi 10 (Max Auto)
0.4
477
1193:1
Xiaomi Redmi 9
0.202
328
1624:1
Xiaomi Redmi 9 (Max Auto)
0.253
426
1684:1
Xiaomi Redmi 9T
0.239
381
1594:1
Xiaomi Redmi 9T (Max Auto)
0.32
437
1366:1
Motorola Moto G30
0.204
403
1975:1
Motorola Moto G30 (Max Auto)
0.241
468
1942:1
Realme 8
0
458
∞
Realme 8 (Max Auto)
0
657
∞
Poco M3
0.252
395
1567:1
Poco M3 (Max Auto)
0.277
439
1585:1
Also, the screen offers a respectable 1494:1 contrast ratio and can deliver accurate colors with the Standard color preset. The tests returned an average dE2000 of just 2.6, with just the whites and grays still a bit on the blue side.
The minimum brightness is also impressive - just 1.2 nits, which is very low and appears dark even in a pitch dark room.
We also didn't notice much light bleeds or halos. Sure, there are some at the bottom and top edges as well as near the camera cutout but those can be seen only if you look close enough, mostly on white background. It's definitely not something everyone would ever notice.
Overall, for this price, the Redmi 10 offers an excellent IPS LCD panel, not to mention, it's high-refresh-rate capable.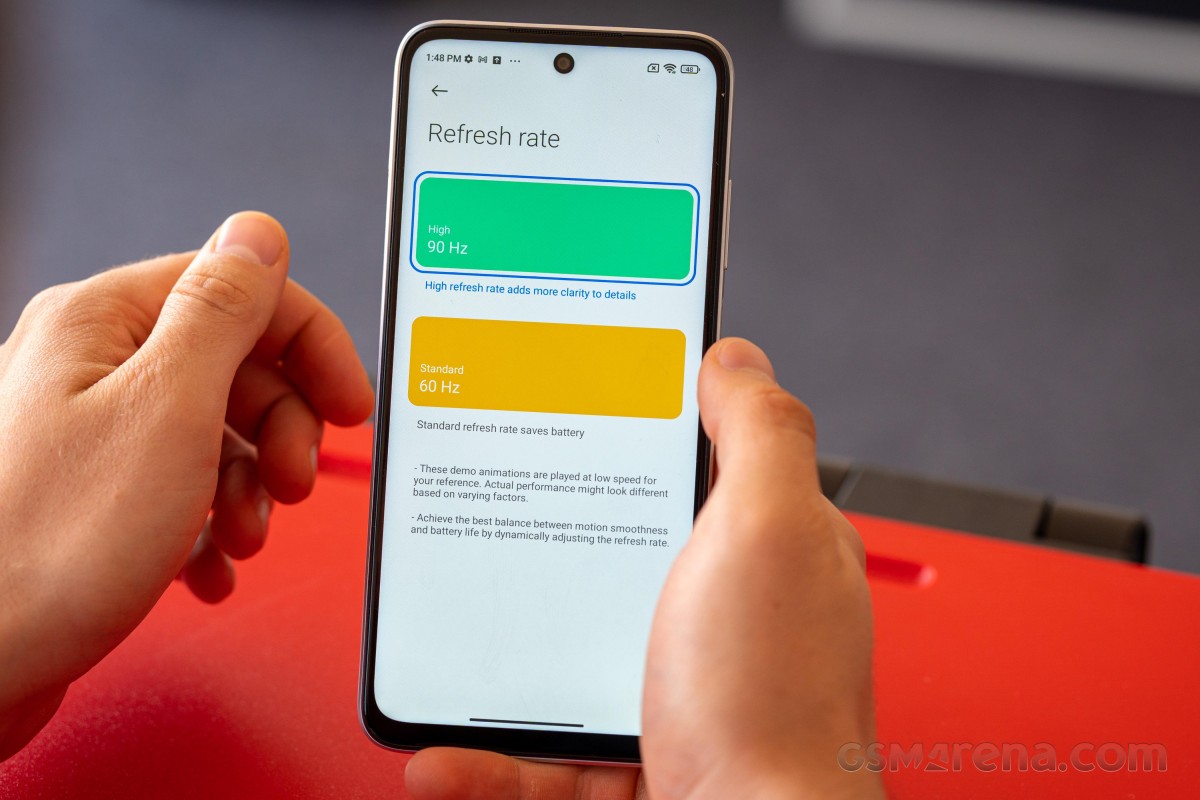 HRR control isn't the best we've seen, but there is some degree of automatic control to save you some juice over the course of a day. There are only two settings in the Display sub-menu - 90Hz and 60Hz. Opting for the 90Hz would give you the maximum refresh rate in all system menus and apps we've tried, except for the video streaming apps such as YouTube and Netflix. The software switches down the refresh rate to 60Hz when you play a video in the default gallery, too.
More granular control over the refresh rate isn't available, so for instance, if you are not interacting with the screen or you are looking at still images, the clock would still run at 90Hz. Moreover, we couldn't find a scenario where the refresh rate falls down to 45Hz, even though Xiaomi proudly advertises it.
Battery life
Having a mid-range chipset with low energy requirements paired with a 5,000 mAh battery, you are bound to get pretty impressive battery life. And although the overall result is slightly lower than it was for the Redmi 9, the current Redmi has pretty good screen-on runtimes and excellent standby and 3G talk times.
On the other hand, looking at the bigger picture, the Redmi 10's battery life is just about average at best. Oh, how things have changed over the years.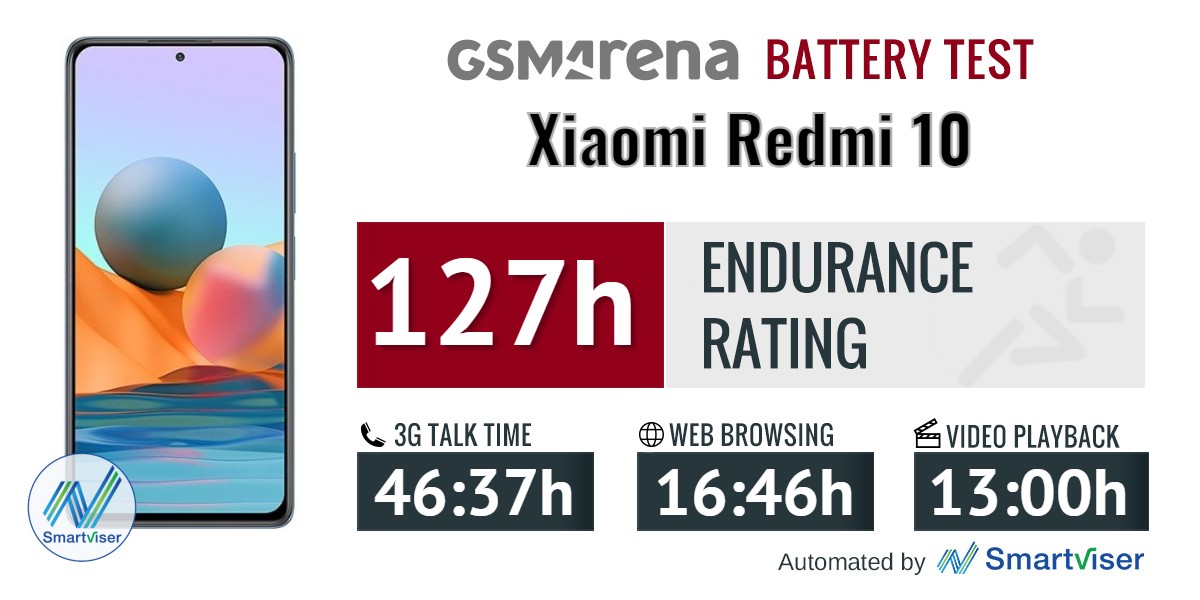 Our battery tests were automated thanks to SmartViser, using its viSerDevice app. The endurance rating denotes how long the battery charge will last you if you use the device for an hour of telephony, web browsing, and video playback daily. More details can be found here.
Video test carried out in Adaptive refresh rate mode and 48Hz. Web browsing test done at the display's highest refresh rate whenever possible. Refer to the respective reviews for specifics. To adjust the endurance rating formula to match your own usage patterns check out our all-time battery test results chart where you can also find all phones we've tested.
Charging speed
As expected, charging times aren't stellar given the big 5,000mAh unit onboard and the supported 18W charging. In the first 30 minutes, the phone got to just 26%, while a full charge took 2 hours and 13 minutes. This puts the Redmi 10 on the slow side when compared to other phones too. Keep in mind that some of the handsets in the table below sport 6,000 mAh batteries.
30min charging test (from 0%)
Higher is better
Realme 8
56%
Xiaomi Redmi 9 (18W)
33%
Motorola Moto G30
32%
Xiaomi Redmi 10
26%
Xiaomi Redmi 9T
25%
Poco M3
25%
Time to full charge (from 0%)
Lower is better
Realme 8
1:09h
Xiaomi Redmi 10
2:13h
Motorola Moto G30
2:28h
Xiaomi Redmi 9T
2:30h
Poco M3
2:30h
Speakers
To be perfectly honest, we are giving the Redmi 10 bonus points for just having a set of stereo speakers. We'd choose a dual-speaker setup over a high-quality single speaker any day of the week. And the Redmi 10's speakers don't sound bad either. Music flows clear and punchy with minimal distortion of the highs as you go up the volume slider. The bass is a bit on the flat side too. We also have the feeling that these speakers are tuned towards users watching movies and videos because the actors' voices sound clean and loud in all scenarios.
And when it comes to loudness, the Redmi 10 isn't too shabby with its -26.3 LUFS score, although it falls a bit behind the competition.
Use the Playback controls to listen to the phone sample recordings (best use headphones). We measure the average loudness of the speakers in LUFS. A lower absolute value means a louder sound. A look at the frequency response chart will tell you how far off the ideal "0db" flat line is the reproduction of the bass, treble, and mid frequencies. You can add more phones to compare how they differ. The scores and ratings are not comparable with our older loudspeaker test. Learn more about how we test here.