Big, but very underwhelming display
The Poco M4 5G has a 90Hz IPS LCD panel, a rather large 6.58-inch one. That sounds pretty decent on paper. However, you shouldn't be fooled by decent-looking numbers. Our Poco M4 5G review unit has one of the worst displays we've seen in a while. So much so that we are still actually wondering whether we got a lemon for a review unit.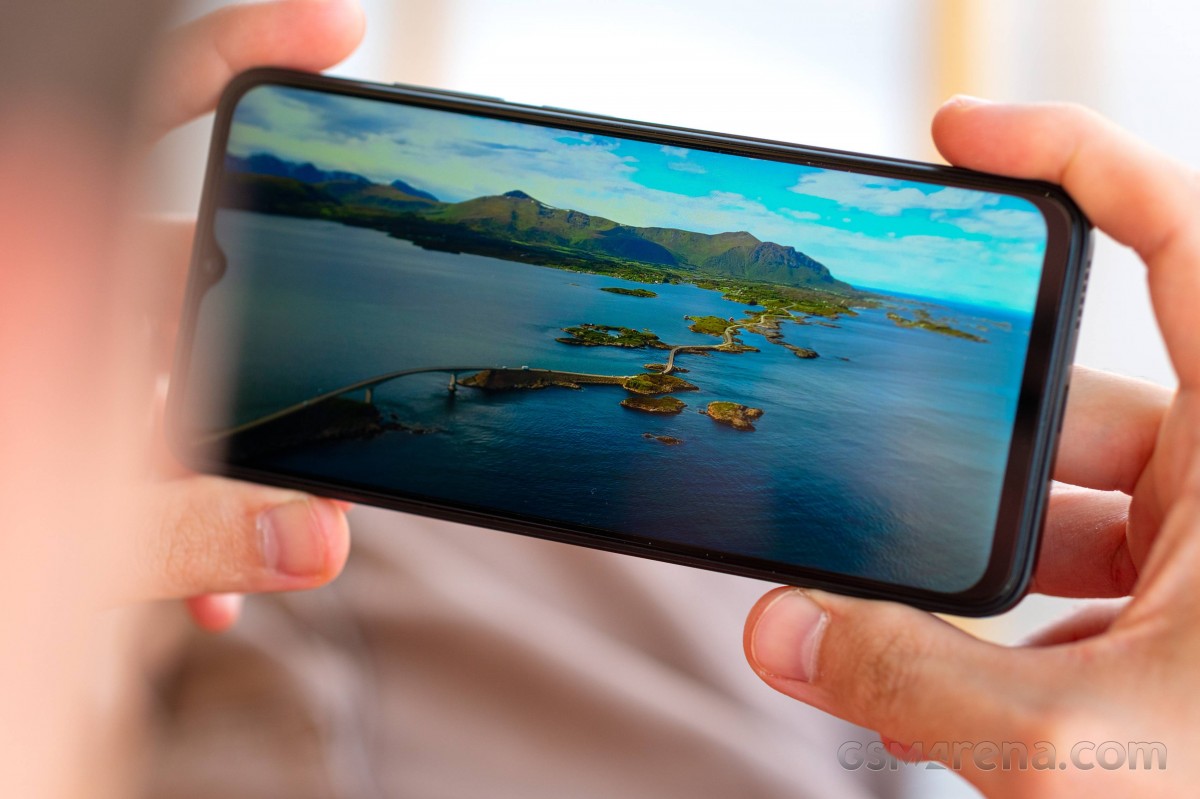 Brightness is all over the place, with the phone switching values of its own volition even when automatic brightness is turned off. After quite a bit of fiddling, we got some consistent readings. Our M4 5G topped out at a measly 326 nits when maxing out the slider and an absolute max auto value of 410 nits. The M4 5G is barely usable outdoors in the sun. It's a very bad experience.
Display test
100% brightness
Black,cd/m2
White,cd/m2
Contrast ratio
Samsung Galaxy A32 (Max Auto)
0
814
∞
Xiaomi Redmi Note 11S (Max Auto)
0
744
∞
Poco M4 Pro (Max Auto)
0
737
∞
Xiaomi Redmi Note 11 (Max Auto)
0
736
∞
Xiaomi Redmi Note 10 (Max Auto)
0
682
∞
Realme 8 (Max Auto)
0
657
∞
Samsung Galaxy A22 (Max Auto)
0
597
∞
Samsung Galaxy A13 (Max Auto)
0.448
587
1310:1
Poco M4 Pro 5G (Max Auto)
0.33
510
1545:1
Nokia G21 (Max Auto)
0.333
500
1502:1
Samsung Galaxy A13
0.376
498
1324:1
Samsung Galaxy A32 5G (Max Auto)
0.338
497
1470:1
Samsung Galaxy A03s
0.284
488
1718:1
Xiaomi Redmi 10 (Max Auto)
0.4
477
1193:1
Xiaomi Redmi Note 10
0
475
∞
Xiaomi Redmi Note 11
0
465
∞
Xiaomi Redmi Note 11S
0
465
∞
Poco M4 Pro
0
462
∞
Realme 8
0
458
∞
Nokia G21
0.268
437
1631:1
Samsung Galaxy A32 5G
0.286
426
1490:1
Xiaomi Poco M4 5G (Max Auto)
0.4
410
1025:1
Poco M4 Pro 5G
0.264
410
1553:1
Xiaomi Redmi 10
0
396
1494:1
Samsung Galaxy A32
0
393
∞
Samsung Galaxy A22
0
391
∞
Samsung Galaxy A22 5G
0.236
385
1631:1
Xiaomi Poco M4 5G
0.2
326
1630:1
Indoors, the display doesn't look too bad, but color accuracy is also all over the place. There are a total of three color modes to choose from in settings - vivid, saturated and standard.
All three target the sRGB color space but fail to really cover it accurately. Vivid has noticeably boosted all of the base color channels, while saturated goes harder on the blues for a slightly colder tone. Standard mode gets closest to true sRGB out of the three but is still a bit too cold to be considered color-accurate. The Poco M4 5G includes custom white point adjustment for all three modes, which can be used to fix and warm up whites a bit, but has little effect on the color channels themselves.
On a more positive note, the Poco M4 5G supports the highest Widevine L1 DRM, giving it access to HD and higher quality streams via platforms like Netflix. In fact, the latter was more than happy to saturate the phone's resolution and offer FullHD quality.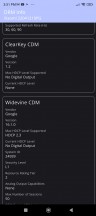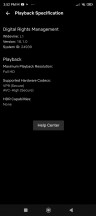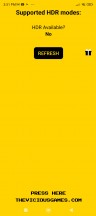 Widevine DRM • Netflix playback capabilities • No HDR support
The M4 5G lacks any HDR support both in display hardware and in terms of video decoding.
High refresh rate handling
The Poco M4 5G has a 90Hz display. In settings, the phone offers two refresh rate modes - 90Hz and 60Hz. However, in software, the Poco M4 5G actually reports support for three refresh rate modes - 90Hz, 60Hz and 30Hz. And indeed, through testing, we can confirm that the M4 5G has at least some rudimentary form of automatic refresh rate switching between the three values implemented.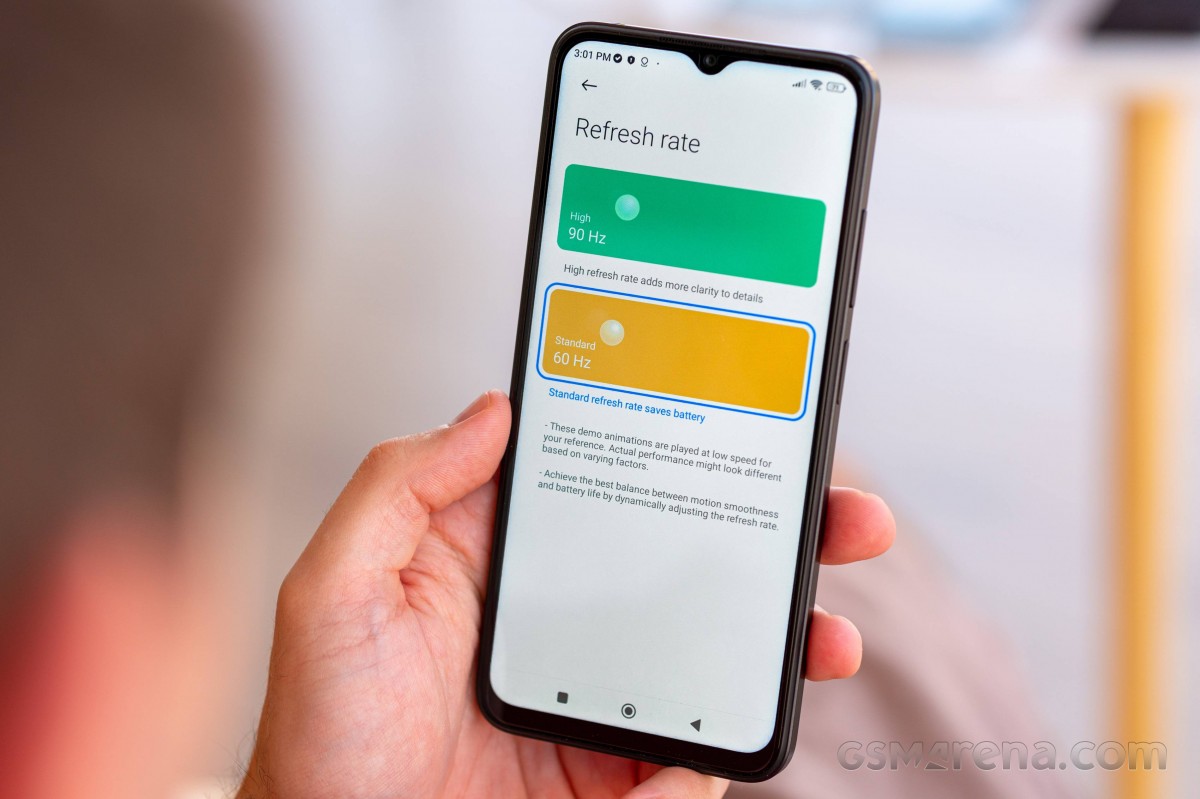 Generally, when using the 90Hz mode, the phone UI and most apps, be it first or third-party, run at 90Hz.
Some apps like Chrome report that they are running at 90Hz, but rendering within the WebView is still capped at 60Hz. That's not the case with the default browser app and some other browsers, though, which do get the full 90Hz, 90fps experience.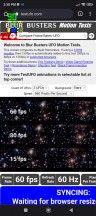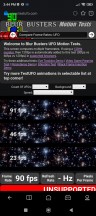 Chrome capped to 60fps, while default browser reaches 90fps
Generally, however, most apps did run at 90fps in 90Hz mode.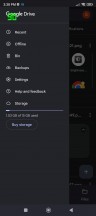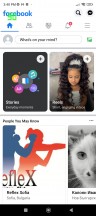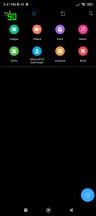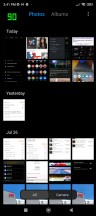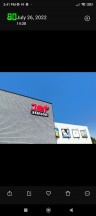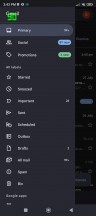 Apps running at 90Hz and 90fps
What about that automatic switching, then? Well, it seems like Poco has implemented a whitelist of sorts for video player apps that forces these to launch and run in 60Hz mode to conserve power, which is great to see.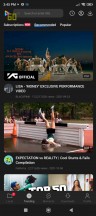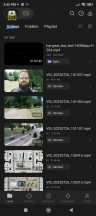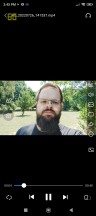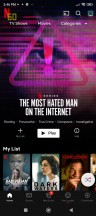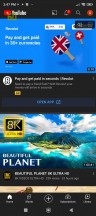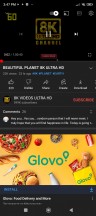 Video players apps running in 60Hz mode
Some edge cases appear to be missed by the logic, like some social networks. For instance, TikTok follows the rules nicely and works in 60Hz mode, whereas Facebook and Instagram launch and run at 90Hz regardless of whether you are watching a video or scrolling/looking at pictures.
As for that 30Hz mode we mentioned - we did see it trigger by itself very rarely on static images and both while the phone was in 90Hz and 60Hz mode via the settings menu. That means that whatever automatic logic is in place extends past whitelists for launching apps and actually has some smart monitoring for what is happening on screen. This part of the logic was very fiddly and inconsistent, though.
In terms of high refresh rate gaming, we tried a few known-to-work titles, and three out of four managed to run at 90Hz and over 60fps. That's a good success rate in our book.
All things considered, the automatic refresh rate switching logic currently in place on the Poco M4 5G works well enough and is a solid foundation. There is still plenty of fine-tuning to be done, perhaps a user-accessible per-app settings list to force a certain refresh rate in certain apps. Even so, we appreciate the extra effort put into actually having three distinct refresh rate modes and switching between them even on a display with just a "basic" 90Hz high refresh rate.
Battery life
The Poco M4 5G has a large 5,000 mAh battery and a decently-efficient MediaTek Dimensity 700 chipset. A combo that has already proven capable of great battery endurance in other phones like the Redmi Note 10 5G, the Poco M3 Pro 5G or the Samsung Galaxy A22 5G. The Poco M4 5G is no exception to that rule. In fact, it scores perfectly in line with the aforementioned pair of equally-equipped Xiaomi phones with an excellent endurance rating of 121 hours in our proprietary testing.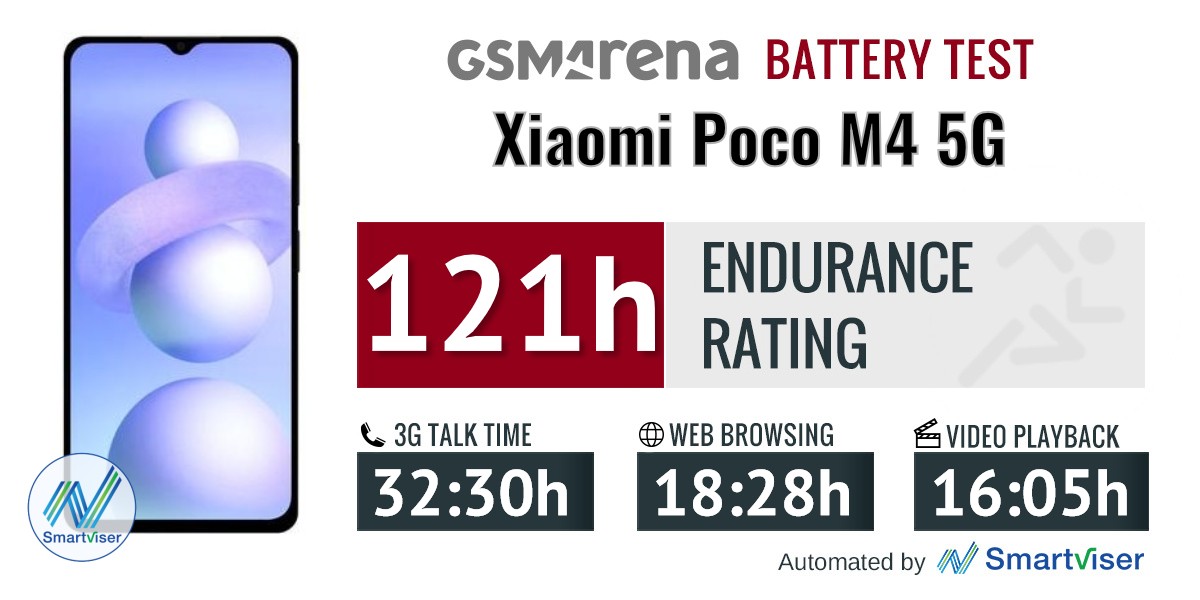 The Poco M4 5G did great in both screen-off tests like standby and call testing and on-screen scenarios like Wi-Fi browsing and offline video playback. We have no complaints regarding its battery endurance.
Our battery tests were automated thanks to SmartViser, using its viSerDevice app. The endurance rating denotes how long the battery charge will last you if you use the device for an hour of telephony, web browsing, and video playback daily. More details can be found here.
Video test carried out in 60Hz refresh rate mode. Web browsing test done at the display's highest refresh rate whenever possible. Refer to the respective reviews for specifics. To adjust the endurance rating formula to match your own usage patterns check out our all-time battery test results chart where you can also find all phones we've tested.
Charging
Unfortunately, one feature that didn't make the cut going from the Poco M4 Pro 5G to the regular Poco M4 5G is Xiaomi's 33W fast charging. Instead, the vanilla model tops out at 18W of charging. Needless to say, that translates to pretty slow charge times in absolute terms.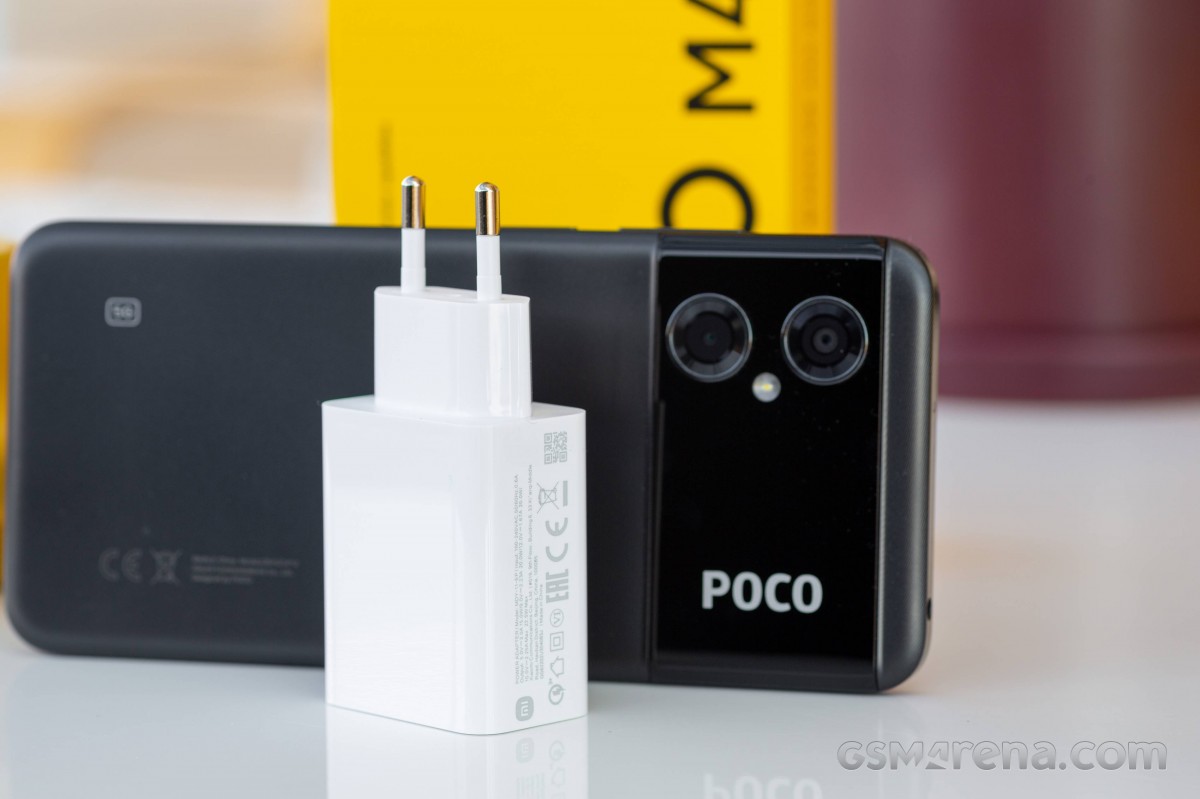 Thirty minutes on the charger got a dead Poco M4 5G up to 31% and a full charge took just over two hours.
30min charging test (from 0%)
Higher is better
Xiaomi Redmi Note 10
65%
Xiaomi Redmi Note 11S
59%
Realme 8
56%
Poco M4 Pro 5G
54%
Poco M4 Pro
51%
Xiaomi Redmi Note 11
51%
Nokia G21 (65W PD)
37%
Xiaomi Poco M4 5G
31%
Xiaomi Redmi Note 11 (65W PD)
31%
Realme 8i
30%
Realme 8 5G
29%
Samsung Galaxy A13
27%
Xiaomi Redmi 10
26%
Samsung Galaxy A32
25%
Samsung Galaxy A32 5G
23%
Samsung Galaxy A22 5G
23%
Samsung Galaxy A22
23%
Nokia G21
22%
Samsung Galaxy A03s
15%
Time to full charge (from 0%)
Lower is better
Xiaomi Redmi Note 11S
1:02h
Poco M4 Pro 5G
1:07h
Realme 8
1:09h
Poco M4 Pro
1:10h
Xiaomi Redmi Note 10
1:13h
Xiaomi Redmi Note 11
1:18h
Xiaomi Redmi Note 11 (65W PD)
1:42h
Xiaomi Poco M4 5G
2:02h
Nokia G21 (65W PD)
2:09h
Xiaomi Redmi 10
2:13h
Samsung Galaxy A13
2:18h
Samsung Galaxy A32
2:19h
Samsung Galaxy A22
2:20h
Realme 8 5G
2:20h
Realme 8i
2:21h
Samsung Galaxy A32 5G
2:24h
Samsung Galaxy A22 5G
2:29h
Nokia G21
2:49h
Samsung Galaxy A03s
3:38h
Comparatively speaking, however, the Poco M4 5G still does ok within its budget price segment. At least a few of its prime competitors charge slower. Notably, many Samsung models are stuck at 15W of charging. So, overall, not too bad.
Speaker
The Poco M4 5G has a single bottom-firing speaker at its disposal. There is no stereo setup here, not even a hybrid one, which is a bit of a bummer since some competitors in the price range, notably some Xiaomi models, do offer stereo setups. On top of that, this particular speaker isn't too loud and only managed an Average rating in our standardized testing.
On a more positive note, the frequency response curve on the speaker isn't looking too bad, particularly for a budget phone. Mids are generally tight, and voices come out sounding clear in person. The highs never get to tinny or screechy, even at max volume. Distortion is almost not present.
Use the Playback controls to listen to the phone sample recordings (best use headphones). We measure the average loudness of the speakers in LUFS. A lower absolute value means a louder sound. A look at the frequency response chart will tell you how far off the ideal "0db" flat line is the reproduction of the bass, treble, and mid frequencies. You can add more phones to compare how they differ. The scores and ratings are not comparable with our older loudspeaker test. Learn more about how we test here.