Zero distractions OLED
The first Pocophone came with an LCD panel and it wasn't that good to begin with. The Poco F2 Pro has a superior Super AMOLED panel.
Aside from the lack high-refresh-rate capability, the F2 Pro's display checks the most important checkmarks. It has a reasonable 1080 x 2400px resolution (20:9 aspect ratio) that fits in a 6.67-inch diagonal, it offers full-screen design and it gets bright. Really bright.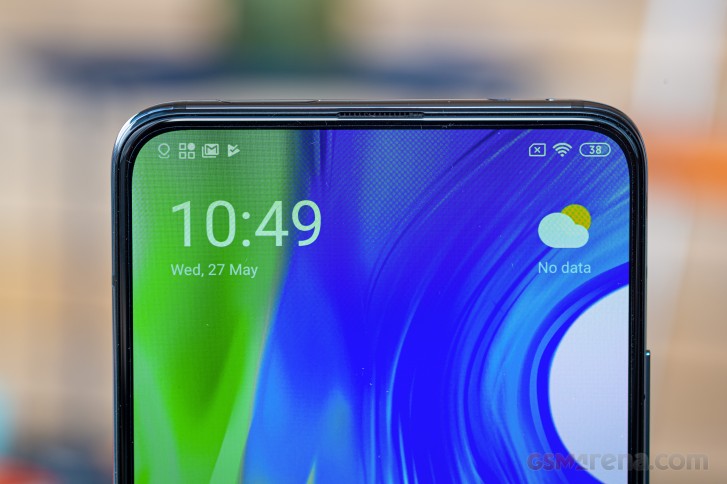 In our tests, the display easily hit the advertised 500 nits, 516 nits to be exact, and in Max Auto mode, it got the flagship worthy 854 nits. Take a look at the table below, where you can compare it to the most recent flagships.
Display test
100% brightness
Black,cd/m2
White,cd/m2
Contrast ratio
Xiaomi Poco F2 Pro
0
516
∞
Xiaomi Poco F2 Pro (Max Auto)
0
854
∞
Xiaomi Pocophone F1
0.314
461
1468:1
OnePlus 7T
0
525
∞
OnePlus 7T (Max Auto)
0
743
∞
Apple iPhone SE (2020)
0.434
670
1544:1
Samsung Galaxy S10 Lite
0
400
∞
Samsung Galaxy S10 Lite (Max Auto)
0
705
∞
Realme X50 Pro 5G
0
525
∞
Realme X50 Pro 5G (Max Auto)
0
635
∞
As far as color accuracy is concerned, the display fared pretty well here too. With the auto color preset, the screen got a respectable average dE2000 of 4.8 and maximum deviation of 8.5. As you'd expect, the whites were rather blue-ish while greens, cyans, and yellows were a bit over the top. Luckily, you can set the color mode to Standard and get a nice average dE2000 of just 1.8 and a maximum of just 4.4. Expect lower maximum brightness in Standard mode, though.
If you are more into "eye candy modes", stick to the so-called Saturated mode as it gives you punchy and vibrant colors. The average dE2000 is 5.8 there.
HDR10+ support is also on the list of features so you won't be missing on that kind of content on YouTube or Netflix.
Battery life
As expected from a 4,700 mAh unit, the battery life is excellent. The Poco F2 Pro has one of the best battery lives among the phones with flagship SoCs, and it does so without housing an exceptionally large battery. The screen-on runtimes are solid, and so is the standby result from our tests.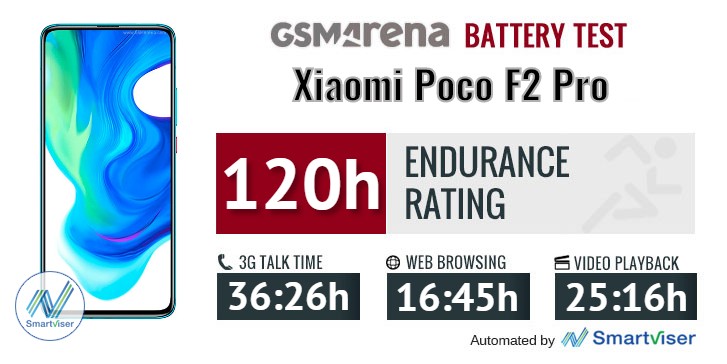 The charging capabilities are no less impressive. The included 33W Power Delivery 3.0-compliant charger is able to charge the phone in just 65 minutes, which is pretty impressive for a handset carrying 4,700 mAh battery. In our 30-minute charging test, 60% of the capacity was replenished.
We also give Xiaomi some bonus points for opting for the Power Delivery standard instead of using a proprietary one. This means that if you come across a Power Delivery-compliant charger, you will be able to squeeze out some sort of fast charging.
Speaker test
Unfortunately, the phone relies on a single, bottom-firing speaker, which is, admittedly, quite loud but it can't go against the stereo loudspeakers in terms of quality and fullness. Vocals do sound okay while the songs in general sound flat. The bass is almost non-existent.
Use the Playback controls to listen to the phone sample recordings (best use headphones). We measure the average loudness of the speakers in LUFS. A lower absolute value means a louder sound. A look at the frequency response chart will tell you how far off the ideal "0db" flat line is the reproduction of the bass, treble, and mid frequencies. You can add more phones to compare how they differ. The scores and ratings are not comparable with our older loudspeaker test. Learn more about how we test here.
Audio output quality
We've recently discontinued our audio output quality test.
The reason for that is that most phones that were arriving for testing were already excellent in this regard and whatever difference there was between them, it was marginal and probably indistinguishable to anything but our lab equipment.