Bargain bin
Xiaomi Mi Note 2 vs. Samsung Galaxy S7 edge: Bargain bin
Cheaper, but just as good?
A third installment is due in our Bargain bin series that aims to establish whether you're better off shelling top-dollar for a current big-name flagship or you'd be just as fine saving a few notes and opting for a more affordable alternative. This time, it's a rather specific match-up that doesn't quite live up to the 'half-price' label, but there still is a considerable price difference, and it makes sense on another level.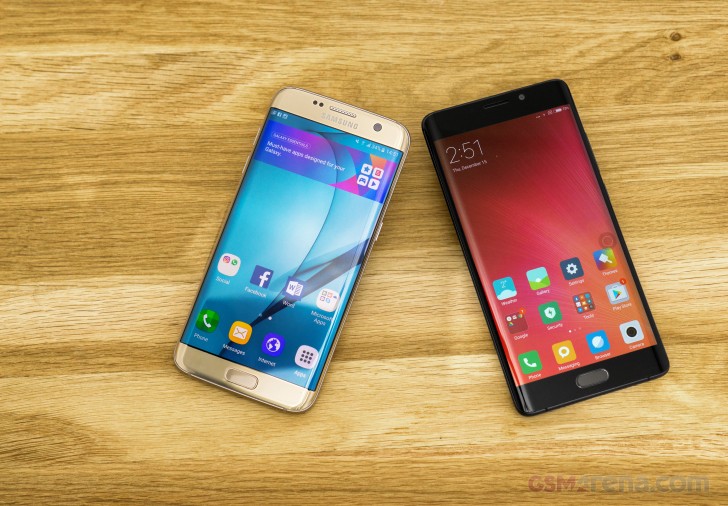 Meet the Xiaomi Mi Note 2 and the Samsung Galaxy S7 edge. We came up with this one while scrolling through Chinese online retailers (like we usually do in our spare time, what do you mean not everyone does it?!), and realized that not only can the Galaxy S7 edge be quite expensive there, but also its prices vary wildly between sellers, color options, moon phase, and whatnot.
We found out that you can get an S7 edge for CNY 4,800 ($660) if you're not after one of the fancier color options. The Mi Note 2 on the other hand - a modest CNY 2,800 ($390) for the already more than well equipped base version. Now, obviously that's China and if you're anywhere else the reigning Samsung king would cost about as much, while the Xiaomi dual-curved phablet would get a nice (or, in fact, rather nasty) price hike.
But it's that 'dual-curved' bit in the last sentence that mandated this comparison, half-price or two thirds. It's the pioneer in non-flat displays, which perfected the tech over several generations of devices, vs. a challenger using competing panels for the first time. There are phones behind those screens too, and the similarity in displays only helped these two get through the door - we'll be comparing the rest of them as well.

Xiaomi Mi Note 2

Samsung Galaxy S7 edge
$
CNY2800 in China
€510/$540 elsewhere
CNY4800 in China
€650/$730 elsewhere
Glass/Aluminum
7.6mm thick, 166g
Glass/Aluminum
7.7mm thick, 157g
5.7" OLED
1080p (386ppi)
5.5" Super AMOLED
1440p (534ppi)
22.5MP
2160p
12MP
2160p
2.35GHz (quad)
Qualcomm Snapdragon 821
2.15GHz (quad) Snapdragon 820/
2.3GHz (octa) Exynos 8890
4GB/6GB RAM
64GB/128GB memory
4GB RAM
32GB/64GB memory
4070mAh
3600mAh
Availability
This here tiny detail is what spoils the Mi Note 2's status as a bargain - it's not available outside of China, certainly not at the same attractive price. A global version exists and it's the top-specced 6GB/128GB one with an already substantially heftier price tag of CNY 3,500 in China ($500), and you still have to resort to third-party importers to get your hands on one. Not so with the Samsung Galaxy S7 edge, which may very well be available through official channels wherever there are mobile networks.
I
nope galaxy note edge was the first in 2014
?
Get your facts correctly. Xiaomi was the brand that started the curve display first with its mi note. Mi note 2 is built on that platform.
D
True a typo, but as you know I meant the 7 and the point remains the same.