Competition
The pricing situation for the Mi Notes is rather dynamic and not only do the numbers vary in time, but also from country to country. We were able to track down offers for Mi Note 10 Lites in various European countries for as little as €300-€330 from well-rated retailers. Meanwhile, legit offers on the Mi Note 10 'Proper' started at no less than €400, and that's not an insignificant difference.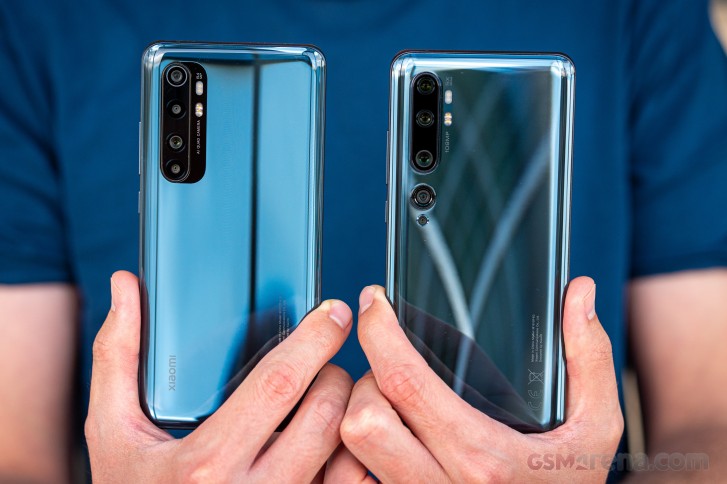 As we've mentioned perhaps one too many times, the Mi Note 10 proper does have an all-out approach to photography, which may still make it better value to the right consumer despite the price premium. On the other hand, if you're fine with whatever camera there is, going with the Lite and its merely okay setup will let you save some cash.
If you're looking to get a Samsung for around the Mi Note 10 Lite's money, the Galaxy A51 springs to mind. It does have a microSD slot for your unplanned storage needs, but an inferior chipset, shorter battery life (though still pretty good), and not amazing camera performance - but we've established that's not key with Mi Note 10 Lite either. If, on the other hand, you'd be willing to spend a bit more, the Galaxy A71 will come with a chipset to match the Mi's.
If you must fit the Lite's budget, but still get a more capable camera system, after all, the Realme 6 Pro can help out. It does have a tele camera on its back unlike the Mi Note 10 Lite, and with a couple of selfie shooters, it's one better on the front as well. The one major sacrifice you'd have to make is the display - the 6 Pro's LCD, 90Hz as it may be, doesn't get very bright and, well, it's an LCD, and the Lite has an OLED and a properly good one.
For a prospective buyer with a Sony inclination, a case could be made for the Xperia 10 II against the Mi Note 10 Lite. Sony badge, plain Android, and an IP65/68 rating are in the Xperia's favor. The camera performance is neither here nor there, the Xiaomi has the better battery life and display and is still somewhat cheaper.
A Motorola One Fusion+ got announced recently with specs pitting it right against the Mi Note 10 Lite. We haven't reviewed that one yet, but it does have a microSD slot making it more functional than the Lite and a popup selfie cam making it look cooler. With its similar 5000mAh worth of battery and Snapdragon 730 inside, it should be around the Lite's endurance numbers, though the Moto's LCD might have a more dramatic impact on that.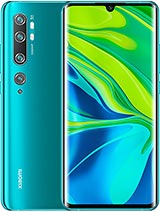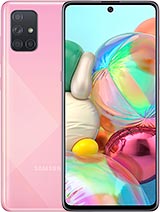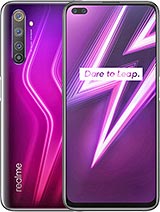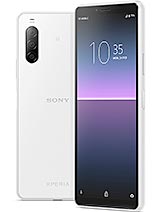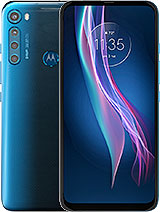 Xiaomi Mi Note 10 • Samsung Galaxy A71 • Realme 6 Pro • Sony Xperia 10 II • Motorola One Fusion+
Verdict
We'll end this review pretty much the way we started it - by saying that the Mi Note 10 Lite is a Mi Note 10 with a de-fancy-fied camera system. So, yes, the Lite has all the other things going for it that the older phone had - excellent display, great battery life, feature-rich UI, legacy connectivity options.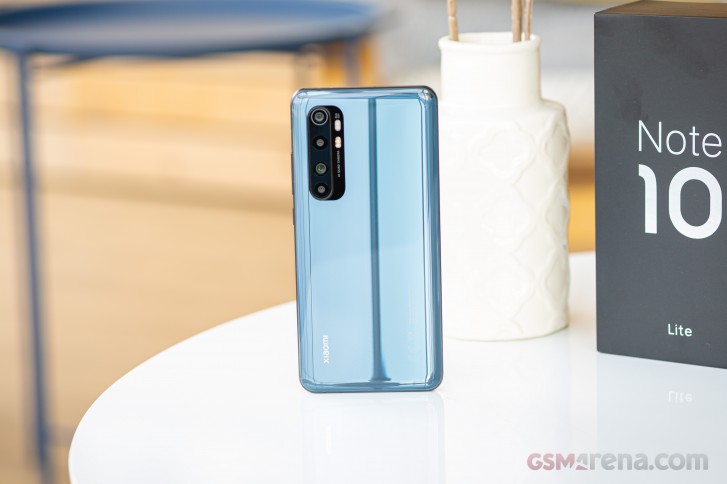 With the Mi Note 10's emphasis on photography, however, came a price premium - a camera-focused phone required a camera-focused user willing to pay for all the imaging hardware. On the the Mi Note 10 Lite Xiaomi switches things up a bit on the list of priorities - this is not a photographer's smartphone, it's just a very good smartphone that has cameras too. The thing is, some six months later, the non-Lite's price has dropped significantly and while some savings are to be had if you go Lite, you still need to weigh the cash vs. cameras conundrum on your own.
Pros
Bright and large AMOLED screen, HDR10-capable, can be accurate.
Excellent battery life, fast charging.
Good daylight image quality, excellent video stabilization.
MIUI is nicely polished, updates come in quickly.
Rarely seen set of niceties - 3.5mm jack, FM radio, IR blaster.
Cons
No telephoto camera.
Unremarkable camera performance in low light.
Selfies could be better.
No microSD slot.
Pricing

These are the best offers from our affiliate partners. We may get a commission from qualifying sales.

64GB 6GB RAM
£ 239.99
€ 271.76
128GB 6GB RAM
€ 155.63
Show all prices