MIUI 11 on top of Android 10
The Mi Note 10 Lite runs MIUI 11, based on Android 10, as most other recent Xiaomi or Xiaomi-related phones (cough, Poco). The flat and simple design with a high level of polish is characteristic of the entire UI, a result of many design iterations and subtle tweaks and decisions over the years.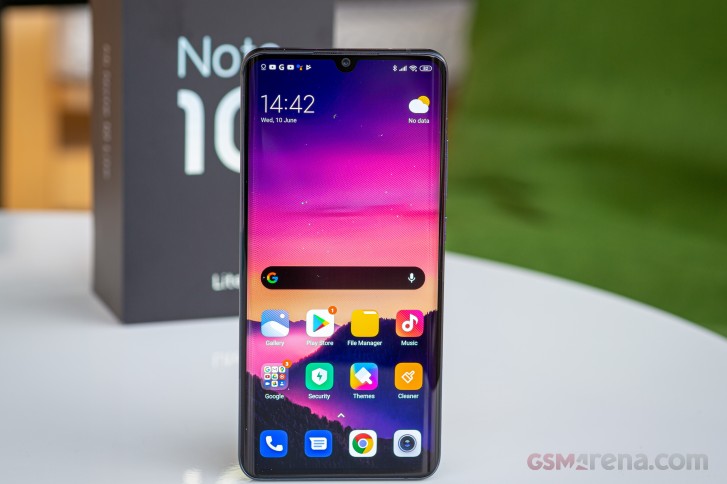 In terms of biometric security, the Mi Note 10 Lite gives you a choice between face and fingerprint unlock. The fingerprint reader would be our top choice as it works quickly and reliably. Facial recognition isn't as secure, but if you're after convenience it'll deliver that.
We do appreciate the extra attention to detail Xiaomi put into the visual aspects of unlocking as there are plenty of fingerprint reader animations to choose from. Better still, there are a couple of fingerprint-reader-based shortcuts you can set up for some extra convenience.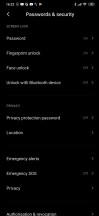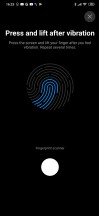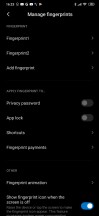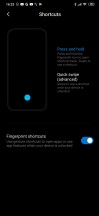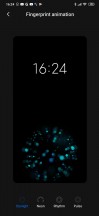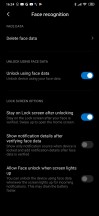 Security • Fingerprint setup • Fingerprint options • Fingerprint shortcuts • Animations • Face recognition
The Mi Note 10 Lite supports an Always-on display, and you can schedule it or leave it on/off all the time. MIUI 11 has a ton of themes you can choose from and make it yours and some of them can even be further customized. The AOD also supports breathing light - the curved edges of the display will flash with colors upon new notifications.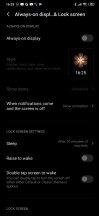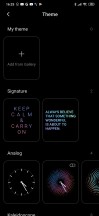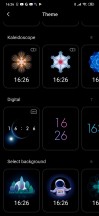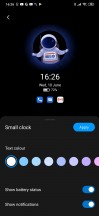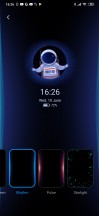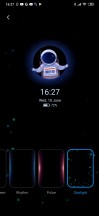 AOD and notification edge led effects
As far as the general layout goes, you get a few nice little extras, like a quick shortcuts pane to the left of the lock screen. In there, you can arrange and control your Mi Device IR and IoT gadgets and appliances and also toggle the flashlight.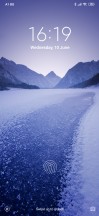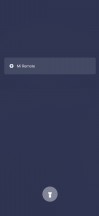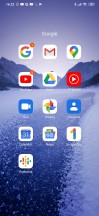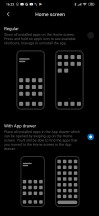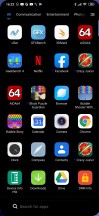 Lock screen • Quick access pane • Home screen • Folder view • App drawer
All of the Android basics are definitely there and well covered. This particular build also features an app drawer option (missing on the Mi 10 and 10 Pro). It's the same one introduced by the off-shoot Poco Launcher, which has now made it to non-Poco-specific MIUI versions. The similarly unorthodox card-based task switcher can take some time to adjust but offers all of the needed functionality.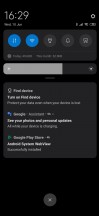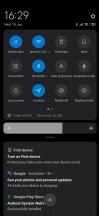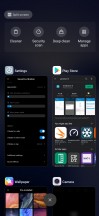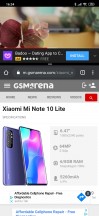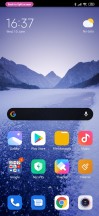 Notifications pane • Quick toggles • Recent apps • Split screen • Quick return to split screen
Navigation is handled in the classic three-button nav-bar manner out of the box. The Mi Note 10 Lite does offer a gesture-based method and switching to that is the first thing we do on any phone. It's missing the thin bar on the bottom that's become the Android 10 default way for switching back and forth between apps. On MIUI, switching between the last two apps is done by swiping from the edge of a screen as if you are performing a back gesture and holding for a split second. If you are not fond of that quick switch, you can disable it in the settings menu.
A system wide Dark mode is also available, and on the Mi Note 10 Lite, we had a much better experience with it than we did on the Mi 10, where we even found the occasional Xiaomi app and menu that doesn't adhere to Dark Mode settings. Of course, if Google Maps doesn't have a dark mode itself, it just doesn't and that's that.
You get extensive theme support with MIUI. Basically, everything is subject to change including wallpapers, icons, fonts, the lot.
MIUI also offers a Security app. It can scan your phone for malware, manage your blacklist, manage or restrict your data usage, configure battery behavior, and free up some RAM. It can also manage the permissions of your installed apps, allows you to define the battery behavior of selected apps and applies restrictions only to the apps you choose.
A set of proprietary multimedia apps are on board too - Gallery, Music, and Video player. In some regions, the music and video apps include paid streaming options. MIUI 11 has a new document viewing app, which supports all popular formats and makes for a seamless experience. There is also a new Notes app that now supports Tasks.
Among the niceties almost forgotten, yet present on the Mi Note 10 Lite, are the IR-based Mi Remote app for controlling legacy non-connected appliances and an FM radio support.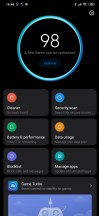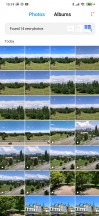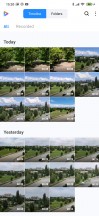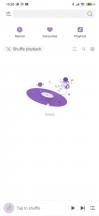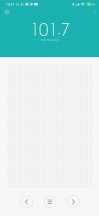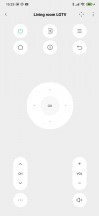 Security app • Gallery • Video • Music • FM radio • Mi Remote
Synthetic benchmarks
The Mi Note 10 Lite is powered by the very same Snapdragon 730G chipset that you'd find in the non-Lite version. Qualcomm's mid-mid-range option features an octa-core CPU in a 2+6 configuration (2x2.2 GHz Kryo 470 Gold & 6x1.8 GHz Kryo 470 Silver) and the GPU is Adreno 618. Three RAM/storage options are in existence - 6/64, 6/128, and 8/128, and we have the medium option for review. The storage is UFS 2.1.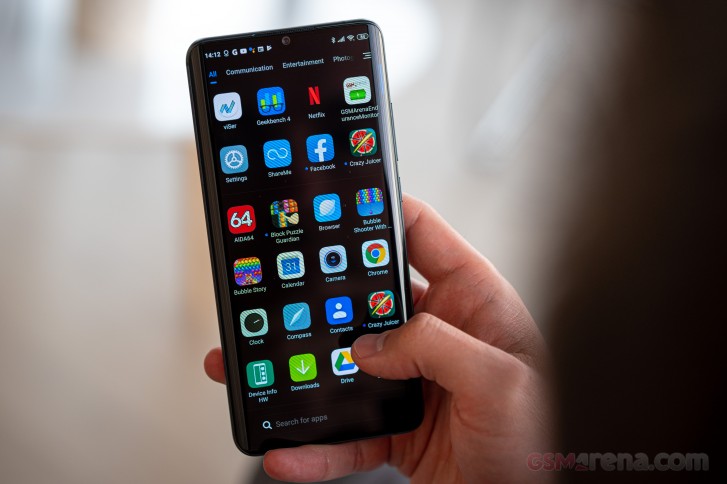 Looking at some raw CPU performance results in GeekBench, the Mi Note 10 Lite is turning in middle-of-the-road figures, with the Snapdragon 730 non-G equipped Galaxy A71, Mi 9T, and Realme X2 posting slightly better scores under single-core loads. The Snapdragon 765-based Motorola Edge is further up in this test, keeping company to Kirin 810-packing Huawei P40 Lite and Honor 9X. These three lead the way in the multi-core test too where the Mi Note 10 Lite isn't winning any awards either.
GeekBench 5.1 (single-core)
Higher is better
Honor 9X Pro
594
Huawei P40 Lite
591
Motorola Edge
586
Xiaomi Redmi Note 9S
570
Realme 6 Pro
565
Xiaomi Redmi K30
548
Realme 6
548
Realme X2
545
Xiaomi Mi 9T
542
Samsung Galaxy A71
542
Xiaomi Mi Note 10 Lite
521
Redmi Note 8 Pro
493
Oppo Reno3 Pro
398
Sony Xperia 10 II
315
Motorola Moto G8 Power
311
GeekBench 5.1 (multi-core)
Higher is better
Honor 9X Pro
1911
Motorola Edge
1862
Huawei P40 Lite
1862
Xiaomi Redmi Note 9S
1785
Realme X2
1750
Samsung Galaxy A71
1733
Realme 6
1726
Xiaomi Mi 9T
1703
Xiaomi Mi Note 10 Lite
1694
Xiaomi Redmi K30
1692
Realme 6 Pro
1666
Redmi Note 8 Pro
1622
Oppo Reno3 Pro
1517
Sony Xperia 10 II
1413
Motorola Moto G8 Power
1394
Antutu also ranks the Mi Note 10 Lite a bit lower than its peers - not appreciably lower, just enough to bump it down the chart.
AnTuTu 8
Higher is better
Huawei P40 Lite
325777
Honor 9X Pro
312668
Motorola Edge
305989
Realme 6
288931
Redmi Note 8 Pro
279355
Xiaomi Redmi K30
272229
Realme 6 Pro
268785
Samsung Galaxy A71
263396
Realme X2
257443
Xiaomi Mi 9T
257146
Xiaomi Mi Note 10
256717
Xiaomi Redmi Note 9S
254000
Xiaomi Mi Note 10 Lite
253271
Oppo Reno3 Pro
227810
Sony Xperia 10 II
196545
Motorola Moto G8 Power
173607
There's little to no difference in frame rates in the GFXBench tests between S720, S730, and S730G devices - the odd frame per second one way or another is hardly a meaningful advantage. Having said that, the S765 Moto Edge (that's about twice as expensive, admittedly) is more noticeably brawnier in terms of GPU performance. So are the more affordable but now aging Honor 9X Pro and the more affordable but Google-less Huawei P40 Lite.
GFX 3.1 Manhattan (1080p offscreen)
Higher is better
Motorola Edge
34
Honor 9X Pro
34
Huawei P40 Lite
34
Realme 6
31
Xiaomi Mi Note 10
30
Xiaomi Redmi K30
30
Samsung Galaxy A71
30
Xiaomi Mi Note 10 Lite
30
Realme 6 Pro
30
Xiaomi Redmi Note 9S
30
Realme X2
29
Redmi Note 8 Pro
29
Xiaomi Mi 9T
27
Oppo Reno3 Pro
20
Motorola Moto G8 Power
13
Sony Xperia 10 II
13
GFX 3.1 Manhattan (onscreen)
Higher is better
Motorola Edge
32
Honor 9X Pro
30
Huawei P40 Lite
30
Xiaomi Mi Note 10
27
Xiaomi Redmi K30
27
Samsung Galaxy A71
27
Realme 6 Pro
27
Realme 6
27
Xiaomi Mi Note 10 Lite
26
Xiaomi Redmi Note 9S
26
Xiaomi Mi 9T
24
Realme X2
24
Redmi Note 8 Pro
24
Oppo Reno3 Pro
17
Motorola Moto G8 Power
12
Sony Xperia 10 II
10
GFX 3.1 Car scene (1080p offscreen)
Higher is better
Honor 9X Pro
21
Huawei P40 Lite
21
Motorola Edge
19
Realme 6 Pro
18
Xiaomi Redmi Note 9S
18
Redmi Note 8 Pro
18
Realme 6
18
Xiaomi Mi Note 10
17
Xiaomi Redmi K30
17
Samsung Galaxy A71
17
Xiaomi Mi Note 10 Lite
17
Xiaomi Mi 9T
16
Realme X2
16
Oppo Reno3 Pro
7.3
Motorola Moto G8 Power
7.1
Sony Xperia 10 II
7.1
GFX 3.1 Car scene (onscreen)
Higher is better
Motorola Edge
18
Honor 9X Pro
18
Huawei P40 Lite
18
Realme 6 Pro
16
Realme 6
16
Xiaomi Mi Note 10
15
Xiaomi Redmi K30
15
Samsung Galaxy A71
15
Xiaomi Mi Note 10 Lite
15
Xiaomi Redmi Note 9S
15
Redmi Note 8 Pro
14
Xiaomi Mi 9T
13
Realme X2
13
Oppo Reno3 Pro
7.4
Motorola Moto G8 Power
6.6
Sony Xperia 10 II
5.6
Aztek Vulkan High (onscreen)
Higher is better
Motorola Edge
12
Realme 6 Pro
11
Realme 6
10
Xiaomi Mi Note 10 Lite
9.9
Xiaomi Redmi Note 9S
9.9
Redmi Note 8 Pro
9.4
Samsung Galaxy A71
9.3
Realme X2
8.9
Huawei P40 Lite
8.6
Honor 9X Pro
8.3
Aztek OpenGL ES 3.1 High (onscreen)
Higher is better
Motorola Edge
12
Honor 9X Pro
12
Huawei P40 Lite
12
Realme 6 Pro
11
Realme 6
11
Samsung Galaxy A71
10
Xiaomi Mi Note 10 Lite
10
Xiaomi Redmi Note 9S
10
Redmi Note 8 Pro
10
Realme X2
9.2
3DMark SSE OpenGL ES 3.1 1440p
Higher is better
Motorola Edge
3004
Huawei P40 Lite
2818
Realme 6
2570
Realme 6 Pro
2506
Xiaomi Redmi Note 9S
2494
Honor 9X Pro
2487
Xiaomi Redmi K30
2467
Xiaomi Mi Note 10 Lite
2467
Samsung Galaxy A71
2464
Realme X2
2402
Redmi Note 8 Pro
2363
Xiaomi Mi 9T
2182
Oppo Reno3 Pro
1243
Sony Xperia 10 II
1125
3DMark SSE Vulkan 1440p
Higher is better
Motorola Edge
2801
Realme 6
2619
Huawei P40 Lite
2603
Honor 9X Pro
2535
Redmi Note 8 Pro
2447
Xiaomi Redmi Note 9S
2357
Realme 6 Pro
2334
Realme X2
2263
Samsung Galaxy A71
2253
Xiaomi Mi Note 10 Lite
2248
Xiaomi Redmi K30
2244
Xiaomi Mi 9T
2035
Oppo Reno3 Pro
1551
Sony Xperia 10 II
1121
The Mi Note 10 Lite does not impress with performance, but delivers perfectly adequate results for its hardware. Marginally lower scores here and there aren't something to make a big deal out of. More importantly, we observed virtually no thermal throttling on the Lite. Certainly, a Snapdragon 765-based option will be more powerful, but in the current market that means twice the price and it's hardly twice the performance.