Properly good AMOLED display
The Mi Note 10 Lite shares its display specs with the non-Lite Mi Note 10, and that means a 6.47-inch FullHD+ AMOLED panel with a 19.5:9 aspect ratio and a 398ppi pixel density. The curved edges and the U-shaped camera notch are lifted off the Mi Note 10 as well.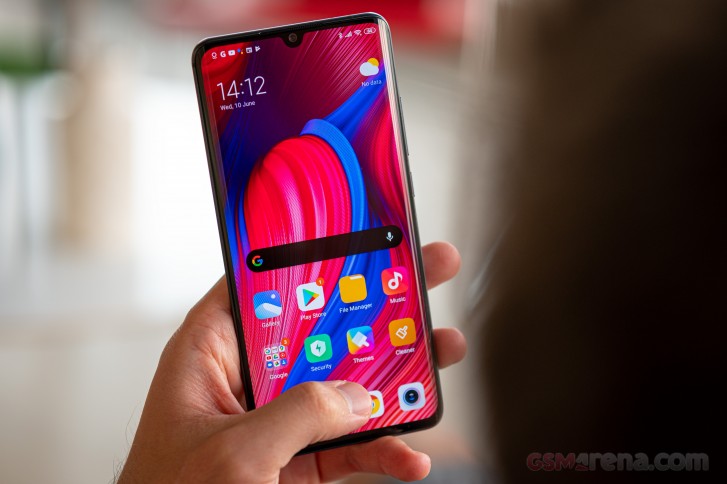 In our testing, the phone performed to the same respectable standard posting brightness numbers within a few nits of its stablemate. The 424nits in manual mode with a boost to 600-ish nits in Adaptive mode may not be flagship-grade figures (the Mi 10 goes up to 850nits in Adaptive mode), but are still pretty good nonetheless.
Display test
100% brightness
Black,cd/m2
White,cd/m2
Contrast ratio
Xiaomi Mi Note 10 Lite
0
424
∞
Xiaomi Mi Note 10 Lite (Max Auto)
0
596
∞
Xiaomi Mi 10 5G
0
522
∞
Xiaomi Mi 10 5G (Max Auto)
0
854
∞
Xiaomi Mi Note 10
0
427
∞
Xiaomi Mi Note 10 (Max Auto)
0
597
∞
Sony Xperia 10 II
0
379
∞
Sony Xperia 10 II (Max Auto)
0
520
∞
Xiaomi Redmi K30
0.399
550
1378:1
Xiaomi Redmi K30 (Max Auto)
0.527
714
1355:1
Samsung Galaxy A71
0
398
∞
Samsung Galaxy A71 (Max Auto)
0
515
∞
Honor 9X Pro
0.392
517
1319:1
Huawei P40 Lite
0.425
461
1085:1
Huawei P40 Lite (Max Auto)
0.501
515
1028:1
Realme 6 Pro
0.318
421
1324:1
Motorola Moto G8 Power
0.341
500
1466:1
Motorola Moto G8 Power (Max Auto)
0.53
741
1398:1
Xiaomi Redmi Note 9 Pro
0.355
456
1285:1
Xiaomi Redmi Note 9 Pro (Max Auto)
0.487
616
1265:1
Color reproduction is handled in a three-mode fashion with an Automatic mode enabled by default, and Saturated and Standard also available.
Automatic mode should be able to adjust to your surroundings (which we didn't see happening to a dramatic extent or is that precisely what it's all about?) and the content you're displaying. This mode produces notably cold whites with a deltaE of 10 and a relatively decent average of 4.1 for our DCI-P3 test run. In this mode, you get an additional Warm and Cool presets on top of the Default one, and Warm bumped the white point within 6 units of the target (not great and still kinda blue) while the average deltaE moved to a better 2.5. If you were to intervene further and adjust things with the color wheel, you stand to gain some extra accuracy and possibly whiter whites - we got an average deltaE of 1.6 with the pictured setting and close-to-perfect white point (deltaE a notch above 2).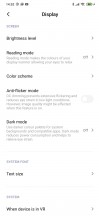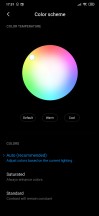 Display color settings • Custom setting for maximum DCI-P3 accuracy
Saturated mode does expand the color gamut further and, well, boosts saturation, but maintains the same average deltaE as the Automatic mode when examining DCI-P3 test swatches. The Standard mode achieves excellent accuracy for sRGB content - we measured an average deltaE of 1.5.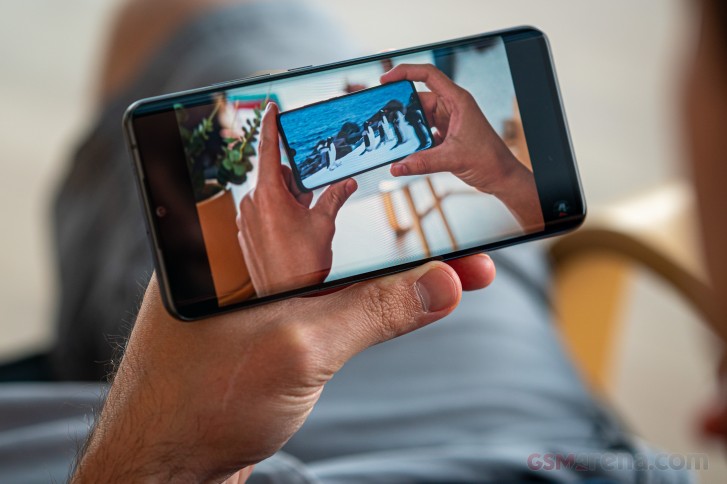 The Mi Note 10 Lite's display is HDR10-capable, there's no Lite-ness about that. Our quick check showed that Netflix serves the Xiaomi FullHD HDR10 streams. YouTube, too, supports HDR playback on the Lite.
Xiaomi Mi Note 10 Lite battery life
The Mi Note 10 Lite has a 5,260mAh battery, the same capacity as the regular Mi Note 10 and more than the bulk of phones out there. The Galaxy A71, for example, has a 4,500mAh capacity powerpack, while the Realme 6 Pro makes do with 4,300mAh.
The Mi Note 10 Lite returned an excellent endurance result in our video playback test, and it was able to keep looping videos offline for more than 21 hours. It's an hour short of what we got out of the Mi Note 10, but hardly a big deal. The Wi-Fi web browsing result was nearly identical between the two Mi Notes, the Lite managing a few extra minutes by stopping the clock at 12:45h. The new phone did post a better result in voice calls, and its standby performance showed a great improvement.
In the end, the Xiaomi Mi Note 10 Lite scored an Endurance rating of 117 hours. For comparison, the Galaxy A71 stands at 102 hours, while the Realme 6 Pro's rating is 107 hours.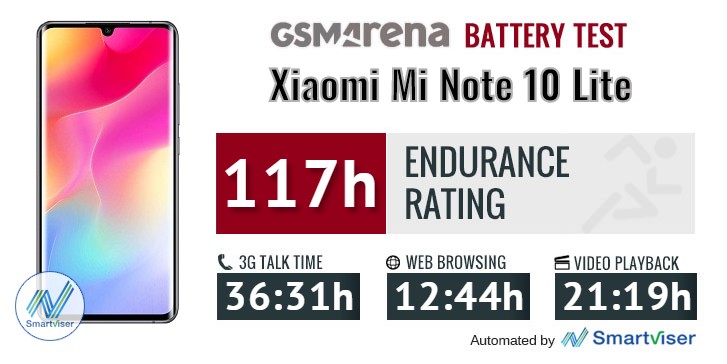 Our battery tests were automated thanks to SmartViser, using its viSer App. The endurance rating above denotes how long a single battery charge will last you if you use the Xiaomi Mi Note 10 Lite for an hour each of telephony, web browsing, and video playback daily. We've established this usage pattern so that our battery results are comparable across devices in the most common day-to-day tasks. The battery testing procedure is described in detail in case you're interested in the nitty-gritty. You can check out our complete battery test table, where you can see how all of the smartphones we've tested will compare under your own typical use.
The included 30W charger takes an hour and 14 minutes to top up the Mi Note 10 Lite, which is no small feat given the high-capacity battery. At the thirty-minute mark you're looking at a little over half capacity (53%). Those times are practically the same as the ones we clocked on the Mi 10 with its 4780mAh cell, so it's more a matter of charging management than anything else.
The Mi Note 10 Lite, just like the Mi Note 10, doesn't support wireless charging - that remains exclusive to the Mi 10 non-Notes.
Speaker test
The Mi Note 10 Lite is equipped with a single loudspeaker on the bottom, same as the regular Mi Note 10. Meanwhile, the Mi 10 and 10 Pro (non-Notes) have stereo setups, if quite differently performing between the two of them.
The Mi Note 10 Lite posted an Average score in our new test, which is to say it isn't very loud at all. That's about what you can expect from the Xperia 10 II and the Galaxy A71.
As for sound quality, the Mi Note 10 Lite is quite good, delivering balanced output with lively vocals and at least some presence in the lows. The tinny Xperia isn't any good, while the Galaxy A71 is almost entirely bass deprived, if otherwise quite similar to the Xiaomi. Overall, a nice speaker from the Mi Note 10 Lite, but just one. Just one, but a nice one.
Use the Playback controls to listen to the phone sample recordings (best use headphones). We measure the average loudness of the speakers in LUFS. A lower absolute value means a louder sound. A look at the frequency response chart will tell you how far off the ideal "0db" flat line is the reproduction of the bass, treble, and mid frequencies. You can add more phones to compare how they differ. The scores and ratings are not comparable with our older loudspeaker test. Learn more about how we test here.
Audio output quality
We've recently discontinued our audio output quality test.
The reason for that is that most phones that arrived for testing were already excellent in this regard and whatever difference there was, it was marginal and probably indistinguishable to anything but our lab equipment.