Display
Welcome to what's probably going to be the most read page in this review. Without further ado, we introduce you the 6.4" edge-less screen of the Xiaomi Mi Mix. Take notice of the wording edge-less, which isn't necessary a synonym of bezel-less.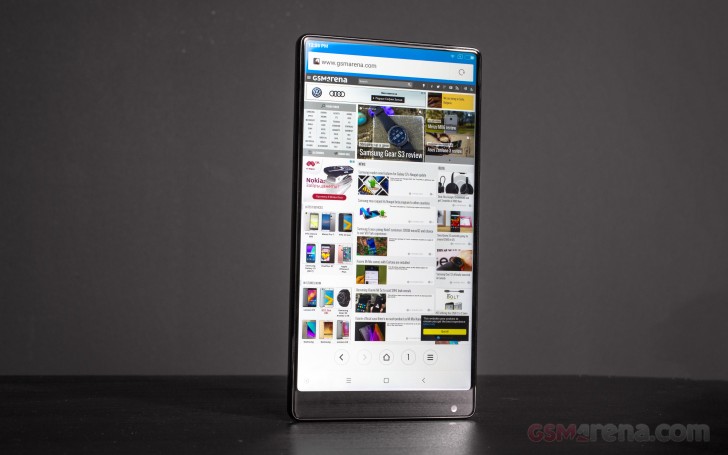 First things first though. The 6.4" IPS screen is custom-made by Sharp and offers 1080 x 2040 px resolution or 362ppi density. That's the unusual 17:9 aspect ratio, but the extra pixels are mostly used by the navigation bar. We didn't have any layout issues with any of the popular apps we tried. They fill up the entire screen perfectly.
While the 362ppi doesn't sound flagship worthy, you can't really see the individual pixels with your bare eye. The choice of IPS RGB panel instead of PenTile AMOLED surely helps for better utilization of the 1080p resolution over the screen real estate.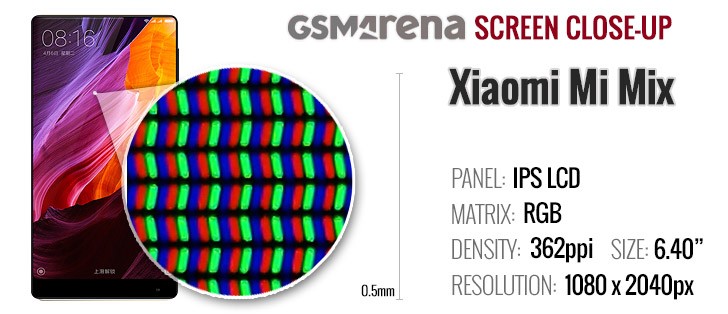 Unfortunately, Xiaomi yet once again didn't mention any specific glass protection for the screen. Our review unit acquired a few scratches on top of its display in the first three days even though we were extra careful in handling it. Normally, we'd suggest opting for a screen protector, but this might take away some of that edgeless screen. Just treat it carefully and hope for the best.
There is a good chance Xiaomi to have used two different suppliers for the screen glass, as there are YouTube videos showing the piece resist a great deal of scratches even when force is applied. Our case wasn't the same, and we found other people to have similar issues, but we can't deny the great results some YouTubers are getting with their Mi Mix when put to a scratch test.
Turning on the display provides a guaranteed wow effect - especially if you see it for the first time. While the promo images surely have prepped us what to expect, we were still quite impressed. The edge-to-edge screen is certainly an attention-grabber, especially around the top part.
The edge-to-edge screen didn't turn out bezel-less, as there is still a thin 2mm bezel around the big thing, and Xiaomi was very careful with its wording. Technically, calling it an edge-to-edge screen is correct as the screen borders with three of the phone's sides. The press images are a bit misleading in this respect - depicting the screen almost as an infinity pool.
The screen looks even more special due to its rounded corners. This allows the screen to follow the shape of the phone's own rounded corners creating the stunning looks this phone is known for.
Xiaomi announced the phone with a claim of a previously unheard 91.3% screen-to-body ratio, and while the math didn't quite work out, it certainly stirred our reader's community. We decided to measure the screen ourselves. We took a photo of the real-life Xiaomi Mi Mix head-on and we carefully selected the phone and the screen putting them on separate layers. We then used one of Photoshop's tools to measure the surface area of all pixels. All that remained was a simple calculation (screen-to-body ratio = phone surface area / screen surface area), which yielded 84.72%. We repeated the calculations using a simple ruler and a calculator the old-fashioned way, and we still ended up with a ratio that's not much higher than 84%.
Since we published our article on the matter, Xiaomi has removed any ratio-related claims on their official specs page, so there is that, too. The screen didn't need any of those bold marketing claims to begin with - it's amazing as it is.
Now that we cleared all the definitions, edges, bezels, and ratios, it's time to deal with the important numbers - contrast, colors, and sunlight legibility.
There are three different contrast options in the display settings menu - Standard, Increased, and Auto contrast, with the latter being the default one. Xiaomi claims the screen will provide up to 500 nits of max brightness. Our test results confirmed and even exceeded the claim for maximum brightness as we measured 590nits worth of luminance at the Standard Contrast , and 551nits - at the default Auto setting.
The screen's contrast ratio is excellent as well at 1309:1 in Standard or even better at 1:1489 in Auto Contrast mode, once again exceeding the promised contrast ratio of 1300:1.
The minimum display brightness is 6.5 nits, which means the screen should be suitable for late-night reading in a dark room.
The blacks are deep enough for a joyful experience, no matter which contrast mode you will settle for.
Display test
100% brightness
Black, cd/m2
White, cd/m2
Contrast ratio
Xiaomi Mi Mix
0.45
589
1309
Xiaomi Mi Mix (auto contrast)
0.37
551
1489
Xiaomi Mi 5
0.51
628
1227
Xiaomi Mi 5s
0.51
660
1294
Xiaomi Mi 5s Plus
0.44
637
1448
Huawei Mate 9
0.41
665
1622
Huawei P9 Plus
0.00
400
∞
Samsung Galaxy S7 edge
0.00
392
∞
Samsung Galaxy S7 edge max auto
0.00
610
∞
LG V20
0.43
475
1097
LG V20 Max auto
0.59
628
1064
Apple iPhone 7 Plus
0.41
573
1398
Apple iPhone 7 Plus (max auto)
0.50
681
1362
Google Pixel XL
0
432
∞
When it comes to color rendering, the Xiaomi Mi Mix has a very good color accuracy with an average DeltaE of 5.3 and a maximum deviation of 10.7 in the blue color. Note that we did our color test in Standard screen mode. If you opt for the Auto mode, you will get a bit punchier colors, especially the blue one, at the expense of color calibration.
Unfortunately, the screen of the Xiaomi Mi Mix performed only average in our sunlight legibility test.
Sunlight contrast ratio
Samsung Galaxy S6 edge+
4.615
Samsung Galaxy S7 edge
4.439
OnePlus 3
4.424
Samsung Galaxy S7
4.376
HTC One A9
4.274
Samsung Galaxy Note7
4.247
Samsung Galaxy A3
4.241
Google Pixel XL
4.164
ZTE Axon 7
4.154
Samsung Galaxy S6 edge
4.124
Samsung Galaxy Note5
4.09
Huawei Nexus 6P
4.019
OnePlus X
3.983
Vivo Xplay5 Elite
3.983
Apple iPhone 7
3.964
Oppo R7s
3.964
Huawei P9 Plus
3.956
Samsung Galaxy A7 (2016)
3.918
Samsung Galaxy C5
3.911
Samsung Galaxy C7
3.896
Samsung Galaxy A5
3.895
Samsung Galaxy J7 outdoor
3.879
Samsung Galaxy J2 outdoor
3.873
Samsung Galaxy A8
3.859
Microsoft Lumia 950XL
3.837
Samsung Galaxy A9 (2016)
3.817
Motorola Moto X (2014)
3.816
Samsung Galaxy J7 (2016) outdoor mode
3.802
Xiaomi Redmi Pro
3.798
LG V20 Max auto
3.798
Sony Xperia XZ
3.795
Samsung Galaxy A5 (2016)
3.789
Apple iPhone 6s
3.783
Meizu Pro 5
3.781
Microsoft Lumia 650
3.772
Samsung Galaxy J7 (2016)
3.756
Oppo F1 Plus
3.709
Vivo X5Pro
3.706
Sony Xperia X Compact
3.694
Apple iPhone SE
3.681
Samsung Galaxy A7
3.679
Meizu PRO 6
3.659
BlackBerry Priv
3.645
Apple iPhone 7 Plus
3.588
Apple iPhone 6s Plus
3.53
Samsung Galaxy J3 (2016) outdoor mode
3.523
Samsung Galaxy J3 (2016)
3.523
Acer Jade Primo
3.521
Microsoft Lumia 950
3.512
Oppo R7 Plus
3.499
nubia Z11
3.466
Samsung Galaxy J7
3.422
Meizu MX5
3.416
LG V20
3.402
Oppo R9s
3.352
Oppo R7
3.32
Xiaomi Mi 5s
3.276
Xiaomi Mi 5
3.24
Samsung Galaxy J2
3.235
Sony Xperia X Performance
3.234
Motorola Moto X Play
3.222
Huawei P9
3.195
Lenovo Vibe Shot
3.113
Motorola Moto X Force
3.105
LG Nexus 5X
3.092
Huawei Mate S
3.073
Microsoft Lumia 640 XL
3.065
Sony Xperia X
2.989
Huawei Mate 8
2.949
Xiaomi Redmi 3S
2.913
Sony Xperia XA Ultra
2.906
LG G5
2.905
HTC One S
2.901
Xiaomi Mi 5s Plus
2.884
Sony Xperia Z5
2.876
Microsoft Lumia 550
2.851
Xiaomi Redmi 3 Pro
2.803
Sony Xperia Z5 compact
2.784
Meizu MX6
2.751
LG V10
2.744
Xiaomi Redmi 3
2.735
Sony Xperia M5
2.69
Huawei P9 Lite
2.679
Vivo V3Max
2.659
Xiaomi Mi Mix
2.658
Xiaomi Mi 4i
2.641
Sony Xperia XA
2.609
Motorola Moto G4 Plus
2.582
Motorola Moto G4 Plus (max auto)
2.582
Xiaomi Mi 4c
2.574
LeEco Le Max 2
2.567
Microsoft Lumia 640
2.563
Asus Zenfone 3 ZE552KL
2.563
Lenovo Moto G4
2.544
Oppo F1
2.528
Sony Xperia Z5 Premium
2.525
Huawei Honor 7 Lite / Honor 5c
2.506
Sony Xperia M4 Aqua
2.503
Oppo F1s
2.481
Motorola Moto G
2.477
Lenovo Vibe K5 Plus
2.473
Huawei G8
2.471
Huawei nova
2.467
Sony Xperia Z
2.462
Lenovo Vibe K5
2.459
Huawei Honor 7
2.406
Sony Xperia E5
2.386
ZUK Z1 by Lenovo
2.382
HTC 10
2.378
Samsung Galaxy J5 (2016)
2.378
Huawei nova plus
2.329
HTC One E9+
2.305
Alcatel One Touch Hero
2.272
Apple iPhone 4S
2.269
Lenovo Vibe K4 Note
2.254
Sony Xperia C5 Ultra
2.253
Xiaomi Redmi Note 3 (MediaTek)
2.249
Sony Xperia C4 Dual
2.235
Xiaomi Mi Note
2.234
Motorola Moto G (2014)
2.233
LG Nexus 5
2.228
Huawei P8
2.196
Huawei Honor 6
2.169
Xiaomi Redmi Note 2
2.166
OnePlus Two
2.165
HTC One X
2.158
LG Aka
2.145
Xiaomi Redmi Note 4
2.145
Archos 50 Diamond
2.134
Xiaomi Redmi Note
2.119
Acer Liquid X2
2.084
Huawei P8lite
2.078
Moto G 3rd gen max manual
2.026
Xiaomi Mi Max
1.996
Sony Xperia E4g
1.972
OnePlus One
1.961
Meizu m3 note
1.923
Meizu m2 note
1.892
BlackBerry Leap
1.892
ZTE Nubia Z9 mini
1.759
Sony Xperia U
1.758
Asus Zenfone Selfie
1.68
Motorola Moto E (2nd Gen)
1.675
ZTE Nubia Z9
1.659
Jolla Jolla
1.605
Motorola Moto E
1.545
Sony Xperia M
1.473
Xiaomi Redmi 2
1.311
HTC Desire C
1.3
Sony Xperia C
1.283
Meizu MX
1.221
Sony Xperia E
1.215
Battery life
The Xiaomi Mi Mix is powered by a beefy 4,400mAh battery, which seems enough for a phablet of this size. It supports Qualcomm's Quick Charge 3.0 standard and there is a compatible fast-charging plug within the retail box. Our test shows the charger fills 35% of the battery in 30 minutes, a result more suitable for the Quick Charge 2.0 standard.
We ran our battery test, and the Xiaomi Mi Mix scored a 97h rating, which means you can count on the battery to last four days if you do an hour each of calling, web browsing and video playback a day.
The phone outed consistently good scores across all battery tests, including standby.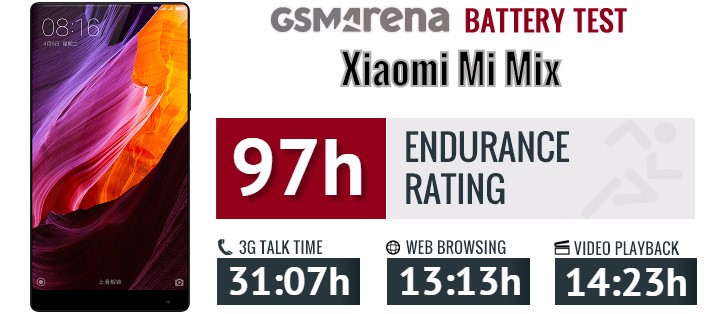 The battery testing procedure is described in detail in case you're interested in the nitty-gritties. You can also check out our complete battery test table, where you can see how all of the smartphones we've tested will compare under your own typical use.
Connectivity
The Xiaomi Mi Mix supports 11 LTE bands, quad-band GSM and quad-band 3G connectivity with HSPA support. You can tap to an LTE network on either SIM, but once you do, the second one will be limited to 3G or GSM connectivity. You can even have both registered on 3G networks, when 4G is not available.
The rest of the connectivity features include dual-band Wi-Fi a/b/g/n/ac support and Wi-Fi Direct. There is also support for Bluetooth 4.2, NFC, GPS with GLONASS and Beidou.
There is no FM radio support. There is also no IR blaster on the Mix.
Xiaomi Mi Mix comes with USB Type-C port. Media transfer mode is supported for accessing the phone's built-in memory over a USB connection. The port also supports USB On-the-go for connecting USB peripherals such as pen drives, keyboards or USB hard drives, but you'll need to buy a proper adapter for that.
Wireless screen mirroring is available via the Miracast protocol.