Display
The display is the very reason why the Xiaomi Mi Max form factor exists. The most popular size at the moment is 5.5" with a few 5.7-inchers and even some sixers out there. But the Mi Max is a rare breed that pushes the envelope well above the 6" mark.
The 6.44" diagonal is the defining feature of the phone and despite its mid-range status, Xiaomi didn't skimp on the quality.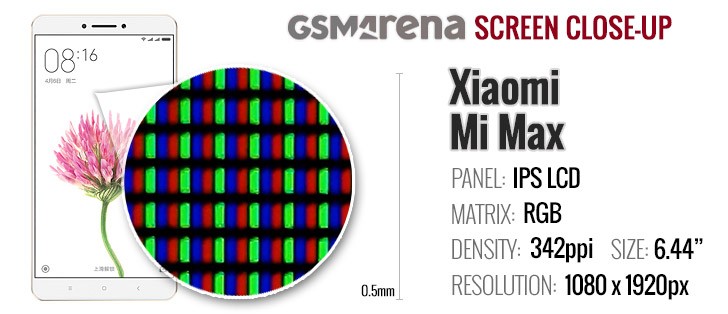 The 1080p resolution is enough to secure a pixel density of 342ppi, which is high enough to qualify as Retina-grade and above. QHD would have been nice, but still, the image is sharp enough even for small, thin type.
We were worried about the brightness, but as it turns out, it's pretty much par for the course. Compared to some other 6" devices, the only one that stands out is the Galaxy A9 on Auto brightness, where it enjoys a brightness overdrive in extra bright conditions. The AMOLED-packing Oppo R7 Plus, on the other hand, was darker.
The screen's contrast ratio, however, is nothing to write home about, the issue is mostly with the relatively high black levels (even compared to last year's Xperia C5 Ultra). It's by no means bad, though.
Display test
100% brightness
Black, cd/m2
White, cd/m2
Contrast ratio
Xiaomi Mi Max
0.46
424
922
Samsung Galaxy A9 (2016)
0.00
427
∞
Samsung Galaxy A9 (2016) max auto
0.00
609
∞
Huawei Mate 8
0.346
471
1361
Sony Xperia C5 Ultra
0.37
422
1144
Oppo R7 Plus
-
351
∞
From the settings you have the option to boost the contrast of the image if you prefer the punchier look. One mode just boosts the contrast, the other adapts it to the ambient light.
From here you can also tune the white balance - from Warm through Neutral to Cool. The colors are fairly accurate for this class, an average deltaE of 6.6. That's almost as good as the Huawei Mate 8 and slightly better than the Galaxy A9.
We found the Neutral setting to not quite live up to its name, the white and gray colors have a blue tint. Yet, we found that the color accuracy improves if you push the white balance slider towards Warm. The white balance improves quickly (but magenta goes off).
The Mi Max has an IPS display and the viewing angles are very good. The sunlight legibility, however, does leave something to be desired. It's better than some popular phones like the Redmi 2 or the OnePlus One, but there are strong performers like the Oppo R7 Plus and its AMOLED screen.
Sunlight contrast ratio
Samsung Galaxy S6 edge+
4.615
Samsung Galaxy S7 edge
4.439
Samsung Galaxy S7
4.376
HTC One A9
4.274
Samsung Galaxy A3
4.241
Samsung Galaxy S6 edge
4.124
Samsung Galaxy Note5
4.09
Huawei Nexus 6P
4.019
OnePlus X
3.983
Oppo R7s
3.964
Samsung Galaxy A7 (2016)
3.918
Samsung Galaxy A5
3.895
Samsung Galaxy J7 outdoor
3.879
Samsung Galaxy J2 outdoor
3.873
Samsung Galaxy A8
3.859
Apple iPhone 6
3.838
Samsung Galaxy A9 (2016)
3.817
Motorola Moto X (2014)
3.816
Samsung Galaxy A5 (2016)
3.789
Apple iPhone 6s
3.783
Meizu Pro 5
3.781
Microsoft Lumia 650
3.772
Oppo F1 Plus
3.709
Vivo X5Pro
3.706
Apple iPhone SE
3.681
Samsung Galaxy A7
3.679
Meizu PRO 6
3.659
BlackBerry Priv
3.645
Apple iPhone 6s Plus
3.53
Acer Jade Primo
3.521
Microsoft Lumia 950
3.512
Oppo R7 Plus
3.499
Samsung Galaxy J7
3.422
Meizu MX5
3.416
Oppo R7
3.32
Samsung Galaxy J2
3.235
Motorola Moto X Play
3.222
Huawei P9
3.195
Lenovo Vibe Shot
3.113
Motorola Moto X Force
3.105
LG Nexus 5X
3.092
Huawei Mate S
3.073
Microsoft Lumia 640 XL
3.065
Apple iPhone 6 Plus
3.023
Sony Xperia X
2.989
Samsung Galaxy Note
2.97
Huawei Mate 8
2.949
LG G5
2.905
HTC One S
2.901
Sony Xperia Z5
2.876
Microsoft Lumia 550
2.851
Sony Xperia Z5 compact
2.784
LG V10
2.744
Xiaomi Redmi 3
2.735
Sony Xperia M5
2.69
Vivo V3Max
2.659
Xiaomi Mi 4i
2.641
Xiaomi Mi 4c
2.574
LeEco Le Max 2
2.567
Microsoft Lumia 640
2.563
Oppo F1
2.528
Sony Xperia Z5 Premium
2.525
Sony Xperia M4 Aqua
2.503
Motorola Moto G
2.477
Lenovo Vibe K5 Plus
2.473
Huawei G8
2.471
Sony Xperia Z
2.462
Huawei Honor 7
2.406
ZUK Z1 by Lenovo
2.382
Samsung Galaxy J5 (2016)
2.378
HTC 10
2.378
HTC One E9+
2.305
Alcatel One Touch Hero
2.272
Lenovo Vibe K4 Note
2.254
Sony Xperia C5 Ultra
2.253
Xiaomi Redmi Note 3 (MediaTek)
2.249
Sony Xperia C4 Dual
2.235
Motorola Moto G (2014)
2.233
LG Nexus 5
2.228
Huawei P8
2.196
Xiaomi Redmi Note 2
2.166
OnePlus Two
2.165
HTC One X
2.158
LG Aka
2.145
Archos 50 Diamond
2.134
Xiaomi Redmi Note
2.119
Acer Liquid X2
2.084
Huawei P8lite
2.078
Moto G 3rd gen max manual
2.026
Xiaomi Mi Max
1.996
Sony Xperia E4g
1.972
OnePlus One
1.961
Meizu m3 note
1.923
BlackBerry Leap
1.892
Meizu m2 note
1.892
HTC Butterfly
1.873
ZTE Nubia Z9 mini
1.759
Sony Xperia U
1.758
Asus Zenfone Selfie
1.68
Motorola Moto E (2nd Gen)
1.675
ZTE Nubia Z9
1.659
Jolla Jolla
1.605
Motorola Moto E
1.545
Sony Xperia M
1.473
Xiaomi Redmi 2
1.311
HTC Desire C
1.3
Sony Xperia C
1.283
Meizu MX
1.221
Sony Xperia E
1.215
Connectivity
The Xiaomi Mi Max is a dual-SIM phone with LTE connectivity. One card is nanoSIM the other micro and the slot is a hybrid solution, which allows you to replace one of the SIM cards with a microSD card.
Since we're reviewing the Chinese model, we also have to mention that there is support for China Unicom LTE and CDMA.
There's also Wi-Fi ac with MIMO support, so the phone will benefit from a fast router if you've got one. Bluetooth 4.2 is also available. For positioning, you get GPS, GLONASS and, quite naturally, Beidou.
The IR blaster is located at the top of the phone and, coupled with the right software, you can use it to remotely control pretty much any IR controlled home appliance. Xiaomi provides its own MiRemote app, which supports a long list of devices right out of the box.
The microUSB 2.0 port on the bottom is a bit of a surprise, considering Xiaomi has been moving up to Type-C for a while now. Still, the port supports USB On-The-Go if you need to access some external storage or use a USB accessory.
Battery
The massive 4,850mAh battery of the Xiaomi Mi Max matches its larger-than-life demeanor. With a reasonable screen and chipset, it's set to be a champ.
The Endurance rating works out to 108 hours, you'd be hard pressed to find a device that lasts longer. Even adding a second SIM doesn't have a huge impact, dropping to 102h Endurance.
The individual tests are great too. Talk time is a day, that's 24 hours! The web browsing is particularly impressive at 19 and a half hours, only two phones lasts longer (and they are battery-focused, have 720p screens and lower-end chipset). The video playback is great too, just not quite as amazing.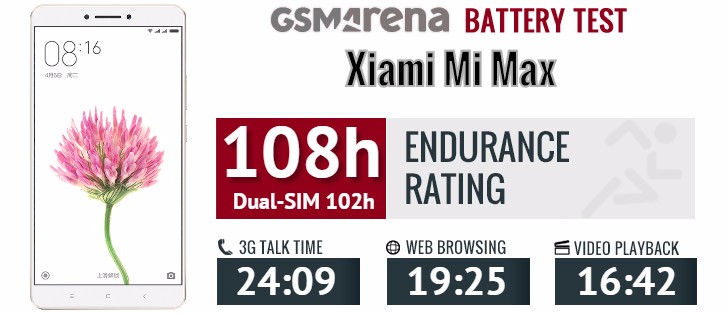 Note that while the Xiaomi Mi Max does not come bundled with a Quick Charger, it can definitely benefit from a Quick Charge 2.0 or 3.0 power brick. The charger we got in the box was 5V * 2A = 10W, but we got readings as high as 15W with several Quick Chargers we tried (the exact voltage and amps differed, but total power was always 14W-15W). So you can expect a 40%-50% bump in charging speed if you have a more powerful charger at home.
The battery testing procedure is described in detail in case you're interested in the nitty-gritties. You can also check out our complete battery test table, where you can see how all of the smartphones we've tested will compare under your own typical use.